From tiny toilets to themed restaurants, amusement parks, and arcades, there are so many reasons to visit Japan with kids. Regardless of their age or interests, you will find something in Japan that your children will love.
Visiting Japan with children can be a great experience for you and your young travelers, who will likely find the history and culture just as interesting as you do.
From the currency to the food in Japan and even the accommodations, Japan can be a different experience than what many are accustomed to, so it's a good idea to learn a little bit about Japan before your trip.
This guide to visiting Japan with kids includes 10 reasons to plan a trip to Japan with children, tips for visiting Japan, and a 9 day Japan itinerary for families.
Japan with kids – our personal experience
Japan is one of the best Asian countries for a family vacation.
We traveled to Japan when our daughter was just 2 1/2 years old. Not knowing how a picky toddler would handle the food, the crowds, or the toddler jet lag, we were a little apprehensive before our Japan trip. However, we quickly learned Japan was as child-friendly as countries come.
There are only a few countries that we've visited where we could truly imagine living in and loving, and Japan is one of them.
On a family trip to Japan, we'd recommend spending at least two days in Osaka, a day in Nara, three days in Kyoto, four days in Tokyo, and taking a day trip to Hakone to see majestic Mount Fuji.
You'll find each location or city incredible in its own unique way, but there are a few characteristics about Japan that seem to be constant regardless of the region.
If time is limited, you can see a good portion of Japan in seven days, but your trip may feel a bit rushed, particularly if visiting Japan with kids.
So, if possible, give yourself a few extra days. We have included a complete 9-day Japan itinerary below that will help you plan your trip to this wonderful island country.
Why you should visit Japan with kids
Traveling with kids is so much different than traveling without them. Safety, cleanliness, and comfort become much more important than they probably were in your pre-kids days. But family travelers will find Japan an ideal destination.
Here are our top 10 reasons to visit Japan with kids.
Family amenities
While we were in Japan we were going through the exhaustive process of potty training our toddler. As any parent who has ever potty trained a child will tell you, leaving the country – or even the house – during this difficult stage can be stressful and counterproductive. But Japan made the process of traveling with a potty training toddler a bit easier.
We found child-sized toilets in a lot of the public restrooms, which our daughter felt much more comfortable using. The bathrooms will be a point of interest for older children and adults, as well.
The toilets in Japan are fascinating! With all their buttons and fancy gadgets, your kids will find them both intimidating and a point of interest and curiosity.
When staying in hotels or apartments in Japan, you'll often find special toiletries just for kids. At the ryokan in Osaka and at the Japanese townhouse in Kyoto where we stayed, we even had child-sized traditional Japanese robes, socks, and slippers supplied during our stay.
When dining out, don't worry if you have a picky eater who refuses to eat sushi or other traditional Japanese foods.
In many of the restaurants, you'll find a children's menu just like in restaurants in the United States. The kids' meals in Japan, however, are often served on adorable children's dishes and come with small child-sized eating utensils.
Everything is whimsical, themed, or cute
Japan has a way of taking something completely ordinary and making it whimsical and cute.
Take for example their food. If you order a donut for your child, it will very likely be decorated with googly eyes and a face. If you order a hot dog from the children's menu, they'll slice the frank and cook it to look like an octopus.
In Japan, they even have a name for this culture of cuteness: kawaii.
There are also numerous themed dining experiences in Japan, as well.
From the popular Robot Restaurant in Tokyo, which is more appropriate for teenagers, to the Kawaii Monster Cafe, several Alice and Wonderland restaurants, and a Sanrio-themed cafe that little ones will love, there are plenty of places to experience all things whimsical in Japan.
Japan is home to lots of great amusement parks
Admittedly, amusement parks aren't really our thing. Our daughter wasn't yet three when we visited Japan, so luckily we were not at the stage where amusement parks and theme parks dominate vacations.
But you cannot talk about the best things to do in Japan with kids without mentioning the country's many incredible amusement parks.
If you and your children enjoy theme parks, you'll find a number of popular options to choose from when visiting Japan with kids.
Tokyo is home to Tokyo Disneyland and the only Disney resort with a nautical-theme, DisneySea!
Additionally, you'll find Universal Studios and LEGOLand in Osaka and several fun but lesser known parks scattered throughout the country, like Sanrio Puroland and Fuji Q Highland. 
For theme-park lovers, you can journey around Japan visiting different parks and riding roller coasters that will have your kids squealing with glee!
Lights, arcades, and action – there are lots of all three
Tokyo, Japan, specifically, is a serious stimulation of the senses. Everywhere you look, there are bright lights, colorful signs, and flashy electronics. It's a city packed with action. Just the type of place that would wow a child.
However, for children with sensory issues, this might be a bit over-stimulating. However, there are lots of places, even in Tokyo where zen and serenity abound, as well.
Is your kid a gamer? Tokyo has an entire district dedicated to video games and Anime. In the district of Akihabara, you'll even find urinals equipped with gaming systems. (Sorry ladies, I did not find video games in the women's restrooms.)
The country even boasts one of the biggest arcades in the world – an 11-story amusement center of fun in Osaka!
The locals are friendly
Kindness and respect are an integral part of the Japanese way of life. After our family trip to Japan, we joked that if you simply look confused for 10 seconds in Japan, someone will stop to help you.
It is one of the friendliest countries we've ever visited. So naturally, the friendly people make visiting Japan with kids a lot easier.
It is nice going to a place where people will smile at children and offer to help families with young kids.
The locals were so friendly, in fact, our daughter became quite popular, particularly among the older ladies of Japan. They often stopped to take her photo or touch her hair. This wasn't the first country where we've experienced this, so it didn't surprise us or her.
Although our tiny traveler didn't understand what all the fuss was about, she didn't mind the extra attention either.
It is very safe and very clean
Along with being extremely friendly, Japan is one of the safest countries in the world. While it's a good idea to be vigilant of your surroundings regardless of where you are, Japan is generally an incredibly safe place to travel with kids.
Reports of crime, even petty theft among travelers is generally very low.
It's also very clean. You will rarely see trash in the streets despite the fact that there are very few trash bins. You'll also notice a lack of graffiti on buildings.
Beyond that, the practice of removing your shoes before entering a home, a temple, and even some businesses and restaurants is commonplace. It is a way to prevent germs and keep the tatami floors clean.
Perhaps the cleanliness the country is known for stems from their deep-rooted beliefs. Cleanliness is a central part of Buddhism, which many Japanese people practice.
Japan is the heart of pop culture and Asian fashion
Teenagers and preteens will especially love pop culture and fashion in Japan. There is even a teen fashion district in Tokyo with lots of stores your young trendsetter will love perusing.
Take a stroll down Takeshita Street in Harajuku, known as Japan's "Teen's Holy Land".
The street is filled with trendy stores carrying cutting-edge fashion, for prices even broke teenagers can afford. You'll also find plenty of sweets stores selling crepes, colorful cotton candy, and other Instagrammable desserts that teens will love. 
For younger children, Japan is home to popular cartoons like Pokemon, Hello Kitty, and others which all got their animated start in Japan. Evidence of that is everywhere! At times, Japan feels like the setting for an animated movie because of the vibrant colors, cuteness, and animations all over the place.
It's a hands-on history and cultural lesson
While Japan may be lively and animated in many ways, it is also home to thousands of peaceful temples and serene shrines that make for a great living history lesson.
When visiting Japan with kids, learning becomes hands-on. The lessons they learn will likely instill a deep-seated interest in other cultures and ways of life. 
The history, religion, and cultural practices in Japan are fascinating, particularly for westerners who don't have much experience with them.
At many of the temples or shrines, you can learn about and participate in various rituals believed to cleanse the body and soul, provide good fortune, healing, or other blessings.
In many of the traditional hotels or ryokans, children will experience the act of removing your shoes upon entering. And in the onsens or bath houses, children will learn about the health benefits of the minerals in the water along with the different cultural views on modesty.
In so many ways visiting Japan was a culture shock for us, but a beautiful one! We fell in love with the culture and the traditions.
Japan is easy to navigate
A country that is well connected and easily accessible using only public transportation is a huge bonus when traveling with kids. In Japan, you don't have to worry about renting a car. You can get anywhere relatively quickly and inexpensively by train, bus, or the metro.
You'll find bullet trains, or high-speed trains, connect many of the larger cities making it a fast way to get around the country.
Public transport in Japan is also extremely reliable. Navigating the train station and metro stations was a bit confusing when we first arrived, but after a day or two, we were able to get the hang of it.
Our toddler was always eager to take the train and was better-behaved when we traveled by train or the subway. We purchased the Japan Rail Pass which made train travel a breeze in Japan.
We strongly recommend the JR Pass, which you can read more about below where we give our top tips for visiting Japan.
CLICK HERE TO RESERVE YOUR JAPAN RAIL PASS.
There are lots of unique ethical animal encounters in Japan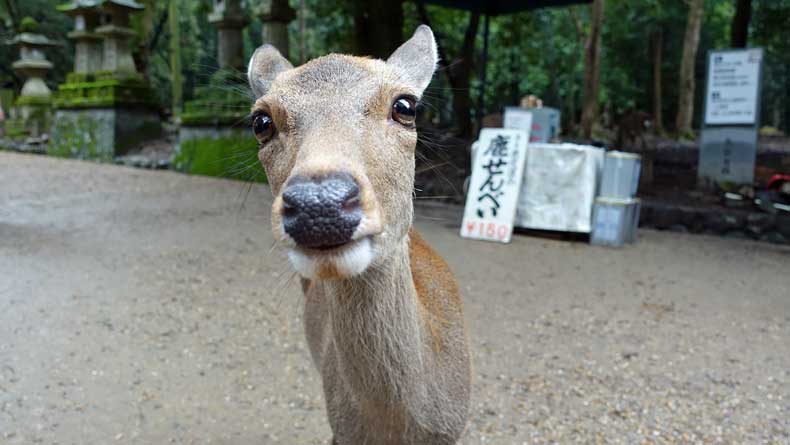 Cat cafes… owl cafes… pug cafes… Japan seems to have a cafe where you can interact with just about any domesticated animal. While we would have loved to visit one of these ethical animal cafes, young children are not allowed in them.
The age restriction is usually around 11-years-old and up. However, if you are visiting Japan with older kids, your preteens and teenagers will love them! 
For an ethical animal encounter that kids of all ages can enjoy, just head to the wonderful city of Nara, where thousands of friendly deer roam the streets. Or head to Nagano where you'll be able to watch wild snow monkeys soaking in natural hot springs.
While these are not domesticated animals, they are very used to humans being around. You still need to use caution when around the animals in Nara or Nagano, but your kids will love seeing these beautiful creatures in a natural setting.
9 day itinerary for Japan with kids
As we mentioned earlier, you'll want to give yourself at least 9 days if visiting Japan with kids.
We recommend splitting your time between the popular cities of Osaka, Kyoto and Tokyo. If possible, fly into Osaka and fly out of Tokyo to maximize your time in Japan.
This Japan travel itinerary for 9 days includes:
2 days in Osaka
3 days in Kyoto
4 days in Tokyo
Highlights of 2 days in Osaka
Osaka is the third largest city in Japan. It has a large international airport that makes it an easy place to start your Japan travel itinerary. There are several points of interest in Osaka that you will want to see in the city.
Osaka also makes for a great city to base yourself in if you have more time and want to do day trips to places like Nara or Kobe.
WHERE TO STAY IN OSAKA: HOTEL BE-ZEN SHIMANOUCHI
Universal Studios
If visiting Japan with kids, Universal Studios Japan is a must visit. It's one of only 6 Universal Studios locations in the world.
You could spend an entire day at Universal Studios in Osaka, which has rides, costumed characters, shows and a nightly parade.
Dotonbori
Dotonbori is perhaps one of the most famous districts in Osaka, Japan. This lively entertainment area sits on a canal and is best known for its neon lights, eye-catching signage, and street food.
This is a great place for an evening stroll and dinner after a day of exploring.
Osaka Castle
One of the most famous landmarks in Japan, Osaka Castle sits on 15 acres and has two moats and 13 structures.
Built in the late 1500s the castle has been burned down, rebuilt, struck by lightning, burned again, bombed in WWII and restored time and time again.
Currently, Osaka Castle is a tourist site and museum. Situated in a beautiful park, it is a wonderful place to visit in Japan with kids. The park is a popular place to visit in spring when the cherry blossoms are in bloom.
Highlights of 3 days in Kyoto
Kyoto is the cultural capital of Japan and one of our favorite cities in the world! We recommend giving yourself at least three days in Kyoto with kids.
WHERE TO STAY IN KYOTO: RINN GION YASAKAMAE
READ OUR FULL REVIEW HERE
Day trip to Nara
Nara is a 30-45 minute train ride from both Osaka and Kyoto, so we recommend stopping in Nara on your way from Osaka to Kyoto.
You can see many of the top sights in Nara in one day. Whether you do a self-guided trip, or book a day trip to Nara from Osaka or Kyoto, this city is a must-visit in Japan!
The Nara Park deer are the highlight of a trip to Nara, Japan and the primary draw for most visitors.
These protected animals roam the street alongside humans and have become so accustomed to humans that instead of shying away from you, they will walk up to you or even sit next to you for a snuggle.
Fushimi Inari Shrine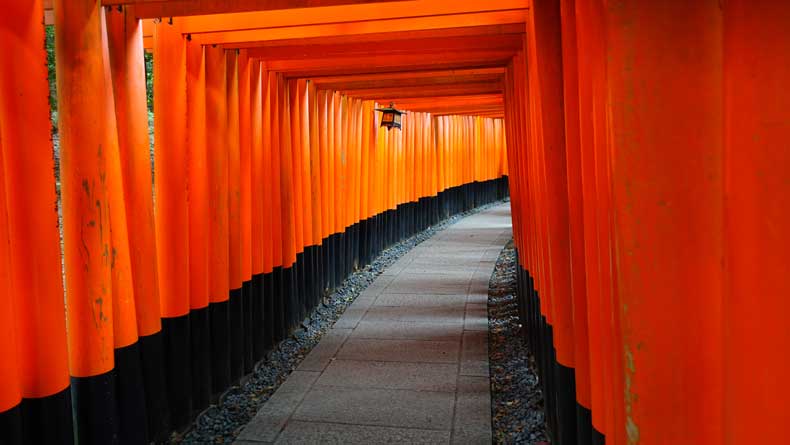 Another one of the most famous landmarks in Japan, Fushimi Inari Shrine is a unique Japanese experience in Kyoto.
With thousands of bright orangish red torii gates leading up a mountain, this shrine is a beautiful place to explore and let kids roam and burn energy.
Gion
Gion is one of the oldest and most interesting districts in Kyoto. Known as the geisha district, your chances of spotting one of these lovely performers entering or exiting a teahouse are best around sunset in Gion.
Golden Pavilion
Kinkaku-ji, also known as the Golden Pavilion is a UNESCO World Heritage site in Kyoto.
The Zen Buddhist temple that dates back to the late 1300s is gold-plated and sits on a large coy pond that creates a beautiful reflection of the temple. 
Arashiyama Bamboo Grove
Arashiyama is a northern suburb of Kyoto.
It is best known for its bamboo grove that is often pictured in photos of Japan. While the grove is relatively small, the bamboo that grows here towers over visitors creating an idyllic appearance of being surrounded by nature.
Highlights of 4 days in Tokyo
Being the largest city in Japan, you'll want to give yourself extra time in Tokyo with kids. At least 4 days are needed in this large, bustling and super fun metropolis.
WHERE TO STAY IN TOKYO: HOTEL SUI GINZA KYOBASHI BY ABEST
Shinjuku
Shinjuku is one of the most famous and most visited districts in Asia. Home to various themed cafes and restaurants and some of the tallest buildings in Tokyo, this district has a massive city feel and is a lively scene both day and night.
Shibuya Crossing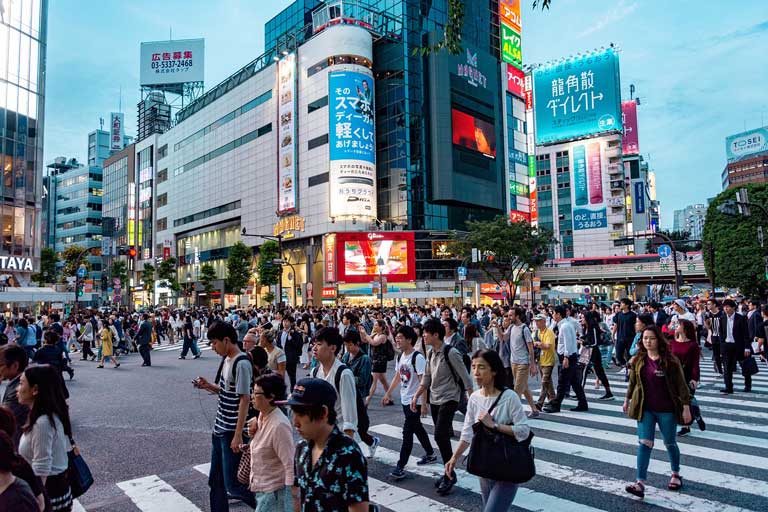 The Shibuya district of Tokyo is home to the busiest crosswalk in the world. At the peak of the day about 3,000 people cross the intersection at the same time. While a crosswalk may not seem like much of a tourist attraction, this bustling district has a lot to offer.
From shopping and dining, to beautiful parks and Buddhist shrines, it is a fun place to explore in Japan with kids.
Tsukiji Fish Market
Tsukiji was once a thriving live fish auction surrounded by authentic food stalls and vendor booths selling fish, and Japanese food that is fresh and local.
In the past, you could watch a live fish auction in the early morning hours at Tsukiji Fish Market, but the auction moved to Toyusu in 2018, a man made island in the Bay of Tokyo.
Although visitors can no longer watch the live auction at Tsukiji, the outer markets remain, and they offer an authentic and fun foodie experience that will fascinate adults and children alike.
Tokyo Disney
Tokyo Disneyland and DisneySea are must visits in Tokyo with kids, particularly if your kids are beyond the toddler age and can appreciate a theme park. The first Disney park to be built outside the United States, Tokyo Disney is the largest Disney park in Asia.
You'll need at least a full day for Tokyo Disneyland or DisneySea. Or a day at each, if you want to visit both parks.
Day trip to Hakone
A day trip to the popular town of Hakone can be a fun experience for families. From a gondola cable car ride and a boat ride across a lake, to volcanoes and onsens, Hakone is a great day trip from Tokyo.
READ OUR POST ON HAKONE HERE OR BOOK A DAY TRIP FROM TOKYO HERE.
Tips for visiting Japan with kids
Aside from learning a bit about Japanese culture and preparing your children for the vast yet beautiful differences they might experience, there are a few other things to know before visiting Japan with children.
JR Pass
The Japanese Rail Pass is a must if you plan to visit more than one city in Japan.
This transportation pass for international visitors gives you access to all major forms of public transportation within the country. It will ultimately save you a lot of money. 
Learn about culture
If you do not understand the culture of Japan, you can easily offend the residents of this beautiful country. For example, you should be aware of when you are expected to take off your shoes when entering a place.
Also, you should know a bit about the food (It's DELICIOUS), the guidelines on tipping in Japan (short answer DON'T), feelings on tattoos (they aren't considered appropriate), and etiquette (Bow when you greet someone or leave).
Uber and taxis are also transportation options in parts of Japan
Although public transportation is easy to use and the country is well connected, we did use Uber once during our visit to Tokyo, mainly for convenience.
Additionally, taxis are safe and widely available through the JapanTaxi app. 
Final thoughts on visiting Japan with kids
If you're looking for family-friendly countries to add to your bucket list or to visit on your next vacation or holiday, Japan is definitely a country to consider. It offers everything from fascinating culture to thrilling excitement, beautiful serene small towns and bustling large metropolises.
But most of all, visiting Japan with kids will be a monumental experience and ultimately a core memory your children will carry with them long after your trip is over.
Have questions of comments about visiting Japan with kids? We'd love to hear from you! Share your thoughts in the comments below.
Like it? Pin this guide to Japan with kids to save it for later!
This post on visiting Japan with kids was first written in February 2018 and was updated in February 2022 for accuracy and current information.