We may earn money or products from the companies mentioned in this post.
From tiny toilets to themed restaurants, there are so many reasons to visit Japan with kids. Regardless of their age or interests, you will find something in Japan that your children will love. Visiting Japan with children can be a great experience for you and your young travelers, who will likely find the history and culture just as interesting as you do. From the currency to the food in Japan and even the accommodations, Japan can be a different experience than what many are accustomed to, so it's a good idea to know a little about Japan before your trip.
Japan with kids – our personal experience
We traveled to Japan when our daughter was just 2 1/2 years old. Not knowing how a picky toddler would handle the food, the crowds, or the jet lag, we were a little apprehensive before the trip. However, we quickly learned Japan was as child-friendly as countries come. There are only a few countries that we've visited that I could truly imagine living in and loving, and Japan is one of them.
On a family trip to Japan, I'd recommend spending at least two days in Osaka, a day in Nara, three days in Kyoto, four days in Tokyo, and taking a day trip to Hakone to see majestic Mount Fuji.
You'll find each location or city incredible in its own unique way, but there are a few characteristics about Japan that seemed to be constant regardless of the region. If time is limited, you can see a good portion of Japan in seven days, but your trip may feel a bit rushed, particularly if visiting Japan with kids.
Why you should visit Japan with kids
Traveling with kids is so much different than traveling without them. Safety, cleanliness, and comfort become much more important than they probably were in your pre-kids days. But family travelers will find Japan an ideal destination. Here are my top 10 reasons to visit Japan with kids.
Family amenities
While we were in Japan we were going through the exhaustive process of potty training our toddler. As any parent who has ever potty trained a child will tell you, leaving the country – or even the house – during this difficult stage can be stressful and counterproductive. But Japan made the process of traveling with a potty training toddler a bit easier. We found child-sized toilets in a lot of the public restrooms, which my daughter felt much more comfortable using. The bathrooms will be a point of interest for older children (and adults), as well. They'll will be fascinated by the toilets in Japan with all their buttons and fancy gadgets.
When staying in hotels or apartments, you'll find special toiletries for kids. At the ryokan in Osaka and at the Japanese townhouse in Kyoto where we stayed, we even had child-sized pajamas, socks, and slippers supplied during our stay. When dining out, don't worry if you have a picky eater who refuses to eat sushi. In many of the restaurants, you'll find a children's menu. The food was even served on adorable children's dishes with small eating utensils at most restaurants where we dined.
Everything is whimsical, themed, or cute
Japan has a way of taking something completely ordinary and making it whimsical and cute. Take for example their food. If you order a donut for your child, it will very likely be decorated with googly eyes and a face. If you order a hot dog from the child's menu, they'll cut it and cook it to look like an octopus. There are also numerous themed dining experiences, as well. From the popular Robot Restaurant in Tokyo, which is more appropriate for teenagers, to an Alice and Wonderland restaurant and a Hello Kitty restaurant that little ones will love, there are plenty of places to experience all things whimsical in Japan.
Amusement parks
Admittedly amusement parks aren't my thing. Our daughter wasn't yet three when we visited Japan, so luckily we aren't in the amusement park stage yet. However, if your children enjoy amusement parks, you'll find a number of popular parks to choose from when visiting Japan with kids – including Disneyland Tokyo and the only Disney resort with a nautical-theme, Disneyland Sea!
Lights, arcades, action
Tokyo, Japan, specifically, is a serious stimulation of the senses. Everywhere you look, there are bright lights, colorful signs, and flashy electronics. It's a city packed with action. Just the type of place that would wow a child. Is your kid a gamer? Tokyo has an entire district dedicated to video games and Anime. You'll even find urinals equipped with gaming systems. (Sorry ladies, I did not find video games in the women's restrooms.) The country even boosts one of the biggest arcades in the world – an 11-story amusement center of fun!
Friendly locals
Kindness and respect are a part of the Japanese way of life. My husband and I joke that you just have to look confused for 10 seconds and someone will stop to help you in Japan. It is one of the friendliest countries we've ever visited. So naturally, the friendly people make visiting Japan with kids a lot easier. It's nice going to a place where people will smile at children and offer to help families with children. The locals were so friendly, in fact, our daughter became quite popular, particularly among the older ladies. They often stopped to take her photo or touch her hair. This wasn't the first country where we've experienced this, so it didn't surprise us or her. Although our tiny traveler still didn't understand what all the fuss was about.
Safe and clean
Along with being extremely friendly, Japan is one of the safest countries in the world. While it's a good idea to be vigilant of your surroundings regardless of where you are, Japan is generally an incredibly safe place to travel with kids. It's also very clean. You will rarely see trash in the streets or graffiti on buildings.
Pop culture and fashion
Teenagers and preteens will especially love the pop culture and fashion in Japan. There is even a teen fashion district with lots of stores your young trendsetter will love perusing. Pokemon, Hello Kitty, and other popular cartoons all got their start in Japan. And evidence of that is everywhere! At times, Japan feels like the setting for an animated movie.
Hands-on history and cultural lessons
Japan is home to thousands of temples and shrines that make for a great living history lesson. When visiting Japan with kids, learning becomes hands on. The lessons they learn will likely instill a deep-seated interest in other cultures and ways of life. The history, religion, and cultural practices in Japan are fascinating! At many of the temples or shrines, you can learn about and participate in various rituals believed to cleanse the body and soul, provide good fortune, healing, or other blessings. In many of the traditional hotels or ryokans, children will experience the act of removing your shoes upon entering. And in the onsens or bath houses, children will learn about the health benefits of the minerals in the water along with the different cultural views on modesty.
Easy to navigate
A country that is well connected and easily accessible using only public transportation is a huge bonus when traveling with kids. In Japan, you don't have to worry about renting a car. You can get anywhere relatively quickly and inexpensively by train, bus, or the metro. My toddler is a bit obsessed with trains right now since we don't have them in the part of the United States in which we live. So she is always eager and better-behaved when we travel by train or the subway. We purchased the Japan Rail Pass which made train travel a breeze in Japan.
CLICK HERE TO RESERVE YOUR JAPAN RAIL PASS.
Ethical animal encounters
Cat cafes… owl cafes… pug cafes… Japan has a cafe where you can interact with just about any domesticated animal. While we would have loved to visit one of these ethical animal cafes, young children are not allowed in them. The age restriction is usually around 11-years-old and up. Your older kids and teenagers will love them though! For an ethical animal encounter that kids of all ages can enjoy, just head to the wonderful city of Nara, where thousands of friendly deer roam the streets.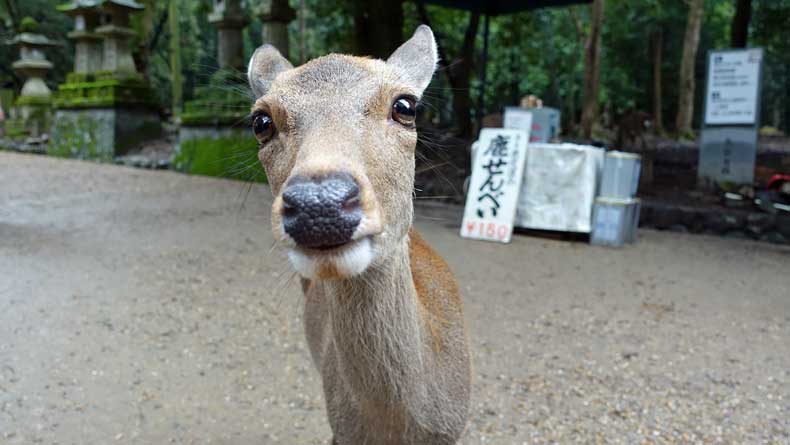 If you're looking for family-friendly countries to add to your bucket list or to visit on your next vacation or holiday, Japan is definitely a country to consider.
Like it? Pin it!
Have you visited Japan with kids? What other places have you visited that children will love? Share your thoughts in the comments below.