Copenhagen, Denmark is one of those cities where you could easily spend weeks exploring. With beautiful canals, castles, gardens, and a world-famous amusement park, there are so many things to do in Copenhagen with kids. Like many Nordic cities, Copenhagen is extremely family friendly. There are plenty of attractions in Copenhagen for kids, but even places geared more toward adults often have activities for children who are accompanying their parents.
This travel guide to visiting Copenhagen with kids includes a detailed 2 day Copenhagen itinerary plus information on the best things to do in Copenhagen for kids.
Our personal experience visiting Copenhagen with kids
Copenhagen was a city we had dreamed of visiting for years, so naturally, we had high expectations when we arrived. Luckily, unlike a lot of places that don't always live up to the hype, Copenhagen exceeded even our colossal hopes, and left us wishing we had more than 2 days in Copenhagen to explore.
We visited Copenhagen as part of a multi-city, 12-day trip to Scandinavia. It was the first stop on our 3-country tour of Denmark, Sweden, and Norway.
The weather was perfect, with blue skies and temperatures higher than the seasonal averages. Although it was off-season, tourists and locals were taking advantage of the amazing weather and were out exploring, enjoying the parks, and in true Copenhagen style, cycling everywhere!
We stayed three nights in the Denmark capital, but we spent the first day recovering from jet lag and relaxing, so that left us with 2 days in Copenhagen to sight-see.
Copenhagen itinerary: How to spend 2 days in Copenhagen
If you only have 2 days in Copenhagen or even a long weekend, plan to start your days early and be prepared. This 2-day Copenhagen itinerary is jam packed! To save time and money, invest in the Copenhagen Card. It is well worth it!
The Copenhagen Card provides free admission to more than 80 museums and other attractions in the city, as well as free, unlimited public transport and discounts on dining and other activities. If visiting Copenhagen with kids, up to two children under the age of 10 are free with each card.
RESERVE YOUR COPENHAGEN CARD HERE.
As previously mentioned, there are a lot of things to do in Copenhagen with kids, and you will squeeze most of them into day one. We walked everywhere on day one, and took free shuttle buses to the Denmark National Aquarium and Carlsberg Brewery on day 2 in Copenhagen. (Yes, the brewery is kid-friendly and fun for all ages!)
We provide a short synopsis below of all of the activities we did during our 2 days in Copenhagen, but first here's a look at our Copenhagen itinerary.
Copenhagen Itinerary: Day 1
Breakfast along Strøget
Visit Little Mermaid statue
Attend the changing of the guards at Amalienborg Palace
Lunch along Nyhavn and canal boat tour
Tour Christianborg Palace
Climb the Round Tower (Rundetaarn)
Stroll through King's Garden
Visit Rosenborg Palace
Dinner at Torvehallerne fresh market
Copenhagen Itinerary: Day 2
Denmark National Aquarium
Carlsberg Brewery Tour
Tivoli Gardens
Where to stay in Copenhagen for 2 days
One of the most important things when planning a 2-day stopover in a new city is to choose centrally located accommodations. We stayed at Steel House Hostel. (Yes, staying in hostels with kids is totally doable.)
Steel House Hostel is conveniently located near the Central Train Station (København H), which is right next to Tivoli Gardens and within walking distance to a lot of the main attractions.
COMPARE HOTELS IN COPENHAGEN AND READ TRAVELERS' REVIEWS HERE.
Getting around Copenhagen with kids
There is no need for a rental car in Copenhagen because the public transportation system is efficient and easy to navigate. But make sure you take a look at and understand the Copenhagen public transportation zones ahead of your visit to save you time and confusion once you arrive.
Copenhagen is a very walkable city. However, it is also one of the most bicycle friendly cities in the world. So, if your children are old enough to ride a bike, you can rent public bicycles and travel around the city on 2 wheels to maximize your time in Copenhagen.  Keep in mind, if visiting Copenhagen in winter, you will want to dress accordingly if you plan to walk around the city.
Copenhagen with kids – 12 fun things the whole family will love
When traveling with kids, finding activities that are interesting and fun for both adults and children can be difficult. But this Copenhagen itinerary has something for everyone. As one of the best cities in Scandinavia, the whole family will fall in love with Copenhagen in just two days!
Tivoli Gardens
A must-see attraction for anyone visiting Copenhagen with kids or without, Tivoli Gardens is a magical place! We are not typically fans of amusement parks or roller coasters, so Tivoli Gardens was not at the top of our list of things to see in Copenhagen, Denmark. But it turned out to be the highlight of our time in the Danish capital.
Not only are there a lot of great rides at Tivoli Gardens that even toddlers and small children can go on, but the gardens are stunning.
Founded in 1843, Tivoli is the third oldest amusement park in the world, behind Dyrehavsbakken in Klampenborg, Denmark and the Prater in Vienna, Austria. And it is ranked among the most beautiful theme parks in the world, alongside Busch Gardens in Williamsburg, Virginia.
Besides theme park rides, Tivoli serves as a venue for performing arts. With a large open-air stage, and a concert hall, there is always some type of musical or theatrical performance to see at Tivoli Gardens.
For our daughter, Tivoli was an experience she will never forget. We spent half a day at Tivoli Gardens, and left with an exhausted but happy child. If you plan to visit Tivoli Gardens you will definitely want to purchase an unlimited rides ticket, as it is a much better deal than purchasing individual ride tickets.
Denmark National Aquarium
The Denmark National Aquarium is a great place to spend a few hours exploring life under the sea. The aquarium, also called Den Blå Planet or The Blue Planet in English, is broken up into  different areas. You can learn about life under the ocean, or in the rainforest rivers of South America, the lakes in Africa, or in Nordic rivers. 
Sea otters, sharks, piranhas, and an octopus are some of the main highlights at the aquarium, which is another must-visit attraction in Copenhagen for kids. The largest aquarium in Northern Europe, it houses thousands of fish and marine species in more than 1.85 million gallons of water across 53 aquarium tanks.
Located in the suburb of Kastrup, a free shuttle bus takes you to the Denmark National Aquarium from the Central Train Station every hour and 15 minutes. The building itself is someone of an architectural marvel. The aluminum-clad building is designed to look like a whirlpool from above with five wings spiraling outward.
Shop and eat along Strøget
Strøget is Copenhagen's bustling pedestrian shopping street. Along the street in the heart of Copenhagen, you'll find a wealth of stores selling Danish souvenirs right alongside storefronts for some of the most expensive international brands. This is a great place to window shop, grab a bite to eat, or relax with an ice cream or cup of coffee. 
Kids will find plenty of entertainment along the way. Occasional street performers and a variety of toy stores and sweets shops make the Strøget a family-friendly experience.
Visit the Little Mermaid statue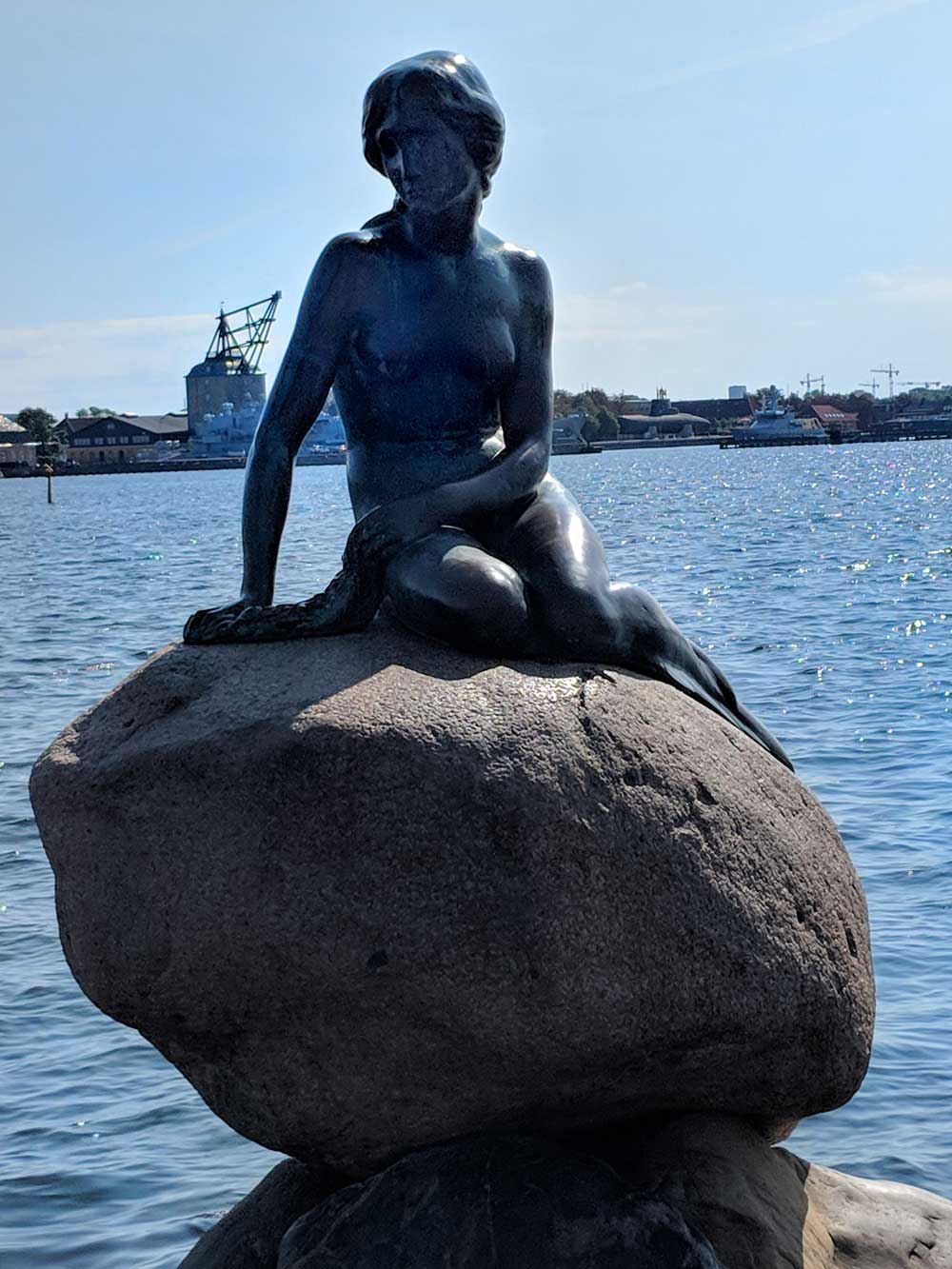 If you've researched Copenhagen at all, you've probably already heard of its most famous resident, the Little Mermaid, or Den lille Havfrue, in Danish. The Little Mermaid in Copenhagen is kind of like the Mona Lisa. I'm not sure why she's so famous.
The bronze statue is only 4 feet tall, and there is nothing really impressive about her. But over time, she has become one the most famous statues in Europe, and one of those things to do in Copenhagen that is a must for any itinerary.
For no other reason than to say you've seen her, go visit the Little Mermaid. Based on the fairy tale character created by Danish author Hans Christian Andersen, the Little Mermaid has become an iconic symbol for Copenhagen.
While most people are familiar with Disney's adaptation of the Little Mermaid, Andersen's tale doesn't have the same happy ending. In fact, it ends tragically. The statue in Copenhagen seems to more accurately align with Andersen's original story. The bronze mermaid statue appears to be looking longingly back at the sea, regretting her decision to leave the ocean for a life on land. 
The statue sits on the canal in a less-than-convenient area, but if you have extra time you can also visit Kastellet while in the area. It is free to enter and is one of the best-preserved fortresses in Europe.
Attend the changing of the guards at Amalienborg Palace
Amalienborg Palace is the home of the Danish royal family. Every day at noon, a special ceremony occurs at the palace.The changing of the guards is a fascinating look at royal customs and practices. The guards leave Rosenborg Castle at 11:30 a.m. making their way to Amalienborg Palace around noon for the daily ceremony. When the monarch is there, the guards are accompanied by a marching band.
We enjoyed the pomp and circumstance of the ceremony, which is similar in nature to what you might witness at Buckingham Palace in the United Kingdom. However, rather than viewing the ceremony from behind the gates, spectators circle around an open area where the changing of the guards takes place.
Aside from the actual ceremony, it was interesting to see the crowd's reaction, as well. A couple of officers manage the crowd of onlookers and keep people out of the road as the guards march to the palace.
Afterward, they motioned to the crowd to indicate people can come closer to observe the ceremony once it starts. And come closer they do! At first, people started walking but quickly broke into a jog to advance forward and snag a prime spot in front.
Explore Nyhavn and take a canal boat tour
Nyhavn is the most iconic and photographed street in Copenhagen. And it is easy to see why Nyhavn is such a hot spot. With brightly colored buildings and large sailboats lining the canal, this picturesque area is the perfect place to spend a leisurely afternoon. The walkways along either side of the canal are always teeming with activity.
You'll find rows of sidewalk cafes, lots of people strolling the boardwalk, tourists taking photos, and music filling the air. It is a lively atmosphere on sunny days and a fun, charming place to spend a couple hours. 
One of the best ways to experience Nyhavn is on a canal tour. The boat not only takes you through the beautiful canal but around to other sights like the Little Mermaid. From the boat, you get a different perspective and view of the 4-foot statue (and all the people taking pictures of it).
If you purchase the Copenhagen Card, a canal boat tour is included as a free activity, and it is one of the most fun things to do for kids in Copenhagen.
Tour Christiansborg Palace
Christiansborg Palace is located in the center of Copehagen. Although the current palace was built in 1928, it sits on the ruins of an 800-year-old castle.
At Christiansborg Palace you can tour the Royal Reception Rooms where foreign ambassadors are received by the queen of Denmark. Christiansborg Palace is also where the Danish royal family and government host official state dinners.
However, there is more to Christiansborg Palace than the grandiose reception rooms. If visiting Copenhagen with kids, the most interesting part of the palace will be the ruins underneath it. Children and adults alike will find the ruins of the 12th century castle fascinating.
You can also learn about Danish history, which at times, was quite fearsome yet intriguing! 
Kids can also take part in a fun mystery scavenger hunt throughout the palace museum by downloading the Useeum app before your visit.
Climb to the top of the Round Tower (Rundetaarn)
The Round Tower, also known as Rundetaarn, is a 17th century observatory that offers great views of Copenhagen. Getting to the top requires walking up a spiraling ramp that is just as picturesque as the views from the top. 
Climbing the Round Tower is a great way to help little ones burn energy. We visited in the off-season so the observatory was not that crowded. Our toddler gleefully raced down the spiraling ramp, laughing the whole way. It makes for both a fun and active thing to do in Copenhagen with kids.
Stroll through King's Garden
King's Garden, often referred to as Rosenborg Garden, is a beautiful green space at the entrance to Rosenborg Castle. When the weather is nice, you will find locals lounging in the cool grass and crowds gathering together to enjoy the outdoors. Established in the early 1600s, the royal gardens are the country's oldest.
Take a stroll under a canopy of trees, let your children run around in the safe, fenced-in area, or take them to the adventure playground to explore, climb and play. It's a perfect way to break up a long day of sightseeing while giving kids a chance for imaginative play!
Visit Rosenborg Palace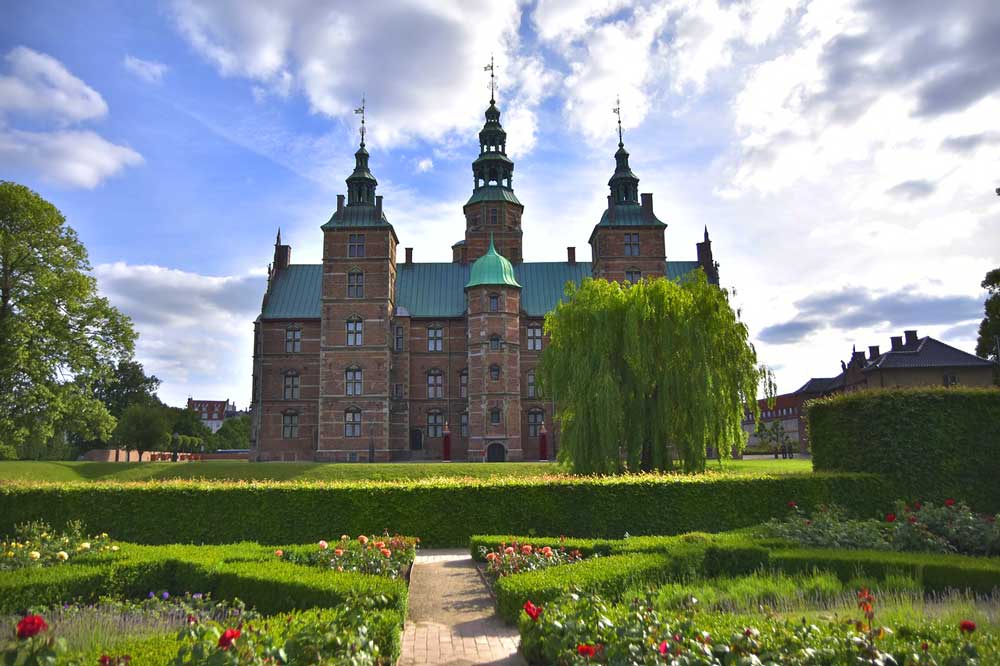 While taking in the beauty of King's Garden, make it a point to visit Rosenborg Castle. The 17th century castle is well-preserved and houses the Danish crown jewels. This renaissance castle built in 1606 was originally constructed as a country summer home for Denmark's kings and queens by order of Christian IV.
It now serves as an interesting museum showcasing the royal history of Denmark. Rosenborg Palace doesn't take very long to tour, but it is a great way to travel through time and get a sense of everyday life and more pontifical aspects of royal life over the last 500 years.
Dinner at Torvehallerne fresh market
After hours of sightseeing, it's always nice to sit down, eat a great dinner, look through your photos from the day's adventures, and simply relax. One of the best places to eat in Copenhagen is Torvehallerne fresh market.
Food truck vendors sell everything from craft burgers to tacos, making it perfect for the picky little eaters in your family who won't want any of the amazing seafood dishes for which Scandinavia is famous.
Walking around the market is also a fun experience. Live lobsters and a variety of massive fresh fish that were recently caught are ready for purchase.
Torvehallerne is a place where locals and visitors to Copenhagen alike both gather for great food and an even greater atmosphere.
Carlsberg Brewery Tour
Nothing brings people together more than a cold beer in a foreign town. It's true. Europeans love their alcohol. Dublin has Guinness. Munich has Hofbrau. And Copenhagen has Carlsberg. If you want to get to know a culture then you need to know what they drink.
And if you're in Denmark then it's a guarantee that you're drinking a Carlsberg. Luckily, touring the Carlsberg Brewery is a family-friendly experience. Kids will especially love visiting the Carlsberg horse stables where they can pet the horses. Adults will love the free beer with admission!
We actually visited Carlsberg Brewery on our first afternoon in Copenhagen. We had a few hours before we needed to head back to the hotel and crash for the evening, so we headed to the brewery for a relaxing afternoon.
It was a great way to spend our first few hours in Copenhagen. You could do the same, or squeeze it into day two of a 2-day Copenhagen itinerary. There is a free shuttle bus that leaves from the Central Train Station that makes it easy to get there and back.
Is 2 days in Copenhagen enough?
This is always a tough question to answer about any city. You can definitely hit the highlights of Copenhagen in 2 days, but if you have more time we would highly recommend staying longer in Copenhagen with kids. Giving yourself more than 2 days in Copenhagen allows you to explore things at a slower pace, spend more time lingering, and visit more of the incredible museums and child-friendly places in Copenhagen.
But we also realize that many people, like ourselves, have limited time off from work and want to see as much as they can in a short amount of time. While this Copenhagen itinerary should help you make the most of 48 hours in Copenhagen with kids, if you have more time to spend here, you will find plenty of things to do in Copenhagen to keep you and your children entertained.
Other things to do in Copenhagen with kids (if you have more time)
So, if you have more than just 2 days in Copenhagen or a long weekend in Copenhagen with kids here are a couple more great things to do around Copenhagen.
Day trip to Roskilde
Right outside of Copenhagen, Roskilde is an historic city that is home to a UNESCO World Heritage-designated cathedral that dates back to the 12th century.  Once the hub for Viking trade routes, Roskilde is one of Denmark's oldest cities and one of the most beautiful cities in Scandinavia.
You'll also find an incredible Viking Ship Museum similar to the one in Oslo, Norway. Kids will love getting to see a real well-preserved Viking ship and learning about this captivating part of Danish history.
Six Forgotten Giants
Tucked away in the woods on the western outskirts of Copenhagen, families can go on a treasure hunt for the Six Forgotten Giants. These wooden sculptures built by Thomas Danbo are sprinkled around the western municipalities of Copenhagen, drawing people to beautiful yet overlooked nature spots.
Although a bit out of the way if staying in Copenhagen's city center, finding these open air sculptures is a fun road trip with kids. While it is a fun way to explore a less touristy part of Copenhagen, you definitely need a car for this fun activity in Copenhagen with kids. 
Have you taken a trip to Copenhagen with kids? What were your favorite attractions in Copenhagen? Is there anything else you would add to this 2 day Copenhagen itinerary? Let us know in the comments below!
Like it? Pin this Copenhagen with kids itinerary to save it for later!
This itinerary for Copenhagen with kids was originally published in September 2018 but was updated in April 2022 for accuracy and current information.