We may earn money or products from the companies mentioned in this post.
Oslo, Norway is a fabulous, family-friendly city. It is clean, safe, easy to navigate without a car, and filled with fun and interesting things to do for kids and adults alike. If you've done any research on Oslo, you've probably already read that the city is expensive. That isn't just a rumor. Although one of the best Scandinavian cities to visit, Oslo, Norway is a pricey destination! In fact, it is perhaps one of the most expensive cities in Europe. But there are definitely ways you can save money in Oslo. The Oslo Pass is one way to save a decent amount of money on some of the top tourist attractions in the capital city of Norway. If you are planning to visit several of the many great museums, then the Oslo Pass is definitely worth purchasing for the adults. For families visiting Oslo with kids, you may be pleasantly surprised to find many of the things to do in Oslo are actually free for kids or deeply discounted!
2 days in Oslo itinerary
There is plenty to do Oslo in 2 days. When I first started planning our Scandinavia itinerary, I didn't realize all there was to do in Oslo. But once I started really researching, I found out that 2 days in Oslo with kids isn't enough to see and experience everything. However, if you have a limited amount of time, this 2-day Oslo itinerary allows you enough time to hit the highlights and experience all the top things to do in Oslo.
Where to stay in Oslo with kids
Oslo is a fairly large city, and many of the museums are somewhat spread out requiring you to use public transportation or drive to get to them. But it's a good idea to stay in the city center if you only have 2 days in Oslo. We arrived by car after spending a few days in Copenhagen, and road tripping through West Sweden. We were also taking an early train out of Oslo to go to the beautiful village of Flam to see the fjords of central Norway. We found it most convenient to stay near the central train station. We stayed at Scandic Byporten which is perhaps the closest hotel to the train station. It is literally connected to the station, as well as a shopping mall. The rooms were small, but the hotel was nice, modern, and included a delicious breakfast buffet served at the restaurant next door.
CLICK HERE TO BOOK YOUR STAY AT SCANDIC BYPORTEN.
Day 1 in Oslo
Shop or take a stroll down Karls Johans Gate
National Theater
Tour Slottsplassen and Royal Palace
View the famous artwork "The Scream" at The National Gallery
Lunch near Karls Johans Gate or the National Theater
Tour the Nobel Peace Center
Explore Frogner Park
Day 2 in Oslo
Oslo City Hall
Take an OsloFjord cruise
Visit The Fram Museum
Kon-Tiki Museum
Lunch
See a real viking ship at the Viking Museum
Experience Norway throughout history at the Norwegian Cultural History
Holmenkollen Ski Museum
Things to do in Oslo with kids
From exceptional playgrounds to attentive waitstaff in restaurants Oslo is a kid-friendly city. It is so kid-friendly in fact that it is hard to narrow down an itinerary to just two days.
Don't worry, this 2 day Oslo itinerary hits the top highlights in the city, but if you are looking for additional activities we list a few other things to do in Oslo with kids that your little ones will love.
Karls Johans Gate
Karl's Johans Gate is a popular pedestrian shopping street that runs from the central train station to Slottsplassen and the Royal Palace. You'll find a number of restaurants, stores, and souvenir shops along the street making it a great place to take a stroll, people watch, or spend some time browsing for a keepsake.
Slottsplassen and Royal Palace
Slottsplassen and many of the grounds around The Royal Palace are free to enter and open to the public. You'll find love gardens, interesting sculptures, and a large plaza where you can watch the changing of the guards every afternoon. Visiting the interior of the palace itself requires a guided tour and can only be done during the summer months.
National Theater
The area in front of and surrounding the National Theater in Oslo is a lively scene. Musicians, festivals, and food vendors can often be found catering to crowds outside the National Theater. There is a lovely park with a large fountain that is a great place to let kids run around before continuing with the rest of your itinerary. The building itself is ornate and historical. We did not go inside or see a performance, but if your children love theater, this would be a great place to return in the evening and take in a show.
National Gallery
Oslo, Norway is home to one of the most famous paintings in the world. The Scream by Edvard Munch hangs in the National Gallery, just a five minute walk from Slottsplassen. The museum houses numerous exhibits and very beautiful works of art, so spend some time walking through the gallery. Young kids probably won't appreciate this part of the itinerary, but you can't visit Oslo and not see The Scream. Besides, admission is included with the Oslo Pass and kids are free.
Nobel Peace Center
This is another portion of your 2-day Oslo itinerary that younger kids might not appreciate to the full extent. However, it's an important look at history and a lesson in world peace. I found the Nobel Peace Center inspiring and notably peaceful, as I walked through and read about all the people and organizations changing the world and making it a better place. There is a lot of reading in this museum. There are a few kids stations throughout the museum that explain things on a more child-friendly level. You don't have to spend long in the museum but it's worth visiting briefly.
Frogner Park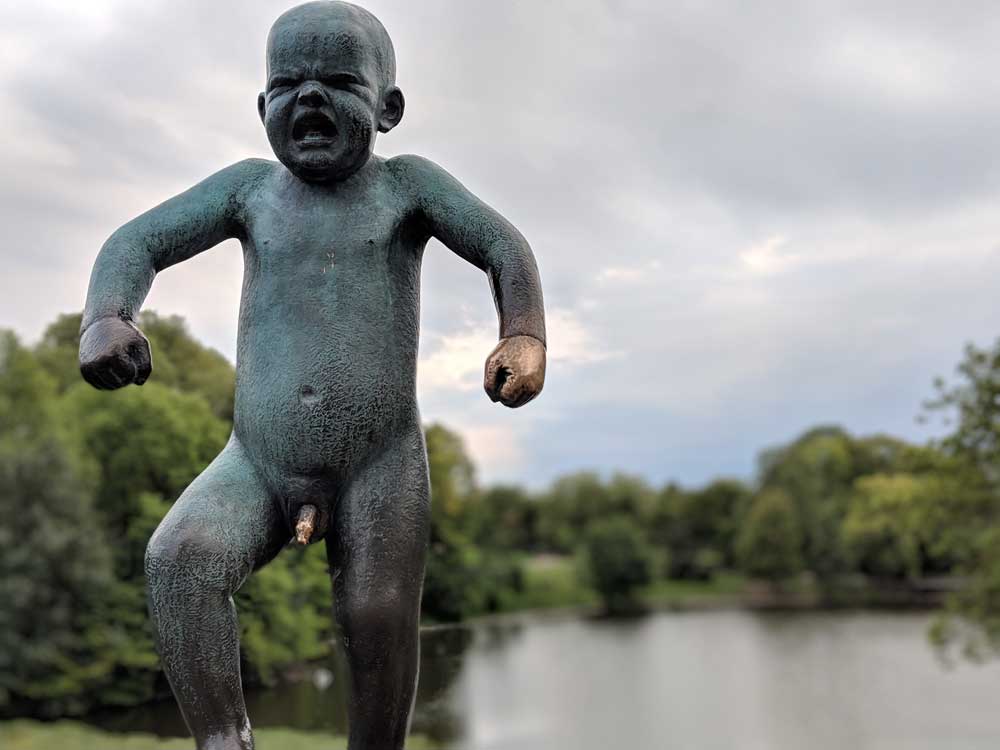 Frogner Park is the largest park in central Oslo. Inside the public park you'll find the largest sculpture park in the world created by a single sculptor. Vigeland Sculpture Park includes hundreds of sculptures each telling a beautiful story about human life and its various stages. Gustav Vigeland is the famous artist behind the park's statues. He spend his life creating the many sculptures within the park, including the one above, titled The Angry Boy, which is perhaps the most famous in the entire park. Frogner Park also has one of the best playgrounds we've visited during our travels. Kids will love climbing all over the equipment with its different challenges and obstacles.
Oslofjord tour
If you aren't planning on exploring more of Norway, doing the Norway in Nutshell tour, or visiting Bergen or Flam, then the Oslofjord tour is the closest thing you will get to seeing the majestic fjords. Although not as stunning as some of the other fjords in Norway, the Oslofjord is still beautiful. Take a short tour of the fjords or just hop on a ferry and take a boat across to the Bygdøy peninsula, where you will spend most of your second day in Oslo.
The Fram Museum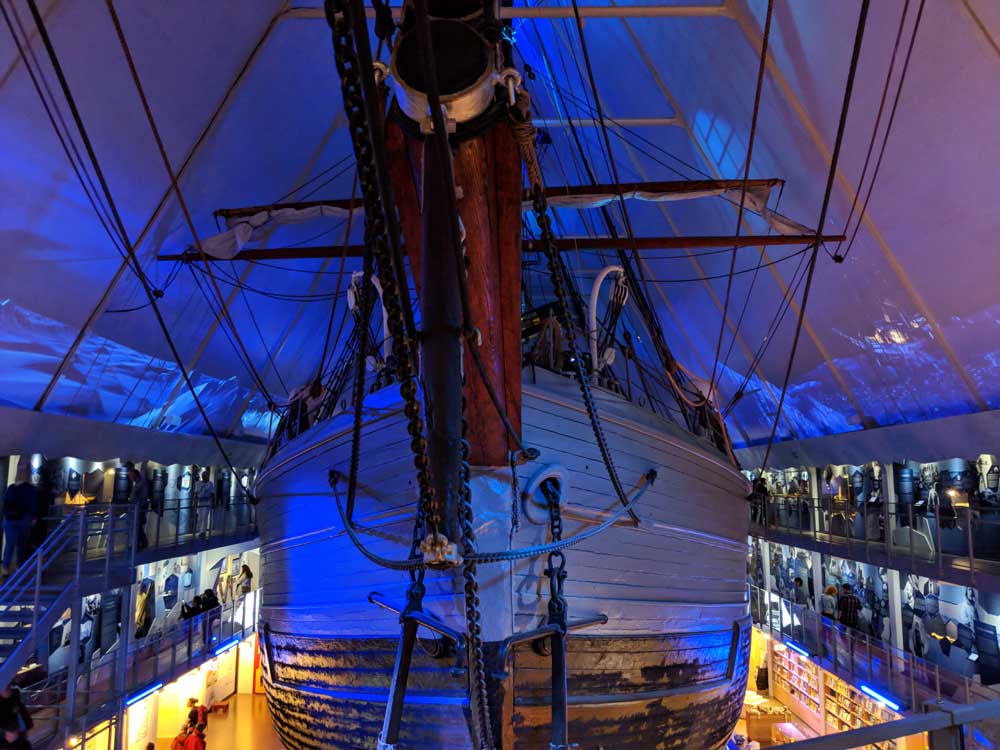 The Fram Museum on the Bygdøy peninsula is a must for anyone visiting Oslo, Norway. The museum tells the story of early polar exploration in Norway. Visitors can tour and go inside the Fram, the ship used to explore the Arctic in the late 1800s. The museum is impressive for kids and adults alike.
Kon-Tiki Museum
The Bygdøy peninsula is Oslo's museum alley. The Kon-Tiki Museum is directly across a small street from The Fram Museum. The Kon-Tiki Museum tells the story of a Norwegian explorer who journeyed from Peru to Polynesia on a raft. It is a quick museum to visit and is both educational and interesting for your little explorers.
Viking Museum
The vikings are an important part of Norway's history. And the Viking Museum is the only place where you can see a real viking ship. The museum is fairly small. We were in and out in about 10 minutes. But if you purchase the Oslo Pass the museum is included, so it's worth stopping in for a quick history lesson.
Norwegian Museum of Cultural History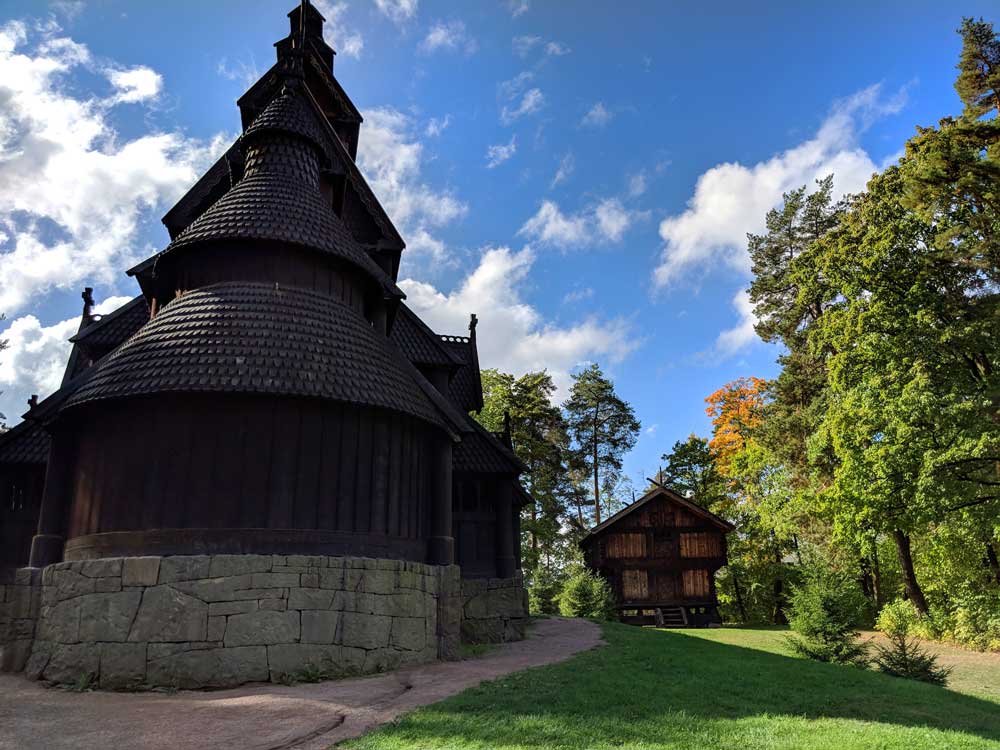 On a nice day, you could spend hours at the Norwegian Museum of Cultural History. It is a large outdoor, open-air museum that walks you through normal life from the early days in Norway until more modern of times. One of our favorite parts of the museum was the stave church, which was architecturally exquisite. If visiting Oslo with kids, this might be their favorite museum you visit.
Holmenkollen Ski Museum
We are a family of skiers. Each winter we love to bundle up in ski gear, strap planks on our feet and glide across a blanket of fresh snow in the mountains. Naturally, the Holmenkollen Ski Museum was a must for us. The museum is built inside the Olympic ski lift used in 1952 when Oslo hosted the winter games.  The museum walks you through the history of the sport of skiing. At the end of the museum you can take a lift to the top of the ski jump and peer over the edge. You get great views of Oslo and the Oslofjord, but be warned, it gets cold and windy up there!
Adventure lovers can zipline off the top, or if you prefer wait for the next elevator to take you back down. Admission to the museum is included in the Oslo pass. If you want to zipline or take a ride in the ski simulator at the base of the ski jump, you can also get a discount with the Oslo pass. Although we love ziplining and have done it before, we didn't do it at Holmenkollen because we were traveling with our toddler and logistically it wouldn't have worked because she was too young and we would have had to go at separate times. We did however, take our 3-year-old in the simulator and we all enjoyed the experience.
Other things to do in Oslo with kids
As with most of our other trips, we didn't have time to visit all the Oslo attractions that we would have liked. If you have more time in the Norway capital here are a few other things to do in Oslo with kids.
Olso Opera House
One of the most photographed attractions in Oslo, the Opera House isn't just great for those looking to take in an opera. On warm days, it's a great place to enjoy lunch outside while overlooking the water.
City Hall

It would be easy to fit in a short visit to Oslo City Hall before you take a cruise in the Oslofjord or around the same time you visit the Nobel Peace Museum as it is in the same area. The most notable feature of City Hall is the fantastic murals inside the building.
International Museum of Children's Art
If your kiddos love art, then the International Museum of Children's Art is a great place for a budding artist to truly get inspired. See works of art from around the world solely created by kids.
Norwegian Museum of Science and Technology
Our daughter LOVES science museums. Visiting the science museum is one of our favorite things to do with kids in our hometown of Oklahoma City, Oklahoma. So when we have time, we also love to visit science museums around the world. After all, science is universal.

Natural History Museum
The Natural History Museum is Norway's largest collection of natural objects including fossils, scientific collections, and zoological exhibitions.

Barcode neighborhood
This is more of a photography attraction than it is a place to visit. It's obvious to see how the Barcode district gets its name. The unique facades on the buildings give the district a barcode appearance.
Is the Oslo Pass worth it?
The Oslo Pass is a great value if you plan to spend your time in Oslo visiting some of the incredible museums. You can buy a pass for 24, 48, or 72 hours. Our daughter was three years old when we visited Oslo, so we didn't have to buy an Oslo Pass for her because she got in free everywhere. But there are discounted Oslo Pass prices for kids if you are traveling with grade school to high school-age kids. Another huge and convenient perk of the Oslo Pass is that all public transportation is free with the pass including trains, buses, trolleys, and ferries.
Combined, we spent a total of $790NOK ($92 US) for two adult 24-hour Oslo Passes. You write in the time and date when you arrive at your first activity, so you don't have to activate the pass until you get to the first activity that requires admission, so although we spent 2 days in Oslo, we only had to buy the 24-hour Oslo Pass. Had we paid our admission into everything on our 2-day Oslo itinerary separately, we would have spend $1750NOK ($206 US). So purchasing the pass saved us more than $100 US on our trip before you even account for transportation which is free with the Oslo Pass, making it well worth the cost!
RESERVE YOUR OSLO PASS HERE!
Have a question about visiting Oslo with kids or how to spend 2 days in Oslo? We'd love to hear from you! Leave your thoughts in the comments below.

Like it? Pin it!
This post may contain affiliate links, which means that we may receive a small commission, at no cost to you, if you make a purchase through a link.