Trying to plan the perfect vacation in Spain, Portugal, and Morocco? We're here to help! This 2-week Spain, Portugal, Morocco itinerary is a whirl-wind adventure. It takes you from the tiled streets of Lisbon, Portugal to the dreamy pueblos blancos in southern Spain, ending in the majestic, maze-like medinas in Morocco.
We've planned it, personally traveled it, and have laid out the details of our Portugal, Spain, Morocco itinerary to make your trip-planning a breeze.
About this Spain, Portugal, Morocco itinerary
A vacation to the Iberian peninsula, which encompasses Portugal and Spain, is sure to be filled with fun, sun, and lots of sangria and tapas.
With only a mile of water separating the southern tip of Spain from Morocco, the north African country makes for an easy addition to any Iberian itinerary.
Although we planned and did everything on our own, if you prefer a guided tour over a self-guided one, there are a variety of tour companies that offer similar itineraries for Spain, Portugal and Morocco.
For example, this multi-day guided Spain and Portugal itinerary can be paired with this Morocco itinerary to create a full 2 week itinerary for Portugal, Spain and Morocco.
Another option is to do a portion of the trip self-guided and then take a few day trips or guided adventures for the other destinations. You may feel totally fine doing the European portion on your own, but prefer a guided tour of Morocco.
How to get around using this Spain, Portugal, Morocco itinerary
Following this itinerary will take you by plane, train, metro, bus, rental car, taxi, and even ferry. The transportation element of this itinerary was the most confusing aspect when planning our Spain, Portugal, Morocco trip.
So, we've taken the headache out of the equation, providing links to all the places where you can book transportation and when you will need it.
Flights
First, if following this Portugal, Spain, Morocco itinerary, plan to fly into Lisbon, Portugal and out of Tangier, Morocco.
We use Google Flights to find the cheapest flight information.
Be sure to search for both open-jaw flights and one way flights to see which option is the cheapest. Once you find the flights that work best, we always recommend booking flights directly through the airline itself.
Rental Car
You'll be able to travel around Lisbon and to the mountain town of Sintra using public transportation that you can book when you arrive in Lisbon. However, you'll need a rental car to travel between Lisbon and Albufeira and Faro, Portugal.
It is possible to take a bus from Lisbon to Faro, but you will want a car to travel freely along the Algarve coast.
We use DiscoverCars to compare rates and book cars when road tripping in Europe.
Keep in mind, many of the cheapest cars to rent in Europe are manual transmissions, so if you cannot drive a stick-shift vehicle, be sure to select automatic only when searching for cars.
Bus
From Faro, Portugal to Seville, Spain you will need to take a bus, as there are no trains connecting the two cities.
Driving your rental car to Seville is an alternative option, but there are significant fees added when you drive a rental car across a border and drop it off in a different country than you picked it up in.
You'll save hundreds of dollars by taking the bus. The buses are nice and roomy.
You can check the bus times, ticket costs and book directly at FlixBus.
Train
In Seville, you can get by mainly on foot since you will primarily be exploring the city center and old town area if you follow our Spain, Portugal, Morocco itinerary.
When you leave Seville to head to Cordoba, Ronda, and to Tarifa to board the ferry to Morocco, you will travel by train. You will take the train from Seville to Cordoba, Cordoba to Ronda, and Ronda to Tarifa.
You can review the train timetables and book your tickets at RailEurope.com.
Read our full review of Rail Europe HERE
Ferry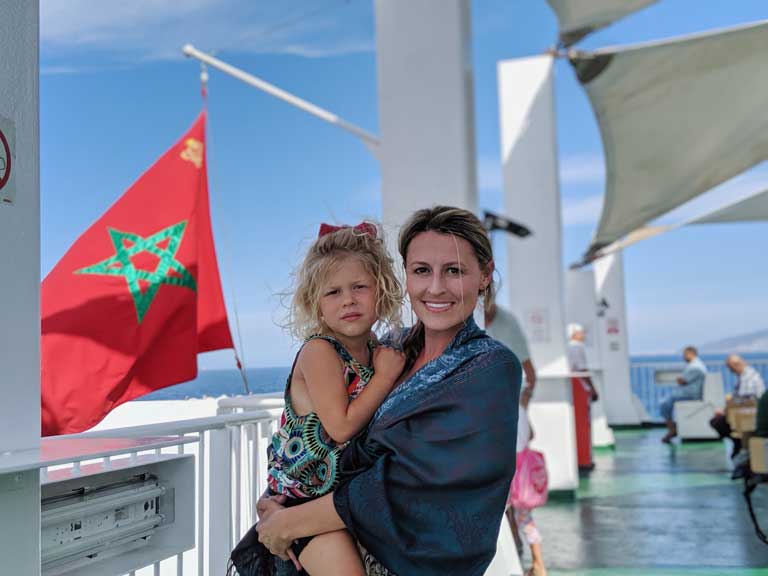 The ferry is the easiest way to get between Spain and Morocco. There are two ferry ports in Spain and two near Tangier, Morocco. You want to be sure to go to the right one, which will save you a lot of time and frustration.
Book your train ticket through to Tarifa, Spain rather than Algeciras. You will catch the ferry in Tarifa.
Both Tarifa and Algeciras have ports with ferries that take you to Morocco, but Algeciras is a much longer ordeal, as the ferries are primarily transporting those in vehicles driving onto the ferry.
The port in Tarifa is primarily for those walking onto the ferry, so the wait time and process is much smoother.
You will have to transfer trains in Algeciras to get to Tarifa but it is well worth the extra stop and could potentially save you hours of time. The ferry from Tarifa will drop you off at the port in Tangier, as well, whereas the Algeciras ferry docks at Tangier Med which is located about 30 minutes outside of Tangier.
You can book your ferry from Tarifa on Viator.com.
Taxi/Private Transfer
When you arrive in Morocco, the easiest way to get between cities is to take a taxi or private transfer service.
You can book your transfer to Chefchaouen directly online, or when you arrive at the ferry port, you'll find plenty of taxi drivers who will also be willing to make the trip to Chefchaouen.
Safety and Health Information
Health and safety are the most important things to consider when booking a family trip. Fortunately, we felt safe in every part of Portugal, Spain and Morocco that we visited.
Personal Safety
Although Morocco can be intimidating for solo female travelers who might experience unwanted attention from men, it is a different story if visiting Morocco with kids.
Moroccans are very family-oriented and children are doted on, stopped on the street, and blessed, particularly by Moroccan women. This may be somewhat disquieting for children who do not like attention or have a fear of strangers, however we never felt unsafe. In fact, our daughter loved the extra attention.
Vaccinations
Any time you travel internationally, you'll want to make sure your vaccinations are up-to-date. You'll also want to check each country's entry requirements regarding vaccinations, as those may differ and change over time.
Drinking water
The drinking water or tap water in Portugal and Spain is safe to consume, but you will want to stick to purchasing bottled water in Morocco and avoid eating raw fruits that have been washed in the tap water. We even used bottled water to brush our teeth, although that isn't considered necessary. It was more of a precaution we took to avoid "traveler's tummy".
Unfortunately, it is quite common to experience tummy issues like traveler's diarrhea in Morocco, and we were not taking any chances. For this reason, we recommend purchasing travel insurance through a reputable company like World Nomads.
Again, health and safety information is always changing, so we always recommend checking with the state department in your country for travel advisories for each location.
Currency
Spain and Portugal both use the Euro and credit cards are widely accepted. Although, some places have a minimum purchase amount required if using a credit card.
When getting cash in a new currency, we recommend using an ATM and paying the minimal foreign transaction fee rather than using a currency exchange kiosk. Your bank will typically give you a much better exchange rate.
In Morocco, you will want to take out some Moroccan dirham, as many businesses and vendors in the medinas don't accept credit cards. You'll find an ATM at the ferry ports, as well as the airports if you choose to fly.
Be sure to check the currency exchange so you have a general idea on how much money to withdraw.
Visa requirements
Visa requirements will vary depending on your country of origin. Travelers from the United States, Canada, United Kingdom, and the European Union do not need visas for a Spain, Portugal, Morocco trip.
Your passport and proof of onward travel is all you will need to visit any of these three countries.
However, beginning in 2024, US citizens will have to register and pay a fee to travel to Europe.
Best time of the year to travel to Spain Portugal and Morocco
We did this 2-week Spain, Portugal Morocco itinerary during the summer months – in July and August specifically. It was the peak tourism season in Europe, so many places were crowded.
Additionally, summer in southern Spain and Morocco can be extremely hot.
Although the off-season would be more pleasant and less crowded, it isn't always feasible for families like ours with school-aged children.
Late spring or early fall would be a much more pleasant time to visit these three countries, if your schedule allows.
2-week Spain, Portugal, Morocco itinerary in a nutshell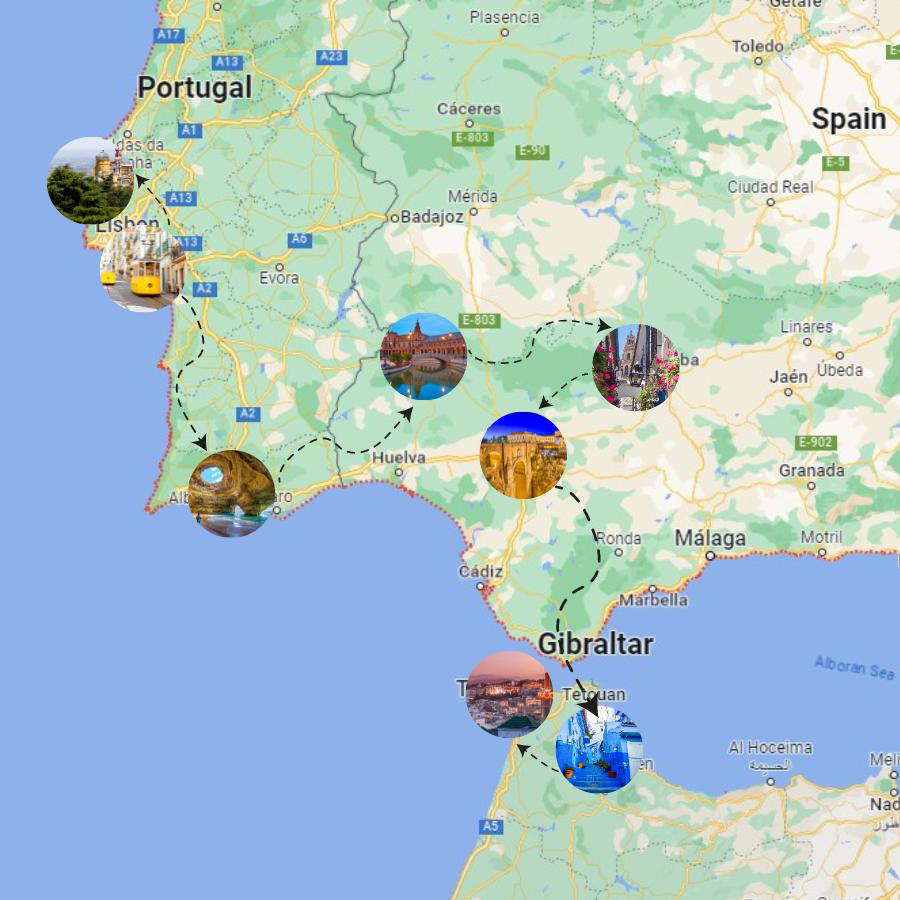 Although this 2-week itinerary for Spain, Portugal and Morocco takes you to all three countries, you will only get a small taste of each country.
You could easily spend 2 weeks in Spain alone marking incredible experiences off your Spain bucket list and visiting some of the many hidden gems of Spain.
You could also spend a full 2 weeks exploring all the best places to visit in Morocco or Portugal and still not cover them all.
With a limited time split between three destinations, here is a breakdown of our 2-week Spain, Portugal, Morocco itinerary.
Lisbon, Portugal: 3 days (with a day trip to Sintra)
Albufeira and the Algarve coast: 2 days
Seville, Spain: 3 days
Cordoba, Spain: 2 days
Ronda, Spain: 1 day
Chefchaouen, Morocco: 2 days
Tangier, Morocco: 1 day
We have included other alternative itineraries at the end of this post so you can choose the route for your Spain, Portugal, Morocco trip that is right for you.
Places to visit on a 2-week Spain Portugal Morocco trip
Now to a full overview of what you will see and where you will visit on this Morocco, Spain and Portugal itinerary.
To further help you plan your trip to Portugal, Spain and Morocco, we have written entire posts on many of the destinations included on our itinerary. This will give you a deeper look at the best things to do in each place and how to spend your time.
Here is a quick overview of the main stops on our Spain Portugal Morocco itinerary.
Lisbon, Portugal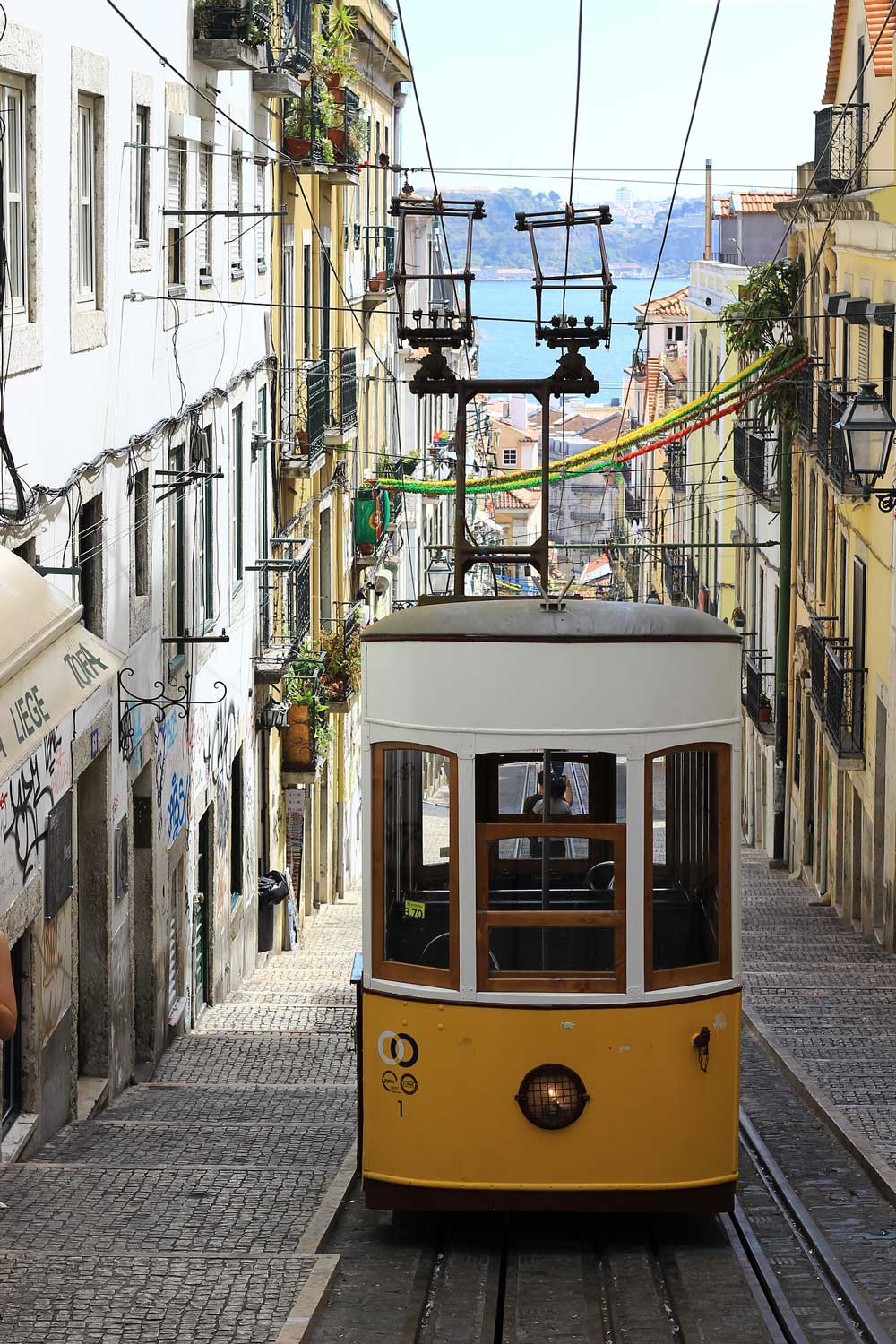 Where to stay in Lisbon: Hotel LX Rossio
Lisbon is your first stop of your 2 week trip to Portugal, Spain and Morocco. As the capital city of Portugal, Lisbon is both modern and historical. With steep, narrow streets, tiled buildings and red roofs, the city has a historical charm that is hard not to love.
The coastal city also boasts some of the best street art in Europe and even one of the most famous statues in Europe, a replica of Christ the Redeemer in Brazil.
When in Lisbon, wander through the Alfama District, the oldest district in Lisbon, visit the ancient Castel de St. Jorge and venture to Belem to see the Jeronimos Monastery and Belem Tower.
If visiting Lisbon with kids, the city is home to one of the largest aquariums in Europe, Oceanarium.
Here are a few of the highlights and things to see in Lisbon:
Alfama District
Castelo de St. Jorge
Praca do Comercio
Rossio Square
Barrio Alto
Jeronimos Monastery
Belem Tower
READ OUR COMPLETE LISBON ITINERARY
Sintra, Portugal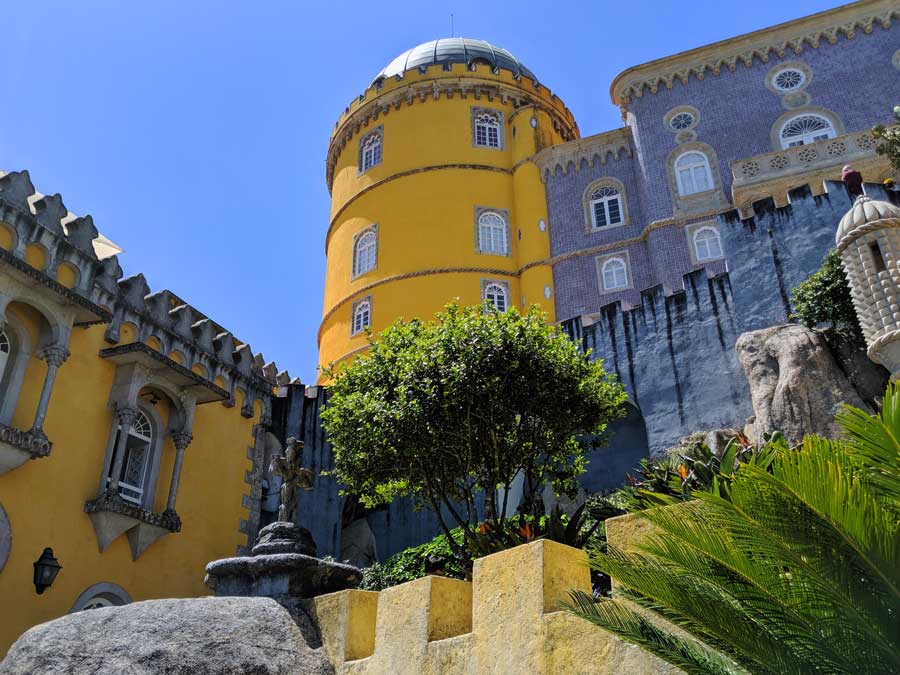 Plan to give yourself at least three days in Lisbon, with one of those days being a day trip from Lisbon to Sintra. You can get there within about 45 minutes by train from Lisbon or take a guided day trip.
Sintra is a beautiful mountain town that looks like something out of a fairy tale. Known for its magical palaces, castles, and magnificent estates that dot the hills, this picturesque community located an hour northwest of Lisbon is one of the most popular day trips from Lisbon.
The town, with its multiple famous landmarks, is considered a UNESCO World Heritage Site.
Once a popular summer home for Portuguese royalty, Sintra has a long history that dates back to the 8th century when the Moors settled the area.
Now, one of the wealthiest cities in Portugal, it is a tourist destination with ruins, well-preserved palaces, and beautiful estates shrouded in mystery.
Here are a few of the highlights and things to see in Sintra:
Castle of Moors
National Palace
Old Town Sintra
Quinta da Regaleira
READ OUR COMPLETE SINTRA DAY TRIP ITINERARY
Algarve Coast, Portugal
Where to stay along the Algarve Coast: Hotel Sol e Mar Albufeira
From Lisbon and Sintra, you'll head to the Algarve Coast. You'll want to pick up a rental car to drive to southern Portugal where you'll have a relaxing couple of days at the beach.
Remember to compare rental car prices online before you book. When picking up a rental car in Lisbon, keep in mind the city is very hilly, so an automatic transmission is beneficial unless you are very comfortable driving a standard transmission.
The Algarve Coast in southern Portugal is a popular beach destination in Europe. You can spend a couple days relaxing on the beach, playing in the ocean, and enjoying seafood and refreshing drinks in the picturesque seaside villages.
The Algarve is known for its pristine white villages perched upon low cliffs overlooking beach coves of white sand. Some popular beach towns to visit and explore include Lagos and Albufeira.
If you rent a car and drive from Lisbon, take a scenic drive along the southern coast, stopping to visit various beaches like Praia Da Rocha and Praia Da Marinha.
To top off your short time in the Algarve, book a guided tour to Benagil Cave, a stunning seaside cave accessible by boat. It is one of the most popular attractions in Portugal.
Additionally, if you have more time and enjoy traveling at a slower pace, you could tack on a few extra days in this peaceful coastal area.
Here are a few highlights along the Algarve Coast:
Beach hopping
Benagil Cave
Albufeira
Lagos
Seville, Spain
Where to stay in Seville, Spain: Eme Catedral Hotel
Your next destination on this Spain, Portugal, Morocco itinerary takes you to the beautiful Andalusia city of Seville. You'll want to give yourself at least 3 days in Seville, as well.
The city is known for its tapas, flamenco shows, and relaxed atmosphere. In the heart of the city, you'll find an extravagant Moorish royal palace, the Real Alcazar, that dates back to 1248.
Seville is also home to one of the largest and most famous cathedrals in Europe if not the world. Climb the Giralda Tower at the Seville Cathedral for panoramic views of Seville.
You'll also want to build in some time to explore Plaza de Espana and relax at the neighboring Maria Luisa Park.
Additionally, you will also want to spend time simply wandering the streets of the lovely Santa Cruz neighborhood, or book a guided walking tour to learn more about the history of the area. Once the old Jewish quarter of the city, Santa Cruz is notable for its winding alleys with rod iron balconies and hidden squares.
After your days of sightseeing, enjoy some free time during the Spanish siesta in the afternoons to regain your energy and avoid the peak heat hours.
In Spain, it is important to build in downtime during the siesta hour. Not only do many businesses shut down for a few hours during the afternoon, but you'll likely be staying up later than usual in Spain.
Most people in Spain do not eat dinner until after 8. This is also when many flamenco shows and tapas tours take place.
Plan for at least one or two late nights of delectable tapas, sangria, and flamenco performances.
Here are a few highlights and things to do in Seville, Spain:
Plaza de Espana
Barrio Santa Cruz
Tapas tour
READ OUR COMPLETE SEVILLE ITINERARY
Cordoba, Spain
Where to stay in Cordoba, Spain: NH Collection Amistad Cordoba
From Seville, you'll continue exploring the region of Andalusia on the Spain portion of your Portugal, Spain, Morocco itinerary. Head to the town of Cordoba via train (BOOK HERE), where you'll spend two days.
Although Cordoba can be done as a day trip from Seville, giving yourself two days in Cordoba allows you to explore the city without feeling rushed.
Cordoba is home to one of the oldest mosques in Europe. Although it is now a Catholic church, the Mosque of Cordoba, or Mezquita-Catedral de Córdoba, still maintains much of its original Islamic architecture. You can tour the Mezquita on your own or with a local guide.
Of course, Cordoba is known for its flower-filled streets and quaint patios that are the perfect place for a late breakfast, relaxing lunch, or evening dinner.
Spend some time wandering through the Jewish Quarter and enjoying the beautiful streets.
Here are a few highlights and things to do in Cordoba, Spain:
Jewish Quarter
Calle de las Flores
Roman Bridge
Mosque of Cordoba
READ OUR FULL 2 DAY CORDOBA ITINERARY
Ronda, Spain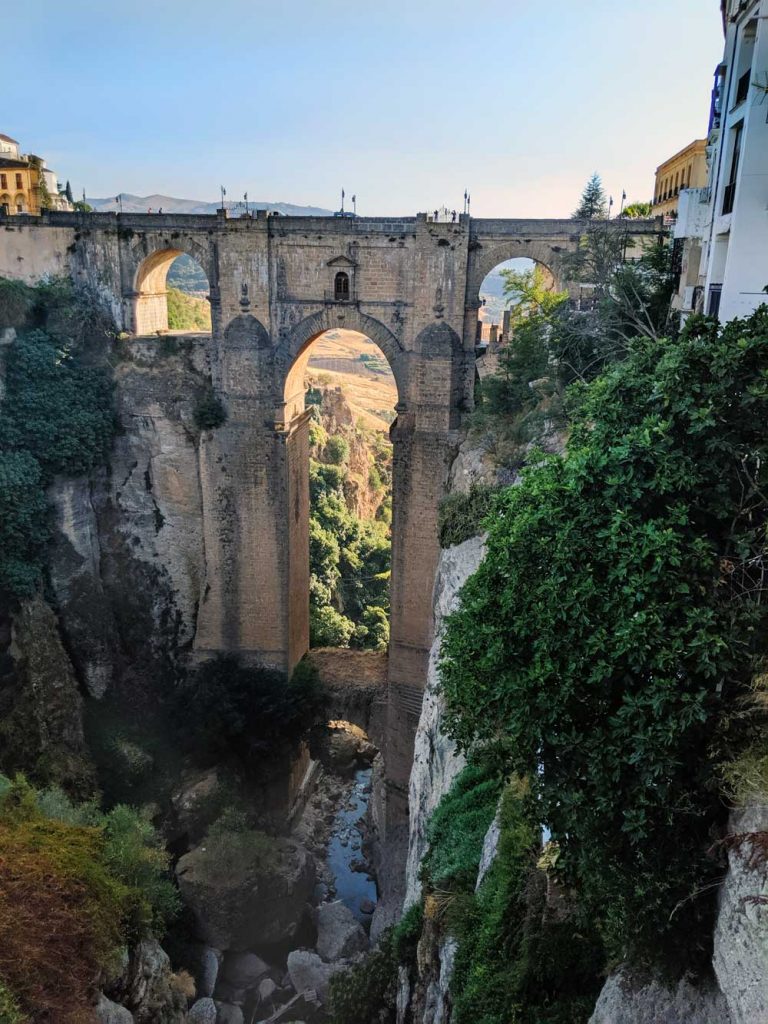 Where to stay in Ronda, Spain: Luxury apartment with wonderful views
One of the most beautiful places in Spain and even the real-life setting for a Disney movie, Ronda, Spain is a great place to relax with a glass of wine and an epic view.
Ronda is home to one of the most beautiful bridges in Europe.
Puente Nuevo extends nearly 400 feet across the Tajo Gorge. The picturesque bridge, which took 3 decades to build, is the primary draw to the small white village in Spain, but there are a lot more things to do and see if you want to spend more than one day in Ronda, Spain.
The old bridge, Puente Viejo, and Casa del Rey Moro are must-visits in the charming cliffside village.
You can join a walking tour or roam at your leisure to explore the beautiful streets. The town is also the original home of bullfighting. If you are interested in learning the history behind it there is a museum and bullfighting arena in the center of town.
Here are a few highlights and things to do in Ronda, Spain:
Puente Nuevo
Puente Viejo
Casa del Rey Moro
Baños Arabes
Plaza de Toros
READ OUR COMPLETE RONDA ITINERARY
Chefchaouen, Morocco
Where to stay in Chefchaouen, Morocco: Riad La Santa
After two nights in Ronda, it is time to catch a train, and then a ferry from Spain to Morocco.
As an alternative, you could also take the train back to Seville and fly to Morocco instead, if you don't want the hassle of the ferry. This might be a better option particularly if you are planning to visit Morocco with kids, as long travel days tend to wear out children quicker.
If you prefer to fly, consider flying in and out of Fes instead of Tangier. Fes is the cultural capital of Morocco and one of the best places to visit in the country.
Once in Tangier (or Fes), you'll want to have pre-arranged transportation to Chefchaouen.
Known as the Blue Pearl of Morocco, Chefchaouen is one of the prettiest cities in the north African country. Situated in the Rif Mountains, the city is known for its charming, pastel blue medina.
Spend a day letting yourself get lost in the narrow streets of the medina, take photos of the beautiful doors and eye-catching nooks and side streets.
Shop and haggle in the souk market, and then hike to the old Spanish Mosque for enchanting views overlooking this blue city.
To get the full Moroccan experience, book your stay in a riad, which is a traditional Moroccan home with a shared interior courtyard.
Here are a few highlights and things to do in Chefchaouen, Morocco:
Explore the blue medina
Do a photo shoot
Visit the souk market
Hike to the Spanish Mosque
Stay in a riad
READ OUR COMPLETE CHEFCHAOUEN ITINERARY
Tangier, Morocco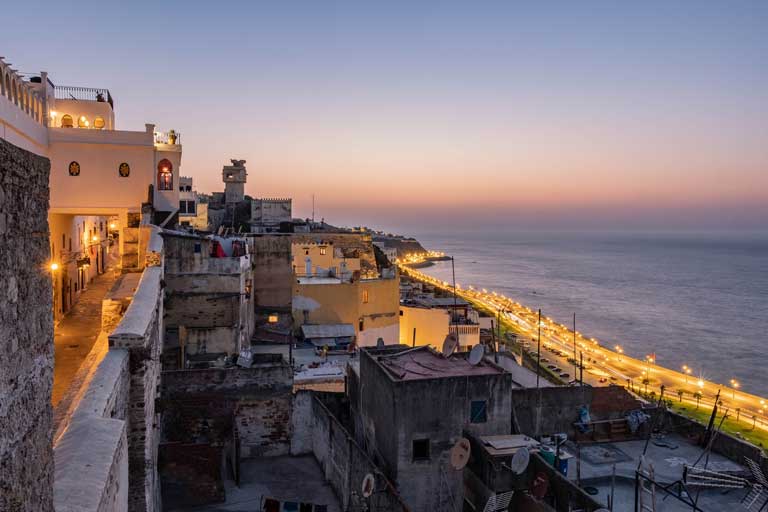 Where to stay in Tangier, Morocco: Royal Tulip City Center
One of the most fascinating facts about Morocco is just how close it is to the continent of Europe. And Tangier is so close to the southern tip of Spain that you can even visit Tangier as a day trip from Seville.
Located right on the coast, Tangier is a great place to end your whirlwind Spain, Portugal, Morocco itinerary. You can spend the day relaxing at the beach, or exploring Tangier's medina and Kasbah.
Just outside of town, Hercules Caves are a popular tourist site.
To maximize your time in Tangier, it's worth booking a full-day tour with a guide who can show you the highlights of Morocco's gateway town to Europe.
Here are a few highlights and things to do in Tangier, Morocco:
Wander the streets of the medina
Relax at the beach
Visit the Kasbah museum
Discover Caves of Hercules
Other Spain Portugal Morocco itinerary ideas
We considered several different itineraries for Spain, Portugal, Morocco, so we wanted to provide a few additional options that might better suit your travel style.
#1 Alternative itinerary for Spain Portugal Morocco trip (staying in fewer places with day trips)
This itinerary allows you to skip the rental car and bus, and take an overnight sleeper train from Lisbon to Madrid, although you'll be missing the scenic beaches along the Algarve coast.
This alternative Portugal, Spain, Morocco itinerary also allows you to stay in one place for longer and take more day trips.
You can take day trips from Lisbon, Madrid, and Seville.
You can even book a day trip from Seville to Tangier, Morocco if you just want to visit Morocco for a day or still plan to fly out of Tangier and take a day trip to Chefchaouen.
#2 Alternative itinerary for Portugal Spain and Morocco (if Barcelona is a must-visit)
It is tough to visit Spain and not visit the beautiful city of Barcelona. However, Spain is a large country and getting to Barcelona in the northeast portion of Spain takes some time.
You can elect to fly between Madrid and Barcelona or take a train. You can also elect to fly between Barcelona and either Tangier or Marrakech, Morocco, if you prefer flights to trains or road trips.
Lisbon, Portugal: 3 days (with a day trip to Sintra)
Madrid, Spain: 2 days (with a day trip to Toledo)
Barcelona, Spain: 3 days
Valencia, Spain: 1 days
Seville, Spain: 3 days
Tangier, Morocco: 2 days (with a day trip to Chefchaouen)
Is a 2 week trip to Spain, Portugal and Morocco enough?
If you prefer slow travel over a whirlwind trip, 2 weeks is not enough time to visit and truly appreciate Portugal, Spain and Morocco. In 2 weeks, it is a challenge to see more than a small region in each country.
It's a challenge to get to cities like Marrakesh or Barcelona without spending too much of your time in a car or train. But this itinerary gives you a small taste of each of the countries with a good portion of your time spent in my favorite region of Spain, Andalusia.
You'll return home having had a wonderful trip and wanting to return to each country to explore more!
Do you have a question or comment about this Spain, Portugal, Morocco itinerary? We'd love to hear from you. Leave your thoughts or your own ideas for a Spain, Portugal, and Morocco trip in the comments below.
Like it? Pin this Spain Portugal Morocco itinerary to save it for later!
This Spain Portugal Morocco itinerary was first written in June 2022 but was most recently updated in September 2023 for accuracy and current travel information.

Did you know…
When you make a purchase or book hotels, tours, or other travel services, through our links, we receive a small commission, at no extra cost to you. We only EVER recommend service providers, websites, or products we personally use when booking our own travels. Your support enables us to keep producing helpful travel content. Thank you!
Photo credits: 3. Crosm from Pixabay | 5. Julius Silver from Pixabay | 6. Jackmac34 from Pixabay | 10. Raul Cacho Oses from Unsplash | 11.Nikolaus Bader From Pixabay