If you've been dreaming of a tropical getaway filled with stunning beaches, electrifying street markets, ancient temples, and delicious food, 2 weeks in Thailand may be just what you need!
With so many incredible things to do and a wide range of different places to visit, planning the ideal 2 week Thailand itinerary can be overwhelming. Narrowing down where to go, determining how to get around the country, and figuring out the best accommodations and activities for your family can make even the most skilled travel planner second guess their decisions.
No need to fret. We've laid out the perfect 2 weeks in Thailand itinerary that takes you from the busy streets of Bangkok to the pristine beaches of Southern Thailand and the enchanting jungles near Chiang Mai.
We planned it. We personally traveled it. And now we're sharing our Thailand itinerary for 2 weeks to help take the stress out of planning your trip to this dreamy Southeast Asian destination. 
This guide to how to spend 2 weeks in Thailand lays out a complete itinerary, sample budget, and route to follow on your Thailand family trip.
2 Weeks in Thailand – Budget
Budgeting for Thailand can really vary based on your personal travel style and the type of accommodations you prefer or require.
Although getting to Thailand from North America or western Europe can be quite costly, once you are there your food, lodging, and activities can be relatively inexpensive.
We tend to be very budget conscious when we travel, even at times staying in private rooms at family-friendly hostels to save money. With that said, here is a breakdown of our main expenses and what we spent for our family of three for 2 weeks in Thailand.
If you like to travel on the luxurious side, definitely plan to double the lodging costs below.
Hotels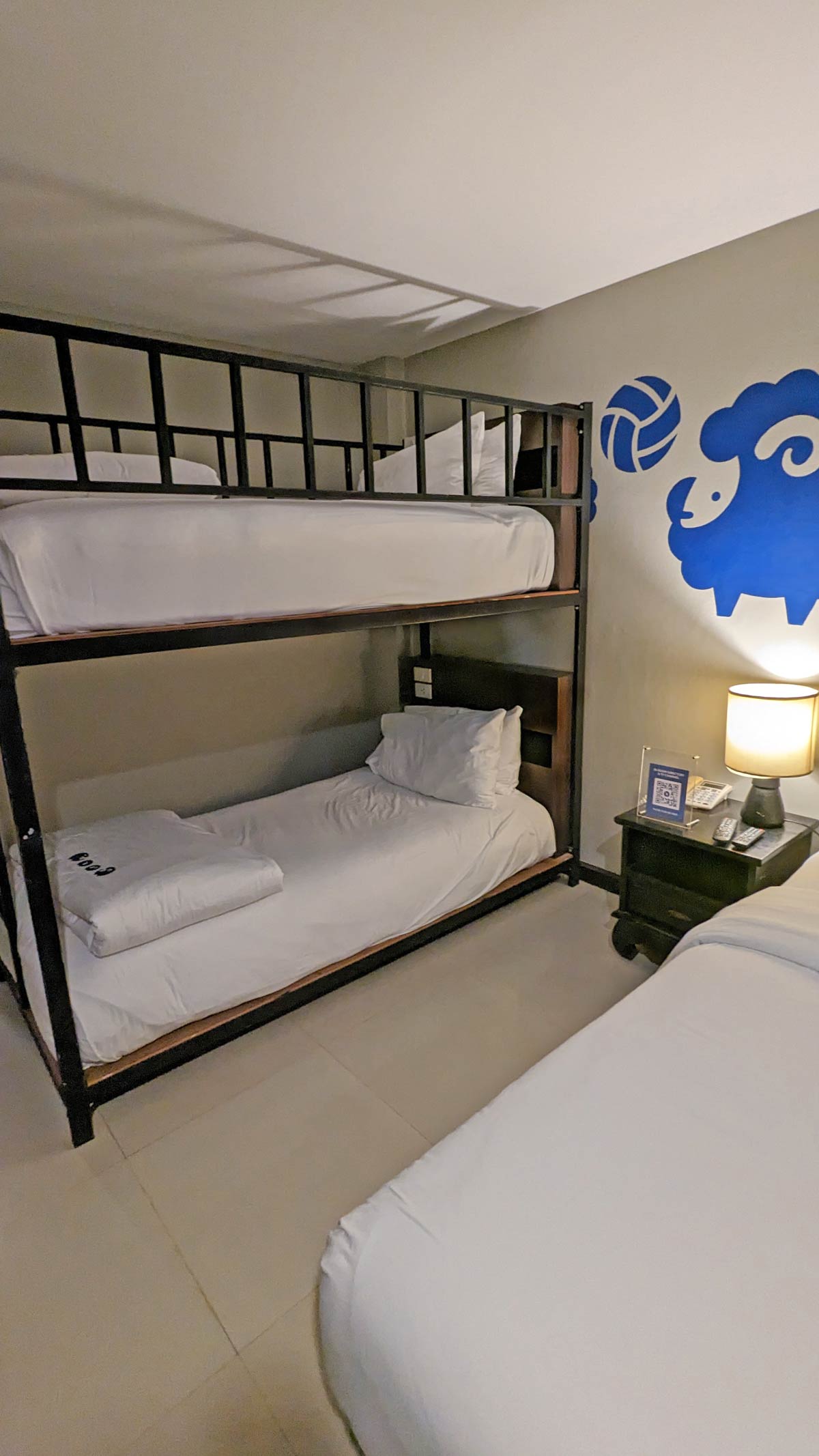 Hotel in Bangkok (3 nights): $350 USD
Hotel in Chiang Mai (5 nights) $300 USD
Hotel in Krabi (3 nights): $300 USD
Hotels in Khao Sok (2 nights): $250 USD
Transportation
3 tickets on the sleeper train from Bangkok to Chiang Mai: $125 USD
3 passengers on the flight from Chiang Mai to Krabi: $250 USD
Rental Car from Krabi to Khao Sok: $100 USD
Be sure to budget for gas in the rental car, several tuk tuk rides which averaged about $9 USD per ride, tourist boat rides in Bangkok, a taxi to the airport in Chiang Mai and from the airport in Krabi
Excursions and Activities
Day trip to the Floating Market and Railway Market (3 people): $100 USD
Day trip to Ayutthaya (3 people): $120 USD
Elephant Sanctuary (3 people): $150 USD
Ziplining (3 people): $200 USD
Doi Suthep tour (3 people): $100 USD
Doi Inthanon National Park tour from Chiang Mai (3 people): $120 USD
Day trip to the Phi Phi Islands + admission to the national park (3 people): $200 USD
Private longtail boat rental in Khao Sok + admission to the park: $100 USD
Khao Sok bamboo rafting tour in Khao Sok (3 people): $215 USD)
Budget for admission into some of the temples, the Grand Palace in Bangkok (around $15 per person), souvenirs and shopping at the markets, and a Thai massage or two (around $7 USD each!)
Food
Our food budget is a bit more obscure since we paid for almost all of our meals in cash. We ate primarily at street vendors, with a few restaurants in there.
We spent anywhere between $3 and $12 per person per meal.
2 Weeks in Thailand – Itinerary Overview
So, what does a 2 week Thailand itinerary look like? Here is a breakdown of our 14 day itinerary for Thailand in a quick overview.
Day 1 – Bangkok – Grand Palace, Wat Pho, Wat Arun, Khao San Road Night Market
Day 2 – Floating Market and Railway Market Day Trip + Chinatown
Day 3 – Day trip to Ayutthaya
Day 4 – Bangkok – Flower Market, Shopping at IconSiam + Overnight train to Chiang Mai
Day 5 – Explore Old Town Chiang Mai and temples + night market
Day 6 – Day trip to an elephant sanctuary + night market
Day 7 – Ziplining near Chiang Mai + Doi Suthep temple tour
Day 8 – Guided tour to Doi Inthanon National Park
Day 9 – Fly to Krabi + Tiger Temple Hike
Day 10 – Railay Beach + Phra Nang Beach + Ao Nang Beach and Night Market
Day 11 – Phi Phi islands day trip
Day 12 – Drive to Cheow Lan Lake + lake tour + night at overwater floating bungalow
Day 13 – Go on a guided hike and bamboo raft tour
Day 14 – Drive back to Krabi to fly home
2 Weeks Itinerary Thailand Route
Now that you have an idea of what each day looks like, here is a look at the route you'll take. If you follow our itinerary you'll take the overnight sleeper train from Bangkok to Chiang Mai. You will want to book your sleeper train in advance on 12Go Asia.
You will then travel by air from Chiang Mai to Krabi. Finally, you'll also want to rent a car and drive to Khao Sok. Compare prices on DiscoverCars. If you are uncomfortable with driving on the left side of the road, you can also book a private transfer.
How to Travel Around Thailand
Determining how to get around Thailand was probably the most confusing part of planning this itinerary. We have traveled extensively around Europe – which is very well connected by trains – and North America – where driving and flying are basically the only ways to get around.
In Thailand though, there are definitely places that you would not want to drive – like Bangkok where traffic is hectic and stressful. Additionally, while there are trains connecting some destinations, the trains are not high speed nor are there trains connecting the entire country.
With that said, the country has a well-established transportation infrastructure. Domestic flights are inexpensive and connect major cities, making long-distance travel quick and convenient.
Sleeper trains offer a comfortable and scenic way to traverse the country, as well, particularly from Bangkok to Chiang Mai or destinations in the south.
Major cities, like Bangkok, also have robust public transportation systems which include buses, metros, ferries, and even sky trains that make for an economical choice for intercity travel.
Additionally, tuk-tuks and taxis are readily available in urban areas, and you can also utilize the Grab app, which is Southeast Asia's version of Uber.
With these various transportation options are great for getting around Thailand, less touristy areas may require renting a car or hiring a private transfer in order to experience all this enchanting country has to offer.
What You'll See on this 2 Week Itinerary for Thailand
Now that you have a general idea of what 2 weeks in Thailand might look like, let's dive deeper into each location you'll visit and each day of the 14 day Thailand itinerary.
Bangkok – (Days 1-4)
Bangkok is the first stop on this Thailand 2 week itinerary, mainly because it is the easiest and least expensive place to fly into. It makes for a natural starting place for any Thailand trip.
The bustling capital of Thailand offers an extraordinary blend of tradition and modernity. With ancient temples and old buildings adjacent to towering, new skyscrapers. Bangkok is a fascinating place to visit.
With four days in Bangkok, you can dive into the experiences both within this captivating metropolis and outside the city limits on day trips.
When you arrive in Bangkok it will likely be in the late afternoon or possibly even the evening. If flying from a different side of the world, you will also be jet lagged. Instead of taking public transportation when you arrive, we recommend booking a private transfer to your hotel from the airport.
As an alternative, you can also take a cab or a Grab.
On your first night, grab dinner and possibly a drink somewhere near your hotel. (Go to Khao San Road if you're staying in that district or along the Chao Phraya River if staying in the Riverside district.) Then head back to your hotel for a good night's rest to prepare for the first full day of your 2 week Thailand itinerary.
Where to stay in Bangkok:
Day 1 – Bangkok Temples and Khao San Road Night Market
Start your first full day in Thailand with a visit to the iconic temples and the Grand Palace in Bangkok.
Grand Palace
After breakfast at or near your hotel, head directly to the Grand Palace complex. The complex, which is situated on the banks of the Chao Phraya River, is the ceremonial residence of the Thai Royal family.
Within the walls of the Grand Palace complex, you'll find Wat Phra Kaew. One of the most beautiful temples in Thailand, it is home to the Emerald Buddha – which was carved from a single block of green jasper.
Wat Pho
After the Grand Palace, you'll head to Wat Pho to see the Temple of the Reclining Buddha. This massive statue covered in gold leaf is astounding to see.
The temple is also said to be the birthplace of traditional Thai Massage. While you are there you can get a massage from the dedicated school on the premises.
After touring Wat Pho, grab an authentic Thai lunch across from the temple before heading to your next attraction across the river.
Wat Arun
Wat Arun sits across the Chao Phraya River from Wat Pho and the Grand Palace. You can take a ferry across the river for about $1 USD roundtrip.
Known as the Temple of Dawn, the temple is known for its colorfully tiled spires. The temple is one of the few that allow photo shoots, so expect big crowds of people taking professional photos here.
Khao San Road Night Market
In the evening, head to the Khao San Road night market to experience the vibrant nightlife of Bangkok. You'll find lots of restaurants, as well as street vendors selling everything from fileted alligator to fried scorpions, snakes, and tarantulas.
Day 2 – Floating Market and Railway Market
Your second day on your 2 week Thailand trip involves a guided day trip to some of the most unique markets in Thailand. You can book the tour we took HERE.
Maeklong Railway Market
After your tour guide picks you from your hotel, you'll make your way southwest of the city to the famous train market near Bangkok.
Maeklong Railway Market is an active day market built directly on top of the train tracks. You'll not only take the 60-year-old train to the market, waving at market visitors and vendors as the train squeezes through the narrow passageway.
You'll then get off the train and have leisure time to explore the market and watch the train depart.
As the train sounds its horn announcing its upcoming departure, the vendors begin to gather their goods and collapse their shade canopies to make way for the train – only to set everything back up immediately after the train passes.
Damonen Saduak Floating Market
From the railway market, you'll head to another one of Thailand's most famous markets – this one on water. The Damnoen Saduak Floating Market is a bustling market where vendors sell their goods from the boughs of traditional longtail boats.
You can explore the portion of the market that is on land before boarding a longtail boat and navigating through the intricate network of canals and haggling with vendors as you float along.
When you return to Bangkok from your market day trip, take a tuk tuk to Chinatown for the evening and enjoy the sites, sounds, smells and some delicious, authentic Chinese food in the heart of Bangkok.
Day 3 – Ayutthaya Day Trip
Your third day on this Thailand itinerary for 2 weeks involves another day trip. This one takes you to the ruins of Ayutthaya, often referred to as the Angkor Wat of Thailand.
This UNESCO World Heritage Site boasts majestic ruins, preserved temples, and a sprawling archaeological park just 45 minutes away from Bangkok.
After touring Ayutthaya, you'll board a river cruise and arrive back in Bangkok by water.
Day 4 – Iconsiam and Overnight Train
Your fourth and final day in Bangkok is more like a half day, because you will need to pick up your train tickets and head to the train station to board your sleeper train to Chiang Mai. The sleeper trains leave between 6-7:30pm.
You will want to be at the train station at least 30 minutes early to grab snacks for your train, or even eat dinner before you board. Book your train tickets HERE.
Check out of your hotel and ask the hotel to store your luggage for the day.
Spend your final day in Bangkok in the swanky IconSiam shopping area. The largest shopping center in Bangkok, IconSiam features high-end luxury brands as well as local specialty stores. It even has an indoor floating market.
After a few hours shopping, grabbing a casual lunch, and relaxing in the luxurious area of Bangkok, pick up your luggage from your hotel and take a Grab or taxi to pick up your train tickets from 12Go Asia. Yes, paper train tickets were required.
After you pick up your tickets, head to Krung Thep Aphiwat Central Railway Station and catch your train to Chiang Mai for the second part of your Thailand itinerary.
READ OUR COMPLETE BANGKOK ITINERARY FOR 4 DAYS
Chiang Mai (Days 5-8)
Chiang Mai is one of the best places in Asia for a family vacation and is often touted as everyone's favorite place in Thailand. It definitely was ours!
Situated in the mountains of northern Thailand, Chiang Mai offers a serene and culturally rich contrast to the bustling streets of Bangkok.
During your 4 days in Chiang Mai, you can immerse yourself in the charm and beauty of this city and its surrounding national parks and jungles.
Chiang Mai's tranquil ambiance, friendly locals, and cultural treasures make it a must-visit destination for those seeking a deeper connection with Thailand's heritage and natural beauty.
Where to stay in Chiang Mai:
Day 5 – Explore Old Town Chiang Mai and Visit the Night Markets
When you arrive in Chiang Mai, it will be fairly early in the morning if you took the overnight train. Drop off your luggage at your hotel and spend the day familiarizing yourself with the city.
Begin your journey in Chiang Mai by exploring the historic Old City, where ancient temples like Wat Phra Singh and Wat Chedi Luang stand as timeless relics of the past.
This is also a great time to get a Thai massage to relieve any discomfort from sleeping on the firm train berth.
If visiting Thailand with kids – don't worry, unless your children are babies and toddlers, kids can also get a Thai massage. The masseuse will simply modify the pressure and the stretches for their smaller frames. Our daughter was 8 and loved getting a Thai massage.
After a day of temple hopping, massage and food, spend the evening discovering the local art scene at the bustling Chiang Mai Night Bazaar, and savor traditional northern Thai cuisine at street stalls.
Chiang Mai boasts some of the best night markets in Thailand. These markets are great for finding inexpensive and beautiful souvenirs like carved soaps and hand-painted elephant crafts.
Day 6 – Elephant Sanctuary
Your second day could potentially be the most memorable one on your trip. In the jungles surrounding Chiang Mai, you'll find countless elephant sanctuaries.
Don't miss the chance to spend a day with elephants at an ethical sanctuary, like Into the Wild Elephant Camp, where you can learn about these majestic creatures and even bathe and feed them.
You also get to trek through the jungle with the elephants as they graze on tree bark and other plants.
Your trip to the sanctuary includes transportation from your hotel and back plus a Thai lunch.
READ OUR FULL REVIEW ON INTO THE WILD ELEPHANT CAMP
Day 7 – Zip Lining and Sunset Doi Suthep Temple
On your third full day, venture into the surrounding mountains to experience the thrill of ziplining through the jungle canopy. This will be an especially fun day if you're visiting Chiang Mai with kids.
You have several options around Chiang Mai for zip lining and canopy tours. Pongyang Adventure Park is one option that is great for families. If you prefer longer ziplines, Jungle Flight includes Thailand's longest and highest zipline.
After several hours of ziplining in the morning, you'll head to Chiang Mai to freshen up, get checked into your hotel, and head to Doi Suthep Temple for an evening tour.
If ziplining isn't your thing, you could also book a combined day tour to hike the Sticky Waterfall and visit Doi Suthep.
Day 8 – Doi Inthanon National Park
Day 8 of your 2 weeks in Thailand itinerary takes you to the country's exquisite Doi Inthanon National Park. This national park is home to the highest peak in Thailand as well as the largest and most beautiful waterfalls in the country.
During your guided day trip, you'll also stop at the twin pagodas, built for the royal king and queen, which are located at the highest point in the country.
READ OUR FULL POST ON THE BEST THINGS TO DO IN CHIANG MAI WITH KIDS
Krabi (Days 9-12)
The southern city of Krabi boasts stunning coastal landscapes and a laid back atmosphere. It is a fantastic tropical escape for a three-day adventure. A gateway to Thailand's famous islands and boasting some of the country's most beautiful beaches, Krabi is a wonderful place to relax and soak up the sun for a few days.
After all, this Thailand itinerary is jam-packed!
Where to stay in Krabi:
Day 9 – Ao Nang Beach and Ao Nang Night Market
On day 9, you'll want to book a morning flight from Chiang Mai to Krabi. To maximize your time, it is worth the extra money to book a nonstop flight.
You'll likely arrive in Krabi in the afternoon or early evening depending on your flight schedule.
After you check into your hotel, head to Ao Nang Beach to catch the sunset that evening. Then check out the Ao Nang night market where you can indulge in delectable seafood and experience the lively nightlife, which often includes fire shows and live music.
Day 10 – Railay Beach
On the tenth day of your 2 week Thailand itinerary, you'll get to spend the whole day relaxing and enjoying the beach life.
Start your exploration by taking a longtail boat from Ao Nang to Railay Beach. The picturesque sandy beach is only accessible by boat.
Spend the day soaking in the sun, swimming in the calm, shallow, crystal-clear waters, or rent a kayak and explore the karsts in the near distance. Many of them have their own quiet stretches of sand that look untouched.
You even try your hand at rock climbing on the limestone cliffs.
From Railay Beach West, walk over to Railay Beach East and then to Phra Nang Beach and check out Princess Cave and the unique shrine tucked inside.
Day 11 – Phi Phi Islands
A day trip to the Phi Phi islands is one of the best things to do in Krabi. The small chain of islands and the national park is a preserved nature area where coral and sea life flourishes.
Book a guided tour to take a speed boat to the islands, known for their emerald waters and snorkeling opportunities in vibrant coral reefs.
You'll visit the famous Maya Bay Beach, made famous by the Leonardo DiCaprio movie "The Beach" as well as the popular island of Ko Phi Phi Don, and beautiful lagoons and snorkeling spots where you can get in the water and explore life beneath the surface of the ocean.
Khao Sok National Park (Days 9-12)
Your final days of your two weeks in Thailand will conclude at Khao Sok National Park – one of the most visually stunning places in the country. Located in the Surat Thani province, the national park features a freshwater, manmade lake with brilliant turquoise water surrounded by tall limestone karsts and dense rainforests.
The park is home to lots of wildlife, from monkeys to wild elephants.
Spend your last two days enjoying the scenery, relaxing and playing outdoors in this nature enthusiast's paradise.
Day 12 – Tiger Temple and Cheow Lan Lake
On day 12, you will pick up a rental car (or arrange to have it delivered to your hotel) and head to Khao Sok National Park.
On your way to the park, don't forget to visit the awe-inspiring Wat Tham Sua (Tiger Cave Temple) and climb the stairway to breathtaking panoramic views.
This is a strenuous climb and not for the faint of heart, but it is a good way to get some morning exercise before your 2+ hour road trip to Khao Sok.
After exploring the temple and making the hike down down, grab something quick to eat and head directly to Rajjaprabha Dam on Cheow Lan Lake. Here you will book a longtail boat to take you around the lake and drop you off at your overwater floating bungalow, where you will stay for the night.
Once you get checked into your bungalow, spend the rest of the evening relaxing, have dinner which is included in your stay, and swim, kayak or paddleboard on the calm, manmade lake.
Where to stay on Cheow Lan Lake:
Days 13- Khao Sok National Park
Wake up on day 13 and have a leisure breakfast before meeting a boat to take you back to the dam for your final day exploring Thailand.
You'll first drive to Khao Sok village where you will spend your final night in Thailand. Check into your hotel, or drop off your luggage if it is too early to check in, then meet your tour guide for a day of bamboo rafting on the river and hiking in Khao Sok.
The national park is home to the oldest rainforest in Southeast Asia. Take a half day tour on board a bamboo raft with a local guide, and then check out Khao Sok ViewPoint for a panoramic view of the rainforest.
Spend your last night in Thailand relaxing at a Tiki-style bar in Khao Sok Village, which has a laid back, bohemian vibe.
Where to stay in Khao Sok village:
Day 14 – Return to Krabi and prepare to fly out
On your final day of your 2 weeks in Thailand, shed a tear as you say goodbye to this beautiful and memorable country. It is officially time to drive back to Krabi, return your rental car (don't forget to stop for gas on the way!) and catch your flight home.
Most international flights leave in the late morning or early afternoon hours, which doesn't leave you much time to do anything on your final day.
Luckily, this Thailand itinerary fits a lot of memory making into 2 weeks. The days will fly by and each day will be so uniquely different that each one will feel like a core memory from your trip.
FAQs about spending two weeks in Thailand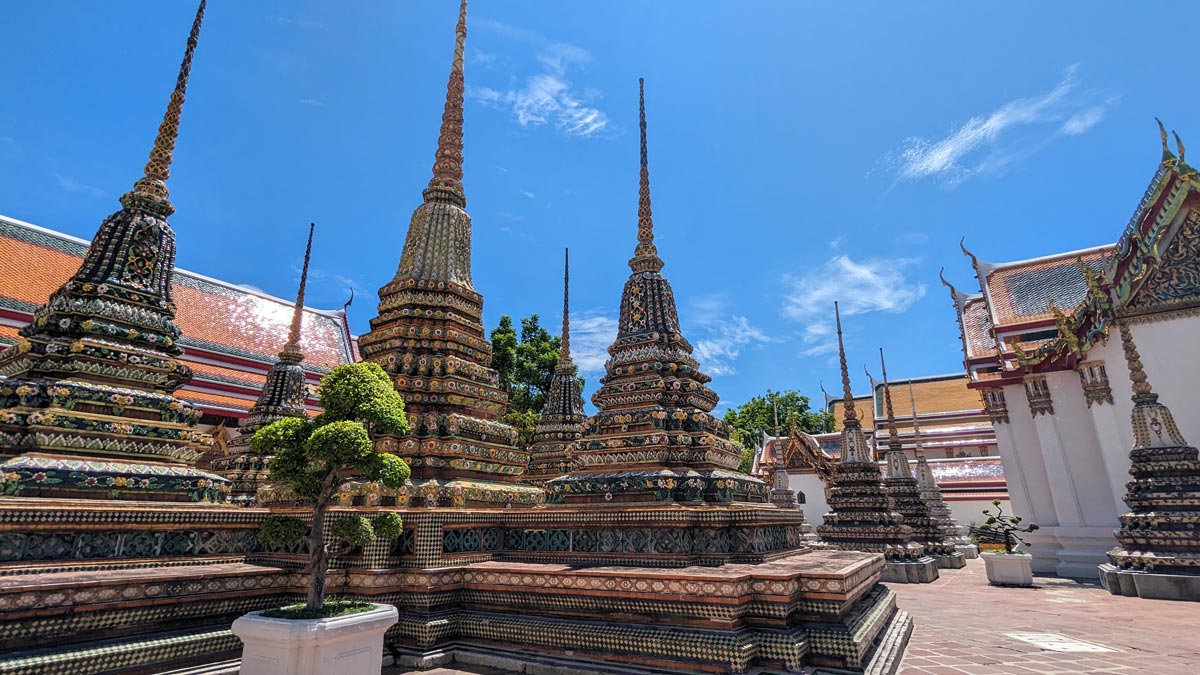 When planning a trip to a place like Thailand it is natural to have a lot of questions, particularly for families traveling with kids. After all, with kids, there are so many more things to consider.
We answer a lot more of your questions about Thailand HERE, including information about health and safety, the food, and the weather in Thailand.
When is the best time to visit Thailand?
Thailand has a tropical climate, which means it is hot year round. Part of the year, it is not only hot – it is hot and rainy.
November through March are the most popular months to visit Thailand. The weather is dry and slightly less hot – but still hot. 🙂
Rainy season starts in late June and runs through October. Although, the rain typically comes down as a heavy downpour that lasts for about an hour and then stops. So, if you are like us and must plan big trips during summer to schedule them around your child's school break, don't stress about visiting during the rainy season.
Chances are, you'll have plenty of sunny days to explore Thailand.
Is 14 days enough for Thailand?
Two weeks in Thailand allows you enough time to explore multiple aspects of this beautiful country. You can visit major cities like Bangkok and Chiang Mai, explore historical sites, and enjoy relaxing on some of Thailand's stunning beaches and islands in the south.
However, Thailand is a diverse and vast country with so much to offer, and you may find that you have to make choices about which regions and activities to prioritize.
While 14 days can provide a good introduction to Thailand, you'll likely find that there's so much more to see and do, and you might start planning your next trip before you even leave. True story – we already have started planning our next trip there!
To make the most of your time, it's important to plan your itinerary based on your interests and priorities, whether that's culture, adventure, or relaxation.
While our 2 weeks in Thailand itinerary is a mix of everything, this might not suit your travel style, so customize the itinerary to suit your interests.
Where should you spend 2 weeks in Thailand?
Here's a rough breakdown of what you could do during 14 days in Thailand:
Bangkok: Spend a few days exploring the capital city, visiting temples, markets, and experiencing the vibrant culture.
Chiang Mai: Head to the north to experience a more traditional and cultural side of Thailand. Explore temples, visit hill tribes, and enjoy the serene countryside.
Islands and Beaches: Allocate several days to explore the beautiful islands and beaches in the south, such as Phuket, Krabi, Phi Phi Islands, or Koh Samui.
Historical Sites: Consider a day or two to visit historical sites like Ayutthaya or Sukhothai.
Adventure: If you're interested in adventure, you can go trekking in the jungle, try rock climbing, or even visit an elephant sanctuary.
Relaxation: Dedicate a couple of days to simply relax on the beach, get a Thai massage, and enjoy the laid-back atmosphere.
Alternative Thailand itineraries for 2 weeks
Understandably, not everyone has the same travel style. So, this Thailand travel itinerary may not make perfect sense for your family. Here are a couple alternative itineraries for Thailand to consider.
Alternative Thailand itinerary 1:
Follow the exact itinerary above but swap our Krabi for Phuket (flying into Phuket) and stay near Bang Tao Beach.
Alternative Thailand itinerary 2:
Swap out Krabi and Khao Sok for a longer relaxing time on the island of Koh Samui.
Alternative Thailand itinerary 3:
If you aren't a beach person, cut out southern Thailand and spend more time in Chiang Mai. Or add a few days in Pai or Chiang Rai.
Other useful resources for visiting Thailand
Planning a trip to Thailand? Check out these other articles to help you plan your trip.
Like it? Pin this 2 week Thailand itinerary to save it for later!
Do you have a question or comment about this 2 weeks in Thailand itinerary? We'd love to hear from you! Leave your thoughts in the comments below.
Did you know…
When you make a purchase or book hotels, tours, or other travel services, through our links, we receive a small commission, at no extra cost to you. We only EVER recommend service providers, websites, or products we personally use when booking our own travels. Your support enables us to keep producing helpful travel content. Thank you!