Bergen, Norway is a pleasant seaside town best known for its iconic row of colorful buildings perched on the edge of a picturesque harbor. The city is the gateway to the majestic Norwegian fjords and to some of the most beautiful and adventurous natural landscapes you'll ever see.
Incidentally, Bergen is also the rainiest city in Europe, so there is a good chance if you spend 3 days in Bergen, your itinerary will include at least one rainy day.
But don't let the possibility of rain in Bergen, Norway scare you away. Despite the tendency for wet weather, you'll still have a great time exploring all the city has to offer using our 3-day Bergen itinerary. In fact, Bergen is one of the best cities in Scandinavia to visit, and in general, one of the best travel destinations in the region!
This 3 day Bergen itinerary details what to see and do during 3 days in Bergen, plus includes recommendations on where to stay and where to eat.
About Bergen, Norway
With roughly 300,000 residents, Bergen is Norway's second largest city.
Although Bergen is often referred to as the Gateway to the Fjords, the city doesn't actually sit on a fjord. It is situated between the Sognefjord, which is the longest and deepest fjord in Norway and the Hardangerfjord to its south.
In addition to being called the Gateway to the Fjords, Bergen is also known as the "City of the Seven Mountains" because it is surrounded by mountain peaks.
Our experience visiting Bergen in 3 days – Europe's rainiest city
We spent 3 days in Bergen at the end of a 12-day Scandinavian trip.
Our trip took us from Copenhagen up the West Sweden coast, then to Oslo, Norway, and through the brilliant Norwegian fjords. Eventually we arrived in Bergen by train from the enchanting village of Flåm.
Our trip started out with beautiful warmer-than-seasonal weather in other parts of Scandinavia, but in true Bergen fashion, it rained nearly the entire time we were there. We weren't necessarily disappointed by the rain, as some things – like rain in Bergen – should be expected.
It rains in Bergen anywhere between 235-270 days each year. That's at least ⅔ of the year that you can expect showers!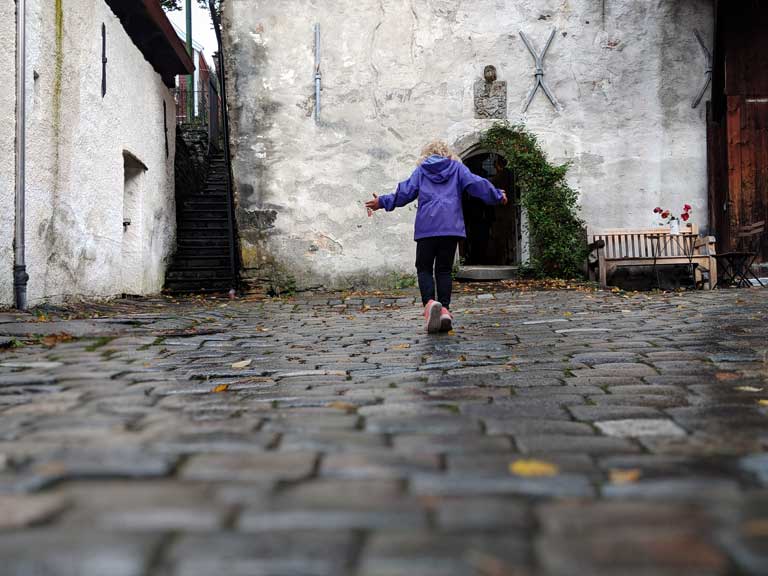 We made the best of our visit to the rainiest city in Europe. We put on our raincoats, borrowed an umbrella from the hotel, and headed out in the rain to enjoy the top sites in Bergen.
Our 3-day Bergen itinerary is great for rain, shine, or snow. It hits the top tourist sites in Bergen, which you can easily see in 1, 2, or 3 days in Bergen, Norway, depending on how much time you have and how slow you like to travel.
We tend to stay a day or so longer than most travel sites recommend simply because when you travel with kids, downtime is always a must. It allows us more time to enjoy the sites without feeling rushed.
What to pack for Bergen, Norway for 3 days
As I mentioned earlier, Bergen is the rainiest place in Europe, so expect rain and pack for it. If you luck out and get 3 days in Bergen with sunshine, even better! But it's better to be prepared.
Before we get into our 3-day Bergen itinerary and all the great things to do in Bergen, here are a few must-have items and travel tips for visiting Bergen in the rain.
Where to stay in Bergen for 3 days
Because Bergen attracts a lot of tourists from all around the world, there is no shortage of lodging options in the city. We stayed at Hotel Oleana. The hotel is centrally located and has a modern, edgy feel to it.
It is within walking distance to the train station, Bryggen, and a lot of great restaurants and shopping centers.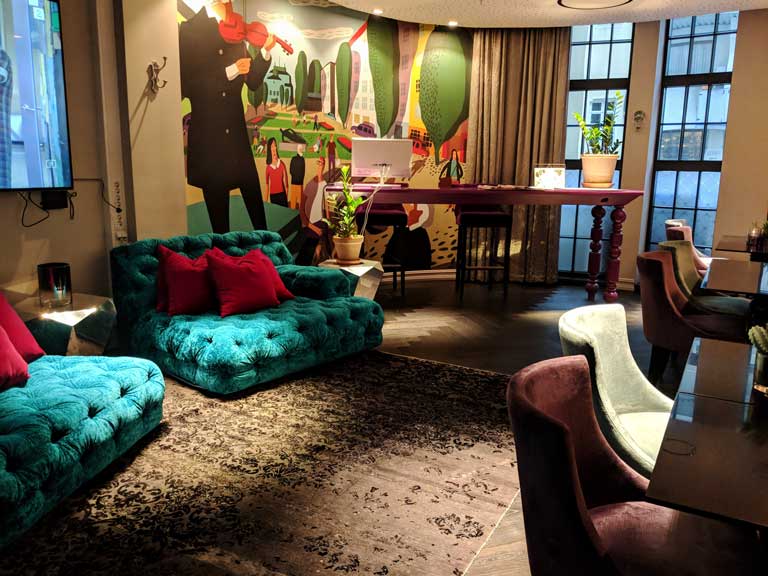 The hotel offered a robust, complimentary breakfast which kept us feeling full most of the day. That is definitely a bonus if trying to visit Norway on a budget.
You can find lodging in Bergen in all price ranges, from family-friendly budget hostels to luxury accommodations. So, if Hotel Oleana doesn't suit your needs or budget, there are plenty of other options in Bergen.
Be sure to search for hotels in Bergen that are near the train station or the Bryggen wharf, to put you within walking distance to a lot of the main attractions in Bergen.
The perfect 3 days in Bergen – An ideal Bergen Itinerary
Although our suggested itinerary allows for 3 days in Bergen, you could easily combine day two and three of the itinerary below and shave a day off of your own Bergen itinerary.
This would be beneficial if you have less time to spend or prefer to allocate more time elsewhere in Norway.
Bergen Itinerary – Day 1
Breakfast at hotel or along Olav Kyrres Gate
Explore the narrow passages of historic Bryggen
Fløibanen Funicular
Lunch at the Bergen fish market
Spend the afternoon shopping in one of the several indoor malls
Dinner in Bergen city center
Bergen Itinerary – Day 2
Breakfast at or near hotel
Morning fjord tour
Ulriken cable car
Lunch near Ulriken
Fantoft Stave Church
Dinner in Bryggen
Bergen Itinerary – Day 3
Go for a day hike or
Take a day trip to Flam
Best things to do in Bergen in the rain (or shine)
With Bergen being such a rainy city, it's no surprise that there are a lot of indoor activities in Bergen.
It is the shopping hub of western Norway, so you will find several large indoor shopping malls where you could easily spend a rainy afternoon.
But if shopping isn't your thing (it isn't mine either) then grab an umbrella and enjoy these outdoor activities in Bergen that will keep you surprisingly dry.
Ulriken cable car
Bergen is surrounded by seven mountain peaks, the highest of which is Mount Ulriken. If you want to see stunning views of the town, harbor, sea and fjords just take the Ulriken cable car to the top of the tallest peak.
You can enjoy lunch or dinner at the mountain restaurant or even zipline from the top, if the weather permits.
There is a bus that runs every 30 minutes to the cable car's starting point, so you can easily get there by public transportation.
Bergen day hike
If you have a nice summer day in Bergen without rain, a popular hike takes you from the Ulriken cable car to the Fløibanen funicular.
It is roughly 9 miles and can take a minimum of 5 or 6 hours, so if visiting Bergen with young kids or if you have mobility or physical fitness challenges, the hike may not be well suited for you.
However, if you're up for an adventure, this hike, albeit long, offers beautiful views. Keep in mind, this trail is typically covered in snow during winter, so a day hike will likely only be part of your Bergen itinerary if visiting during late spring, summer, or early fall.
Of course, this hiking trail isn't as majestic as hiking Trolltunga or some of the other iconic Norway hiking trails near Bergen, but it is much less challenging and right on the edge of the city.
Bryggen
Perhaps the most photographed area of Bergen, Bryggen is primarily known for its row of colorful old buildings that line the harbor.
The district, which is also known as the Old Hanseatic Wharf, is a great place to roam aimlessly, ducking into stores or shops on a rainy day.
This UNESCO World Heritage Site has actually burned almost completely down several times but has been rebuilt using the same type of building materials and methods used in the 14th and 15th centuries to preserve the historic character of the wooden buildings in the wharf.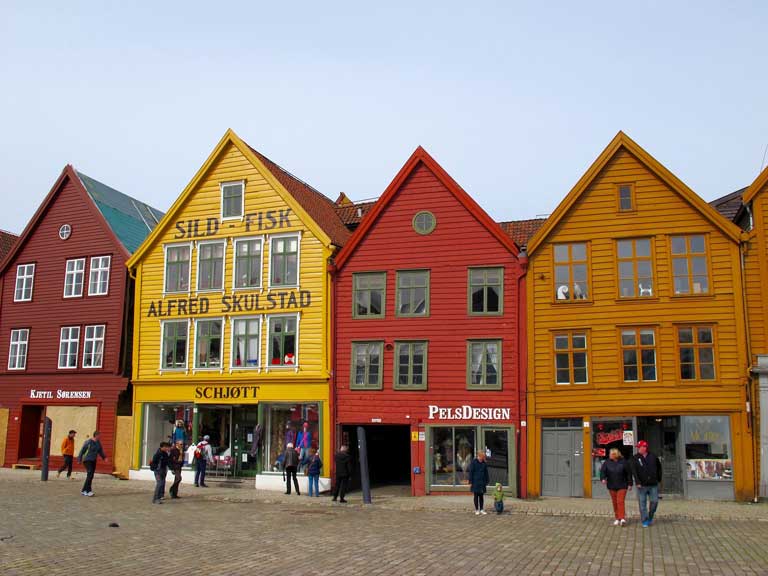 There are several narrow alleyways and passages within Bryggen that are fun to explore, and some of them offer cover from the rain.
Bryggen also has several laid back pubs and restaurants that are nice to pop into for a relaxing lunch or dinner, particularly on a rainy day.
Fantoft Stave Church
Stave churches are to Norway what elaborate cathedrals are to Italy. They are beautiful, old, and elaborate in their own unique wooden way.
You can find numerous stave churches throughout Norway including in Oslo and near Flåm, where you can find a stave church that is among the most famous churches in Europe.
However, if you can't make it to that area of Norway, The Fantoft Stave Church is a great alternative. This iconic structure had to be entirely rebuilt in the 1990s because an arsonist burned down the original historic church.
Fortunately, the church was rebuilt to look exactly as it originally did. You'll have to take the light rail to Fantoft, which takes about 20 minutes. There is also a short 15 minute hike to get to the church, so while it isn't an ideal rainy day activity in Bergen, it is well worth seeing.
Fløibanen Funicular
The Fløibanen funicular railway is another popular outdoor attraction in Bergen. The railway takes you up Mount Fløyen for even more stunning views of Bergen. It is a great activity even in the rain, and is conveniently located right next to Bryggen and close to the city center.
We sat inside the small cafe at the top of the mountain and had hot chocolate while we waited for the rain to let up a little.
During our 3 days in Bergen, the rain would come down heavily at times but then you'd have moments where the rain stopped and it was just cloudy. So we waited out a brief heavy shower and then proceeded to take a few scenic photos looking out over Bergen.

Fjord Cruise
If your trip to Norway does not include a visit to Flåm and the famous Nærøyfjord, then your next best option would be to take a short fjord tour around Bergen.
The fjords are the biggest attraction in Norway, if not all of Scandinavia. They are breathtaking to say the least. You can take a fjord tour to Flåm and back to Bergen in one day.
However, if your time is limited, you can take a shorter 3.5 hour fjord cruise through the Osterfjord – one of the most popular tours in Bergen.
Or, for something truly unique, take a sightseeing Viking ship sailing experience. This fun 2-hour tour is both educational and relaxing, as you learn about Norwegian history, coastal culture, and the fascinating Viking age.
Bergen Fish Market
The Bergen fish market is a great place to have lunch or dinner and people watch. Fresh fish, oysters, and other seafood are caught and brought directly to the market to sell or cook up for those who wish to dine there.
The market has been in operation since the year 1276! So, simply shopping or eating at this fresh seafood market is taking part in an historic tradition.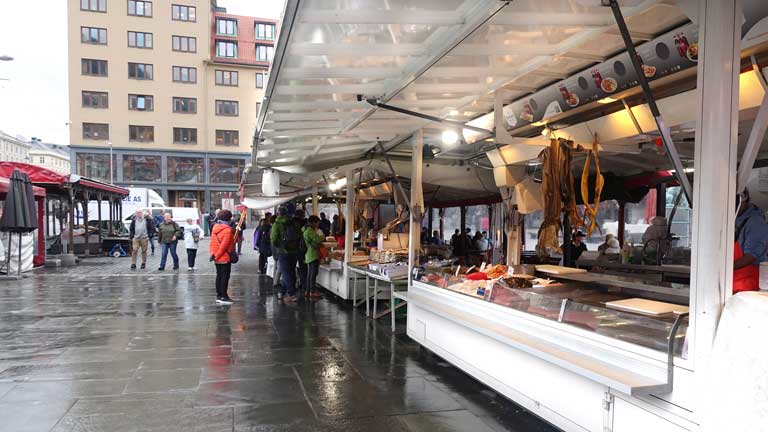 The seating area at the fish market is covered so even when there is rain in Bergen, you'll be able to stay dry while you enjoy your meal.
We had some of the best oysters we had ever eaten at the fish market in Bergen. I'd guess they came fresh from the sea that day.
Day trip to Flam
Flam is one of our favorite places in Norway. Although we recommend spending at least one night in Flam, Norway, most people visit Flam as a day trip, as part of a Norway in a Nutshell self-guided package.
A day trip to Flam from Bergen and back is a great way to see some of Norway's most beautiful areas, traveling by train, bus, and on a fjord cruise.
You'll see so many waterfalls you'll lose count! Plan for a full day if you decide to book a day trip to Flam.
ALSO READ: 6 THINGS TO DO IN FLAM THAT WILL LEAVE YOU AWESTRUCK
Other things you can add to a Bergen itinerary
If you have more than 3 days in Bergen or you skip one of the longer activities on the Bergen itinerary above – like the day hike or fjord tour – here are a few other things to do in Bergen to keep you entertained.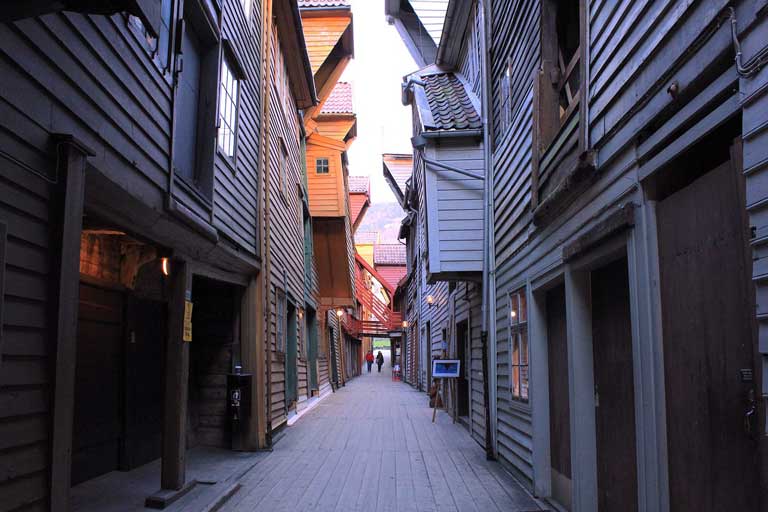 The Hanseatic Museum
The Hanseatic merchants are deeply rooted in Bergen's early history. The merchants from Northern Germany sailed into Bergen in the 13th century seeking to exchange German grains for fish. They ultimately helped establish Bergen as a European trading hub.
The Hanseatic Museum takes you back in time to those early days of trade, and will give you a historic understanding of the city as you explore the old quarters and walk through its narrow alleyways.
Shopping for Scandinavian products
Scandinavian products have a reputation for being well made and high quality. So, if you prefer to spend your time indoors rather than hiking or exploring the outdoors, you'll find lots of shops, stores and malls selling clothing, souvenirs, and other Norwegian-made products.
Scandinavian design is known for its simplistic characteristics and natural elements. Products are notable for being clean, functional, and minimalist in nature.
Bergenhus Fortress
From Bryggen, walk toward the ocean and visit the often missed Bergenhus Fortress, located near the entrance to Bergen Harbor. One of Norway's best preserved military fortifications, Bergenhus Fortress dates back to the early 1500s.
It is still an active place of work for hundreds of military personnel, but walking the grounds of Bergenhus is free, although the museum and events held at Bergenhus require paid admission.
Where to eat in Bergen
If you love to travel through your taste buds, sampling traditional Norwegian food is one of the best things to do in Bergen during your 3 day-itinerary.
Here are some of the best places to do just that!
Restaurant 1871
Bryggeloftet & Stuene
To Kokker
Fjellskaal Seafood Restaurant
Bergen Fish Market
FAQs about Visiting Bergen Norway
While this Bergen itinerary covers the top attractions and places to visit in Bergen for three days, here are a few frequently asked questions about visiting Bergen, Norway.
How many days do you need in Bergen?
Two or three days in Bergen is recommended and gives you enough time to see most of the top attractions. However, if you prefer slow travel or want to pad your itinerary in preparation for some lazy rainy days, you could easily spend more time in Bergen and not grow tired of the scenery.
Why is Bergen so popular?
Bergen is known as the Gateway to the Fjords, so it is often a starting point or ending point for a journey through Norway.
The city is popular for its nearby hiking trails and majestic scenery but is equally notable for its historic wooden structures, known as Brygynn, situated so picturesquely along the wharf. 
Is Bergen Norway worth visiting?
Is Bergen or Oslo better?
Bergen and Oslo are both incredible cities to visit. Because Oslo is the capital of Norway, you'll find more state-of-the-art museums and attractions there.
However, if low-key, relaxed towns better fit your travel style, Bergen is an incredible place to visit.
What is the best time of year to visit Bergen?
Bergen is a popular summer destination. Days are longer and temperatures are warmer. You're also most likely to see some sunny days between the months of May and August. Regardless of the season in which you visit, Bergen is a beautiful town year round.
On sunny days in summer it is bustling with activity. But Bergen is equally charming when it's raining. It has almost a mystical feel on a cloudy day in October.
And in winter, when the surrounding mountains are covered with a dusting of snow, Bergen looks like a winter wonderland with its colorful buildings set against the snow-capped mountains and hills.
What are some recommended tours in Bergen?
The Bergen guided walking tour is one of the most popular tours to take in Bergen. The 2-hour tour takes you on a journey to the top sites in Bergen, following the trail of the Hanseatic merchants and providing historic accounts and details from the city's past.
Prefer not to walk? Book a hop-on hop-off bus tour instead.
Another popular tour is the Osterfjord cruise, which takes you through the Osterfjord and the narrow Mostraumen strait, and takes you up-close and personal to a majestic waterfall. How close? So close you can catch a bucket-full of water!  
Is Bergen, Norway expensive?
Norway, as a whole, is an expensive country to visit, so yes, Bergen is expensive. There is no denying that. However, there are ways to make your three days in Bergen more affordable. You can stay in a hostel, and yes, you can even stay in hostels with kids.
There are also plenty of free things to do in Norway, like hiking and enjoying nature, that don't cost anything!
Do you need a car in Bergen, Norway?
Bergen is an extremely walkable city, and public transportation is easy to navigate. Although the city has 300,000 people, it has a small town feel, and most of the top sites are within walking distance to one another.
The few that are not within walking distance are easily accessible by public transport.
Why you should visit Bergen
For families traveling with children Bergen may remind them of Arendelle, the mythical town in Disney's Frozen. Rumor has it, the movie's setting was inspired by this magical Norwegian city. And while you won't find Elsa and Anna in Bergen, you may just feel like a Disney princess yourself when you are walking through the picture-perfect streets.
Have a question or comment about this Bergen 3 day itinerary? We'd love to hear from you. Leave your thoughts on our Bergen Norway itinerary in the comments below.
Did you know…
When you make a purchase or book hotels, tours, or other travel services, through our links, we receive a small commission, at no extra cost to you. We only EVER recommend service providers, websites, or products we personally use when booking our own travels. Your support enables us to keep producing helpful travel content. Thank you!
Like it? Pin this itinerary for 3 days in Bergen to save it for later!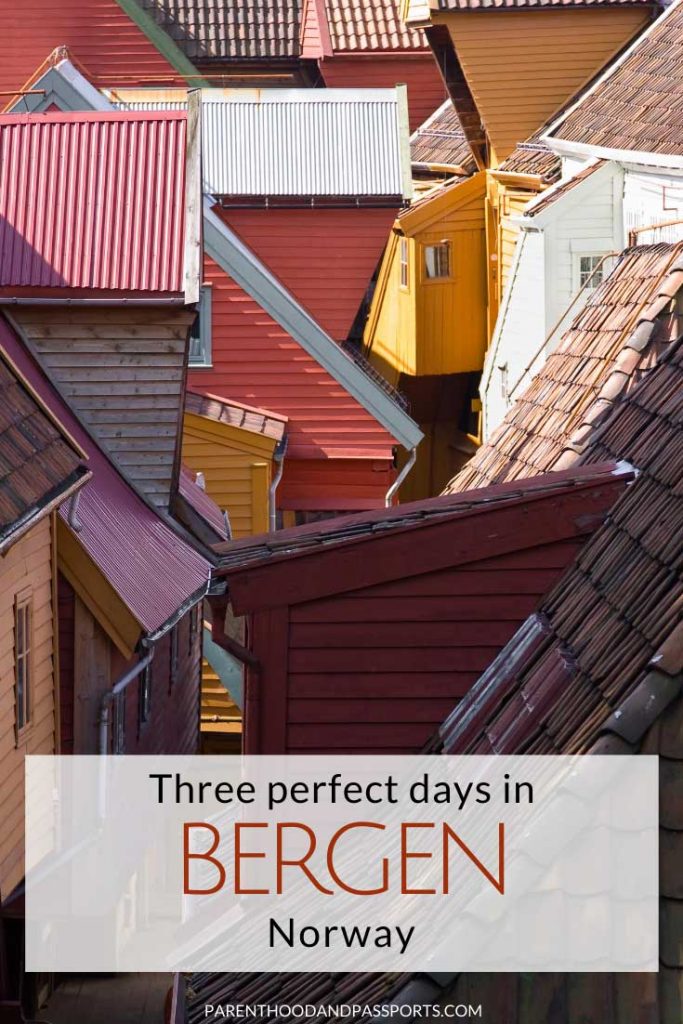 This Bergen itinerary for 3 days was first published in March 2019 and was updated in September 2022 for accuracy and current information.