We may earn money or products from the companies mentioned in this post.
Iceland is a wonderful country to visit in a short amount of time. Because of the island nation's location between Europe and North America, it makes for an easy stopover location. So a lot of people who visit have just 4 days in Iceland. Don't worry if you only have a few days, you can still see quite a few of Iceland's top attractions. You'll just need to limit yourself to one general region of the country. During our 4-day Iceland trip, we explored the southern coast, which is probably one of the most popular tourist routes.
Things to know if visiting Iceland in 4 days
Whether you are staying in Iceland for 4 days or a week or more there are a few things to keep in mind as you plan your trip.
You'll have to rent a car
Renting a car and driving around Iceland is the best way to see the country, especially if you are following this itinerary. There are group tours of Iceland that you can join if you prefer to ride by bus with others. These tours are especially great for those traveling solo who want to meet other people on their trip. 
But if you prefer to self-plan and sight-see at your own pace, then you should start by reserving a car. You can do so here.
You'll stay in a new hotel every night
In order to maximize your 4 days in Iceland, you will be driving a lot! In fact, you'll drive for at least 2 hours each day. You'll also be staying in a different hotel and town each night. Don't worry, I've taken the burden out of researching places to stay and listed every hotel or lodge where our family of three stayed during our trip. You can find links to book the hotels in the itinerary below. Another easy and budget-friendly option is a camper van. It is a popular way to travel there because there are numerous campsites in Iceland that are either free or available for a low cost.
You won't see everything
Iceland may be a relatively small island nation, but getting around it takes time. With only 4 days in Iceland you won't see everything. In fact, this itinerary covers the southern coast and Golden Circle only. You will not be able to drive Ring Road or see the northern or eastern part of the country. Still, each day of this 4-day Iceland itinerary will be a new adventure and unique experience.
What to see in 4 days in Iceland
The southern coast and Golden Circle are perhaps the most visited area of Iceland. However, even though we visited Iceland in June, which is their peak tourism season, it didn't feel overcrowded at all.
FIND THE BEST TOURS, EXCURSIONS, AND ACTIVITIES IN SOUTHERN ICELAND HERE.
Iceland 4-day itinerary: Day 1
Day one of your Iceland itinerary will be the day you land. If coming from North America, you will likely arrive in the morning hours, leaving you a good part of the day to explore.
Blue Lagoon
Start your first day in Iceland by heading directly to the Blue Lagoon. The Blue Lagoon is expensive but worth it! It is only a 20-minute drive from Keflavik Airport to the Blue Lagoon but it is much further from Reykjavik, where you will spend the first night, so make sure you go to the Blue Lagoon first.
Reykjavik
Reykjavik is the capital city of Iceland and where about 80 percent of Icelanders live. Spend at least one day in Reykjavik exploring the walkable city. You can even join a historical walking tour that takes you to some of Reykjavik's most iconic sights. If you choose to go at your own pace there are a few things not to miss in Reykjavik.
Hallgrimskirkja church is not only an interesting cathedral, but if you climb the tower, it offers the best views in the city. The Harpa Concert Hall is another one of the more architecturally interesting buildings in Reykjavik. A short walk from the concert hall is the Sun Voyager statue, a unique piece of public art that resembles a Viking skip and makes for a great photo opportunity. It is one of the most recognizable European sculptures, so you won't want to miss it!
For lunch or an afternoon snack, have one of Iceland's world-famous hot dogs, then head to Perlan: Wonders of Iceland. Here, you can walk through a man-made ice cave and learn some fascinating facts about Iceland and its history. Perlan sits on the highest hill in Reykjavik and also offers great views of the city and the water. For dinner, I recommend heading to Ostabudin in the heart of the city to try some local fare.
WHERE TO STAY:
Click the links to check availability
Where we stayed: Apartment K, Reykjavik
Alternative hotel: Matador Apartments, Reykjavik
Note: Reykjavik's compact city center is known for its late night bars. Our apartment, while cute, was right above a club that didn't close until 5am. Since we visited Iceland in summer, we had to sleep with our windows open so the room didn't get too hot. Needless to say, it was as if our bed was in the middle of the dance floor. The alternative hotel has excellent reviews and is a 5 minute walk from all the noisy bars.
Iceland 4-day itinerary: Day 2
Your second day in Iceland is all about waterfalls, and you'll see some of the most beautiful waterfalls in Iceland. Start your day with breakfast in Reykjavik (there are plenty of small cafe's in the walkable city center) then head out of town. It will take you roughly 1.75 hours to get to your first stop, Seljalandsfoss.
Seljalandsfoss
This beautiful waterfall can actually be seen from the main highway that runs along the southern coast. It is one of the country's most famous, most photogenic, and most visited waterfalls. It is also one of the only waterfalls in Iceland that you can walk behind. The pathway behind the waterfall is an easy walk with a few stairs. It can easily be done with kids, although small children might need some assistance as the ground is wet, and the stairs and walkway can be slippery.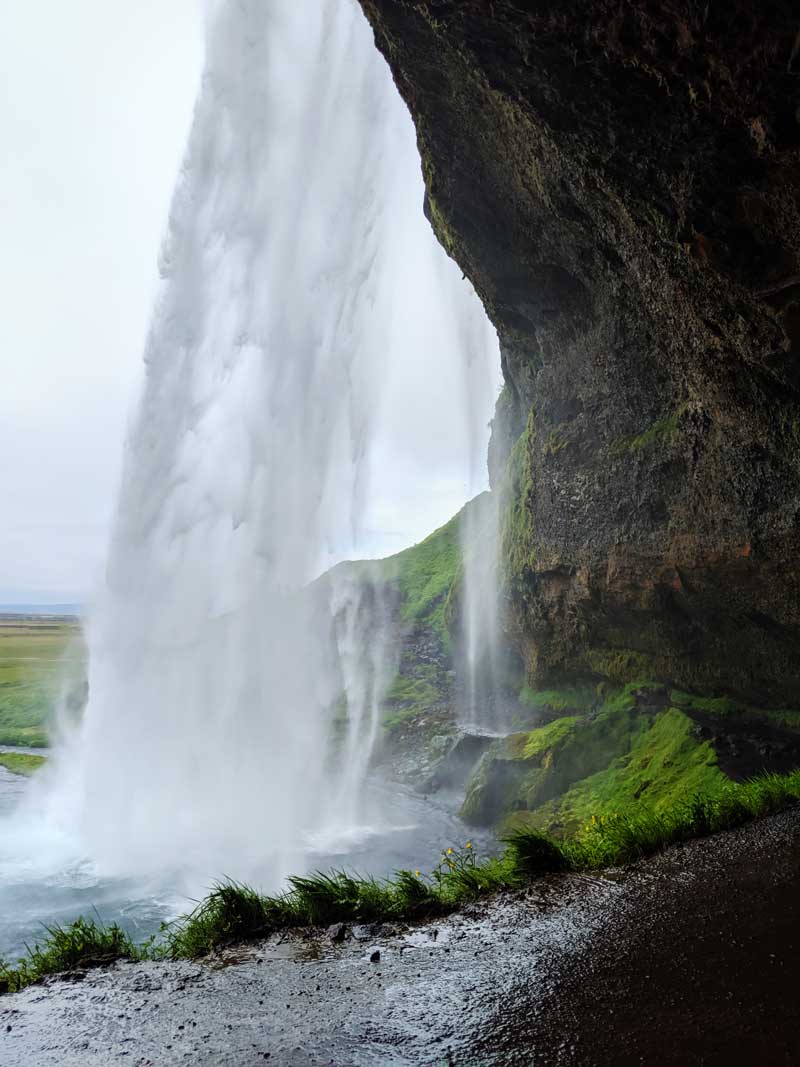 There is a large parking lot that you pay a small fee to park in. You will also find bathroom facilities, a food stand, and a small shop near the parking lot.
Gljúfrabúi
After walking behind Seljalandsfoss, follow the marked path toward your next adventure, Gljúfrabúi Waterfall. This waterfall may have been my favorite in Iceland, mainly because it feels like you are visiting a secret waterfall. The walk to the entrance of this secret waterfall is only about 600 meters from Seljalandsfoss down a well maintained dirt path. You will need waterproof shoes for this one because it requires a short walk through a shallow creek or river to get into the cave where you can view the waterfall. Although you will be walking through water, it isn't a treacherous walk. In fact, I was able to do it while holding our 4-year-old daughter. Once inside the small cave, the waterfall comes into full view, and it is breathtaking. The mist from Gljúfrabúi will definitely get your face, hair, and clothing wet, but the experience is worth it!
Skogafoss
Skogafoss is another one of the extremely popular waterfalls in Iceland and rightfully so. Skogafoss cascades 60 meters from a cliff into a shallow river surrounded by black sand. Visitors can get super close to the waterfall, making for a truly iconic photo.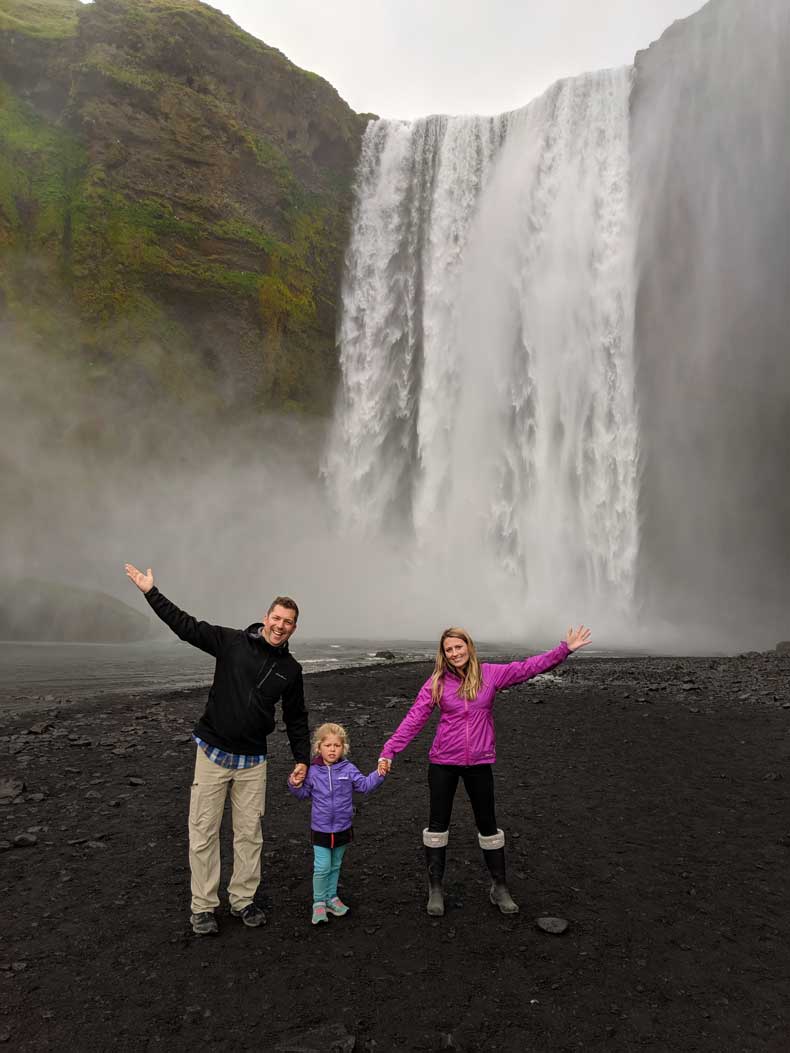 It is just a short drive from Seljalandsfoss to Skogafoss and can also be seen from the highway. It is hard to miss and easy to pull off for a quick stop. There is also a restaurant near Skogafoss where you can enjoy lunch.
Reynisfjara Beach
This popular black sand beach in Iceland is right outside of the small town of Vik. With sharp columns that rise from the powerful ocean waves, and the contrast of the white ocean caps breaking along the black sand, it's easy to see why Reynisfjara is so popular. It is perhaps best known for the unique basalt columned wall that looks like a bunch of stacked rectangular rocks. The waves and undertow at this beach are strong and violent, so this isn't a swimming beach. If you're visiting Iceland with kids, watch them closely and don't let them get too close to the water's edge.
Dinner in Vik
Vik is a small, charming fishing village. It is a great town to base yourself for a few days if you have more than 4 days in Iceland. You could easily stay in Vik and day trip to the waterfalls, Golden Circle, and glacier lagoons, although your daily drive times will be a bit longer. We stopped for dinner at Sudur Vik, a cozy restaurant with awesome food, before driving to our next hotel.
WHERE TO STAY:
Click the links to check availability
Where we stayed: Hotel Geirland, Kirkjubaejarklaustur
Alternative hotel: Magma Hotel, Kirkjubaejarklaustur
Note: If you don't feel like driving the extra hour from Vik to Kirkjubaejarklaustur, then stay the night in Vik. You can also stay two nights here, and forego the hotel listed below on day three, although it may have been our favorite place we stayed!
Iceland 4-day itinerary: Day 3
Day three in Iceland will start with a hike to get your blood pumping and work up some body heat. You're going to need it, because the rest of the day you'll be surrounded by ice!
Svartifoss
We love to hike and be surrounded by nature, so on day three of our 4 days in Iceland we welcome the chance to get out of the car and walk. After breakfast at our hotel we drove about an hour to the trailhead of Svartifoss waterfall. This is an easy hike on a mostly well-maintained, gravel path that you can do with kids. Our four-year-old was able to walk most of the way by herself, only occasionally wanting to ride on her dad's shoulders or be carried for a few minutes.
The hike to the waterfall took us about an hour and it was roughly a mile and a half. You can either hike a 3.5 mile loop, or head back on the same path. We chose option two, as it was slightly shorter and we had reservations for a lagoon tour that we needed to make. It is a pretty hike, and takes you to one of the more interesting waterfalls in the country.
Like the column wall at Reynisfjara Beach, Svartifoss is known for its unique rectangular lava columns that surround the waterfall. The design of Hallgrimskirkja church is actually based on this waterfall's interesting look.

Diamond Beach
Another 30-45 minutes down the road from Svartifoss, you'll reach Diamond Beach. It is a beautiful black sand beach in Iceland that gets its name for a very obvious reason. The sand looks like it's studded with giant diamonds. Diamond Beach is nestled at the narrow passageway between the largest glacial lagoon in Iceland and the ocean. The "diamonds" on Diamond Beach are actually large chunks of ice that break off icebergs as they make their way to the ocean and wash ashore. It is free to visit and directly across the highway from the Jokusarlon Lagoon.
Jokulsarlon Glacier Lagoon
Jokulsarlon Glacier Lagoon is known for its large icebergs floating around the water. One of the most popular activities at the lagoon is to take a boat ride through the brilliant blue icebergs that have broken off of Jokulsarlon glacier. If visiting Iceland with young kids, you can take a pontoon boat ride with a guide that will also provide a lot of great facts and information about the lagoon. If your children are older or you're visiting Iceland without kids, there are smaller boats and kayaks that will get you even closer to the ice, and even ice cave tours and glacier hikes.
The Jokulsarlon lagoon is the largest and deepest lake in Iceland. It has quadrupled in size since 1970 as the glacier is melting at a rapid pace. A tour of the lagoon is an educational and eye-opening experience, and one that hopefully makes any visitor more environmentally conscious.
WHERE TO STAY:
Click the links to check availability
Where we stayed: Welcome Hotel Lambafell, Eyvindarholar
Alternative hotel: UMI Hotel, Hvolsvollur
Iceland 4-day itinerary: Day 4
The last day of your four days in Iceland is all about the fascinating things that happen under the Earth's surface. And there is one place in Iceland to experience this better than anywhere else: the Golden Circle. Located about an hour outside of Reykjavik, this circular loop is tremendously popular among tourists to the country. In fact, there are a lot of Golden Circle tours you can join if you prefer to have a guide.
Kerid Volcanic Crater
Kerid is a great place to start your Golden Circle adventure. The crater lake was formed by a once-active volcano. Unlike many of the other sites along the Golden Circle route, there is a small fee to visit the Kerid Volcanic Crater, but it's well worth it to walk along the edge of the enormous, colorful crater. Kerid is located just a 40-minute drive from two of the most popular attractions along the Golden Circle: Thingvellir and the Geyser basin, making it an easy detour or pit stop along your route.

Strokkur Geyser and the Haukadalur Valley
The Haukadalur Valley in the Golden Circle is the heart of geothermal activity in Iceland. Here you will find geysers, hot springs, and mud pots that reminded me a bit of Yellowstone National Park in the United States. One of the valley's claims to fame is the Strokkur Geyser, which predictably erupts about every 15 minutes, spewing water high into the sky and misting onlookers who stand downwind. the Haukadalur Valley is open to the public 24 hours a day, so if you want to take advantage of the midnight
Gullfoss
Gullfoss is one of the most powerful waterfalls in Iceland. It's known for its multiple tiers of cascades along a 90 degree bend. At its highest, the water plunges about 69 feet into a picturesque canyon. From the parking area for the attraction, you walk down a narrow path and Gullfoss comes into view. The closer you get, the more breathtaking this mighty waterfall becomes. It's impressive how close you can actually get to this stunning natural wonder.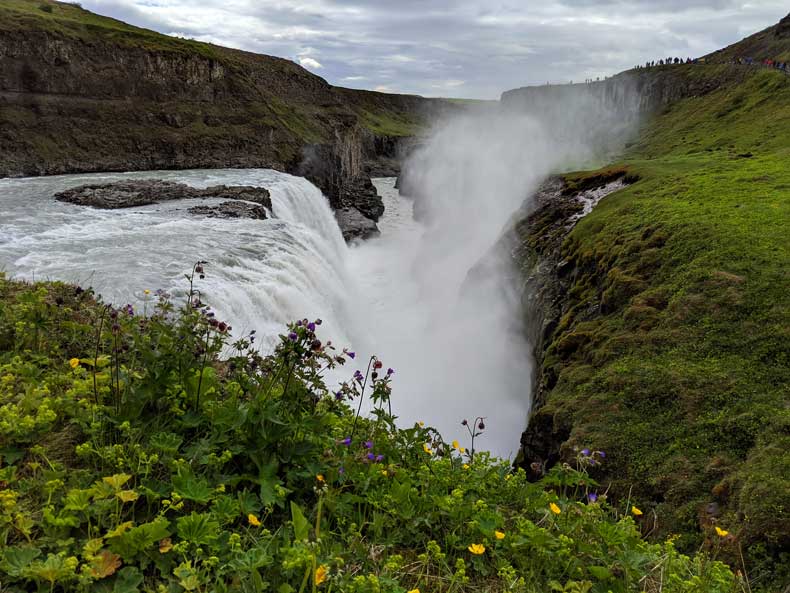 Thingvellir National Park
Thingvellir is a unique place to visit. The national park straddles the North American and Eurasian continental plates. As the plates have pulled apart over the centuries, you can now walk between the two continents. Those looking for something even more exciting can scuba dive or snorkel between the two tectonic plates. Thingvellir is the only place where this continental separation is occurring above water, making it the only place in the world where you can easily see science happening before you. The UNESCO World Heritage site offers visitors a fascinating look at geology and how the Earth has formed overtime. But Thingvellir earned its World Heritage status because it is also the home to Iceland's original parliament.
After exploring the Golden Circle head back toward Keflavik to prepare for your flight out the next day. We ate dinner at Fjörugarðurinn , a Viking restaurant in Hafnarfjörður, a port town just outside of Reykjavik. It offers authentic Icelandic food with a fun medieval theme. You can also grab dinner in Reykjavik and even spend one final night in Iceland's capital if you prefer. Although we chose to stay near the airport for our final night.

WHERE TO STAY:
Click the links to check availability
Where we stayed: Hotel Jazz, Keflavik
Alternative hotel: Hotel Berg, Keflavik
Is 4 days in Iceland enough?
Whether you only have four days in Iceland or you have a few weeks, you'll be able to see so many of Iceland's natural beauties and wonders. While I would have loved to have more than four days in Iceland, unfortunately with limited paid time off and traveling around our daughter's school schedule, 4 days is all we had. We would have loved to have more time to explore the entire Ring Road of Iceland and spend a few days in the northern part of the country.
If you are considering whether a 4-day trip to Iceland is worth it, know you can't see or do everything you probably want to in that time-frame. But if you are up for a whirlwind trip, you can still cover a lot of ground in Iceland in 4 days. You'll leave with a lot of incredible memories and possibly a burning desire to return.
Like it? Pin this Iceland 4-day itinerary to save for later!