Vancouver is a beautiful city located on the West Coast of Canada. It's a vibrant city with many things to see and discover. From the mountains to the oceans, there are many things to do in Vancouver with your family to fill a 5 day Vancouver itinerary.
As a local of Vancouver, I will be sharing things to do in Vancouver that everyone should experience at least once, which will help you with your five-day Vancouver itinerary for you and your family.
This travel guide for 5 days in Vancouver, British Columbia includes a complete itinerary, the best things to do in Vancouver with kids, and tips on where to stay and how to get around.
About Vancouver
Vancouver, Canada sits just north of Seattle, Washington across the US-Canada border. It is a picturesque city nestled between the Pacific Ocean and the Coast Mountains.
Known for its breathtaking natural beauty, Vancouver offers a unique blend of urban sophistication and outdoor adventures such as hiking and skiing.
The city's diverse population contributes to its rich cultural fabric, with a thriving arts scene, multicultural cuisine, and a welcoming atmosphere.
With its gleaming skyline, bustling markets, and world-class dining, Vancouver rivals other tourist destinations in Canada, like Banff and Niagara Falls when it comes to family-friendly activities.
With so much to do and see, this 5 day Vancouver itinerary makes for the perfect family vacation.
Overview | 5 Day Vancouver Itinerary for Families
These are some of the suggestions and locations on where to go and what to see in Vancouver for visitors to the Canadian city.
Day 1 of 5 days in Vancouver
Explore Downtown Vancouver
Shop along Robson Street
Admire the architecture of Canada Place
Visit Chinatown and the Dr. Sun Yat-Sen Classical Chinese Garden
Discover Stanley Park
Visit the Vancouver Aquarium
Day 2 of 5 days in Vancouver
Visit the Granville Island Public Market
Take the ferry to Science World
Explore Kitsilano
Day 3 of 5 days in Vancouver
Explore the gardens at Queen Elizabeth Park
Visit the Bloedel Conservatory
Go through the Elizabethan Maze at the VanDusen Botanical Garden
Day 4 of 5 days in Vancouver
Day trip to Whistler Mountain Resort
Tour the Britannia Mine Museum
Have lunch in Squamish
Walk around Whistler Village
Day 5 of 5 days in Vancouver
Explore the Capilano Suspension Bridge Park
Go for a hike in Lynn Canyon or Grouse Grind
5 Days in Vancouver | Day-by Day Breakdown
Now that you have an overview of your 5 day Vancouver itinerary, here is a breakdown of the daily activities and attractions you'll visit.
Day 1 – Explore Downtown Vancouver and Stanley Park
Exploring Downtown Vancouver is something that everyone should do. Many retail stores, restaurants and touristy knickknack stores are along Robson Street.
Suppose you are traveling during the winter and looking for things to do in Vancouver in winter. In that case, Robson Square Ice Rink is a popular tourist ice rink to skate on.
While in Downtown, be sure to check out Canada Place. The Vancouver landmark resembles a massive sailing ship and features the Vancouver Convention Center as well as a variety of restaurants and shops on the promenade.
On the edge of downtown, nestled in the heart of Chinatown, The Dr. Sun Yat-Sen Classical Chinese Garden is also worth a visit.
This exquisite garden transports you to ancient China with its timeless beauty and traditional design. The garden blends natural elements such as rocks, water, and plants, creating a sense of natural harmony and tranquility.
With intricately carved pavilions, hidden alcoves and serene courtyards, you can't help but feel peace during your visit.
Stanley Park is a must-do thing to do in Vancouver. One of Vancouver's most significant landmarks and one of the most beloved parks in the city has many activities to do and pathways to walk.
Many locals and tourists like walking, biking, or rollerblading along the Seawall. There are notable landmarks and viewpoints along the Seawall, such as the Nine O'Clock Gun, which fires at 9:00 PM every night, Girl in A Wetsuit, Siwash Rock, and more.
If you are traveling with children or someone in your family loves marine animals, the Vancouver Aquarium would be the perfect place to explore and learn about marine animals and conservation.
The Vancouver Aquarium also serves as a marine rescue center. It has rehabilitated and released thousands of marine wildlife over the years.
Other locations in Stanley Park you can check out with your family are Lost Lagoon, Prospect Point, the Totem Poles, Brockton Point Lighthouse, and Stanley Park Rose Garden. There are more locations within the park, but we'll let you discover the rest.
Day 2 – Granville Island & Kitsilano
Granville Island is a location in Vancouver that focuses on the arts and local artisan crafts. It is also home to the Granville Island Public Market, with many local vendors selling items from produce to spices. There are local small food businesses inside as well.
Outside, an excellent place to take children is the kid-centric Kids Market, where everything inside caters to children, from costumes to toy stores. You can also find local small businesses selling art and jewelry.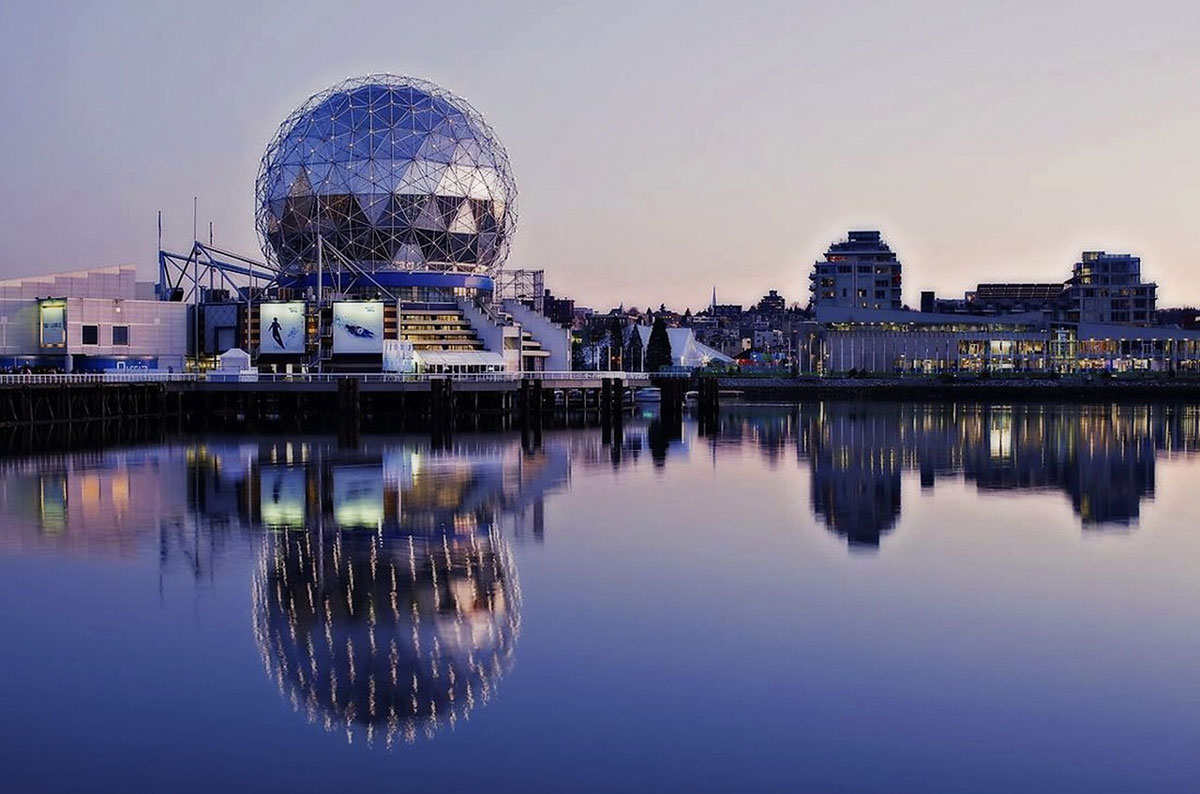 If you want something to do with children, you can take the False Creek Ferry from Granville Island to Science World. It is one of the best interactive locations in the city for children to learn about science or play with interactive displays.
Not far away from Granville Island is Kitsilano. Home to the Vancouver Maritime Museum and Kitsilano Beach, this area is a wonderful place to spend an afternoon.
If you want somewhere to eat for lunch or dinner, 4th Avenue has many coffee shops and restaurants. There are also retail stores if you are looking to shop afterwards.
Day 3 – Queen Elizabeth Park and VanDusen Botanical Garden
On top of the highest hill in the city and in the heart of Vancouver is another beloved park, Queen Elizabeth Park. Not only do tourists love coming to take pictures of the stunning view at the top, but locals also love to take a stroll through the park.
At the top of the park, you will find the Bloedel Conservatory, a glass-domed aviary with hundreds of birds and over 500 plant species. Do not forget to check out the Duck Pond within the park!
Gardeners tend to the Quarry Gardens and the Rose Garden of QE during spring to create beautiful floral arrangements. While everywhere in the park is picturesque, if you are looking for a photo-op place, these are the locations you want to visit inside the park.
Seasons in the Park is a restaurant inside Queen Elizabeth Park with stunning views if you want lunch or dinner.
Or if you are looking for somewhere else outside of Queen Elizabeth Park, Main Street is only a couple of blocks away, where you can find many local restaurants to grab a bite to eat.
After exploring Queen Elizabeth Park head to the lovely VanDusen Botanical Garden. As you step into the garden, you are greeted by a stunning array of vibrant flowers, lush greenery, and meticulously designed landscapes.
The garden spans over 55 acres, offering a diverse collection of plants. Some of the most popular features include the Elizabethan Maze, and the Sino-Himalayan Garden.
Day 4 – Day Trip To Whistler
An hour and 45-minute road trip to Whistler is something that everyone should experience. The Sea to Sky Highway is rated as one of the best scenic drives in Canada. The drive has scenic viewpoints and activity stops like the Sea to Sky Gondola and historical landmarks.
If you choose to stop along your journey to Whistler, there are a few pit stops. The Britannia Mine Museum is also an excellent spot for children and adults to learn about the once-active copper mine at Britannia Beach.
There is a daily mine tour where they will take you into a mine and learn more about the workers' daily lives while working there and the history of the mine.
One of the most notable things along the Sea to Sky Highway is a massive granite rock known as the Squamish Chief or "The Chief" to locals. You can hike the Chief if you wish. However, hiking up to the top will take an entire day.
When you see The Chief, it is also the indicator that you are entering the main town of Squamish. You can grab lunch, a snack, or a washroom break before continuing to Whistler (there will be no more places to stop unless you are looking for viewpoints).
When you reach Whistler, you can walk around the village. Whistler is a world-renowned ski resort location known for skiing and snowboarding during the winter and mountain biking in the summer. And it was also a location where the 2010 Winter Olympics were held.
Lost Lake Park is something that many locals who live in Whistler like to take a leisurely walk around the lake with their families or dogs. It is a loop trail that will take about an hour and a half and starts near the parking lots.
Day 5 – North Vancouver and the North Shore Mountains
North Vancouver is across Vancouver Harbour and Lions Gate Bridge. It is easy to get to using the SeaBus. From there, you can take a 20-minute bus ride to Capilano Suspension Bridge Park.
The 137-meter-long suspension bridge hovers over a river surrounded by lush forest. The park has other activities, such as a cliff walk, tree-top walkways, historical and cultural displays, and more.
Suppose you are looking for a more off-beat path from normal tourist locations. In that case, somewhere that is further East in North Vancouver is Deep Cove. Traveling there by transit will take much longer, so if you are renting a car, you should have no problems getting to Deep Cove.
Deep Cove is a popular kayaking spot where locals like to kayak up the Indian Arm. It is a beautiful location with even a small waterfall called Silver Falls on the left side of the bank.
Lynn Canyon is another location where it will be easier if you have a car to get to. You can take a short hike over the small Lynn Canyon Suspension Bridge to a popular spot with a 30-foot pool. If you come in the summer, it is an excellent glacier water swimming hole to cool off in.
In addition, if you are looking for something challenging to do with your family. In that case, the Grouse Grind is a popular moderate to difficult hike in Vancouver.
It is an incline hike with little to no resting spots. It is something many people like to do during the summer.
During the winter, all three Vancouver mountains, Cypress, Grouse Mountain, and Seymour, are open for the winter season, where you can have a fun-filled day doing winter activities with the family.
Visiting Vancouver in winter? Read our guides on skiing with young children and what to wear skiing.
Other Optional Things To Do & Places To Add To Your Vancouver Itinerary (Local Suggestions)
Here are a few optional local things to do and places that you could add to your itinerary.
Watch a sports game
Vancouver is home to three professional sports teams, the Vancouver Canucks (National Hockey League, NHL), the Vancouver Whitecaps (Major League Soccer, MLS), and the BC Lions (Canadian Football League, CFL). You can catch a game almost any time throughout the year.
Playland/PNE
Vancouver's biggest amusement park with rides, fair games, and entertainment. During the month of October, Fright Nights is an event held in Playland where you can walk through haunted houses.
Richmond Night Market
One of the biggest foodie festivals outside of Vancouver is the Richmond Night Market which is open throughout the summer, on weekends and holidays.
Ways To Get Around Vancouver
Getting around Vancouver is relatively easy. Vancouver has local transit that runs almost everywhere in the city.
The SkyTrain will reach high-traffic areas such as Granville Street or Waterfront. Our buses run all over the downtown area and travel outside of central downtown, and it is one of the best ways to travel if you are not driving a car.
The Canada Line will take you from the Vancouver International Airport to central Downtown Vancouver. You can also use the Canada Line to get to other locations downtown if you choose not to walk, for example, to Yaletown.
Using a Compass Card (reloadable) or a Compass Pass is the universal pass that will get you on and off transit. To buy a Pass, you can get Compass Passes from any SkyTrain or Canada Line station at the machines.
Suppose you wish to use a reloadable Compass Card. In that case, you can buy them from the Translink Customer Service Centre at Waterfront Station. Waterfront Station is located near the iconic Canada Place.
Make sure to purchase the correct passes for the proper zones. If you travel outside Downtown Vancouver, you may need a two-zone pass. A Compass Card can be loaded with any amount, deducting the zone amount automatically wherever you tap out.
Where To Stay In Vancouver For Families
There are many hotels and locations that suit families in Vancouver. If you are looking for a pool, some of the best Downtown Vancouver hotels with indoor pools are in the heart of downtown.
Suppose you are traveling with a family with no children on the trip. In that case, some of the best locations in and around Vancouver are Coal Harbour, West End, and Yaletown.
If you are traveling as a family with children on your trip, West End and Downtown Vancouver will be the best option.
Find and book a hotel for your 5 day Vancouver trip here.
5 Days in Vancouver: Conclusion
Vancouver offers excellent outdoor activities, interactive experiences, and more for the entire family. The city and its surroundings offer enough activities to keep you entertained for a full five days in Vancouver.
With plenty of time to enjoy Vancouver's food, nature, and culture, you'll have a blast on your five-day Vancouver family vacation.
About the author of this 5 days in Vancouver itinerary: Kelena is a curious Canadian travel blogger who loves exploring her backyard and traveling to other countries worldwide. Sharing her experiences and details for others to enjoy is what she loves to do through her writing at writtenbykel.com.
Like it? Pin this 5 day Vancouver Itinerary for families to save it for later!
Do you have a question or comment about this 5 day Vancouver itinerary for families? We'd love to hear from you! Leave your thoughts in the comments below.
Did you know…
When you make a purchase or book hotels, tours, or other travel services, through our links, we receive a small commission, at no extra cost to you. We only EVER recommend service providers, websites, or products we personally use when booking our own travels. Your support enables us to keep producing helpful travel content. Thank you!