We may earn money or products from the companies mentioned in this post.
Czech Republic is a popular European destination. Perhaps not as popular as many western European countries like France or Italy, but it is still popular in its own right. Yet, most visitors to the country don't stray too far from the capital city of Prague. Although Prague is a stunning city with so much to see and do, there is definitely more to the Czech Republic than its beautiful capital. In the southern part of the country, in the region known as Moravia you'll find the Czech Republic's second largest city, Brno, which is definitely worth a visit. So, if you're wondering "Is Brno worth visiting?", the short answer is an emphatic YES!
There are so many fascinating things to do in Brno that make this city in southern Czech Republic a true gem for travelers.
This guide to the best things to do in Brno, Czech Republic highlights the top attractions in Brno and answers the question many travelers have, "Is Brno worth visiting?"
How to get to Brno, Czech Republic
The second largest city in Czech Republic, Brno is just a short drive or train ride from the cities of Vienna, Austria and Bratislava, Slovakia. You can get there from either city in less than 2 hours, making it an easy day trip or a weekend getaway. It is roughly 2 1/2-hours from Czech Republic's capital city of Prague, as well.
During one of our European road trips, we rented a car and explored parts of Central and Eastern Europe including the countries of Germany, Austria, Slovakia, Poland, and Czech Republic. Since we were traveling with a toddler, which makes any trip exponentially more challenging, we decided not to spend more than a couple of hours in the car at a time. For this reason, we ended up spending one night in Brno, a lesser-known town in south Moravia, to break up our drive.
If you choose to drive and explore Czech Republic, like we did, the Zeliv Monastery is a great stop between the cities of Brno and Prague.
5 reasons Brno, Czech Republic is worth visiting
Brno isn't on the radar for many travelers, and we didn't know what to expect when we booked our stay. But it turns out there are several intriguing points of interest in Brno, Czech Republic and quite a few things to do in and around the city that make Brno worth visiting. We were pleasantly surprised by all the things to do in Brno and how much this city had to offer. Although we spent only one day in Brno, you could easily spend a few more days exploring Brno and the surrounding area known as Moravia.
Here are our top reasons why you should visit Brno, Czech Republic. Keep reading or scroll down for the best things to do in Brno, as well!
Brno is much smaller and less crowded than nearby tourist cities
Although Brno is the second largest city in Czech Republic, it is still significantly smaller than Prague. With less than 380,000 people, it is about a third the size of the capital city. And because it isn't really a tourist town yet, it is significantly less crowded. Don't get me wrong, you will still find plenty of tourists visiting Brno. In fact, it is becoming an increasingly more popular destination among Eastern Europeans, specifically.
Many of the people who visit Brno come in for a weekend from some of the smaller surrounding towns or from neighboring countries. As with most destinations, weekdays are obviously less busy as are the off-season months of the year. Still, in comparison, the beautiful streets of Brno are much less crowded than the streets of Prague.
Charm and beauty await visitors to Brno
Even though it may not be a tourist destination, the city has done a really great job of beautifying the old town area. From the architecture to the cobblestone streets and street cars, the town is dripping with charm. One of our favorite things to do in Brno, Czech Republic is simply roam the streets and shop.
Although the city is known for its modernist buildings, specifically, the Villa of Tugendhat, the Old Town area of Brno has the same preserved historic charm that many of Europe's other major cities have. Old Town is filled with shops, cafes, and beautiful plazas and squares boasting baskets of cascading flowers, fountains, and colorful pastel buildings.
The area surrounding Brno is just as picturesque as the city
Just outside of Brno, Czech Republic there is quite a bit to do for adventure and nature lovers. This region of the country, south Moravia, has beautiful fields and rolling hills of farmland. In spring and summer the fields are vibrant shades of green. And in fall, the rolling landscape changes to bright gold and yellow.
These perfectly manicured Moravian fields are hypnotizing to see. A drive through the countryside to gaze upon the beautiful agricultural fields is a must if visiting this region of Czech Republic.
You will also find nearby vineyards and wineries, and Czech Republic's largest cave system just outside of Brno.
Brno is very affordable to visit
It is safe to say businesses in cities that cater to tourists often mark up prices significantly to make a profit. That is why cities like Paris and London are considered overpriced and expensive to visit for many. But that is not the case in Brno.
While tourists will pay more for lodging, dining out in restaurants, and visiting attractions while on a holiday or vacation in major tourist cities, in Brno, you'll find your money goes further. In places that haven't been pegged as tourist attractions, you tend to find better rates on hotels, food, and basically everything else.
In Brno, we splurged and stayed in the most luxurious hotel in the town. It was fancy! They even served complimentary champagne when we walked in. But you know what? It was still the least expensive hotel in which we stayed during that European trip.
If you don't want to splurge for a fancy hotel, you'll also find plenty of budget-friendly hostels in Brno averaging around $15 a night.
We ordered street food from a local vendor in Brno and enjoyed a great yet inexpensive dinner for approximately $8 US for our family of three. We also ordered three gelatos for dessert, which cost us the equivalent of $3 US. Your money will go fairly far in Brno, Czech Republic which makes it all that much more appealing to visit!
9 awesome things to do in Brno
While it is picturesque and inexpensive, those are not the only reasons to go to Brno or the only things that make Brno worth visiting. There are so many fascinating things to do in Brno that make the city fun to explore.
Even within the historic city center there are a lot of things to do and see all within walking distance. Here are a few incredible and fun things to do in Brno, Czech Republic to add to your Brno itinerary.
Cathedral of St. Peter and St. Paul
One of the main highlights of Brno is the Cathedral of St. Peter and St. Paul. It sits perched atop Petrov Hill, prominently overlooking Old Town Brno. It is a national monument in the country and is featured on Czech Republic's 10 crown coin. This lovely church is surrounded by beautiful statues and features a crypt which dates back to the 11th century.
One of the most unique things about the church is that the noon bell tolls at 11 a.m. instead of noon. The reason for this dates back to the 1600s when Brno was under siege during the 30 Years War. Those attacking the city pledged to retreat if they did not conquer the city by the time the church bells rang at noon. Those defending Brno rang the bell an hour earlier, possibly saving the city from being conquered. The tradition has rang true for 400 years!
Brno Ossuary
Walking through Saint Jacob's square, you would never know that directly beneath you is Europe's second largest ossuary. Second in size only to the Catacombs in Paris, the Brno Ossuary is believed to hold the bones and skulls of 50,000 skeletons! For a small fee, you can access the underground ossuary through the Church of St. James. Although the ossuary dates back to the 1600s and 1700s it wasn't until 2001 that it was discovered. It didn't open to the public until 2012.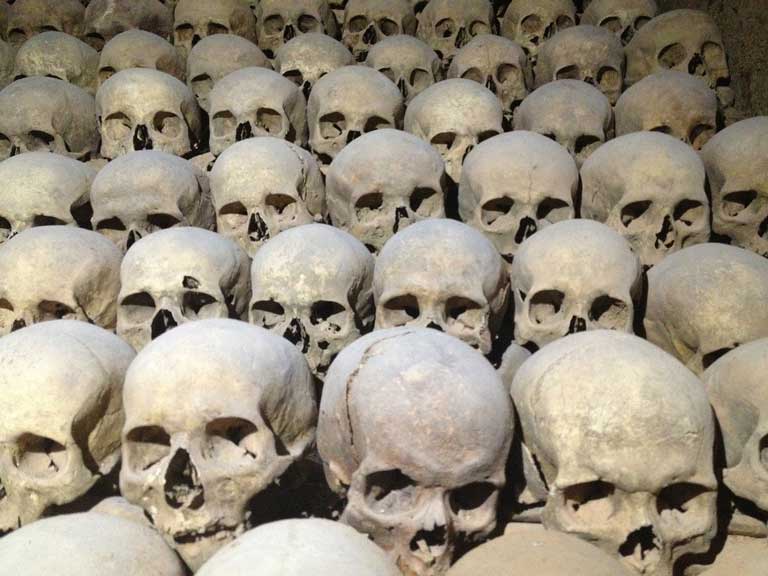 There is something creepy, yet strangely fascinating about walking through a hallway and into a room or chapel made entirely from bones.The bones are believed to be dug up from a cemetery to make room for new burials and placed in the ossuary.
Capuchin Monastery
Another one of the great things to do in Brno is a tour of the Capuchin Monastery. If the Brno Ossuary isn't too morbid for you, then add the Capuchin Monastery to your Brno itinerary, as well. The Capuchin Crypt in the basement of the monastery houses the complete mummified remains of 24 monks and nobles.
The mummified intact bodies lie perfectly preserved in rows on the floor in the main vault. Wearing their cloaks and robes, some of the remains are still clutching a cross or draped in a rosary. While it is eerily intriguing, for some people, skeletal remains might be a bit disturbing.
Roam the streets of Old Town
Even if bones and mummified remains aren't your thing, there are still a lot of things to do in Brno that are much more, let's say "lively". The picturesque streets of Old Town Brno are a great place to simply wander, shop, and grab something to eat or drink. There are no shortage of great restaurants and shops to duck into as you roam the beautiful cobblestone streets surrounded by colorful buildings.
For a panoramic view of the city head to Brno Old Town Hall. The medieval town hall dates back to the 13th century. You can climb the 63-meters (207 feet) high observation tower for a bird's eye view of Brno and surrounding Moravia.
In the main square in Brno, you'll find another eye-catching point of interest. In the center, there is a black stone monument that looks like a giant bullet. This monument is actually an astronomical clock that releases a stream of glass marbles at 11 a.m. each day. Similar to the bell at the St. Peter and St. Paul, the clock chimes at 11 instead of noon.
Villa Tugendhat
Designed by the architect Ludwig Mies van der Rohe, Villa Tugendhat was built in 1929-1930.
It was one of the first examples of modern architecture and for this reason is the only example of modern architecture in Czech Republic that has been granted UNESCO World Heritage status.
The three-story house and UNESCO World Heritage Site is now a museum that you can tour. Although the villa isn't in the city center, it is worth the short trip to see this restored marvel.
Brno Vegetable Market
For years, the Brno Vegetable Market has been the central place for locals to buy fresh produce and flowers. But this daily market is also a great place for visitors to the city to simply hang out, enjoy the atmosphere, and support local vendors. You'll also find food trucks and vendors happily ready to serve up an inexpensive meal.
Interestingly, directly under the vegetable market is a labyrinth of passageways that date back to the Middle Ages. You can even book a tour of these underground passages to escape the sun on a hot day and see Brno beneath the ground.
Macocha Karst
An amazing attraction just outside of Brno is the Macocha Karst. It is known mostly for the beautiful Macocha Abyss, a sinkhole inside the underground cave system. Although the attraction is family friendly, there is a bit of hiking and a boat ride, so if visiting with kids, they need to be old enough to sit still while on the underground river boat ride. The Macocha Karst is just a short drive north from Brno near the town of Blansko, and worth the trip to see the beautiful, natural area.
Spilberk Castle
One of the city's most important landmarks, Spilberk Castle rounds out our list of the top things to do in Brno. The 13th century fortress has served as a home, a prison, and now a museum.
Inside this Brno city museum you'll find both permanent and temporary exhibits. Sitting just on the edge of the Old Town city center, the sweeping views from Spilberk Castle make the hike up to it worth the trip!
Veveří Castle
About 7 miles north of the city center, Veveri Castle is a former royal palace that sits on the banks of the Svratka River. One of the oldest castles in the country, it dates back to the 1100s, when it was believed to be a royal hunting lodge. For many years, it fell into a state of disrepair, but under the National Heritage Institute in Brno, the castle has undergone renovations and reconstruction and was able to open to the public in 2002.
Our conclusion: Is Brno, Czech Republic worth visiting?
In our experience, Brno is definitely worth spending a day or two. There is enough to do in and around the city for a great weekend trip. Since it's relatively close to Prague, Vienna, and Bratislava, you can easily include a visit to Brno while on a trip to any of those other wonderful cities.
Still wondering "is Brno worth visiting?" We'd love to hear from you and answer any questions you may have about any of these things to do in Brno. Leave your questions or thoughts in the comments below.
Want to help others answer the question Is Brno worth visiting? Pin this guide to the top things to do in Brno, Czech Republic to save for later!
This guide to the best things to do in Brno, Czech Republic was first written in 2017 and was last updated in March 2022 for accuracy and current information.