San Pedro, Belize is perhaps the most recognized town in all of Belize, and one of the best places to visit in Central America for families. Mentioned in the Madonna song La Isla Bonita, San Pedro is known for its beautiful blue water and relaxed vibe.
Located on the island of Ambergris Caye (pronounced key), it is the main town on the largest of the Belizean islands. The island is roughly 25 miles long and half a mile wide and is one of the most popular places for vacationers to Belize.
Although the island isn't very big, there are a lot of things to do in Ambergris Caye and in San Pedro to keep you entertained, whether you want to lounge in a hammock on the beach or explore the depths of the ocean with scuba gear.
This guide to the best things to do in San Pedro, Belize includes the best activities on Ambergris Caye for adventure-lovers, family travelers visiting Belize with kids, and those looking for a relaxing beach vacation.
How to get to Ambergris Caye from Belize City
From Belize City, you can get to the island of Ambergris Caye in one of two ways. You can fly on a small regional plane for approximately $80 USD per person or take a $20 ferry or water taxi from the mainland.
The ferry takes approximately an hour and a half. It first stops at Caye Caulker, which is another popular spot for divers and snorkelers.
The regional flight to San Pedro Airport takes only 15 minutes. It is much more convenient but four times as expensive.
Things to do in Ambergris Caye and San Pedro, Belize
San Pedro is a quiet beach town with a great atmosphere. The town has several beachfront restaurants and bars that are great places to relax and have a cold drink or a freshly caught meal during the day or even after the sun sets.
Ambergris Caye is one of the best Caribbean islands for families. Many of the best things to do on Ambergris Caye, or any island for that matter, involve a lot of relaxing and unwinding.
There are several great ways to do that in Ambergris Caye, Belize. But if you are an adventure traveler and prefer a vacation where you are always on the go, you'll find lots of great things to do in San Pedro that will peak your interest, as well.
Let's start with those activities that are best for adventure seekers.
Swim with sharks at Hol Chan Marine Reserve and Shark Ray alley
Perhaps there is no greater adrenaline rush than getting into the ocean surrounded by sharks.
Located off the southern tip of Ambergris Caye, the Hol Chan Marine Reserve covers approximately 3 square miles divided into 4 zones: the reef, the seagrass beds, the mangroves, and Shark Ray Alley.
Shark Ray Alley is a popular diving and snorkeling spot where nurse sharks and stingrays are often found. The other zones of the reserve, thanks to their protected status, offer an abundance of colorful coral reefs, huge schools of fish, and even the rare chance to see a manatee feeding on seagrass beds.
Visiting the reserve requires a guided tour, but it is well worth it, as this is the most popular day trip from San Pedro or Caye Caulker.
Fly over or dive in the Great Blue Hole
The aptly named Great Blue Hole near the center of Lighthouse Reef is one of the most notable natural wonders in Belize.
It takes about 90 minutes by boat to visit this storied ocean sinkhole, which is one of the most famous scuba diving spots in the world.
Known for its diversity of species, the giant marine sinkhole spans 984 feet across and is an eerie 410 feet deep.
If scuba diving in the deeps doesn't excite you, another popular way to see the Great Blue Hole is by air.
You can book a helicopter tour over the Great Blue Hole which will give you a birds-eye view of this perfectly circular underwater cave. 
Take a day trip to other popular snorkeling and diving spots
The Belize Barrier Reef is second in size only to the Great Barrier Reef of Australia, so there is no shortage of incredible diving and snorkeling spots. If you're traveling with kids who are old enough to snorkel, Belize is a great family vacation.
The famous reef measures about 190 miles, running along the country's Caribbean coast.
Once considered endangered due to overfishing and other damaging practices that destroyed the reef, the country has taken considerable measures to restore the natural balance and marine life.
While Hol Chan Marine Reserve and The Great Blue Hole are perhaps the most popular snorkeling and dive spots, Bacalar Chico National Park, on the far north end of Ambergris Caye is also a top contender.
If you and your family are experienced suba divers, you can book a diving excursion to the barrier reef and Great Blue Hole.
A UNESCO World Heritage site, the national park and marine reserve is only accessible by boat.
Visit Marco Gonzales Archaeological Reserve
Aside from its barrier reef, Belize is best known for its well-preserved Mayan sites. Most of the Mayan ruins in Belize are located on the mainland, but if you are only visiting the islands, you can get a small glimpse of the past at Marco Gonzales Archaeological Reserve.
The area, located 5 miles south of San Pedro on Ambergris Caye, is believed to have served as a trading post for the ancient Maya people. It is free to visit and tour at your leisure.
The quarter mile site has the remnants of 49 structures, which have been reclaimed by nature to varying degrees.
Explore the town of San Pedro by foot or by golf cart
The town of San Pedro has a cool Caribbean feel with a great nightlife and plenty of places to shop, eat, or throw back a few fruity beverages.
Spend an afternoon walking around and enjoying the atmosphere of the beach town. Or rent a golf cart and drive around the town, if you prefer.
There are no cars in San Pedro, Belize. Instead, unlike driving in mainland Belize, you get around San Pedro and Ambergris Caye by golf cart. Exploring the island somewhat aimlessly is one of the best things to do in Ambergris Caye.
Dine at the Truck Stop
The Truck Stop is a quirky and fun place to eat and hang out on Ambergris Caye, located just outside San Pedro. It is somewhat of an entertainment hub for the island with various food trucks and restaurants made from shipping containers.
Hanging out at this food truck park is one of the best things to do in Ambergris Caye, as you'll find outdoor games, plenty of open-air seating, live music and theme nights.
For casual dining you'll find everything from pizza to tacos, and even dessert vendors, so everyone in the family can choose their own type of cuisine.
Meet Belize's native iguanas
Iguanas can be found throughout Central America and are prevalent in Belize. Similar to the Green Iguana Conservation Project in San Ignacio, Belize the Iguana Eco Center in San Pedro is a sanctuary for these native lizards.
You can walk down a short trail between Mangroves, maintained by a single islander who set out to protect a couple of iguanas ten years ago.
The area is now home to more than 200 iguanas, which you'll see resting in the trees along the trail.  
Indulge at Belize Chocolate Company
When you think of chocolate, Belize may not be the first country to come to mind. But the small Central American country claims to have some of the best chocolate in the world, thanks to a long history of the native Maya people creating chocolate concoctions from cacao beans.
You can sample Belizean chocolate or even take a chocolate making class at the Belize Chocolate Company.
The chocolate shop is located along the beach near the dock where the ferries drop off passengers in San Pedro.
It is a great way to indulge when you arrive on the island, and doing so supports indigenous farmers in Southern Belize, from which the company sources all their ingredients.
Take a long walk on the beach
The beaches near the hotels and resorts on Ambergris Caye are not the greatest. If the plan is to hang out in the ocean and relax in waist-deep water at a seaside resort, you may be disappointed. You will be hanging out in waist-deep seaweed instead.
The beaches are narrow, as is the island, but they are clean. The hotels and resorts clean the seaweed each morning and maintain the waterfront to provide guests a great place to relax or take a stroll along the beach.
If you venture just a little ways out from the shore (even at the end of some of the docks) you will find beautiful, clear water that is roughly 4 feet deep. In fact, the water around the cayes is fairly shallow, even if you venture a good distance from the shore.
For this reason, avoid the water right by the beach, and enter from one of the docks instead. Or, do as most people do and book a snorkeling tour at one of the reserves or visit the next place on our list.
Hang out at the not-so-secret Secret Beach
Perhaps the worst kept secret in Belize, a visit to Secret Beach is one of the most popular things to do in San Pedro.
Located seven miles north of San Pedro on the western side of the island, the beach is one of the few on the island free of seaweed.
It is a popular place for tourists looking to hang out in the water, paddleboard or kayak. You can rent both at the beach, if you prefer an active beach day rather than a relaxing one.
There are several restaurants along the beach where you can refuel on some local Belizean cuisine.
Spend a day on Caye Caulker
If you are looking for an even more laid back vibe than San Pedro offers, take a water taxi over to Caye Caulker for the day.
On the chill island you'll find overwater hammocks, seaside eateries, and an atmosphere that is so carefree that you'll forget to look at a clock.
Caye Caulker is a charming island that offers a unique Caribbean vibe and a break from the traditionally busier Ambergris Caye. Explore the island's picturesque streets, colorful houses, and local shops and restaurants.
Caye Caulker is home to the world-famous Split, a natural channel that separates the island in two and offers spectacular views of the sea and the surrounding mangroves. Visitors can swim, sunbathe, and relax on the Split's sandy beach or rent kayaks and paddleboards to explore the nearby waters.
A day trip to Caye Caulker is a fantastic way to experience the beauty and culture of Belize and is one of the best things to do when visiting Ambergris Caye.
Relax by a resort swimming pool
Many of the hotels and resorts in Ambergris Caye have beautiful and luxurious pools with amenities, like swim up bars, lounge chairs, children's areas, and poolside restaurants where you can dine in your swimsuit.
For many travelers to Ambergris Caye, hanging out by the pool is one of the best and most relaxing things to do in San Pedro.
The warm and sunny weather in Belize makes it perfect for swimming and lounging by the pool. Additionally, the resort amenities allow you to enjoy refreshing drinks and delicious meals without leaving the comfort of the pool area.
It is a great way to unwind and recharge, whether it's by reading a book, listening to music, or simply soaking up the sun at a tropical paradise on the island.
Where to stay in San Pedro, Belize
Many of the hotels and resorts in Ambergris Caye are built just outside of the town of San Pedro. You'll find everything from budget hostels to luxury all-inclusive resorts on the island. Here are a few options for where to stay in San Pedro, Belize.
Sandbar Beachfront Hostel (Budget)
For those visiting Belize on a tight budget, there are a few hostels and budget-friendly options in San Pedro. Sandbar Beachfront Hostel is one of the more affordable lodging options on the island and has great reviews.
You can book a single bed or a private room which is what we do when staying in hostels with kids.
Belizean Shores Resort (Mid-range hotel)
Belizean Shores Resort is a great moderately priced resort in San Pedro that offers guests plenty of space and amenities. This is where we personally stayed in San Pedro and had a great time!
Read our full review of the Belizean Shores Resort where we stayed while in San Pedro.
Coco Beach Resort (Luxury resort)
If you are looking for a luxury resort with an awesome pool, multiple restaurants on-site and all the amenities, Coco Beach Resort is a great option. Located next to Belizean Shores, Coco Beach is a beautiful property with a great location.
How to get around San Pedro and Ambergris Caye
Most mid-range and luxury hotels offer free water shuttles whether arriving by plane or ferry.
If you want to return to town to explore all the great things to do in San Pedro, you can either rent a golf cart from your hotel or you can take the water taxi, which is about $5 per person. Both are easy and convenient ways to travel around the island.
Best time to visit San Pedro, Belize
Like other parts of Central America, Belize basically has two seasons. The dry season, from November through April, is the most popular time to visit. The wet season, which runs from May through October, is a great time to visit if you want to avoid the crowds.
But be prepared for pop-up showers which often may not last very long, but can bring a lot of rain in a short amount of time.
Do you have a question or comment about any of these things to do on Ambergris Caye? We'd love to hear from you. Leave your thoughts in the comments below.
Like it? Pin this list of things to do in Ambergris Caye, Belize to save it for later!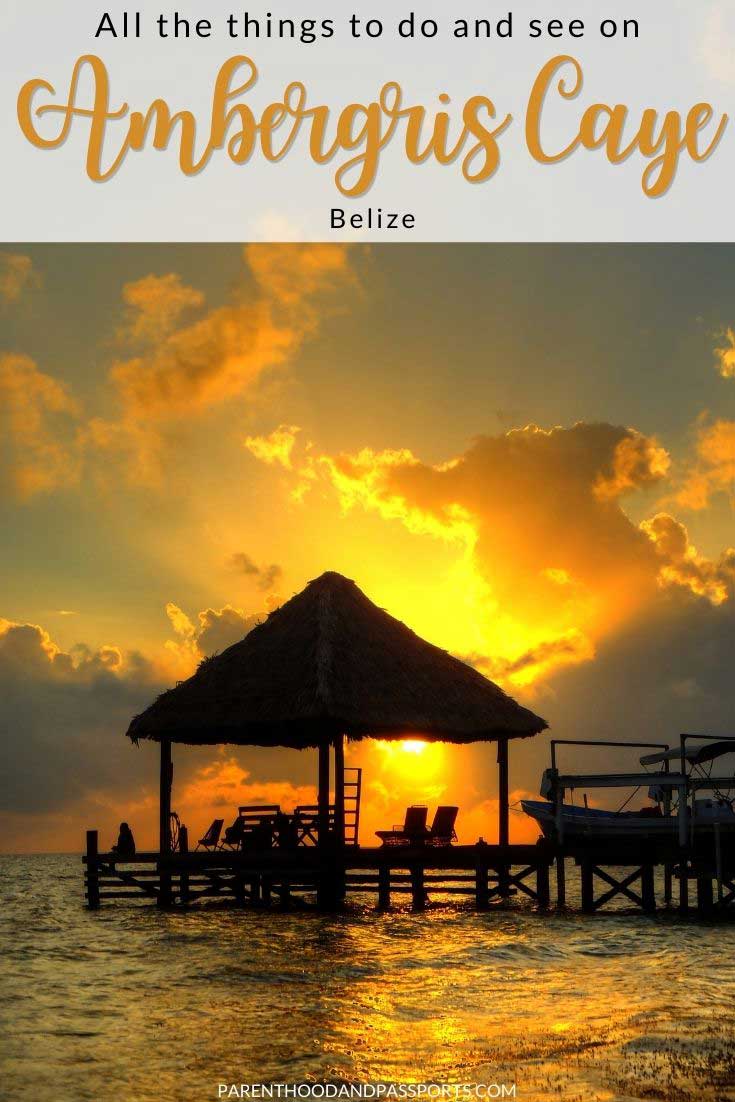 This list of the top things to do in Ambergris Caye and San Pedro Belize was first published in June 2016 and was most recently updated in May 2023 for accuracy and current information.
Did you know…
When you make a purchase or book hotels, tours, or other travel services, through our links, we receive a small commission, at no extra cost to you. We only EVER recommend service providers, websites, or products we personally use when booking our own travels. Your support enables us to keep producing helpful travel content. Thank you!