Aspen-Snowmass is one of the most popular ski destinations in the world, and for good reason. The Colorado mountain town has an esteemed reputation – known for both its snow sports and its posh vibe.
There are four different skiable mountains near the town of Aspen, Colorado that offer a wide variety of terrain for all levels of skiers and snowboarders. Plus, off the slopes, there are plenty of family-friendly activities in Aspen to keep everyone entertained.
So, if you're traveling with children, and want to plan a memorable winter trip, rest assured there are so many fun things to do in Aspen with kids each winter.
This travel guide to winter fun in Aspen with kids provides an overview of visiting Aspen in winter and includes 15 fun kids activities in Aspen that are perfect for a winter trip.
About Aspen – 4 Mountains to Explore
Skiing or snowboarding in Aspen – or even just visiting the swanky town is worthy of any Colorado bucket list. There are actually 4 mountains you can ski in Aspen and your lift ticket will work at all of them.
Most people however who say they are going skiing in Aspen, are actually skiing at Snowmass. It's the largest mountain and offers a wide variety of terrain.
Ajax/Aspen
Ajax, which is what the locals call the original Aspen mountain, is right in town and you can ski directly from the mountain into the town of Aspen. However, there is no beginner terrain here, so it is a challenging mountain at which to ski or snowboard.
Snowmass
Snowmass is the largest of the four mountains near the town of Aspen and offers a wide variety of terrain. From easy greens, to gentle blue, and steep black diamond runs, Snowmass Mountain has a little of everything.
Buttermilk
This is the same mountain that hosts the Winter X-Games. It is also easily visible from the airport. This is a very gentle hill and is perfect for kids. It fact, it is one of the best ski resorts in Colorado for beginners. However, the terrain may be a bit too flat for some experienced adults. 
Highlands
This mountain is laid out similar to Ajax. It's narrow with lots of intermediate or difficult terrain.
Interested in other family-friendly ski towns in Colorado? Check out Steamboat in winter!
How to get to Aspen
Depending on where you are coming from, there are several ways to get to Aspen, Colorado.
The easiest way is to fly into Aspen Pitkin County Airport. Located just a few minutes from downtown Aspen, this small airport is considered the most dangerous airport in the United States, as there is only one way to both land and depart the airport.
From the Aspen Airport, you can easily take a private shuttle to your hotel or condo, so you don't have to hassle with a rental car.
If you prefer to fly into Denver International, you can either rent a car and drive 4 hours, or book a transfer service to drive you.
If flying into the Mile-High City, be sure to spend some time there before heading to the mountains. There are lots of fun things to do in Denver with toddlers, grade school children, and even teens.
Where to stay in Aspen with kids
Because Aspen caters to travelers, you will find no shortage of hotels and vacation rentals in the town of Aspen and at the different mountain resorts. When we visit Aspen, we ski every day, so it is much more convenient for us to stay at Snowmass Mountain Resort than in the town of Aspen.
This allows us to not have to shuttle ourselves and all our gear to the mountain every day. Instead, we typically stay at Laurelwood Condominiums which basically offer ski-in ski-out accommodations within walking distance from the Snowmass Mall.
While a bit pricier, if you want to stay in Snowmass Village instead, Limelight Hotel is a great option right by the ice skating rink and The Collective, only a few feet away from the Elk Camp Gondola.
Compare rates and availability at all Snowmass and Aspen hotels and condos
Is Aspen child friendly?
If you are wondering 'Is Aspen good for kids?', the short answer is a resounding yes!
Aspen Snowmass is a great place to ski with kids of all ages. There are plenty of beginner and intermediate runs to choose from, and the ski and snowboard school is among the best in the country.
Even if you are planning to teach your kids to ski yourself, there are lots of gentle slopes at Buttermilk and Snowmass that are perfect for doing just that.
Plus, there are plenty of activities off the slopes to keep kids entertained, including snow tubing, ice skating, and visiting the many museums and art galleries in Aspen.
15 Things to do in Aspen with kids
If you are planning a winter family vacation to Aspen and want to make it a memorable trip for your kids, here are 15 fun things to do in Aspen for kids that they'll be talking about for months!
Explore one of the mountains on skis or snowboards
Of course, skiing and snowboarding are the top winter activities in Aspen and the primary draw to the mountain town. Your children's experience level as a skier or snowboarder and the type of terrain you're looking for will ultimately determine which mountain is best for your family.
However, as a general rule Snowmass Mountain is the most versatile and offers the widest appeal. With terrain parks, varying terrain for all ski levels, a lively base area, and plenty of fun activities for families.
Snowmass is a large enough mountain that you could spend several days skiing there and explore different areas of the mountain without getting bored.
Adventurous families might want to ski a different mountain each day though to try all 4 of Aspen's popular ski resorts.
Go Snow Tubing
Snowmass Snow Tubing is one of the most exhilarating things to do in Aspen with kids – aside from skiing and boarding. Located at the top of the Elk Camp Gondola, the multi-lane tubing hill is a great way to spend an afternoon with children who aren't quite ready for a full day of skiing.
The tubing hill is open every day during the winter ski season and is accessible by a magic carpet. You can purchase tickets online or buy them at the bottom of the gondola or at Elk Camp.
Race Down the Breathtaker Alpine Coaster
The Breathtaker Alpine Coaster is a gravity-powered mountain coaster located at the top of the gondola at Snowmass Mountain near the snow tubing hill. This thrilling ride is sure to get your adrenaline pumping and have your little ones laughing with glee. The coaster is open year-round and is a great way to enjoy the beautiful mountain scenery both in winter and summer.
The coaster winds its way through the trees and past boulders, slowly taking you up the mountain. At the top, you control your speed on the way down. The ride is about 7-9 minutes long and reaches speeds of up to 28 mph.
Kids under a certain height must ride with an adult or older driver. It is a fun ride that the whole family will want to do again. Luckily, a ticket to the alpine coaster includes up to 3 rides, so you can do it again!
If you plan to go on the mountain coaster or the tubing hill, you'll want to buy your tickets at least one day in advance, as tickets often sell out, particularly on busy weekends and holidays.
Twirl around an ice skating rink
Ice skating is a popular winter activity in Aspen, Colorado. In fact, the small community has several ice rinks, including two indoor and at least two outdoor rinks. The most popular indoor rink is located at the Aspen Recreation Center.
But, if staying at Snowmass Mountain, you can ski free of charge at the outdoor rink in the heart of Snowmass Village. Even ice skates are provided free – although tips are welcome and encouraged.
It is a fun activity in Aspen for kids, and if parents prefer to sit out, there are plenty of places around the rink where you can sit and enjoy a drink while your children twirl their little hearts out.
Ullr Nights
Another one of the unique things to do in Aspen with kids each winter is Ullr Nights. Named after the Norse god of snow, this weekly event is held several days during the winter months at Snowmass Village.
It is a family-friendly event that celebrates all things related to snow.
There is live music, food, drinks, and a bonfire. The event, which requires attendees to purchase tickets, takes place at the top of the gondola, so you and your family can take part in a variety of other activities like tubing, coaster rides, sledding, and snowshoeing.
Ullr Nights is a great way to enjoy a winter night in Snowmass Village. So, if you happen to be visiting on a Friday night, it is a fun and festive way to spend an evening.
Bowl a strike and dine on a kid-friendly favorite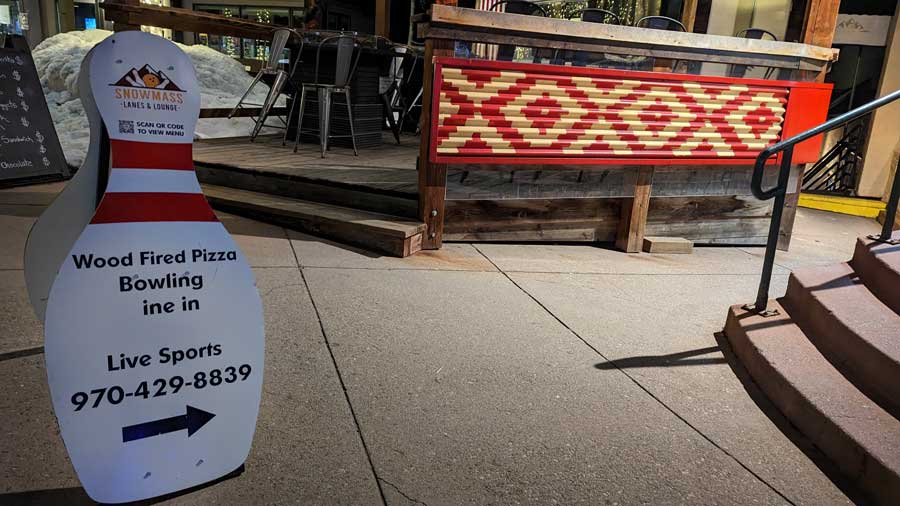 Kids and adults alike will enjoy an evening at Snowmass Lanes & Lounge. Located at the Snowmass Mall, this bowling alley and wood-fired pizza joint is ideal for winding down and spending quality family time after a day on the slopes.
Considered the highest bowling alley in the United States, you'll be hitting strikes at 9,300 feet.
The small alley has six lanes, as well as a pool, foosball, and darts. And to top off your night, there is also a restaurant inside where you can order pizza and other American cuisine.
Grab an artisan ice cream
While most people don't think of ice cream as a winter food, you'll always find a line to get a scoop at Sundae Artisan Ice Cream. Choose your flavor, type of cone, and your ice cream add-ins or opt for one of their signature sundaes.
Located in Snowmass Village, this popular creamery makes small-batch ice cream. You can enjoy your cone in the small ice cream shop or take a hand-packed pint back to your hotel or rental condo to enjoy later.
Sundae Artisan Ice Cream has several other locations including at Vail Mountain Resort and in the town of Glenwood Springs.
Book a day inside for your kids at The Treehouse
The Treehouse is the daycare center in Snowmass Village. But this is the type of daycare any kid would want to go to! It is a two-story, 25,000-square-foot facility that offers a variety of activities for children of all ages.
The Treehouse includes a number of themed rooms and even a climbing wall.
In the winter, the Treehouse is also where you drop your kids off for ski school and snowboard lessons. And, depending on your child's age, if they are in lessons at Snowmass, kids will have plenty of playtime at The Treehouse during the day.
Let your kids burn off energy at the Collective Game Lounge
Any kid will want to spend an evening hanging out at The Collective Game Lounge in Snowmass Village. The super fun space is designed just for kids.
With a variety of games, like pinball, video games, and arcade games, plus a massive ball pit, and selfie stations, kids could spend hours in this fun lounge area.
It is also a great place for children to meet other kids their age, socialize, and make friends on their vacation.
Catch the light displays at the Luminescence Winter Event
The Luminescence Art Exhibit is a free, interactive light installation that turns Snowmass Village and Fanny Hill into an illuminated art display.
The exhibit features a series of separate light installations, including a large-scale interactive LED installation programmed to musical and sound tracks.
Walking through the village and up or down Fanny Hill from Snowmass Mall is a great activity to do at night in Aspen after the sunsets.
Color your Own t-shirt
Color Your Own is a fun indoor activity for families while you're on vacation in Snowmass. It's also a great way to get some creative juices flowing and create something unique.
You simply choose one of the t-shirt designs that you like, take your time coloring in the design with the markers provided, and then the shirt will go into the dryer for about 20 minutes, which permanently seals the color onto the shirt. And then, your kids will have a creative souvenir to take home from your vacation.
Enjoy a snowcat dinner
Snowcat dinners are a unique and unforgettable dining experience that can be enjoyed at Snowmass Village or Aspen Highlands. These dinners offer a snowcat shuttle to a restaurant, mountain hut, or yurt where you can enjoy a nice, gourmet meal with the coolest transportation!
Live entertainment is often included with your dinner. And while this experience can admittedly be a pricey one, it is one of the most unique things to do in Aspen for families or couples.
Not sure what a snowcat is? Check out our guide to the most frequently used ski terms and expressions.
Relax in a hot tub or heated outdoor pool
After a day on the mountain, relax in an outdoor heated pool or hot tub and enjoy the winter scenery in snowy Aspen. Many of the condominium buildings and hotels have them, so be sure to book one that has either a pool or large hot tub.
While the warm water will help reduce soreness and relax muscles after skiing, kids will also enjoy playing in the water and possibly meeting other children at an outdoor pool.
After a soak in the warm water, the whole family will have a better night's sleep!
Grab Free S'mores Each Afternoon
You read that correctly – Aspen Snowmass might be known as a pricey destination, but you can still find free fun!
Each afternoon at 3:30, as skiers and snowboarders start to get off the mountain for the day, the Snowmass S'mores trucks open for guests. This free program offers s'mores to guests of all ages every day throughout the winter season.
The carts are located in Snowmass Base Village and on the Snowmass Mall by Tower Stage and Four Mountain Sports. The DIY s'mores handed out are made with chocolate ganache, graham crackers, and marshmallows.
People start lining up for their free treat around 3pm, but luckily the line moves fairly quickly. It is the perfect way to end a day of skiing or snowboarding.
Explore downtown Aspen
Downtown Aspen, Colorado in winter is a magical experience! The streets are lined with snow-covered trees, and the buildings are decorated with twinkling lights.
There are many shops and restaurants to explore, and the atmosphere is festive and lively.
Of course, Aspen is known for its high-end appeal, so it's the perfect place to spend a day shopping for clothes and accessories, as well as more affordable options.
You can also find a variety of unique shops selling souvenirs and other items that might be more appealing to kids.
If you're looking for a place to eat, downtown Aspen also has a wide variety of restaurants to choose from. There are restaurants serving everything from American cuisine to Italian food or every kid's favorite – pizza!
Tips for visiting Aspen with kids
If you're planning a ski trip to Aspen with kids, there are a few things to keep in mind that will make the experience safe and enjoyable for the whole family.
Book your flights and accommodations well in advance.
Aspen Snowmass is a popular destination, and prices tend to go up quickly. The earlier you make your hotel or lodging reservations or book your flights, the more you will likely save.
Make sure your kids have the proper gear.
Any winter activity is more fun when you are dressed appropriately for the elements. The proper gear doesn't just include boots, skis or snowboards, it also includes helmets, insulated pants, coats, goggles, and gloves.
If this is your first time skiing with kids, check out our complete guide on what to wear skiing.
Pack plenty of snacks and drinks.
Aspen Snowmass is a high-altitude destination, and you'll need to stay hydrated.
A collapsible, reusable water bottle is great to bring with you on the mountain. It packs up lightly, eliminates waste from single-use water cups in the restaurants on the mountain, and will ensure you stay hydrated on the slopes.
Be prepared for crowds.
Aspen Snowmass is a popular winter destination, and the slopes can get crowded during peak season. This is particularly the case on holiday weekends and school breaks.
Watch inexperienced skiers closely to keep them protected on the slopes – and along the same note, watch out for other inexperienced skiers and snowboarders.
Take breaks often.
Skiing and snowboarding can be tiring for kids, especially when they are still learning, so take breaks often to rest and eat.
Let your little one take a break and make snow angels, go on a mid-morning hot cocoa break. Kids, particularly young children, may not make it through a full day on the slopes. So, set your expectations accordingly and plan for breaks.
Have fun!
Aspen Snowmass is a great place to ski with kids, and you're sure to have a memorable time.
Luckily, whether you're skiing, snowboarding, or doing some of the other fun things to do in Aspen with kids, you'll be sure to have a wonderful winter vacation and go home with lifelong memories of the Colorado Rockies.
Have a question or comment about any of these Aspen winter activities and things to do in Aspen with kids? We'd love to hear from you! Leave your thoughts in the comments below.
Like this guide to Aspen with kids? Pin our winter in Aspen family fun guide to save it for later!
Did you know…
When you make a purchase or book hotels, tours, or other travel services, through our links, we receive a small commission, at no extra cost to you. We only EVER recommend service providers, websites, or products we personally use when booking our own travels. Your support enables us to keep producing helpful travel content. Thank you!