The Nordic countries of Northern Europe are often known for their majestic landscapes. In fact, the Scandinavian Peninsula, in particular, is home to majestic fjords, mountains, waterfalls, and other breathtaking natural wonders. But the Scandinavian cities are equally lovely and worthy of inclusion on any Scandinavia itinerary.
So, if you are looking for the best Scandinavian cities to visit, we've compiled a list of the most enchanting cities in the region.
Most Scandinavian urban areas are designed to enhance the quality of life for residents and visitors. With first-rate public transportation, abundant green spaces, and museums that celebrate the region's unique culture and history, one could argue that the metropolitan areas in Scandinavia are as fascinating as its geography.
All the beautiful cities in Scandinavia are also defined by a standard of cleanliness and sustainability that is unparalleled in Europe or elsewhere.
This guide to the best Scandinavian cities highlights the unique aspects and most popular things to do in each of the popular urban areas in Scandinavia.
What countries make up Scandinavia?
The Nordic region known as Scandinavia is made up of the countries of Denmark, Sweden, and Norway. While many people believe Finland, the Faroe Islands, and Iceland are also part of Scandinavia, this is not actually the case.
Although the northern European countries share some similarities and common heritage, only the countries of Denmark, Sweden and Norway are on the Scandinavian Peninsula.
While Finland shares a similar geologic makeup and Iceland and the Faroe Islands share a similar language, they are not considered part of Scandinavia.
Don't worry – at the bottom of the post, we've included a couple of the best Nordic cities to visit, as well, although they are not actually in Scandinavia.
The most beautiful cities in Scandinavia to visit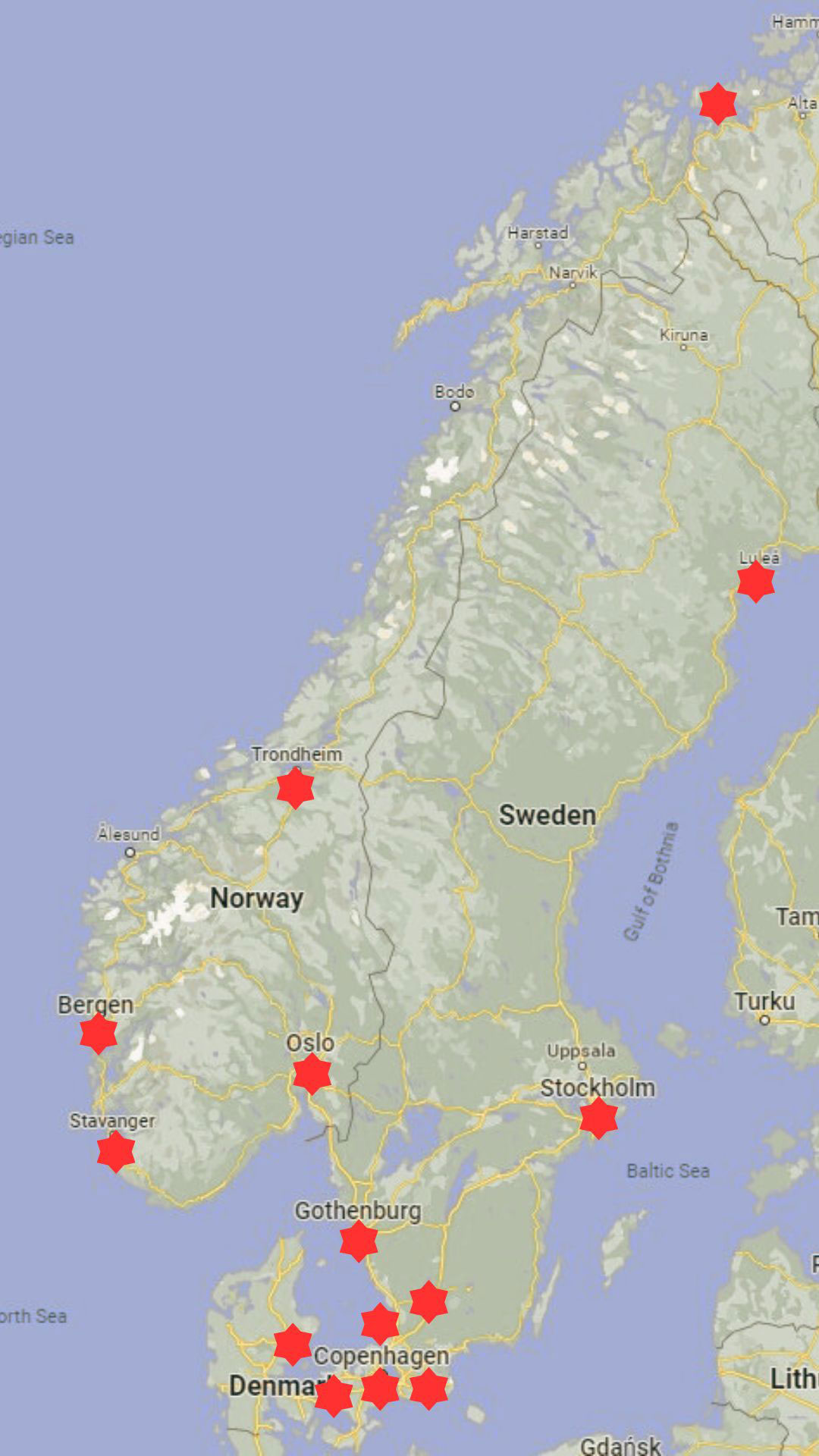 From large capital cities to smaller urban areas that offer both charm and urban variety, here are the best Scandinavian cities to include on a vacation or holiday.
We have mapped out the Nordic delights that we consider the jewel cities in Scandinavia to visit to give you an idea of the region and where each city is in relation to each other.
The best Scandinavian cities in Denmark
Denmark is the smallest of the Scandinavian countries. But with a portion of Denmark connected to mainland Europe, it is one of the easiest Scandinavian countries to visit.
Copenhagen
Copenhagen is the heart of Denmark. With colorful canals, an historic amusement park, grand palaces, and perfectly manicured gardens, Copenhagen is one of the most beautiful cities in Scandinavia.
Situated on the islands of Zeeland and Amager, the capital city of Denmark, Copenhagen – or København in Danish – is also known to be extremely environmentally friendly. In fact, you'll likely find more bicycles and pedestrians than cars on the streets, which adds to Copenhagen's relaxed vibe.
If visiting Copenhagen with kids, a visit to Tivoli Gardens is a must. Not only is it one of the world's oldest and most beautiful amusement parks, but there are a lot of fun rides for toddlers in Tivoli Gardens all the way up to adults.
While you could spend an entire day at Tivoli Gardens, you'll want to make time for some sightseeing, as well. Venture to see the Little Mermaid, one of the most famous statues in Europe, which is located on the water's edge near the Langelinie Pier.
Additionally, as a constitutional monarchy, Denmark's capital boasts several notable European palaces. Both Christiansborg Palace and Rosenborg Palace are worth visiting when in Copenhagen.
Also, be sure to watch the changing of the guards at Amalienborg Palace at noon, before heading to Copenhagen's most photographed street for a patio lunch.
With brightly colored buildings and large sailboats lining a picturesque canal, Nyhavn is a great place to spend a leisurely afternoon in Copenhagen. Take a canal cruise or simply stroll along the street and enjoy the view and the atmosphere.
The city is also home to the Carlsberg Brewery. Founded in 1847, Carlsberg is one of the leading beer producers in Europe. Although geared more for adults, kids will also enjoy touring the brewery and visiting the Carlsberg horse stables.
The Copenhagen Card includes admission to many of these attractions, so we strongly recommend getting if visiting the popular Scandinavian city.
Copenhagen at a glance
Capital of Denmark
Population: 602,481
Metro area population: 2,057,142
Aarhus
Even though Copenhagen is usually considered the cool and vibrant city in Denmark, Aarhus is a true gem. Aarhus is not only beautiful but also offers a lot to do. It is the second largest city in Denmark after Copenhagen and can be found in the region Jutland.
In Aarhus you can dive into both the old and into the new.
Start your day with a visit to Den Gamle By. This open air museum has collected houses and other buildings in Denmark from different periods in time. It teaches you Denmark's history by literally showing you parts of it. It contains over 75 buildings and is interesting for both children and adults.
But the history can also be seen in the city center, for example by visiting the beautiful cathedral of Aarhus.
Done with the old? Discover the new by visiting Aarhus' modern museum ARoS. The building is iconic because of the art installation, Your rainbow panorama, on top. But the inside is also worth it: from the Golden Ages to very modern art, the different floors show you art through the ages.
More interested in modern architecture? The former docklands in Aarhus have been transformed into a new, modern area. This district is called Aarhus Ø and is known for the buildings called The Iceberg.
In between your visits to the highlights you can enjoy a nice city walk or try the delicious Danish food in Aarhus, all of which will make Aarhus one of the most memorable Scandinavian cities to visit.
Manouk from Groetjes uit Verweggistan
Aarhus at a glance
Second largest city in Denmark
Population: 336,411
Metro area population: 952,824
Helsingor
As the gateway to Scandinavia, Helsingor is a great place for travelers who are looking for an authentic European city.
It's situated less than 46 kilometers from Copenhagen, and it's home to some interesting sights worth seeing such as the popular Kronborg Castle (home of Hamlet).
The town of Helsingor is very walkable and there are two main shopping streets (Axeltorv & Stengade) with plenty of shops and cafes where you can stop for a coffee or something sweet.
Axeltorv is the bustling hub of Helsingor that boasts a memorial fountain by Einar Utzon-Frank in memory of King Eric the Pomeranian who granted Helsingor its original charter.
Markets are held at Axeltorv on Wednesdays and Sundays, and from May to October, there's also an antique market each Friday.
Just a couple of minutes' walk away in this medieval part of town is the popular street of Stengade with plenty of places to eat and shop.
As Shakespeare's inspiration for Hamlet, Kronborg Castle is a must-see in Helsingor. Tourists flock to the towering castle on Øresund, (the ground on which Helsingor sits), northeast of town.
The Castle Chapel is found in the south wing of the building; the north wing contains Denmark's longest ballroom or knights hall.
The National Maritime Museum is an excellent place to explore Denmark's seafaring legacy. Set underground in the old dry docks, it was formerly a shipyard and is conveniently situated next to Kronborg Castle.
The city has plenty of history and culture to explore, so if you're planning on visiting Denmark, don't miss out on this beautiful Scandinavian destination.
Casandra from Karpiak Caravan
Helsingor at a glance
Home to Kronborg Castle
Population: 63,399
2.5 miles from (4 km) from Sweden's coast
Roskilde
If you're ever in Denmark it's worth your time to venture to Roskilde. It is right outside of Copenhagen and is historic and picturesque.
It's most well known for the Roskilde Festival which is the largest music festival in Northern Europe. The festival draws hippies and mirrors the famous Woodstock festival of 1969. The festival draws more than 130,000 people each year. It's a don't miss festival if you're in town.
The main cathedral in this fun Scandinavian city is also striking. It's a UNESCO World Heritage Site and is one of the earliest Scandinavian Gothic Brick cathedrals, built in the 12th century.
Its mustard yellow coloring is something you'll take with you forever, it is just so unique. Many of the Danish Royals are buried there dating all the way back to 1448.
If you're looking for a good Danish brunch you might also stop by Cafe Korn, a cute little downtown cafe that is famous for its buffet.
Peruse the cobblestone streets in the area, and take in the fresh Danish air. On the main strip you'll find lots of cute local Danish shops with fresh chocolate and flowers, don't forget to grab yourself a Danish Flødeboller.
Time permitting you might also consider the Museum of Contemporary Arts, which sits in a former royal mansion.
Lindley from Lindley Loraine
Roskilde at a glance
One of the oldest cities in Denmark
Population: 51,916
Metro population: 80,687
The best Scandinavian cities in Norway
Norway is perhaps the most famous of the Scandinavian countries. When you imagine Scandinavia you likely envision the Norwegian fjords. Many of those fjords are accessible from some of Norway's most beautiful cities.
Oslo
Oslo is Norway's capital, and one of the best cities in Scandinavia to visit. The city sits at the head of the Oslofjord, but its main claims to fame are its museums and meticulously kept green spaces and parks.
Oslo is home to the Nobel Peace Center and the National Museum, which contains one of the world's most famous paintings "The Scream".
While both are worth a visit, if visiting Oslo with kids, you'll find The Fram Museum and Frogner Park particularly enjoyable. The latter spans 45 acres and contains the world's largest sculpture park installation made by a single artist.
The permanent sculpture installation, Vigeland, is open year-round and free to visit. With more than 200 sculptures all created by Gustav Vigeland, the park welcomes millions of visitors each year.
The Fram Museum is one of the most fascinating museums in the Scandinavian city. Dedicated to Norway's early polar exploration, the museum contains the original ship which sailed out on the first polar expedition.
You can climb aboard to tour the ship and learn about how the explorers lived on board in the dangerous sub-freezing temperatures.
The world-class museum is located on the Bygdøy peninsula, within walking distance to many of Oslo's other popular museums, including the Kon-Tiki Museum, the Norwegian Museum of Cultural History, and the Viking Ship Museum.
If visiting multiple museums or attractions in Oslo, the Oslo Pass is worth purchasing, as it covers admission for the majority of the popular tourist sites.
Oslo at a glance
Capital of Norway
Population: 707,531
Metro area population: 1,710,000
Bergen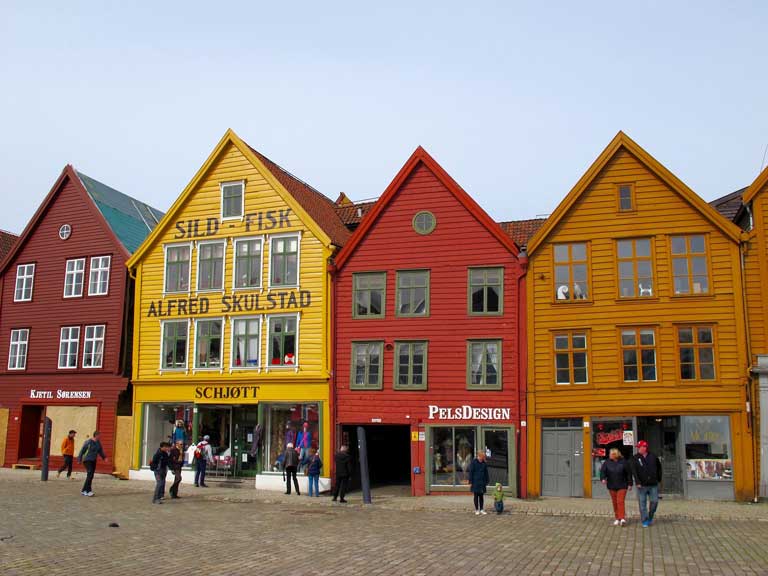 One of the more popular tourist cities in Scandinavia, Bergen, Norway is known as the gateway to the fjords. The Bryggen neighborhood of Bergen looks like a setting from a Disney movie with its colorful row of wooden houses built along the harbor.
If spending 2-3 days in Bergen, take the Ulriken cable car ride or take a funicular up Mount Fløyen.
For a great adventure, you can hike between Ulriken and Mount Fløyen. The hike offers picturesque views of the harbor and the city's surrounding peaks.
Despite being the second largest city in Norway, the main highlights of Bergen are within a short walk or a quick train ride from each other.
If time permits, take a 30-minute train ride to the Fantoft Stave Church. The 800-year-old church was entirely reconstructed after it was devastated by a fire in 1992.
As a coastal town, enjoy at least one meal at the Bergen Fish Market, where your meal may have been freshly caught hours earlier, or dine at one of the many restaurants along the harbor.
Bergen also makes a great town to base yourself if you want to do some of the nearby hikes, like Trolltunga, or if you want to take a day trip to the small town of Flåm, in the heart of the Norwegian fjords.
Bergen at a glance
Second largest city in Norway
Population: 285,900
Known as the gateway to the fjords
Stavanger
Stavanger, located in the southwest of Norway, is one of the oldest cities in this Scandinavian country. And indeed its old town Gamle Stavanger will charm you with restored colorful wooden houses dating back to the 18th & 19th centuries.
A very important building in the city is the 12th century cathedral, which is one of the oldest churches in Norway, still being used.
If you seek to learn more about Stavanger's history, there are several museums to choose from. Norwegian Canning Museum – fun way to learn about the importance of the canning industry, you will never look at the fish in a tin the same way.
Visit in the Viking House gives you a chance to hear sagas about Harald Fairhair, Norway's first king and the famous battle of Hafrsfhord in 872 AD.
What also attracts many visitors to Stavanger is the nearby Lysefjord, one of the most beautiful and iconic fjords in Norway! There are many ways to admire and explore the fjord, such as taking a cruise, boat tour or going hiking.
Two famous hikes can be done, if you choose Stavanger as your base. Easier of them and suitable for most people is a hike to Preikestolen (or Pulpit Rock), the other one- Kjeragbolten is rather demanding and suitable for more experienced walkers.
The list of attractions mentioned above is not exhaustive and there is so much more to do during your stay in this charming city. Make sure to book enough days for your stay, to admire the city and its natural wonders.
Ela & Beata from Stunning Outdoors
Stavanger at a glance
Oil capital of Norway
Population: 146,011
One of Norway's oldest cities
Tromso
Tromso is the biggest city in Northern Norway, about 300 kilometers north of the Arctic Circle. It is a perfect place to visit every season.
During the long summer months, the sun never sets – a similar and fascinating phenomenon you can experience in Iceland. You can admire the midnight sun above the hills over the fjord. Tromso is one of the best places to see the magical northern lights dance in the dark in the fall and autumn sky.
One of the city's main attractions on the eastern side of the town is the modern Arctic Cathedral, under another famous attraction, Mount Floya. You can have a spectacular view over the city from the cable car leading to Mount Floya.
The upper station, Fjellstua, is situated at an altitude of 421 meters above sea level and a perfect spot for an easy hike. If you like nature, you can browse among numerous hikes around Tromso.
The Tromso Museum is a perfect place to get to know the north. You can get to know the local Sami culture, history, and region's art. The Polar Museum gives you an insight into the expeditions to the Arctic.
If you have more time, make sure you take a look at the northernmost university of the world or have a walk in the northernmost botanical garden.
Katalin from Amazing Lapland
Tromso at a glance
Second-most populated city north of the Arctic Circle
Population: 77,544
Sits on an island roughly the size of Manhattan
Trondheim
Founded by a Viking king in 997 AD, Trondheim is a popular "port" town that is considered Norway's capital of knowledge.
That's because it is home to the Norwegian University of Science and Technology (NTNU), the country's biggest university, as well as the Foundation for Scientific and Industrial Research (SINTEF) and many other technological institutions.
However, this charming city also has plenty of medieval charms, rich history and scenic islets.
The "Old Bridge" has to be one of its prettiest spots, which is the entryway into the fascinating old town. This red bridge commands a gorgeous view of the colorful lines of houses on the riverbank.
Then, go on and explore the cobbled streets and antique shops in the old town.
Make the most out of the preserved folk history in Trondheim as you visit the Archbishop's Residence, which is the oldest Scandinavian secular structure that dates back to the 12th century.
If you visit in the summer, stop by the Folk Museum and witness the over 80 historic buildings in this complex!
You can visit Trondheim whenever you like, although the winter months can feel especially magical, thanks to the thick snow and abundance of Christmas markets.
The easiest way to get here is to make a stop in your Norway road trip, or simply fly into Trondheim.
Cazzy from Dream Big, Travel Far
Trondheim at a glance
Known as Norway's capital of knowledge due to having the largest university in the country
Population: 205,332
Student population: 36,000
The best Scandinavian cities in Sweden
Sweden is the third country that makes up Scandinavia. It is the largest country in Scandinavia, and has a lot in common with its neighbor, Norway.
Like Norway, portions of Sweden are located within the Arctic Circle. The country is also known for its beautiful nature.
In Sweden's top cities, you'll find unique street art, museums honoring the country's heritage, and lots of great activities that encourage people to get outdoors.
Stockholm
The capital of Sweden, Stockholm, is situated on the eastern edge of the country. Along with a distinct island situated in the middle of the city, named Gamla Stan, or "Old Town," the city is its own archipelago.
The Stockholm archipelago is made up of 30,000 islands, many of which can be visited on one of the many ferries waiting on the beautiful water of the city.
Take the ferry, located off of the picturesque Kungsträdgården park and downtown residential area to visit islands such as Vaxholm. Take the day to swim or kayak in the Scandinavian waters, or eat local dishes in the relaxing environment.
Don't miss out on seeing the uniqueness of Stockholm, as there are many activities for couples, singles, and families.
For a leisurely stroll, visit Gamla Stan, the medieval old town with cobbled streets, which also houses the Royal Palace, or shop on the famous Drottninggatan.
For families with small children it's a wonderful trip to visit Djurgården, Stockholm's national park, Skansen, the largest open air museum in the world, or Grönalund, a beautiful amusement park overlooking the water.
Another popular visit is the Vasa Museum, home of the sunken 17th century warship.
You won't run out of options visiting Stockholm as it is also a great time to just watch people in the parks or in the square of Gamla Stan while drinking local coffee and munching on local pastries.
Sandrine from Sandrine Nestenius
Stockholm at a glance
Capital of Sweden
Population: 980,000
Metro area population: 2,391,990
Gothenburg
Gothenburg is the largest and most popular city along the Sweden west coast.
An important seaport, the city is noted for its Dutch-style canals and pedestrian boulevards lined with shops and cafes which are perfect for partaking in the Swedish custom of a fika, or coffee break.
With a friendly, welcoming vibe, Gothenburg is an easy city to explore on foot.
To start your visit to Gothenburg, take a walking tour of Haga, the city's oldest neighborhood. The mid-17th century old district is known for its well-preserved wooden houses and charming cobblestone streets.
Other things to see and do in Gothenburg including a visit to Feskekôrka, or the fish church. The former church building along the river now houses a fresh fish and seafood market. It's a great place to stop for lunch or just to browse the interesting fish selection native to Sweden's west coast.
Gothenburg is also home to one of the largest botanical gardens in Northern Europe. The lovely 40-acre garden is great for an evening stroll or a relaxing afternoon on a nice day.
Gothenburg at a glance
Second largest city in Sweden
Population: 631,000
Metro area population: 1,000,000
Lulea
Luleå is one of the largest cities in northern Sweden. It's the capital of Norrbotten county, an area that covers almost a quarter of the country and that includes Swedish Lapland.
Due to the Luleå University of Technology it is an academic center in the region and an inspiring student city that has lots to offer.
Luleå's main attraction is its scenic location in the Bothnian Bay. The relatively small city is surrounded by endless forests and incredible nature.
The Lulea archipelago that lies just off shore from the city has more than 1300 picturesque islands. Some have nothing but nature, others have old fishing villages with traditional wooden cabins.
What to do in Lulea depends a lot on the season you visit. In winter Lulea is a magical winter wonderland. It is far enough north to see the northern lights and to be guaranteed a thick blanket of snow.
The most popular thing to do in winter is the isbanan, a 6-kilometer ice track around the city center that is used for ice skating, kicksledding, walking or jogging. Other winter activities include ice breaker cruises, dog sledding and snowmobiling.
In summer, Lulea is a great city for those that love the outdoors. You can spend days kayaking through the Lulea archipelago while exploring different islands or hiking one of the many trails in the forests around Lulea.
On a warm and sunny day you can even spend your day on one of the sandy beaches on the shore of the Bothnian Sea. Come in June and you can also experience the midnight sun.
Ellis from Backpack Adventures
Lulea at a glance
Largest city in the Swedish Lapland
Population: 48,728
Metro area population: 77,832
Lund
Lund is an ancient and historical city in the region Skåne, the south of Sweden. It dates back to the year 1020 and today it's a real university city. When visiting the region, it is highly recommended to stop in Lund to learn more about the history of this town and Sweden in general!
Lund is very easy to reach by train. If you fly into Copenhagen, you can take a direct train from the airport to Lund (and other Swedish cities, as well). '
The best way to start your visit to Lund is by walking around the historical center and enjoying the view of the ancient buildings.
The absolute highlight of Lund is Museum Kulturen. Here you'll get to know more about the history of Sweden and Lund with exhibitions inside as well as outside. They even managed to transport medieval buildings from all over the country to exhibit in the museum's garden!
This way you can experience yourself how people used to live centuries ago. Impressive right?
You should also consider visiting the main church (Lunds domkyrka) and read about the legend that is portrayed in the crypts below. Plus, the botanical gardens of Lund are worth a visit as well!
Other great places to visit include Lund University, Drotten Church ruins, Stadsparken and the Museum of Sketches for Public Art.
Emma from Emma's Roadmap
Lund at a glance
Sweden's second oldest town
Population: 91,940
Student population: 44,000
Malmo
Malmo is one of the easiest cities in Sweden to visit. It's only a short ride over the Oresund Bridge from Copenhagen, making a quick 35 minute trip. There are plenty of things to do in this southeastern city where you can easily spend a great weekend.
Being a coastal city, one of the best things to do is walk around the port and visit the beach. Malmo Castle houses a few museums, so it's easy to spend part of the day taking in some history and culture.
The Ribersborg Beach is only three kilometers from the center of the city. The sand was imported, but it still creates a wonderful respite from all your sightseeing. On one end, you can visit a bathhouse and pier with restaurants and cafes.
Other sights to see in Malmo include the Turning Torso tower, and taking leisurely strolls around Lille Torg and Stortorget, the small and large squares where you can meander through the shops and stop and have a coffee and watch the world go by.
There's plenty of great food to eat in Malmo. One favorite is located in the Malmo train station where you can find Salt and Sill, a great place to get some pickled and breaded herring, a local especially.
Another great stop is a small bakery, called Hollandia, where you can try some cookies and coffee for a real Swedish fika (coffee break).
For a relaxing break, some good food, and a lot to see, don't pass up a chance to visit Malmo.
Corinne Vail from Reflections Enroute
Malmo at a glance
Third largest city in Sweden
Population: 357,377
Located across the Öresund strait from Copenhagen
Vasteras
Västerås is located an hour northwest of Stockholm, making it an easy day trip by road or by train. Established in 990 AD, Västerås is one of the oldest cities in Northern Europe.
There are many things to do in Västerås and most of the attractions are within walking distance or an easy ride by bus or bicycle.
Within the city centre, you will find cobblestone streets and green spaces filled with beautiful gardens such as Botaniksa Tadgarden (Botanical Gardens) and Djäkneberget Park.
Take a stroll through Kyrkbacken, the old town, where you will see traditional houses and cottages restored to their former glory.
Västerås Cathedral is also not to be missed. It has been awarded three stars by Guide Michelin. Vallby Open Air Museum is a short walk from the city and features 50 traditional original buildings from throughout Västmanland County.
The city of Västerås lies on the banks of Lake Mälaren and one of the best ways to see and enjoy the surrounding archipelago is by taking a ride on the Elba Ferry.
This is a great way to enjoy a morning or afternoon, and there are many beautiful restaurants and cafes at the harbor where you can enjoy a meal overlooking Lake Mälaren.
If you have a car and want to learn more about the history of the Nordic Viking Age, Anundshög, Sweden's largest burial mound, is a must see. Other recommended places to visit are the Sala Silver Mine, Skultuna Brassworks, and Strömsholm Palace.
Peta and Jonas from Exit45 Travels
Vasteras at a glance
Population: 127,799
Metro population: 154,049
Home to the world's first H&M store which opened in 1947
Which Scandinavian cities are the best?
Determining which cities in Scandinavia are best really depends on what part of the Nordic region you plan to visit.
For example, if visiting the northern Lapland region of Sweden, visiting a city like Luleå makes strategic sense. However, Luleå doesn't make sense if you plan to stick to Sweden's west coast and the archipelago.
While many people stick mainly to the capital cities of each country, the smaller Scandinavian cities have so much to offer, as well! Regardless of which area of Scandinavia you plan to visit, be sure to add some of these beautiful Scandinavian cities to your itinerary.
Need an itinerary to follow that includes some of these Scandinavian cities? Check out our Scandinavia itinerary to start planning your trip!
Best Nordic cities to visit (that aren't in Scandinavia)
Although Scandinavia technically only includes Norway, Sweden, and Denmark, there are other Nordic countries and great Nordic cities worth visiting.
Here are a couple more of the best Nordic cities to visit that, while not in Scandinavia, are often included on a Scandinavian itinerary.
Helsinki, Finland
Helsinki, the capital city of Finland, is one of the best destinations in the Nordic region, offering a captivating blend of modern innovation and cultural heritage.
This vibrant city effortlessly combines picturesque natural landscapes with cutting-edge architecture, creating a truly unique and enchanting atmosphere.
Visitors to the Finland capital are greeted by the Helsinki Cathedral, one of the most famous churches in Europe, which towers proudly over Senate Square.
The city also boasts world-class museums, such as the iconic Ateneum and the contemporary Kiasma.
From strolling through the charming streets of the historic district to enjoying the tranquility of its numerous parks, Helsinki offers a delightful escape for nature enthusiasts as well.
And with a thriving food and drink scene, you can savor the flavors of local delicacies like reindeer and freshly caught seafood. So, although not in Scandinavia, if you want a broader Nordic itinerary, consider adding Helsinki to your travel plans.
Reykjavik, Iceland
Reykjavik, the capital city of Iceland, is a captivating destination, as is the entire Nordic island nation.
Surrounded by awe-inspiring landscapes, Reykjavik is the gateway for those who want to begin an Iceland itinerary. The city has a dynamic liberal arts and music scene, trendy boutiques, and stylish cafes.
Visitors can explore iconic landmarks like the Hallgrímskirkja Church, with its striking architecture or delve into Icelandic history at the National Museum of Iceland.
If you rent a car in Iceland, you can find many of Iceland's otherworldly natural wonders just outside the city, including the mesmerizing Blue Lagoon, the geothermal marvels of the Golden Circle, and many of Iceland's famous waterfalls.
Whether visiting Iceland in summer or winter, if flying to Scandinavia from the United States, you can use Reykjavik as a stopping point, with a long layover in Iceland, or even an extended stopover.
Have a question or comment about the best Scandinavian cities to visit? We'd love to hear from you! Leave your thoughts (or your favorite cities in Scandinavia) in the comments below.
Like it? Pin this list of Scandinavian cities to save for later!
This guide to the best cities in Scandinavia to visit was first written in June 2021 and was most recently updated in June 2023 for accuracy and current travel information.