The Caribbean is a popular destination for families in North America looking for an exquisite beach escape. But what is the best Caribbean Island for kids?
The region includes 13 sovereign island nations and numerous island territories that are part of the USA, the United Kingdom, France, and the Netherlands. It also consists of coastal islands that are considered a part of Mexico, as well as some of the Central American and South American countries.
The Caribbean sea is known for its brilliant turquoise waters, stunning white and pink sand beaches, and incredible sea life to explore on snorkeling and diving tours.
So, if you're planning a beach vacation and considering the Caribbean, we've ranked the best Caribbean Islands for families.
We've taken into account safety, fun activities and things to do with kids, family-friendly lodging, and ease of access from major airports, particularly in the United States.
This guide to the best Caribbean Islands for families is intended to help you plan your Caribbean family vacation. Whether you're looking for a relaxing beach trip or an adventure-filled itinerary, we've laid out the top Caribbean destinations for family travel.
Information about the Caribbean Islands for Families
Although there are more than 7,000 islands in the Caribbean Sea, most of those are not actual islands you can visit in the Caribbean. In fact, only about 100 islands in this brilliant blue sea are inhabited and even fewer are considered tourist destinations.
But with dozens of potential Caribbean destinations for a family vacation, we're helping you narrow down the list of the very best Caribbean Islands for families.
The weather in the Caribbean is warm year round. However, be aware of hurricane season, which typically peaks in August and September and purchase travel insurance, particularly if booking a trip during either of those months.
Quick Facts about the Best Caribbean Islands for Families
Safest Caribbean Island: Montserrat
Most visited Caribbean Island: Dominican Republic
Cheapest Caribbean Island to visit from the US or Canada: Dominican Republic or Cozumel
Wealthiest Caribbean Island: Trinidad and Tobago
Most Populated Caribbean Island: Cuba
Prettiest Caribbean Island: St Lucia
Best Caribbean Islands for Families
While safety, cost, beauty, and ease of access all play a part in determining the best Caribbean Islands for families, you have to weigh all of those factors plus consider the availability of family resorts and kid-friendly activities when ranking the best Caribbean islands to visit with kids.
Without further ado, here are the best islands in the Caribbean for a family vacation RANKED!
1. Puerto Rico
Puerto Rico may be a US territory, but the island has a unique and delightful culture that feels so much different than that in the continental United States.
From the food, to the colorful colonial architecture, and even the language, Puerto Rico has a strong Spanish influence. For this reason, visiting Puerto Rico with kids is a great cultural experience. But the island territory has so much else to offer.
Take a Puerto Rico road trip across the main island and you'll find cave systems, bioluminescent bays and rainforests. In fact, the Yunque National Forest is the only rainforest in the US National Forest System.
The most popular destination in Puerto Rico, however, is its capital city, San Juan. The historic district known as Old San Juan boasts blue brick streets and colorful Spanish-style buildings. It is a great place to stay on a family vacation to Puerto Rico.
Hotel El Convento is a historic hotel in the heart of Old San Juan and offers access to their sister property along the beach. You can also tour the city's two original defensive forts, Castillo San Felipe del Morro and Castillo de San Cristóbal, both of which date back to the 1500s.
If beaches are your main draw to the Caribbean, the island has plenty of them! For a more laid back surfer vibe, stay in the town of Rincon on the west coast of Puerto Rico.
Puerto Rico is: the Best Caribbean Island for families from the US who don't want to get passports
2. St Thomas, USVI
St. Thomas is the largest island in the US Virgin Islands. Like Puerto Rico, it is a US territory so no passport is required for US citizens. The island offers clear, calm water, beautiful coral reefs, and stunning views.
For those visiting the Caribbean with toddlers, the popular Magen's Bay beach is a shallow bay with water calmer than most swimming pools. The beach is considered one of the most beautiful beaches in the world.
For those who prefer snorkeling, head to the east side of the island to Sapphire Beach. The Sapphire Beach Resort is also a great place to stay if you enjoy a relaxing vacation where every day is a beach day.
You can also take a ferry from nearby Red Hook to the island of St. John. This beautiful island is much less developed than St. Thomas and is home to the Virgin Islands National Park, a wonderful place to swim with sea turtles and see other sea life.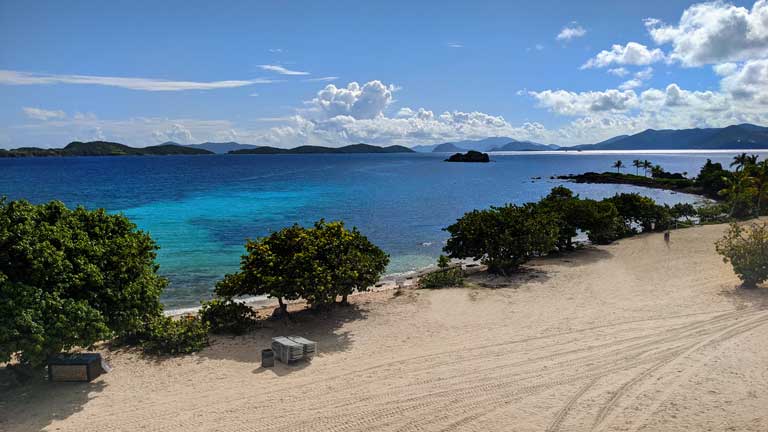 Not far from Sapphire Beach, Coral World Ocean Park is a great place to visit with kids in the USVI. The 5 acre aquarium features an underwater observatory and lots of activities for families.
SAINT THOMAS IS: ONE OF THE BEST CARIBBEAN ISLANDS FOR TODDLERS.
3. Providenciales, Turks and Caicos
Providenciales or Provo is one of the most popular destinations in Turks and Caicos for families traveling with kids.
From the stunning Grace Bay Beach, which features calm, turquoise blue waters and soft white sand, to outstanding snorkeling and water sports – there is no shortage of activities here for adults and children.
Other great things to do in Provo include clear bottom kayaking, parasailing, paddleboarding, boating, and jet skiing.
You can also volunteer and adopt a puppy for the day at Potcake Place. This highly rated dog rescue program has a constant stream of puppies who need socialization, so you can stop in and help them out by taking one of the puppies for a walk and playing with it for the day!
The absolute best place to stay in Provo when traveling with kids is at Beaches Turks and Caicos. This family-friendly resort is right on Grace Bay Beach and features a 45,000-square-foot waterpark – complete with slides, a surf simulator, a lazy river, plus an incredible kid-friendly swim-up bar and a Mac-n-cheese food truck!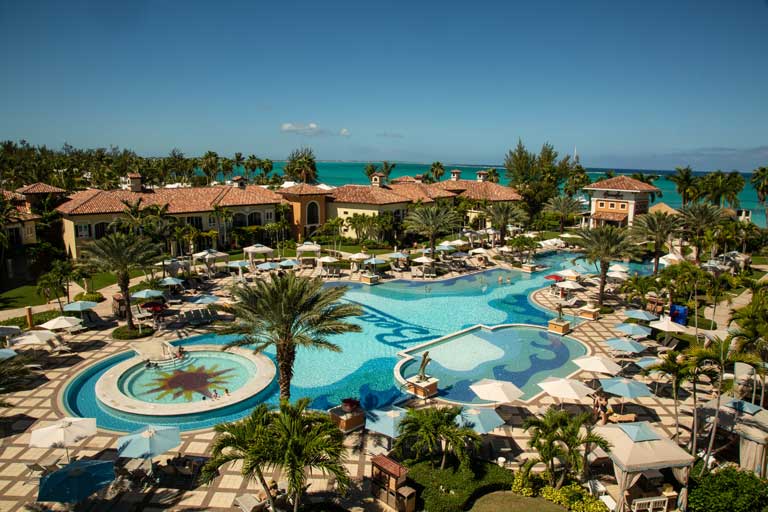 This resort is all-inclusive and features certified nannies, Sesame Street Kids Camps (like "Baking with Cookie Monster" and "Puppet Making with Bert & Ernie"), and a cool Xbox lounge for the older kids.
Beaches Turks & Caicos reviews also rave about the 21 restaurants included in your rate, especially the kid-friendly hibachi restaurant Kimonos. Staying at Beaches is a reason in and of itself to travel to Turks and Caicos with your family!
Recommended by Lindsey Puls of Have Clothes, Will Travel
PROVIDENCIALES IS: THE Best Caribbean Island for families seeking all-inclusive luxury.
4. The Bahamas
If you want to experience paradise on earth you need to get to The Bahamas.
Located in the Atlantic Ocean a few miles from Miami, with its 700 islands and thousands of cays spread out over about 500 miles of turquoise water The Bahamas offer an incredible Caribbean vacation for families, couples or solo travelers alike.
Its spectacular white sand beaches, turquoise water, the delicious Caribbean cuisine and the variety of cultural and watersport activities make The Bahamas a prime destination for nature lovers and sun seekers.
Although every island has its own special attractions, if you are traveling with your kids you will want to head to Atlantis in Paradise Island.
This spectacular resort is one of a kind and offers all sorts of entertainment for kids and adults, including a huge waterpark.
If you love a more tranquil and Eco-friendly vacation with your family, you should head over to the tiny Exuma, instead, where kids will love swimming with adorable pigs, while adults can splurge in world class hotels and enjoy deserted white sand beaches.
If you are wondering, the pigs are having the time of their life and they are well taken care of.
Do not forget to try the delicious Caribbean cuisine, especially the conch fritters and explore the pretty colonial town of Nassau. Head over to the gorgeous Graycliff hotel for some chocolate workshop. Your kids will love it.
Recommended by Isabella from Boundless Roads
5. Dominican Republic
The Dominican Republic on the island of Hispaniola is one of the best Caribbean countries for families as it offers something for every type of traveler, thanks to its unparalleled diversity of attractions and destinations.
If you are a family which is just loving to relax and chill out at the beach (or the pool), the Dominican Republics' all-inclusive resorts are your best bets.
Punta Cana offers a lot of amazing family resorts, most of them with huge water parks, spacious family suites and a lot of entertainment for kids and teens, usually in their respective kids or teens clubs. Hyatt Ziva, Finest Punta Cana and Nickelodeon Resort are among the best family resorts in Punta Cana.
There are also plenty of family activities to choose from, such as one of the tropical theme parks, a family buggy tour or a ziplining adventure.
On the other hand, if you are a family who loves adventures and exploring off-the-beaten-track without foregoing some of the best Caribbean beaches, you can rent a car for your holiday and explore the Dominican Republic road-trip style.
The Samaná peninsula and the North Coast area are especially popular among families, as you can find pristine beaches, amazing hikes and plenty of outdoor activities here.
While younger kids will enjoy the calm rivers or the fine sand at the beach to play, teens will be thrilled about the options of heading on a canyoning tour, a waterfall adventure or taking surfing lessons.
For a great family stay in those areas, you can book nearly any of the many apartments or villas in the beach towns of Las Terrenas or Cabarete, for example.
Recommended by Chris from Punta Cana Travel Blog
Dominican republic IS: THE Best Caribbean island for families on a budget.
6. Cozumel
Cozumel is one of the safest destinations in Mexico with a long history as a tourist island. The families will love the fact there is no bustling nightlife and exploring Cozumel with kids even in the evening is safe and enjoyable.
Taking a ferry right off the Yucatan Peninsula's eastern coast is the easiest way to travel to Cozumel. This 45-minute ride is affordable to all families who want to explore one of the biggest islands in Mexico. Plus, there are a lot of places to see in the Yucatan with kids, as well.
Kids will love Discover Mexico Park in Cozumel which has amazing miniature models of Chichen Itza and many other famous landmarks of Mexico. In Discover Mexico Park you and your family will experience the whole range of Mexico's rich history and traditions.
Another fun activity for families is a submarine expedition. This trip will impress you with a variety of marine life in one of the largest coral reefs in the world.
Also, a tour of El Cielo beach with crystal clear turquoise water is a great way to spend a day out with family. Shallow waters are home to starfishes and safe for swimming with kids.
After relaxing at the beach, explore Cozumel downtown. San Miguel de Cozumel is a colorful city full of unique places to visit.
Whether you want to take a picture with a big sign of COZUMEL or admire Coral Reefs Monument, a trip to this Caribbean island will be an unforgettable experience.
Recommended by Paulina from the UK Every Day
7. St Lucia
Saint Lucia is a fun Caribbean island destination for families. Known for its mountains and volcanoes, Saint Lucia offers visitors boundless adventures on top of beautiful beaches and resorts.
La Soufriere, Saint Lucia's Drive-in Volcano, is a must for families. Plan a few hours for the volcano, starting with a tour of the crater's boiling sulfur springs. Bring a swimsuit and towel because the visit gets even better!
Kids will love getting dirty in the mud baths and parents will like washing off in the spring water at the end.
Saint Lucia has countless opportunities for outdoor fun, like the majestic mountains dominating the island's landscape. The Pitons offer hiking, views, and waterfalls.
The Caribbean island also has beautiful beaches for snorkeling, swimming, and playing in the white, gold, or black sand, and more.
Located off the beach near Rodney Bay, Splash Island is a huge open-water sports park. Kids will have hours of fun on the equipment, including trampolines and slides in the luminous Caribbean sea.
Kick up the adrenaline some more by zip lining at one of the canopy adventure sites in beautiful Saint Lucia. With lush rainforest backdrops, riders will enjoy a thrill on the multiple zip lines.
Lodging choices in Saint Lucia range from all-inclusive resorts to small boutique hotels. Check out Marigot Bay Resort, centrally located with multiple restaurants, a swimming pool, and fun tour options from the adjacent bay.
Recommended by Melinda from Mel on the Go
St. Lucia is: the best Caribbean Island for beautiful views.
8. Tortola and Virgin Gorda, British Virgin Islands
The British Virgin Islands consist mainly of the four islands of Tortola, Virgin Gorda, Anegada, and Jost Van Dyke. Tortola is the largest island and is home to the capital city, Road Town.
The British Virgin Islands (or BVI, for short) are relatively small and undeveloped. There are a few major resorts but for the most part, it's a great place to relax and escape the hustle and bustle of everyday life.
BVI is best known for being a sailing destination, which is fitting given its connection to pirate history and lore. What families and kids will love most about BVI is exploring the waters and caves of the surrounding islands, feeling like a pirate themselves.
You can take a snorkel cruise out to Norman Island, which according to locals was the inspiration for Robert Louis Stevenson's Treasure Island, one of the most famous works of fiction about pirates.
Or there's The Baths at Virgin Gorda, which is a beautiful beach covered in massive boulders. The boulders have formed a series of caves, both above and below the water. Parents will love the scenery and kids will love pretending to be pirates in search of buried treasure within the caves. 
Whether it's some rest and relaxation or some old-fashioned pirate adventures, BVI is an ideal place for a family vacation.
Recommended by JJ Haglund from The Minivan Bucket List
9. Isla Mujeres, Mexico
Isla Mujeres is one of the most beautiful and most-visited Caribbean Islands in Mexico.
Located in the Yucatan Peninsula, the easiest way to get there is to fly into Cancun International Airport (code: CUN), and then take the 20-minute Cancun to Isla Mujeres ferry to the island.
Isla Mujeres is a popular day trip from Cancun, but you can also stay on the island. This family-friendly Mexican Caribbean island has plenty of things to do for kids of all ages. There are land, beach and underwater activities, and even unique things to see, like ancient Mayan Ruins.
If you visit from May 15-September 15, don't miss one of the top activities in town — swimming with the whale sharks in Isla Mujeres. These are the largest fish in the sea, averaging about 35-feet in length (11 m). They congregate in one specific area in the Caribbean Sea during the summer months, and it's located about 1.5 hours by boat from Isla Mujeres.
(Note: This is an ethical animal encounter, and highly regulated. The Mexican government allows only a few boats in the water at a time, and only two swimmers per boat at once. If a whale shark swim is on your bucket list, book early, as tours usually sell out.)
Isla Mujeres is also one of the best places in Mexico for snorkeling.
Located just off the coast, there's the Mesoamerican Barrier Reef System. This is the second largest reef in the world, after the Great Barrier Reef. One of the best places to snorkel in Isla Mujeres is Garrafon de Castilla, as the reefs are just a few feet off-shore.
It also has one of the best beaches in Mexico, Playa Norte, famous for its palm trees, white sand and turquoise waters. Here, the kids can enjoy splashing in the calm waters and the adults can watch from one of the many beach clubs on-shore.
The most unique site on Isla Mujeres is the Temple of Ixchel Mayan Ruins. These beachfront ruins are located on the southern tip of the island at Punta Sur, and will appeal to kids of all ages.
Isla Mujeres means "Island of Women," and Ixchel (pronounced ick-shell) was the Mayan goddess of the moon, medicine, childbirth and fertility.
Recommended by Shelley of Travel Mexico Solo
Isla Mujeres is: the Best Caribbean Island for families looking for a day trip from Cancun or Playa del Carmen
10. Ambergris Caye, Belize
The Belizean cayes are some of the best Caribbean islands for families for various reasons and one of the best places to visit in Central America, as well. The shallow, calm water around the islands is perfect for snorkeling and water activities for little ones.
The barrier reef off the coast of Belize is known for its incredible marine life that you'll find breathtaking.
Perhaps the best island in the cayes for those visiting Belize with kids, Ambergris Caye has a lot to offer. Ambergris Caye is the largest and most developed island in Belize.
And there are a lot of things to do in San Pedro, Belize, the main island on Ambergris Caye. For adventure-seekers, you can swim with sharks at Hol Chan Marine Reserve or even snorkel or dive in the Great Blue Hole, a massive sinkhole off the coast of Belize.
But the island also offers long stretches of beaches lined with hotels and family resorts, an endangered iguana sanctuary, and a laid back town where golf carts are the primary method of transportation.
It's the perfect place to visit for families looking for a laid back Caribbean island to spend a few days or even a week!
11. Grand Turk, Turks and Caicos
Grand Turk is the largest of the Turks and Caicos Islands and is a great family destination. While the island is small, there is no shortage of activities to do.
Whether you are visiting on a cruise or staying a while, your family will have plenty of things to do while visiting Grand Turk.
There are several incredible beaches to choose from if you want a relaxing beach day. The most popular are Governors Beach, the beach right by the cruise port, and just down the road a beach full of Conch Shells to explore.
The water around Grand Turk is warm, calm, and crystal clear. There is excellent snorkeling and diving on Grand Turk. You can snorkel right from shore, or book a tour for your family.
One of the most fun ways to get around Grand Turk is to rent a golf cart and drive yourself around the island.
You can drive to Cockburn Town for lunch and shopping, or you can drive to the lighthouse. Keep an eye out for the donkeys along the way, they wander all over the island.
At the lighthouse, you can explore the grounds, where it is thought Christopher Columbus landed, and you can also zipline and do an aerial obstacle course.
You'll want to head to the beach to Jack's Shack for conch fritters and jerk chicken at least once while you are on Grand Turk, it is the best food and a really fun atmosphere!
The most popular places to stay on Grand Turk are the Bohio Dive Resort and the Osprey Beach Hotel.
Recommended by Chantelle of Flannels or Flipflops
GRAND TURK IS: THE Best Caribbean island for families WHO PREFER CRUISE TRAVEL.
12. St. Maarten/St. Martin
This island is one of the greatest Caribbean islands for families who like variety. Why? The small island is divided into two separate independent territories. Each with its own capital city, currency, and language.
The Dutch territory of St. Maarten is home to the town of Philipsburg, and one of the most famous beaches in the world, Maho Beach, where visitors can stand beneath massive commercial jets landing and taking off from the island's international airport.
A visit to this extreme beach is considered one of the best things to do in St. Maarten.
On the north side of the island, St. Martin is a French collectivity. Home to the town of Marigot and several clothing-optional beaches, the French side of the island has a very European feel.
For a relaxing and memorable Caribbean vacation with kids, book your stay at Divi Little Bay Beach Resort.
Not far from the airport or the town of Philipsburg, this resort on a semi-private peninsula has great snorkeling and a beautiful private beach area along the bay.
SAINT MAARTEN IS: THE Best Caribbean Island for families wanting to visit two territories/countries in one trip.
13. Antigua
The lovely island nation of Antigua has many things for children and adults to enjoy. Part of the lesser Antilles the island along with Barbuda have been a sovereign nation from the UK since 1981.
Given that its main language is English it also makes it easy for tourists from the US and many other nations to visit.
There's a lot of history on the island, as well. There are active sites excavating pre-Columbian artifacts, historic British and other houses, and Nelson Dockyards which is part of the only UNESCO World Heritage site in Antigua.
For those looking for water activities, there are plenty of spots to swim and snorkel around the island. And for some adventurous fun, there is jungle zip-lining available on the island.
Antigua also has great hiking and water activities on the island as well. Hikers can explore beautiful coastline and vistas.
Hiking up to Shirley's Landing (which turns into more of a party scene in the evening) gives incredible views of the harbor and island. One of the most scenic hikes, Pillars of Hercules, takes you along incredible limestone formations on the island.
If anything, Antigua is probably most famous for its beaches. With miles of beaches encircling the island. There are many family-friendly resorts with beachfront fun along the beaches as well. From the high end such as The St. James' Club to more affordable/budget options, there is something for families at different price points.
Anwar from Beyond my Door
14. Barbados
One of the best Caribbean islands for families is Barbados. Besides being the birthplace of Rihanna, Barbados boasts stunning beaches, a lively culture, and plenty of activities for kids.
One of the most fun activities for kids during a vacation to Barbados is to explore the underwater world in a submarine. Barbados is teeming with marine life, and kids will love getting up close and personal with the colorful fish, coral reefs, and even some shipwrecks.
Another great activity is to take a catamaran tour of the island. Kids will enjoy the gentle waves and the opportunity to see dolphins and turtles in their natural habitat.
Barbados also has some of the best beaches in the Caribbean. One of the best beaches for kids is Pebbles Beach. The water is calm, and there's a lifeguard present. This is the perfect beach for kids to learn how to paddleboard and kayak.
After a busy day of activities, you can all relax and enjoy some of the excellent food that Barbados has to offer. You can find everything from local Bajan cuisine to international dishes. Some family-friendly restaurants are the Fish Pot and the Tides Restaurant.
Barbados is also a great place to learn about history and culture.
There are several museums on the island, including the Barbados Museum and Historical Society. The museum features exhibits on the island's sugarcane industry, its colonial history, and its African heritage.
Other kid-friendly attractions and things to do include Harrison's Cave, going on an island safari, Hunte's Gardens, Carlisle Bay, and Crane Beach. The Crane Resort is a great place to stay for families, as it offers several kid-friendly amenities such as a kids' club.
Recommended by Disha Smith from Disha Discovers
15. Roatan, Honduras
Located in the Bay Islands of Honduras, Roatan is famous for scuba diving, beautiful beaches and cruise ships visiting the island. With crystal clear water, perfect white sand and tropical jungles, exciting activities render Roatan the perfect family holiday destination.
The island has a laid back vibe and is full of kid-friendly activities that parents will also have fun doing. This is a great place to introduce children to the ocean.
The warm, crystal clear water at West Bay Beach is perfect for learning to snorkel with thousands of fish surrounding you in shallow water. Older children can learn to Scuba dive at this amazing dive location.
Like the Belizean cayes and the coast of Mexico, Roatan is home to the Mesoamerican Reef, the second largest barrier reef system in the world. Go and explore the reef on a catamaran cruise; snorkel all day and enjoy a family barbecue on the deck.
The white sandy Caribbean beaches of Roatan are fantastic to have a day sunbathing and playing on the beach in the warm clean water. The island has a relaxed, low key vibe created by all the dive tourists.
There are a lot more affordable accommodation and eateries than you will find on other Caribbean islands with mostly luxury options available. It is fun to eat the local baleadas at one of the beach shacks!
An affordable snorkeling/diving paradise with exciting jungle activities is perfect for a family holiday.
Recommended by Campbell Louw from Stingy Nomads
rOATAN IS: ONE OF THE Best Caribbean IslandS for families who want to snorkel or scuba dive.
16. Dry Tortugas, Florida
Dry Tortugas is one of the best Caribbean islands for kids.
After all, this stunning island and US national park covers 100 square miles and is home to 7 islands in the Gulf of Mexico, just east of Key West.
It's also a pristine wilderness area where your children can have fun on popular local beaches and go snorkeling through the coral reefs here. Plus, the park is typically only visited by 60,000 people annually. Therefore, you won't have to worry about large crowds.
So, to get here, book tickets in advance for the ferry from Key West to Dry Tortugas. It's known as the Yankee Freedom III and the journey will take around 2 hours and 15 minutes. The water can be rough though so take motion sickness pills before departure if you're prone to seasickness.
In general, ferry tickets cost $190 per person and $135 for children going for $135 and include a $15.00 admission fee to the park.
Then, upon arrival, head to Loggerhead Key. It is a must-see since there is a beautiful lighthouse here that everyone in the family will want to see. Additionally, the area is regularly frequented by local turtles at nearby Loggerhead Reef!
However, for a truly unique experience, take your kids snorkeling or scuba diving at the Windjammer shipwreck from 1875 since this area is home to some of the best snorkeling in the Florida Keys.
Also, try and visit any time between November and April when the water is less turbulent. Then, when you're ready to relax, head to your room at The Hawks Cay Resort. It's an incredible resort in nearby Key West with five outdoor pools, a kid-friendly spa, and a fun nature program.
Recommended by Victoria of Florida Trippers
dRY tORTUGAS IS: THE Best Caribbean Island for families who love US National Parks
17. Rosario Islands, Colombia
The Rosario Islands may be relatively unknown to people in North America, but they are some of the most popular Caribbean islands for families in South America. The archipelago is located about 45 minutes off the coast of Cartagena, Colombia.
Considered a national park of Colombia, these islands are known for their clear, warm water perfect for snorkeling, thanks to the coral reefs and sea grasses that attract sea animals.
While Playa Blanca is the most popular of the Rosario Islands, there are several other great islands that offer a more exclusive experience compared to the busy public beaches in Playa Blanca.
Stay at Hotel Isla del Encanto for a relaxing island escape or stay in Cartagena and take a day trip to the islands. Day trips to the archipelago are popular excursions for visitors to Cartagena.
But whether you decide to stay on the islands or in the city, if visiting Cartagena with kids, the Rosario Islands are a must-visit.
rOSARIO iSLANDS ARE: THE Best Caribbean Islands for families visiting from South America
18. Cuba
A Caribbean island that is perfect for families traveling with kids is actually Cuba! Varadero on the Hicacos Peninsula, two hours east of Havana is famous for its crystal white beaches, indulging all-inclusive resorts, and amazing range of adventure and water activities.
Apart from spending lazy days by the pool or on the beach, you can take the family on a myriad of activities in Varadero.
Visit the Dolphinarium, where the dolphins live in a natural mangrove, and perform spectacular shows every day. Or go exploring the Cueva de Ambrosio cave and see the murals and the bats!
Among the variety of water activities, there are day trips from Marina Gaviota with catamarans to go snorkeling, or scuba diving amazing reefs.
In the vicinity, you can visit a crocodile farm, ride in a Classic American car, or even take a speed boat tour on the river.
A family-friendly all-inclusive hotel option in Varadero is the Melia Sol Palmera, and for a budget holiday, you can rent a casa particular (privately owned holiday rental) for the whole family.
Most casas are in Varadero Town, within walking distance from Varadero beach which was voted the second most beautiful beach in the world by TripAdvisor in 2019!
There are direct flights to Varadero from Miami and seven other US airports, and plenty from Europe and Canada. You need to buy a tourist visa to enter Cuba, which is a formality, and when you arrive all you have to do is explore and enjoy!
Recommended by Hege from The World By Hege
19. Jamaica
When on the lookout for the best Caribbean islands to visit with kids, it can be tricky to decide which island will be the most accommodating.
Jamaica is often the first choice for families who want a blend of sea, sand, sun, and fun.
There are so many activities to do for kids fused with the inviting Jamaican culture, families get to do everything from excursions to nature walks and educational activities.
Dolphin Cove is one of the popular things to do with kids that caters to various age groups. Dunn's River Falls is also one of the most popular places where the whole family can wade through the invigorating pools and rocks as they make their way up the 180 ft waterfall.
Then, if those activities are not kid-crazy fun enough, there are all-inclusive hotels such as Beaches Ocho Rios which have elaborate water parks, kiddie pools, and even kids clubs for those who prefer to stay inside the resort areas.
Despite what people may think about the island Jamaica is safe for tourists and even more so for families staying in all-inclusive hotels. Ocho Rios is not only the top-rated place to zipline Jamaica but a vacation resort that truly has something for everyone.
By Dan from Layer Culture
Like it? Pin this list of the Best Caribbean Islands for Families to save it for later!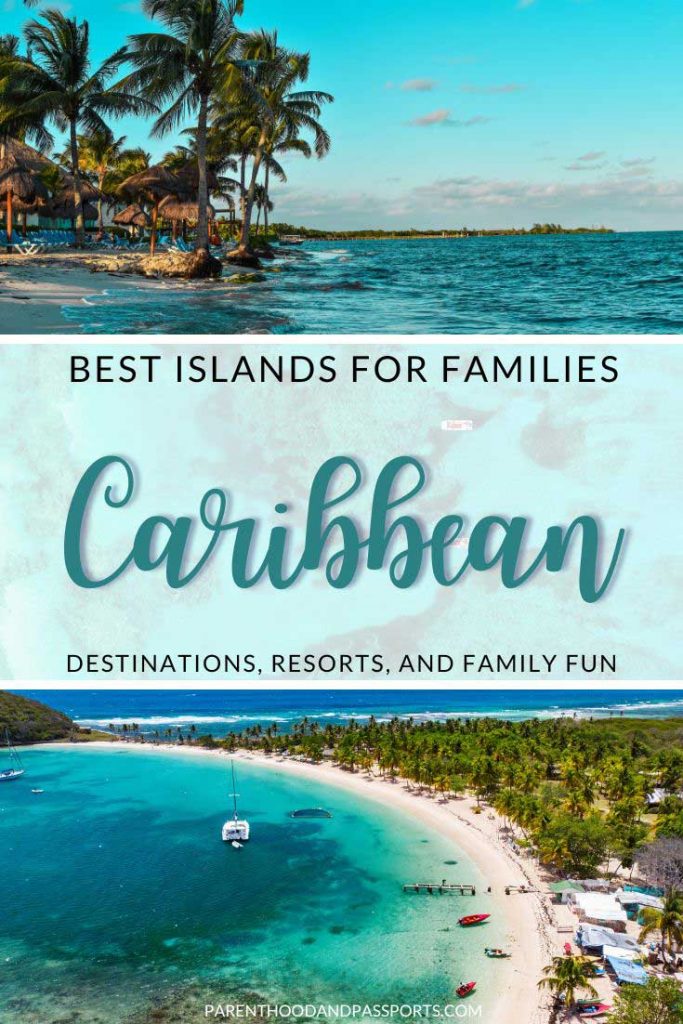 Have a question or comment about any of the best Caribbean islands for families? We'd love to hear from you! Leave your thoughts in the comments below.