When you hear of Sweden, usually the first – and often only – thing you hear about is the capital city of Stockholm. While there are a lot of things to do in Stockholm that make it a huge tourist draw, there is much more to Sweden than Stockholm. In fact, the rugged Sweden west coast is one of the country's most fascinating areas.
From islands once believed to be uninhabitable to quaint fishing villages and some of the best seafood you'll ever eat, the west coast of Sweden is beautiful, scenic, and most of all relaxing. And a west coast Sweden road trip is the best way to experience this part of the country.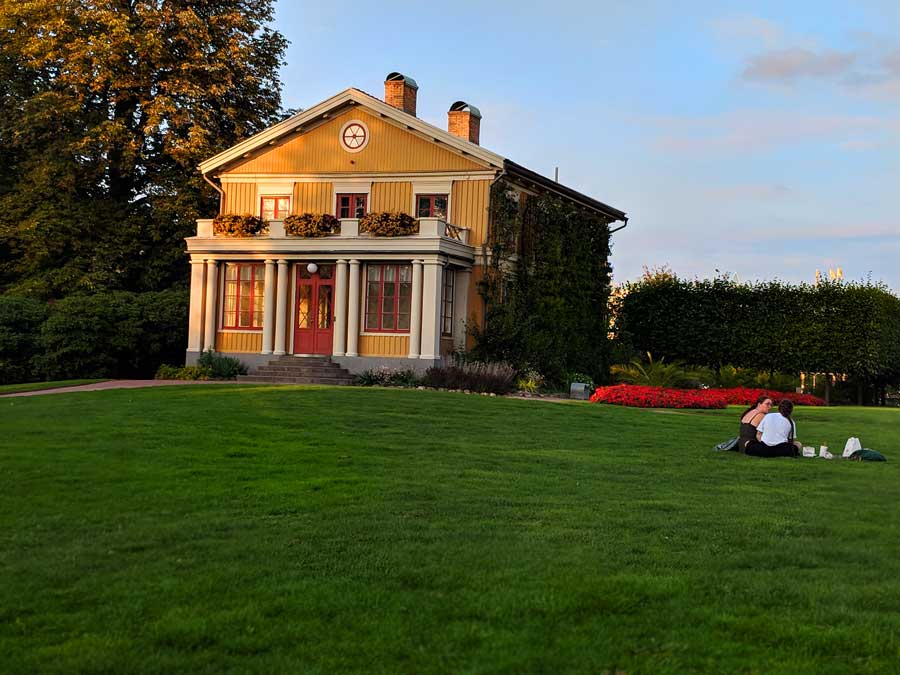 What to know about traveling the West Coast of Sweden
Although most of Europe is extremely well connected by train, if you want to visit the charming villages and experience the Sweden west coast, you must either rent a car or take a bus.
Although we considered traveling in Western Sweden by bus, doing so was going to take much longer. Instead, we opted to rent a car and do a self-guided road trip along the west coast of Sweden.
We were traveling from Copenhagen, Denmark to Oslo, Norway as part of a 12-day Scandinavia trip and wanted to spend a few days exploring Sweden on the way.
We took a train to Gothenburg and rented a car from there. However, if you decide to drive from Copenhagen, you'll have the opportunity to check out all the great things to do in Malmo, Sweden, as well.
It's one of the most popular towns in west Sweden and one of the easiest to visit because of it's proximity to Copenhagen. Our train stopped in Malmo, but we didn't have time to explore before we had to catch our next train to Gothenburg.
Renting a car in Sweden was moderately priced. Although the daily rate was affordable, where you can end up blowing your budget is if you rent a car in one country and drop it off in another.
Although Gothenburg and Oslo are only 3 1/2 hours away from each other, it will cost you a few hundred extra dollars to take the car across the border.
FIND THE BEST RATES ON CAR RENTALS IN SWEDEN
Things to do on a West Coast Sweden road trip
The west coast of Sweden was perhaps the most memorable and relaxing part of our entire trip to Scandinavia.
The small towns are charming and quiet. And because we were road tripping along the Sweden west coast, we could travel at our own pace and enjoy the scenery.
If you are planning a similar road trip here are the best things to do on the Sweden west coast.
Gothenburg, Sweden
Gothenburg is the second largest city Sweden and by far the largest city you'll visit on a Sweden west coast road trip. It is one of the best Scandinavian cities to visit.
When in Gothenburg, head to the city's oldest neighborhood, Haga, and spend some time wandering through the cobblestone streets. Souvenir shops, antique stores, and plenty of cafes and restaurants line the streets.
You can even join a guided walking tour to learn about the fascinating history of the well-preserved 17th century timber houses in Haga.
One or the most popular things to do in Haga is to stop for a fika. We came to love the Swedish tradition of fika.
In Sweden, each afternoon people stop what they're doing, have a coffee or a tea, pair it with something sweet, and enjoy a short break. But the fika isn't just a coffee break, it's a time to slow down and savor the moment.
It is no wonder Sweden is one of the happiest countries in the world!
While in Gothenburg, visit Feskekôrka, also known as the fish church. The former chapel along the river now houses a fresh seafood and fish market.
Additionally, the city has a beautiful botanical garden with a fantastic playground and well-maintained walking trails that are perfect for an evening stroll.
Where to stay in Gothenburg: Clarion Hotel Post
Bohus Fortress, Sweden
Just north of Gothenburg, and before you get to the exit for Marstrand, you'll find Bohus Fortress perched on a hill looming over the highway.
The medieval castle turned prison is now in ruins. But visitors passing through can visit the picturesque fortress, which is now a museum and tourist attraction.
It is important to note that Bohus Fortress is closed during winter months.
If you love old castles and ruins, the town of Marstrand is also worth a stop, time permitting. Marstrand is home to Fortress Carlsten, an impressive castle built to protect the city from invaders 350 years ago.
Marstrand has long been a trading port for Sweden, since the water in the harbor rarely freezes. As a major trading hub, King Carl X of Sweden commissioned the construction of the fortress to protect the city, and ultimately Swedish assets from attacks.
Tjörn, Sweden
Pilane Sculpture Park on the island of Tjörn is a unique and somewhat random place to visit on any West Sweden road trip.
The massive contemporary sculptures in the park are sprinkled across pastures of grazing sheep. You'll find towering sculptures created by artists from all over the world. Each summer, new exhibits are revealed.
The area known as Pilane was once a large, active settlement 2,000 years ago. In fact, graves dating back to 1000 AD have been discovered by archeologists in Pilane. The creators of the sculpture park have made it part of their mission to honor Pilane's history by making it a cultural and social meeting place, as it once was.
The park is open from mid-May through late-September only.
Pilane Sculpture Park is located on Tjörn, the sixth largest island in Sweden. It is home to more than 15,000 residents, but in summer months, the population triples, as it is a popular destination for yachting and swimming.
Smögen, Sweden
Smögen, Sweden is a tiny village that looks like it was practically designed for Instagram.
With tiny, colorful fishing houses lining a wooden boardwalk along the water's edge, Smogen is one of the most popular summer towns along the Swedish west coast.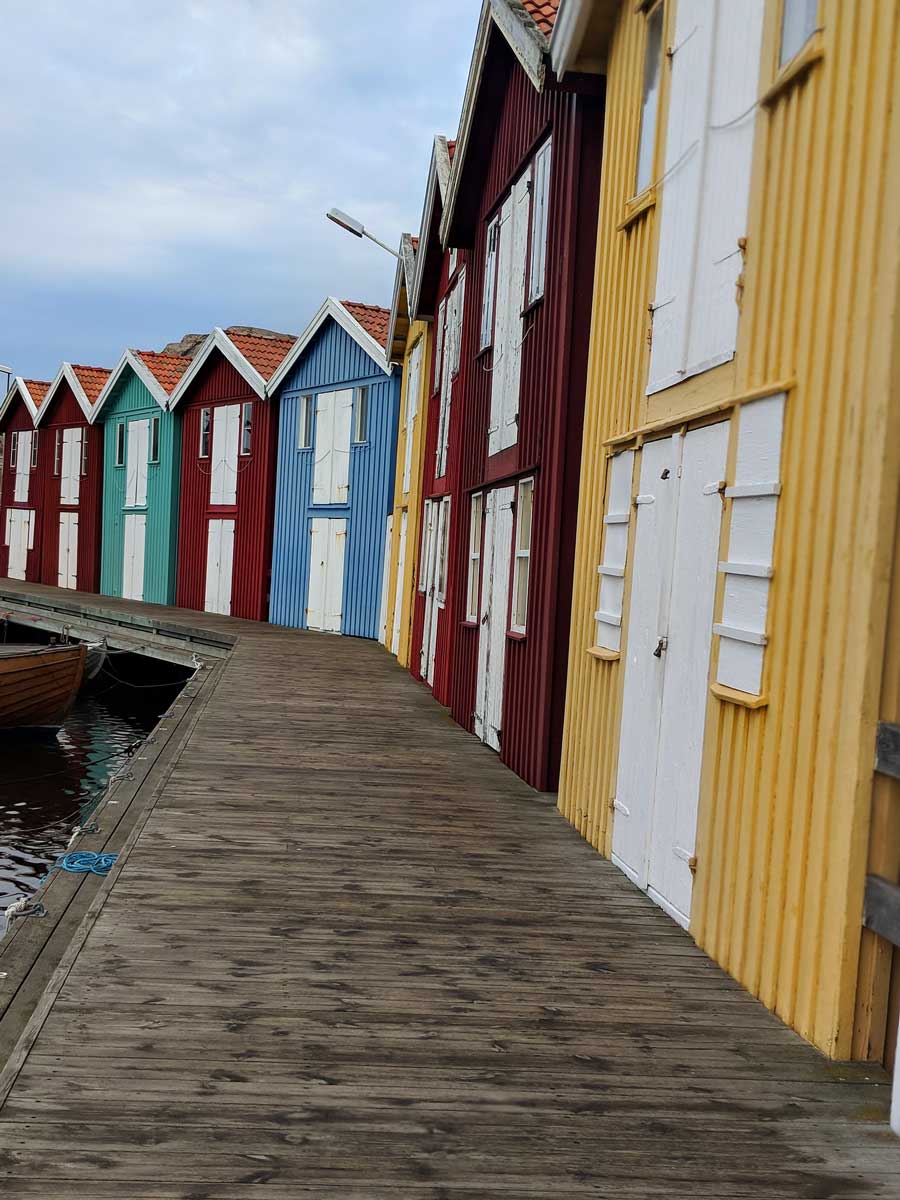 We visited Smogen in the off-season and had the town practically to ourselves.
Although many of the establishments were closed – possibly for season – we found an ideal seaside restaurant where we ate our weight in lobster, crab, shrimp, mussels, and a bunch of other seafood fresh off the fishermen's boat.
If visiting in summer, you'll find a variety a shops, restaurants, and even nightlife to keep you entertained. Smogen also boasts on of the only fish markets in Sweden.
Where to stay in Smogen: Smogens Hafvsbad
Weather Islands
The Weather Islands are an archipelago that spreads across the west Sweden coast. Most of the 365 islands that make up the Weather Islands are rocky, rugged, and uninhabited, except for colonies of seals.
Accessible by a 30-minute boat ride from Fjallbacka, the Weather Islands are truly a place to escape from everyday stresses and unwind. You can take a short day trip to the Weather Islands, take a guided tour through the archipelago, or even spend the night.
If you want to stay on one of the islands, options are limited. In fact, there is only one small hotel and one restaurant.
During the off-season, you'll find a very limited number of ferries to the Weather Islands, as well. But if you happen to catch one, you will love every, isolated minute on these serene islands.
Where to stay in the Weather Islands: Vaderoarnas Vardshus & Konferens
Fjallbacka, Sweden

Catching the ferry to the Weather Islands isn't the only reason to visit Fjallbacka. The town itself is worth spending an afternoon.
Fjallbacka, Sweden is famous for its lobster, which you'll be able to order at many of the restaurants there. It is also a popular destination for fans of novelist Camilla Läckberg's murder mysteries, as it is the setting for her novels.
While in Fjallbacka, take the short hike to Kungsklyftan, or King's Crevice.
You'll find the entrance to this beautiful hike between two granite cliffs. Overhead and wedged between the cliffs you'll see several giant boulders. Continue past the boulders and up a staircase for a fantastic view of the tiny town, the sea surrounding it, and the Weather Islands in the distance.
Where to stay in Fjallbacka: Stora Hotellet i Fjallbacka
Grebbestad, Sweden
Our primary goal during our road trip through West Sweden was to relax and disconnect.
We love traveling off the grid and focusing on our family, and the West Coast of Sweden is the perfect place for that. We took the short and scenic drive from Fjallbacka to Grebbestad.
Grebbestad is yet another eye-catching small town in western Sweden. It was also the perfect place to stop for the night and feel pampered, as it is home to the beautiful TanumStrand Resort.
Children and adults alike will love the indoor pool and water slide. It is the kind of place where you won't notice if the WiFi is weak because it makes you forget to check your phone.
Where to stay in Grebbestad: Tanumstrand Resort
Blomsholm
Blomsholm is one of western Sweden's greatest cultural heritage sites.
Located outside of Stromstad, Sweden, Blomsholm contains remains from the Stone Age until medieval times. With impressive grave fields and burial mounds, and one of Sweden's biggest stone circles, the heritage site is fascinating for those who love ancient history.
Unlike other stone circles that have been discovered which contain an odd number of stones, the stone circle in Blomsholm contains 10 large boulders. You'll also find the the country's third largest stone ship in Blomsholm.
Researches believe the circle was a grave, though for whom, it is still unknown.
Where to stay in Stomstad: Scandic Laholmen
How much time do you need for a Sweden West Coast road trip?
Visiting the west coast of Sweden should be a relaxing vacation. After all, the coast of Sweden is practically designed to make you want to slow down and stay awhile. So don't rush through this portion of a Scandinavian tour.
If you are traveling from Copenhagen to Oslo, I'd recommend spending a few days exploring Sweden's west coast… maybe even a week if you have the time. Give yourself the opportunity to take a detour, experience the countryside, and stop and explore when you see something interesting.
Trust me, it's time well spent. You won't regret it!
Have a question or comment about our west coast Sweden itinerary? We'd love to hear from you! Leave your thoughts in the comments below.
Like it? Pin this Sweden West Coast itinerary to save for later!
This Sweden west coast itinerary was first published October 30, 2018 and has been updated for accuracy and current information.