We may earn money or products from the companies mentioned in this post.
Spain is known for its classic beauty and its simple elegance. Like many other countries in Europe, in Spain, you'll find no shortage of decorative buildings lining cobblestone streets. On each building, cascades of colorful flowers pour out of window boxes. Even the alleyways are decorated with vibrant vases filled with fragrant flowers.
There is a certain allure to Spain that makes you want to leisurely roam and get lost in the scenic streets. And there is no better place to experience this beautiful simplicity than Spain's enchanting pueblos blancos, or white villages. While even the larger cities in Spain have a relaxed atmosphere, true serenity awaits those who venture into the countryside, where most of the white villages in Spain are located.
What are Pueblos Blancos? All about the famous white villages in Spain
The pueblos blancos, or white villages in Spain, are mostly located in the region of Andalusia, which includes 8 provinces and is home to the popular cities of Seville, Granada, and Cordoba. But you'll find plenty of pueblos blancos throughout other parts of the country, as well, including the coastal region of Costa Brava, an easy road trip from Barcelona. These small hilltop villages are known for their simple white homes and businesses with red or tiled roofs.
Similar to the architecture you'll find in Morocco, the design and look of the white villages in Spain definitely share the same Moorish influence that shaped North Africa. Most of the pueblos blancos in Spain have certain characteristics that make them unique compared to other cities or villages in the country. The pueblos blancos commonly have narrow alleyways, steep streets, stunning lookouts, and pleasant town squares where people gather.
The most beautiful white villages in Spain
Although a bit off the beaten path and not as visited by tourists as the major cities, Spain's pueblos blancos, or white villages, offer visitors a romantic, old-world charm that transports you back in time to a more simple, unhurried life. Here are some of the best white villages in Spain to add to your bucket list or Spain itinerary.
Ronda
Province: Málaga
Perched atop the cliffs on both sides of the Tajo Gorge, Ronda is perhaps one of the most popular white villages in Spain. The Puente Nuevo, or new bridge, is one of the main tourist draws for Ronda. The village is small enough that you can spend one day in Ronda and see almost everything. Located in Andalusia, Ronda is an easy day trip from Seville or Cordoba, but staying at least one night gives you a more intimate, relaxed experience in the town once the daytrippers leave.
Aside from having one of the most famous bridges in Europe, Ronda is also the original home to bull fighting. It is even the setting of the children's movie Ferdinand, which is about a bull who doesn't want to be a fighter. Even if you choose not to support this controversial spectator activity, bull fighting an important part of the village's history and even it's present times.
Outside the bull fighting arena and museum, you'll find Plaza de los Toros, which is a lively square filled with vendors and musicians. Because there are so many charming white villages in Andalusia, a visit to Ronda can easily be paired with a visit to some of the other picturesque white villages in Spain. Additionally, Ronda makes a great stop on a Spain, Portugal, Morocco itinerary.
Where to stay: Luxury apartment across from Puente Nuevo
Sentil de las Bodegas
Province: Cádiz
Andalusia is famous, among other things, for the beautiful pueblos blancos (the white villages). Probably the most incredible of all is Setenil de las Bodegas.
It has white houses crammed into the mountains and narrow streets that even small cars barely slip into. In the past, the town was under Moorish domination and only after seven assaults of Christians was it conquered (hence its name, Septem nihil = 7 times nothing). It later became known for its vineyards whose fruits were stored in rooms dug in the mountains called bodegas.
The vineyards were eventually destroyed by insects, but the rooms became houses for the locals. Many of these houses' ceilings are directly carved from the mountain, like a cave. Some of the cave houses require you to bend down so as not to bump into the low ceiling! Dinner can also be served under the rocks on the terraces by the river bank.
On one side of the river you will find a street completely covered by rock, a street that has never seen the sun! The city has beautiful alleys framed by white houses and a small square in the city center.
Setenil de las Bodegas is not just a village in the mountains, it is a unique experience for anyone who visits it! You won't believe it's real even when you're there.
Where to stay: Casa Rural Cuevas del Sol cave house
Corina – Another Milestone
Arcos de la Frontera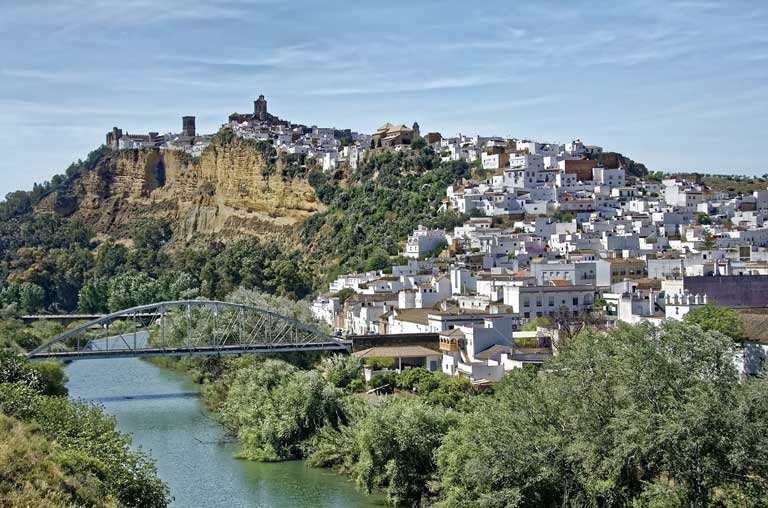 Province: Cádiz
One of the most beautiful yet underrated white villages in Spain is Arcos de la Frontera in Andalusia. Sitting atop a jaw-dropping cliff, the village is the perfect day trip from Seville or Cadiz. There are plenty of things to do in Arcos de la Frontera. Other than eating tapas and drinking wine at one of the many bars and restaurants, you can enjoy a flamenco show or get lost in the narrow streets that wind between whitewashed houses.
Plaza del Cabildo is a great place to start your tour of the village. You'll also find a beautiful viewpoint, the Town Hall, an old castle (which is privately owned, so unfortunately not possible to tour), the mesmerizing Minor Basilica of Santa María de la Asunción, and the tourist office. Get a map if you like to stay orientated, otherwise it's a lovely village to just get lost in. It's small enough to not really get lost, yet big enough to feel a little lost. Don't miss out on the Convent of The Barefoot Mercedarian Order, which is the only remaining convent in use as a monastery in the village.
Where to stay: Parador Hotel at Plaza del Cabildo
Linn – Brainy Backpackers
Port Lligat (Catalonia)
Province: Girona
Port Lligat (also written Portlligat) is a little village in the Costa Brava, Catalonia, not far from the border with France. Located at just 1 km from Cadaqués, it has an amazing setting on a bay of Cap de Creus.
Port Lligat is really small. It consists of a few white-washed homes typical of this area originally owned by fishermen, a few winding streets, and a pretty sandy beach littered with a multitude of colorful boats.
Today, this village would be totally anonymous if it was not for Salvador Dalí, the surrealist painter who had his second residence in Port Lligat. Dalí was born and raised in the city of Figueres, not far from Port Lligat and Cadaqués. After his years in Paris, the painter bought a little hut in Port Lligat and he renovated it and enlarged it to spend long stays with his wife Gala.
Today people come to Port Lligat mainly to see Dali's house, which is a house-museum. Just like his work, everything in this house is a bit surrealist, and it is well worth the short hike from Cadaqués. In addition to the museum, there's a bar where it is pleasant to have a drink on an improvised terrace with sea views. In the opposite direction, there are some small swimming beaches where it is possible to rent a kayak for a small excursion on the sea.
Where to stay: Hotel Port Lligat
Elisa – World in Paris
Ojén
Province: Málaga
Southern Spain is home to the most picturesque white-washed villages. We definitely recommend using the charming mountain village Ojén as your base. As one of the 'pueblos blancos' in the Sierra de las Nieves, expect to experience an authentic local village with the most beautiful views.
With only 3,000 inhabitants Ojén is super small, but its mountain location is stunning and the way it's built on a hillside makes it extremely picturesque. The most picture-perfect way to see the village is from above at the viewpoint just south of the village (indicated as 'mirador de Ojén' on most online maps).
There's not much to do in the small town except strolling around its cobblestone streets and watching the local life in the white-washed streets. You might want to visit the Mill Museum or the Wine Museum. The main church is beautiful to visit, as well.
Though there is not much to entertain you in the quiet village itself, Ojén is the perfect base to explore its surroundings. Malaga and its beaches are not far, and so are more famous Andalusian places to visit like Ronda or the Camino Real.
Another great thing to do when staying in Ojén is one or more hikes at Juanar. Most hiking trails start at the Refugio De Juanar which is a 10-minute drive from Ojén. The best hike is the one to the Cruz de Juanar at one of the mountaintops. The views of the Sierra de las Nieves, Malaga and the blue sea are stunning.
Where to stay: La Posada del Angel
Maartje – The Orange Backpack
Nerja
Province: Málaga
One of the easiest day trips from Malaga, Nerja is a picturesque pueblo blanco on the Costa del Sol in southern Spain. Its whitewashed houses are the perfect foil to the brilliant blue of the Mediterranean on a nice weather day.
One of the nicest things to do in Nerja is to take in the views from the Balcon de Europa. The promenade overlooks the water, and offers expansive views of the sea and the coastline on both sides.
Wander the narrow alleys of the town, where you will see pretty flower boxes spilling over with red geraniums. Relax with a drink in the main square, which is a great spot to people-watch. There are any number of tapas bars on the main square. While there, try the eggplant chips drizzled with honey!
Spend some time on one of the gorgeous beaches: with golden sand underneath palm trees. The Playa Burriana is a dream beach. You can also stroll the path by the water next to the beach, right under the Balcony of Europe.
The caves of Nerja are a must-visit, as well. With stalactites and stalagmites and cave paintings, the caves are Nerja's most popular tourist attractions. They were discovered by accident by a group of young boys. In the summer, you can attend music concerts in the caves!
Where to stay: Hotel Balcon de Europa
Dhara – It's Not About the Miles
Carmona
Province: Sevilla
Carmona is one of the most pretty white-washed towns in southwestern Spain, which lies about 33km (20 miles) northeast of Seville. The city is situated on a ridge of the central plain of Andalusia, followed by Sierra Morena from the north and San Cristobal peak from the south. An interesting piece of information about the town is that it is especially famous for olive oil, wine, grain, and cattle herding.
Carmona though isn't a huge town, but its real beauty is hidden within the fortification walls. There are a lot of things to do and see there, like touring the ancient walls, including Carmona Fort, Carmona Squares, The Gate of Seville, and the Gate of Cordoba. Alongside, you can visit the Carmona Town Hall, Jewish Quarter, or witness historical artifacts at Museo de la Ciudad de Carmona.
Whenever you visit Carmona, try to attend the on-going concerts or events, transition festivals, or go for a short drive. Also, go shopping at the farmer's market, where you can buy a variety of things related to Spanish customs, such as unique traditional souvenirs to take back home.
Furthermore, escape from the sounds of the street and enjoy a cup of coffee in the exquisite scenic beauty of Parador. Taste the various types of delicious Spanish-cultural cuisines from the different restaurants of Carmona. For lodging, Corral del Rey is one of the best boutique hotels in Seville. Being located in the heart of Seville, the hotel provides multiple excellent facilities for its guests. From here you can easily explore Carmona in a (half-) day trip.
Where to stay: Parador de Carmona
Paulina – Paulina on the Road
Zahara de la Sierra
Province: Cádiz
Zahara de la Sierra is a medieval white-washed village you must visit when going on a road trip through southern Spain. This hilltop pueblo blanco is located in the Sierra de Grazalema Natural Park, which means it is surrounded by extremely scenic landscapes. It overlooks an artificial lake and a beautiful valley, so before entering the village, be sure to stop at the Mirador Zahara de la Sierra on the A-2300 road to admire these views.
In the village itself, you'll find a few places to visit, starting with Zahara de la Sierra's castle. The highlight here is the view because the castle itself is a not-so-impressive ruin (though it is impressive that it dates back to the 13th century). Other landmarks to see are the Church of Santa María de la Mesa, the San Juan de Letran chapel, the Clock Tower, and a few other lookout points.
Looking for something more than just sightseeing? Head to La Playita de Zahara de la Sierra, a small beach on the artificial lake, located right outside the village in a recreational area. The area also includes a restaurant, a kiosk, toilets, and picnic tables. The beach is open in July and August and costs between 3 and 4.50 Euros to visit.
Where to stay: El Pinsapo
Or – My Path in the World
Calella de Palafrugell
Province: Girona
Tucked away on the Costa Brava, less than an hour north of Barcelona, Calella de Palafrugell is a pine-fragranced haven of pristine Mediterranean waters and cozy beach coves. Popular with both locals and tourists alike, this is a beautiful place to be any time of year. Bordering the water's edge, the wisteria-draped village looks like something straight off a postcard.
There's a little something for everyone to enjoy here: children splash around and jump off hot rocks into the sea, while their parents and grandparents bronze themselves on the sand. Seeking shade under the signature porticoes, couples canoodle on cafe terraces and soak in the sweeping views out to sea. Take a stroll along the promenade and snap a few photos of the colorful fishing boats.
Take a dip to cool off in the clear water, or explore the little gift shops and boutiques. Once you've worked up an appetite, be sure to stop by at the ocean-facing Restaurante Tragamar for a perfect paella and an ice-cold bottle of crisp Galician white wine, followed by ice-cream and a carajillo (coffee with brandy) for dessert. Calella de Palafrugell is undoubtedly one of the prettiest destinations along the "Brave Coast" – the romantic little fishing village that all Hispanophiles dream of.
Where to stay: Hotel Mediterrani
Ben – Driftwood Journals
Mijas Pueblo
Province: Málaga
Mijas Pueblo is one of the most accessible white villages in Andalusia, 20 minutes away from Malaga, and well connected through regular buses.
The village of Mijas stands up at 400 meters (1,312 feet) above sea level, in the Sierra de Mijas mountain range. It has amazing views over the Mediterranean Coast and, sometimes, on a clear day, the mountains of Morocco.
Despite its small size, there are plenty of things to do in Mijas Pueblo. Walking around its narrow streets, especially in the upper part of the village, you will discover some of the most Instagrammable streets in Mijas Pueblo. The staple of the village are the white houses decorated with blue flower pots in which grow red geraniums.
There are a few peculiar places to visit in Mijas Pueblo, one of them being the miniature museum, which hosts a collection of tiny painted objects. Among the most unusual ones are grains of rice, toothpicks or pinheads.
The bullring in Mijas Pueblo is another interesting place to visit as a piece of history. The arena is the only one in Spain that is not round, but oval, because it was built on a rock. The bullring is used for different events and flamenco dances. There are no bullfights going on here.
Where to stay: TRH Mijas Hotel
Joanna – The World in My Pocket
Marbella
Province: Málaga
Marbella will make a great one-day trip if you are out of ways to spend time in Malaga. You can feel right away how alive the city is while walking in-between the white-washed houses decorated with all kinds of beautiful plants. Marbella is known for its natural public park with turtles as well as for various shopping places. Explore Spanish fashion at the local markets or visit one of the boutique shopping centers like La Cañada!
Make sure to visit the famous long-stretched, sun-kissed sandy beach Playa de Nagüeles, also known as Golden Mile. You can spend a whole day walking along the marvelous seafront promenade which is one of the longest in Andalusia. Make the time to unwind on the beach while tasting freshly grilled sardine skewers and watching talented locals make amazing sand sculptures.
There are lots of authentic things to see and do in this beautiful southern city and a ton of wonderful luxurious hotels along the shore. Ordering churros con chocolate in one of the cafes for breakfast will definitely make you feel like a local in Spain!
Where to stay: Boutique Hotel B51
Juliet – Live your dream today
Albaicin quarter, Granada
Province: Granada
When people are planning their trip to Granada, they usually are envisioning a visit to the Alhambra or eating paella while sipping on Spanish wines. Although Granada is a smaller city, it packs a ton of history and so much to explore in the many districts that make up this gem near the base of the Sierra Nevada mountains.
On the hill overlooking the center of Granada is the Albaicin quarter, which is the historic Moorish area complete with its white-washed walls and tea shops lining its winding streets. Any visit to this neighborhood would be incomplete without making the hike up to the many miradors (viewpoints) that all provide different but equally stunning views of the city.
For a dramatic finish to the day, take a hike up to Mirador San Nicolás for sunset where you will be greeted by Gypsy street musicians and the lights illuminating the Alhambra. On the walk down the hill, stop for a drink at the many Tapas bars that are famous for their free tapas with the purchase of an alcoholic beverage. Hop from one tapas bar to the next tasting their specialties or do like the locals and stay in one place as the free tapas get better with each new round.
Being declared as a UNESCO World Heritage site in 1994, make sure to enjoy the best view of the Albaicin quarter which can be accessed by looking across from the walls of the historic Alhambra Fortress.
Where to stay: Casa del Aljarife
Kristel and Gabriel – Chef Travel Guide
Where are these white villages in Spain?
While many of these white villages of Spain are in the region of Andalusia, there are some that are closer to Barcelona, making them convenient options for day trips if visiting Barcelona for a few days. To make it easy for you to plan a trip to one of these iconic white villages in Spain, we have conveniently mapped out all of the places mentioned above. So, the next time you visit Spain, head to the hilltops, the mountains, or the coast where white streets of pure serenity await! After all, your Spain bucket list won't be complete without visiting at least one of the country's famous pueblos blancos.
Have a question or comment about any of these white villages in Spain? We'd love to hear from you. Leave your thoughts in the comments below.
Like it? Pin this list of white villages in Spain to save for later!