When I first moved to Oklahoma, I had the same preconceived ideas about the state that many people around the country probably have. I thought it would lack excitement, personality and identity. I thought it would be nothing more than red dirt, cowboys and flat land. While Oklahoma does have a lot of all three of those, it also has so much more. I've lived here for several years, and I'm still exploring all the state has to offer. One of my favorite places to spend the day in the Oklahoma City area is called Bricktown.
Bricktown activities
Bricktown is a fun and vibrant entertainment district in Oklahoma City. There are a lot of great restaurants, bars and shops in this very walkable area of downtown Oklahoma City. For families, there is even a miniature golf course, laser tag center and arcade, which is a great for older children and teenagers especially.
In the heart of Bricktown is a lovely canal which is lined on each side with great cafes and restaurants that offer outdoor seating on nice days. It's a great place to sit, chat, have a cold beverage, and watch the tour boats run up and down the canal.
Where to Eat
A great place to have lunch is the Bourbon Street Cafe. If you enjoy Cajun food, I would definitely recommend it. This restaurant right on the canal, and the food and service are wonderful.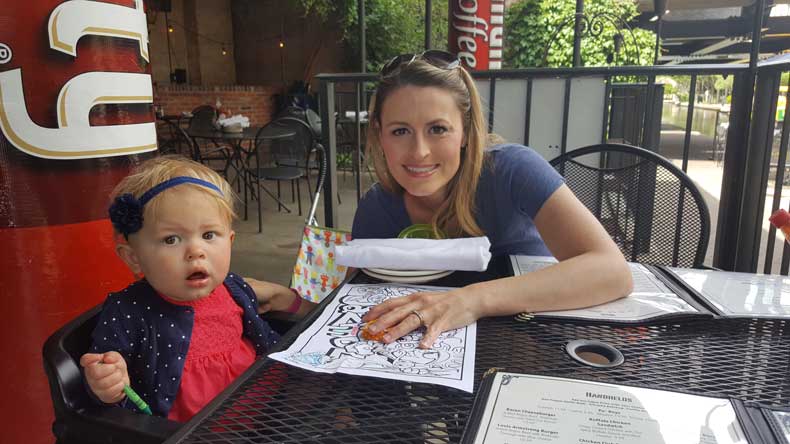 Our 15-month-old daughter enjoys being outside, exploring a new environment, and watching the ducks on the canal. Dining outside keeps our toddler occupied, and prevents her from trying to climb out of her high chair to run amuck. That means I can actually eat my food while it is still warm!
The best part about Bricktown is we don't have to take a long vacation, buy an expensive flight, or travel for half a day to get there. Bricktown is in our own backyard. Sometimes, in our quest for adventure, we forget about the great places and activities our own community has to offer.
When was the last time you were a tourist in your own community? As a family, we travel quite a bit, but just because we aren't traveling at the moment doesn't mean the adventure has to be put on hold. There is so much to do and see all around us! For me, that means exploring a state that at one point I had no desire to even visit.
Having lived in Oklahoma for a few years now, I finally call this state home. And I can actually say that I love it. From Bricktown to the OKC National Memorial, it is a wonderful place to live or visit. If you ever find yourself in this part of the country, you might just find you love it, too.
YOU MIGHT ALSO LIKE: TOP 20 THINGS TO DO IN OKLAHOMA CITY.
Have you visited Bricktown in Oklahoma City? We'd love to hear about your experience. Let us know your thoughts in the comments below.
Like it? Pin it!