We may earn money or products from the companies mentioned in this post.
When I first moved to Oklahoma, I had the same preconceived ideas about the state that many people around the country probably have. I thought it would lack excitement, personality, and identity. I thought it would be nothing more than red dirt, cowboys, and flat land. While Oklahoma does have a lot of all three of those, it also has so much more. Having lived in Oklahoma City for several years, I find myself still exploring all the city has to offer. Bricktown is one of the more popular areas of Oklahoma City – especially for tourism. There are a lot of fun and unique things to do in Bricktown OKC, which is why it is one of my favorite places to spend a day in Oklahoma City.
Things to do in Bricktown – OKC's Riverwalk District
Bricktown is a fun and vibrant entertainment district in Oklahoma City. There are a lot of great restaurants, bars and shops in this very walkable area of downtown Oklahoma City.
Walk along the canal
In the heart of Bricktown is a lovely canal which is lined on each side with sidewalks trails, and green spaces. There are also plenty of restaurants which offer outdoor seating on nice days. The canal is a great place to take a stroll on a nice day, or simply sit, chat with friends, and have a cold beverage.
Take a ride in a water taxi

One of the most popular things to do in Bricktown OKC is to take a ride down the canal in a water taxi. The guides not only give fun facts about the development of Bricktown but point out various scenic areas and special sites along the short route.

Discover awesome street art and murals
Street art in Oklahoma City will both surprise and impress you, and Bricktown is one of the best places in OKC to find cool, colorful murals. From walls that depict the city's rich history to colorful, abstract underpasses, you'll find no shortage of vibrant murals in Bricktown.

Visit Brickopolis
Brickopolis is the perfect place in the downtown OKC area for families. The attraction features an outdoor miniature golf course right on the canal. There is also an indoor laser tag center, climbing wall, and an arcade, which older children and teenagers will enjoy.
Take a horse-drawn carriage ride
Whether you are looking for romantic things to do in Bricktown or something that will interest a fairy tale-enthused child, a horse-drawn carriage ride through the streets of Bricktown is a magical activity.. The beautiful, Cinderella-inspired carriages are strung with lights to create a glowing ambiance at night.
Take in an OKC Dodgers Game at Bricktown Ballpark
In the heart of Bricktown OKC is the Bricktown Ballpark where the OKC Dodgers, a minor league baseball team and Triple A affiliate of the LA Dodgers, play ball. Games are fun, inexpensive, and rarely crowded.
Test your climbing skills at Summit OKC in the Bricktown Silos
If you are looking for more challenging things to do in Bricktown OKC, then head to Summit OKC, formerly known as Climb Up OKC. The 90-foot tall climbing gym was converted from grain silos. There are several climbing routes on the outside of the silos as well as inside the climate-controlled building. With a massive, colorful mural painted on the side of the silo, you can't miss this building when you are in Bricktown.

Where to Eat in Bricktown
Bourbon Street Cafe is a great place to have lunch if spending a day in Bricktown OKC. If you enjoy Cajun food, I would definitely recommend it. This restaurant is right on the canal, and the food and service are wonderful.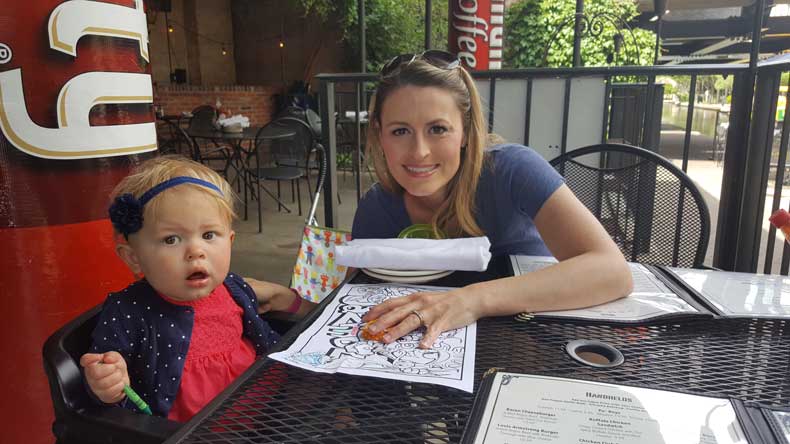 Our daughter enjoys being outside and exploring a new environment. When we visit, we like to sit outside on the covered patio and watch the ducks on the canal and the people strolling along the trails. Dining outside keeps our toddler occupied which means I can actually eat my food while it is still warm! It's a win for everyone!
Other casual dining restaurants in Bricktown include Fuzzy's, Texadelphia, and Yucatan Taco Stand. Those looking for more upscale dining might enjoy Mickey Mantle's Steakhouse. It is the perfect place for a date night or celebratory occasion. For those who are visiting Bricktown without kids, there are a number of bars and breweries in the downtown district. Although we don't make it out of the house much without a kid in town these days, Bricktown does have a lively atmosphere at night.
Bricktown – a tourist district locals enjoy, too
The best part about Bricktown, at least for us, is that we don't have to take a long vacation, buy an expensive flight, or travel for half a day to get there. Bricktown is in our own backyard. Sometimes, in our quest for adventure, we forget about the great places and activities our own community has to offer.
As a family, we travel quite a bit, but even when we aren't traveling it doesn't mean the adventure has to be put on hold. There is so much to do and see all around us! And Bricktown OKC and all the things to do there is a perfect example.
Having lived in Oklahoma for a few years now, I finally call this state home, and I love it! From Bricktown to the OKC National Memorial – which is also a must-visit attraction in downtown, Oklahoma City is a wonderful place to live or visit. If you ever find yourself in this part of the country, you might just find you love it, too.
YOU MIGHT ALSO LIKE: TOP 20 THINGS TO DO IN OKLAHOMA CITY.
Have you visited Bricktown in Oklahoma City? What were your favorite things to do in Bricktown OKC? We'd love to hear about your experience. Let us know in the comments below.
Like it? Pin it!