Busch Gardens is one of the most popular amusement parks in the northeast. Located in Williamsburg, Virginia, this fun theme park offers thrilling rides, entertaining shows, and even a bit of culture and scenic charm. But if you're wondering what to know before visiting Busch Gardens Williamsburg, there are a few things to consider when planning your visit.
While a day at this Virginia amusement park doesn't require the same level of planning as a trip to Disney World, these Busch Gardens Williamsburg tips will make for an easy and fun-filled day in the European-themed park. 
This guide to the top tips for visiting Busch Gardens includes 10 insider tips and frequently asked questions to help you save money and make the most of your experience.
About Busch Gardens
Founded in 1975 and developed by Anheuser-Busch (yes, the beer company), this 422-acre park is one of the most beautiful theme parks in the world.
Up there with Tivoli Gardens in Copenhagen, Denmark, the park is renowned for its scenery as well as its adrenaline-pumping rides. 
Busch Gardens is a European-themed adventure park. It is divided into different areas, with each area representing and designed to look like a different European country.
As you stroll through the park, you'll cross into the United Kingdom, Ireland, France, Scotland, Germany and Italy. The buildings, shows, food, and even some of the rides are all appropriately themed for each country.  
Unlike many amusement parks that tower over highways and dominate skylines with their giant steel roller coasters, Busch Gardens is tucked away in a wooded area near the Historical Triangle of the United States – which includes Colonial Williamsburg, Jamestown, and Yorktown.
You cannot see it from the road, and in fact, walking through the park, you can't always see other areas within Busch Gardens.
10 Busch Gardens Williamsburg Tips
Busch Gardens is a great place to visit on a family vacation. But if visiting the beautiful theme park, there are a few things to know ahead of time.
Here are the 10 best Busch Gardens Williamsburg tips to make your trip stress-free.
Buy tickets in advance
Buying your Busch Gardens tickets in advance will not only save you time when you get to the park, but it saves you money, as well.
Tickets are about 20% less expensive online than they are at the gate, and if you plan to visit both the amusement park and the water park, Water Country USA, you save even more when reserving online. 
Get there when the park opens
The best way to maximize your visit to Busch Gardens is to get there early. We arrived at the park right when it opened at 10:00 a.m., and had no lines or queues to get in or to ride any of the rides for the first couple of hours.
Additionally, if visiting during the summer months, temperatures in the late morning hours are much more pleasant than the afternoon hours.
This is perhaps one of the most important Busch Gardens Williamsburg tips to avoid long lines, crowds and peak heat!
Download the Busch Gardens app and strategize your route
One of the worst things you can do at any amusement park is wander around aimlessly. That might be fun in the narrow alleyways in Venice, Italy, but if you do that at Busch Gardens you will see a lot but miss out on even more!
The best way to navigate the park is to download the Busch Gardens app. The app provides a detailed calendar of the shows at the park, animal experiences, rides and their height requirements and dining options.
It's a good idea to look at the map in the app or at the park when you arrive and strategize where you want to go first.
If you plan to ride all the major roller coasters, you'll want to knock them out in the morning when you first arrive before the lines get long. You may even be able to ride some of them multiple times if you get there right when the park opens and strategize your walking route. 
Check height requirements for each ride you want to go on with kids
If you're riding roller coasters with younger children or kids who are on the short side, you want to check the height requirements before arriving at the park.
Knowing which rides your children are tall enough for helps you to strategize your route and hit those rides first. Some of the roller coasters require kids to be 48 inches tall, while others set the benchmark slightly higher for safety.
We visited Busch Gardens with our 7-year-old who was barely 48 inches tall, so she was only able to ride some of the roller coasters. However, at 7, the ones we rode were plenty!
The rides with a higher height restriction are definitely more suited for thrill-seeking teenagers.
Check their daily calendar for shows and performances
Aside from roller coasters and rides for kids, Busch Gardens also has live performances throughout the day, as well as animal experiences, like dog shows and stables where you can see Clydesdale horses or Scottish cows.
The shows are entertaining family fun! However, we recommend taking in a show in the afternoon hours. Perhaps, right after lunch while your food settles or in the peak heat of the afternoon around 4pm.
The Busch Gardens app has all the showtimes and daily performances listed out, so you can decide which events you want to go to as you plan out your day in the park. 
Dress for the season and the rides
What you should wear to Busch Gardens depends on what time of year you visit the park. Summers are hot and humid in Williamsburg while you would need to dress in layers if visiting during the holiday season to see their Christmas town or around Halloween for their Howl-O-Scream event.
Keep in mind if you plan to go on any of the water rides, like Escape from Pompeii or Le Scoot, quick-drying clothes are a much better option than denim or 100% cotton, which tends to stay wet longer.
One of our Busch Gardens Williamsburg tips is to save water rides for last, so you aren't walking around the park wet all day.   
Bring a SMALL daypack
 If you plan to bring a daypack to carry your phone, a reusable water bottle, or even a few snacks, be prepared to rent a locker unless your bag is small.
Most rides do have small baskets you can put your stuff in while you ride, but if your bag is too large, you will be directed to the lockers instead. 
If you don't want to have to rent a storage locker at each ride, stick with a small crossbody bag or fanny pack and bring a collapsible water bottle to save room.
Plan where you want to be for lunch and/or dinner
Although each area of Busch Gardens has a theme based on a European country and includes food from the theme country, you can still find options for even picky eaters.
But if you want to sample food from a certain region of Europe, plan where you want to be around lunch time or dinner time.
For example, if you want to visit a beer hall similar to those found in Munich, Germany, you'll definitely want to check out Das Festhaus. Or if you want to snack on some loaded fries, famous in France and Belgium, Les Frites is a fry house located in the portion of the park designed to look like France.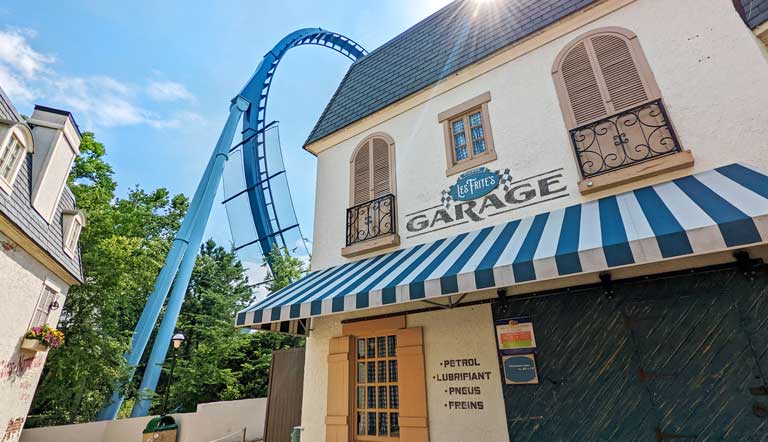 Parking tips for Busch Gardens Williamsburg
Busch Gardens offers VIP or Preferred parking for an extra fee, for those who don't want to walk a longer distance or take a shuttle from the parking lots to the entrance.
However, going back to one of  our top Busch Gardens Williamsburg tips above, if you get there when the park opens, you can save money and skip the preferred parking, since you'll likely be parked in one of the closest lots to the entrance.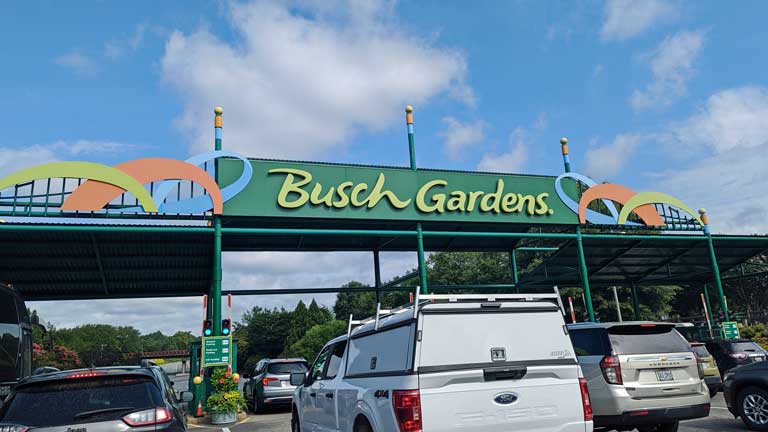 Save souvenirs and games for the end of day
Anyone who has done any amount of family travel knows kids are always asking for souvenirs everywhere you go. No sooner than we walked into the park our daughter already wanted to go into a gift shop and buy something.
However, especially at a theme park, you will want to save souvenir shopping for the end of the day. Otherwise, you will be carrying your purchased items around all day or renting a locker to store them. The same goes for the carnival-style games where you can win plush toys and other items.
Carve out some time at the end of your day for this activity, otherwise you may end up with a giant stuffed bear you have to take back out to the car before riding any additional roller coasters. 
Frequently asked questions
Although the Busch Gardens Williamsburg tips above may answer most of your questions, there are a few things that are frequently asked about visiting the amusement park.
Is the Quick Queue Pass worth it at Busch Gardens?
If you get there early or visit on a weekday, you can skip the Quick Queue Pass. We visited on a Tuesday and got there when the park opened and the longest wait we had was 30 minutes.
For most of the rides, the wait was around 5 minutes. However, on weekends and if you don't arrive until around noon, you may want to consider the quick queue pass to maximize your time and avoid wait times.
When is the best time to visit Busch Gardens?
Summer is the most popular time to visit Busch Gardens, although throughout the year there are multiple events centered around the different holidays. To avoid crowds, visit on a weekday.
Is Busch Gardens crowded?
Like any amusement park, Busch Gardens does get crowded, particularly on weekends and in the afternoon. To avoid the crowds, arrive early and if possible, visit on a weekday.
How long do you need at Busch Gardens?
One day is plenty of time to visit Busch Gardens. If visiting with kids who are either too young or not ready to ride all of the extreme roller coasters, you can explore the park and enjoy enough of the rides in about six hours.
Is there a Busch Gardens discount code or coupon code?
Busch Gardens does offer military discounts. But for those who are not affiliated with the military, the best way to save money on tickets to Busch Gardens is to buy in advance and purchase a packaged deal that includes their water park, as well.
If you plan to visit both, there is significant savings if you purchase a combined 2-day ticket for Busch Gardens and Water Country USA.
Like it? Pin this list of the top Busch Gardens Williamsburg tips to save it for later!
Have a question or comment about visiting Busch Gardens Williamsburg, Virginia? Or about any of our Busch Gardens travel tips? We'd love to hear from you. Leave your thoughts in the comments below.