We may earn money or products from the companies mentioned in this post.
Canmore is located just outside of Banff National Park in Alberta, Canada. Much like the town of Banff, Canmore is a cute, family-friendly mountain community surrounded by some of the most stunning nature on the planet. It has paved walking and cycling trails, family-friendly breweries, unique restaurants, and local shops that make it a great place to visit. It's proximity to Banff makes it the perfect base, especially for extended stays or longer trips. And when deciding whether to stay in Canmore vs. Banff, there are a few things to consider.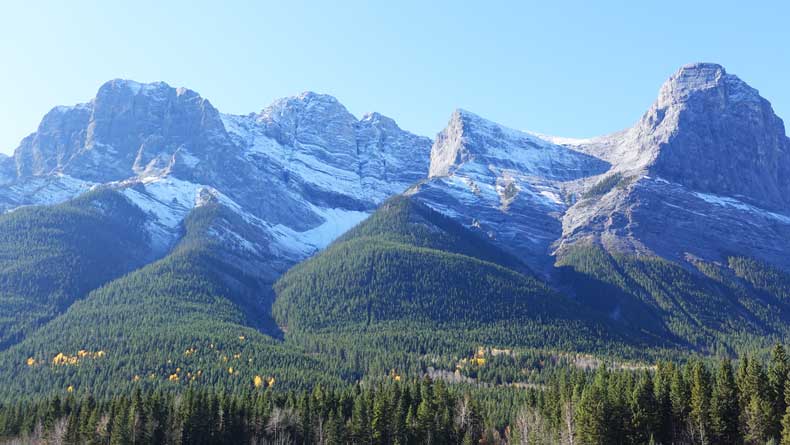 Cost of staying in Canmore vs. Banff
One of the main reasons people stay in Canmore instead of Banff is the cost savings. Banff is not a cheap place to stay, particularly if staying in a popular hotel like the Fairmount Banff Springs. While a great experience, it comes with a hefty price tag. Canmore is a bit more budget-friendly, although it has its fair share of luxurious and expensive hotels and resorts.
The other cost savings when staying in Canmore vs. Banff is that you do not have to pay for a park pass every day unless you go into the park. Admission to Banff National Park is $20 per day for a family pass (as of 2017). Because the towns of Banff and Lake Louise are located inside the park, if you stay at one of the hotels in those towns, you also have to pay for a permit when you enter the park. However, there are some great hiking spots and things to do outside of the park that won't cost you a day permit. You could even spend a day exploring the old mining town of Canmore, which has become a thriving tourist destination itself, although not as popular or busy as the town of Banff.
Location of Canmore versus Banff
Canmore is located in Alberta, Canada. Calgary International Airport in the capital city of Calgrary is the closest major airport to fly into if visiting Canmore or Banff National Park. Known as a national park gateway town, Canmore is approximately a ten minute drive to the entrance to Banff National Park. At the entrance you will have to stop at a drive-up kiosk and pay to enter the park.  After entering the park, you'll have another 15 minute drive before arriving in the town of Banff. So, from Canmore to the town of Banff it will take about 30 minutes by car. As a gateway town, Canmore is a great base for anyone visiting Banff National Park.

COMPARE PRICES ON FLIGHTS TO CALGARY, CANADA ON SKYSCANNER.
Where to stay in Canmore, Alberta
We stayed at the Solara Resort. It is located right off the main road, which makes it easy to find. We had our toddler and my in-laws with us, so we opted for a condo with a full kitchen, living room, and bedroom. Staying in an apartment or even a hotel suite makes life much easier when traveling with a toddler. I also work remotely and often have to work while we are traveling, so the extra room is not only convenient but often necessary if I have conference calls I need to attend.
The Solara Resort in Canmore is a very nice, luxury resort. The condo was well-equipped, nicely furnished, spacious, and comfortable. The resort also has a parking garage which would definitely be a huge benefit during Canada's frigid winters.
Where to eat in Canmore
As the gateway to Banff National Park, Canmore is a popular destination among both international and regional tourists. For this reason, the town boasts a lot of great restaurants specializing in a variety of cuisines. You'll find many of the best restaurants in Canmore clustered together in their quaint downtown area.
One of my favorite places to eat in Canmore is the Grizzly Paw Brewery. Not only do they have great craft beer, the food is great, and the atmosphere is lively and fun.  While there are some cool restaurants in the town, when it comes to dining options, Banff wins out in the Canmore vs. Banff debate, simply because it is the more popular town and therefore has more options. However, Canmore has plenty of great restaurants to keep you well fed and happy, even if planning to stay for several weeks!
What to do in Canmore
Beyond the shops and restaurants downtown, Canmore, like other towns in the Canadian Rockies, is great for outdoor enthusiasts. There are a lot of things to do in Canmore for all ages. You will find various outdoor walking trails and hikes that range in difficulty. For an easy walk you can do with little ones, you can follow the loop around the Bow River, which runs through the town.
More advanced hikers will find a greater challenge along the Mount Yamuska trail. When weighing the pros and cons of Canmore vs. Banff, Banff definitely wins when it comes to the number of incredible hiking trails nearby. But Canmore has no shortage of trails for outdoor adventure lovers. For a look at some of the other great hikes in the area, click here.
Have you been to Canmore, Alberta? Which do you prefer, Canmore or Banff? Let us know in the comments and tell us your favorite restaurant, hotel, activity, or hiking trail.
Like it? Pin it to save for later!!