Canmore is located just outside of Banff National Park in Alberta, Canada. Much like the town of Banff, Canmore is a cute, family-friendly mountain community surrounded by some of the most stunning nature on the planet. It has paved walking and cycling trails, family-friendly breweries, unique restaurants, and local shops that make it a great place to visit.
Even more so, its proximity to Banff makes it the perfect base, especially for extended stays, slow travel, or longer trips. When deciding whether to stay in Canmore vs. Banff, there are a few things to consider.
This Canmore vs. Banff comparison will help you determine which Alberta mountain town is the better place to base yourself for a Banff National Park adventure and highlights the best places to stay, eat, and play!
There are three big differences when you compare Banff and Canmore: price, location, and atmosphere.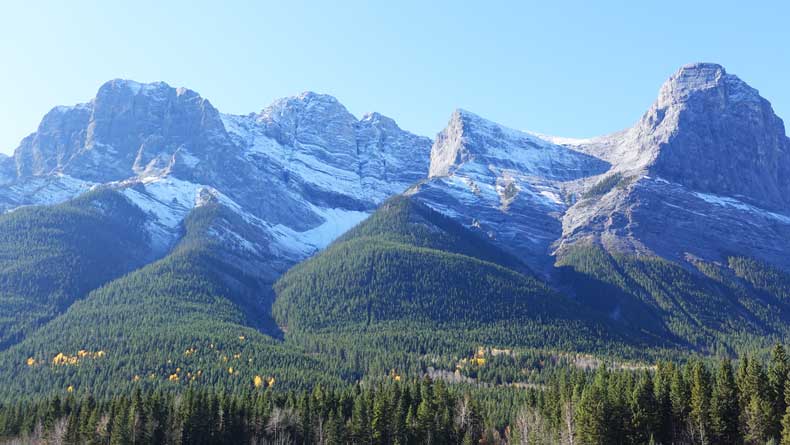 Cost of staying in Canmore vs. Banff
One of the main difference between staying in Canmore vs. Banff is the cost. Banff is not a cheap place to stay, particularly if staying in a popular hotel like the Fairmount Banff Springs.
While a great experience, it comes with a hefty price tag. Canmore is a bit more budget-friendly, although it has its fair share of luxurious and expensive hotels and resorts.
The other cost savings when staying in Canmore vs. Banff is that you do not have to pay for a Banff National Park pass every day unless you go into the park. Admission to Banff National Park is $20 per day for a family pass (as of 2021).
Because the towns of Banff and Lake Louise are located inside the park, if you stay at one of the hotels in those towns, you also have to pay for a permit when you enter the park.
However, if you stay in Canmore there are some great hiking spots and things to do outside of the national park that won't require a park pass.
You could even spend a day exploring the old mining town of Canmore, which has become a thriving tourist destination itself, although not as popular or busy as the town of Banff.
Location of Canmore versus Banff
Both Banff and Canmore are located in Alberta, Canada. Calgary International Airport, in the capital city of Calgary, is the closest major airport to fly into if visiting Canmore or Banff National Park.
It is located about 1.25 hours away from Canmore and 1.5 hours away from Banff. Known as a national park gateway town, Canmore is approximately a ten minute drive to the entrance to Banff National Park while the town of Banff is actually located inside the national park.
As a gateway town, Canmore is a great base for anyone visiting Banff National Park.
How to get from Canmore to Banff
There are several ways to get from Canmore to Banff. Most visitors planning to explore Banff National Park rent a car. It truly is the best way to experience the Canadian Rockies, as it gives you the freedom to take your time and explore at your own pace.
If you are not comfortable driving, there is a public transit bus that will take you from Canmore to Banff or Lake Louise. But keep in mind, there are a lot of things to do in Banff National Park, and the bus system will not take you to all the trailheads.
If driving from Canmore to Banff, you will have to stop at a drive-up kiosk at the entrance to Banff National Park and pay entrance fees.
After entering the park, it is about a 15-minute drive to the town of Banff. So, from Canmore to the town of Banff it will take about 30 minutes by car.
Where to stay in Canmore, Alberta
Accommodations in Canmore are a bit lower in price and often have more space for the price. You can find plenty of hotels, short-term rentals, and mountain lodges in Canmore.
Solara Resort
We stayed at the Solara Resort. It is located right off the main road in Canmore, which makes it easy to find and within walking distance to restaurants. We had our toddler and some extended family with us, so we opted for a condo with a full kitchen, living room, and bedroom.
Staying in an apartment or even a hotel suite makes life much easier when traveling with children.
Additionally, I also work remotely and often have to work while we are traveling, so the extra room is not only convenient but often necessary if I have conference calls I need to attend.
The Solara Resort in Canmore is a very nice, luxury resort. The condo was well-equipped, nicely furnished, spacious, and comfortable. The resort also has a parking garage which would definitely be a huge benefit during Canada's frigid winters.
Canmore Hotel Party Hostel
If you're looking for something a but more budget-friendly, there are other options to fit most budgets.
On the economic end, the Canmore Hotel Party Hostel is a no-frills option that is great for those looking to save money on lodging.
You don't have to be a solo traveler or a person in your 20s to stay in a hostel. Hostels are great at any age and life stage. You can even stay in hostels with kids.
The location of Canmore Hotel Party Hostel is perhaps the best part about staying here. It is located right in the heart of charming downtown Canmore.
Canmore Inn and Suites
If you prefer the hotel life to hostels, Canmore Inn and Suites is a good mid-range lodging option in Canmore. Kids will especially love the indoor pool with an epic water slide!
The hotel is on Bow Valley Trail, just a short 5-minute walk to downtown Canmore.
Also read: Where to stay in Banff: The best hotels and lodging options inside the national park
Atmosphere in Canmore
Canmore has a relaxed, laid back vibe. Where Banff feels a bit more swanky, Canmore has a more relaxed family-friendly atmosphere. It is also significantly less crowded than Banff, particularly in the high season. But it still has all the amenities you would need or want.
As a former mining community, Canmore has a rustic and cozy feel.
Situated in the Bow Valley, Canmore offers majestic mountain views similar to Banff. And as the gateway town to Banff National Park, Canmore is a popular destination among both international and regional tourists.
For this reason, the town boasts a lot of great restaurants specializing in a variety of cuisines and plenty of things to do to keep guests entertained.
Where to eat in Canmore
You'll find many of the best restaurants in Canmore clustered together in their quaint downtown area.
One of our favorite places to eat in Canmore is the Grizzly Paw Brewery. Not only do they have great craft beer, but the food is great, and the atmosphere is lively and fun.
Red Rock Pizza and Tavern 1883 are two other great laid back options for casual dining and great food. For something a bit more fancy, Trough is the best restaurant in Canmore for fine dining.
While there are some cool restaurants in Canmore, when it comes to dining options, Banff definitely wins out in the Canmore vs. Banff debate. Simply because it is the more popular tourist town, it has more options to cater to your individual tastes.
However, Canmore has plenty of great restaurants to keep you well fed and happy, even if planning to stay for several weeks!
Also read: Where to eat in Banff – The Best restaurants and dining options in the national park
What to do in Canmore
Beyond the shops and restaurants downtown, Canmore, like other towns in the Canadian Rockies, is great for outdoor enthusiasts. There are a lot of things to do in Canmore for all ages.
Hiking and walking trails
You will find various outdoor walking trails and hikes that range in difficulty. For an easy walk you can do with little ones, you can follow the loop around the Bow River, which runs through the town.
More advanced hikers will find a greater challenge along the Mount Yamuska trail.
When weighing the pros and cons of Canmore vs. Banff, Banff definitely wins when it comes to the number of incredible hiking trails and outdoor activities in the national park.
But there is no shortage of great hikes in Canmore for outdoor adventure lovers.
If you aren't comfortable hiking on your own, you can book a hiking tour with a local guide who can show you around some of the best canyons in the area and even take you to see indigenous pictographs hidden in cave walls.
Water Activities
In summertime, water activities are also popular around Canmore. With several lakes and rivers in the area, canoeing, kayaking, and paddleboarding are all great choices.
For something even more adventurous, book a white-water rafting tour on the Bow River.
Explore the mining town
While many people go to the Canadian Rockies for nature activities, you should spend some time exploring the town of Canmore itself.
The town is small, with less than 15,000 residents. But it is an artistic town with shops, museums, and numerous events and festivals throughout the years.
For a better appreciation of the town join a historical walking tour that will help you learn about the history behind the beautiful scenery.
Conclusion: Canmore vs. Banff? Which one should you stay in?
While both Canmore and Banff are similar communities, they are different in many ways. If you are short on time and don't mind spending a little extra, Banff may work better for you.
However, if you are looking for fewer crowds and don't mind driving a bit more to get to the popular sights in Banff National Park, Canmore is the best option.
But having stayed in both towns, you really can't go wrong. Wherever you stay, you will likely leave having fallen in love with the Canadian Rockies.
Have you been to Canmore, Alberta? Which do you prefer, Canmore or Banff? Let us know in the comments and tell us your favorite restaurant, hotel, activity, or hiking trail.
Like it? Pin this Canmore vs. Banff comparison to save for later!!
This Banff or Canmore comparison post was first published in September 2017 and was updated in June 2021 for accuracy and current information.