Hotel Silencio del Campo is in the La Fortuna area of Costa Rica near the Arenal Volcano. It's centrally located, so there is a lot to do within a 30-45 minute drive. When looking for a hotel near the Arenal Volcano, Hotel Silencio del Campo stood out because it was one of the most affordable La Fortuna hotels with hot springs on the property! We also loved that it is an eco-friendly hotel with it's own farm.
Hotel Silencio del Campo is probably one of the best family-friendly hotels near La Fortuna, Costa Rica.
Rooms/Accommodations at Hotel Silencio del Campo

Each room at Hotel Silencio del Campo is in its own private bungalow or cabin. This is, of course, perfect for families! You don't have to worry about the noise level with your kids, so feel free to let them laugh and squeal and make as much noise as they want. It won't bother anyone. This hotel also offers pack n plays with sheets for families traveling with babies or toddlers. The decor in the rooms is a little dated, but the rooms were very clean and well maintained. The bathroom also looked like it had recently been remodeled.
The ONLY thing that might strike you as different about Hotel Silencio del Campo is that they ask you not to flush the toilet paper and to toss it in the trash can instead. It honestly wasn't as gross as I thought it would be. I guess it's the trade off for staying on a beautiful nature reserve, but it was definitely weird according to American standards.
Hotel Silencio del Campo: One of the most affordable hotels near La Fortuna with hot springs!

The grounds of Hotel Silencio del Campo are absolutely beautiful. In fact, the grounds are the most charming aspect of the hotel! Banana trees, flowers, and lush greenery are everywhere. It is exactly what you imagine when you think of Costa Rica. There are several very pretty hot springs of various temperatures, as well as a cold (like, really cold) spring and a swimming pool. The swimming pool left a lot to be desired, but the hot springs were the highlight of the property.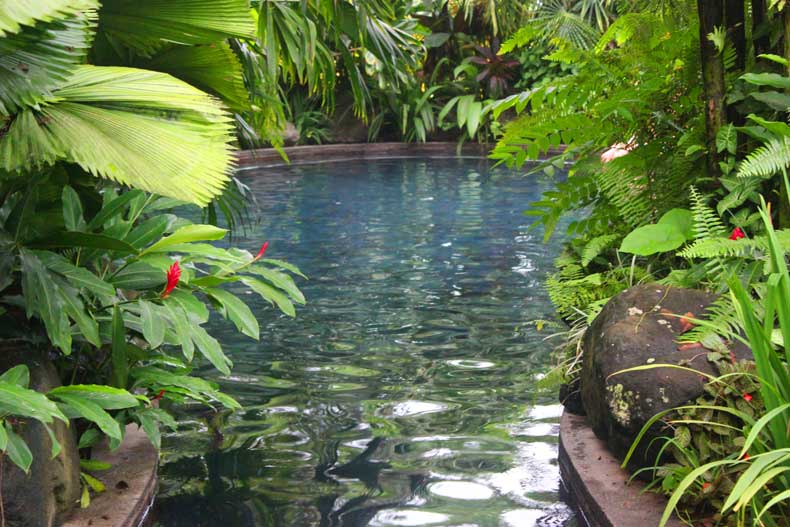 One of the hot springs was too hot to take our baby into but the other two were fine for children. There is also a farm on the property where kids can go help milk cows or pick fresh eggs from the chickens. It is truly a great learning experience for children! We will certainly return with our daughter when she is older.
Location: La Fortuna and Arenal Volcano

Hotel Silencio del Campo is located just outside of La Fortuna near the Arenal Volcano. When it isn't cloudy, you have a beautiful view of the volcano from the property. It's approximately a 2 1/2 drive from the Liberia airport. That may sound quite long but there are a couple of great places, like a hidden waterfall and an awesome all-organic restaurant, where you can stop along the way to break up the drive from Liberia. Also, I 100% recommend staying inland in Costa Rica. You'll be closer to attractions and the geography is 10 times more beautiful.
Hotel Silencio del Campo Restaurant
Hotel Silencio del Campo is not an all-inclusive, but they do have an open-air restaurant on property and breakfast was included with our stay. We also ate dinner there one night, and I found both breakfast and dinner to be wonderful. I would recommend Gallo Pinto at breakfast. It is the traditional breakfast/lunch in Costa Rica, consisting of beans and rice, usually served alongside meat and plantains.
Dinner prices were reasonable and the staff was super friendly. The manager of the restaurant even came out and offered to hold our baby and entertain her while we ate.
If you're looking at La Fortuna hotels, you can't go wrong with Hotel Silencio del Campo. The affordability, eco-friendly and family-friendly aspects, and the bonus hot springs and farm make this hotel a great option when traveling in Costa Rica.
Looking for more information on things to do and places to stay in Costa Rica? Check out our guide to Costa Rica here.
Like it? Pin it!
Have a question or comment about Hotel Silencio del Campo or La Fortuna hotels? We'd love to hear from you. Leave your thoughts in the comments below.