The Damnoen Saduak Floating Market is one of the most popular day trips from Bangkok, Thailand. Visitors are drawn to this intriguing day market – eager to witness the timeless charm of local vendors selling their fresh fruits, vegetables, and handicrafts from the boughs of traditional wooden boats adorned with colorful umbrellas.
This travel guide to visiting the Damnoen Saduak Floating Market includes everything you need to know about this Bangkok floating market day trip. We detail the history, how to get there, and what to expect when visiting the Damnoen Saduak Floating Market near Bangkok.
About the Damnoen Saduak Floating Market
The Damnoen Saduak Floating Market is a vibrant and iconic attraction located 100 kilometers (about an hour and a half) southwest of Bangkok.
Its history is deeply rooted in the country's ancient trading traditions. Floating markets have been an integral part of Thai life for centuries, dating back to the time when water transportation was the primary means of travel and trade.
The waterways served as the lifeblood of communities, and floating markets emerged as bustling hubs where locals could exchange goods and produce.
While there are numerous floating markets you can visit in Thailand. A Damnoen Saduak Floating Market Bangkok day trip is one of the most popular.
It stands as the largest, most famous, and best preserved of the floating markets in Thailand.
How to Get to Damnoen Saduak Floating Market
There are a couple of ways to get to Damnoen Saduak Floating Market from Bangkok.
The most popular way to get to the floating market from Bangkok is to join a guided tour. Many tour companies in Bangkok offer day trips to Damnoen Saduak, which often include transportation, a visit to the market, and sometimes additional stops at other attractions, like the Maeklong Railway Market.
This is the tour we personally used for our floating market day trip, and had a wonderful time! Your guide will pick you up from your hotel in Bangkok, take you to a rural train station where you will take the train to the railway market.
There, you have time to explore and watch the train depart before meeting back up with your guide to head to the Damnoen Saduak Floating Market, where you'll have time for lunch and shopping before taking a boat ride through the canal.
Book a guided tour to the floating market and the railway market HERE
If you prefer to visit the floating market on your own, you can. However, it is a bit more complicated.
While you can take a train from Bangkok to Chiang Mai, or Surat Thani in southern Thailand near Khao Sok National Park and Krabi, there are no trains to the floating market. You'll either need to rent a car and drive, which I don't recommend in Bangkok, or hire a private car or taxi.
Additionally, you can take a public bus to Damnoen, but it doesn't drop you off at the market, so you'll have to then negotiate a taxi ride from the bus terminal, making it a less than ideal option.
A guided tour is actually a really cost effective option while still giving you the space and time for individual exploration of the market. The guide also pre-negotiates the price of your boat ride, so there is no need to haggle with the boat operators to take you around.
What to Do on a Bangkok Floating Market Day Trip
Whether you join a tour or visit on your own, here are the best things to do once you arrive at the Damnoen Saduak Floating Market.
Take a Boat Ride
Taking a boat ride at the Damnoen Saduak Floating Market is obviously the most enchanting experience you will have during your day trip from Bangkok.
You'll board a long-tailed boat and sit beneath colorful umbrellas that offer shade during your 15 minute ride through the canals.
As you drift along the labyrinth of canals, navigating between boats of other visitors purchasing goods and haggling the price in baht.
Enjoy the view from the water as you cruise by the wooden boats laden with fresh fruits (try rambutan), and local crafts.
Friendly vendors donning straw hats greet you with warm smiles as they invite you to browse their wares. The lively chatter and haggling between vendors and customers add to the market's bustling atmosphere.
After navigating through boats of vendors on your market tour, your boat will turn a corner allowing you a glimpse of life surrounding the floating marketplace with homes built on stilts, offering a unique perspective that truly captures the essence of Thai heritage.
If you choose a self-guided adventure, you can opt for a longer boat ride, which lasts about an hour.
Enjoy a Thai Lunch at the Food Court
If you take a guided tour to Damnoen Saduak Floating Market, you'll arrive there around the lunch hour. So, indulge in a Thai lunch at the food court of the Damnoen Saduak Floating Market to satisfy your hunger and your taste buds.
Amidst the picturesque setting of boats gently gliding on the water, you'll find a variety of food stalls offering an exquisite selection of Thai delicacies.
The air is infused with the aromatic scents of freshly prepared dishes, from tangy Tom Yum soup to savory Pad Thai and flavorful green curry. Locals and visitors alike gather around communal tables, fostering a sense of camaraderie as they savor their meals together.
Be sure to try some coconut ice cream, as well, which is a sweet treat on a hot day.
Go Shopping for Souvenirs and Handicrafts
Just like the markets in Chiang Mai, Bangkok, or Krabi, you'll find a variety of souvenirs, handicrafts, and local products at the floating market that can make for interesting gifts or mementos of your trip.
Vendors on the boats and in the surrounding walkable market sell items such as clothing, handbags, jewelry, and trinkets that encapsulate your trip to this intriguing part of Thailand.
Be sure to bring some Thai baht, Thailand's currency, because many of the vendors do not accept credit cards.
Tips for Visiting Damnoen Saduak Floating Market
Whether you're traveling alone, as a couple, or visiting Thailand with kids, the Damnoen Saduak Floating Market is a fun place to visit. Here are a few tips to ensure you have a great time on your day trip to Damnoen Saduak Floating Market from Bangkok.
Hire a Guide
Booking a guided tour is truly the best way to experience Damnoen Saduak Floating Market on a Bangkok day trip. We don't do a lot of guided tours, but in Thailand it is a great way to see rural areas without having the stress of driving.
Your tour guide can also provide background information on the market, the region, and Thai culture to deepen your appreciation of the experience. Although your guide will take care of the logistics, you'll still have the freedom to explore on your own, peruse the market, shop, eat, and take lots of beautiful photos.
Embrace the Chaos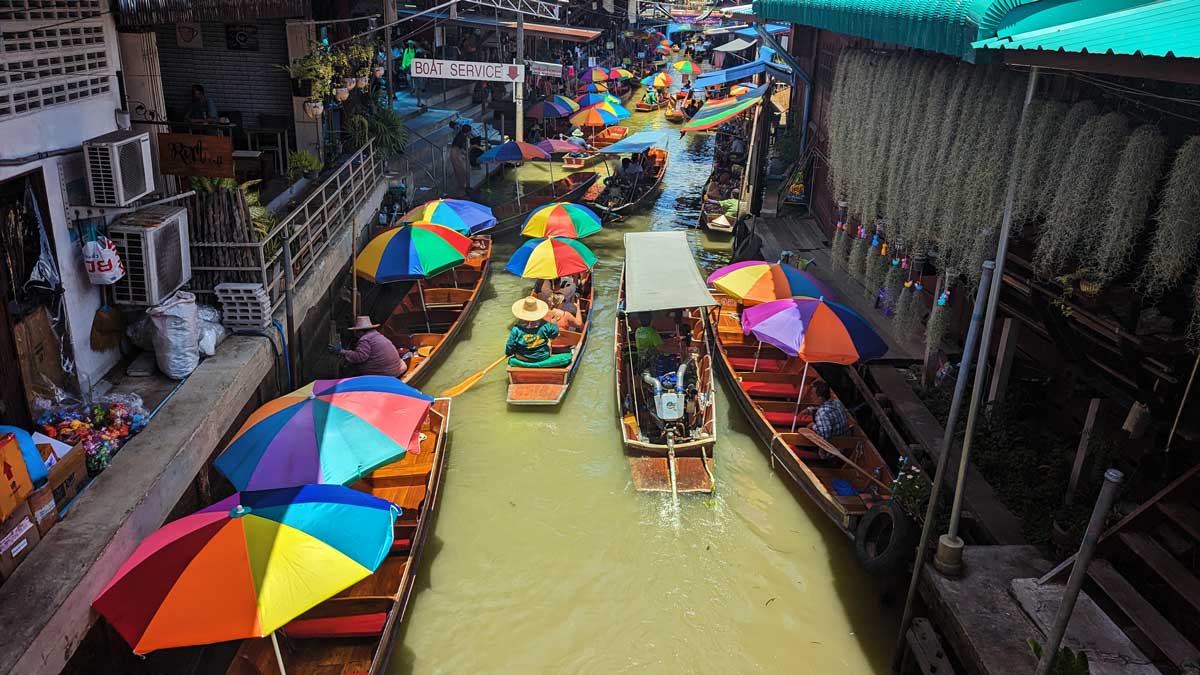 Due to its popularity, the Damnoen Saduak Floating Market can get quite crowded, especially during peak tourism seasons.
Although it is the largest floating market in Thailand, the canals can become crowded with boats all trying to navigate through the narrow passageways. Some visitors find that the large number of tourists takes away from the authenticity of the experience and creates a somewhat chaotic scene.
To get the most out of your time at this popular floating market near Bangkok, embrace the chaos as part of the experience. Boats will stop along the canal and haggle with vendors, which can cause traffic jams at times.
But just like the traffic on the roads in Bangkok, the busyness of the canals are part of the uniqueness of visiting a floating market.
Get there Early
To experience the market at its liveliest and most authentic state, and avoid the crowds, consider arriving early in the morning. Of course, this is only possible if you do a self-guided tour to the market rather than taking a guided day trip.
The Damnoen Saduak Floating Market shuts down around 1pm, so if you are planning a visit to this floating market near Bangkok, you will need to leave the city in the morning to see the market in action.
Walk around the Market First
Before you board a longtail boat and explore the canals, take a moment to get your bearings. Walk around the market, take in the sights and smells as the street food vendors cook up their delicacies.
Navigate toward the canal and capture some photos of the canal from land, and cross the footbridge to the other side. From the footbridge you'll get a really unique bird's eye view of the floating market in action. This is a great way to get a feel for the market before your boat ride.
FAQs about the Damnoen Saduak Floating Market Day Trip from Bangkok
If you're a planner, like me, you like to research and know everything you possibly can about a place before you visit. We had a lot of questions when planning our 2 weeks in Thailand itinerary.
Here are a few other questions you may have when planning your day trip to Damnoen Saduak Floating Market.
What is the best time to visit Damnoen Saduak Floating Market?
If you can get there before 9 a.m., you'll see the market before it becomes extremely busy with different tour groups. However, we visited at 11 a.m., with a guided tour group and did not feel the market was too busy or that the other visitors hindered the experience.
Markets in Thailand are supposed to be busy. So, if you go in expecting crowds, the Damnoen Saduak Floating Market will not disappoint.
Why is Damnoen Saduak Floating Market famous?
Damnoen is the most popular and oldest floating market in Thailand, inherently making it the most famous. Its proximity to Bangkok as well as the Maeklong Railway Market makes it one of the most booked day trips from Bangkok.
Is the Damnoen Saduak Floating Market worth the trip from Bangkok?
The Damnoen Saduak Floating Market will likely be one of the most memorable experiences on your Thailand family vacation.
It is a popular attraction, but if you are interested in experiencing a traditional Thai floating market and don't mind some tourist crowds, then Damnoen Saduak Floating Market is worth adding to your Bangkok itinerary.
However, if you prefer a less chaotic experience with fewer tourists, you might want to explore other floating markets, like Amphawa Floating Market, south of Damnoen Saduak, or one in different areas of Thailand.
Like it? Pin this Bangkok floating market day trip guide to save it for later!
Do you have questions or a comment about taking a Damnoen Saduak Floating Market day trip from Bangkok? We'd love to hear from you! Leave your thoughts in the comments below.
Did you know…
When you make a purchase or book hotels, tours, or other travel services, through our links, we receive a small commission, at no extra cost to you. We only EVER recommend service providers, websites, or products we personally use when booking our own travels. Your support enables us to keep producing helpful travel content. Thank you!