We may earn money or products from the companies mentioned in this post.
Lisbon, Portugal is a fun and lively place to visit. There is plenty to keep you entertained for in Lisbon with kids for several days or even a week. But the city also makes for a great place to base yourself if you want to explore more of Portugal. There are several easy day trips from Lisbon that are less than 2-3 hours from the city center.
Whether you are wanting to spend a day at the beach, tour historic palaces, take in the beauty atop scenic cliffs, or visit a small, relaxing village, there are several incredible places that can easily be reached as a day tour from Lisbon. Here are the best Lisbon day trips and how to get there.
FIND AND BOOK GUIDED DAY TRIPS FROM LISBON HERE.
Incredible day trips from Lisbon, Portugal
Whether you have just a few days to explore Portugal or several weeks, Lisbon is conveniently located within a short drive or train ride to several great destinations. While some of these places are accessible by train, others are great additions to a Portugal road trip. You could even combine Portugal, Spain and Morocco into a longer trip.
Sintra
Melissa – Parenthood and Passports
You can't write about day trips from Lisbon without mentioning Sintra. Sintra is by far the most popular excursion from Lisbon. From the colorful Pena Palace, to dreamy Quinta de Regaleira, and the historic Moorish castle ruins, the draw to Sintra is an obvious one. However, the charming mountain town is over-crowded to a serious fault. In fact, constantly fighting the crowds can make a visit to Sintra almost unenjoyable.
It is also one of the most expensive places to visit around Lisbon simply because it is a huge tourist destination. Still, if you want to take in the beauty of this stunning tourist town, it is only 35 minutes away by train from Lisbon's Rossio Station.
While Sintra is worth visiting, be prepared for the crowds. Here are a few tips for a Lisbon to Sintra day trip that will make the experience more enjoyable.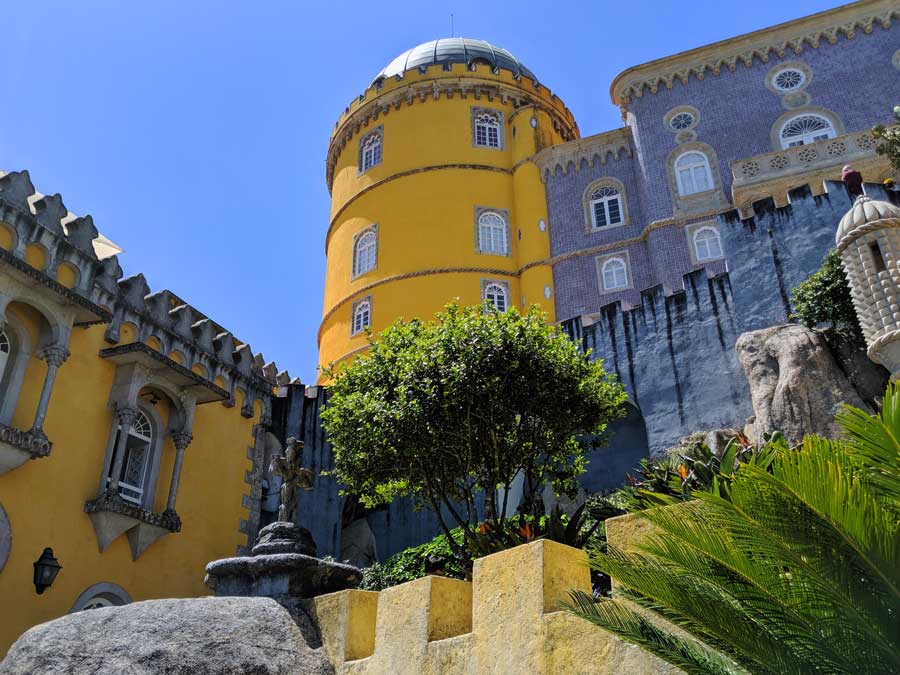 Costa Vicentina
Campbell & Alya – Stingy Nomads
The spectacular Costa Vicentina is one of the many beautiful places around Lisbon that can be visited as a day trip from the city. The coastline 150km (93 miles) south of Lisbon is a part of the Southwest Alentejo and Vicentine Coast Natural Park. The best way to visit Costa Vicentina is to rent a car. You'll be able to move around and visit several attractions in the area within an hour and a half drive.
It's also possible to get there by public transport from Lisbon. There are several daily buses from Sete Rios bus station to the towns along the coast (Porto Covo, Zambujeira do Mar, Odemira, etc.). You'll need a full day to explore the area.
The Costa Vicentina offers breathtaking scenery; rugged cliffs, dramatic drops, sandy beaches, charming fishermen's villages and many possibilities for outdoor activities like hiking, surfing or kayaking.
There is a wide network of hiking trails along the coast called the Rota Vicentina that includes many day hikes and two multi-day treks. Many trails follow the coastline that take trekkers past unspoiled beaches, stunning look-outs, flower fields, and charming villages. Visitors can combine hiking with chilling on the beach and enjoying delicious local food. The area is famous for fresh fish and seafood dishes.
Porto Covo, a small town 160km (99 miles) south of Lisbon, is the best place to start the trip. The town is beautiful with cobbled streets, colorful houses, great restaurants, a couple of hidden beaches nearby, and a stunning walking trail along the coast. One can spend all day exploring Porto Covo and its surroundings.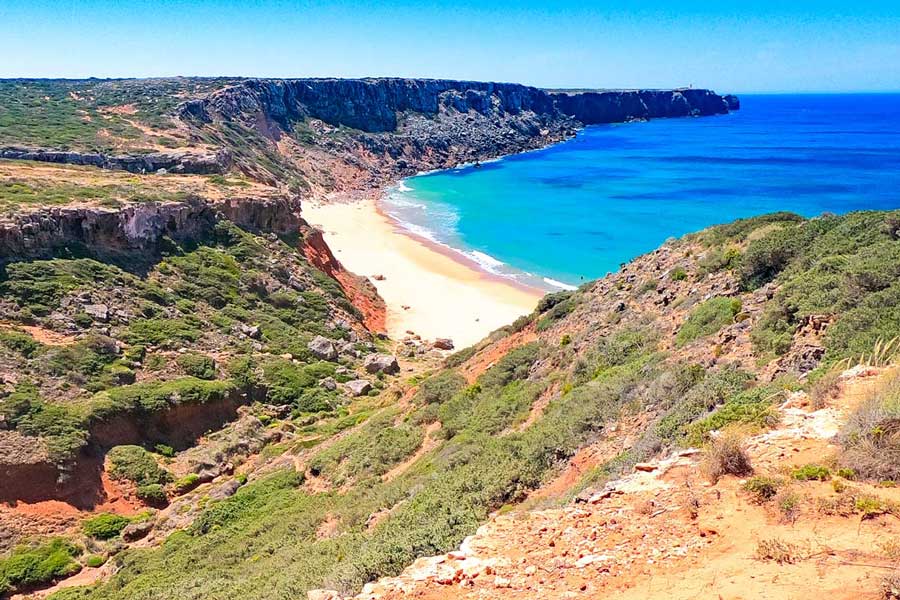 Porto
Samantha – Sam Sees the World
If you are looking for mesmerizing city views, a unique history, and pastel-colored houses, then Porto, Portugal is the place for you. As the second-largest city in the country, there are a ton of things to do in Porto that will absolutely enchant you. The best thing about Porto is that it is located only a short distance from Lisbon and is reachable quickly and easily by train! There are over 30 trains running from Lisbon to Porto each day and the journey takes only 2 and a half to 3 hours.
Upon arrival you will be overwhelmed by the beauty and excitement that Porto holds. One highlight you will need to check out is the Luis I Bridge that crosses the Douro River, which is open for people to walk across and get stunning views of the city. Beside the bridge is Ribeira Square, which holds restaurants and street vendors and has been a UNESCO World Heritage Site since 1996.
There is much more to see and do in Porto, and with one day you can see quite a bit, but 2 days in Porto will give you even more time to admire the city.
Óbidos
Wendy Werneth – The Nomadic Vegan
Óbidos is a beautiful whitewashed town surrounded by medieval walls and guarded over by an imposing castle. Its stunning architectural heritage is largely due patronage of the queens of Portugal, who had a special connection with the town. For several hundred years, it was a tradition for the king to give Óbidos to his new queen as a wedding present.
Most visitors just come for a couple of hours to stroll along the Rua Direita (the main street), shop for souvenirs, and drink a shot of ginjinha — the local cherry liqueur. But there are actually more things to do in Óbidos than people realize, so it's best to allow a full day if you can. This will give you time to explore the town's many bookstores, some of which are hidden in unusual locations, such as a former church.
To get to Óbidos from Lisbon, you could either drive or take the bus. There's also a train, but it's not recommended, especially for a day trip, because it takes more than twice as long as the bus and is pretty infrequent. If you drive, park in the parking lot outside the town walls. Don't make the mistake of trying to drive through the main gate, or else you'll get stuck!
Berlengas Islands
Maria and Rui – Two Find a Way
There are some truly amazing Lisbon beaches, but if you're searching for a unique refuge unlike anything you'll see in continental Portugal, add a trip to the Berlengas islands to your Portugal bucket list. The Berlengas Islands make up a small archipelago, located off the coast of Peniche, a beautiful fishing town in Portugal's central region.
For such a unique destination, it's actually surprising how easy it is to access the archipelago's main island, Berlenga Grande. It's easily doable as a day trip from Lisbon, especially if you have access to a car. There are also public transportation options and private tours that will take you to Peniche in a bit over an hour. From there you need to get a boat to the main island. We recommend you reserve the boat tickets online, as there is a limit to how many people can visit the island per day. The archipelago has been a protected area since the 15th century.
Once you get to the main island there are plenty of things to do during your visit. There are easy hike trails that show you around the island, a dreamy white sand beach, and a historical fortress that seems to be out of a movie. One of our favorite activities was taking a boat tour around the island, where we were shown some secluded beaches and magical caves.
Monasteries of Alcobaça and Batalha
Cath – Passports and Adventures
An easy day trip to take from Lisbon is to visit the monasteries of Alcobaça and Batalha, which make up two of the three UNESCO World Heritage Sites within easy reach of Lisbon (the other being the convent at Tomar). In fact, all three could be visited in one day. You will need your own transport as public transport is not very efficient to these parts of Portugal.
Batalha is the furthest away from Lisbon and will take approximately one hour and 30 minutes to reach by car from the Portuguese capital. Alcobaça lies 30 minutes south of Batalha so can be visited as you start returning south towards Lisbon, while Tomar lies 30 minutes east of Batalha.
Both monasteries are stunning buildings. It is free to enter the main nave of the church attached to the monastery but you simply must pay the extra fee to go behind-the-scenes and visit the cloisters areas, as that is where you'll find even more stunning architecture. You can discover how the monks lived by visiting their dormitories and kitchens with huge ovens. The inner courtyards are a haven of tranquility, and both monasteries are simply beautiful.
Tickets for each cost just €6 and are worth it in my opinion. If you want to add the convent of Tomar, a ticket (valid for 7-days) to visit all three sites once costs just €15. Visiting all three can be done in one day (with a car) but you could make your visits part of a longer road trip in Central Portugal.
BOOK A PRIVATE TOUR TO ALL THREE MONASTERIES HERE.
You will need at least an hour or two at each site to fully appreciate them and allow time for a pit-stop at one of the cafes outside either monastery for a coffee and pastel de nata. But I highly recommend you try and visit these UNESCO sites if you are in Lisbon and planning some day trips from the city.
Cascais
Lyubomira – Bulgarian on the Go
One of the most popular day trips from Lisbon is certainly the lovely coastal town of Cascais. May it be for a surf, a day at the beach, or just a walk around the Portuguese riviera, Cascais is always a great idea.
Cascais is located only about a 30-minute drive from Lisbon, and about 40 minutes by train. A return ticket would cost you no more than 5 euros and trains run regularly on a daily basis. It would be an even more unforgettable experience to rent a scooter and drive along the seaside road, which reveals some absolutely mesmerizing views.
Some of the highlights include the picturesque Praia da Rainha beach, the promenade, the Mercado da Vila market, and the Castro Guimaraes Museum. Once you're in Cascais, do not miss to go Boca do Inferno – a chasm, located in the seaside cliffs. The view is absolutely spectacular and totally worth the 2km (1 1/2 mile) detour out of Cascais. Do not forget to stop for a lunch break at one of the many restaurants in the city center and try some of the local food. After all, the town is very famous for its fishing port.
Cascais is quite compact and can easily be explored within a day, which is also the recommended amount of time to spend there.
Coimbra
Stephanie – History Fangirl
Coimbra is a university city and UNESCO World Heritage Site just a few hours away from Lisbon.
If you're traveling Lisbon on a budget, you can keep your budget low by opting for the bus, which takes less than three hours and leaves multiple times per day. However, if you want to combine a stop in Coimbra with a few other Portugal UNESCO sites, you can easily rent a car and drive. Just make sure to pay for parking so you don't end up with a ticket!
When you're in Coimbra, you'll want to explore the historic parts of the university that comprise the World Heritage Site. The university has been operating for over seven centuries and the historic buildings that make up its core span hundreds of years. According to UNESCO's inscription of the site: Coimbra offers an outstanding example of an integrated university city with a specific urban typology as well as its own ceremonial and cultural traditions that have been kept alive through the ages.
The most impressive is the Joanine Library, which dates back to the eighteenth century. Guided tours explain the history of the library and its holdings. You'll also want to spend some time in the Royal Palace of Alcáçova and St. Michael's Chapel.
Cabo da Roca
Elisa – World in Paris
If you are looking to escape the hustle and bustle of the capital for one day, we recommend visiting beautiful Cabo da Roca for some fresh air and awesome views. Cabo da Roca is the name of the westernmost point of Portugal and continental Europe. If you look at a map of Portugal, Cabo da Roca corresponds to the "nose" of the country.
Cabo da Roca is located 42 km (26 miles) west of Lisbon so it can be done on a half-day trip from the capital. However, most people like to combine Cabo da Roca with Sintra or Cascais for a full-day trip from Lisbon.
At Cabo da Roca visitors will find an information center and a monument with the inscription "westernmost point of the European continent" and of course, the awesome views of the Atlantic Ocean! The site seems to be always windy so mind your step, and avoid caps or other accessories that can easily fly away.
How to get to Cabo da Roca from Lisbon? The best (and cheapest) way to reach Cabo da Roca is by a combination of train + bus. Trains leave Lisbon to Sintra or Cascais and from there public buses connect these two sites to Cabo da Roca. The journey lasts 2 hours (one way), that's why people are happy to visit Sintra or Cascais in between.
BOOK A FULL-DAY TOUR TO SINTRA, CASCAIS AND CABO DA ROCA HERE.
Mafra
Stuart Forster – Go Eat Do
Mafra is a small town approximately 30 kilometers (19 miles) northeast of Lisbon. Trains running from the Portuguese capital's Santa Apolonia railway station, in the direction of Caldas da Rainha, take approximately 53 minutes to reach Mafra. Driving there is by far the easiest way of traveling from Lisbon. The journey along the A8, then A21, takes around 40 minutes.
There's a parking lot in front of the vast palace and convent building that is one of the reasons why Mafra is listed among UNESCO's World Heritage Sites.
The Baroque palace and convent date from the reign of King João V in the early 18th century. Plan at least a couple of hours to explore the building's interiors, which includes an impressive library containing around 36,000 leather-bound books. If you appreciate historic details and architecture, set aside the best part of a day for your visit.
Plan time for strolling in the adjacent garden, a beautifully laid-out space with shaded footpaths and fountains. Additionally, a park designed as a royal hunting ground, stands on the edge of Mafra.
The town has a smattering of good cafés and restaurants serving traditional Portuguese cakes and cuisine, so you may enjoy sauntering along its streets to seek out something to eat before returning to Lisbon.
Costa da Caparica
Stephanie – Poppin' Smoke
One of the best day trips from Lisbon has the distinction of being the longest continuous stretch of beach in Europe. Costa da Caparica is at the northern end of 24 kilometers (15 miles) of uninterrupted shoreline along the Setubal Peninsula. It's primarily a surfing town, and you will see surfers here year-round. During the summer months, Costa da Caparica is a very popular escape from the heat of Lisbon.
The vibe in Costa da Caparica is very laid-back, and some of the best restaurants are informal beachfront bars where you can get cheap, delicious food with a priceless view of the ocean. There are no major sites to see here, as Caparica is a "local" destination that is more popular with Portuguese tourists than foreigner travelers. Go to Caparica to enjoy the beach, the seafood, and maybe take a surfing lesson from one of the many schools.
Getting to Costa da Caparica from Lisbon is easy. If you have a car, you can drive there from central Lisbon in about 20 minutes. You can also take the 161 bus directly to Costa da Caparica or the ferry from Cais do Sodre across the river to Cacilhas, followed by the 135 bus.
Comporta
Inma – A World to Travel
When the Lisbon bustle has wicked you up, rent a car and head south. Specifically, towards the Setubal and Comporta area. If the almost virgin- and-deserted beaches attract you and the estuaries make you curious, it is a perfect destination to reconnect with nature as there are hardly any tourists and the municipality has just over a thousand inhabitants.
In addition to beaches like Comporta, you can discover places as exciting – and different – as the Tróia peninsula, the Sado estuary, and the Cais palafítico da Carrasqueira, a network of boardwalks where the fishing boats of the area are moored. This tangle of walkways goes into the estuary and will delight photography enthusiasts (it's perfect for long exposures, don't forget the tripod!) when the tide is high. From there, watching the sunset accompanied by the most absolute calm and the birds that come to have a snack nearby is, simply, a pleasure of which there are few left.
On the way back, you can stop for a coffee or beer in the small town approximately one kilometer away. It will seem impossible to you how cheap everything is.
Enjoy the area, after visiting it for the first time during an unbelievable cool Alentejo road trip three years ago, it has become one of my favorites in Portugal!
Baleal
Clemens and Anne – Travellers Archive
It might be hard to leave Lisbon and go on a day trip, but it's worth it. Just a nice 2-hour-drive away, you will end up in a sleepy town right at the Atlantic Ocean: Baleal. We started in the early morning, crossed the picturesque bridge in Lisbon and headed up North. Mostly, the roads in Portugal are quite empty. Also, they are easy to drive and you won't have any problems missing the exit.
The little town Baleal is closely located to the much more famous beach town, Peniche. Most tourists will stay in Peniche and surf here. We, however, prefer Baleal way more. It's calm, it's beautiful, and it has some of the best beach bars you can imagine.
Start your day by renting out some surfboards at Bruno's beach bar. Hit the waves until you're ready for a much-needed drink. Bruno's is an awesome place for coffee, cake and, well, a refreshing glass of beer.
Once the sun sets, you might want to walk down the beach and check out the "Taberna do Ganhao". This cute little restaurant does not only serve the best octopus salad, but it has also been the very first restaurant here. Enjoy an amazing dinner, while you watch the ocean and refuel before you head back to Lisbon.
If you are not keen to drive to Baleal, you can also take a bus from Lisbon to Peniche, which takes around 1.5 hours and costs 9€ ($10 USD). From Peniche you then need to get a taxi to Baleal.
Nazaré
Catherine D'Cruz – We Go With Kids
Nazaré is a popular seaside town on Portugal's Silver Coast. Nazaré is picturesque and known for the giant breaking waves at Praia do Norte (the North Beach) caused by Europe's largest underwater canyon, the Nazaré Canyon. The best months to view these waves are November through January, and we were lucky to visit during prime season.
Many surfing records have been set in Nazaré. Just a week before our trip to Portugal, French surfer, Justine Dupont was reported to have surfed the tallest wave ever by a female, breaking the Brazilian surfer Maya Gabeira's 2018 records.
During our visit, we were absolutely mesmerized by the gigantic waves and saw both Justine Dupont and Maya Gabeira surfing. There were only about 100 spectators watching, including Garrett McNamara, who held the World Record for surfing the largest wave back in 2011. After he finished his promotional photoshoot, he signed autographs, and we were able to meet him and his family.
In addition to watching the waves, we also visited the Nazaré Lighthouse and checked out the memorabilia and 360 degree view.
Nazaré is located between Lisbon and Porto. We hired a driver for the day and were able to stop in Obidos on the way home as well, but it is also possible to travel to Nazaré via bus or train. Make sure to check the surf report when planning a visit.
Day trips from Lisbon mapped out!
Day trips can be a great way to see a regional area without having to change hotels or worry about hauling your luggage with you to each new town. However, day trips can also be exhausting if you try to travel too far.
All of these day trips from Lisbon are within a 3-hour drive or train ride, with many of them being an hour or less from Lisbon. To give you an idea of how far each place is, and where they are in relation to each other, we've mapped out these 15 day trip destinations in Portugal below.
Regardless of which one of these day trip from Lisbon you take, your trip to Lisbon, Portugal is sure to be greatly enhanced by any of these wonderful places.
Like it? Pin this list of day trips from Lisbon to save for later!
Have a question or comment about any of these day trips from Lisbon? Let us know your thoughts in the comments below.