Fall is a great time to get out and enjoy the cooler weather with your kids. And if visiting Maryland in fall, there are plenty of activities to keep them entertained. That's why we've compiled this list of things to do in Maryland for kids that are perfect and timely for those eager to experience fall in the Old Line State.
This guide to fall in Maryland includes 12 fun activities and festivals in the state that are great for families, plus where to find the best fall foliage in Maryland to make your family vacation to the tiny state massively memorable.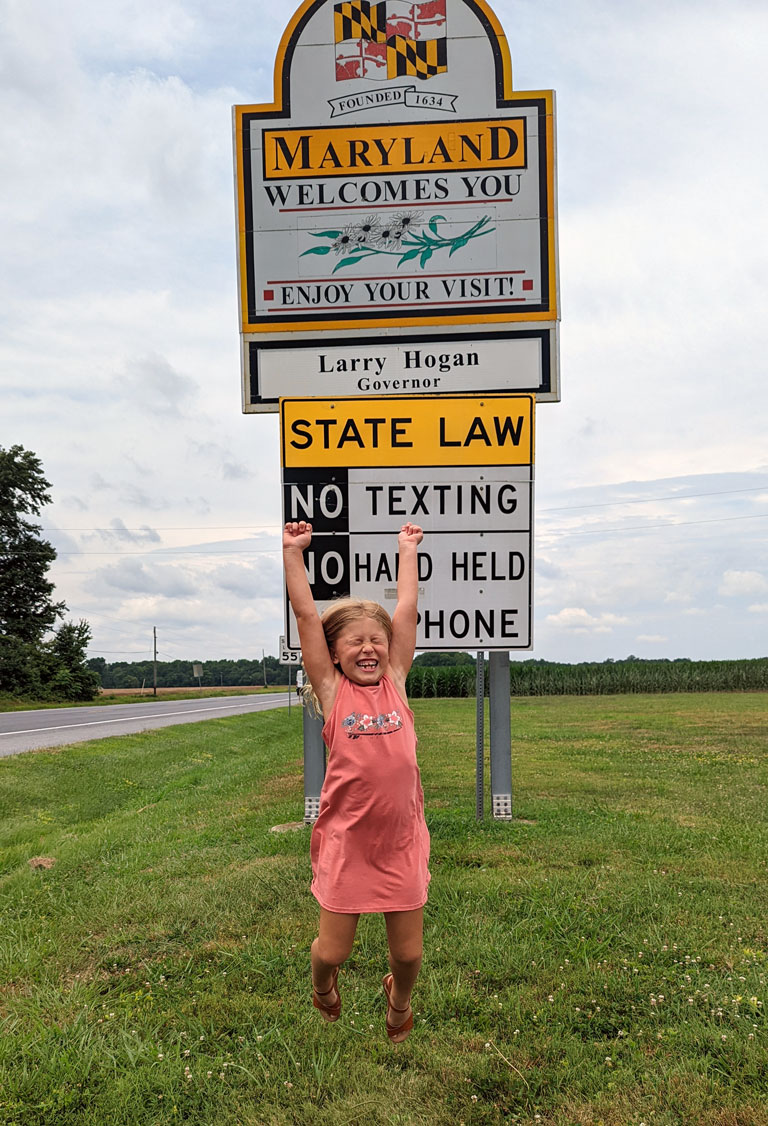 About Fall in Maryland
Fall is a fantastic time to visit Maryland, not only do you have beautiful foliage during fall in Maryland, but the weather is typically pleasant, and there are so many outdoor activities, events, and festivals that give you the opportunity to get outside and enjoy this wonderful season in the state.
Maryland borders Virginia, Delaware, Pennsylvania, and West Virginia, and includes parts of the Chesapeake Bay. So, the small state which is only 250 miles long and 100 miles wide, is easy to get to from multiple destinations like Philadelphia, Pennsylvania; Washington DC, Richmond, or Williamsburg, Virginia.
During fall in Maryland, expect agreeable temperatures in the 50s and 60 during the day that down into the 40s and 30s at night.
Fall in Maryland – Activities to Do with Kids
There are plenty of fun fall activities to do with kids in Maryland.
One great activity is visiting a pumpkin patch. You can pick out the perfect pumpkin for carving, painting, or baking.
Another fun activity is going on a hayride. Many farms offer hayrides in the fall, which are great for families. You can also take your kids apple picking, on a nature hike, or to a corn maze.
These are all just examples of great fall activities in Maryland which we will highlight in more detail below.
Getting outside with the kids has a lot of benefits, especially in autumn when the weather is cooler. The fresh air can help improve your little one's mood and energy levels. Being in nature can also help reduce stress and anxiety.
Taking advantage of all the great activities available during this season will help children stay active and healthy, while creating unforgettable family memories.
Here are some great ideas for activities to do with kids in Maryland.
Go for a Scenic Fall Foliage Drive
One of the best ways to experience fall in Maryland with kids is to load up the car and go on a scenic drive. While fall in the mid-Atlantic isn't as widely celebrated as it is in the New England states, like New Hampshire and Maine, Maryland boasts stunning fall colors and foliage, as well.
Fall foliage in Maryland is one of the best reasons to visit the state.
Maryland has several scenic byways that allow you to experience the beauty of Maryland in fall from the comfort of your car. The Antietam Campaign not only offers stunning scenery but is a fascinating look at Civil War history and the battle that took place on Maryland soil.
Another scenic fall drive in Maryland, visit Patapsco Valley State Park and drive to the valley overlook where you'll be able to see shades of yellow, orange, and red sprawling across the valley.
Annapolis Fall Festival – Annapolis, Maryland
Considered one of America's prettiest cities, Annapolis is a wonderful place to visit in Maryland in fall – or any other time of year.
The city of Annapolis hosts the annual Maryland Avenue Fall Festival in the historic downtown area. This festival features live music, food trucks, face painting and kids activities, lots of vendors selling a variety of goods, and even a costumed dog parade.
While you're in the downtown area, be sure to walk the historic streets, visit St. Anne's Parish, and stop for lunch at Ram's Head Tavern. The kids will have a ball, as will the adults.
Check out the website for the dates and event schedule. Things change from year to year.
Apple Picking at Larriland Farm – Woodbine, Maryland
Larriland Farm is the perfect place to take the kids apple-picking, offering a huge selection of apples to pick. You can also buy fall decorations and tasty treats at the farm store, as well as take a hayride around the farm.
Apple picking is a great activity for kids of all ages. It's a fun way to get outside and enjoy the autumn weather.
Larriland Farm is definitely the place to go for apple picking in Maryland. You can also pick raspberries, blackberries, peaches, and flowers depending on when you go during the fall season. Check out some of the other best places to go apple picking in Maryland.
Fall Activities at Larriland Farm
Aside from the apple picking, Larriland Farm offers other fun fall activities to take part in. They offer weekend hayrides, evening hayrides, pumpkin hayrides, a straw maze and boo barn for the farm's youngest guests to explore – so many fall activities to do there for families!
October is one of the most popular fall months at the Maryland farm, but apple picking begins as early as August and runs through early November.
Fall Fair and Festival at Montgomery County Agricultural Fairgrounds – Gaithersburg, Maryland
The Fall Festival and Fair at Montgomery County Agricultural Fairgrounds is a great event for families.
The festival boasts live music, lots of food vendors selling fun fair foods, 4-H exhibits, horse shows, carnival rides, and so much more. This is a great event to attend if you're looking for fall fun in Maryland.
The most populous county in Maryland, Montgomery County is located directly between Washington DC and Baltimore, Maryland – one of the most underrated cities in the United States.
Check out some other fall festivals events in Maryland.
National Aquarium Sleepover – Baltimore, Maryland
Who's up for a sleepover? No, we're not talking about having friends over to your house. We're talking about an actual sleepover… at the National Aquarium in Baltimore.
Known as one of the best aquariums in the world, the National Aquarium is located directly on the Inner Harbor in downtown Baltimore, and is home to thousands of marine animals from sharks to puffins – birds which are primarily found in Iceland.
If your kids love animals, then this is the perfect event for them. They'll get to explore the aquarium after hours, see areas of the aquarium that are typically off-limits, watch a 4D movie, participate in hands-on activities and so much more.
This is a popular event so make sure to book your tickets early. Click here to find out more information about the National Aquarium Sleepover.
Pumpkin Patches and Corn Mazes at Summers Farm – Middletown, Maryland
If you're looking for a place to pick out the perfect pumpkin, Summers Farm in Middletown, Maryland is the place to go.
There are so many great pumpkin patches in Maryland but Summers Farm is one of the best! They have over 30 acres of pumpkins to choose from. They also have an impressive 10-acre corn maze, hayrides, and so much more.
During Summers Farm's fall festival, kids can also meet the barnyard animals, play games, ride down slides, and go through an obstacle course.
With 45+ attractions for kids of all ages, this is a great place to take the family for some fall fun.
Monkey Business Adventure Park – McHenry, Maryland
If adventure is your thing, you need to spend a day at Monkey Business Adventure Park. This place has zip lines, climbing walls, an aerial ropes course and so much more.
Kids and adults alike will enjoy navigating different obstacles high above the ground. Although you are securely harnessed, this adventure park is sure to get your adrenaline pumping.
There is also a 3-acre corn maze to get lost in at the McHenry, Maryland adventure park. This is the perfect place for a fall day if you're looking for some thrills.
Go Ape Monkey Drop – Rockville, Maryland
Still seeking some adventure on a fall day? How about living dangerously? Check out the Go Ape Monkey Drop in Rockville, Maryland. This might be a bit too much for some, but yet just the right amount for those thrill seeking teens and adults.
You'll be dropped from a 40-foot platform at speeds of up to 30mph. Do you think you can do it? You'll have to overcome your nerves to leap off the platform!
There is more to do at Go Ape than just the Monkey Drop, though. Like Monkey Business Adventure Park in McHenry, Go Ape offers treetop adventures courses that include ziplines, and tree-to-tree obstacle crossings and even a Tarzan swing.
Clark's Elioak Farm – Ellicott City, Maryland
Families can enjoy more fun and playtime with animals by visiting Clark's Elioak Farm, located in Ellicott City.
The farm offers a lot of events and activities for kids, such as hayrides, petting zoos, train rides, a pumpkin patch, gem mining, and an enchanted forest. The working farm, which has been in Ellicott City since 1797, also has a playground and picnic area so you can make a day of it.
Darlington Apple Festival – Darlington, Maryland
When the fall festival season is in full swing, there's no better place to enjoy it than at the Darlington Apple Festival.
This annual event in Darlington, Maryland won't be held in 2023 but is set to return in October 2024.
It features cider-making demonstrations, live music, a pie eating contest, hayrides and of course, plenty of apples.
Kids can also participate in fun activities like face painting and pumpkin decorating. And what fall festival would be complete without a visit from the scarecrows?
Maryland Renaissance Festival – Crownsville, Maryland
It's time to take a trip back in time at the Maryland Renaissance Festival. For eight weekends, you and your family can enjoy all the fun in Crownsville, Maryland. With all the people in costumes, the food and entertainment, there is so much to see.
During the festival, there are jousting tournaments, human chess matches and other performances. The kids will love getting their faces painted and watching the stilt walkers.
You can also enjoy rides, games, crafts and delicious turkey legs. Whatever you do, make sure to stop by the Queen's Court to meet Queen Elizabeth I.
National Hard Crab Derby – Crisfield, Maryland
Crisfield may be a sleepy fishing town along Maryland's Eastern Shore all year long, but this tiny dot on the map is known as the Blue Crab Capital of the World. Each Labor Day weekend, the crabbing town hosts the National Hard Crab Derby.
This family-friendly festival includes an inflatable park with water slides, bounce houses, pony rides, and games. Plus, as you might expect, lots of crab dishes and even a cooking contest.
Be sure to have a piece of Smith Island Cake, or better yet, take the ferry to Smith Island and try one there!
Salisbury Zoo – Salisbury, Maryland
Most kids are animal lovers and Salisbury Zoo is the perfect place for anyone to get their animal fix and learn about wildlife. With more than 130 species of animals, the zoo is a great place to spend a nice fall day.
During the autumn season, the zoo has different events going on. One event is called Not-so-Scary Halloween Happening and it is a Halloween themed event for kids. They can trick-or-treat around the zoo and see all the animals in their Halloween costumes.
If your kids are more interested in learning about the animals, then you can sign them up for one of the many educational programs that they offer.
With classes like animal encounters, behind the scenes tours and hands-on activities, your kids will be sure to learn a lot and have a great time doing it.
Hit the Hiking Trails to Experience Fall Colors
Hiking is a wonderful way to explore the outdoors as a family and truly experience fall. After all, you get to enjoy the brisk weather, get some exercise, and spend time challenging yourself as a family.
There are lots of great scenic trails in Maryland, particularly in the state parks. Depending on which area of Maryland you are visiting, will depend on where you should head to find the best hiking trails.
In western Maryland, head to Deep Creek Lake State Park or Swallow Falls State Park for some of the best trails to see fall colors.
In eastern Maryland, Tuckahoe State Park and Elk Neck State Park are popular choices for those wanting to hit the trail.
And closer to Baltimore and Washington DC, in north central Maryland the Catoctin Mountain Park and Cunningham Falls State Park are both easy day trips if you want to escape the city and spend a day outdoors among the Maryland fall foliage.
Final Thoughts about Fall in Maryland and the Best Activities to do with Kids in Maryland
Your kids will love getting to experience all the fun things that fall has to offer by visiting these great places in Maryland. With so many things to do, they're sure to never be bored. So get out there and enjoy all that the season has to offer with your family!
Do you have a question or comment about any of these fall in Maryland activities? We'd love to hear from you! Leave your questions or suggestions on things to do in Maryland with kids in autumn in the comments below.
Like this fall guide to Maryland with kids? Save it to help plan your Maryland fall travel itinerary!
About the Author of this Fall in Maryland with Kids Guide: Lola is the founder of Deyewa, where she provides families with great vacation ideas and tips for planning activities and things to do in Maryland. She is a wife and mom of 3 young kids and loves to help others experience and explore the world around them.

This guide to Fall in Maryland for families was first written in January 2023 but was most recently updated in August 2023 for current travel information.