For many of us with an insatiable love for travel, staying at home isn't easy to do. We yearn for that feeling we get when we travel. It's a feeling that is hard to describe, but for those of us with wanderlust a description isn't necessary. You know the feeling you get from travel.
Exploring a new place where everything from the language to the smell is unfamiliar evokes a sense of excitement, peaks your curiosity, and leaves you wanting more. Sadly, when we return home from a trip the feeling often fades.
So, we start planning another trip eager to bring that feeling back. But what happens when you can't travel for the foreseeable future?
Perhaps your travels are on pause because the kids can't miss school or you can't take off from work due to projects or demands. Or maybe there are more serious reasons like financial distress or, you know, a pandemic (we're all looking at you COVID), there are some easy ways to incorporate travel into your home and daily life.
Here are 26 ways to feel like you are traveling when you can't, so you can create that vacation feeling at home.
How to feel like you are traveling when you can't
It may not be ideal, but if you can't travel, at least you can feel like you are on vacation at home. Well, maybe not entirely, but these tips will help create those travel vibes at home.
Some call it armchair travel, but whatever you choose to call it, here are a few ways you can have worldly experiences from the comfort of your own home or community.
1. Incorporate travel into your home decor
We have always used travel-inspired décor in our home because it reflects who we are at the core: travelers. Our favorite travel photos are proudly displayed on a wall outside our bedroom. We also have various other travel-inspired home décor items in our house, like canvas with our favorite family travel quotes.
We even had a travel-themed nursery when our daughter was born. Every morning when I wake up and walk out of my bedroom, I pass our wall filled with pictures from all the countries we have visited.
It immediately gives me that wanderlust feeling and takes me back to all those incredible places.
If you need a little inspiration of your own, you can find a ton of travel decor ideas online.
2. Learn to cook meals from your travels
Trying new foods is one of the best things about travel. There is something about the taste of a meal or a dish that can instantly transport you back to a moment in time and to a place you love. After we return from a trip, we love to try to recreate meals from our travels.
We are currently learning to make Polish pierogies and Hungarian trendlniks.
Whatever your cuisine of choice, learning to cook meals from your travels can be a fun way to make you feel like you're traveling when you can't. And luckily, thanks to the wonder of YouTube, you don't have to be a chef to learn to cook even the most exotic meals.
So buy a sushi rolling kit, invest in a pasta maker, or get a wok and learn to make stir fry.
3. Organize your travel pictures into scrapbooks or photo albums
I'll be the first to admit, I am not good at scrapbooking, or anything crafty for that matter. Heck, my daughter's baby book still isn't finished and she's FIVE!
But if you are a crafty person, scrapbooking is a fun way to reminisce about trips you have taken, document your travels, and bring back all the travel feels.
Even if you aren't crafty, you can document your travels in a photo book using an online template from Amazon Photos or Shutterfly.
I do this with almost every international trip we take. I LOVE looking back through the books from time to time and remembering our trips taken throughout the years.
It's also a good way to document your children's travels. We started traveling with our daughter when she was still a baby, so she doesn't remember all of the places she's been.
Incidentally, she also loves looking back at those books from trips we took with her when she was a baby. The books will hopefully be lifetime keepsakes that we can pass down to her someday.
4. Incorporate cultural experiences into your family plans
Experiencing other cultures is the primary reason we love to travel. But even when we aren't traveling we try to incorporate other cultures into our family plans.
For example, we loved attending Oktoberfest in Munich, so now, each fall we host an Oktoberfest party, complete with dirndls, lederhosen that we bought in Munich and all the delicious German foods!
Even our friends who don't love to travel enjoy the party. So find a celebration, whether it's Oktoberfest, Carnival, or Chinese New Year, and create an authentic cultural party that you and your family will love.
5. Use your free time to research trips
I always joke that when we aren't traveling, we are planning our next trip. Call it an obsession if you want, but it is how we get through the dry spells when we aren't traveling.
If you are in a season of life where travel just isn't possible, use your spare time to plan for the future when you can travel again.
You'll have your trip itineraries planned out and all your destinations thoughtfully researched.
If you want to get started now, we post most of our trip itineraries on our blog, so feel free to click through for some of our favorite itineraries like Scandinavia, Iceland, or Belize.  
6. Bring home special experiences from your travels (and use them!)
We typically travel carry-on only, so we don't usually have a ton of room to bring home souvenirs from our trips. But buying a special item from each trip that you can use at home will always remind you of traveling, even when you can't book a flight.
Think chopsticks or a tea set from Japan, a hand-crafted rug or leather from Morocco, or a blown glass wine topper from Italy.
Unique things from places you visit will undoubtedly become your favorite household items. 
7. Teach your kids about other cultures
Some parents may actively choose to homeschool while others may have been forced into it temporarily during the 2020-2022 COVID-19 pandemic. But for many of us with children who also love to travel, teaching our kids about other cultures is important.
It's one of the primary reasons for family travel. But even if you can't travel, you can still teach your children about other cultures.
Invest in some flash cards of world flags or a talking globe for kids and learn about a new country or culture each week. At the end of the week, do something fun that reflects the culture or country you just learned about.
Paint your faces and celebrate Dia de los Muertos when you learn about Mexico, or have an afternoon tea party when you learn about the United Kingdom. Make learning fun.
If anything, the lessons they learn will only instill a love for travel in your kids and encourage them to want to travel more when you can.
8. Dine out at international restaurants in your community
Not a fan of cooking? If you laughed at #2 on this list, maybe just try new restaurants in your hometown that specialize in international cuisine.
Dine in or get take out from your local Vietnamese, Chinese, or Middle Eastern restaurant.
By doing so, you are likely supporting a family-owned business in your community, and you are exploring the world through food!
9. Create a zen garden
Let's face it, we could all use a little bit more zen in our lives. Bring that inner peace into your home with a zen garden.
When we visited Japan, I fell in love with the zen gardens there. By creating one at home, I'm able to bring a piece of Japanese culture into my house.
These traditional Japanese rock gardens are supposed to evoke feelings of tranquility and calmness. Luckily, they are also easy to create and maintain and can be built for any size space.
You can build a small desktop zen garden or a larger outdoor garden space in your backyard. But either way, it will not only evoke the feeling of travel but a feeling of peace.
10. Watch movies set in other countries
If you can't get away, you can always dream. And one of the best ways to dream (or daydream) is to watch movies set in other locations.
There are so many great travel movies set in dreamy places like Italy, Spain, and Hawaii.
In fact, you can even find a lot of great travel movies for kids set in real-life places around the world. Watching them will leave you wanting to plan a trip. Which, as referenced above, is also another great way to feel like you're traveling when you can't. (See #5 on our list.)
11. Check out your local tourist sites
During a quarantine, this may not be possible, but if you are not traveling for financial reasons or because school or work won't allow it, you can feed your wanderlust by exploring your own city or region.
A staycation is a great way to feel like you're traveling by exploring the sites and attractions closer to home that you might take for granted because they're in your own backyard.
For us, this means taking a stroll through Bricktown OKC finding the best street art in Oklahoma City, visiting the OKC National Memorial or checking out some of the other great things to do in OKC with kids.
Wherever you live, exploring your hometown is a great way to feel like you're traveling even when you are not.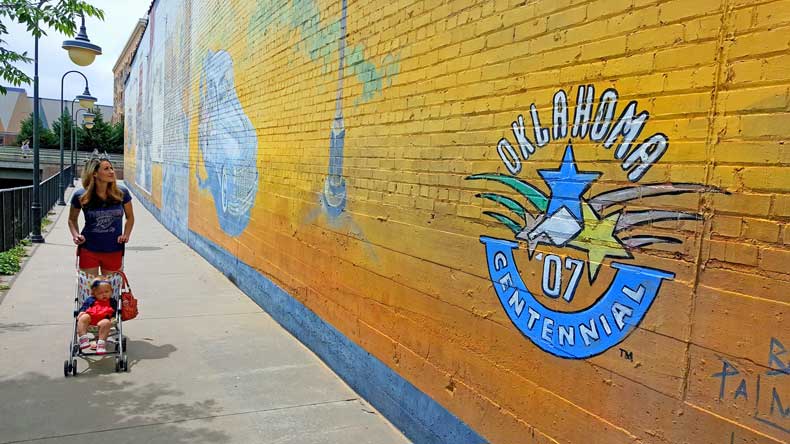 12. Read travel books
Just like movies set in other locations, a good book can transport you to a new place without the burden of jet lag or the expense of a trip.
One of the benefits of a good book is that they tend to go into more detail describing the location. It sets the stage for the story. The details can not only spark wanderlust but your imagination will run wild as you envision yourself in that place.
There are a lot of great travel books for kids, as well. In fact, it was actually a book report I did as a child that sparked my own desire to travel.
13. Connect with other travelers in online travel groups
When you can't travel, you can always live vicariously through others.
There are so many great groups on Facebook and travel forums on websites like Lonely Planet that help you connect with other travelers who have a similar travel style to yours.
Sometimes just connecting with others who are on the other side of the world will help you feel like you are somewhere other than your living room.
14. Host other travelers or exchange students
This one isn't for everyone. But if you can't travel, you can bring travel to you. In high school, my family hosted foreign exchange students every year.
It was a beautiful way to learn about other cultures, and to this day, 20 years later, I have brothers and sisters from all over the world with whom I still keep in touch.
15. Turn your bedroom into a cozy hotel room
If luxury travel is your speed, you know how relaxing it can be to crawl into a high-end hotel bed. The sheets, the duvet, and those perfect pillows can make you feel like you are a movie star living your best life.
Just because you can't currently stay in a 5-star hotel doesn't mean you can't experience that same luxury at home.
Admittedly, it will cost you a little bit to recreate that same high-end luxury experience in your bedroom, but as much time as we all spend sleeping in our own bed, it is worth investing in quality sleep.
16. Introduce scents from your travels at home
Sometimes all it takes is a smell to bring you back to the perfect time and place. Close your eyes and think of the beach, you can almost smell the salty sea breeze, right?
I love to find candles that have a travel-inspired theme and then burn them in our home when we aren't traveling.
Our favorites are made by Yankee Candle which has an entire line of travel-inspired candles.
17. Give yourself the ultimate home spa treatment
One reason many people love to travel is because they indulge and splurge when they are on vacation. They pamper themselves and book high dollar excursions or spa packages.
While you won't have a personal masseuse (unless you bribe your spouse or significant other), you can still create the ultimate spa treatment at home with just a few inexpensive spa items like a robe and eye mask, some face masks, or a luxurious foot and hand scrub.
All are easily purchased online.
Give yourself a night to relax, soak in the tub, and pamper yourself and you'll feel like you're traveling to a fancy resort spa.
18. Utilize outdoor spaces
If you have a small balcony, patio, or a large backyard, utilizing your outdoor space is a great way to feel like you're traveling every time you step out your door.
Plant some flowers, string up some outdoor lights, and invest in some patio furniture to make a seating area.
It doesn't take much to turn your space – big or small – into an outdoor oasis that you can enjoy continuously. For us, we wanted our back patio to have a Tuscan feel, so that when we sit outside I can think of one of my favorite countries – Italy.
19. Make breakfast better
My breakfast at home is often just a bowl of cereal and a cup of coffee. Most the time, it's just the coffee. But when we travel, breakfast is always the most important meal of the day because it has to sustain us through a jam-packed day of sightseeing.
If we stay in a hotel with a complimentary breakfast, my morning meal consists of eggs, meat, cheese, yogurt, fruit, a croissant, a waffle, a cup of fancy coffee and juice. OK, so maybe that is a slight exaggeration, but you get the point.
If you prioritize breakfast, it's not only supposedly healthier for you, but it will give you those travel vibes at home.
20. Go for a walk or hike in a natural setting
When we travel, we walk A LOT. We will walk many, many miles a day. Even when our daughter was a baby and toddler, we wore her in a carrier and explored each new place on foot.
We also plan a lot of our trips in areas that offer stunning scenery and natural settings like Costa Rica or Yellowstone National Park.
Just being outdoors makes you feel like you are exploring something new. Find a new walking trail by a nearby lake or in a scenic park and go for a long walk.
21. Talk to strangers
Everyone is a stranger when you are visiting somewhere new. It's exciting to meet new people.
When we are home, we tend to stick to our own circle of close friends and family and rarely meet new people. But if you make an effort to talk to strangers, you may just find a familiar feeling come back to you… The exact feeling you get when you travel. 
22. Take more photos
Look back at your photos from your last trip. You probably took dozens of photos each day. Photos of your food, pretty streets, doors, flowers, possibly even your hotel room.
We are guilty of taking tons of photos when we travel, but we fail to document the everyday joys of life in photos.
Make an effort to take more photos of your experiences, regardless of how mundane they might seem in the moment.
23. Learn a new language
Don't scroll past this one. Learning a new language is not only a great way to prepare you for future trips to fun and exotic places, it's a great way to feel more connected to those other places and their cultures.
While we are in no way fluent in any language, our family makes a continuous effort to learn a new language.
Download a language learning app like Duolingo and start practicing every day. 
24. Step out of your comfort zone
Traveling, particularly abroad, is often uncomfortable. You get lost, you experience language barriers (another reason to reread #23), and even the food and currency can be different. But just because you can't travel doesn't mean you have to stay in your comfort zone.
There are plenty of ways you can step out of your comfort zone right in your own hometown. Do something that makes you a little nervous or is new and unusual for you.
Try something adventurous and active like kayaking or rock climbing.
Even something more low key like exploring a new neighborhood in your city can give you that feeling of unfamiliarity that will make you feel like a traveler all over again.
25. Camp in your backyard
A backyard camp out is a great way to prepare yourself for the first time camping with kids. And it can also be a fun way to feel like you are traveling when you can't actually travel.
We go all out for our backyard camp outs. We make smores and hot dogs, play games, and sleep in a tent. Even our dogs get to be a part of the camping adventure, which makes the whole family happy!
It's an easy way to feel like we are on vacation at home… albeit a very rugged vacation.
26. Disconnect
There is something about putting your phone in airplane mode and not checking your email or your social media for an entire day or week that brings a sense of peace to your life.
We are all busy people living in a busy society. Sometimes we must disconnect to reconnect with the people and the things that are most important to us.
When we travel we are usually more disconnected from social media, news, and work. At the same time we are more connected to our emotions, our thoughts, our mental state, and our relationships with others.
Every so often, I recommend disconnecting from all the things that cause you stress and tune in to the things that alleviate it.
Although we often travel off the grid to do that, you don't actually have to travel at all to disconnect.
Why you should try to feel like you're on vacation at home
While I'm sure there are many other ways to feel like you're traveling when you're home, this short list gives you a starting point to get that feeling of traveling anytime you want.
Vacations are special and memorable, but if traveling isn't an option, there is no reason you have to give up that special feeling.
Life is too short to wait until your next trip.
Like it? Pin this list of ways to feel like you are traveling to save for later!
Have a question or comment about how to get that traveling feeling? We would love to hear from you and always try to respond to comments from our readers. Leave your thoughts in the comments below.