Giethoorn is one of the most picturesque villages in the Netherlands. The small village about 1 ½ – 2 hours northeast of Amsterdam is often referred to as the "Venice of the North", and once you see this enchanting village, it's easy to see why.
Giethoorn, Netherlands is said to be a village with no roads, where traveling by boat through a maze of canals is the primary method of transportation.
Is Giethoorn, Netherlands really a town with no roads? We answer this and all your other burning questions about the dreamy village on water.
This guide to Giethoorn, Netherlands answers all your questions about the fairytale Dutch village, including how to get there from Amsterdam, how to get around, what to do on a day trip to Giethoorn, and is Giethoorn worth visiting?
About Giethoorn Netherlands
Giethoorn village is one of the best day trips from Amsterdam. In fact, approximately one million people visit the area every year, and its popularity is growing. It is said to be a place where old Dutch traditions are still a way of life and little has changed over the centuries. The village, located in the province of Overijssel, is home to approximately 2,800 permanent residents.
Parts of Giethoorn, Netherlands are primarily connected by a series of man-made waterways or narrow canals, pedestrian walkways, and bike paths.
The village, which is nearly 800 years old, is filled with beautiful thatched roof homes often with pristine gardens and colorful flower boxes.
Also read: A day trip to Zaanse Schans Windmill Village
Are there really no roads in Giethoorn?
Often called Dutch Venice, Giethoorn is sometimes compared to the Italian canal city of Venice due to the lack of cars and roads in Giethoorn. But it may surprise you that Giethoorn actually does have some roads.
While the area known as Giethoorn village is basically limited to the main road into town, there are a few other parts of the town where you will find roads. (Sorry to disappoint you!)
But with that said, the area of Giethoorn you will spend your time as a visitor to the village is untainted by traffic noise and is connected by small canals that weave between picturesque cottages and under bridges. So, in many ways, Giethoorn lives up to its reputation for being a village of canals – something that many cities in the Netherlands are known for.
How to get from Amsterdam to Giethoorn, Netherlands
You can reach Giethoorn from Amsterdam in several ways, and because of this it is a popular day trip.
You could easily see the highlights of Amsterdam in 3 days and then visit Giethoorn, Netherlands as a day trip.
By car
Getting to Giethoorn is easiest by car or guided tour. Despite the Netherlands being well connected by train, there is not a train station in Giethoorn.
If you rent a car, you can reach Giethoorn in about an hour and a half. There are parking lots where you can park and then either rent a boat, join a boat tour, or hire a private captain.
For those not renting a car, you can easily book a guided tour for just slightly more than you would pay for public transportation.
By public transport
Although there is no train that goes directly to Giethoorn, you can reach Giethoorn using public transportation. You can take a train to Zwolle or Steenwijk station then catch a bus to Giethoorn.
From Zwolle you will want to catch bus 70, or from Steenwijk, you can take bus 70 or bus 270. Travel by public transportation takes slightly longer. Plan on at least 2 hours to get to Giethoorn by public transport.
We personally took the train to Steenwijk and caught the bus from there as the buses come more frequently than they do at Zwolle.
Things to do in Giethoorn Netherlands
Giethoorn is to the Netherlands what Bruges is to Belgium or Rothenburg ob der Tauber is to Germany.
While the primary draw to this small village is its beauty, there are a few things to do in Giethoorn that you can't miss while there.
Boat through the canals
There are several ways to boat through the canals.
The best way is to rent a private whisper boat and be your own boat captain. This gives you the freedom to control where you want to go, get wonderfully lost and find your way back, and have the unique experience of navigating your own boat.
The whisper boats are very quiet, so there is hardly any noise as you make your way through the canals.
If you are uncomfortable driving the boat yourself, you can hire a boat captain for a private tour. This option will cost slightly more and gives you a different experience than navigating the canals yourself.
Finally, in the heart of Giethoorn you'll find large tour boats that can take dozens of passengers on a boat trip through the canals. This option is the least expensive per person, but is not as immersive as controlling your own boat and navigating your own path through the village.
Stroll through the picturesque town
Although a boat trip is the best way to see Giethoorn, it's a good idea to stroll through the village along the walking paths that run next to the canals.
This is a great way to take photos and revisit some of your favorite thatched roof houses that you discovered on your boat tour.
The canals and the walking path are often covered in a canopy of trees so your walk will be mostly in the shade.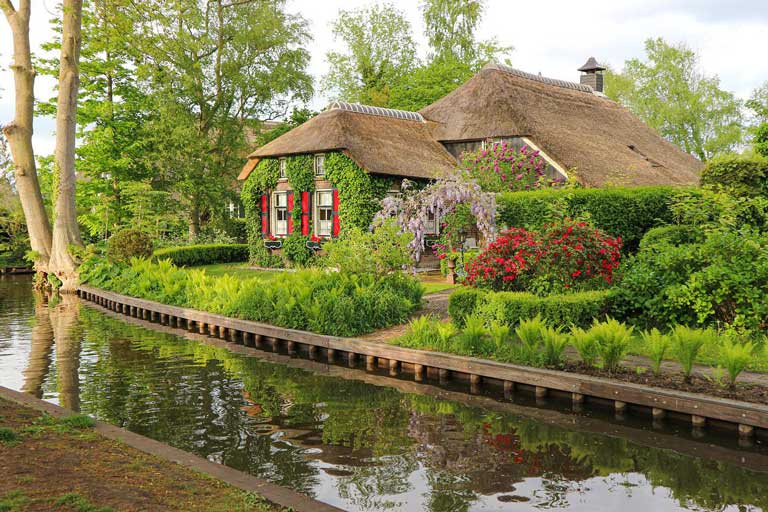 Enjoy lunch on the main canal
While the center of Giethoorn, Netherlands can get crowded, the atmosphere along the main canals is great for enjoying lunch on a patio and people watching.
There are numerous restaurants located in the heart of Giethoorn with cozy patios that are perfect for relaxing on a warm summer day. You'll find a variety of restaurants serving everything from seafood to burgers or light fare.
After a morning boat ride, stop for lunch at one of the local restaurants before strolling through town in the afternoon.
Kayak through a natural reserve
The pretty town is by far the most popular area of Giethoorn to boat through. However, if you really want to escape the crowds or feel surrounded by nature, rent a whisper boat or kayak and head into the marshy area of Weerribben-Wieden National Park.
Adjacent to Giethoorn, this national park comprises the largest bog in Northwestern Europe.
With tall, wetland grasses on each side of the canals, you'll feel surrounded by nature rather than people or homes. It is peaceful and serene and deemed one of the most important natural reserves in Europe.
Tips for visiting Giethoorn Netherlands
If you want to visit Giethoorn in the Netherlands, there are a few things to know that will enhance your visit and help you get the most out of your experience.
How to avoid crowds in Giethoorn Netherlands
Giethoorn can get crowded, particularly in the summer months, which is the peak season for tourism. But there are a few ways to avoid the crowds.
If possible, visit on a weekday rather than a weekend. We visited on a Tuesday in June, and even in summer, the small village wasn't very crowded.
Spend more time in the northern part of Giethoorn rather than near the main canal. In fact, we rented a boat from Giethoorn Bootje huren, which launches from De Harmonie Hotel. This is a decent boat ride from the main area of Giethoorn where the restaurants and canal cruise, multi-passenger boats launch. In the northern section, we only saw a few other boats and hardly anyone walking along the walking paths.
Visit in the off season. This isn't always possible, but if you avoid the months of June-August, you'll avoid most of the crowds in Giethoorn Netherlands. Keep in mind, in winter, the canals are typically frozen and used for ice skating rather than boating. But your spring and fall months, while a bit more chilly, are still great for boating.
Stay the night in Giethoorn Netherlands
There are several hotels, bed and breakfasts and even a hostel in Giethoorn.
If you spend a night in Giethoorn, you will have the privilege of walking or boating around the village after the daytrippers leave. And you'll feel like you have the peaceful village to yourself!
Respect private property
Many of the village's bridges are on private property. Some canals also serve as "driveways" for homes. To preserve the privacy of residents and keep Giethoorn accessible for visitors to enjoy, respect the property of the residents and do not trespass.
The village does a good job of marking private canals or bridges that are not for public access.
Is a day trip to Giethoorn from Amsterdam worth it?
Giethoorn, Netherlands is well worth a day trip from Amsterdam. It is one of the most relaxing trips you can take to get out of the city, escape the sound of traffic and hear the birds chirp instead. Not to mention it is beautiful!
Giethoorn village is just as pretty in person as it is in pictures.
You won't regret the trip and will return with memories and stories to tell of your time in this fairy-tale village.
Have questions or comments about Giethoorn Netherlands? We'd love to hear from you. Leave your thoughts in the comments below.
Like it? Pin this guide to Giethoorn Netherlands to save it for later!