Family vacations can create the best memories, but not if big tourist crowds cause long lines and stress for everyone. Plan the ultimate relaxation adventure this year by checking out these quaint New England towns.
These hidden gems in New England offer quiet comfort, a serene escape, and a glimpse at country life in the Northeast.
While everyone is familiar with Boston, Massachusetts or Portland, Maine, there are so many charming small towns in New England that offer an ideal place to get away from the hustle and bustle of the cities and enjoy the relaxing atmosphere and scenery of New England life.
These 18 New England hidden gems are among the best places to visit in New England to get away from the crowds of leaf-peepers in the fall, powder-seekers in winter, and beach-goers in summer.
About New England
New England is perhaps best known for its fall foliage. The region located in the northeastern part of the United States spans six states: Maine, Vermont, New Hampshire, Massachusetts, Connecticut, and Rhode Island.
While its autumn color may be the region's primary claim to fame, it is also known for its seafood, maple syrup, covered bridges, and of course, its charming small towns.
Home to historic cities like Boston, Massachusetts and beautiful national parks like Maine's Acadia, New England is rightfully a popular travel destination. But if you want to avoid the crowds, there are so many hidden gems in New England that are worth adding to your bucket list, as well.
18 Quaint New England Towns and Destinations that are Practical Unknown
Whether you're seeking a lakeside community where you can kayak or fish or a cute, small town that feels like it's frozen in time, these quaint New England towns and destinations offer a peaceful getaway perfect for recharging your batteries while making memories with your loved ones.
1. Concord, Massachusetts
Literary families love visiting Concord. Once home to 19th-century authors Louisa May Alcott and Henry David Thoreau, their homes are now open for public tours. Stop by to check out where some of the most famous American literature was written.
When you finish seeing inspired book locations, the small town has other museums and parks to explore between seasonal town events.
Most places are within walking distance in the historic region, but your family could rent electric scooters to zip around if that's more your speed.
Located just 20 miles from Boston, Concord is a great day trip, yet often goes unnoticed by visitors to New England, making it one of the region's best hidden gems.
With its small-town charm, historic and literary significance, and natural beauty, Concord, Massachusetts is truly one of New England's best hidden gems.
2. Greensboro, Vermont
People who visit Greensboro to escape busier cities rarely leave disappointed. This quiet town is so tiny that it doesn't even have stoplights. Instead, it has locally-owned businesses with sustainable goods dotted around Caspian Lake.
The quiet waterfront rentals and pleasant weather create the perfect atmosphere for family time. You could catch some live music and a few fish while you're in town.
If you plan to fish on Caspian Lake, just don't forget that anyone older than 15 needs a license to fish. You could apply for necessary licenses a few weeks before your trip to avoid any last-minute hassles that might prevent your family from making special memories.
3. Cliff Island, Maine
The beauty of New England is one of the many reasons why 18% of Americans hope to travel to the Northeast each year. This region has thousands of miles of protected coastline and wildlife, which make perfect backdrops for family vacations.
In fact, there are so many fun places to visit in Maine with kids. While many people typically head to Acadia National Park and popular seaside towns like Bar Harbor, Maine, the small community of Cliff Island offers untainted beauty without crowds.
Take a ferry from Portland, Maine to Cliff Island for the day and rent a golf cart to get around. The area is perfect for taking things slow and savoring every moment with your loved ones.
Your family will also enjoy the beaches, hiking trails, and historic ruins waiting for them, so plan a few stops and pose for family photos while you're in the area.
4. Middletown, Rhode Island
People often visit Middletown and nearby Newport, Rhode Island in the summer to lounge on its beautiful beaches. However, you can check out this low-key New England destination all year round. Your family can pick berries in the spring and dine on international cuisine in the fall.
There are even a few wineries and polo matches if you're hoping for a quick romantic date while you're away from home.
History buffs will enjoy exploring the historic sites around Middletown, including the Prescott Farm, which dates back to the 17th century, and the Boyd's Wind Grist Mill, which is the oldest surviving windmill in the United States.
If you're seeking a relaxing vacation with no itinerary or commitments, let the kids sleep in and then head downtown for brunch.
You can always bring back the food you found and share the delicious treats while everyone relaxes in their pajamas, as well. Then head to the beach or hit the trails at the Sachuest Point National Wildlife Refuge or nearby Cliff Walk on the eastside of Newport.
5. Bennington, Vermont
You can't travel to Vermont this year without stopping by Bennington. Located in the southernmost portion of the small state, the town is truly one of New England's hidden gems.
It invites visitors to its scenic valley and picturesque downtown streets. You'll find small shops and local restaurants, plus historic monuments commemorating the Revolutionary War.
Your kids will return to school with real-world experience in the places mentioned in their history classes. It might even make their studies easier because they'll be able to picture exactly where certain historical events occurred.
6. North Conway, New Hampshire
Your family might also love the small mountain town of North Conway. While it's home to only a few thousand people, it's bursting with life and charm.
The downtown area features shops with vivid hues and businesses that ensure families have tons of fun. You can go river tubing, skiing or hiking together, depending on the time of year you visit.
Located in the heart of the White Mountains, one of the most popular things to do is to take a ride on the Conway Scenic Railroad, a historic train that offers stunning views of the surrounding mountains and valleys.
7. Shelburne Moriah Mountain, New Hampshire
New England has many scenic mountains that draw visitors from all over the country. Of course, New Hampshire's famous Mount Washington probably comes to mind. The peak in the White Mountains is the highest in the northeast, and a popular hiking destination for outdoor enthusiasts.
While a trip up the 6,288 foot mountain is a fun feat, for a more peaceful getaway (and a slightly easier hike) go to Shelburne Moriah Mountain, instead.
It's a smaller peak, with an elevation of 4,323 feet, and a 10-mile trail. There are also numerous small, quaint New England towns near the mountain in which you can base yourself for your hike to the summit.
Remember to organize your travel essentials to make room for hiking boots. You'll need a pair with thick soles to navigate the rocky mountainside.
8. Castine, Maine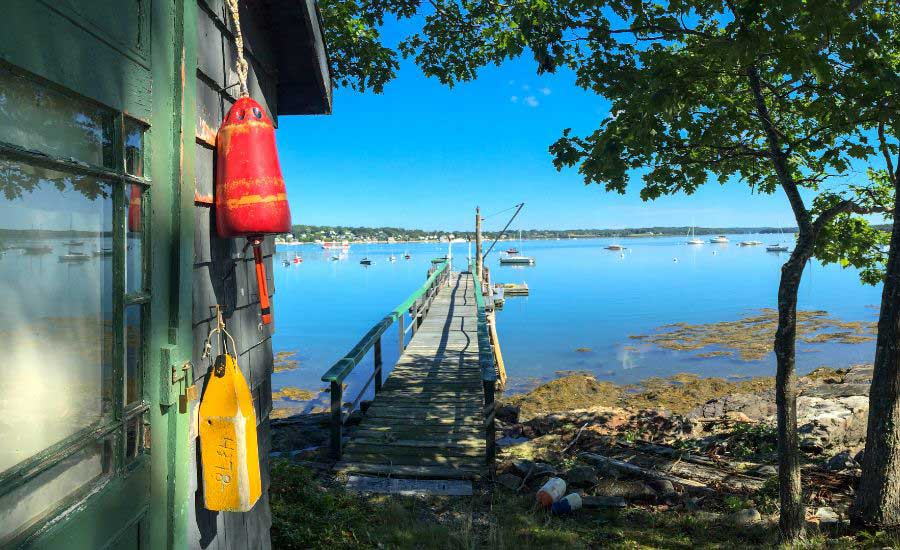 The locals who live in Castine rarely experience waves of tourists, even though the Penobscot Bay peninsula is worthy of global crowds.
Your family could rent a boat and try a few water activities like wakeboarding or kneeboarding. The town is also home to several beautiful parks and beaches, including Wadsworth Cove Beach, so watersports and sailing are popular activities in this charming coastal town.
Castine is close enough that families can take a day trip to nearby attractions such as Acadia National Park or the Penobscot Narrows Bridge and Observatory while escaping the typical tourist crowds in the evening.
Whether you rent a houseboat or stay in one of the 19th-century homes in the area, you'll love the quaint architecture and relaxing spaces in Castine.
9. Wellfleet, Massachusetts
Massachusetts has a hidden gem in Wellfleet. The secluded coastal city on the Cape Cod peninsula features sunrises unbothered by tourist-filled high-rise hotels. Your family will also get to walk to the top of Bound Brook Island for sunsets.
Cape Cod is one of the best places to visit in Massachusetts with kids, but many people will bypass Wellfleet in favor of Provincetown.
In between hikes and beach time in Wellfleet, have fun touring historic sites and biking around the quiet New England town.
There are endless seashells to find on the beaches and no shortage of restaurants perched on piers serving fresh, delicious seafood.
10. Milford, New Hampshire
Have you ever dreamed about time traveling? Milford is a great place to do that, or at least feel like you've stepped back in time. The founders incorporated the town in 1794 and not much changed in the centuries afterward.
You can still visit the town's gazebo and antique shops, as well as see some of the rural farms with beautiful, old barns and historic mills just outside the town.
This hidden gem in New England is located in southern New Hampshire and is a great place to visit when you are exploring rural parts of the state as day trip to see some of New Hampshire's famous covered bridges.
There's also a drive-in movie theater, which your kids may have never experienced because they're so hard to find now.
11. Groton, Connecticut
Anyone who loves military history should stop by Groton, Connecticut. This cute New England town is home to the only Submarine Force Museum in the country. Your family can see life-size replicas of historic submarines before touring Fort Griswold Battlefield State Park.
For a step back in time, visit the Avery-Copp House, a historic home that dates back to the late 1700s and offers tours of the property.
There's even a lighthouse to explore and the scenic Bluff Point State Park ready to give your family numerous outdoor adventures with coastal views.
12. Westport, Massachusetts
The quaint town of Westport is perfect for families hoping for a low-key vacation. The state-protected coastline and wildlife sanctuary offer numerous opportunities for adventure.
Restaurants surrounded by trees that sparkle with string lights will charm your kids while you dine on locally grown food. Numerous farms supply nearby businesses and offer fun family events throughout the year.
Head to the Westport Town Farm which boasts 40 acres of walking trails, gardens, and a picnic area that are free and open to the public. Kids will love seeing livestock graze in the fields, while adults will appreciate the antique buildings that date back to Colonial times.
13. Warren, Vermont
When you're ready to get off the map with your family, consider traveling to Warren, Vermont. The quaint New England town has a hotel, a post office, a general store and a beautiful covered bridge.
Otherwise, you have all of nature to entertain your family during your next trip. The Warren Covered Bridge, which dates back to 1880 and spans the Mad River, provides a great backdrop for family photos.
You could hike blueberry trails with a few buckets to bring home your findings or jump in the local swimming hole at Warren Falls, if it's warm enough. Plan to stop by the local restaurants to indulge your inner foodie on the way home.
14. Monhegan Island, Maine
There's nothing like a deep breath of fresh air as buoy bells clang across the harbor. Monhegan Island is one of the best hidden gems in New England to experience when traveling through Maine.
Ride a ferry from Booth Bay to the island and partake in the local festivities and fresh lobster available year round. The island's shoreline is great for exploring tide pools and enjoying scenic views.
The Monhegan Island Lighthouse is also a must-visit attraction, offering a glimpse into the island's maritime history.
You could even rent a boat to see the local shipwreck if your family loves spending time on the water.
15. Putnam, Connecticut
Introduce your family to the small town of Putnam this year by planning a relaxed family vacation to the quiet hidden New England gem. It's an hour outside of Boston but rarely gets crowds of visitors.
You'll get near-exclusive access to its downtown shops and antique marketplaces. On Saturdays, the Putnam Farmers Market is a popular spot, with a variety of vendors selling fresh produce, baked goods, and handmade crafts.
Browse one of the largest antique malls in the state, which often has vintage collections from centuries past. Bring a special discovery home to decorate your house and remember all the fun you had in Putnam for years to come.
16. Vinalhaven, Maine
No one should visit New England without trying the region's famous fresh lobster. Vinalhaven is a coastal town that farms some of the best lobster in the state. Your family will enjoy it on rolls, casseroles and mac and cheese dishes in between stops at local businesses.
An easy day trip from Rockland, you can pass the time at parks, preserves, and lighthouses before watching the stars sparkle over the bay at night.
Of course, no trip to Vinalhaven would be complete without a visit to the island's beautiful beaches, such as Lane's Island Beach, which boasts calm waters and a stunning sandy shoreline.
17. Galilee Village, Rhode Island
You haven't had fun in Rhode Island until you've visited Galilee. The relaxing coastal village in the town of Narragansett has a laid-back and friendly atmosphere and even offers classes for kids who want to learn how to surf or catch some shellfish.
It's more affordable than going to a theme park and the classes will leave your kids with skills they can use on future trips.
If you wanted to spend more time outside, your family could bike along paved trails before watching free kid-friendly movies hosted on the beach. There's also a year-round ice rink to entertain your children once they tire of being out in the sun.
Galilee is also home to the Block Island Ferry, which provides transportation to the popular Block Island, a nearby island known for its scenic beauty.
18. North Woodstock, New Hampshire
North Woodstock, New Hampshire is one of the most charming small towns in New England. This scenic town in the White Mountains is a popular destination for snow lovers in winter and those seeking a mountain escape in summer.
Use your next family vacation to stretch everyone's legs. North Woodstock is home to the iconic Ice Castles every winter and sand sculptures in a forest every fall.
The neighboring town of Lincoln also boasts many outdoor activities, including forest adventures and hikes in warm months and skiing, tubing, ice skating in winter months.
For a great weekend getaway, you can take a scenic drive on the Kancamagus Highway, one of the most beautiful drives in the country, or explore the Franconia Notch State Park, which features stunning waterfalls, hiking trails, and incredible mountain views.
Visit These Hidden Gems in New England
While there are so many cute New England towns like Burlington and Stowe, Vermont or Nantucket and Martha's Vineyard, Massachusetts, these places have become quite crowded over the years as their popularity has grown.
If you love to visit peaceful and quaint New England towns, these hidden gems in New England are sure to give you a relaxed family trip.
Whether your loved ones enjoy touring museums, exploring off-the-beaten-path trails or lounging on an isolated beach, you'll find lots of fun in these secluded towns that rarely see crowds of tourists.
Also read: Top Undiscovered Small Towns in the United States
Have a question or comment about any of these quaint New England towns? Or do you have a New England hidden gem you would like to share? Tell us about it in the comments below!
Like some of these quaint New England towns? Pin this list of New England hidden gems to save it for later.
About the author of this guide to the best New England hidden gems: Cora Gold is the Editor in Chief of women's lifestyle magazine, Revivalist. She loves to write about travel, family and adventure. Follow Cora on LinkedIn and Twitter.