We may earn money or products from the companies mentioned in this post.
Let's be real… the holidays are stressful! Along with shopping, prepping, and visiting family, comes the anxiety of holiday travel. Have no fear, we have compiled a list of holiday travel tips to help ease that stress.
Inevitably, if you're flying, you'll be forced to deal with crowds, delays, and cancellations at airports due to bad weather or a dozen other reasons. Even when you "plan for the worst and hope for the best" it still doesn't always take the stress out of holiday travel. While I've offered my own travel advice from time to time — I also occasionally turn to the experts to bring you new and unique ways to help survive the busy travel season. Here are a few holiday travel tips from our friends at ExpertFlyer.com.
Holiday Travel Tips to Keep in Mind This Season
1)      When possible, choose the bigger airport.
If you want to travel from NYC to Raleigh, NC you can fly on AA from either LaGuardia or JFK. Choose JFK. Why? Longer runways and more of them allow flights to deal with poor weather conditions (such as snow) better than LaGuardia and typically experiences less delays and cancellations. Chicago is another example (Choose O'Hare over Midway, when possible). We always choose O'Hare… plus the pretty neon lights in the tunnels make my daughter happy.
2)      Avoid connections.
Select non-stops as much as possible even if they cost a few dollars more than connections. In addition to saving time, one less flight segment (departure and take-off) means less chance of delays. For us, it means less chance of a toddler meltdown on-board.
3)      Assume your flight will arrive 20 minutes later than stated.
This is especially important if you have a connection. Slight delays, combined with a connecting flight in another terminal, could spell trouble (or a missed flight in my case.)
4)      Call the airline if you run into issues.
If your flight gets cancelled or severely delayed and you are at the airport, call the airlines reservation number to discuss your options. Do not use the customer service desk at the airport. By the time you get to the desk and stand in line for 30 minutes, your options will have dwindled dramatically.
Once new options have been presented, do not wait for a non-stop flight if you can get on a connecting flight heading toward your final destination. Delays are sometimes associated only with geographic pockets and getting away from a troubled spot with a connecting flight can get possibly get you to your destination quicker.
5)     Download the airline's mobile app.
Be sure to download the official mobile app of the airline carrier you are flying. You should see my phone, it looks like a directory of airlines. I have every major US carrier's app. They provide instant flight updates, airport information, and often times — inflight entertainment.
6) Download Seat Alerts.
While you're in the downloading mood — check out ExpertFlyer's app Seat Alerts. It's totally free and can keep you from getting stuck in the middle seat on the plane. (Seriously, is there anything worse than the middle seat?!) The app lets you input your travel date, airline, and flight number and "check off" the seat you would prefer. (Shout out to all my window seat peeps!) It even lets you search for "two seats together"  and will automatically notify you by text or email when it finds it.
7)      Listen to live audio from the airport tower and traffic control.
You can tune into Live ATC (http://www.liveatc.net/) for this. Not only is it super cool if you are an aviation nerd (like my husband), but it will give you some insight into why there are delays (beyond what the gate agent may be telling you).
8)      Pack snacks.
We travel with a kid so we always have snacks when we fly, but don't forget to bring something high in protein for you, too… Snacks such as peanut butter crackers, peanuts, or protein bars will fill you up and keep you from raiding the airport's food court. This is especially important when stuck on the tarmac and in-flight service cannot be conducted. Here's a look inside our carry-on bag for those flying with a baby or toddler.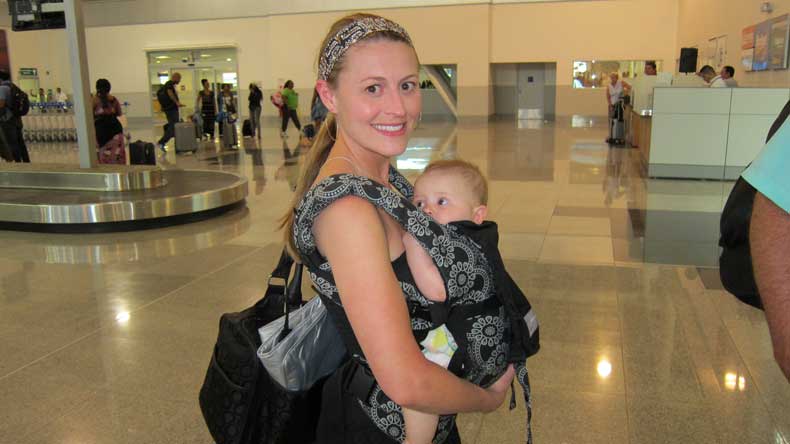 9)      Don't be a jerk.
Chris at ExpertFlyer worded this a bit nicer, but seriously while you may feel your anger and frustration getting the best of you…don't be a jerk. Try to remain calm and polite with airline / airport employees. They're just as stressed as you are. Your understanding and smile may be the only one they get…and they will do as much as they can for someone who shares a smile and pleasant attitude in a difficult time.
We hope you found these holiday travel tips useful, and most importantly we at Parenthood & Passports hope you have happy holidays and safe travels!
Like it? Pin it!