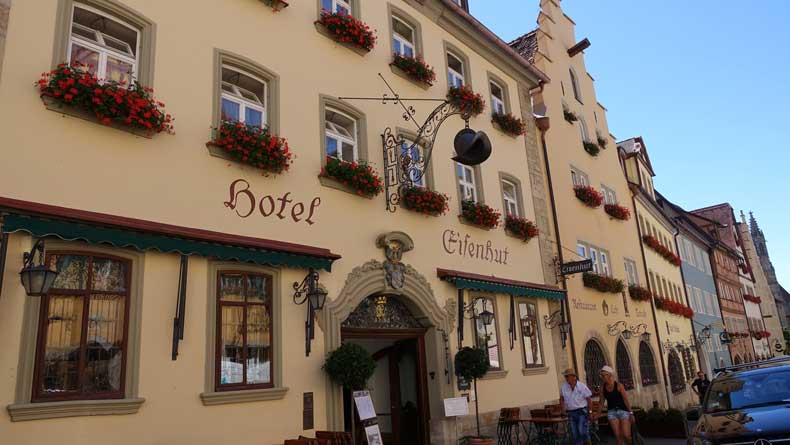 When looking for family-friendly lodging, there are several things to consider. Does the hotel offer cribs? Are there bathtubs or only showers? Does the hotel's restaurant offer high chairs? Are the rooms large enough to accommodate a family? And finally, how close is it to local attractions? Taking all of this into consideration, Hotel Eisenhut in Rothenburg ob der Tauber, Germany is a wonderful, family-friendly place to stay. While many people visit this storybook town as a single day trip, it is definitely worth spending more than one day in Rothenburg ob der Tauber.
Location of Hotel Eisenhut Rothenburg ob der Tauber
Location is always one of the most important factors for us when choosing a hotel. The location of Hotel Eisenhut couldn't be better! The hotel is ideally situated inside the city's walls, directly next to the famous Christmas Museum in Rothenburg ob der Tauber and only a two minute walk to the Marktplaz or main square.
The town is fairly small and very pedestrian friendly. Hotel Eisenhut is approximately a 5 minute walk to the city's wall, and a 5-10 minute walk to the most picturesque area of Rothenburg ob der Tauber.
Our room was on the second floor and had a wonderful view of the street below.
Family Amenities and Service
When it comes to amenities, Hotel Eisenhut has everything you need. Toiletries, a blow drier, a mini bar and fridge… They also provide a very comfortable crib and baby bedding free of charge, which isn't always the case everywhere. The service is wonderful, and the staff is very friendly and speaks wonderful English. One night, the receptionist even got us milk from the kitchen so our toddler could have her nightly sippy cup before bed. (A bad habit I haven't been able to break her of yet.) We had just arrived that day jet lagged and exhausted and hadn't had time to buy any milk. The receptionist filled her sippy cup for us in the kitchen and didn't charge us for it, either.
One other amenity that was very beneficial was the street parking right outside the hotel. There is an extra charge for this, but it definitely helps to not have to haul luggage and a baby from a parking lot blocks away.
The one thing I wish Hotel Eisenhut had was air conditioning. In my research, I didn't find any hotels within the city walls that had A/C, and it wasn't a problem. We had an oscillating fan that kept us cool at night, even in late August when it was still really warm outside, but air conditioning would have been a nice feature to have.
Rooms/Accommodations at Hotel Eisenhut
The rooms are large. Not just by European standards but by American standards as well.
Our room had a sitting area with a couch and two chairs, a desk, a large bathroom with a tub and plenty of space for a crib. The bed, linens, and pillows were very comfortable, which was great considering we were so tired from a long day of traveling across the pond.
One of the things we loved about Hotel Eisenhut was the charming decor. The rooms have an antique feel to them that reminds me of my grandmother's house. Even the hallways and lobby are decorated with old, medieval furnishings. The hotel definitely has a unique ambiance that perfectly compliments the atmosphere of the enchanting village.
Restaurant at Hotel Eisenhut
The restaurant at Hotel Eisenhut offers a breakfast buffet as well as lunch and dinner for an additional charge.
There is a lovely terrace off the back of the hotel that overlooks the green valley surrounding Rothenburg ob der Tauber. The breakfast buffet is tasty and plentiful but the beautiful terrace is my favorite part! We did not eat at the restaurant for lunch or dinner, as there are a lot of dining options within walking distance.
Overall, we had a lovely stay at Hotel Eisenhut, and we would definitely stay there again. While some of the furnishings are a bit outdated, the ideal location of the hotel, the friendly service, and the old world charm more than made up for any shortcomings.
Have a question or comment about Hotel Eisenhut in Rothenburg ob der Tauber, Germany? We'd love to hear from you. Leave us your thoughts in the comments below.
Like it? Pin it!