If you're planning a family trip to Iceland during the summer, you're in for a real treat!
With stunning natural scenery and endless outdoor adventures, Iceland is the perfect destination for families seeking a one-of-a-kind summer vacation. However, packing for a trip to Iceland can be a challenge, especially if you're not familiar with the country's unpredictable weather and ever-changing landscape.
To help you make the most of your family vacation, we've put together a comprehensive Iceland summer packing list that includes everything you'll need for a comfortable and enjoyable trip.
Whether you're exploring Reykjavik's vibrant city life or venturing into the great outdoors, this Iceland packing list for summer will ensure you're prepared for whatever the season has in store.
If visiting Iceland in summer, you'll likely want to explore some of Iceland's beautiful waterfalls, see its famous glaciers and volcanoes, and marvel at many of the country's iconic landmarks. For this reason, it's important you know exactly what to pack for Iceland in summer.
Our Iceland packing list for summer not only covers what to wear during the months of May through August, but also includes a few important items you won't want to forget when packing for Iceland any time of year.
This Iceland packing list for summer includes all the necessities for a summer trip to Iceland, plus a few extra items that will make your summer in Iceland more enjoyable.
Weather in Iceland in summer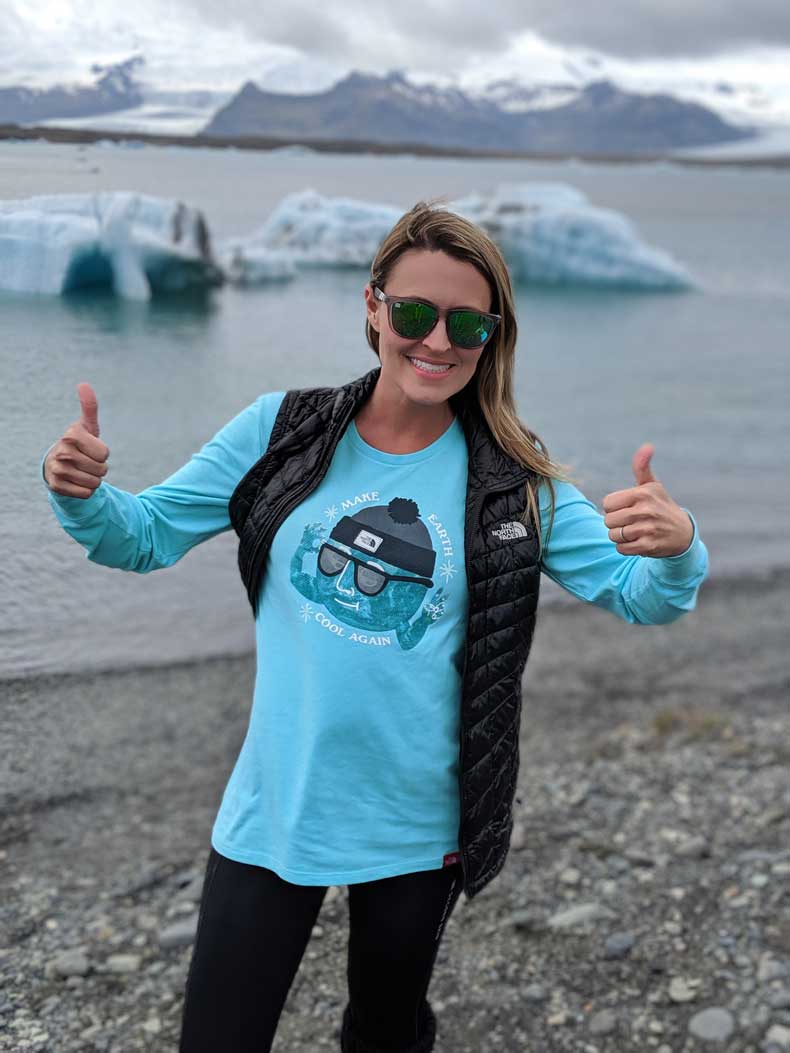 Iceland is a country of extremes. Depending on which part of the country you are visiting, it can be cold, wet, sunny, or windy.
Weather in Iceland can be interesting. Many people hear the word "ice" in the country name and automatically think it will be frigid. However, this is far from the truth.
The weather in Iceland during the summer months can be described as quite pleasant. Highs typically reach near 60 degrees Fahrenheit (15 Celsius) and lows hardly drop much from that. Why? Because the sun is up all day long.
That means you won't experience the big temperature fluctuations like you get elsewhere. Most days will only see a difference of 10 degrees Fahrenheit from the high to the low.
July is Iceland's warmest month when highs average in the lower 60s.
Still though, Iceland's climate is tricky. The topography of the island can bring many cloudy days and areas of rain can randomly set up. Don't be surprised if you go from sun to rain showers in a few minutes.
However, due to the placement of Iceland, it is extremely rare for Iceland to experience thunderstorms. Most rain events are passing showers that do not last long.
The summer months are typically the driest months of the year for Iceland, though this stat can be deceiving as June, July, and August average about 15 days of measurable rainfall each month. So, you'll still need a rain jacket.
What to wear in Iceland in summer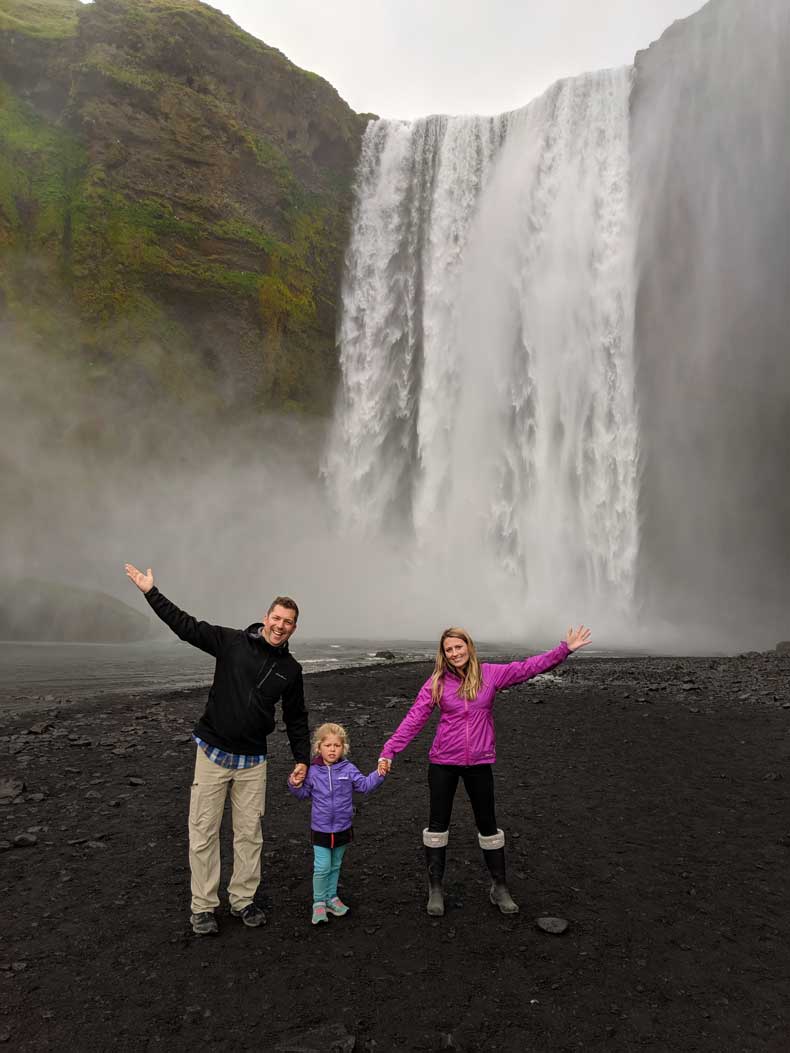 Now that you know a little bit about the weather in Iceland in summer, you're ready to start packing for your trip.
When determining what to wear in Iceland in summer, one word pretty much sums it up: LAYERS! Long sleeves, vests, jackets, and beanies. You'll want to be able to add or remove a layer as the weather changes from day to evening or from one location to another.
The climate in Iceland, regardless of season, can be somewhat variable and even unpredictable at times.
So, it's important that your Iceland packing list for summer includes articles of clothing that can be layered and removed as the temperatures and weather change.
Overview of our Iceland summer packing list
Waterproof hiking boots
Rain Jacket
Waterproof hiking pants
Sunglasses
Swimsuit
Beanie or hat
Puffer Jacket
Extra Layers
Reusable Water Bottle
Snacks
Camera
Sunscreen
Moisturizer and lip balm
Sleeping Mask
Day Pack
Binoculars
Toilet Paper and Baggies
Power Bank
European outlet adapter
Flip Flops
Iceland packing list – summer gear and apparel to bring
As you pack your suitcase, here are some of the most vital items that you need to pack for Iceland in summer.
Rain Boots or Waterproof hiking boots
Whether you plan to hike or simply want to check out some of the beautiful nature and waterfalls in Iceland, you will want a good pair of comfortable, waterproof boots. But determining the best boots for Iceland depends on what your activities will be while you're there.
If you plan to hike, you'll need hiking boots with a sturdy sole on your Iceland packing list for summer. But if you are not planning to do any hiking or glacier trekking, a quality pair of rain boots would also suffice.
We didn't bring rain boots or hiking boots for our daughter and her tennis shoes were soaked on several occasions. In retrospect, a pair of waterproof hiking shoes or boots for her would have been beneficial.
I've linked below to a few options of boots to wear in Iceland for the whole family.
I wore my favorite Hunter rain boots and even did a short hike in them, and they were great. But if you prefer an actual waterproof hiking boot, there are plenty of brands that make great boots for Iceland.
BEST BOOTS FOR ICELAND
Men's boots
Women's boots
Kid's boots
Rain Jacket or Waterproof Outer Layer
Whether you visit Iceland in summer or in winter, the weather can be a mixed bag. The country's capital, Reykjavik, averages approximately 217 days with at least a drizzle of precipitation. So a quality waterproof rain jacket or poncho will keep you dry and warm.
Even if it doesn't rain during your trip, a waterproof jacket will keep you dry when visiting some of Iceland's best waterfalls, many of which you will get misted by when visiting.
So, if you plan to visit Iceland in summer, a rain jacket is one of the most important items in every Iceland packing list – summer, winter, or any other season.
A waterproof, thin outer layer may be sufficient, however, something with a removable inner layer for warmth is even better.
RAIN JACKETS FOR ICELAND
Men's rain jacket
Women's rain jacket
Kid's rain jacket
Waterproof or Quick-drying Pants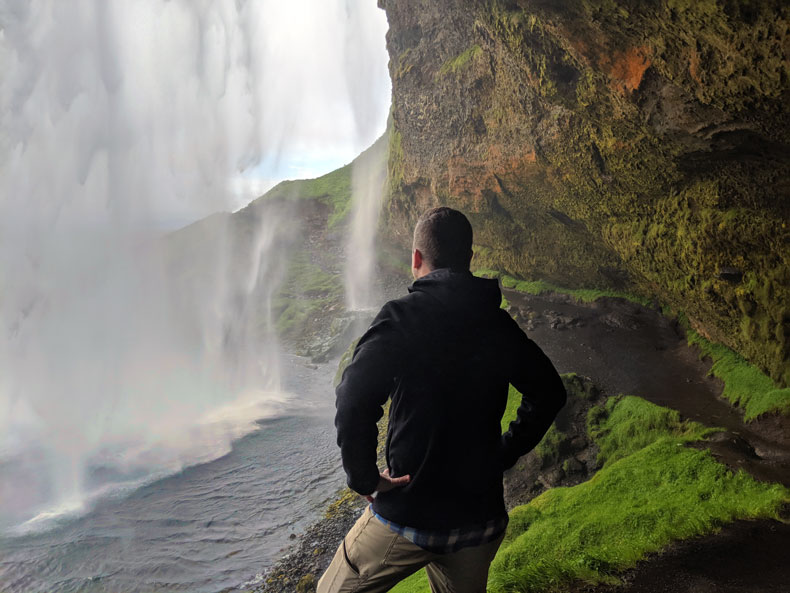 Perhaps just as important as a rain jacket, waterproof pants are a must on any Iceland clothing list.
Waterproof hiking pants are a crucial item to include in your luggage. Even if the day starts off sunny, you never know when you might encounter a sudden downpour in Iceland.
Some of the waterfalls in Iceland you might want to visit require walking through a shallow stream to get to them, as well. So, pants that will keep you dry, or at the very least will dry quickly, are important.
Packing waterproof rain pants will help keep you dry and comfortable, allowing you to fully enjoy all that Iceland's stunning landscapes have to offer without worrying about getting wet and cold.
Fortunately, waterproof pants don't have to be bulky or unflattering – there are plenty of stylish and functional options available that will keep you looking great while staying dry.
Swimsuit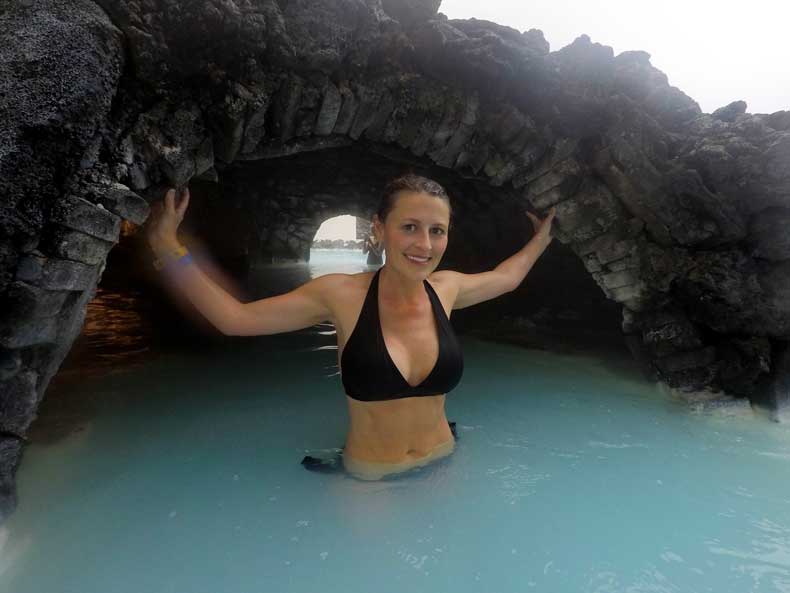 If you plan to visit the famous Blue Lagoon or any of the geothermal pools in Iceland, you'll obviously need a swimsuit. The country is home to some of the most incredible geothermal pools in the world, so you definitely want to visit at least one. Although expensive, the Blue Lagoon is worth visiting, and it is easy to get to from the airport.
Packing swimwear ensures you can fully relax and rejuvenate in Iceland's natural hot springs and geothermal pools. And don't worry about the weather – these hot springs are always warm, no matter the temperature outside.
Luckily, some of my favorite brands of swimwear are available online and are great for sporty, active families.
SWIMWEAR FOR ICELAND
Men's swim trunks
Women's swimsuits
Girls and toddler girls swimsuits
Boys and toddler boys swimsuits
Sunglasses
If you are visiting Iceland in summer, one of the coolest things about Iceland that you will experience on your trip is the midnight sun.
The sun doesn't set during the summer months in Iceland. And it's awesome! But that makes sunglasses a necessity, even in the middle of the night.
The sun can be incredibly bright, especially when reflecting off the country's glaciers and snow-covered landscapes.
Additionally, if you're planning on exploring Iceland's many outdoor attractions, you'll likely encounter a lot of mist and spray from geysers and waterfalls which can make it difficult to see without the proper eye protection.
Sunglasses not only provide essential protection from the sun's harmful UV rays but also help reduce glare and improve visibility, making your sightseeing adventures more comfortable and enjoyable.
Be sure to pack a pair of sunglasses, so you can fully take in Iceland's stunning scenery without being blinded by the bright sunlight.
BEST SUNGLASSES FOR ICELAND
Men's sunglasses
Women's sunglasses
Kid's sunglasses
Hat or Beanie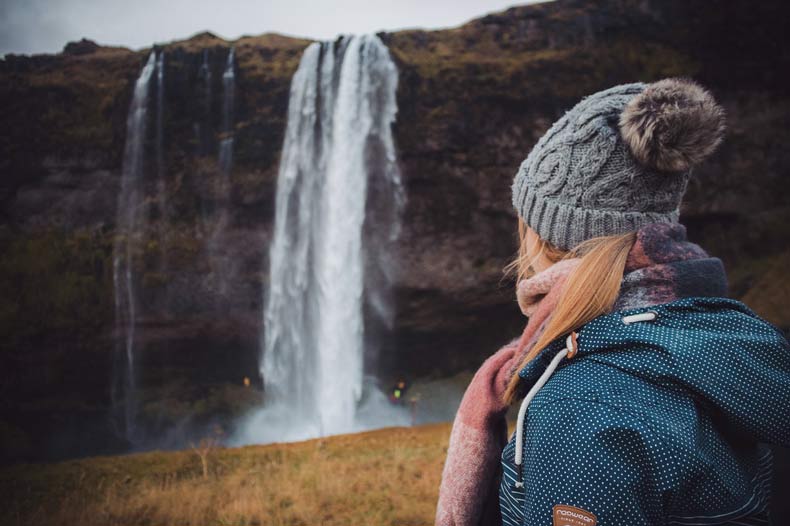 Protection for your scalp is also important when the sun doesn't set for 24 hours. You may not experience sweltering heat in Iceland but that doesn't mean you can't get a sunburn.
A hat will protect your scalp from the sun, keep your head warm when it is cooler out, and keep your hair from becoming a tangled mess when it gets windy. Iceland can be quite windy, and a hat will also protect your ears from the chilly wind.
A warm hat can help keep you cozy and comfortable, especially during early morning or late evening outdoor activities when temperatures can drop quickly.
Whether you prefer a cozy beanie or a stylish sun hat, be sure to pack a head covering for your Iceland summer adventure.
Packable Puffer Jacket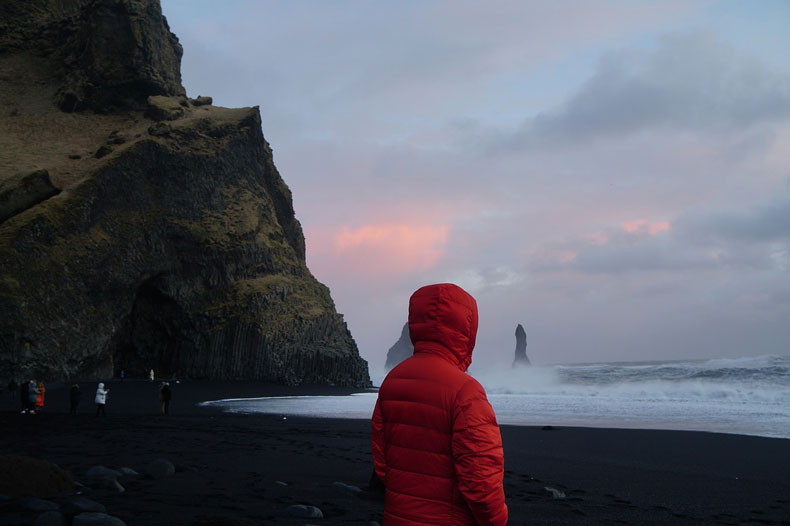 While summer in Iceland means sun 24 hours a day and mostly pleasant temperatures, the temperatures can drop unexpectedly and the wind can make even warm days feel cool.
That's why it's essential to pack a puffer jacket for your summer trip to Iceland. A lightweight puffer jacket will keep you warm and comfortable, no matter the weather conditions.
It's also a versatile piece of clothing that you can easily layer over a t-shirt or sweater.
Luckily, puffer jackets are quite compact and packable, and won't take up much room in your luggage, making it necessary for your Iceland summer packing list.
Extra Layers (short sleeve and long sleeve)
Layers is the name of the game when creating your Iceland packing list for summer.
Packing layers with both short sleeves and long sleeves is essential for a summer trip to Iceland. Layers will allow you to adjust to the changing weather conditions and keep you comfortable throughout your trip.
For example, a lightweight t-shirt paired with a long-sleeved flannel, fleece, or sweater can help keep you warm during cooler days or evenings.
Additionally, layers are a great way to regulate body temperature during physical activities, such as hiking or exploring.
And don't forget, Iceland's weather can change quickly, so it's always a good idea to have layers on hand that you can easily add or remove to stay comfortable.
By packing a variety of short and long-sleeved layers, you'll be prepared for whatever Iceland's summer season has in store.
Iceland summer packing list – other items you shouldn't forget
Aside from what to wear in Iceland, you also need to consider what to bring to Iceland beyond clothing and apparel. Your Iceland summer packing list should include these necessary items, as well.
Reusable Water Bottle
Tap water in Iceland is not only safe to drink, it is some of the cleanest and purest water I've ever tasted. So, bring a reusable water bottle or thermos with you and fill it up before you leave the hotel each day.
It will not only save you money, but it is important to stay hydrated when hiking, and much of Iceland is very remote so stores and restaurants might be few and far between.
Iceland is a very environmentally friendly country. Their eco-conscious citizens will respect you more for respecting their beautiful island and using a reusable water bottle versus buying single use plastic bottles.
Snacks
Just like the necessity of a reusable water bottle, it's a good idea to pack a few snacks for your trip to Iceland.
This isn't as important if you plan to stay in Reykjavik only and venture out on day trips from Reykjavik, but if you plan to drive the Golden Circle, Ring Road, or follow our Iceland itinerary, all will take you to some pretty desolate areas.
And if you are driving in Iceland and get hungry, there isn't always a place to grab food within a short driving distance.
It can be challenging to find food options in more remote areas, and having snacks readily available will help keep you fueled and energized throughout the day.
Buying snacks in Iceland can be quite expensive, and bringing your own can help you save money. Some good snack options to consider include energy bars, trail mix, dried fruit, and nuts.
And of course, if traveling with kids, whether on a day trip or a multi-day adventure, bringing snacks is a smart choice that will help your little ones stay nourished and ready for all the exciting experiences Iceland has to offer.
Camera
Iceland is a beautiful place! You will find yourself wanting to take a million pictures of the scenery and landscape. So, make sure you bring a quality camera with you to Iceland.
With today's technology, smartphones tend to have great cameras, but photography is a hobby of yours or you simply want something more higher end, a mirrorless or DSLR camera will ensure you get some phenomenal photos that you'll look back on with fondness for years!
Sunscreen
Just like you'll want to wear a hat in Iceland to protect your scalp from the sun, you'll also want to pack sunscreen for your trip. Even though Iceland's summers may not be as hot as other destinations, the country experiences long hours of daylight, and the sun's rays can be surprisingly strong.
Again, you probably won't feel like you are getting a sunburn, but with 24 hours of sun during summer in Iceland, your skin needs protection.
Iceland's unique landscapes, including glaciers and snow-capped mountains, can reflect the sun's rays and increase the risk of sunburns.
Sunscreen with at least SPF 30 should be applied to any exposed skin, including the face, neck, arms, and legs, to protect against harmful UV rays and prevent sunburns.
It's also important to remember that Iceland's summer days can be quite long, so don't forget to reapply sunscreen regularly throughout the day.
Chapstick or Lip Balm
Iceland is a windy country, so lip balm is a necessity, whether you are there in winter or are in Iceland in summer.
The long hours of daylight mean more exposure to the sun, which can also dry out your lips.
It's also a good idea to pack a lip balm with natural ingredients, such as beeswax or coconut oil, that can help soothe and repair dry or chapped lips.
I like to use one that is natural, cruelty-free, vegan-friendly, free of GMOs, parabens, and sulfates.
Face Moisturizer
Did you just read the previous paragraph where I said Iceland is windy? Wind burn is a real thing, and the wind can exasperate skin dryness. And you'll need a good moisturizer if you don't want red, chapped, dry skin.
Plan to pack a face moisturizer with natural ingredients, such as aloe vera or hyaluronic acid, that can help soothe and repair dry or damaged skin.
Your face will thank you for adding a quality moisturizer to your Iceland summer packing list.
Sleep Mask
If you are a light sleeper, like me, then a sleep mask is a must for your summer packing list for Iceland. With the sun barely setting, if at all, it can be hard to catch some quality zzz's without darkness.
The midnight sun can make it challenging to fall asleep, especially if you're used to sleeping in complete darkness.
If you're staying in accommodations without blackout curtains or shades, a sleep mask can help block out the light and create a more conducive sleep environment.
Additionally, it's a good idea to pack a sleep mask if you're planning on camping or sleeping in a sleeper van, a popular way to travel around Iceland.
My favorite sleep mask is a 2-for-1 because it also contains lavender which has awesome relaxing, aromatherapy benefits.
Daypack
Most summer visitors to Iceland spend a lot of time hiking and exploring the outdoors.
If you plan to do any hiking, even short hikes like the one to Svartifoss waterfall on our 4 day Iceland itinerary, then you'll want to bring a day pack to carry your water bottle, snacks, lip balm, camera, and any other necessities you might not want to leave behind.
Something as simple as a backpack will work, but if you want something more durable, REI makes a quality daypack for travel that is comparable to many of the higher priced brands, like Osprey.
Binoculars
Wildlife watching is one of the most popular summer activities in Iceland. The country is home to an abundance of bird species, including puffins, that can be challenging to spot with the naked eye.
Binoculars can help you get a closer look at these fascinating birds and observe their behaviors in their natural habitats.
Also, whale watching is another major draw for visitors to Iceland. And while whales aren't small like puffins, you'll still get a better view of these incredible ocean animals through binoculars.
So, whether you're planning to catch a whale-watching tour or a puffin-watching tour, a pair of binoculars will improve the experience ten-fold.
Toilet Paper and Baggies
If you plan to camp or rent a camper van, you need to be prepared for, you know, when nature calls. But don't crap on this beautiful country.
Instead, bring your toilet paper and baggies and pack that crap out – literally. Pick up your business, put it in a bag and toss it when you get to a trash can.
While you may not plan on going to the bathroom outside in Iceland, the country is very, very desolate. That means you may not always be near a restroom when nature calls.
It isn't pleasant to think about bagging your waste, but in Iceland, you may have to. These baggies are great because they decompose in 3 months, so literally, you are leaving no waste behind.
Portable Battery / Power Bank
Another necessity for your Iceland packing list – summer or winter, is a portable battery or power bank. As previously mentioned, Iceland is a desolate country. The vast percentage of the country remains uninhabited, and it is one of the most fascinating facts about Iceland.
While exploring Iceland's stunning landscapes, you may find yourself without access to electrical outlets to charge your devices.
A portable power bank can help ensure that your devices, such as your smartphone or camera, remain charged throughout your trip, allowing you to capture all the breathtaking moments and stay connected with loved ones back home.
Additionally, a portable power bank can provide peace of mind in case of an emergency, as you'll be able to keep your devices charged and stay connected to emergency services if necessary.
Plug Adapter
If you live in the Americas or in Asia, you'll need a plug adapter if traveling to Iceland.
Electrical outlets in Iceland are mostly European, which means your phone charger, curling iron, or anything else that requires electricity won't work unless you have a plug adapter.
Luckily, outlet adapters are inexpensive, and you can buy one that adapts to outlets worldwide. This handy necessity should be in every international traveler's bag.
Flip Flops
While you may not think of flip flops as an essential item for a summer trip to Iceland, they can actually come in handy for certain activities.
Iceland is known for its numerous hot springs and geothermal pools, which offer a unique and relaxing way to experience the country's natural wonders.
However, many of these pools require visitors to remove their shoes before entering, and flip flops can provide a convenient and hygienic way to protect your feet from the ground while still allowing you to move freely.
While they may not be suitable for all activities, packing a pair of flip flops can be a smart and practical addition to your summer Iceland packing list.
Frequently Asked Questions about What to Pack for Iceland
When packing for Iceland in summer, it is natural to have some anxiety over forgetting necessary items. Here are a few frequently asked questions about what to bring on a trip to Iceland.
Is it OK to wear jeans in Iceland?
While jeans are perfectly fine to pack for Iceland, you may want to have other options, as well. Jeans lack thermal properties and are not waterproof, so they are not great for exploring Iceland's waterfalls. However, jeans are a great thing to wear in Iceland when going to a restaurant or out for a night in Reykjavik.  
Do I need waterproof clothes for Iceland in summer?
Waterproof clothing is a necessity for a trip to Iceland. Not only is the weather a bit unpredictable but many of the activities, like waterfall hikes often result in you covered in mist. So, waterproof outer layers are a good idea for your Iceland summer packing list.
Do you need a coat when visiting Iceland in summer?
While it is unlikely you will need a heavy coat during the summer months, it is a good idea to pack a lightweight puffer jacket and dress in layers. You may also want to bring a warm hat and gloves to stay warm on chilly days. 
Visiting in winter instead of visiting Iceland in summer?
The weather is significantly different in winter than in summer in Iceland. Not only do you have snow and very cold temperatures in Iceland during winter, you also have never-ending darkness opposed to the midnight sun you experience in summer.
If you are packing for a trip to Iceland in winter rather than creating an Iceland packing list for summer, you'll need to add a few extra items to stay warm. With average daily temperatures around freezing, a thick, down coat, gloves, and a warm hat are wardrobe staples in winter!
Using packing cubes will help keep things organized and condensed in your luggage, despite the extra bulky items.
If you found this Iceland summer packing list useful, don't forget to pin it for later and share with friends!
Like it? Pin this Iceland packing list for summer to save for later!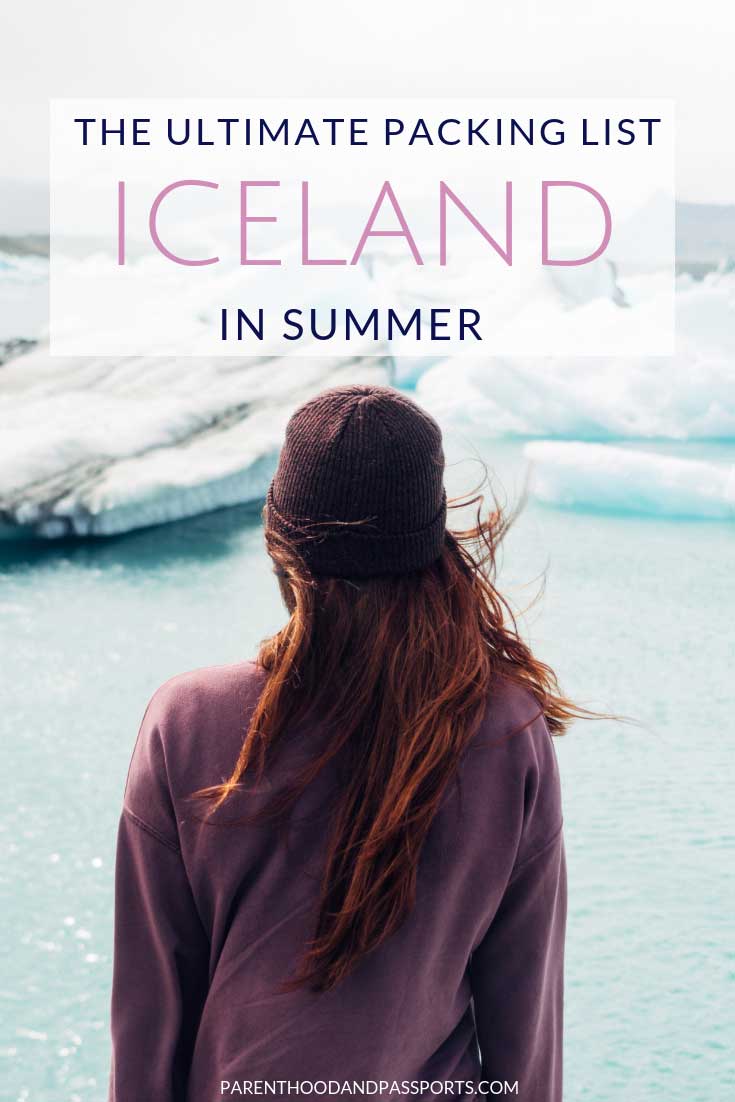 Have a question about what to pack for Iceland in summer? We'd love to help! Leave your thoughts in the comments below.
Did you know…
When you make a purchase or book hotels, tours, or other travel services, through our links, we receive a small commission, at no extra cost to you. We only EVER recommend service providers, websites, or products we personally use when booking our own travels. Your support enables us to keep producing helpful travel content. Thank you!
This Iceland packing list for summer was first published in September 2019 and was most recently updated in May 2023 for accuracy and current product information.