For anyone seeking a blend of culture, magnetism, and lots of history, Krakow is worth exploring. This delightful city in Poland offers beautiful architecture, exudes undeniable charm, and has a haunting history that will leave you with a profound sense of reflection.
With landmarks like the iconic Wawel Castle and the magnificent St. Mary's Basilica, as well as bustling market squares, Krakow is a unique and vibrant destination.
Its storied past, evident in the numerous reminders of the Holocaust throughout the city and the surrounding countryside, add to the historic significance of the city.
So, if you are wondering "Is Krakow worth visiting?", pull up a seat and let's dive into all the reasons you'll love this Polish city – and the one thing that you probably won't enjoy.
This Krakow travel guide answers the frequently asked question "Is Krakow worth visiting?" and explains why the city in southwest Poland is a must-visit destination.
About Kraków, Poland
As one of the country's oldest and most culturally significant cities, Krakow is steeped in legends and folklore, as well as heart wrenching history.
The city boasts a stunning blend of architectural wonders, including Gothic churches, Renaissance palaces, and Baroque-style buildings.
With its roots dating back over a millennium, Krakow is a city that has witnessed the rise and fall of empires, shaping its unique character.
The heart of the city lies in its UNESCO-listed Old Town, where you'll find the impressive Main Market Square, Europe's largest medieval square, and one of the most famous statues in Europe.
Additionally, the Gothic masterpiece, Wawel Castle, overlooks the city from its hilltop perch, adding to Krakow's fairytale-like charm.
FIND THE BEST TOURS, EXCURSIONS, AND ACTIVITIES IN KRAKOW HERE.
Our experience in Krakow City
Poland is near and dear to my heart. Years ago it was just another country in Europe that I kind of wanted to visit.
But now, it holds much more meaning to me. Mainly because my husband and partner in adventure is of Polish heritage. That also means when I married my husband I took his long, hard to pronounce, very Polish last name.
Now, we have an adorable, partially Polish daughter, and I think it's important to teach her about her heritage. Naturally, Poland is a big part of that.
So, on a road trip across Europe, we went a bit out of our way to visit Krakow, the popular city in Southwest Poland.
Maybe it was the familial connection, or perhaps it was Krakow's captivating appeal, either way, we fell in love with this Eastern European city.
Is Krakow worth visiting? 5 Reasons you'll love it
Whether you're a history enthusiast, an architecture lover, or simply seeking an authentic European experience, Krakow will captivate you with its timeless beauty and warm hospitality. Here are 5 reasons Krakow is worth visiting.
It has so much history
If you seek history in Poland, history you will find.
Krakow, as with the rest of Poland, has been through hell and back. It has survived WWI, WWII, communism, and economic hardship.
If Poland was a person, it would be that guy who constantly has bad luck. It would be the kid who gets shoved in a locker all throughout school. In fact, Poland has had such a bad run, that if it was a person it would be a guy who has the crap beat out of him every day of his entire life. That's Poland's history.
The country's painful and dark history is very much on display in Krakow.
In the Jewish Quarter, which was known as the Jewish Ghetto during WWII, you will find a museum and memorial depicting the horrific torture that Polish Jews endured. They were imprisoned, starved, enslaved, and murdered by the Nazis in concentration camps.
You'll also find the Empty Chairs Memorial on the outer edge of the Jewish Quarter dedicated to those who perished trying to help the Jewish people, and Schindler's Factory, the most popular museum in Krakow, where you'll learn the story of Oskar Schindler and life in Krakow during Nazi Occupation.
To truly grasp and appreciate the history of Krakow, take a guided walking tour through the Old Town area or the Jewish Quarter.
You'll not only discover the sites, like beautifully preserved synagogues and churches, but you'll gain a better understanding of the city's history and its resilience.
Of course, one cannot talk about the dark history of Krakow without mentioning the Auschwitz-Birkenau concentration camps which are located just outside the city.
As difficult as is is to visit the concentration camp where more than 1.6 million Jewish people and anti-Nazi activists were killed, it is an important part of history that everyone should learn about – lest history be repeated. So, a day trip to Auschwitz-Birkenau is a must.
Krakow's resilience is inspiring
While you can't deny its troubled past, what you will also notice is the city's and the entire country's resilience. Poland has been through hell, but it isn't there anymore.
From invasions and occupations to war and destruction, the city has endured and rebuilt itself with an unwavering spirit.
The country doesn't hide its bruises or its scars, instead it showcases them so others can learn from their tragic history. They do so in hopes that travesties like the holocaust will never happen again.
Today, Krakow is a bustling and beautiful city with a vibrant old town that attracts millions of tourists. Krakow's resilience is palpable in its vibrant cultural and arts scene, which stands as testament to the city's ability to rise from the ashes.
The city has countless delectable eateries, local shops, famous churches, and museums. Even the Jewish District is now a lively area with exceptional restaurants and quirky pubs and bars.
There are a lot of things to do in Krakow, Poland
We spent less than a week in Krakow, and found plenty of things to do to entertain and keep us busy while we were there.
If you only have 2 or 3 days in Krakow, you'll definitely want to visit Wawel Castle and Cathedral, walk along the Vistula River, tour the impressive and elaborate Wieliczka salt mines, and explore Old Town Krakow.
You can even take a horse and carriage ride through this charming part of the city.
Also spend some time in the Jewish Quarter, see the Empty Chairs Memorial, and visit some of the city's museums.
Make the day trip to the Auschwitz-Birkenau concentration camps, or if you have even more time, you can venture to the Tatra Mountains for a day of hiking in nature.
Krakow is inexpensive to visit
Of all the places we've visited, Krakow is definitely one where I could actually imagine living – and could actually afford to do so!
We rented an apartment, went grocery shopping, and even had to make a quick trip to the shopping mall to buy a new phone charger. Prices in Krakow were reasonable compared to what we've seen for goods and services in the United States or other parts of Europe.
While costs have gone up significantly in recent years, Krakow, Poland is generally considered an affordable tourist destination. Compared to many other European cities, Krakow offers relatively low lodging costs.
Dining and public transport in Krakow are typically more affordable than in major tourist destinations such as Paris, London, or Rome, as well. Additionally, exploring the city on foot is a popular option, as many of its highlights are within walking distance of each other.
FIND LODGING NEAR OLD TOWN KRAKOW
Polish Food is Delicious
Polish cuisine is a blend of hearty flavors known for its comforting and filling dishes. Perhaps the most famous Polish food, Pierogi, are iconic dumplings filled with various savory or sweet ingredients.
Other beloved dishes include flavorful stews, soups, and mouth-watering sausages, such as kielbasa. Give traditional Polish food a try while visiting Krakow.
It is a culinary experience that is sure to captivate any food lover.
Not sure what Polish food to order? Book a Polish food and vodka tasting!
It's beautiful!
Krakow will enchant you from the moment you set foot within its historic streets. Its stunning architecture, with intricate churches and cobblestone squares transport you back in time.
The jewel in its crown is the magnificent Main Market Square, Europe's largest medieval square, surrounded by magnificent buildings, including the iconic St. Mary's Basilica with its enchanting Gothic spires.
Krakow's colorful buildings are further accentuated by its lively street performers, horse-drawn carriages, and outdoor cafes that line the picturesque streets.
One reason you might NOT like Krakow
While there are a lot of fascinating things to do in Krakow, many of the attractions will leave you with a heavy heart.
It is important to learn about and understand the atrocities of the second world war, but the tragic history is numbing. It's overwhelming.
You can almost feel the heaviness when you walk around the city. I'm not really one who believes in ghosts, but if ever there was a place where I felt the presence of tormented spirits it was in Poland.
So, if you are sensitive to that type of energy, it may have an impact on your perception of Krakow.
Frequently asked questions about visiting Krakow
Aside from "Is Krakow worth visiting?", you likely have other questions about the city if you are planning to visit. Here are some of the most popular questions about Krakow, Poland.
Is Krakow touristy?
Krakow is a popular tourist destination and attracts visitors from around the world.
Its well-preserved medieval Old Town, which is a UNESCO World Heritage site, plus its numerous landmarks, like Wawel Castle, and the historic Jewish quarter of Kazimierz naturally draw lots of travelers eager to explore this fairytale city.
However, while it is a tourism destination, the historic sites and attractions in Krakow aren't necessarily "touristy". They offer a compelling experience and make Krakow worth visiting.
How many days do you need in Krakow?
Give yourself 3 days in Krakow to allow for a fulfilling experience.
This provides enough time to explore the city's highlights, such as the historic Old Town, Main Market Square, St. Mary's Basilica, the historic Wawel Castle, the Wieliczka Salt Mine, and the somber but important Auschwitz-Birkenau Memorial and Museum, located nearby.
Additionally, you'll have the opportunity to savor traditional Polish cuisine, wander through charming streets, and experience the city's vibrant culture.
Which is better? Krakow or Warsaw?
Krakow and Warsaw, while both wonderful Polish cities in their own right, are very different.
Krakow, with its rich history and well-preserved medieval architecture, is often considered more picturesque and romantic.
On the other hand, Warsaw, as the capital and largest city of Poland, offers a more cosmopolitan and modern atmosphere.
Conclusion: Is Krakow Worth Visiting?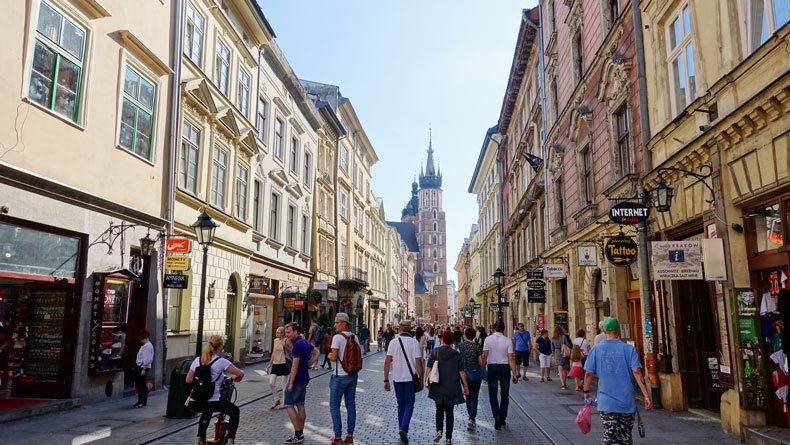 Whether you are drawn to its architectural wonders, cultural treasures, or simply the warmth of its people, Krakow promises an unforgettable experience that is sure to leave a lasting impression.
I felt connected to Poland in a way I haven't felt connected to many other places before.
To truly love and appreciate Poland you have to understand its past. And while it isn't pretty, love isn't always beautiful either.
When you love something, you accept it for what it is, and when you see how far Poland has come in the last few decades, you can't help but be amazed at the resilience of the country and its people. You can't help but fall in love.
So, going back to my previous analogy, if Poland was a person, I'm pretty sure I would love him.
It wouldn't be the naïve, immature teenage kind of love. It would be a deep, honest, long standing love… The kind of love that only occurs once you embrace someone for who they are, past and all.
Have other questions besides "Is Krakow worth visiting"? We'd love to hear from you! Leave your thoughts in the comments below.
Like it? Pin this guide to why Krakow is worth visiting to save it for later!
This guide, which answers the question "Is Krakow worth visiting?", was first written in March 2017 and was most recently updated in May 2023 for accuracy and current travel information.