Jackson Hole is rugged. It's extreme. It's the Wild West meets the X Games. But don't let that intimidate you. Jackson, Wyoming is also one of the most family friendly areas of the United States. In fact, it is the perfect place for an outdoor family travel getaway!
In many ways, visiting Jackson Hole with kids offers families an untainted experience with nature. With stunning mountain views, clean air, and lots of things to do in Jackson Hole for families, it is ideal for those looking for adventure or relaxation.
This guide to visiting Jackson Hole with kids includes the 10 best things to do for families in Jackson Hole, Wyoming, plus tips for visiting the popular area in western Wyoming.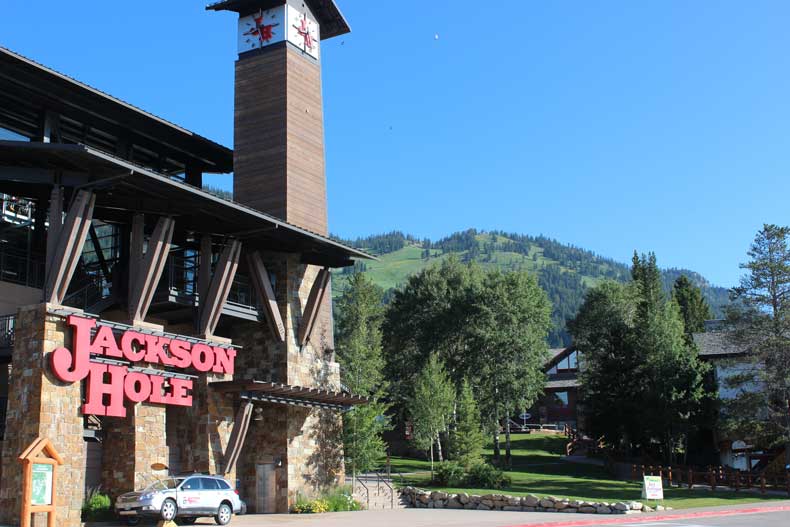 About Jackson Hole, Wyoming
Jackson Hole is a picturesque valley that lies between Gros Ventre and the Teton Mountain Ranges.
It gets its name "Jackson Hole" because the low-lying area is surrounded by jagged mountains that look like they rise straight up from the valley floor. The term dates back to the days when fur trappers first came to the area.
Jackson Hole is home to the popular tourist town of Jackson, Wyoming on its southern end. The scenic Grand Teton National Park encompasses much of the northern portion of the valley.
While Yellowstone National Park is not technically in Jackson Hole, it is easy to visit as part of any Jackson Hole itinerary.
You'll also find one of the country's most renowned ski resorts, Jackson Hole Mountain Resort, about 15 minutes from the town of Jackson, as well as the small, local ski mountain, Snow King, located within the town.
The area has plenty of great hotels and accommodations that are perfect for families. But if visiting Jackson Hole with kids or without be prepared for a pricey trip.
The ritzy region of western Wyoming which has become quite popular with celebrities, is notoriously known to be an expensive destination.
How to get to Jackson Hole, Wyoming
The Jackson Hole Airport is about 10 miles from the town of Jackson, Wyoming and about 30 miles from the Jackson Hole Mountain Resort and Teton Village.
The airport offers nonstop service from about a dozen airports nationwide. It is a small airport just 2 miles from the base of the Grand Tetons, and it is the only US airport located within a national park, which means it probably has one of the best views of any airport in the country.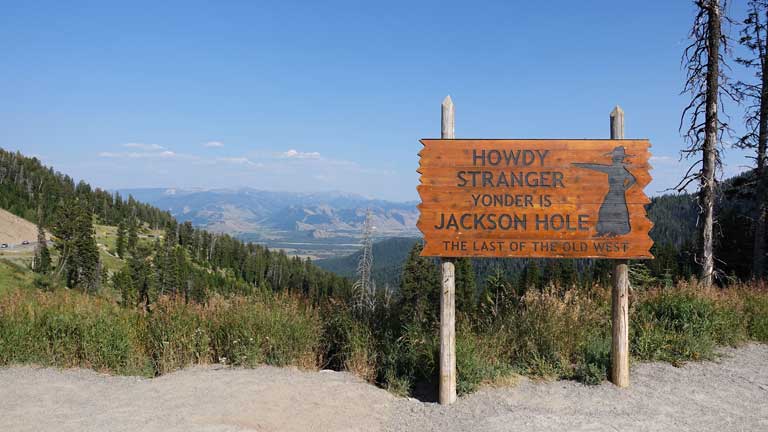 While flying into Jackson, Wyoming may be the most convenient way to get there, many choose to visit Jackson Hole as part of a northern US national parks road trip that might include Yellowstone and Grand Teton, as well as national parks in nearby states like Glacier National Park in Montana or Theodore Roosevelt National Park in North Dakota.
What time of year should you visit Jackson Hole with kids?
Similar to other resort towns, the time of year that you should visit Jackson Hole depends vastly on your interests. Jackson Hole is known for its snow sports during winter.
The Jackson Hole Mountain Resort offers some of the best skiing and snowboarding in the world.
But there are plenty of other winter activities in Jackson Hole, Wyoming for non-skiers, also. Snowmobiling and dog sledding are both popular winter activities that families can do together.
During the summer, activities such as hiking, rock climbing, rafting, and cycling are all widely popular in Jackson Hole.
Summer is by far the most popular and busiest time of year to visit Wyoming. So expect crowds and high lodging prices if visiting during the summer months.
If you enjoy the outdoors and want to visit when the temperatures are still warm but want to avoid the crowds and save on costs, fall is one of the best seasons to visit Jackson Hole.
Our experience visiting Jackson Hole, Wyoming with kids
Jackson Hole, Wyoming is one of the most unique areas of the United States and one of the most scenic. For this reason, it is also one of our favorite places in the US and perhaps even in the world.
We have visited Jackson Hole with kids in winter, summer, and fall. No matter how many times we go to Jackson Hole, we never get bored.
If you are considering a trip to this part of the country, we have compiled comprehensive lists of the many great summer activities and winter activities in Jackson Hole.
We also have created a Jackson Hole dining guide and a list of the best places to stay in Jackson Hole to help families plan the perfect trip to Jackson Hole, Wyoming with children. We aim to be a resource for other travel-loving families, so be sure to check those out.
The best things to do in Jackson Hole with kids
Let's face it, sometimes kids are hard to please. They have short attention spans, a lack of appreciation for cultural experiences, and an obsessive addiction to technology that sometimes you have to force them to break on trips. All of this can make children difficult travel companions.
But Jackson Hole, Wyoming is nature's finest playground. And children and adults alike will love it!
In fact, Jackson Hole is just one of many places to visit in Wyoming with kids if you are looking for a truly great family vacation..
Here are nine reasons you and your kids are bound to have a good time in Jackson Hole.
1. Go wildlife spotting
From the National Elk Refuge to the hundreds of species of animals living in Yellowstone and Grand Teton National Parks, your kids will love getting an up close glimpse of wildlife in the area.
In winter, a sleigh ride through the elk refuge brings you aside herds of elk who travel down to the valley for protection during the cold, snowy months.
For a greater adventure, you can even book a multi-day winter safari through Grand Teton National Park and Yellowstone.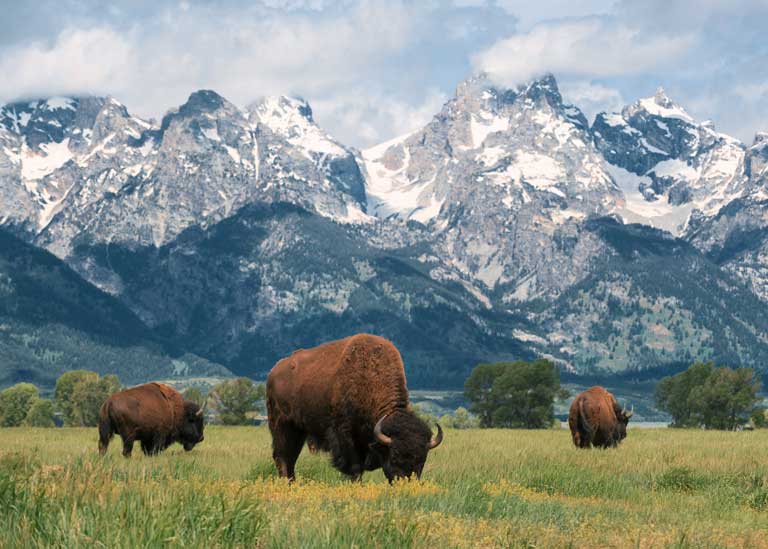 In summer, your opportunities to experience wildlife in their natural habitat greatly increase, as many animals that hibernate during winter are out and roaming the valley.
Take a self-drive through Yellowstone and you'll likely see herds of bison, moose, elk, deer, and possibly even a bear or wolf.
A word of warning though, don't get too close. These are, after all, wild animals, and they are best viewed from the safety of your vehicle.
If you're more comfortable viewing the wildlife with a knowledgeable guide, you can book something brief like a 4-hour wildlife safari in Grand Teton National Park or have your whole trip and lodging planned for you on a multi-day trip through both Grand Teton and Yellowstone.
2. Go on a nature hike
While hiking is more of a summer activity, with the right gear and appropriate winter clothing like you would wear to go skiing, you can explore the many hiking trails in Jackson Hole with kids anytime of year.
In winter, book a beginner's snowshoeing hike through Grand Teton to experience the epic scenery covered in a blanket of fresh snow. And in summer, you'll find plenty of hiking trails throughout Jackson Hole ranging in difficulty.
You won't need a guide on a summer hike, but it is always a good idea to rent a canister of bear spray before you hit the trails – just to be safe.
During the summer months, take a hike to one of the area's majestic waterfalls, like Lower Falls in Yellowstone. The hike is a workout with a great reward! There is something about the sound of rushing water that makes us all light up with joy and fascination.
And some of the most incredible waterfalls in the United States are located inside Yellowstone National Park. Your child will love witnessing the power of these beautiful wonders of nature.
If you plan to spend multiple days hiking and visiting the two national parks on a self-guided tour in western Wyoming, a national park pass is a worthwhile and cost-savings purchase.
3. Experience geothermal activity
Jackson Hole and nearby Yellowstone are perhaps the top place in the United States for geothermal activity. In fact, seeing Yellowstone's famous geyser, Old Faithful, erupt should be on every US bucket list.
Families visiting Jackson Hole with kids can turn their Wyoming vacation into a true science and geology lesson any time of year.
While many of the park roads in Yellowstone are closed during the winter months, it is still possible to visit Old Faithful during winter on a snowmobile tour.
During the summer, the famous Yellowstone geyser is an easy part of any Yellowstone itinerary.
Regardless of the time of year you visit, the geothermal activity in this part of the United States, adds an interesting educational component to your vacation to Jackson Hole with kids.
4. Learn about nature conservation
For those families seeking to add an educational component into their trip, Jackson Hole is a wonderful place to highlight the need for nature and wildlife conservation.
Spend some time speaking to a friendly park ranger at Grand Teton or Yellowstone or book an eco-tour for an enlightening experience that will make a genuine impact on your kids.
The national parks are fascinating places to learn about wildlife preservation. Their mission is not necessarily to "protect" wildlife, but instead to preserve the natural ecosystem, which includes predators, prey, and scavengers.
There is no better place for children to learn a healthy respect for the wilderness than in Jackson Hole, Wyoming!
5. Other unique outdoor activities year round
From awesome hikes in the summer to skiing in the winter, Jackson Hole caters to those adventure-seekers looking to get outside and get the blood pumping!
While hiking and skiing naturally come to mind, there are a lot of other family-friendly outdoor activities you can do in Jackson Hole with kids.
You'll find everything from horseback riding to whitewater rafting, mountain biking, and even an alpine slide and mountain coaster at Snow King Mountain.
There is so much to keep kids entertained and outside year round.
6. Explore a Wild West town
Jackson, Wyoming is a town with a true wild west feel. With antler archways, wooden sidewalks, and galleries filled with wildlife art, the town is like stepping onto the set of an old western movie.
Start your adventure in downtown Jackson, Wyoming by visiting Town Square park. This lively park is famous for its arches made entirely of elk antlers that were shed and gathered from the Elk Refuge just outside the town.
During the summer months, you can even witness a free Wild West shootout every Monday through Saturday at 6 p.m.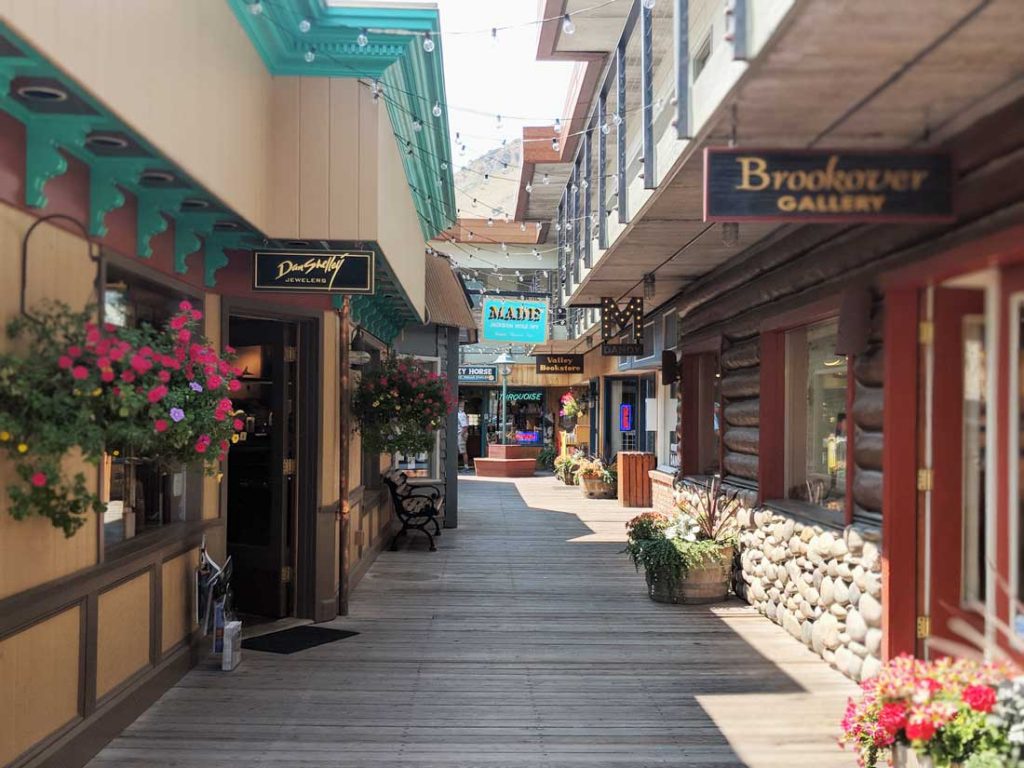 If your little ones need a break from the Great Outdoors, the Jackson Hole Children's Museum is a wonderful place for them to play, explore and create.
7. Enjoy great food and try regional cuisine
No great trip is complete without great food, and luckily, you'll find some incredible restaurants in Jackson Hole, too!
If you have adventurous eaters, encourage them to try the local cuisine, including elk, bison, and venison meats. Another local option is fresh trout caught in the Snake River.
Are your kids picky eaters? No problem. You can easily find foods like pizza, pasta, hamburgers, and other kids' foods in Jackson, as well.
For vegetarians, vegans, or simply those who don't fancy meat, Jackson is a world-class destination, so although their local cuisine is hardy and red meat heavy, you'll find meatless options in most restaurants.
8. Enjoy the valley's prestige lakes, rivers, and hot springs
From a gentle boat ride down the Snake River to child-friendly, white water rafting tours or simply splashing around in the clear, cold water, river and lake activities are fun for kids of all ages. And you will find no shortage of exceptional lakes and rivers to visit in Jackson Hole with kids.
Rendezvous Park is a great place to take a free dip in a shallow section of the Snake River during the warm summer months.
While the lakes and rivers are more suited for summertime, the area is also home to several natural hot springs that are great year-round.
Book a relaxing family soak in the mineral-rich waters at the Astoria Hot Springs Park, just south of Jackson for a fun water activity with a view!
9. Take a scenic tram or gondola ride
There are few places in the US as scenic as Jackson Hole, Wyoming. Kids will love taking the tram to the top of Jackson Hole Mountain Resort. The views from the top of the tram will take your breath away.
At the top of the mountain, you'll find a small cafe serving delicious and wildly popular waffles.
If you prefer, you can opt for a gondola ride that will take you about halfway up the mountain where you can enjoy a nice lunch with a view.
10: Spend a day at Snow King Mountain in Jackson Hole
While Jackson Hole Mountain Resort is the valley's best known ski resort, the smaller Snow King Mountain is a blast for kids year round.
With a mountain coaster open year round, snow tubing in winter, plus an alpine slide, ziplining, mini-golf and a treetop adventure course in summer, if you are visiting Jackson Hole with kids, a day at Snow King will be a day your children won't forget!
Have a question or comment about visiting Jackson Hole with kids? We'd love to hear from you. Leave your thoughts in the comments below.
Like it? Pin this guide to the best things to do in Jackson Hole with kids to save it for later!
This family travel guide to the best Jackson Hole kids' activities was first written in March 2016 and was most recently updated in April 2022 for accuracy and current information.