Let's face it, not all airport layovers are created equal. Some airports offer free guided tours and complimentary shuttles to the city center, while others have excellent on-site amenities like yoga classes, gardens, activities, and premium shopping and dining options.
But Keflavik Airport is great for a short layover in Iceland simply because of its proximity to a world-class wonder: the Blue Lagoon. In fact, getting from Keflavik to the Blue Lagoon is easy and convenient.
About the Blue Lagoon in Iceland
At a steady 100 degrees to 110 degrees Fahrenheit, the Blue Lagoon is a man-made geothermal spa that was created back in the 1970s. It's backstory is one of the most interesting things about Iceland because surprisingly, it was discovered on accident.
The lagoon sits next to a geothermal plant. Waste water runoff from the plant started pooling in the lava fields nearby.
I understand the thought of submersing your body in waste water sounds disgusting at best and hazardous at worst, but don't let it gross you out.
The Blue Lagoon is actually Iceland's number one attraction, with more than 700,000 visitors each year. It is even more popular than Iceland's many waterfalls.
The mineral-rich waters in the Blue Lagoon are believed to provide valuable health benefits to all who come to soak in them.
Minerals like silica and sulfur are great for the skin, although not so great for the hair. You'll want to tie or pin up long hair and condition it afterwards.
How to get from Keflavik to the Blue Lagoon
Getting from Keflavik to the Blue Lagoon only takes about 20 minutes. So within an hour of getting off the airplane, you'll be on your way to the most relaxing layover ever.
Soaking in a geothermal spa is a great way to beat jet lag and unwind after being cooped up and cramped in the cabin of an airplane. That right there makes a layover at Keflavik Airport totally worth it! In fact, I'd probably argue that the convenience of the Blue Lagoon to Keflavik makes it one of the best airports in the world for a short layover.
Getting from Keflavik to the Blue Lagoon is simple. There are hourly shuttles that you can take to the Blue Lagoon from the Iceland airport.
If you have a longer layover in Iceland and plan to rent a car and drive in Iceland, the Blue Lagoon is a short and easy drive. The attraction also offers plenty of free parking once you arrive.
Private transfer to the Blue Lagoon
You can also book a private transfer from Keflavik to the Blue Lagoon. Although more expensive, this is a great option especially if you are on a time crunch.
If you are staying in Reykjavik there are private transfers available to and from the city, as well. However, even if you are staying a night in Reykjavik, I recommend making the Blue Lagoon your first stop once you get to Iceland.
While the lagoon is only a 15-20 minute drive from Keflavik Airport, it is a 50-minute drive from the Reykjavik city center, so it makes sense to go directly from the airport.
FIND AND BOOK A PRIVATE ROUND-TRIP TRANSFER OR A BUS TRANSFER FROM KEFLAVIK TO THE BLUE LAGOON.
Shuttle bus from Keflavik to the Blue Lagoon
There is also a shuttle bus operated by Destination Blue Lagoon that runs each hour during the day from Keflavik to the Blue Lagoon.
The shuttle is a more affordable option compared to a private transfer, however, it does involve waiting until the hourly departure time. Destination Blue Lagoon also has shuttle services from Reykjavik.
Times and pick up locations can be found here.
Renting a car and driving to the Blue Lagoon
A self-driving tour of Iceland may be one of the most popular ways to explore the country if you have an Iceland stopover for a few days.
If you decide to rent a car in Iceland getting to the Blue Lagoon from Keflavik is an easy drive down a well-maintained highway.
FIND AND BOOK A RENTAL CAR IN ICELAND HERE.
How long of a layover in Iceland do you need to visit the Blue Lagoon?
Like the middle of America, Iceland is a flyover destination that many only go to if they are actually visiting there.
But, in the chance that you have the option of a short layover in Iceland, then definitely go for it. Because in a few minutes you can go from the airport to a therapeutic, milky blue geothermal bath.
How much time you spend at the Blue Lagoon really depends on you. Still, you will want to give yourself several hours to truly appreciate the experience.
For one, depending on the time of day you are visiting the line to redeem your tickets can take awhile. The attendant has to explain the rules to each person before they can enter.
You'll then need to shower (which is mandatory), change into your swimming suit, and store your belongings in a locker before entering the lagoon. That process can take time, so allow enough time for both the logistics and the relaxation.
The whole purpose of visiting the Blue Lagoon is to relax, particularly if you just arrived in Iceland after a long flight or are only there on a short layover. You don't want to rush the experience.
Soak in the water and let your body benefit from the minerals.
Apply the mud mask, which everyone receives with their admission, and let that mask work its magic on your face. Air travel can be very drying for your skin, so the mud mask might be just what you need to rejuvenate your face after a flight.
Finally enjoy a drink at the swim up bar which is also included in admission. Take in the moment and feel the tension in your muscles vanish.
To truly appreciate the experience you'll probably want to spend at least 2-3 hours at the Blue Lagoon. Which means if you are only visiting on a layover, you'll need about 5-6 hours between your arrival and departure flights.
Things to know before visiting the Blue Lagoon from Keflavik
If you plan to visit the Blue Lagoon from Keflavik there are a few things to know and plan for ahead of time, particularly if you are going from Keflavik to the Blue Lagoon on a layover in Iceland.
Pack a swimming suit in your carry-on bag
If you only have a few hours in Iceland and plan to head to the Blue Lagoon during a layover, make sure you pack your swimsuit in your carry-on bag.
In fact, even if you are staying in Iceland for awhile but want to make the Blue Lagoon your first stop.
I'd recommend packing your swimsuit in your carry-on bag for easy access. Swimsuits are required in the Blue Lagoon. Although you can rent swimwear there if you forget yours, the idea of renting a swimsuit kind of grosses me out. It's like borrowing someone's underwear. Ick.
ALSO READ: ICELAND PACKING LIST FOR SUMMER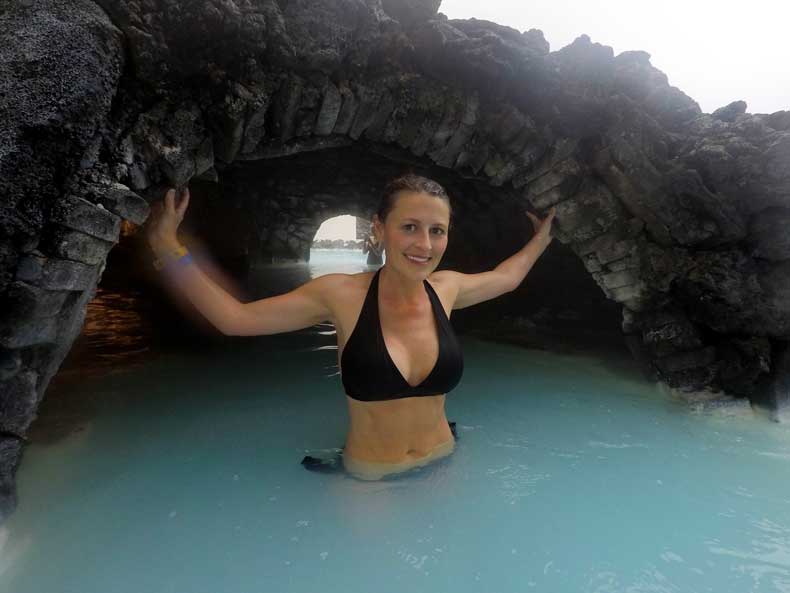 Storing luggage at the Blue Lagoon
Whether you travel with a small carry-on bag only or you are a chronic over-packer and have a massive suitcase full of clothes, you can bring and store your luggage at the Blue Lagoon while you are there.
There are lockers in the locker rooms that can hold smaller bags. While larger luggage can be stored in a secure luggage facility in the parking lot.
Book your tickets in advance
It's important that you make a reservation before actually going to the Blue Lagoon. To avoid being overcrowded, a limited number of tickets are sold each hour. Time slots can sell out quickly, particularly during the peak season for tourism.
Make sure if you are coming straight from Keflavik to the Blue Lagoon, you book a time slot at least an hour and a half after your scheduled landing time. This allows you plenty of time to get through customs and get your transportation squared away.
Plus, it takes into account the 20-minute drive from the airport. Not knowing whether or not your flight will land on time is always a gamble you have to take. If you miss your time slot, they will still try to get you in, but there is no guarantee.
You can reserve your tickets here.
READ MORE BLUE LAGOON TIPS TO PREPARE FOR YOUR VISIT.
Make sure you have enough time
As with any layover where you leave the airport, make sure you give yourself enough time to get to and from the Blue Lagoon.
As mentioned above, you will likely want to have about 6 hours from arrival to departure.
While you could possibly visit the Blue Lagoon from Keflavik in less time, to truly enjoy the experience, you will want and need a minimum of a 5-hour layover in Iceland.
Booking an overnight stay is an option
If you have an overnight layover in Iceland and prefer to stay near the Blue Lagoon instead of near the airport or in Reykjavik, there are several hotels nearby that you can book for the night.
There is also a restaurant and a cafe at the Blue Lagoon where you can eat a nice dinner without having to leave the area.
FIND A HOTEL NEAR THE BLUE LAGOON.
Why the Blue Lagoon makes for a perfect short layover in Iceland
Although flying these days hasn't really changed, layovers don't have to mean being stuck in an airport without anything to do.
Air travel is probably not going to change much over the next few decades. But what you do once you're at the airport may. You have your airport lounges and bars that are pretty much the same no matter where you go.
But, fly into Keflavik, Iceland and you could have an experience like no other.
Do you have questions or comments about getting from Keflavik to the Blue Lagoon? We're happy to help! Leave your thoughts in the comments below.
Like it? Pin this guide to getting from Keflavik to the Blue Lagoon to save it for later!