It is never too early to get your kids into camping. Think of all the wonderful things a child can experience while on a camping trip. The stars lit in the sky without any lights around. The sound of animals and insects in the woods. Life without the internet.
There are many ways for camping with kids to bring you closer to nature and closer to each other. The following list will help you prepare for your first camping trip with kids.
This kids' camping gear guide covers all the essential things you will want to take on your trip, plus a few items to help make it fun and memorable for everyone.
Essential gear for camping with kids
There are a few must-have items when camping with kids to make the experience awesome for everyone.
We've made it easy for you to plan your trip by linking to options you can find on either REI or Amazon in this handy chart.
Kids' camping gear guide
Here is exactly what to look for when you are buying kids' camping gear or camping gear in general. We've included descriptions and our recommendations for all the products in the chart above plus a few extras.
We only recommend products we love, so you can rest assured that at least one outdoorsy family backs these products.
1. Tent
Tents are an obvious necessity when you go camping. Depending on how many children you have, you will need at least a 4 person tent. And not all tents are created equal.
This is one of those necessities where you often get what you pay for. A tent can cost anywhere from $40-50 to $600-700! Low-end tents may be harder to set up or leak when it rains, but that doesn't mean you need to drop a ton of money for the highest priced tent.
Look for a tent with quick set up. If traveling with a baby or young child who still takes nap, a blackout tent is also a valuable feature.
We have the Marmot Tungsten 4-person tent. We especially love it for back country camping because it is ultra light and set up is extremely easy.
Pro tip: Do not let your first night camping in a tent be the first time your child has ever seen a tent.
Set it up in the backyard or even in the family room. Let your little one play in it, sleep in it, and horse around in it.
2. Sleeping bag
There are few things in life you should never skimp on. Sleeping bags are one of them. You may be able to get by with a low-end or moderately priced tent, but do not buy the cheapest sleeping bag for you or your kids.
Find a sleeping bag that keeps you comfortable. They have sleeping bags for kids and specific ones for adults. You'll definitely want to find one that a kid can bury their head in.
Camping can be fun, but it can also be scary when it gets super dark at night. The added security of a solid, quality sleeping bag will bring added comfort to your little one and help your child get a good night's sleep.
Pro Tip: Look for a sleeping bag that is rated for at least 30 degrees to keep them warm when it gets chilly at night.
The sleeping bag your kid takes to a slumber party just won't cut it when camping.
3. Pillows
Pillows are important. Comfortable pillows are even more important. There are two types of kids' camping pillows that you buy, inflatable or traditional fiber-filled or foam pillows.
We don't really care for inflatable pillows, but we have recommendations below for both filled and inflatable pillows.
Thermarest makes a great collection of camping pillows that vary in size and pack down real tight. They are perfect for adults and even children.
If you prefer inflatable pillows, Trekology makes an ultralight inflatable pillow that is ergonomical and comes in fun colors which kids will love!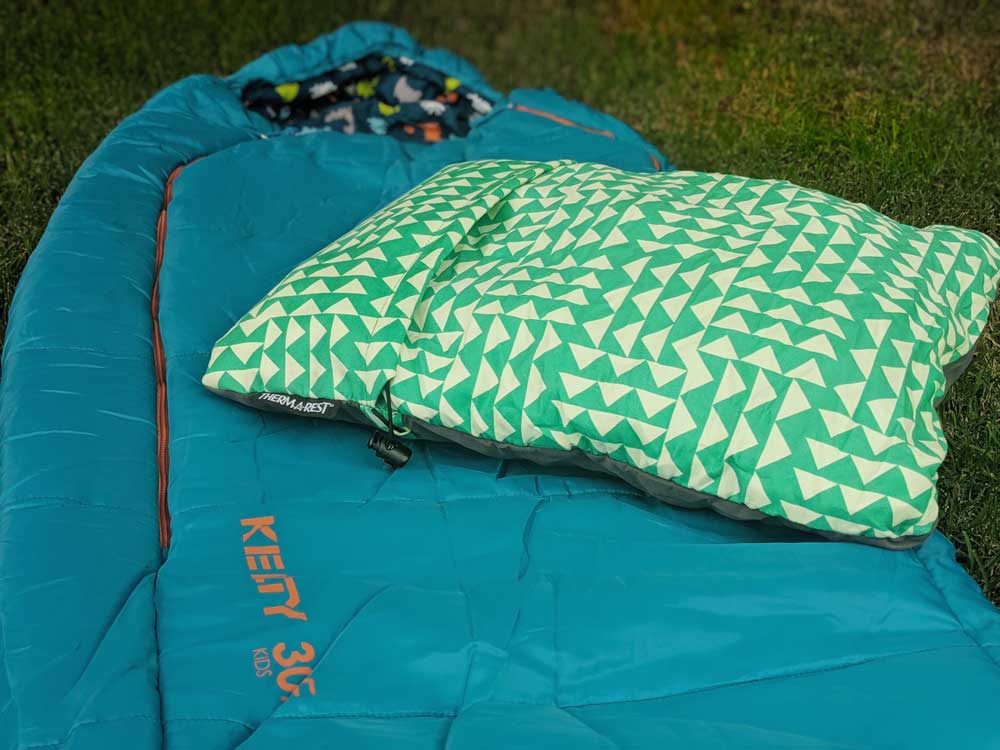 4. Sleeping pad
You can't just put your sleeping bag on the ground inside your tent and expect to sleep well. No one likes to sleep on the hard ground. And certainly no one likes to sleep on the cold ground.
As with camping pillows, there are 2 options for sleeping pads: inflatable or foam pad. Both are great options. Depending on your lung strength you can either opt for an inflatable one or throw down a foam pad.
When it comes to sleeping pads, we actually prefer an inflatable pad. It is just a bit more comfortable than a foam pad on the ground.
Depending on the age and size of your child, you will probably want to buy individual, twin-sized sleeping pads, rather than one queen-sized sleeping pad.
Pro tip: Individual sleeping pads will ensure your kids have a good night's sleep even if mom or dad are tossing and turning.
No one wants to share an air mattress with someone who is moving around a lot. But if a young toddler or baby needs extra cuddles because it's dark and scary, you may want to buy a queen size air mattress or sleeping pad instead.
5. Lighting
Lighting is an essential when camping with kids. It will likely be darker than your kids are used to when you are camping. So a well-lit campsite and tent will help make it less scary.
You can find fun lighting elements that are perfect for your kids' camping gear! You'll need lanterns or hanging lights as well as kids' headlamps or puck lights in case you need to go find a tree to squat behind late at night.
Pro tip: Make sure whatever lights you invest in are light and easy to transport. And opt for headlamps instead of flashlights to keep you hands-free… You know, when you need to go. 🙂
6. Food
What to eat. Adults and kids will differ. But the best foods to take camping should be easy to cook on a camping stove or an open fire.. I doubt your 4-year-old is going to be a big fan of quinoa. Yes, mac-n-cheese is acceptable camp food. Hot dogs, chips, and all their favorite snacks will make camping fun.
When you are camping with kids, don't be too strict on what the kids eat. Camp food is part of the fun! You can get back to eating healthy foods when you get home. Whatever food you decide to bring with you, there are a few necessities you will need.
The number one thing you will need to bring is a cooler to store food like meats, cheeses, drinks, and condiments. You may also want to buy a cooler light so you can easily see inside the cooler after dark.
Pro tip: Keep your cooler in your vehicle at night or a good distance away from the campsite to keep wildlife away.
7. Cookware
Light and packable is the way to go when it comes to camping cookware. You don't want to carry a heavy stove set, do you?
We use the Whisperlight International by MSR for cooking and it cooks fast! It packs up to the size of your fist and hardly takes up any room.
You'll also need a portable camping pot. This one has a lid that doubles as a frying pan, double boiler, or plate.
8. Gas
Unfortunately, your camping stove won't work without gas, which is sold separately. You'll need to grab an MSR gas bottle and a can of white gas, as well.
These can be tricky to find in stores but are essential for camping if you want to cook food on a camping stove rather than over the campfire.
9. Tableware and utensils.
Your cookware is going to look different when you are camping, and so are your plates.
Camping plates are actually really cool looking and kids find them fun. Just look at these vibrant colors. It will make camping meals even more appetizing!
Also, you won't be taking your fancy steak knives on the trip. Nope. You'll be taking sporks. Spoon, forks, and even a jagged edge to help you cut your food. They are fun for kids. Is it a spoon? Is it a fork? It's a spork!
10. Furniture
No, we're not saying you need to bring the couch. But you will want to bring something to sit on. Camping chairs and stools have become very light and easy to transport. Grab 1…or 4.
Let's face it, no one wants to sit on a cold ground and eat…do they? Look for chairs that are compact versus folding chairs that take up more space in the car or tent.
11. Appropriate clothing
Do you want your little one to enjoy camping? Do you want them to go camping again? Then you better dress them right. Layers is the name of the game when camping.
You'll also want to make sure your kids are wearing clothing that will protect them from the elements, including rain, sun, and insects. Here are a few recommendations:
12. Safety and cleanliness
Some of the most important kids' camping gear items that every family camping trip should include are intended to keep your kids safe. Camping exposes your family to the elements.
So you want to make sure you have all the necessary safety gear to keep your kids protected. This includes a first aid kit, bear spray, sunscreen, and bug spray.
Hygiene is another challenge when camping with kids. You'll also want to bring toilet paper, cleansing wipes, and depending on how long and where you are camping, a bathing station or portable shower.
Pro tip: You cannot fly with bear spray, so if you plan to camp somewhere that requires air travel, buy bear spray upon arrival and donate it to the national park, hotel office, or visitor's bureau when you leave.
13. Weather
You can't control this one, but you can plan for it. A cold or rainy night of camping is not going to be a fun adventure for you and your little one.
Find the right weather. Typically, 60s at night and 70s and lower 80s are ideal for first-time campers. So plan your camping trip during the right season for your location.
Kids' camping gear – the fun stuff
While camping with kids is a great way to expose them to nature, it is also an incredible bonding experience. Without WiFi, internet, and electricity, you need to find other ways to stay entertained and make camping with kids FUN!
So beyond the camping essentials, you'll also want to pack a few things to make the experience unforgettable. We're talking about those daytime nature hikes, and nighttime stargazing and making s'mores around a fire. THAT is what camping with kids is all about.
Without further adieu, here are a few kids' camping gear items to bring the fun!
Must-have kids' camping gear for exploring
Kid carrier
If you are camping with babies, toddlers, or young children and plan to spend your days hiking and exploring, you may want to invest in a kid carrier hiking backpack.
We use the Deuter Kid Comfort child carrier. We have taken it everywhere with us and love it! It is perfect for hikes when our daughter gets tired of walking.
READ OUR FULL REVIEW OF THE DEUTER KID COMFORT HIKING CARRIER HERE.
Daypack
Those daytime explorations away from the campsite are so much fun for the whole family. Let your little ones carry their own snacks, water, or binoculars in a backpack that is just their size.
This is a must-have kids' camping gear item to help teach independence.
Pro Tip: To save room, look for a day pack that can fold down into a storage pouch.
Binoculars
Binoculars are fun and they are a must-have kids' camping gear item if you want to ignite a love for the great outdoors in your children. There is no better way to explore on a nature hike than with binoculars.
A good pair of binoculars allow your kids to get a better look at wildlife or the landscape while maintaining a safe distance from animals or dangerous terrain.
Canteen
Sure, a Nalgene water bottle is sufficient to help your kids stay hydrated while camping. But a fun canteen will make something as simple as drinking water an adventure.
Must-have kids camping gear for relaxing by the fire
Marshmallow roasting sticks
Roasting marshmallows or hot dogs around the campfire is practically a camping rite of passage. A set of fun roasting sticks lets little ones take part in the cooking while keeping them at a safe distance from the fire.
Hammock
Who doesn't love lounging around in a hammock? It's the perfect place to hang out near the campsite, read a book, take a nap, or simply look up at the trees. It adds an instance dose of fun to any campsite.
Pro tip: Look for a hammock that comes with the straps and equipment needed for a quick and easy set up.
Glow slap bracelets
Campsites can get super dark at night. Even with lanterns and a campfire, it can be eerily dark. But the dark can be a blast! Especially with LED-lit slap bracelets in fun neon colors.
These armbands are rainproof and sweat-proof.
Must-have kids' camping gear for keeping children entertained
Squirt guns
You are never too old for a water fight. And there is one sure-fire way to bring fun to camping than a good ol' fashioned squirt gun battle.
Campsites make for great places to have a water gun fight. You have trees to hide behind and plenty of open space to run around. It's an inexpensive way to stay entertained, enjoy the outdoors and bond as a family.
Sporting ball set
It is probably the original toy, and yet somehow an ordinary ball is still a must for any camping adventure with kids.
Whether you want to try pickle ball, flag football, kickball, or baseball, make sure you bring along at least one sports ball and gear. This is another activity where adults and kids can play together and have a great time.
Portable Play Yard
If you plan to camp with a baby or toddler, it's a good idea to bring a portable play yard to keep your little one contained and safe.
Look for one that is compact, sets up quickly, and has a water-resistant floor. You'll also want something that has mesh sides, not only for air flow but so you can see your baby or toddler at all time.
Tips for camping with kids – All those important things you need to know
Planning for a camping trip with kids isn't just about having the essential kids' camping gear, it's about getting yourself and your kids mentally ready for the experience. Before you embark on your outdoor, overnight camping adventure with kids, it's good to review the best family camping tips and hacks.
Here are a few things to know about camping with little ones.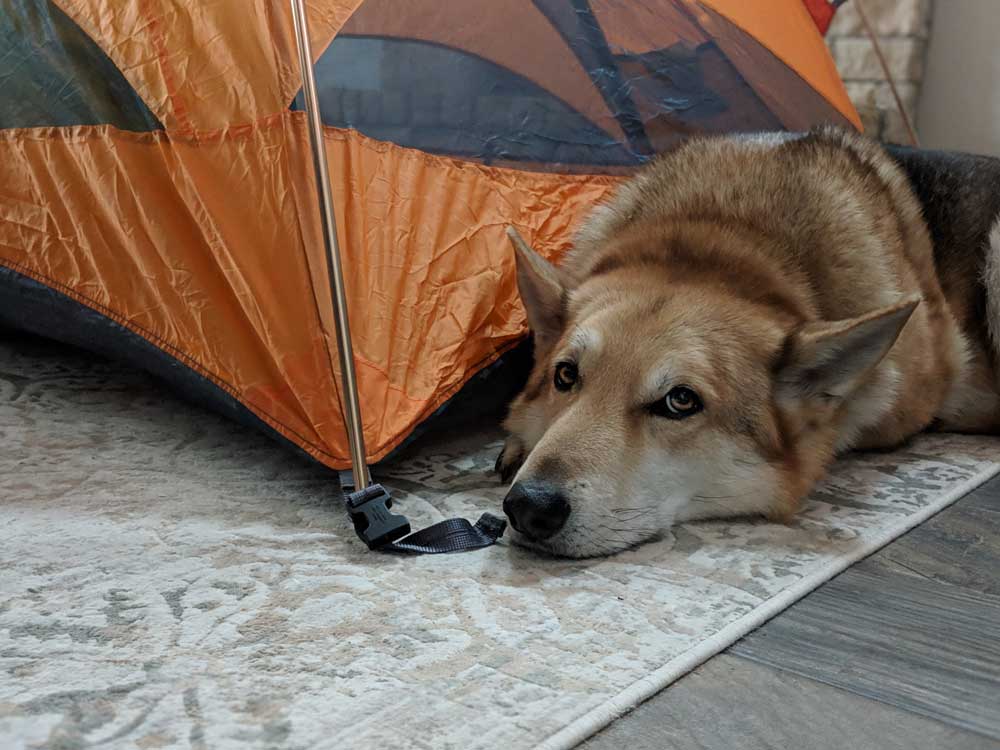 It's important that you familiarize your children with camping and with all the gear before you go on the trip.
Practice camping at home, whether it's in your living room or your backyard.
Bring along plenty of entertainment. Feel free to use our ideas above, or bring things from home. Coloring books, frisbees, card games, and scavenger hunts all make for great camping activities with kids.
Pay attention to the weather as your trip approaches. Camping in the rain or cold is no fun. Camping in the rain or cold with kids is the worst!
Always watch kids closely around campfires and talk to them beforehand about fire safety. (On a side note, don't forget your matches to start the fire!)
Bring fun foods your kids enjoy. Camp snacks are the best snacks!
Don't freak out about dirt. Things just won't be as clean when you're camping. Let your kids get dirty. It's part of the fun of camping.
Keep your camping site well lit. It will keep kids from getting scared and will keep your camp site safe.
Have a question or comment about camping with kids or the kids' camping gear on this list? We'd love to hear from you! Leave your thoughts or questions in the comments below.
Like it? Pin this kids camping gear guide to save it for later!