Poland is near and dear to my heart. Several years ago it was just another country in Europe that I kind of wanted to visit. But now, it holds much more meaning to me. Mainly because my husband and partner in adventure is of Polish heritage. That also means when I married my husband I took his long, hard to pronounce, very Polish last name. Now, we have an adorable, partially Polish toddler. I think it's important to teach our daughter about her heritage, and Poland is a big part of that. That's why Poland quickly climbed to the top of my list of countries I wanted to visit. On a recent road trip across Europe, we went a bit out of our way to visit Krakow, the popular city in Southwest Poland. While there are a lot of things to do in Krakow, many of the attractions will leave you with a heavy heart.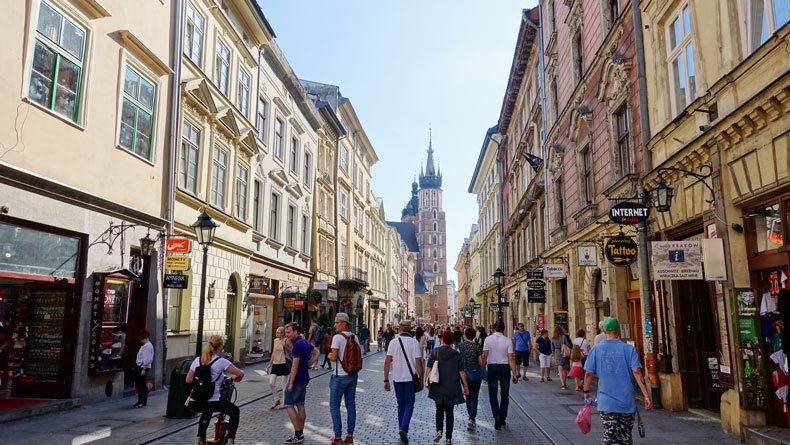 History of Krakow, Poland
Krakow, as with the rest of Poland, has been through hell and back. It has survived WWII, communism, and economic hardship. If Poland was a person, it would be that guy who constantly has bad luck. It would be the kid who gets shoved in a locker all throughout school. In fact, Poland has had such a bad run, that if it was a person it would be a guy who has the crap beat out of him every day of his entire life. That's Poland's history.
What I hated about Krakow, Poland
That painful and dark history is very much on display in Krakow. In the Jewish Quarter, which was known as the Jewish Ghetto during WWII, you will find a museum and memorial depicting the horrific torture that Polish Jews endured. They were imprisoned, starved, enslaved, and murdered by the Nazis. You'll also find the Empty Chairs Memorial on the outer edge of the Jewish Quarter dedicated to those who perished trying to help the Jewish people. And one cannot talk about the dark history of Krakow without mentioning the Auschwitz-Birkeneau concentration camps just outside the city.
If you seek history in Poland, history you will find. While it is important to learn about and understand, the tragic history is numbing. It's overwhelming. You can feel the heaviness when you walk around the town. I'm not really one who believes in ghosts, but if ever there was a place where I felt the presence of tormented spirits it was in Poland.
What I loved about Krakow, Poland
Don't get me wrong, Krakow is a wonderful city. While you can't deny it's troubled past, what you will also notice is the city's and the entire country's resilience. Poland has been through hell, but it isn't there anymore. The country doesn't hide its bruised past, instead it showcases it so others can learn from it, and so travesties like the holocaust will hopefully never happen again. Krakow is a bustling and beautiful city with a vibrant old town that attracts millions of tourists. The city has a ton of great eateries, shops, famous churches, and museums all with a fairly inexpensive price tag. Even the Jewish District is now a lively area with exceptional restaurants, quirky pubs, and lovely, yet understated, synagogues. The economy is thriving.
Things to do in Krakow, Poland
We spent less than a week in Krakow, and found plenty of things to do to entertain and keep us busy while we were there. If you only have 2 or 3 days in Krakow, you'll definitely want to visit Wawel Castle, walk along the Vistula River, tour the impressive and elaborate Wieliczka salt mines, and explore Old Town Krakow. You can even take a horse and carriage ride through this charming part of the city.
Also spend some time in the Jewish Quarter, see the Empty Chairs Memorial, and visit the Jewish Museum. And as difficult as the experience may be, make the day trip to the Auschwitz-Birkeneau concentration camps. I think it is an important, historical site that everyone should see and truly understand.
Of all the places we've visited, Krakow is definitely one where I could actually imagine living. Perhaps it's because we lived somewhat like locals while we were there. We rented an apartment, went grocery shopping, and ate at "home". We did laundry and watched television. I even had to make a quick trip to the shopping mall to buy a new phone charger. I felt connected to Poland in a way I haven't felt connected to another place before.
Going back to my previous analogy, if Poland was a person, I'm pretty sure I would love him. It wouldn't be the naive, immature teenage kind of love. It would be a deep, honest, longstanding love… The kind of love that only occurs once you embrace someone for who they are, past and all. To truly love and appreciate Poland you have to understand its past. And while it isn't pretty, love isn't always beautiful either. When you love something, you accept it for what it is, and when you see how far Poland has come in the last few decades, you can't help but be amazed at the resilience of the country and its people. You can't help but fall in love.
Have you visited Krakow, Poland? What did you think about the city and what attractions in Krakow did you most enjoy? Leave your thoughts in the comments below.
Like it? Pin it!