Kyoto, Japan is a captivating city steeped in tradition, history, and family-friendly entertainment.
With serene temples, shrines, and beautiful streets lined with historic wooden buildings, visiting Kyoto with kids promises an unforgettable experience for both parents and children alike.
As one of the top destinations in Japan, this enchanting city is filled with family-friendly attractions and unique cultural experiences. Even if you only have 3 days in Kyoto, the city offers a glimpse of Japan's traditional past – a past that has shaped many of the Japanese habits and ways of life still practiced today.
If you're visiting Kyoto with kids, you'll find plenty of activities that will fascinate and entertain them, whether you are spending a short 3 days in Kyoto or much longer.
This travel guide for Kyoto includes a kid-friendly itinerary for 3 days in Kyoto, plus a brief description of the top things to do in Kyoto with children, and tips for visiting.
Our experience visiting Kyoto with kids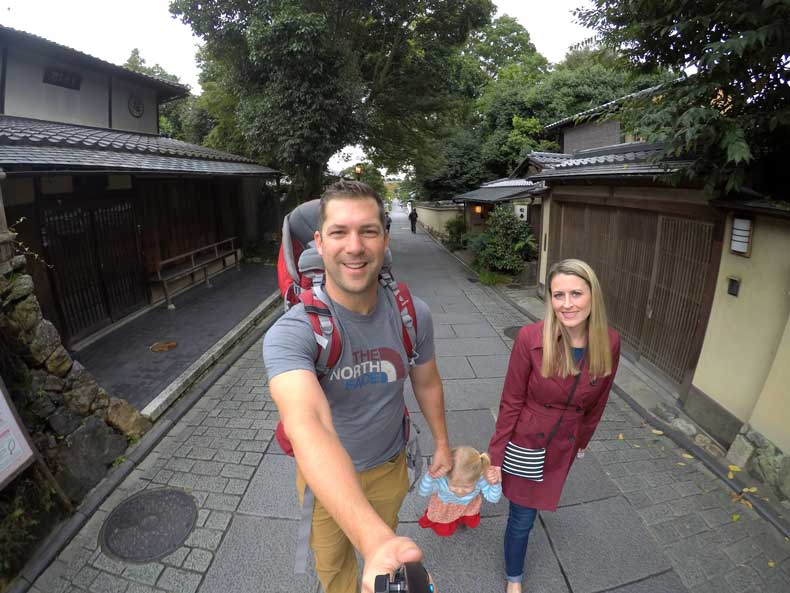 When traveling with kids – particularly young children – it is a bit more difficult to fit in as much as you typically could when traveling without a tiny sidekick.
On a family trip to Japan, we decided to spend 3 days in Kyoto, one of Japan's most popular and beloved cities.
When visiting a city like Kyoto with kids, it's sometimes tough to narrow down what both you and your children will enjoy. There are so many immersive, cultural experiences and such a rich history in Kyoto, that you need to balance out the historical and cultural aspects with some fun activities for kids.
FIND THE BEST TOURS AND FAMILY FRIENDLY EXPERIENCES IN KYOTO HERE.
Tips for planning your Kyoto with kids itinerary
When laying out your Kyoto itinerary there are a few things in mind when traveling with children.
First, decide what you want to see most and plan to hit those stops at the beginning of the day. Kids can often throw a curveball into your day, so putting the most important stops first ensures that you won't miss something you really wanted to see.
Plan for things to take a little longer than usual when traveling with kids. If a review says it will take two hours to explore a tourist site, plan for it to take three hours, knowing children do things at their own pace.
Finally, accept that you may not see everything on your list. A tantrum or a cranky, tired toddler may cut the day short. Or, after chasing kids around all day, you might be exhausted yourself and choose to head back to your hotel or Airbnb.
Where to stay in Kyoto with kids
If you only have 3 days in Kyoto with kids, it's a good idea to stay in a centrally located area. Many of the attractions in Kyoto are somewhat spread out and will require both trains and buses or taxis to get to.
We stayed in a townhouse in Gion with a private, outdoor tub. Gion is a great district to base yourself when visiting Kyoto, as you can explore Gion and walk to places like Higashiyama or the Nishiki Market.
Find a hotel, apartment, or ryokan in Gion or in Higashiyama or read our complete post on where to stay in Kyoto.
3 days in Kyoto itinerary mapped out
While there is much more to see and do in Kyoto with kids, with just three days, this itinerary gives you a realistic idea of what you can fit into your day and the best activities in Kyoto for kids. Day 1 activities are marked in RED, Day 2 activities in PURPLE, and Day 3 activities are represented with YELLOW markers on the map below.
Kyoto itinerary – what to see in three days with kids
So, now that you are ready to plan your Kyoto itinerary, here is a breakdown of how to spend three days in Kyoto with kids.
Day one in Kyoto with kids
7:00am – Bamboo Grove and Arashiyama
9:00am – Iwatayama Monkey Park
11:00am – Lunch in Arashiyama
12:00pm – Golden Pavilion
3:00pm – Nijo Castle
6:00pm – Dinner in Nishiki Market or Pontocho alley
Day two in Kyoto with kids
7:00am – Nara day trip
4:00pm – Leave Nara
5:00pm – Fushimi Inari Shrine
7:00pm – Geisha spotting and exploring in Gion
8:00pm – Sushi dinner
Day three in Kyoto with kids
8:00am – Higashiyama Ward
9:00am – Kiyomizu-dera
11:00am – Ryozen Kannon
12:00pm – Kodaiji temple
1:00pm – Lunch
2:30pm – Maruyama Park
3:00pm – Yasaka Shrine
4:30pm – Samurai Ninja Museum
WANT A PRINTABLE KYOTO ITINERARY FOR 3 DAYS? SIGN UP FOR OUR NEWSLETTER TO ACCESS OUR FAMILY TRAVEL RESOURCE LIBRARY AND PRINTABLE ITINERARY.
Top things to do in Kyoto with kids
Kyoto is an incredible city filled with seemingly endless cultural experiences. It is one of the best Asian destinations for a family vacation, but if visiting Kyoto with kids, you'll want to balance the historic and cultural elements with kid-friendly things to do in Kyoto.
Here are some of the top attractions in Kyoto for kids, as well as ways you can make some of the popular places to visit in Kyoto more family friendly.
Day 1 Attractions in Kyoto
We are breaking down all of the best activities and attractions in Kyoto by the day you will visit them if you follow our Kyoto itinerary for families.
Wander through the Bamboo Grove in Arashiyama
Start your first of 3 days in Kyoto EARLY. Head directly to the bamboo grove in Arashiyama. Getting an early start to your day is actually one of the best lessons I've learned from traveling with a toddler. Places that are typically over-crowded might be completely empty if you get there early.
Unfortunately, that was not the case when we visited the bamboo grove. Holy cow was it crowded! It was a cool, rainy day but that didn't stop what seemed like thousands of people from visiting the grove at the same time we did.
Located just north of Kyoto in the district of Arashiyama, the bamboo grove is one of the top things to do in Kyoto. It is free to enter and is open all day and night.
Visiting the grove doesn't take much time. It is literally just a short walking path through a bamboo forest, so you can visit at any time and spend as much or as little time as your schedule permits.
I would recommend going around sunrise if you really want to beat the crowds.
If you love nature, or simply want to feel small surrounded by a towering bamboo forest, the bamboo grove in Arashiyama is a great place to explore in Kyoto with kids.
Kids will love walking and playing along the path as you make your way through the grove.
The district of Arashiyama is great, as well. Plan to have lunch in Arashiyama, duck into some shops for some Japan souvenirs, and spend a bit of time exploring this northern district of Kyoto with your kids.
We particularly enjoyed the nature walk to the river in Arashiyama. We were practically alone for this portion of sightseeing. Most tourists will wander through the bamboo grove then turn around and leave.
So, if you are looking for a bit of solitude or a peaceful experience with nature, keep walking beyond the bamboo forest and explore further into the hilltop park of Kameyama-koen.
It is particularly beautiful during cherry blossom season in spring or when the fall foliage is on display.
Cost: Free
Watch the monkeys at Iwatayama Monkey Park
Although you can often spot wild monkeys in Kameyama-koen park, the Iwatayama Monkey Park is one of the best places around Kyoto to spot the Japanese macaques.
There is an entrance fee of approximately $5 USD per person to visit the park. But you'll get to see these large, red or pink faced monkeys up close in their habitat.
There are more than 100 monkeys that live in the park, and they have become accustomed to humans. In fact, tourists can purchase food and feed them through a fence at a rest area.
Don't worry! The animals are not fenced in, you are!
You are warned not to look the monkeys in the eyes, as they can become aggressive if they feel threatened. But children will particularly love seeing and interacting with these beautiful animals up close.
Cost: $5 USD per person
Walk the grounds around the Kinkaku-ji Golden Pavilion
After spending some time in Arashiyama, head to Kinkaku-ji.
Also known as the Golden Pavilion in Kyoto, this Zen Buddhist temple, which dates back to 1397, is one one of the most photographed spots in Kyoto.
The gold-plated, 3-story pagoda sits on a large pond. It is designated a National Special Historic Site, and is one of 17 locations throughout Kyoto that have been given the World Heritage Site designation.
While the golden pagoda is beautiful, the grounds surrounding the pavilion are equally as impressive.
Kinkaku-ji boasts one of the most beautiful gardens in Kyoto. Kids will love spotting all the fish in the coy pond. While the wooded areas surrounding the temple are great for a relaxing walk or tranquil moment of reflection.
Cost: $4 USD per person
BOOK A HOP ON HOP OFF BUS TOUR TO GET TO ALL KYOTO'S TOP ATTRACTIONS
Visit Nijo Castle
On your way back to central Kyoto, stop by Nijo Castle. Another UNESCO World Heritage Site in Kyoto, Nijo Castle is one of the best-known castles in Japan.
Built in 1603, it once served as the residence of one of Japan's most famous leaders, Tokugawa Ieyasu.
The castle complex boasts fragrant gardens, a palace containing 33 rooms and 800 tatami mats, and even an area surrounded by a moat.
The castle is another wonderful area to visit in springtime because there are more than 400 cherry blossom trees on the grounds that draw visitors from all over the world.
Cost: $9 USD per person
Dine at the Nishiki Market
Nishiki Market is a great place to explore Kyoto through your taste buds.
This narrow and long shopping street is lined with more than a hundred vendors selling fresh fish and seafood you can take back to your apartment or townhouse to cook, as well as restaurant stalls where you can sit down and eat.
This five-block long marketplace is a fun place to explore in Kyoto with kids.
As the food vendor street has become more popular with visitors to Kyoto, many of the stalls and shops have begun selling more specialty or novelty items, like candied octopus (tako tamago), mochi, and wagashi treats.
Enjoy dinner at Nishiki Market, or simply sample a few items before heading to a restaurant in Pontocho alley to sit down for dinner.
Explore Pontocho alley and have dinner
End your first night in Kyoto with kids by taking a stroll down the Pontocho alleyway. The narrow street runs parallel to the Kamo-gawa River and is lined with quaint restaurants.
Some offer outdoor seating overlooking the river, which is a great place to spend an evening.
Although some of the restaurants are quite exclusive and require connections and a lot of money to enter, there are plenty of others that are still welcoming to tourists visiting Kyoto with kids.
Pontocho alley is considered by many as one of the most magical and beautiful streets in Kyoto, particularly at night.
While it is picturesque, I believe all of the small alleyways in Kyoto are beautiful, so if there is one thing you need to skip, dine at the Nishiki market instead.
Day 2 Activities in Kyoto
Your second day in Kyoto actually takes you out of the city for most of the day, returning in the evening to see another one of the best attractions in Kyoto for families.
Take a day trip to Nara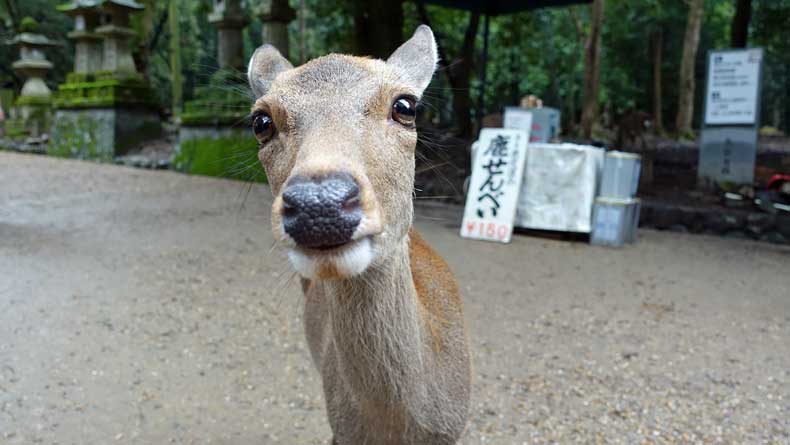 There is so much to see and do in Kyoto with kids, but even if you only have 3 days in Kyoto, a day trip to see the deer in Nara is a must!
If you arrive in Kyoto from Osaka, it is probably easiest to hit Nara on the way to Kyoto. If that is the case, just swap day one and two of this 3 day Kyoto itinerary. Nara is an easy day trip from either Kyoto or Osaka and is only about a 45 minute train ride from both cities.
The train route is included on the JR pass, if you purchase one, which is definitely worth the investment if you plan to visit multiple places in Japan, or you can buy a transportation pass for the Kansai area only which includes all trains, buses, and metros in Osaka, Kyoto, Nara, and more.
Nara is home to hundreds of protected deer that roam freely around Nara Park and the surrounding district.
Kids will especially love meeting and feeding the city's protected deer. But beyond seeing its 4-legged residents, there are so many things to do in Nara, Japan which is also home to the country's largest statue of Buddha, located in Todaiji Temple.
You'll also find so many other beautiful temples and shrines that are worth exploring.
Cost: varies depending on activity but Nara Park is free to visit.
READ OUR FULL POST ABOUT NARA HERE OR BOOK A DAY TRIP TO NARA.
Climb the steps at the Fushimi Inari Shrine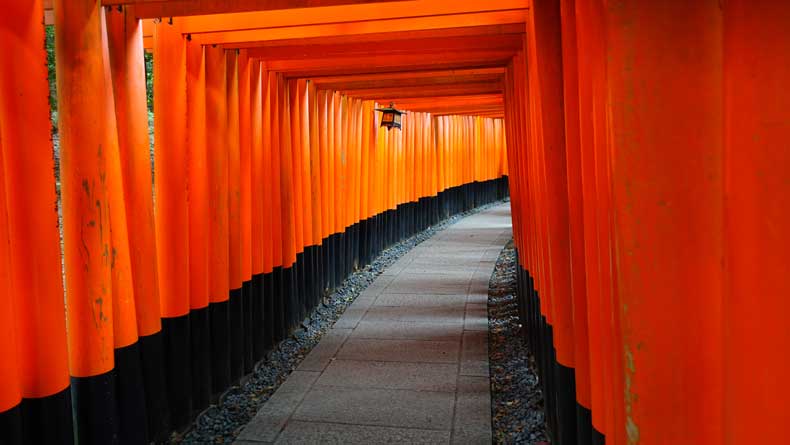 Fushimi Inari is another one of the most famous landmarks in Japan. The shrine takes you through thousands of bright orange torii gates which wind gently up a hill.
Each of the 10,000 torii gates was supposedly funded by a donor after a wish came true. So you are literally walking under thousands of granted wishes.
Fushimi Inari is dedicated to Inari, the Shinto god of rice. Foxes are thought to be Inari's messengers, so kids will have fun finding all the fox statues throughout the shrine.
The trail beneath the torii gates takes you up a mountain.
To hike the whole trail and back takes about 3 hours with kids. However, depending on the ages of your kids, you can turn around at any time during your hike.
Keep in mind there is a lot of walking and there are a lot of steps, so Fushimi Inari is definitely not a stroller-friendly attraction. We let our toddler walk through and explore, and when she got tired we carried her in our Deuter child carrier.
The shrine was busy, but not terribly crowded considering the hour. It is also free to enter, which is a huge bonus for those on a budget.
Cost: Free
Go geisha spotting in the Gion District
Plan to spend an evening exploring the vibrant atmosphere of the Gion District.
This area of Kyoto is one of the best places to spot an actual geisha or attend a traditional Japanese tea ceremony.
Geishas in Japan are extremely reserved and are escorted by security detail, so if you spot one, don't expect them to stop and pose for a picture. In fact, getting a picture of a geisha often requires standing outside a teahouse like paparazzi with your camera ready.
We stumbled upon a geisha somewhat by accident. While exploring Gion we saw a large crowd gathered around a car parked in front of an entrance to a nondescript building. Initially, we thought it was the line to enter a popular restaurant.
As we were standing there looking for a menu or some type of distinguishing signage, a geisha and her maiko, or apprentice, were escorted out of the building and into the car.
It was a bit like seeing a unicorn, a Hollywood celebrity, or a member of the Royal family. The excitement instantly peaked and everyone started snapping photos.
Of course, this isn't the only way to see geishas.
You can also book a dinner performance with a geisha or maiko, but it isn't a cheap activity.
A private dinner performance with a geisha would almost certainly be out of the question if visiting Japan on a budget. However, if you do want to splurge for the cultural experience, a maiko dinner performance is a bit easier on the budget than a geisha performance.
Although Kyoto is the birthplace of geisha culture, geishas also perform in Tokyo and even lesser known cities, so you can see these beautiful, talented performers throughout the country.
JOIN A NIGHT WALKING TOUR OF GION OR BOOK A PRIVATE DINNER PERFORMANCE WITH A GEISHA
Enjoy a sushi dinner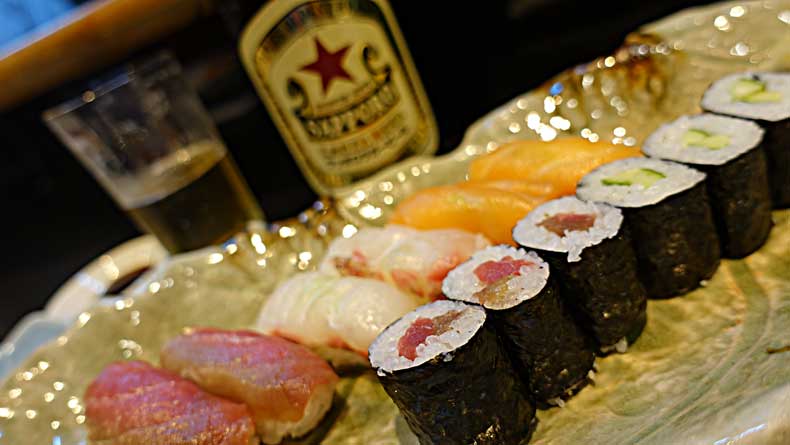 You cannot visit Japan without having sushi at least once! Luckily, you'll find lots of quiet, small sushi restaurants tucked down narrow alleyways. These small sushi bars typically seat 7-10 people at a time, and never seem busy.
We were able to enjoy a quiet sushi dinner while our daughter slept peacefully in the child carrier.
Relaxing, quiet dinners are few and far between when traveling with young kids, so we relished the experience. But encouraging your kids to try different foods when traveling makes them more open-minded and well-rounded.
Our daughter began eating sushi when she was around 3 years old and loves it to this day! For an even better cultural experience, take a sushi making class!
Day 3 Kyoto attractions for families
Your third day of your 3 days in Kyoto will be spent mainly exploring the historic area of Kyoto and seeing more of the city's famous temples
Explore the streets of Higashiyama
To fully appreciate the beauty of Higashiyama, you'll want to get up early. We left our apartment by 7am and headed straight to Higashiyama to roam the quiet streets, but you could get there at 8am and still see this neighborhood in Kyoto in all its charming glory.
The district is home to two of the most beautiful streets in Kyoto, Ninenzaka and Sannenzaka. The streets lead up a slight slope to the Yasaka pagoda.
This 5-story pagoda is one of the few pagodas in Japan that allow visitors to actually go inside. Also known as the Hokanji Temple, this Japanese landmark is the oldest pagoda in Kyoto, dating back to 592.
Higashiyama is a popular district for tourists and can become quite crowded during the day, but if you get there early in the morning, the streets are mostly empty, which make for some stunning pictures.
Cost: Free
Tour Kiyomizu-dera Temple
Kiyomizu-dera is one of the most well-known temples in Kyoto – if not in all of Japan. You've likely seen pictures of the famous temple perched atop a mountainside.
Known as the "Temple of Pure Water", water is a consistent theme throughout the complex.
In fact, the temple encompasses the Otowa Waterfall. The clear, flowing water is believed by many to purify and prolong life.
Visitors can catch water from one of three streams of the waterfall using a long ladle to pray for purification, health, or wellness.
The grounds of this 1,200-year-old UNESCO World Heritage site are quite large.
When visiting with kids, keep in mind this temple is considered a holy place. So, while children will enjoy learning about and participating in some of these ancient rituals, this is not a place to play.
The Buddhist temple halfway up Mt. Otowa offers some of the best views of Kyoto. It is also a wonderful spot to see the leaves change color in the fall or view the cherry blossoms in spring.
Cost: $4 USD
BOOK A TOUR THAT INCLUDES KIYOMIZU-DERA TEMPLE COMPLEX, FUSHIMI INARI AND THE GOLDEN PAVILION
Gaze at the massive statue at Ryozen Kannon
Ryozen Kannon War Memorial sits adjacent to Kodaiji Temple, so it is easy to visit on your way to the temple. The concrete and steel memorial is dedicated to those who died in the Pacific War.
The highlight of this attraction is the large statue of the white robed Kannon. This 500-ton statue of the Buddhist goddess of mercy built in 1955 is set against a lush green, mountainous backdrop.
Towering 24 meters tall, the large statue is breathtaking, and you truly feel a sense of peace while you're there.
Cost: $2 USD
Visit Kodaiji Temple
Kodaiji Temple is another fun and interesting place to visit in Kyoto with kids. Children will enjoy learning about different Buddhist rituals and taking part in some of them, just like at Kiyomizu-dera.
It is a great place to learn a little about the Japanese way of life and culture, and is also a great place to visit in Kyoto for couples.
Established in 1606, this temple was built by a wife in memory of her late husband.
Known as Hideyoshi and Nene, there is a cute statue of the couple that sits on the grounds of the temple. Couples can touch the statues of Hideyoshi and Nene to bring happiness in love and marriage. Hideyoshi and Nene are also enshrined at the temple.
The complex features a main hall, several gardens, the mausoleum, two tea houses, a museum and a beautiful path down a series of steps that take you through a bamboo grove.
The picturesque walkway down to the streets of the Higashiyama District is known as Nene's Path.
Cost: $6 USD
Explore the Yasaka Shrine
Yasaka Shrine, also known as the Gion Shrine, is a popular place for summer festivals. The prominent location of this brightly painted shrine makes it one of the most famous landmarks in Kyoto.
The 1,350-year-old shrine hosts the Gion Matsuri festival each summer.
The Yasaka Gate connects to Maruyama Park and ultimately the shrine links Gion with Higashiyama.
A beautiful place to wander through at night, hundreds of illuminated lanterns paid for by sponsors of the Gion Matsuri festival decorate the shrine.
Cost: Free
Wander through Maruyama Park
Maruyama Park is a great place in Kyoto for kids. The premier destination in Kyoto for cherry blossom viewing, this park is also a wonderful area to let kids run around and play.
The primary attraction in the park is a 90-year-old cherry blossom tree that is illuminated at night.
Crowds of people come to Maruyama Park each spring to see the tree in all its glory. But the park in its entirety is picturesque and relaxing. Plus, unlike many of the attractions in Kyoto that are considered holy places, the park does not require a level of reverence or restraint for children.
To get to Maruyama Park, you enter through the Yasaka Shrine. You'll find lots of pretty walkways, duck ponds and bridges through the 86,000 square meters of green space.
Cost: Free
Book a Samurai experience and tour the Samurai and Ninja Museum
The Samurai and Ninja museum is one of the more entertaining family-friendly experiences in Kyoto.
Although it is a small museum, there are various displays of Samurai armor and weapons, as well as medieval tools used centuries ago in Japan.
One of the best things to do in Kyoto with kids is to book family samurai lessons, where you can dress as an actual samurai, wield a katana, and learn real samurai moves and motions in a hands-on lesson.
Cost: $50 USD for lessons
Other resources for planning a family trip to Japan
Conclusion: 3 Days in Kyoto with Kids
Kyoto is an ideal destination for an enriching family vacation.
Exploring Kyoto with kids is sure to be filled with unforgettable experiences that transport you back in time and cultural activities that ignite curiosity. From the serenity in ancient temples to immersive animal experiences, this 3 day Kyoto itinerary is filled with endless delights for families.
You'll leave this enchanting city with a lifetime of memories and longing to return to walk the cobbled streets lined with traditional wooden houses once more.
Have you visited Kyoto, Japan with kids? Leave us a comment and let us know what your favorite site or attraction was.
Like it? Pin this Kyoto with kids itinerary to save it for later!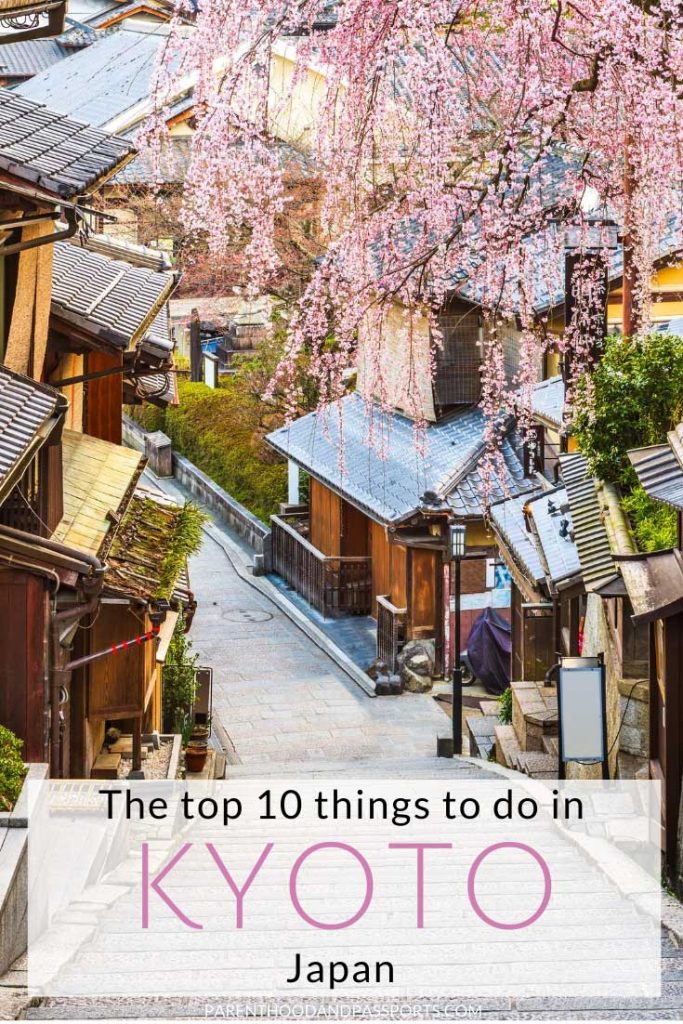 This guide to visiting Kyoto with kids was first written in February 2018 and was updated in November 2023 for accuracy and current information.
Did you know…
When you make a purchase or book hotels, tours, or other travel services, through our links, we receive a small commission, at no extra cost to you. We only EVER recommend service providers, websites, or products we personally use when booking our own travels. Your support enables us to keep producing helpful travel content. Thank you!