We may earn money or products from the companies mentioned in this post.
Sintra, Portugal is one of the most popular day trips from Lisbon and with good reason. The resort town, nestled in the foothills of the Sintra Mountains or the Serra de Sintra, is dripping with beauty, charm, and history. With castles that resemble something out of a fairy tale and ancient ruins that make you feel like you are visiting the Great Wall of China, there is so much to do in this small mountain town. While many will say a Lisbon to Sintra day trip is a must-do for anyone visiting Portugal, there are a few things to consider when planning a day trip to Sintra.
This Lisbon to Sintra Day Trip guide covers how to get to Sintra from Lisbon, how to get around once you are there, and what to see and do if you have one day in Sintra.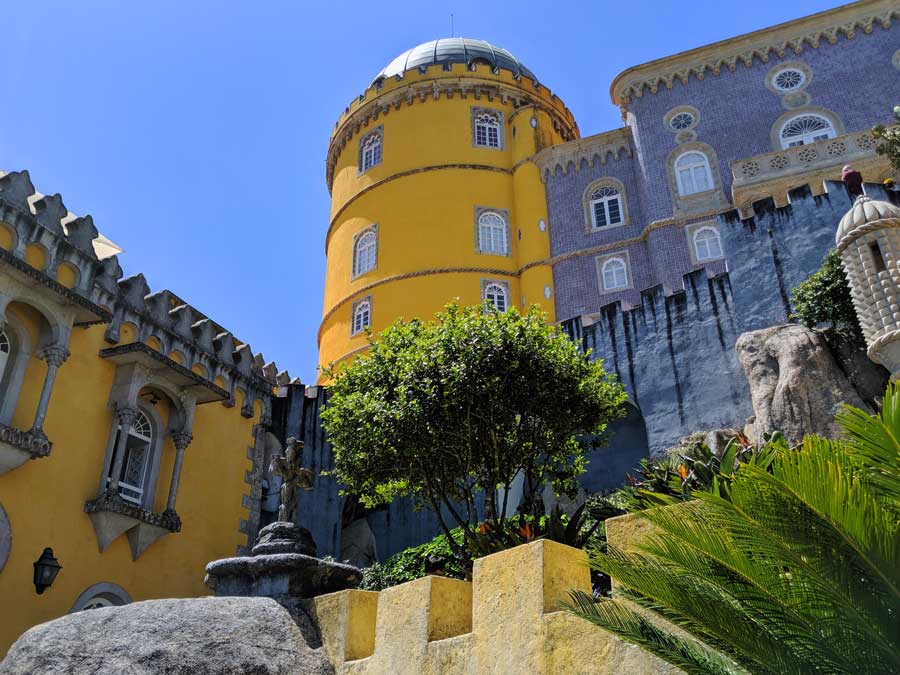 About Sintra, Portugal
Sintra is best known for its magical palaces, castles, and estates that dot the hilly, forested region about an hour northwest of Lisbon, Portugal's capital city. The historic center of Sintra, known as the Vila de Sintra is notable for its Romanticist architecture. The town, with its multiple famous landmarks, has earned the UNESCO World Heritage designation.
Once a popular summer home for Portuguese royalty, Sintra has a long history that dates back to the 8th century when the Moors settled the area.
Today, there are more than 377,000 people residing in Sintra. The city has a large expat population and is considered one of the wealthiest cities in Portugal.
How to get from Lisbon to Sintra for the day
When it comes to transportation, a Lisbon to Sintra day trip is easy and convenient.
How to get to Sintra by car
If doing a Portugal road trip, you can elect to drive to Sintra if you have already rented a car. However, driving in Sintra can be quite stressful, particularly if making the drive up to Pena Palace from the town. If you are looking for the most convenient way to get to Sintra, you may also want to consider booking a private or small group tour that takes you to Sintra, Cabo da Roca, and Cascais. Day tours offer convenient hotel pickup in Lisbon, transportation to and from Sintra and the various tourist sites, and skip-the-line admission to the Sintra attractions.
How to get to Sintra by train
Trains leave routinely from Lisbon's central Rossio Station. During peak season, the trains operate every 30 minutes. If planning to do a Lisbon to Sintra day trip, we recommend staying as close as possible to Rossio Station, especially if visiting Lisbon with kids. Sintra can get very crowded, so try to take the first train from Lisbon to start your day as early as possible. This will help you avoid the mobs of people who visit Sintra each day.
When you arrive at Rossio Station, you will see lines specifically for those exclusively booking tickets for a day trip to Sintra. At the time of our visit, a round trip ticket for the 40-minute train ride was about $5.50 USD.
Where to go once you arrive in Sintra by train
When you arrive in Sintra by train, it can be a bit confusing. If you plan to take the tourist bus to the major Sintra attractions, you will want to head directly outside to the front of the train station where the buses line up.
You'll want to buy a round trip ticket on bus 434. It cost about 5€ round trip. Bus fare was cash only, so make sure you bring enough euros with you. There are also private tuk tuks that you can take for additional money, although if you are traveling with young children they may not be old enough for the tuk tuks. Our 4-year-old was not old enough to take one of the tuk tuks.
When you get off the train, you may think you need to line up inside the train station, as you will see many others do so. We ended up standing in a line inside the Sintra train station for about 30 minutes assuming it was the line to buy tickets for the tourist bus. But the line inside the train station was only for those who were booking guided tours. If you are doing a self-guided day trip to Sintra, you can bypass this line and go directly to the buses outside and purchase a bus ticket to the tourist attractions.
PREFER A GUIDED TOUR? FIND AND COMPARE THE BEST TOURS IN SINTRA HERE.
Using the tourist bus in Sintra
The tourist bus, line 434, takes you directly from the train station to the Moorish ruins, Pena Palace, and the National Palace in the heart of old town Sintra, and then back to the train station.
The bus route does one large loop, so everyone must visit in that exact order. Your bus fare only covers one loop. So, you can't start at the National Palace and then catch the bus to Pena Palace.
It felt, at times, like we were all being herded through this charming town like cattle, forced in one direction at one time. It is a challenge to escape the crowds when using the tourist bus or public transportation in Sintra.
Beyond that, the bus ride up the mountain to the Moorish castle and Pena Palace is a giant traffic jam which takes about 3 times longer than expected. It can become extremely frustrating during peak season, so plan your visit with patience. The alternatives to the tourist bus would be a very long, steep walk uphill or driving on a narrow road filled with far too many massive tour buses and aggressive tuk tuks.
Lisbon to Sintra day trip itinerary
Almost everyone who does a Lisbon to Sintra day trip follows the exact same Sintra itinerary, although many will skip a place or two either because they are on a budget, run out of time, or just get tired of the mobs of people and want to get the heck out of the over-crowded, albeit charming, town. Here are the top places to visit on a Sintra day trip.
Moorish Castle
Pena Palace
National Palace
Lunch in Old Town Sintra
Quinta da Regaleira
Things to do in Sintra, Portugal
If following the itinerary above, here are the stops along the tourist bus route and the best things to see in Sintra during a day trip.
Moorish Castle (Castelo dos Mouros)
The Moorish Castle, or Castelo dos Mouros in Portuguese, is the first stop on the tourist bus route in Sintra. The ruins of the castle date back to the Moorish era in the 8th through 12th centuries when the Iberian Peninsula was under Islamic rule. Perched high above Sintra, the castle was once a major defensive fortress for the region. Because of its high vantage point overlooking the Atlantic coastline and surrounding land, it provided a strategic view that allowed guards to see any potential attackers heading their way.
Castelo dos Mouros is definitely one of the most under-rated things to do in Sintra. When researching a day trip to Sintra from Lisbon, we read a lot about Pena Palace and Quinta da Regaleira, but it seemed like a lot of people either skipped the Moorish Castle or found it underwhelming. However, in our experience, visiting the ruins of the Moorish Castle was one of the highlights of our time in Sintra. Portions of the ruins resemble the Great Wall of China, albeit on a smaller scale. It also wasn't nearly as crowded as the other tourist attractions in Sintra, which may be one of the reasons we enjoyed it.
If visiting the Moorish ruins with kids, keep in mind there are a lot of stairs and a lot of walking. It is somewhat of a walk from the road to the ruins, and another walk from the ruins to Pena Palace, although both walks are pretty and surrounded by nature.
Castle of Moors Admission:
8 € for adults
6,5 € for children
26 € for a family of 4
Pena Palace
The most popular attraction in Sintra, Pena Palace looks like something out of a Disney movie. It's understandable why this picturesque, vibrantly colored palace on a hill is such a popular place to visit. The bright yellow and red castle is stunning. Although the National Palace of Pena wasn't constructed until the mid-1800s, the site on which it was built dates back to the 12th century. At that time, a chapel and monastery stood high on the hill. The monastery ultimately fell into ruins after a devastating earthquake shook the region in 1755.
In the 1800s, King Ferdinand of Portugal acquired the old monastery and chapel and began restoring it and constructing the impressive Pena Palace, which is considered one of the Seven Wonders of Portugal. Although occasionally used for state purposes by the President and other Portuguese government officials, the colorful Penga Palace now serves as a museum and is one of the most visited attractions in the country.
You can choose to visit the grounds of the palace or for an extra fee you can tour the inside, as well. Although incredibly picturesque, the castle can become extremely crowded, particularly in the summer months. During our visit, it was so crowded that people were getting impatient and pushing others to get a good photo. The exterior patios were so full that it was impossible to take a photo without massive crowds. Perhaps earlier in the morning or during the off-season it is a different experience, but if visiting during peak months or hours, expect mobs of people at the palace.
Admission to Pena Palace:
14 € for adults
12,5 € for children
49 € for a family of 4
Sintra National Palace
By the time you visit both the Moorish castle and Pena Palace, you will be ready for food, so you will want to make your way back to town and grab lunch. The bus will drop you off in front of the Sintra National Palace. Located in the center of town, Sintra National Palace, also called Town Palace, is one of the best preserved royal residences in Portugal. Now a cultural museum and tourist attraction, parts of the palace, like the Royal Chapel, date back to the 14th century.
Unlike Pena Palace, where the exterior is the primary draw for visitors, Sintra National Palace gives an inside look at royal life in the 1400 and 1500s, allowing visitors to tour the different rooms of the palace, which are all restored and lavishly decorated with old furnishings.
Admission to Sintra National Palace:
10 € for adults
8,5 € for children
Old Town Sintra
Despite being a city with hundreds of thousands of residents, the historic Old Town quarter of Sintra, is quite quaint. It has numerous restaurants with both indoor and outdoor seating where you can have lunch, dinner, or even just grab a refreshing drink. There are also plenty of little shops where you can buy souvenirs, local crafts, or other items.
Just a ten minute walk from the train station, the historic center of Sintra is a great place to spend a moment of relaxation after a busy morning of sightseeing and battling crowds.
Quinta da Regaleira
Quinta da Regaleira is another one of the most popular things to do in Sintra. Made even more famous by the many dreamy photos of the enchanting estate's cylinder-shaped initiation well you can see circulating on social media, the estate offers much more than just one Instagram photo opportunity.
The property was originally built by Cavalho Monteiro in the early 1900s. The businessman had a deep interest in symbols, as well as the Knights Templar, Freemasons, and alchemy. You can find symbols, including the Knights Templar cross, throughout the estate – even at the bottom of the initiation well.
With beautiful gardens, underground passages, chapels and museums, the ornate UNESCO World Heritage site is worth the short walk from the town center of Sintra. The walk to Quinta da Regaleira from the National Palace is only about 10 minutes.
Admission to Quinta da Regaleira:
10 € for adults
5 € for children
25 € for a family with up to 4 children and 2 adults
Tips for spending one day in Sintra
If you are planning a Lisbon to Sintra day trip there are a few important things to know that will help you avoid stress and hopefully some of the massive crowds that descend on the resort town each day.
Don't drive
The roads in Sintra are narrow, steep, and crowded with large buses and crazy tuk tuk drivers. This is not the type of place where we recommend driving. It would be stressful and potentially dangerous, particularly the route to Pena Palace.
As much as we don't really like to follow the tourist route, if you want to see Sintra, sticking to the tourist route is your best option. And if you want to avoid taking a crowded bus, your best bet is to book a guided tour. It will be a bit more pricey, but ultimately it might be a more enjoyable experience.
Get to Sintra early or spend the night
As mentioned multiple times above, Sintra gets ridiculously crowded. For this reason it's best to take the very first morning train from Lisbon to Sintra and start your day as early as possible. When you arrive, walk from the train, through the train station, and directly to bus 434 and buy your ticket with cash at the bus. The earlier you can get your day started, the less crowded and frustrating your experience will be.
Another option to avoid crowds would be to spend at least one night in Sintra to start your day before the first train arrives from Lisbon.
FIND ACCOUMMODATIONS IN SINTRA
Wear comfortable walking shoes
A fair amount of walking is unavoidable in Sintra. Even if you take the bus directly to Pena Palace, there is an uphill walk from the road to the palace that everyone must take. Make sure you are dressed appropriately and wear a comfortable pair of walking shoes.
I did not do this and had the blisters to show for my mistake.
Prepare for crowds
Even if you do everything right by taking the first train and first bus in Sintra; even if you don't linger too long at the attractions; you will still find yourself fighting crowds. Sintra is a tourist town. Some might even call it a tourist trap. At times, I just wanted to get out of Sintra as quickly as possible because it was so crowded and overwhelming. I got tired of being pushed or bumped in narrow corridors. Waiting in lines and standing (because all the seats were taken) on crowded buses was exhausting. Being shoulder to shoulder with strangers the entire day is also not what I typically consider enjoyable.
If you want to see this town, you will have to prepare to see it alongside a lot of other people. If you don't like crowds, skip it and spend an extra day in Lisbon instead, or take a different day trip from Lisbon rather than visiting Sintra.
If you want to see this town, you will have to prepare to see it alongside 4 million other people. If you don't like crowds, skip it and spend an extra day in Lisbon instead. I offer an alternative to a day trip to Sintra in our Lisbon itinerary.
Is a day trip from Lisbon to Sintra worth it?
Determining whether a Sintra day trip from Lisbon is worth it really depends on the individual. If you hate crowds, it is certainly not for you, especially if you are traveling during the summer months. The town is beautiful as are its various attractions. The crowds can taint the experience. But there is so much history and beautiful scenery in Sintra that it is definitely worth a trip.
I've heard many people say Sintra was the highlight of their Portugal trip. I did not have the same experience, mainly because I do not like crowds. But if you don't mind crowds and really want to see this picturesque mountain town, by all means, visit Sintra.
Is one day in Sintra enough?
Rather than a Lisbon to Sintra day trip, an overnight stay or spending a couple days in Sintra would likely make the experience more enjoyable. You would avoid feeling like you are being herded through the town along with droves of other travelers, and instead you can enjoy the charm of this lovely city after all the day trippers leave. If we were to visit Sintra again, we would definitely spend one night in the town so we could be the first or last people at the main tourist sites. That would likely make a huge difference in the experience. Regardless, Sintra was a wonderful addition to our Portugal, Spain, Morocco itinerary.
What to do if you have more than one day in Sintra?
Aside from the main attractions in Sintra, there are several other great points of interest if you have more than one day in Sintra.
Monserrate Palace
Overlooked and significantly less crowded, Monserrate Palace outside of Sintra is an architectural masterpiece in Romanticism. In the mid-1800s, a wealthy art collector named Sir Francis Cook, acquired the estate and commissioned the construction of Monserrate Palace. The pristine palace gardens are the jewel of this masterpiece. With a lake, various fountains, grottoes and even a waterfall, the award-winning palace park is a great place to explore and let children roam.
Sintra-Cascais Natural Park
One of 13 natural parks in Portugal, this protected area extends from the Sintra Mountains to the coast. If doing more than just a Lisbon to Sintra day trip, this natural park is a great place to explore. While the town and its main attractions are located inside the park, venture further from Sintra to explore the coast, its amazing beaches, and impressive cliffs.
Cabo da Roca
Cabo da Roca is the westernmost point on the mainland of Europe, making it one of the popular day trips from Lisbon in itself. Located within Sintra-Cascais Natural Park, the views of the Atlantic ocean from Cabo da Roca are serene and picturesque. About an hour from Sintra, it is a great place to visit as a day from Sintra or after a day of sightseeing on a guided tour.
Do you have questions about a Lisbon to Sintra day trip? We try to reply to all comments and we'd love to hear from you! Leave your thoughts in the comments below.
Like it? Pin this Lisbon to Sintra day trip itinerary to save for later!
This Lisbon to Sintra day trip guide was first published in April 2020 and was updated in April 2022 for accuracy and current information.