Visiting Lisbon with kids can be both fun and exhausting. The capital city of Portugal is beautiful and lively.
History and culture mix uniquely with modern street art and a youthful vibe. But Lisbon is also a city of hills. Its narrow, steep streets add to the character of the city but present their own challenges if visiting Lisbon with young children or elderly adults on a multi-generational trip. 
What to know about visiting Lisbon with kids
Children will love Lisbon. It is a unique and fun place to visit.
Hands down, Lisbon is one of the best cities in Europe to see street art. Colorful murals, artistic graffiti, and stunning tiled buildings give kids and adults alike a visual element to keep them engaged even when just roaming the streets.
There are a lot of great things to do in Lisbon for kids. From castles to aquariums, there it plenty to keep children entertained while also making for a fun trip for adults. Many people searching for what to do in Lisbon will be pleasantly surprised by how much this city has to offer.
Our personal experience in Lisbon
I visited Lisbon with a 4-year-old, which may be the most challenging age to travel to Lisbon. Most 4-year-old children are too heavy to carry for long periods of time, but they also tire easily and get tired of walking, especially when all the walking seems to be uphill.
To make matters worse, Lisbon was part of a 2-week long trip that took us through Portugal, Spain and Morocco. We visited cities in southern Spain like Seville, Cordoba and Ronda, and finally ended in Morocco.
It was a mommy-daughter trip so I didn't have the assistance of my husband to help carry our daughter when she decided she couldn't walk anymore and would sit down in protest in the middle of the sidewalk. But we walked at our own pace and stopped for drinks, tapas, or ice cream more frequently.
We didn't get to see all of Lisbon's top sites, but we made the most of our time, and surprisingly we fit in a lot of them.
Tips for visiting Lisbon with children
Although Lisbon is a safe and kid-friendly city, there are a few things I realized on our trip that would have made it a bit easier to visit.
Bring a child carrier or a stroller
My 4-year-old was relatively small for her age, so luckily I was still able to wear her in a soft-bodied carrier when she got tired. She didn't love it, but liked it more than walking, and even fell asleep a few times in the carrier.
I usually prefer a carrier to a stroller, but in retrospect, a lightweight umbrella stroller would have also come in very handy.
Lisbon is VERY hilly and there are a lot of stairs, so strollers aren't always convenient, but for portions of our exploration, a stroller would have been easier than carrying our daughter.
ALSO READ: BEST CHILD CARRIERS FOR TRAVEL
Maps of Lisbon are deceiving
By now I've mentioned at least three times that Lisbon is extremely hilly, particularly in older areas like Alfama.
You can't always tell the elevation change by looking at a map. So it can be very deceiving when walking around Lisbon. It may seem like an easy 3-4 blocks until you realize that those blocks also includes long staircases and steep inclines. 
We made the mistake of walking from the train station to our apartment in Alfama. I had all of our clothes for 2 weeks packed in a large backpack.
About ⅓ of the way to the apartment, my daughter decided she couldn't walk another step so I had to carry her and our luggage uphill another 4-5 blocks. It was miserable. 
Public transportation
A better option to walking would have been to take one of the trams which Lisbon is known for.
Lisbon has trains, a metro, and trams that will take you to the areas that trains and metros cannot. However, the tram system is confusing. I never did figure out which tram to take and no one was really willing to help.
The metro and train system was easier to navigate and purchasing tickets for both was fairly easy.
Be sure to check out a Lisbon Metro guide before your trip to make navigating the city and its metro system easier when you arrive.
You can also buy a public transportation pass which will include unlimited use of trains, metros and trams. You'll especially want to utilize public transportation if visiting Lisbon in winter, as temperatures can be a bit chilly at times.
Beware of pick-pockets on public transportation, though. I've heard this is especially a concern on the trams and funiculars.
Cash
If you don't want to buy the transportation pass but still plan to take one of the trolleys, you can pay cash for your ride when you board the trolley.
You will want to hit an ATM when you arrive anyways. We found several places that didn't accept credit cards, especially for smaller purchases, like coffee. 
Learn a few words in Portuguese
I always recommend learning a few words in the native language when traveling to countries other than your own.
While I learned a few key phrases in Portuguese like hello, thank you, please, and excuse me, I didn't put a lot of effort into learning Portuguese before our trip. Instead, I figured my Spanish would suffice because the two languages are similar.
In retrospect, it would have been helpful and probably appreciated had I learned a bit more of the language. 
Although many people in Portugal speak English, we came across quite a few, even in the service industry, who either couldn't or wouldn't speak English.
The Portuguese people were what I would call "nice enough." They didn't go out of their way to make you feel welcome like some places we have visited, but they weren't overly friendly either.
If you make an attempt to speak Portuguese, they will likely be more inclined to help.
Things to do in Lisbon for kids
If you are one of those families looking for all the things to do in Lisbon for kids, this post is not for you.
While we stop at the occasional playground and try to fit in something that will be particularly enjoyable for our daughter, we aren't the type of family who spends all of our vacations in theme parks.
Instead, this Lisbon itinerary details things you can do in Lisbon with kids, and gives you a real account of the family-friendliness of top attractions.
SEARCH THE MOST POPULAR TOURS IN LISBON.
3 days in Lisbon itinerary
We spent a total of 3 days in Lisbon, but you could spend much longer in the capital and take some of the more popular day trips from Lisbon. Here's our itinerary for our trip.
Day 1 in Lisbon with kids
Explore the historic Alfama district
Castelo de St. Jorge
Lisbon Cathedral
Lunch at Praca do Comercio
Rua Augusta
Carmo Convent
Rossio Square

Day 2 in Lisbon with kids
Santa Justa Lift
Ascensor de Gloria
Lunch in Barrio Alto before heading to Belem
Jeronimos Monastery
Belem Tower
Day 3 in Lisbon with kids
Top family-friendly attractions in Lisbon
In the Portuguese culture, children are a celebrated part of society. So naturally, kids are welcome in all of Lisbon's top attractions. In fact, kids get in free to many of them.
Alfama
Alfama isn't necessarily an attraction as it is a must-see area of town.
The oldest area of Lisbon, this historic neighborhood is bustling with shops and cafes.
Known for its beautiful tiled facades and narrow, steep streets the Alfama neighborhood is a great place to spend a morning or afternoon roaming, exploring, and of course eating. You'll find breathtaking views and a maze of cobblestone streets surrounded by old buildings, many of which date back hundreds of years.
You'll find lots of characteristic photo opportunities and wonderful surprises like traditional markets tucked away in small plazas and charming cafes in old buildings.
Castelo de St. Jorge (São Jorge Castle)
In the heart of Lisbon's Alfama neighborhood, there is literally a castle on a hill.
Easy to see from a distance, Castelo de St. Jorge is perched high above Lisbon and offers beautiful views of the city.
The walk up to the castle is steep but doable, so if visiting with young kids just take your time getting there. A stroller may also come in handy, although navigating the ancient castle itself with a stroller is more of a challenge. There are portions of the castle you would not be able to visit with a stroller.
Castelo de St. Jorge, also known as São Jorge Castle or St. George Castle, is one of Lisbon's top attractions.
The castle dates back to 200 BC. It changed from Roman, to Moorish, to Christian rule over the years before finally being destroyed in an earthquake in the 1700s. It sat in ruins for a couple centuries before the castle was restored in the 1940s.
Lisbon Cathedral
The oldest church in the city, the Lisbon Cathedral dates back to the twelfth century. Similar to many other cathedrals in Europe, the Lisbon Cathedral has mostly Romanesque architecture and design.
Not far from Castelo de St. Jorge and sitting on the edge of the Alfama neighborhood, you can easily tour the cathedral the same day you visit the castle and the historic district of Lisbon.
Also known as the Cathedral of Saint Mary Major or Sé Cathedral, the church has survived several earthquakes. Over the centuries it has been renovated numerous times and thus is a mixture of architectural styles.
Entrance to the cathedral is free, and while it is the oldest church in Lisbon and one of the most prominent Lisbon landmarks, touring the church doesn't take much time. It is the perfect place to stop on your way from Castelo de St. Jorge to Praca do Comercio, where you will have lunch on your first day in Lisbon with kids.
Praca do Comercio
One of the main and most popular squares in Lisbon, Praca do Comercio, or Commerce Square, is an easy stroll from Lisbon Cathedral.
The plaza borders Tagus River on one side and features an ornate archway, Rua Augusta Arch, on the other. The arch opens up to one of the most popular, pedestrian streets in Lisbon, Rua Augusta.
Praco do Comercio is a great place to stop for lunch or dinner. In fact, you can find one of Lisbon's best seafood restaurants, Populi, in the square. And eating seafood in Lisbon is a must!
Not far from Praco do Comercio and near the Cais de Sodre metro station, you'll also find Lisbon's pink street. Once known as Lisbon's seedy red light district, the street is now a colorful, picturesque part of the city.
Rossio Square
From Praca do Comercio, stroll down Rua Augusta to Rossio Square. You could call this plaza the heart of the city.
Rossio Square is a large, lively plaza where you'll find cafes, coffee shops, and even the national theater. A large pillar-type monument dedicated to King Pedro the IV sits at the center of the square. 
On your way to Rossio Square, stop at Carmo Convent, a Gothic church left in ruins by the 1755 earthquake. The roofless nave now opens to the sky. The arches are the only remnants of the ceiling that caved in on the congregation as they attended mass.
Santa Justa Lift
Kids will enjoy riding the Santa Justa Lift, or Elevator de Santa Justa, up 148 feet (45 meters) above the Baixa area.
The elevator takes you up to a viewing platform. The views are not as great as they are from Castelo de St. Jorge, but the perspective of central Lisbon is still pretty great from the top.
The line or queue to take the lift can be quite long, so this is one of those activities in Lisbon that I would only do with kids if the wait time is minimal.
Barrio Alto
Every city has a district that appeals more to a younger, single demographic. In Lisbon, that neighborhood is Barrio Alto.
With its hipster vibes and graffiti-painted walls, Barrio Alto is known for its stimulating nightlife. Fado music pours out of small restaurants into the narrow streets mixing with the sound of laughter and chatter from patrons at quirky dive bars.
Although the night scene in Barrio Alto definitely skews older, during the day a visit to Barrio Alto with kids is much different. The neighborhood has a different feel during the daytime hours.
If time allows, catch the sunset at Miradouro de Santa Catarina before having dinner at one of the fun restaurants in Barrio Alto where musicians perform traditional Fado music.  
Lisbon's Famous Funiculars
When you think of Lisbon, you probably have a very specific image in mind of bright yellow funicular going up a steep cobblestone street.
These famous funiculars have become synonymous with Lisbon. There are three funiculars in the city, two of which are most popular among tourists.
Covered in colorful graffiti, and ascending up a street that is equally colorful and painted with street art, Ascensor de Gloria is the most visited of the three funiculars in Lisbon.
You can ride this particular funicular up Calçada da Gloria to Barrio Alto, making it not only something to do but a convenient way to get to the Bohemian district of Libson.
Second in popularity, Ascensor da Bica is the most picturesque of the three funiculars.
Regardless of which one you choose to ride, beware of pickpockets on the funiculars, just as you would on the trams, trains and metros.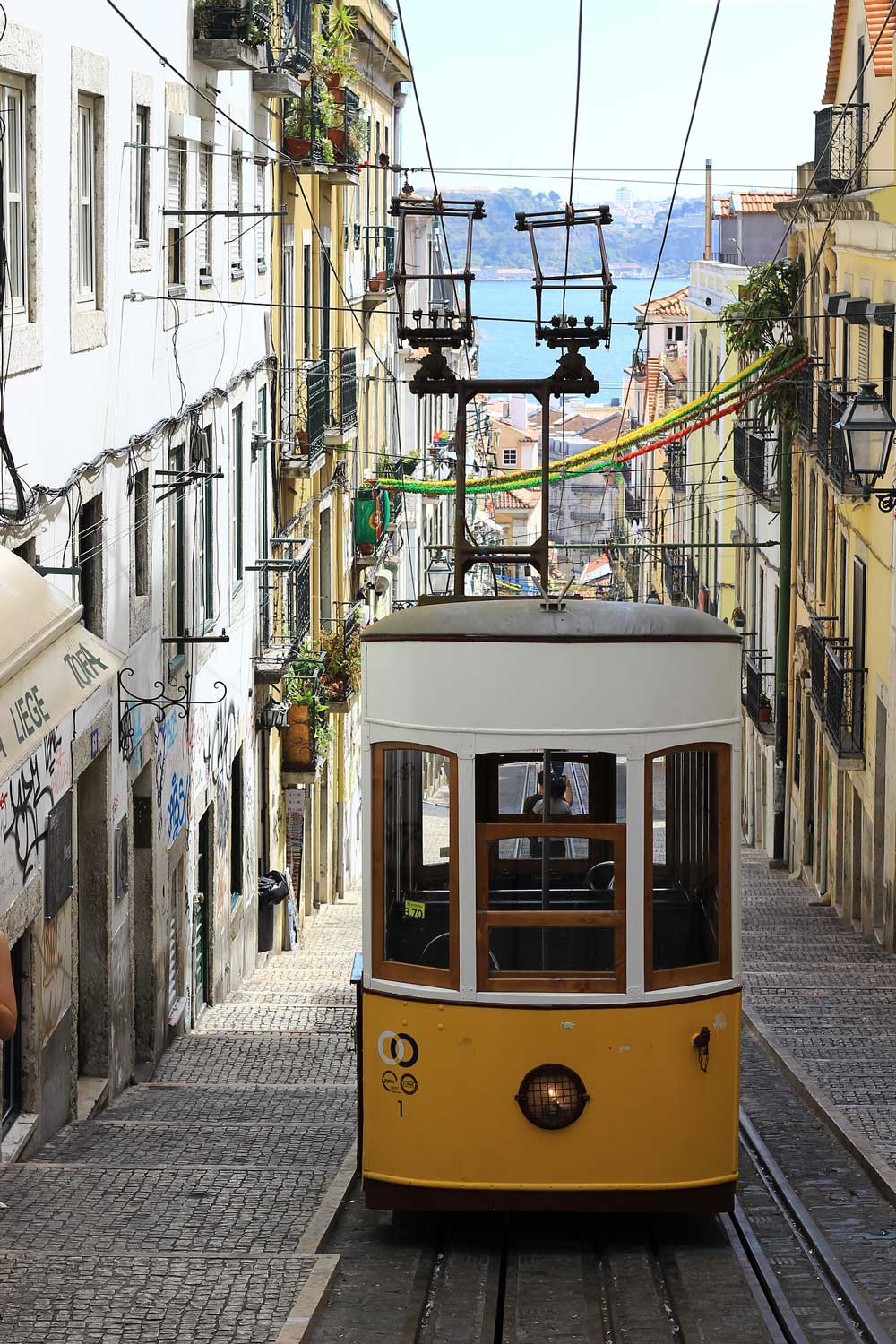 Jeronimos Monastery
The most ornate and opulent attraction in Lisbon, Jeronimos Monastery in the Belem area is a grand religious building with complex spires and columns, intricate carvings and stonework, and picturesque archways.
Due to its beauty and popularity, the monastery can get extremely crowded, especially if visiting during peak season and peak hours, like we did.
But despite the crowds, the church and monastery are worth visiting – as the UNESCO World Heritage site is one of the most famous church complexes in Europe.
Belem Tower (Torre de Belem)
The Belem Tower in Lisbon's Belem district is one of the more iconic landmarks in Portugal.
The picturesque tower on the waterfront has been used as a military fort, a prison, a lighthouse and now a tourist attraction.
We didn't actually go inside the tower, but my daughter enjoyed playing in the sandy beach area around it and exploring in the surrounding park. It's a great place to relax outside on a nice day when visiting Lisbon with kids.
While in Belem, you'll also see a couple other popular landmarks in Lisbon, like the 25 de Abril Bridge, one of the most famous bridges in Europe.
Just on the other side of the bridge, the Sanctuary of Christ the King, one of the largest statues in Europe, towers over the bridge and the river.
Lisbon Aquarium
The Lisbon Aquarium is one of the largest aquariums in Europe. This 2-story 'floating' aquarium is built on the ocean and is a must if visiting Lisbon with kids.
With more than 450 different species, the Lisbon Aquarium, is often hailed as one of the best aquariums in the world. It is easy to spend at least half a day exploring this massive saltwater aquarium.
So if you have 3 days in Lisbon, and choose not to do a day trip to Sintra on one of the days, the Lisbon Aquarium is a fantastic alternative. 
Where to stay in Lisbon, Portugal with kids
During our visit to Lisbon, we stayed in the historic Alfama district, however, getting to and from our apartment each day was not the most convenient.
I would recommend staying as close to Rossio Square as possible, particularly if visiting Lisbon with kids. However, the best areas to stay in Lisbon, will depend on what you want to do while you are there.
The area around Rossio Square puts you close to the central metro and train stations, so if arriving, leaving, or utilizing public transportation, your hotel will be conveniently located.
A couple lodging options that have great reviews are Hotel LX Rossio or Bessa Hotel Liberdade. But you can search the map below to find hotels or apartments near Rossio Square that will accommodate your family.
Booking.com
Is Lisbon safe for families?
As with any city Lisbon has it's issues, but from our experience Lisbon is a safe and fun city to visit with kids.
We walked all over Lisbon, got lost at times, and used public transportation. Not once we did we feel concerned for our safety.
Additionally, the water is safe to drink in Lisbon, as it is with most places in Europe, so there was no need to buy bottled water. Instead we carried our refillable water bottles around to stay hydrated.
Lisbon is a beautiful city to visit.
You will likely feel quite safe when visiting Lisbon with kids as well. However, I always like to remind people, especially those traveling with kids, to always stay aware of your surroundings and be vigilant. Petty crime happens everywhere and it only takes one bad experience to ruin your trip.
Like it? Pin this list of things to do in Lisbon with kids to save it for later!
Do you have a question or comment about visiting Lisbon with kids? We'd love to hear from you. Leave your thoughts or questions in the comments below.
This guide to visiting Lisbon with kids was first written in March 2020. We updated this 3-day Lisbon itinerary for families in February 2022 for accuracy and current information.