Maine is an ideal family vacation destination. The north-easternmost state in the United States has a rich culture and a beautiful landscape with mountains, forests and a stunning coastline. Because of this, visiting Maine with kids makes for an unforgettable trip!
Nature lovers, animal admirers, thrill seekers and history buffs will find plenty of affordable experiences in the Pine Tree State.
This guide to visiting Maine with kids includes the top family-friendly activities in Maine, the best places to visit in the state, and the best things to do in Maine for kids.
Things to do in Maine with Kids
Whether you are looking for things to do in Maine with toddlers, older kids, or teens, there is plenty of free family fun in Maine, as well exciting attractions and recreational activities that are both entertaining and educational.
If planning a family vacation to Maine, give yourself at least a week. You can easily split your stay between the cities of Portland and Bangor and take day trips to many of these great Maine kids' activities and attractions.
COMPARE RATES AND FIND HOTELS IN PORTLAND AND HOTELS IN BANGOR.
Here are the 19 best things to do with the whole family in Maine.
Funtown Splashtown USA
Funtown Splashtown USA theme park started as a drive-in food stand in 1960 in the town of Saco, just south of Portland. It has evolved into an amusement and water park, open May through August, and has attractions for the whole family.
Funtown features Excalibur, the tallest roller coaster in Maine and the largest in Northern New England. You can also find rides like the indoor coaster Astrosphere, kiddie boats, the Thunder Falls log flume and the carousel.
Splashtown Waterpark has water rides, pools and slides for all ages to enjoy. This attraction is ideal for any warm summer day and includes games and dining options.
Tickets for each park begin at $39 per person.
Seashore Trolley Museum
Further south from Saco along the coast of Maine, you can find the Seashore Trolley Museum, the world's largest electric railway museum, in Kennebunkport.
The museum is a celebration of public transportation and features vehicles from every major city in the country. It also hosts trolley rides and vehicle restorations.
It also hosts various family-friendly events throughout the year and is a fun place to visit in Maine with kids.
Tickets are under $15 for everyone. Kids and adults will enjoy the unique atmosphere of this museum.
Children's Museum and Theatre of Maine
The Children's Museum and Theatre of Maine, located in Portland, offers ample indoor and outdoor facilities that make learning fun.
No more walking by artifacts kids can't touch. This museum actively encourages exploration and play while learning about various subjects. Maddy's Theatre hosts children's and family theater productions throughout the year.
General admission is $15, with a senior discount and children under 18 months getting in for free.
Pemaquid Point Lighthouse
The Pemaquid Point Lighthouse may already be on your radar, as it's the lighthouse featured on the Maine state quarter.
President John Quincy Adams commissioned this beautiful lighthouse in 1827.
It's located in New Harbor and features a wonderful view. While there, consider visiting the Seagull Restaurant, where your family can enjoy a lobster bake or pot pies.
Washburn-Norlands Living History Center
The Washburn-Norlands Living History Center in Livermore celebrates historical Maine through the legacy of the Washburn family.
The center contains the Washburns' Norlands mansion, a 19th-century schoolhouse, meeting house, farmer's cottage, barn with live animals and library with displays about the Washburn family.
It's dedicated to preserving the history of early 19th century rural Maine through live exhibits and holds classes that teach the skills and values from the time.
Living history exhibits teach kids about the period and how those in rural Maine lived and worked during that time. Animal lovers will enjoy seeing the day-to-day farm operations.
Tickets to the museum are $10 for children and $20 for adults, with kids 2 years old and younger getting in for free. You can visit on Fridays and Saturdays.
Desert of Maine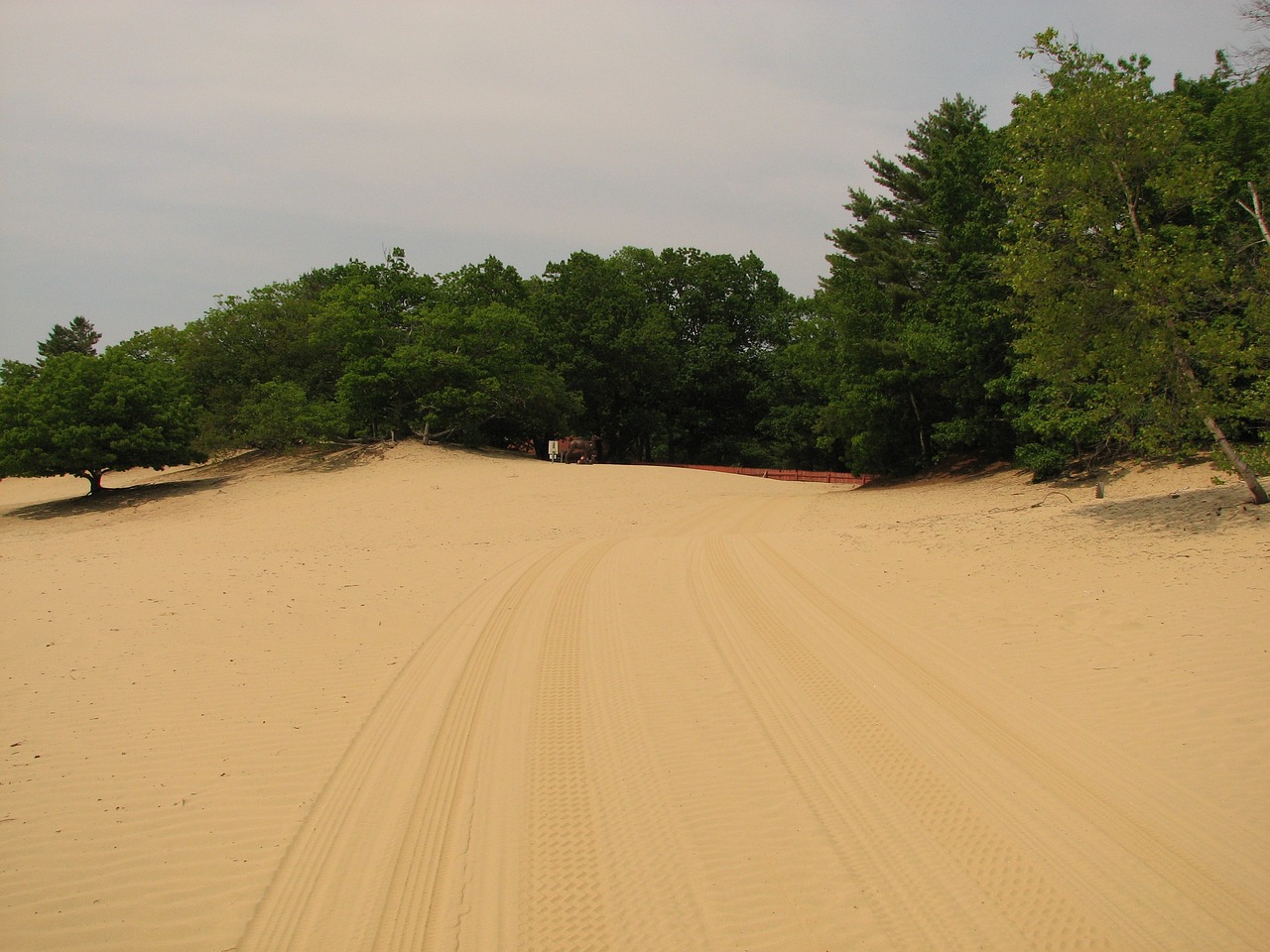 The Desert of Maine in Freeport is a fun and fascinating place for kids and adults alike.
Its 40 acres of natural sand dunes provide a unique environment filled with new adventures for the whole family. Organizers created experiences just for those visiting Maine with children, from a gemstone discovery site to a miniature golf course.
Adults can also marvel at the beauty of the natural wonder while taking a guided tour or visiting the on-site museum.
The desert is open yearly from May to October, with tickets at $12 for kids and $16 for adults. It's a place that's uniquely Maine and is a must-stop for anyone new to the area.
Wiscasset, Waterville and Farmington Railway Museum
Take a ride through history at The Wiscasset, Waterville and Farmington (WW&F) Railway, which travels through Wiscasset, Winslow and Albion. The museum is located in the tiny town of Alna, between Portland and Bangor.
The exhibits walk you through the history of the 2-foot narrow gauge railway that operated commercially from 1894 to 1933 before shutting down. Decades later, Harry Percival Jr. set out to restore the historic railway, leading to the museum's creation.
The museum hosts family-friendly train rides, historical reenactments and other events throughout the year.
Ticket prices vary. Visiting this unique piece of history supports its current and future restoration projects.
Maine Lobster Festival
If you or a loved one is a lobster lover, consider traveling to the coast of Maine in August for the annual Maine Lobster Festival.
Originally held to revive the state's coastal towns, the festival in Rockland now attracts visitors from around the globe.
For five whole days, the state celebrates the delicious crustation through competitions, entertainment and lots of good food.
The festival also focuses on educating the public about the lobster industry and how it affects the economy. The Marine Tent Experience features a touch pool that allows visitors of all ages to get up close and personal with small sea creatures.
Seal Cove Auto Museum
If you have a little car lover in your family, the Seal Cove Auto Museum is a must-see while you're in Maine with kids.
The nonprofit museum began as a way to display car enthusiast Richard Paine's collection and is focused on preserving his legacy of collecting historic vehicles.
The displays feature over 50 vehicles, beginning from the 1800s. There are also exhibits highlighting the bumpy history of some automobiles in the early United States that are sure to interest any car-lover.
If you visit on a Friday, your family will get the opportunity to ride in a vintage vehicle as part of its Friday Ride Days.
Adult admission is $10, with kids under 18 getting in for free. The museum is open from May through October, with appointments available from November through April.
Katahdin Cruises
Katahdin Cruises near Greenville offers several types of historical and entertainment boat rides.
The Moosehead Marine Museum opened its doors to the public in 1976, featuring steamboat memorabilia, photographs and artifacts honoring local sailing. Shortly after, it acquired the Steamboat Katahdin.
Ever since, the museum has hosted cruises that allow visitors to enjoy a cruise on Moosehead Lake, where you can learn the area's history, have lunch and visit local attractions.
There are also special Katahdin cruises for different topics, such as Independence Day fireworks. Prices start at $25 for young children and include admission to the museum.
Take Flight Adventures
If you have an adventurer on your hands, consider taking them to Take Flight Adventures in Kittery.
The aerial adventure park offers a ropes course and zip line tours to enjoy nature while challenging yourself. The courses are designed for almost all ages to enjoy, and special events are held throughout the year.
The ropes course features various challenges at different heights, with participants safely harnessed the entire time. Zip line tours take participants along six lines and three climbing elements to experience the thrill of exploring the trees.
Prices for the full course begin at $32 for young children and $44 for adults.
Bar Harbor Whale Watching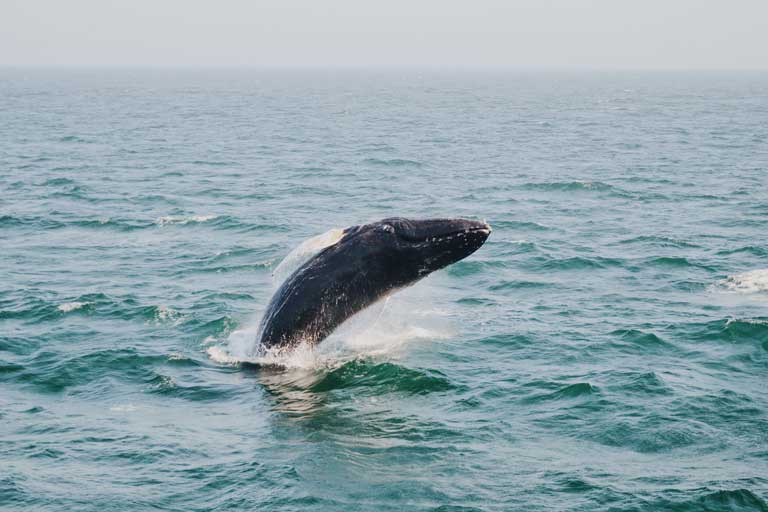 The Gulf of Maine is full of whales and whale-watching opportunities. One of the most famous is the experience offered by Bar Harbor Whale Watching.
The company offers various cruises from late May to mid-October. Similar to the whale watching tours you might go on in Massachusetts with kids, these unique experiences last 3.5 to 5.5 hours and let your family experience the wonder of the gulf.
Prices start at $25 for children under 5 years old. Whether you go whale-watching, learn about the lighthouses or find puffins, Bar Harbor can be a wonderful adventure, and luckily it's an easy road trip from Boston to Bar Harbor.
Cedar Wind Stables
Almost any animal or nature lover will enjoy a horseback ride at Cedar Wind Stables in Charleston.
The organization offers horseback rides for ages 4 and older. It offers guided trail rides for individuals and groups and hosts special occasions like birthday parties and picnics. People don't need any experience to ride.
The stables are open seven days a week from Memorial Day weekend through the end of October.
Prices start at around $40 to ride.
Three Rivers Whitewater
You won't want to miss going on a whitewater rafting trip if you're vacationing in Maine with older kids. One of the most popular locations is Three Rivers Whitewater in West Forks.
The facility opened in 1997 and brands itself as "The Home of Serious Fun."
Three Rivers Whitewater offers day trips and extended stays, with lodging and all-inclusive options. Your family can enjoy a whitewater rafting trip as well as tubing and hiking experiences.
Acadia National Park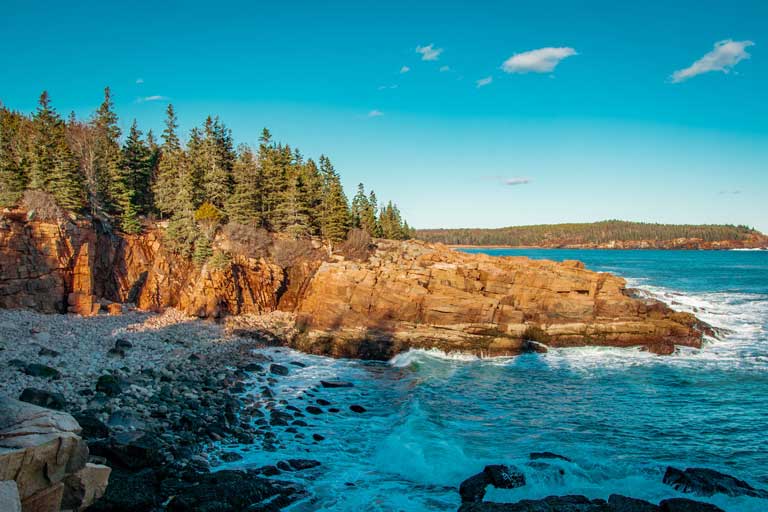 Acadia National Park prides itself as the "Crown Jewel of the North Atlantic Coast" and is one of the top 10 most visited parks in the United States. Acadia ranks up there with Zion in southern Utah, Arches in Moab, Utah, and Yellowstone for its beauty and kid-friendliness.
Its natural beauty encompasses the highest rocky headlands along the Atlantic coastline. Acadia is home to 158 miles of hiking trails, 45 miles of carriage roads and 27 miles of motor roads.
You can visit and camp at the park throughout the year and print a pass online or on-site. Admission to Acadia is also included on the America the Beautiful Park Pass, for those who have purchased one.
Maine Discovery Museum
Located in Bangor, the Maine Discovery Museum is the largest children's museum in the state.
With three floors of interactive exhibits, the museum let's children explore the world of science, geography, music, and art in a fun, immersive way.
Starting at just $10 a person, you could spend hours watching your kids learn and discover fascinating things about the world around them.
Maine Wildlife Park
A wonderful nature and wildlife reserve, the Maine Wildlife Park is a sanctuary for approximately 30 species of animals who are unable to safely return to their natural habitat.
Whether injured, orphaned, or illegally raised in captivity, these animals are given a place where they can live in a naturalized environment while still receiving the specialized care they need. 
Visitors are guaranteed to see moose, deer, and possibly even bears and cougars during their visit to the park. Admission ranges from $7.50-$10.
Portland Old Port Exchange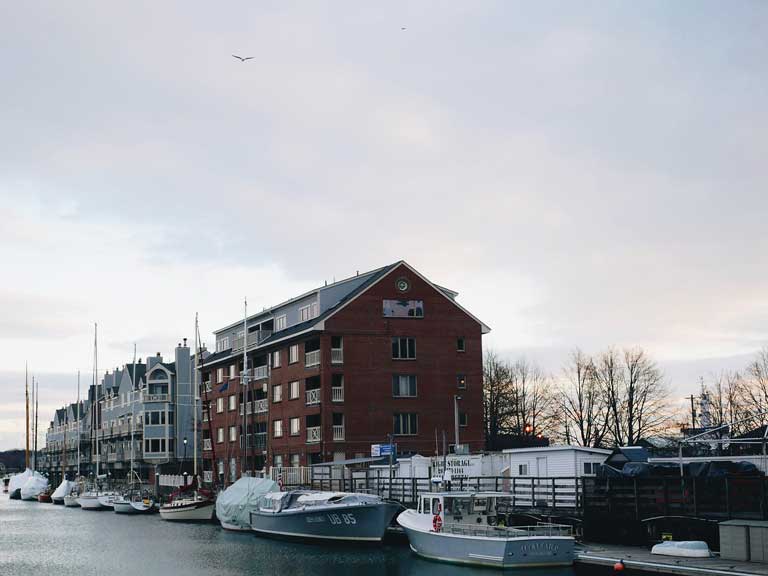 Known for its cobblestone streets and brick buildings, the Old Port District of Portland is a popular tourist area with souvenir shops, restaurants, and local boutiques.
The historic district, sometimes called the Old Port Exchange, is a lively area that families will enjoy exploring together. Plus, given Portland's convenient proximity to both New Hampshire and Massachusetts, it makes for one of the best family day trips in Maine.
Maine State Aquarium
Although closed for renovations until sometime in 2023, any list of the best things to do in Maine with kids should include the Maine State Aquarium.
Located on the water in West Boothbay Harbor, the small aquarium includes colorful marine life, fish, sea animals, and of course lobsters of all sizes. 
The aquarium is designed to be an engaging and educational experience where visitors can get hands-on lessons on life under the water.
While in Boothbay, you can also catch a ferry to Monhegan Island, one of the many hidden gems in New England.
Final Thoughts on Visiting Maine with Kids
Maine is a unique state with tons of fun for visitors of all ages. Whether you want to visit an amusement park or ropes course, learn about its rich history, enjoy some fresh seafood or explore the shore, consider visiting Maine with kids for your next family vacation.
Have a question about or recommendation for visiting Maine with kids? We'd love to hear from you! Leave your thoughts in the comments below?
Like it? Pin this Maine with kids travel guide to save it for later!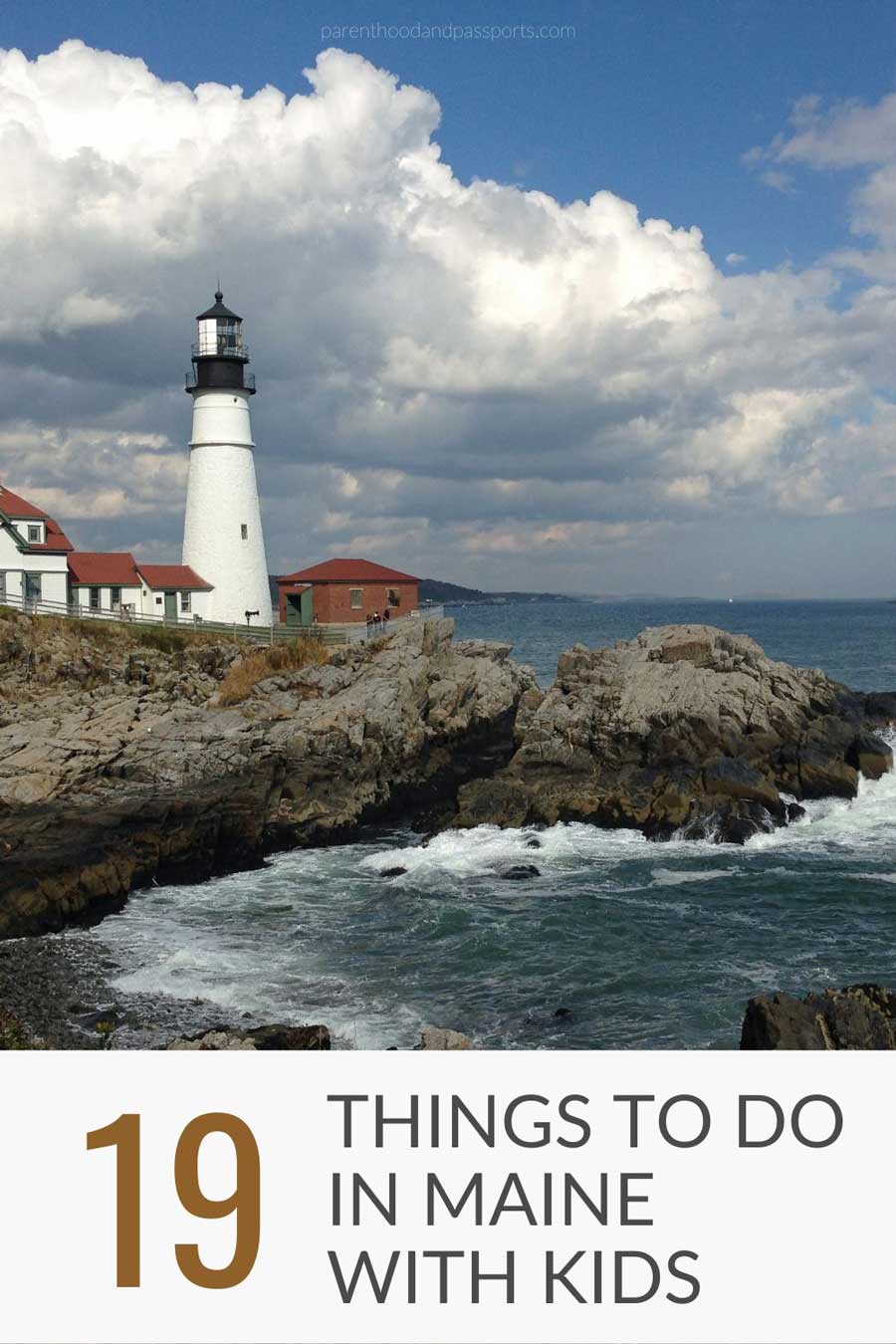 About the Author of this Maine with Kids guide: Cora Gold is the Editor in Chief of women's lifestyle magazine, Revivalist. She loves to write about travel, family and adventure. Follow Cora on LinkedIn and Twitter.