In Morocco, culture, adventure, and exploration abound. From the sand dunes of the Sahara desert to the labyrinth-like medinas and lively souks, this fascinating country is wonderful for families. But planning a trip to Morocco with kids takes a little extra preparation because visiting this North African country comes with some unique challenges.
Here are a few things to know before visiting Morocco with children.
Things to know about visiting Morocco with kids
If visiting Morocco with kids, you're in for an incredible adventure, although not without some hurdles!
From the culture, which is deeply influenced by the Islamic faith, to the food and the language barriers, here are a few things to know and the top questions people have when planning a Morocco family vacation.
Safety in Morocco
Is it safe to visit Morocco with kids? Safety is always a top concern for all parents planning a trip with their kids. And while I consider bloggers' advice on safety to be anecdotal, I can at least speak to our personal experience in Morocco.
Because of the family-oriented culture in Morocco, I feel you are safer traveling with children than you would be traveling alone or as a couple.
While Morocco may be plagued by petty crimes like pick-pocketing, it is generally a safe country. You will likely experience hassling in the souks from assertive vendors, but for the most part, we found the Moroccans we met to be very kind, helpful, and a bit reserved.
Take it for what it is, one person's opinion, but from our experience, Morocco is safe for families.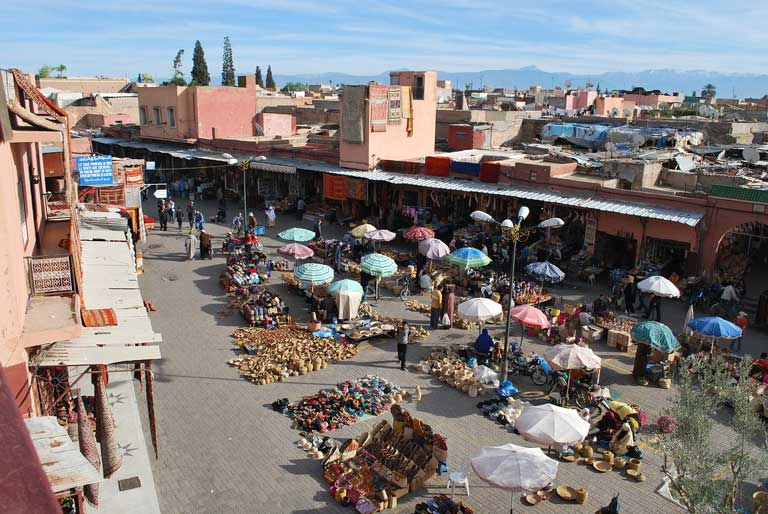 Language barrier
Do they speak English in Morocco? Only 20 percent of the population in Morocco speaks English. So, unless you speak Arabic, you will likely encounter a language barrier in Morocco.
Whenever possible, I recommend learning a few words in the local language, and downloading the Google Translate app's Arabic dictionary for offline use. That way you can use it even when you don't have WiFi.
Culture shock
Will I experience culture shock in Morocco? For many people, Morocco is the first Muslim country they visited. So, if you are used to a more western lifestyle and set of ideologies, you can expect a bit of culture shock.
If visiting Morocco with kids, children may not be able to express or even understand why they feel uncomfortable. Use it as an educational opportunity to teach your children about the different beliefs and ways of life around the world.
Talk to your children about the need to show tolerance, love, and respect to those who do not look, speak, or worship the same way.
Moroccans love kids
Is Morocco family-friendly? The Moroccan culture is very family-oriented. Kids are blessings and are treated as such.
Although it's a fact about Morocco that public displays of affection are considered inappropriate, this cultural norm does not apply to kids. The Moroccans are very affectionate people.
We had numerous occasions where older women would walk up and kiss our daughter's forehead. Some would pat her on the head when we walked by them in the medinas.
Because our daughter has blonde, curly hair, she has garnered attention in several places like China, Japan, and Guatemala where she obviously stands out due to her hair color. But in Morocco the attention was coupled with affection, which might make some kids and parents uncomfortable.
If it bothers you or your kids, you may have to step in and let people know nicely but firmly not to touch your children.
My daughter welcomes affection, although the level of attention she received from strangers confused her. At one point she asked why the older ladies kept kissing her head. I simply told her it was because they liked her and thought she was adorable.
After that, she owned her cuteness and began expecting a kiss on the head from every older woman we walked by. Ha!
Transportation in Morocco
How do you travel around Morocco with kids? There are several transportation options in Morocco. The country has a few trains and buses that connect major cities, but for the most part I wouldn't recommend relying on public transportation if visiting Morocco with kids.
The buses can get very crowded, making for an uncomfortable trip between cities. Taxis and private drivers are a better, more convenient option.
We opted for a private transfer between cities, as it was the easiest option for us. There are also private tours that specialize in family travel in Morocco.
And for those who are really adventurous, you can rent a car and road trip at your own pace. But if you plan to do that, there are some things you need to know about driving in Morocco first.
Regardless of how you decide to travel around Morocco, plan for LONG drives. If visiting Chefchaouen, the Blue Pearl of Morocco, the road is not only long, it's curvy, which means slower speed limits and possible car sickness.
Health risks in Morocco
Do you need any vaccinations to go to Morocco? There are certain vaccinations that are recommended for travelers visiting Morocco, but it is up to each individual whether they decide to get them.
In general, health experts recommend all travelers be up-to-date on current vaccinations, including measles, hepatitis, and tetanus.
Check with your doctor and follow the CDC's recommendations. You may want to consider getting a typhoid shot, especially if you are an adventurous eater.
We were not spending an extended amount of time in Morocco, so we opted out of getting this vaccination and we were fine. However, you may want to consider investing in travel insurance as part of your pre-travel planning.
Be aware when visiting Morocco with kids that rabies is another health concern in the country. Avoid contact with stray animals, including the thousands of cats that roam the medinas in Moroccan cities, and you should be fine.
Is the water safe to drink in Morocco?
Drinking water straight from the tap in Morocco isn't recommended. We had no problem though finding bottled water, even in smaller towns.
Be careful about eating fruits that are washed in the water, as well, unless they have a peel that protects the fruit, like an orange or a banana.
Appropriate attire in Morocco for kids
What should you pack for Morocco? Unlike women in Morocco, kids do not have a certain dress code. Children, even Moroccan kids, can wear shorts, t-shirts, and even tank tops. In contrast, women should dress more modestly.
Most women in Morocco cover their heads with a hijab or scarf and wear long flowy tunic-type dresses. Tourists and non-Muslims are not expected to cover their heads in Morocco but are encouraged to dress modestly.
I recommend women who are visiting Morocco wear long flowy skirts or dresses.
Moroccan Food
Is Moroccan food kid-friendly? Our daughter is a pretty adventurous eater for her age, but understandably many kids are picky eaters. Although in larger cities, you can find a host of western restaurants and even fast food establishments, in smaller towns, your options are more limited.
There are plenty of Moroccan foods that even picky eaters will enjoy. You can find plenty of meals made with chicken. My daughter was also a big fan of Moroccan bread and traditional Moroccan breakfasts.
One thing kids will love about Moroccan food, is it is often eaten by hand. What kid doesn't want to forego a fork?!
READ MORE FUN FACTS ABOUT MOROCCO FOR KIDS HERE.
Other things to know about visiting Morocco with kids
Although I consider Morocco to be family friendly, there are a few things that you might encounter that can be difficult to see or explain to children. For one, you may encounter beggars on the street and even small children hustling people for money.
Child labor and poverty are a sad reality in many under-developed countries. Still, it is a conversation that can be difficult to have with children, especially considering international travel is a very privileged experience.
Also, be aware that hash, a cannabis by-product, is everywhere in Morocco. Although it is illegal, we could smell people smoking it several times just walking through the medinas and plazas. Our daughter noticed the smell too and asked if there was a skunk nearby. 🙂
Tops things to do in Morocco with kids
As we mentioned, there is so much to do in Morocco that will peak a child's interest and imagination. Here are the top five things to do in Morocco with kids.
Explore the labyrinth-like medinas
The medinas, or historic centers of cities like Fez, Marrakesh, and Chefchaouen, are fun to explore at any age. The narrow streets are like a labyrinth or maze with something new and interesting around every turn.
Take a Sahara Desert tour
The Sahara Desert is one of the best places to visit in Morocco. It is big and vast, so naturally a Sahara Desert tour takes at least a full day if not 3 or 4. Often done on camel-back, a trek through the desert is one of those activities that would be better with older children.
Many Sahara Desert tours require participants to be at least 5 years old.
Spend the day at the beach
What kid doesn't love going to the beach? Morocco has some beautiful beaches. Whether you want to explore beach caves, take a camel or horse ride along the shore, or simply relax and enjoy the water, beach activities are popular in Morocco.
Although, keep in mind, women will likely be more comfortable in a one-piece swimsuit and a flowy cover-up. Wearing a two-piece bikini may get you a lot of looks.
We only saw one woman in a bikini when we were at the beach in Morocco, and honestly I would have felt uncomfortable wearing one in such a modest culture.
Take a cooking class
One of the best ways to help children embrace new foods is to take a cooking class. This not only lets kids know what is in the food, but they are more likely to try a new food if they made it.
Plus, cooking classes are fun for the whole family, and can be a great way to understand and appreciate a country's culture through its food.
Stay in a riad
A riad is a traditional Moroccan house with an inner courtyard, garden, or pool. Once stately homes, many riads have been turned into boutique accommodations for tourists. The inner courtyard is a great place for families to relax and escape the heat on a Moroccan afternoon.
Self-guided family trip to Morocco vs. a guided tour group?
You can certainly do a self-guided trip to Morocco with kids, but many people who visit Morocco prefer to do so on a guided tour. Traveling around Morocco is not as easy as traveling in a European country.
Morocco is still a developing nation, so planning a family vacation to Morocco comes with some difficulty. There are tour groups that specialize in family travel to Morocco.
Taking the difficulty out of the equation may make for a much more enjoyable experience for the entire family.
Like it? Pin this guide to Morocco with kids to save for later!
Have a question or comment about visiting Morocco with kids? Leave your thoughts or questions about a Morocco family vacation below.