For most of my adult life, I had a professional career. I spent a decade working as a television news reporter so stylish clothing and accessories practically became my uniform. You had to dress the part to work in television. Suits, sheath dresses, high heels and jewelry… That was my daily wardrobe. Never did I think I would be one of those babywearing moms with a kid strapped to my chest.
Geez, was I wrong.
Nowadays, I'm a stay-at-home mom to my 10-month-old daughter, Avery. I've traded in my suits and heels for maxi dresses and sandals. I still manage to accessorize, but on a much more muted level. In fact, my daughter is now my favorite accessory! And definitely the accessory I wear the most. 
That's right, I'm one of those babywearing mamas. I love baby carriers. Ring slings, wraps, buckle carriers… They are so functional and practical. I'd own a million of them if my husband would let me.
Which baby carrier is right for you?
If you're like me, and have to choose just one or two carriers, I would suggest getting a buckle carrier. It's easy and versatile to use, and dads usually don't mind wearing them as much as the other types of carriers.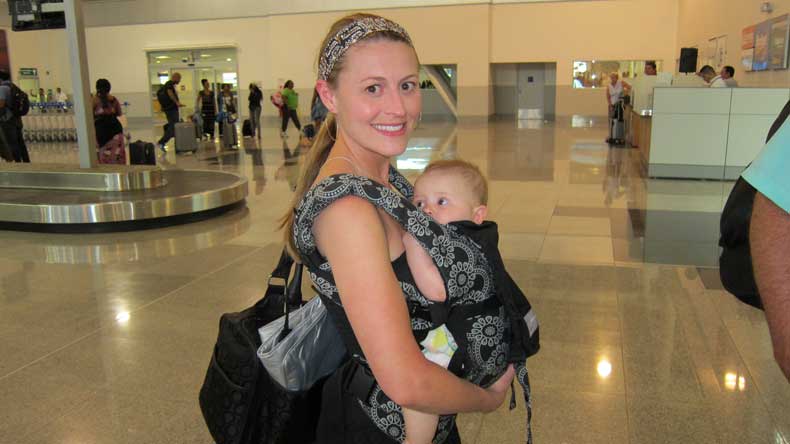 I use the Ergobaby 360. I also have a wrap that I wore mainly when my daughter was smaller (less than 6 months old). The wrap tends to hurt my back now that my daughter is heavier. I also have a water wrap that is great for beach vacations.
Why babywearing
Why do I wear our daughter? I don't do it because she is a beautiful accessory (although, she is) or because she matches my outfit perfectly (which is sometimes the case). I wear her because it makes life easier. At home, it's often the only way I can get things done, especially on those extra clingy days where she wants to be held 24/7.
When we are traveling, babywearing is an absolute must. Not only does it help us breeze through the airport, but it comes in handy when we arrive at our destination, too. I've hiked the rainforest in Costa Rica while wearing Avery. I've worn her into the ocean, and even nursed her while trekking around Moraine Lake in Canada without having to stop or whip my boob out for the world to see. In fact, that's exactly what I'm doing in the last picture. You'd never know, right?