Oahu, Hawaii is an incredible island filled with beautiful beaches, adventurous hikes, and delicious Hawaiian food. Whether you long for relaxation or adrenaline-pumping activities you will find a variety of both in this 4-day Oahu itinerary.
We love hiking and exploring, and don't typically enjoy spending all day at the beach lounging in the sand. If a lazy vacation relaxing by the pool or keeping your toes in the sand all day is your speed, this 4-day Oahu itinerary may not be for you.
This Oahu itinerary offers a couple of hours of beach time each day, but it is also packed with hikes to waterfalls, and to lookout points to watch the sunrise and sunset. It takes you into the rainforest and 10 feet below the ocean's surface to see the very best of Oahu in 4 days.
This itinerary is probably best for adult adventure-seekers or for those traveling with pre-teens or teenage kids.
There are a lot of fun things to do in Oahu with kids. However, I would not attempt this itinerary with a baby or a toddler, although as parents who have traveled extensively with a young child, we make it a point to specify which activities on this itinerary are child-friendly and offer alternatives to those that aren't suitable for young kids.
This Oahu itinerary details the best things to do during 4 days in Oahu, plus where to stay and what to eat during a trip to the Hawaiian island.
About Oahu, Hawaii
Oahu is home to Honolulu, the capital city of Hawaii. As the most populated island in the state, Oahu is home to more than 1.4 million residents. But it attracts roughly 9 million tourists a year.
Oahu is the third largest of the Hawaiian islands in geographic size, behind the Big Island and Maui.
Although only 44 miles wide and 30 miles across, driving around Oahu takes longer than you would imagine. Heavy traffic coupled with slow speed limits can easily turn a 15-mile drive into a 45 minute commute.
So plan for longer drive times than you might initially expect if exploring all sides of the island.
The weather in Hawaii is mostly pleasant year round, and summer is the most popular time to visit the islands. However, if you visit Hawaii in September through April when kids are still in school, you'll avoid a lot of the crowds that descend on the islands in summer.
Where to stay in Oahu for 4 days
Many people choose to stay in Waikiki because of its proximity to Honolulu, the beach, and the airport. It is a good place to stay if you plan to do some or all of the activities in this 4-day Oahu itinerary.
Here are a few hotels in Waikiki that have great reviews. (Click each link to read the reviews and check rates. These hotels are listed from highest to lowest in price.)
How to Spend 4 Days in Oahu | A Day-by-Day Oahu Itinerary
Although a relatively small island there are a lot of awesome things to do in Oahu. You could probably spend a month exploring the island, going on daily hikes and hitting up a new beach and still not see everything.
Luckily, when we visited Oahu, we were with my close friends who lived there, so it was like having our very own local tour guide. With help from a local Oahu resident, we planned this awesome Oahu itinerary, so you could make the most of a short 4 days in Oahu.
This was a rare child-free trip, so we packed as much into this Oahu itinerary without completely exhausting ourselves. So if you are like us, you are adventurous and want to maximize your 4 days in Oahu, this itinerary is definitely for you.
4-Day Oahu Itinerary: Day 1
Sunrise hike to Makapu'u
Breakfast at Island Brew
Hanuama Bay & Halona Beach Cove/Cockroach Cove
Sandy's Beach and/or Makapu'u Beach + food truck lunch
Evening Luau and dinner
4-Day Oahu Itinerary: Day 2
Early morning Lulumahu waterfall hike
Breakfast at Lenard's
Swim/dive with sea turtles in Waikiki
Lunch at a beach bar in Waikiki
Relax on Waikiki beach
Dinner and shopping in Chinatown
4-Day Oahu Itinerary: Day 3
Early morning drive through Ho'omaluhia Botanical Gardens
Poi Donuts from Kamehameha Bakery
Drive the H3
Relax on the North Shore beaches
Lunch at Poke for the People
Kualoa Ranch tour
Dinner near hotel or in downtown Honolulu
4-Day Oahu Itinerary: Day 4
Lanikai pillbox hike
Downtime at Lanikai beach
Pearl Harbor tour
Manoa Falls hike
Sunset at Spitting Caves
The Best Things to Do in Oahu in 4 Days
Now that you have an Oahu itinerary laid out, here is a brief description of all the awesome things you will see and do in Oahu in 4 days if you follow this itinerary.

Makapu'u sunrise hike
One of the best places to watch the sunrise in Oahu is Makapu'u.
Makapu'u is one of the easiest hikes in Oahu. The hike is on a paved path, which is a great choice if hiking with young children.
The entrance to the path and the parking lot doesn't open until 7 am, so if you want to catch the sunrise, you will have to park on the side of the road and go around the gate. Although it might feel like you are trespassing, we quickly realized after watching a few locals that everyone does this.
In fact, this hike is one of the best free activities in Oahu. We started our hike around 5 am. We walked at a leisurely pace and made it to the top in about an hour.
At the top you have the option of watching the sunrise from a viewing platform, although it can get crowded at sunrise.
Your other option (although not as kid friendly) would be to go off the path and hike up to one the pillboxes. Pillboxes are old military bunkers that now make for popular outlook points for hikers.
This portion of the hike is still doable with young children, but it is also nice to have the option of the viewing platform if the kids are tired and do not want to go any further.
The view of the sunrise over the ocean on the east side of Oahu is stunning and peaceful. From the viewing platform there is a pretty lighthouse that makes the ocean view even more scenic. It is the perfect way to start your first full day in Oahu!
Breakfast at Island Brew
By the time you get back to your car, you will probably be getting hungry. The best place nearby to satisfy your hunger is Island Brew in Hawaii Kai Shopping Center. Nothing better than a healthy and delicious acai bowl and a cup of Hawaiian coffee with a beautiful view of the marina.
An Acai Bowl is not only healthy, but it is one of the most popular foods to eat on Oahu.
Halona Blowhole / Cockroach Cove
Along with Hanauma Bay, Halona Blowhole and Cockroach Cove are popular tourist stops on the east side of Oahu because of the beautiful views.
A pristine beach surrounded by towering cliffs, secret caves, and crashing waves, Cockroach Cove is worth stopping, even if only briefly to explore this stunning spot. From the parking lot above you can watch the Halona Blowhole spray water into the sky with each crashing tide.
It's only a short walk down to the shore of Cockroach Cove, where there is a secret cave – which has been featured in numerous Hollywood films. We walked about half of the way into the cave before turning around. Frankly, it smelled like urine the further in we went. But the beach is pretty.
We were some of the only people who made the easy walk down from the lookout point, which offered a priceless moment of solitude surrounded by beauty.
Sandy's Beach
If you are looking to splash around in the water and enjoy gentle waves, this is not the beach for you, unless of course you are an expert surfer or bodyboarder.
This is a great beach to lounge in the sand and people watch though, with a pineapple drink or shaved ice in hand. By 'people watch' I mean to watch the bodyboarders and surfers wipe out in the massive waves.
Sandy's Beach is known for its big waves and powerful breaks close to the shore. It is also known for broken backs and broken necks, so don't get in the water unless you know what you are doing.
It's a dangerous beach unless you are just going as a spectator. If you like what you see, you can always take a surfing lesson at Waikiki Beach, or another beach where the waves are gentler.
Visiting Oahu with kids? Children can still enjoy Sandy Beach. Although they won't be getting into the water, the sand is super fine and soft, so it's great for kids to play in and build sand castles.
If you want a beach where your kids can actually get in the water and play, drive an extra five minutes back toward Makapu'u and go to Makapu'u Beach instead or head to the incredibly popular Hanauma Bay State Park, which although crowded, is a great place to snorkel over beautiful coral reefs.
Be sure to bring your own snorkel gear!

Attend a Luau
After relaxing on the beach for a couple of hours, you may want to head to your hotel and get cleaned up for a fun night taking part in a fantastic Hawaiian tradition.
A luau is a festive experience that includes cultural performances, a traditional Hawaiian feast and other celebratory activities.
Although a luau is pricey and some consider it touristy, it is a great experience filled with fun, culture, and education. It is one of the most memorable and coolest things to do in Oahu.
The Polyensian Cultural Center and Sea Life Park both have great luau experiences. Additionally, on the west side of the island, Paradise Cove is one of the best luaus in Oahu. But the drive from the east side can take some time.
Most luaus open around sunset and there are plenty of activities to keep you entertained for hours. Learn how to make a traditional Hawaiian headdress, throw a spear, learn to hula, find out your Hawaiian name, and watch fishermen pull their nets from the sea.
Of course, the main attraction occurs right before and during dinner. At sunset, the kalua pig is pulled from the ground and hula dancers perform a few dances before dinner is served.
After guests get their plates and return to their seats the real show begins. Traditional dancers in gorgeous costumes tell stories of their history through dance and song. Fire dancers end the show, adding an element of excitement and perceived danger.
Lulumahu waterfall hike
The Lulumahu hike was one of my favorite experiences and activities in Oahu, and it is how we started day two of our 4-day Oahu itinerary.
This hike was muddy, challenging, beautiful, and at least for us, a comedy of errors. We got lost in the rainforest which made our hike much longer and harder; we got caught in a torrential downpour and were soaked down to our socks. But we rolled with the punches, laughed a lot, and enjoyed overcoming every unpredictable element.
The hike is a lot of fun. It takes you across a shallow river multiple times, through a bamboo forest, and ends at an incredible waterfall. Because of the crazy rain we hiked through, the river was deeper than usual.
Although it was not dangerous to cross it was a bit more tricky to find the right rock to step on if you want to avoid completely walking through the water.
The waterfall, however, was much more impressive because of the amount of water flowing down. It made every obstacle worth it!
This hike would be quite challenging with a toddler or young child.
If you decide to attempt it with young kids, there is a left turn into the bamboo forest that is almost at the very beginning of the trailhead. It is easy to miss, but you'll want to follow that path if hiking to Lulumahu Falls with kids.
It is much less challenging and only requires one or two river crossings instead of five or six. The path is also more defined making it harder to get lost.
This is another hike where you will feel like you are trespassing. You will have to park along the side of a road and walk around a fence to get to the trailhead. Again, everyone who lives on Oahu does it.
So, while you'll likely see several other people along the trail and at the waterfall, you probably won't find this incredible hike in many guidebooks.
Breakfast at Leonard's
After your morning hike, you have earned yourself a malasada or two. And Leonard's is the place in Oahu to get these delicious Portuguese donuts. Malasadas are one of the most popular foods to eat in Oahu, so enjoy your daily dose of sugar!
You can stop at the bakery or at one of Leonard's food trucks on the way to your next activity – swimming with sea turtles!
CHECK OUT OUR COMPLETE LIST OF ALL THE MUST-TRY FOODS IN HAWAII HERE.
Swim with sea turtles (or take an underwater scooter excursion)
The number one thing we wanted to do in Hawaii when planning our trip was to see and swim with sea turtles in the wild.
We love everything about these majestic sea creatures and wanted to see them in their natural environment, not in an aquarium. Luckily, Oahu offers several places where you can swim with sea turtles in the wild.
We booked a snorkeling excursion that left from Hawaii Kai Marina. A snorkeling excursion almost ensures you'll get a chance to swim with turtles, as the guides know exactly where to go to find them.
An alternative to simply snorkeling, is a 2-hour long submarine scooter adventure, which includes an hour of snorkeling and a 20-minute ride on an underwater submarine scooter.
The scooter has an air bubble that allows you to breathe while underwater riding on a submersible scooter.
Each scooter has a diver who accompanies the rider to help them and guide them on their 20-minute ride. The divers were actually pretty entertaining, as well. But of course the big attraction is the sea turtles.
You can watch the turtles swim from the boat, snorkel and swim with them, and hopefully catch a glimpse of these beautiful creatures under the water.
If you don't want to pay for a submarine scooter adventure or a snorkeling excursion, there are a lot of great places for snorkeling in Oahu where you can swim and snorkel with sea turtles, fish, and other ocean life for free.
Waikiki
After your snorkeling adventure head to Waikiki Beach for some downtime. You probably won't want to spend much time here because if you've taken our lodging advice above, you are already staying in this part of Oahu. But there are plenty of restaurants where you can grab a late lunch.
You can spend the rest of the afternoon relaxing (or napping) on Waikik Beach or shopping in the area.
While in Waikiki head to the Waikiki Yokocho, a huge Japanese food market on the bottom floor of the mall, for some delicious eats.
Ho'omaluhia Botanical Gardens
The Ho'omaluhia Botanical Gardens is another beautiful place to start one of your 4 days in Oahu. The gardens are free and you can drive in beginning at 9 a.m. or walk in even earlier.
Ho'omaluhia means "place of peace and tranquility" in Hawaiian, and it lives up to its name's meaning!
From the moment you enter, the lush 400-acre gardens are so serene and picturesque, especially in the morning before most visitors arrive. The tropical garden is nestled at the base of the Ko'olau Mountains overlooking Loko Waimaluhia reservoir.
On the way there (or on your way back to your hotel) drive the H-3. Surrounded by steep, tall mountains on both sides of the road, it is the most beautiful drive on the island.
North Shore
The North Shore gives you a different vibe than other parts of the island. If you are wanting to see the best of Oahu in 4 days, don't leave the North Shore off your Oahu itinerary. It is laid back and has more of a chill vibe.
Enjoy a poke bowl at Poke for the People, stop at a roadside fruit stand and get a coconut drink, snorkel in the calm, blue waters, or lounge at a beach.
The North Shore is another great place to learn to surf or see sea turtles nesting.
There are plenty of things to do on the North Shore, and all of them are super laid back.
Kualua Ranch
Kualoa Ranch is a 400-acre nature reserve and a popular filming location for countless movies and shows.
It is located on the northeast side of the island, so after spending some time lounging on the North Shore, get ready for some action-packed activities.
You can do ATV tours, off-road jeep tours, horseback riding, ziplining, or take a bus tour to the Hollywood movie sites.
We opted for the jeep tour, which was a blast. Our guide took us off-roading and stopped at several of the filming locations and scenic places.
The jeeps are fun to drive and can fit 4-5 people in them. Each group gets their own jeep and can take turns driving, as long as all drivers are over the age of 18.
You will be covered in dirt and dust when the 2-hour tour is complete, but you will have a blast, experience some beautiful nature, and get to see where they shot popular movies like Jurassic World and Jumanji.
Lanikai Pillbox Hike
Your fourth day and final day on this Oahu itinerary will start with yet another one of the best hikes on Oahu. The Lanikai Pillbox Hike is another fantastic hike to start one of your 4 days in Oahu.
We recommend starting your day with hikes before the heat of the afternoon hits. Hiking in Oahu is much more bearable in the morning hours.
Although not as easy as Makapu'u, this hike can also be done with children. It is not as challenging or as muddy as Lulumahu Falls, but you will still have portions of the hike, particularly toward the beginning of the trail, where you would want to take it slow with young children.
The hike takes you to a military bunker that serves as a beautiful lookout point over the ocean.
If hiking with children, you will want to make sure they don't get too close to the edge of the pillbox because it is a steep and long drop down.
Parking for this hike can be a bit challenging. You have to park in the neighborhood near the trailhead, and there are a lot of areas that are marked private or no parking allowed.
So finding a spot can require circling the neighborhood a couple of times, but the views are worth the effort to find parking!
Lanikai Beach and/or Kailua Beach
After your hike, you have once again earned some beach time! Luckily, one of the most beautiful beaches in Oahu is right down the street.
Lanikai Beach is ranked among the best beaches in the world, and is often considered the best beach in Oahu.
The white sand is soft and the water is aqua blue. The beach is accessed through small alleyways in the neighborhood that you will park in to get to the Lanikai Pillbox Hike.
If you prefer something with more activities and amenities, head to the nearby Kailua Beach Park. This beach tends to get quite crowded, but it has bathrooms, showers, and picnic tables in the park area next to the beach.
The amenities make it a great option if traveling with kids or if you plan to spend an extended amount of time at the beach.
Manoa Falls
After spending a couple hours on the beach, grab some lunch in Kailua, then head to Manoa Falls. This is an easy hike and one you can do even with young children, if you want. It only takes about an hour to hike to the waterfall and back.
When we were there, the waterfall itself was barely flowing. In fact, the hike to the waterfall was the most breathtaking part of the experience. You will feel like you are in the movie Pandora. Pictures don't do the area justice.
You will have to pay a small fee to park here, but it's well worth it if you love nature.
If you happen to visit when the waterfall is at peak flow, even better!
Pearl Harbor National Memorial
If you like history, you'll want to visit the USS Arizona Memorial at Pearl Harbor during one of your 4 days in Oahu.
The memorial is dedicated to the 1,177 servicemen who were killed in the bombing attack on Pearl Harbor in 1941. The attack ultimately led to the US entering World War II.
Pearl Harbor is Hawaii's number one tourist site, attracting more than 2 million visitors each year who come to pay tribute to the fallen. The memorial itself was built directly above the sunken USS Arizona.
Spitting Caves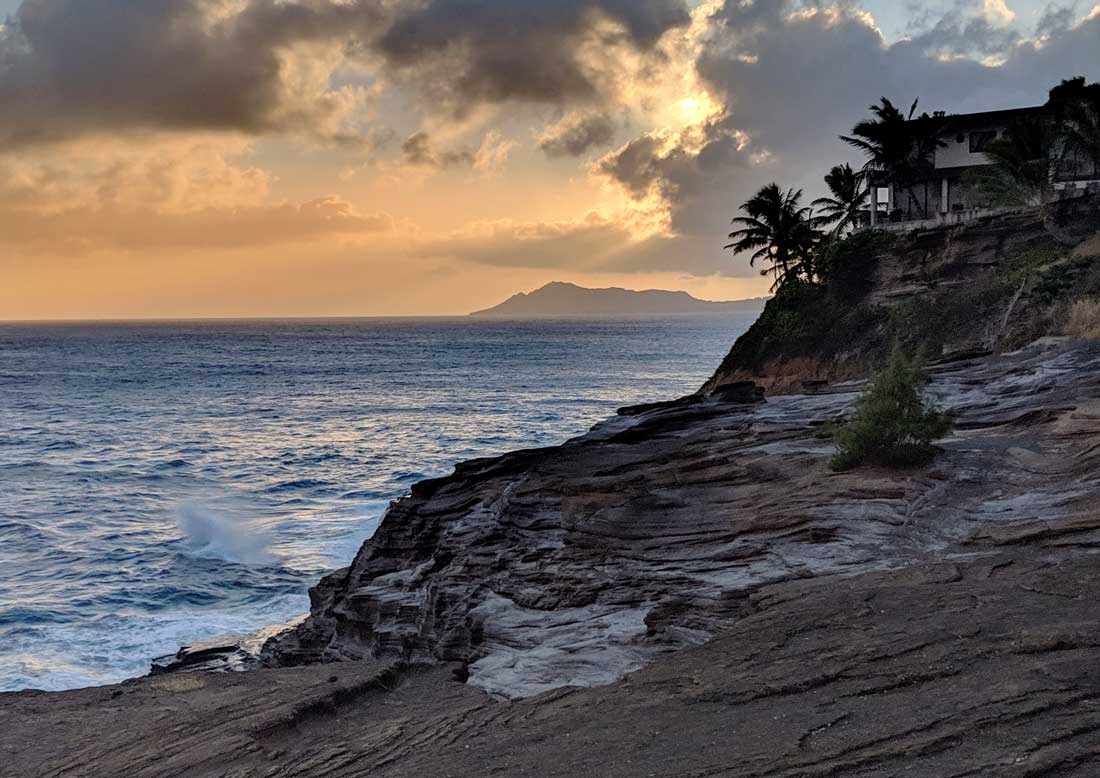 There is no better way to say goodbye to Oahu than watching the sunset at Spitting Caves. Getting to this lookout area requires parking in the nearby neighborhood and walking down a short alleyway to the rocky perch.
The walk through the alleyway seems a bit sketchy, although the neighborhood is extremely nice. But on the other side of the alleyway, breathtaking scenery awaits!
Spitting Caves is a popular dive spot for extreme divers. It's a great place to sit and watch the waves crash against the cliffs as the sun goes down.
Depending on the weather, you may want to bring a lightweight jacket or sweater with you because the ocean breeze can feel cool, especially once the sun sets.
Other Things to Do in Oahu if You Have More Time
Chances are if you are planning to travel to Oahu, you'll find a few popular things to do on Oahu that are notably missing from our itinerary.
The following activities are very touristy, often crowded, too expensive, or take too long so they aren't the best fit if you only have 4 days in Oahu. But if you want to see the top highlights of Oahu, then consider adding some of these items to your list.
Diamond Head State Monument
The Diamond Head Crater hike is one of the most popular hikes on Oahu. Considered one of Hawaii's most recognizable landmarks, the volcanic crater on the edge of Waikiki's coastline takes about two hours to reach the Diamond Head summit.
From the top, you get some pretty amazing views. But unlike many hikes in Hawaii, this one actually has a fee you must pay, since it is a protected state monument.
The fee is small, the hike is steep, the staircase-style trail is typically crowded, but this hike is often considered a Hawaii bucket-list activity.
Koko Head Crater
The Koko Head Crater Trail, often called the Koko Head Crater Stairs, is another steep staircase-style hike straight up the side of a volcanic crater.
There are more than 1,000 steps to reach the top, so this one, while awesome, will test your physical limitations and make you feel like you just had an intense leg day at the gym!
From the top, you have an incredible view of Hanauma Bay.
Aulani Disney Resort
Disney fanatics may consider Aulani Disney Resort a must-visit on an Oahu itinerary. However, the resort is located in Ko Olina and costs a pretty penny to stay at.
Still, if you want to visit Disney's only Hawaiian resort, plan to spend one or two nights here, and visit the Paradise Cove Luau, one of the best luaus on the island.
Polynesian Cultural Center
The Polynesian Cultural Center is a tourist attraction and living museum on Oahu. It boasts the best luau in Honolulu.
The only reason the Polynesian Cultural Center didn't make our 4 day Oahu itinerary is because it is at least a half day experience. But many will spend all afternoon there and then stay for the evening activities that don't wrap up until around 9 p.m.
With a limited amount of time in Oahu, exploring the Polynesian Cultural Center didn't fit in our schedule. However, beyond the luau experience, the center features six island villages where you can learn about the traditions and cultures found throughout Polynesia.
Frequently Ask Questions – FAQ about planning a 4-day trip to Oahu
While the itinerary for Oahu above provides details on things to do on this island and how to spend your time, you may still have other questions as you plan your trip.
Here are some of the most frequently asked questions about Oahu travel.
Is 4 days in Oahu enough?
I think most people tend to spend at least 5 days in Oahu. For those who live on the mainland in the US or in Canada, it can take just as long to get to Hawaii as it does Europe or Asia. So it is a long flight if your just spending 4 days in Oahu.

Although you can hit the highlights and get a good feel for Oahu in 4 days, if you have more time to island hop in Hawaii, then check out this Maui itinerary. The island of Maui is another popular vacation spot.
Maui offers a more laid back, party vibe than Oahu and has no shortage of stunning scenery to make you feel like you are truly in paradise.
Do you need a car in Oahu?
Unless you plan to hang out at a beach resort during your entire Oahu vacation, you will definitely need to rent a car to explore the island.
Is Honolulu worth visiting?
Although most of the best things on this 4 day itinerary-Oahu, are outside of the city of Honolulu, the city is a great place to visit.
You'll find great restaurants in downtown Honolulu, and of course, the Peak Harbor Memorial, which is in Honolulu, is a must-visit.
Is Hawaii expensive to visit?
Hawaii is one of the most expensive states to visit in the United States. However, it is an adventure-lover's paradise, and many of the best things to do on Oahu island are free!
Hiking and ocean activities don't cost anything, so you can spend your time enjoying nature, while allocating your money to food and lodging.
Did you know…
When you make a purchase or book hotels, tours, or other travel services, through our links, we receive a small commission, at no extra cost to you. We only EVER recommend service providers, websites, or products we personally use when booking our own travels. Your support enables us to keep producing helpful travel content. Thank you!
Like it? Pin this Oahu itinerary to save for later!
Have you visited Oahu, Hawaii? If so, what activities would you add to this Oahu itinerary? Leave your thoughts in the comments below or let us know if you have any questions about any of the activities on this four days in Oahu itinerary.
This Oahu itinerary was first published in April 2019 and was most recently updated in September 2023 for accuracy and current information.