Spring is my favorite time of the year! You literally see Mother Nature change our land from a winter brown to a vibrant color right before your eyes. And we see it all over. Ireland has the shamrock and everything turns green. Texas has fields of Bluebonnets where suddenly the brown grass turns purple and blue. Oklahoma takes it up a notch too in the spring as fields of yellow and red seem to pop up overnight. Sure, most people associate spring in Oklahoma with severe weather and tornadoes, but the state has so much more to offer. In fact, Oklahoma wildflowers are my favorite thing about spring in this flyover state.
Oklahoma Wildflowers: The Indian Paintbrush
If the weather is good in the fall then you can have some incredible fields of Indian Paintbrushes the following spring. What is incredible about the Indian Paintbrush is that on average only 40% of the available seeds bloom every spring. That means in most years you're only seeing about half of the available flowers. If the weather is perfect then the beauty you see could look even better.
Imagine the field in the image above being 60% fuller.
Oklahoma Wildflowers: Canola Fields
Who could forget the fields of canola? Technically, this isn't a wildflower; it's a crop. But in spring, canola fields paint the Oklahoma landscape a vibrant shade of yellow.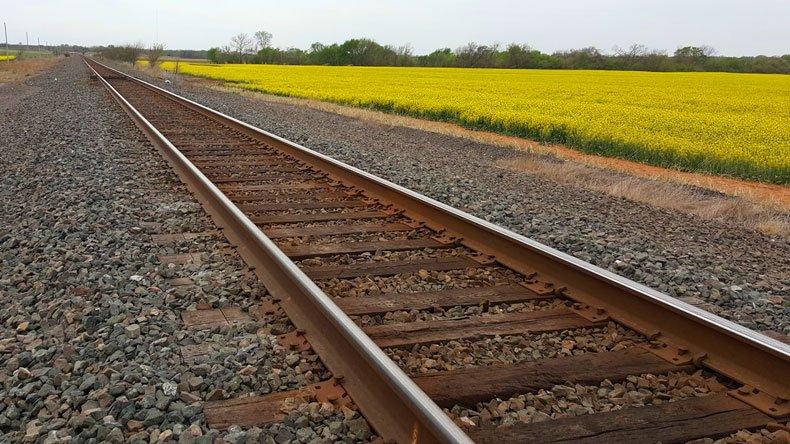 Canola fields bloom rapidly so you only have about a week or two to see them at their peak. But they're tough to beat. These fields are awesome. So awesome, in fact, that you can see them from space.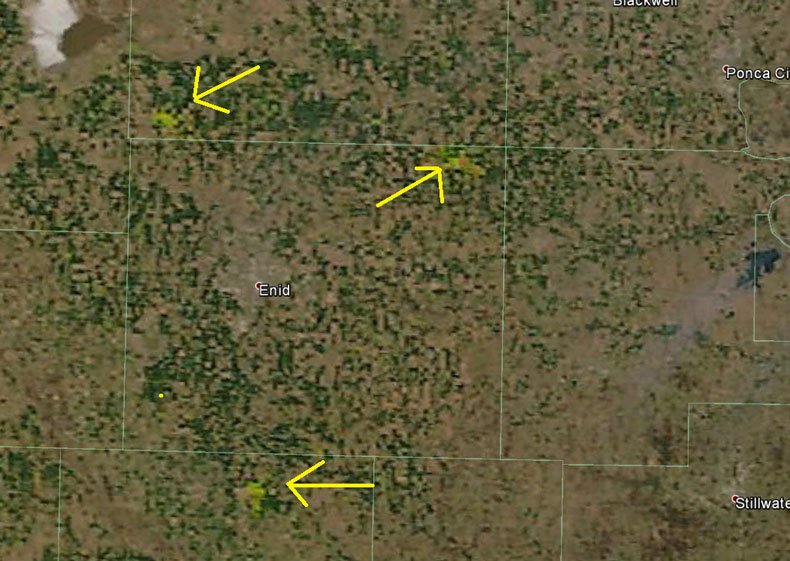 Another thing that makes Oklahoma wildflowers so great is that they don't bloom until after Texas flowers have bloomed. Since Oklahoma sits north of Texas, the growing season begins later and ends later, too.
Texas wildflowers peak in early April whereas Oklahoma wildflowers peak mid-to-late April or in early May. It all depends on the weather.
So if the Texas Bluebonnets aren't enough for you, take a quick drive north to Oklahoma a few weeks later, and you'll experience even more beautiful wildflowers. Oklahoma can leave you breathless just like Texas did.
Best places to see Oklahoma wildflowers
So where should you go to find wildflowers in Oklahoma? The Enid-Guthrie region has some fantastic canola fields. Around Guthrie, you'll find some off of West Prairie Grove Road. You'll also find some beautiful canola fields blooming north of Enid.
If you're looking for Bluebonnet and Indian Paintbrush fields then you'll want to head north from Oklahoma City a little bit. The Oklahoma City metro has a few big roadside areas, particularly along I35 just north of the Kilpatrick Turnpike and along I44 between I235 and I35. But you can also head south on I-44 from OKC to Chickasha. You'll find some good blooms along the road in areas that are safe to pull over. Also, things get colorful near Turner Falls. You'll even find wildflowers sprouting up in the highway median.
Oklahoma has a lot more to offer than just severe storms. And the fields prove it!
That right there should make you say, " Sweet Mother Oklahoma…."
Where is your favorite springtime place to experience nature in full bloom? Drop us a comment and let us know where you have found the most vibrant, colorful spring flowers. Or if you have a question or comment about Oklahoma's wildflowers, we are happy to help!
Like it? Pin it!