Spring is one of the best times of the year! You poetically witness Mother Nature evolve the land from a winter brown to vibrant colors right before your eyes. This beautiful metamorphosis is seen all over the world.
Ireland has the lucky shamrock, something the country is quite famous for, and everything turns green in spring. Texas has fields of Bluebonnets where suddenly the brown pastures turn purple and blue. Oklahoma takes it up a notch in the spring, as well.
Fields of yellow, blue, and red seem to pop up overnight.
Sure, most people associate spring in Oklahoma with severe weather and tornadoes, but the Sooner state has so much more to offer.
In fact, Oklahoma wildflowers are our favorite thing about spring in this flyover state. 
This guide to wildflowers in Oklahoma details the most common and vivid native flowers in Oklahoma that you'll see blooming across the state, and includes a few tips and types on how to plant a backyard wildflower garden in Oklahoma and other types of wildflower varieties that, while not native to the state, grow well.
The most common Wildflowers in Oklahoma
There are several wildflowers in Oklahoma that  bloom native in spring. You'll find them on the sides of the highway and in pastures and open land.
These wild and vibrant plants make for beautiful backdrops for family photos when you find a patch on public land.
Oklahoma Wildflowers #1 Bluebonnets
Texas may be known for its Bluebonnets, but fortunately, it isn't the only state where this beautiful wildflower grows natively.
Although the bluebonnet fields in Oklahoma aren't as prevalent, widespread, or celebrated as those in Texas, you can still find bluebonnets popping up beginning in late March or early April. 
The closer you get to the Texas state line, the more likely you'll be to find a field of bluebonnets in Oklahoma. But in a good wildflower year you can find these blue or purple Oklahoma wildflowers as far north as Oklahoma City and Edmond.
Beyond bluebonnets, Oklahoma has a variety of other native wildflowers that bloom throughout the state.
Oklahoma Wildflowers #2 Indian Paintbrush
Not to be confused with the Indian Blanket, which is the Oklahoma state flower, the Indian Paintbrush is one of the most beautiful flowers that bloom natively in Oklahoma.
If the weather is agreeable in the fall season then you can have some incredible flower fields of Indian Paintbrush in Oklahoma the following spring.
One of the most remarkable things about the Indian Paintbrush is that on average only 40% of the available seeds bloom every spring. That means in most years you're only seeing about half of the available flowers.
If the weather is perfect then the beauty you see could look even better.
Imagine the field in the image above being 60% fuller. What a sight it would be if they all bloomed!
Oklahoma Wildflowers #3 Coreopsis
Just as the grass starts growing again and the trees get their leaves back, flower fields in Oklahoma start popping up everywhere.
Besides Bluebonnets and Indian Paintbrush, there is another beautiful flower that blooms wild in Oklahoma. Many simply refer to them as "bright yellow flowers" or those yellow wildflowers in Oklahoma, but the actual name for this plant is Coreopsis.
Coreopsis is a sun-loving, low maintenance perennial with daisy-like flowers.
They are drought tolerant, long-blooming, and happy to grow in poor, sandy or rocky soil which means you will probably see these on the side of the road providing easy access from your car.
These yellow flowers in Oklahoma don't bloom until late into the spring and early summer. When most of the Oklahoma flowers have bloomed and gone to seed, these flowers are just getting started.
Look for them to start blooming around the middle of May.
Oklahoma Wildflowers #4 – Indian Blanket
Although the state wildflower of Oklahoma, you'll have a hard time finding large patches or fields of Indian Blankets in Oklahoma.
Scientifically identified as the Gaillardia Pulchella it is also commonly called a Firewheel because of its unique coloring.
The red three-cleft wildflower with yellow tips can be found growing along roadsides in Oklahoma. Indian Blanket is a member of the largest family of flowering plants, the composite family, or Asteraceae.
It is a very heat tolerant native plant that blooms just as the Bluebonnets are going to seed. These beautiful flowers also do well in dry conditions.
Oklahoma Wildflowers # 5 Canola Fields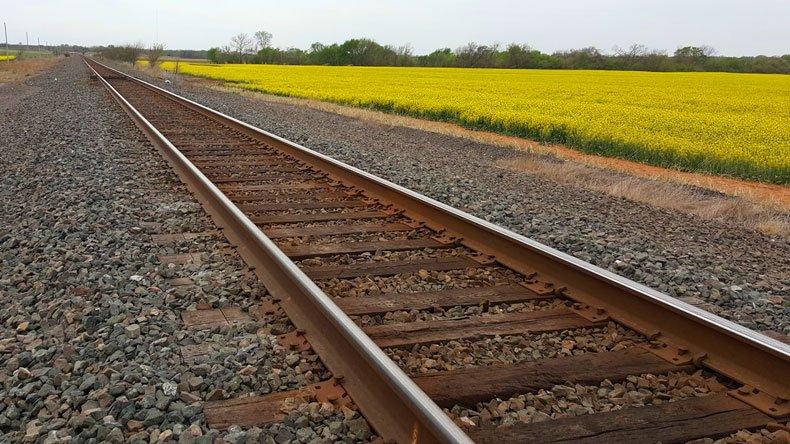 Who could forget the fields of canola in Oklahoma? Technically, canola is not a wildflower; it's a crop. But in spring, canola fields paint the Oklahoma landscape a vibrant shade of yellow.
The flowering canola fields are so beautiful, we're giving this plant an honorary wildflower mention.
As previously noted, canola fields in Oklahoma are not actually wildflowers, they are crops grown by farmers.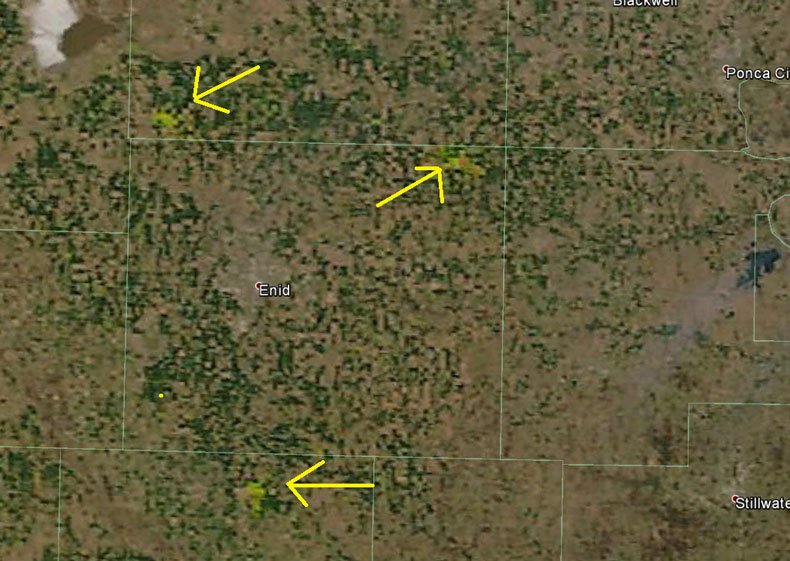 Canola fields bloom rapidly so you only have about a week or two to see them at their peak before harvest. But they're tough to beat.
These fields are awesome. So awesome, in fact, that you can see them from space.
So if the Texas Bluebonnets aren't enough for you, take a quick drive north to Oklahoma a few weeks later, and you'll experience even more beautiful wildflowers. Oklahoma can leave you breathless just like Texas did.
Oklahoma Wildflowers – Why they are great
Another thing that makes Oklahoma wildflowers so incredible is that they don't bloom until after Texas flowers have bloomed. Since Oklahoma sits north of Texas, the growing season begins later and ends later, too.
Texas wildflowers peak in early April whereas Oklahoma wildflowers peak mid-to-late April or in early May. It all depends on the weather.
So if the Texas Bluebonnets aren't enough for you, take a quick drive north from Fort Worth to Oklahoma a few weeks later, and you'll experience even more beautiful wildflowers.
Oklahoma's stunning pastures can take your breath away just like Texas does.
The state has a lot more to offer than just severe storms in spring. And the fields prove it!
Best places to see flower fields in Oklahoma
So, where should you go to find wildflowers in Oklahoma? The Enid-Guthrie region has some fantastic canola fields. Around Guthrie, you'll find some off of West Prairie Grove Road.
You'll also find some beautiful canola fields blooming north of Enid. But keep in mind when flower peeping for canola fields that these are all on private land. And they are a hard-working farmers livelihood, so be careful not to trespass or damage the crops.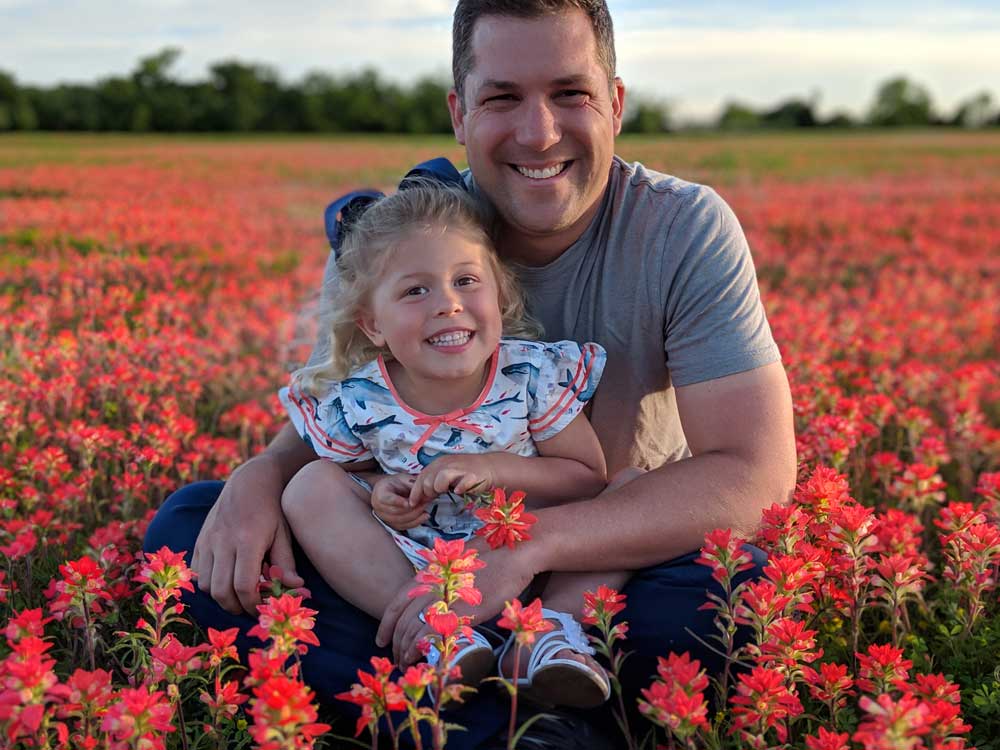 If you're looking for Bluebonnet and Indian Paintbrush fields then you'll want to head north from Oklahoma City a little bit.
The Oklahoma City metro has a few big roadside areas, but you'll have to go north of Downtown and Bricktown OKC to find them.
You can typically find flower fields along I35 just north of the Kilpatrick Turnpike and along I44 between I235 and I35. But you can also head south on I-44 from OKC to Chickasha. You'll find some good blooms along the road in areas that are safe to pull over.
Also, things get colorful near Turner Falls. You'll even find wildflowers sprouting up in the highway median. But you don't have to drive out to the rural areas to find fields of flowers.
Within the OKC metro area you can find some great fields of Indian Paintbrush, particularly in the Norman area, near University Town Center or off Sooner Road.
Avoid the highway and take the back roads from Norman to Moore and you can also find these fiery red wildflowers in Oklahoma. 
Additionally, you may be able to spot some of Oklahoma's beautiful wildflowers near the Wichita Mountains and the tourist town of Medicine Park, Oklahoma, one of the best places to visit in Oklahoma.
How to Grow a Backyard Wildflowers Garden in Oklahoma
While there are several native wildflowers in Oklahoma, there are plenty more that will grow well in a backyard wildflower garden in the state.
As wildflower lovers, and Oklahoma residents, we have spent years perfecting our wildflower patch along a small portion of our property. 
If you're wanting to grow wildflowers in Oklahoma, then you're going to need a lot of patience ,but we promise, it will be worthwhile.
The most important thing to remember about wildflowers (besides patience) is that you need to mimic how these flowers would behave in the wild. That means scattering seeds in the fall, before it freezes, and then waiting … and waiting… and waiting.
You see, wildflower seeds love the fall and winter. The seeds will germinate and then work on establishing a healthy root system all winter long, only to burst with color in spring.
So, what flowers do well in Oklahoma that you CAN grow at home?
Tips for Growing Bluebonnets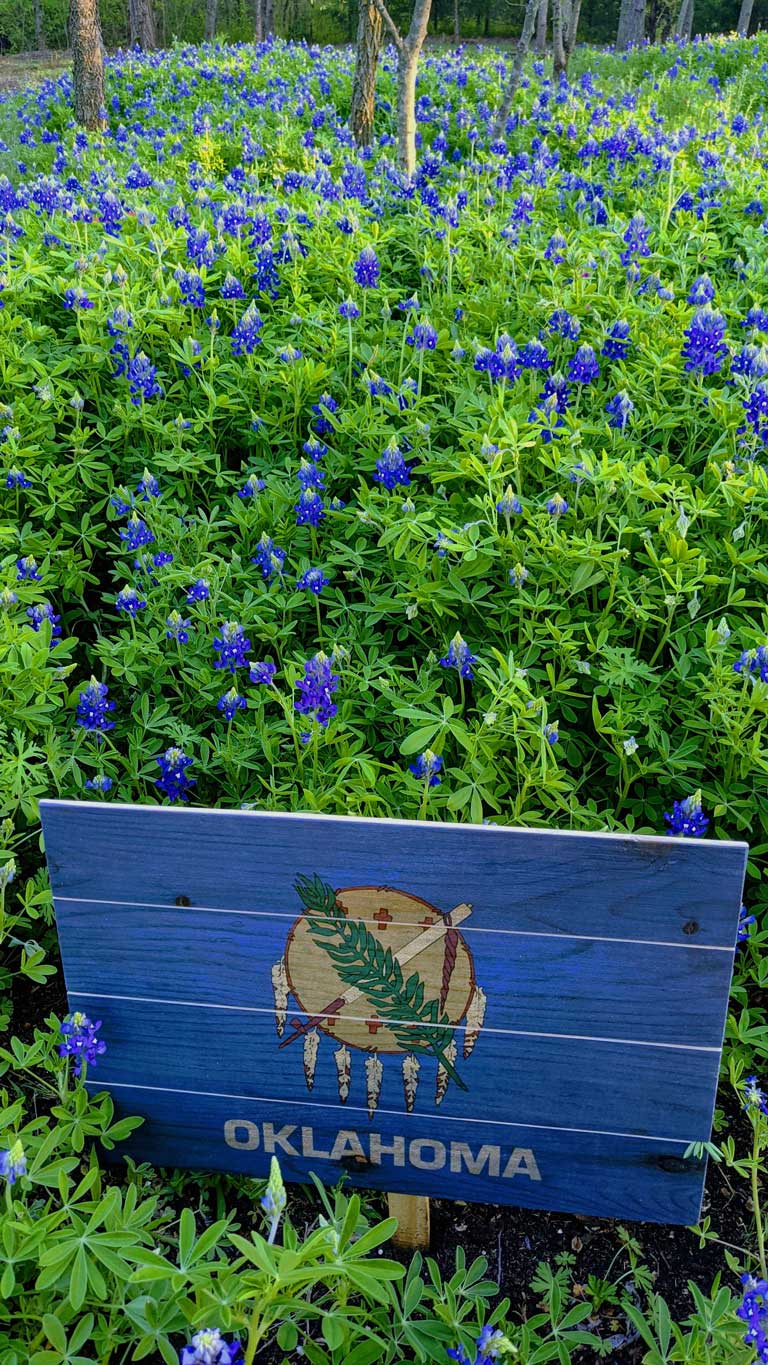 The first wildflowers that come to mind are Texas Bluebonnets. I know it has the word, "Texas", which can be a dirty word in Oklahoma. But, these lupines do quite well in Oklahoma. You can buy bluebonnet seeds as a souvenir from Texas and plant them in Oklahoma.
Just make sure you're planting in a well drained area that receives 8 hours of light. Scatter seeds in late September or early October, before the first freeze, preferably in tilled soil.
Give yourself at least a couple of seasons as the hardy coating on these seeds can take awhile to break down.
Tips for Growing Indian Paintbrush
Another beautiful flower that grows wild in Oklahoma and Texas, you are more likely to have success growing Indian Paintbrush in Oklahoma than Texas. But prepare for some discouragement if trying to grow Indian Paintbrush.
These flowers may be the hardest to grow. And, they won't ever grow alone. They need a host plant for their roots to attach.
So, plant these Oklahoma wildflowers with other types of wildflowers or in a grassy field. 
Tips for Growing Indian Blanket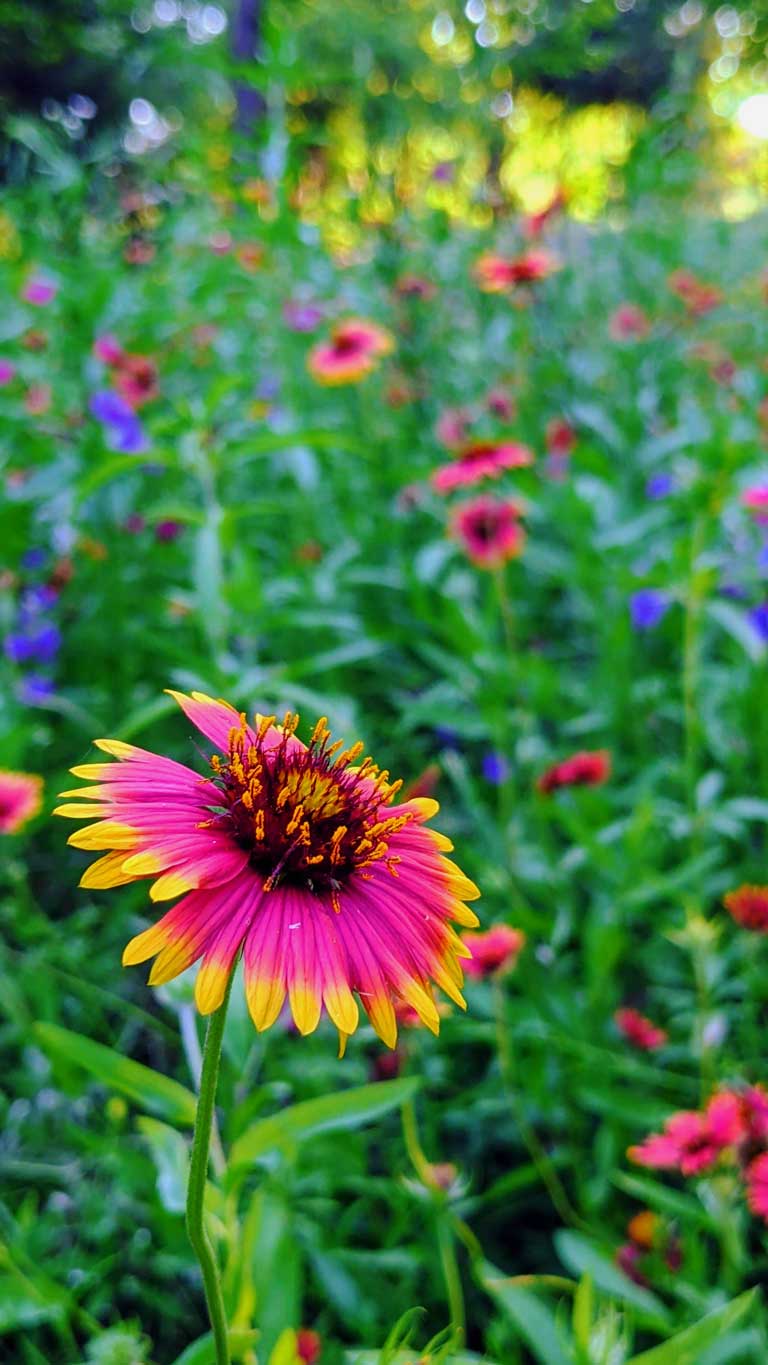 The Indian Blanket is one of the easiest to grow in Oklahoma. No wonder it is the state wildflower! You literally do not have to do anything to these seeds and they grow back year after year.
No amount of snow, ice, or winter dryness seem to hinder their growth. They're durable and will grow when it's time.
If you provide the water (in the event it's dry), then you'll have plenty of enjoyment in May, June, and even July. 
Tips for Growing Lemon Mint
Although Lemon Mint is common to the southern United States and Mexico, it grows really well in Oklahoma. It is also a great wildflower to attract bees, butterflies and hummingbirds.
Lemon Mint, also known as Lemon Beebalm, grows tall with long, lilac flowers. When you want to add height to your wildflower garden, these are hard to beat.
Tips for Growing Cornflowers
When grown in dense patches, these are beautiful. They will dance with the wind too and gently sway back and forth.
Cornflowers make great cut flowers too, if you like to always have fresh flowers to keep in a vase inside your home, as well.
Sometimes referred to as "Bachelor Buttons" because they were once worn in the buttonhole of a suit to indicate a man is ready for a courtship, these colorful flowers are a symbol of love and devotion.
Although many people recommend sowing cornflower seeds indoors, we've had great success sowing seeds directly into the ground in spring. In fact, they are so easy to grow from seed that we like to say if you can't grow them, try golf.
Tips for Growing Evening Primrose
Evening primrose and showy primrose are easy to find in Oklahoma and Texas in the spring.
These pink wildflowers pop up easily on the side of the highway, as well. That proves if they can grow on the side of the road with lots of neglect, imagine how easy they'll grow with a little attention.
But, be patient, these delicate flowers take 2 years to grow from seed.
Tips for Growing Red Corn Poppies
Another extremely delicate flower, the Red Poppy is a lovely, tall wildflower that you can easily grow in Oklahoma.
While growing them isn't that difficult, maintaining them can be a challenge and even a bit heartbreaking for wildflower lovers. 
Their brilliant red petals are paper-thin, and the Oklahoma wind, hail, and even a strong rain can hammer these beautiful flowers to nothing. Red poppies grow best in full sun and tilled soil.
Tips for Growing Black-eyed Susan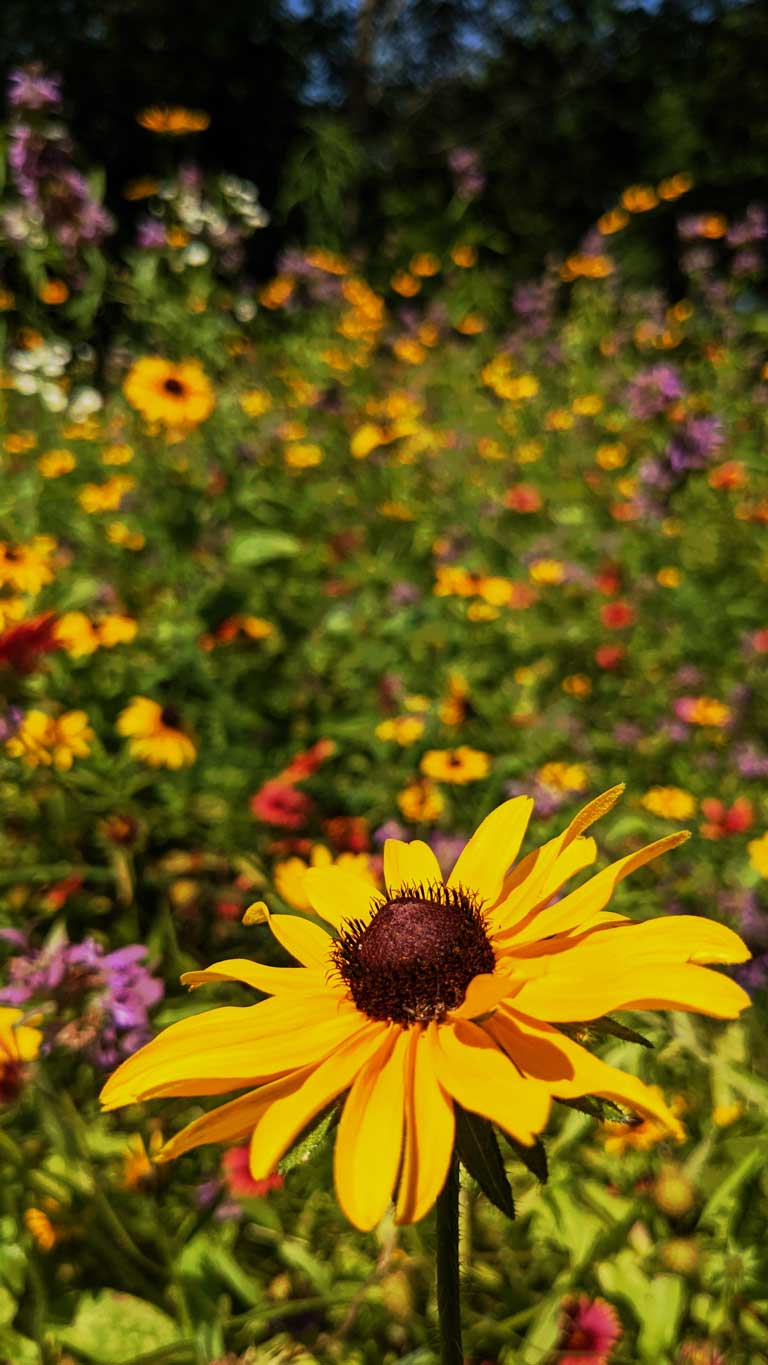 One of the most popular wildflowers to grow in any backyard wildflower garden, Black-eyed Susans are similar to coreopsis.
These golden-yellow daisy-like flowers with a dark center bloom between June and October.
You'll want to plant these seeds in late spring. They don't take long to germinate, and prefer full or at least partial sun.
Tips for Growing Purple Poppy Mallow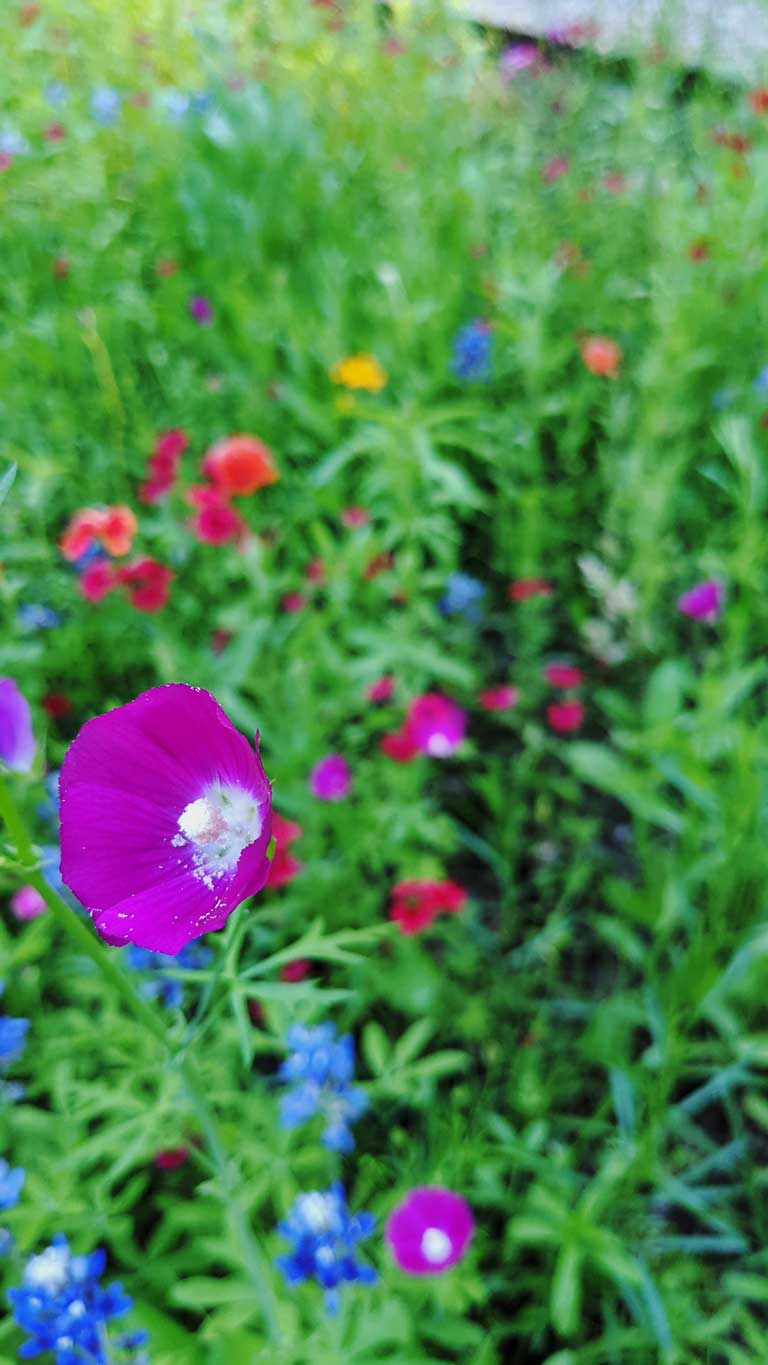 Also known as wine cups, for obvious reasons, these delicate purple flowers are sun lovers and grow best in hot, sunny spaces. These cup-shaped flowers grow great even in years without much rain.
You'll want to avoid planting these with taller wildflowers as they only grow to about 4-6 inches in height, but make a beautiful ground cover, and the bees love them!
Where to get wildflower seeds in Oklahoma
There are several places to get Oklahoma  wildflower seeds. You can conveniently order a mix of Texas and Oklahoma wildflower seeds online here.
We have had good luck ordering directly from Wildseed Farms, which is based in Fredericksburg, Texas. 
Remember when growing wildflowers, they don't just pop up overnight. They can take 6 months to grow from seed, sometimes longer to provide only to burst with color for 2 months and then go to seed. But if you have patience and the willingness to put in the effort, you'll love what you grow.
Do you know of a great flower field in Oklahoma to experience nature in full bloom? Drop us a comment and let us know where you have found the most vibrant, colorful spring flowers in the state. Or if you have a question or comment about Oklahoma's wildflowers or how to grow wildflowers in Oklahoma, we are happy to try and help!
Like it? Pin this guide to wildflowers in Oklahoma to save it for later!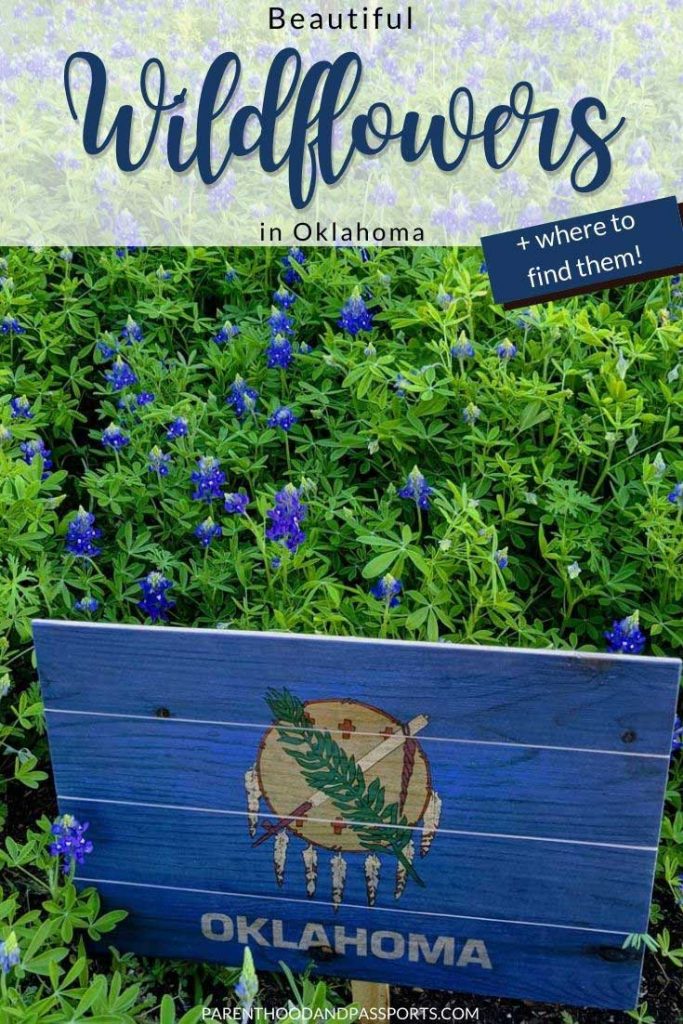 This guide to wildflowers in Oklahoma was first written in March 2017 and was updated for accuracy in current information in June 2023.