Prague, Czech Republic is a wonderful city to visit with kids. Although famous for its romantic cobblestone streets and beer halls, Prague is also full of culture, beautiful parks, and family-friendly activities.
If visiting Prague with kids, you'll be surprised at all the things to do for children in Prague.
Our Experience visiting Prague with Kids
We visited Prague on a road trip across central and eastern Europe, and this phenomenal city completely stole our hearts. It is beautiful and magical, the people are kind, and businesses, even cater to families.
There are so many reasons to visit Prague, Czech Republic, but it's family-friendly appeal is among the top.
We spent three days in Prague, although we could have easily spent more time there.
This guide to visiting Prague with kids lays out all the great reasons to visit, the best things to do in Prague with children, and recommendations on where to stay and what to eat.
5 reasons to visit Prague with kids
With so many things to do in Prague with kids, it's easy to become enchanted with the city. We spent a long weekend in Prague and wished we could have stayed much longer.
Although you can easily see the highlights of Prague in 2 days or so, if you give yourself more time in the city, you can experience some of the awesome, non-touristy things in Prague, as well.
If staying longer, there are also a few really great towns near Prague that make for fun day trips, like Brno and Cesky Krumlov.
But whether you have 3 days in Prague or 3 weeks, here are the top 5 reasons to visit Prague with kids.
Prague has awesome food that kids will love
Food is such an important part of a place's culture and the overall experience. And even picky eaters, like children, will find something to love in Prague. From soups and sausages, to the famous Czech dessert, Trdelnik,
Prague's food scene will entice your taste buds. My only regret when it comes to the food in Czech Republic is not eating more of it.
Beyond having amazing food, Czech Republic is also known for its beer. Although beer is not a kid-friendly beverage, it is sold at a lot of kid-friendly establishments. So parents who like a cold beer can still enjoy a pint while visiting Prague with kids.
Czech beer is cheap, available everywhere, and comes in a lot of different varieties.
Establishments in Prague are mostly family-friendly and even cater to kids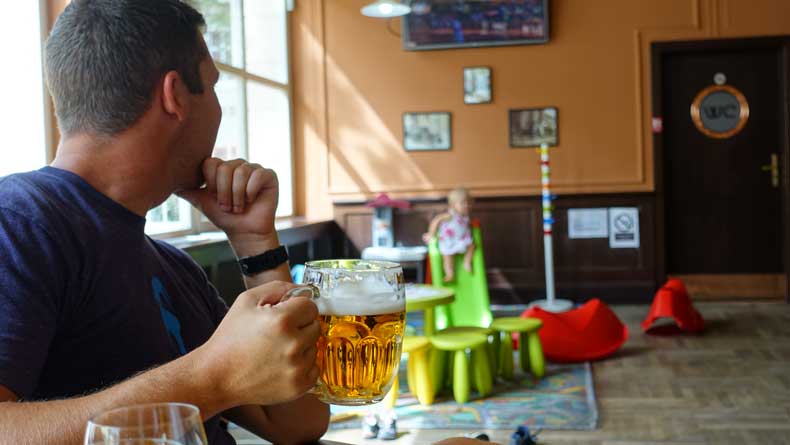 When it comes to cities that truly embrace those traveling with kids, Prague is near the top of my list.
The city is full of well-maintained playgrounds and parks. And even some of the breweries had indoor play areas for those visiting Prague with kids. This is especially beneficial if visiting Prague in winter.
The locals in Prague seem to embrace families traveling with children. At the hotel where we stayed, the hospitality staff in the breakfast room would bring our daughter numerous complimentary treats and snacks each morning. Those came in very handy during long days of sightseeing.
Also read: Where to stay in Prague
Prague has a quirkiness that appeals to kids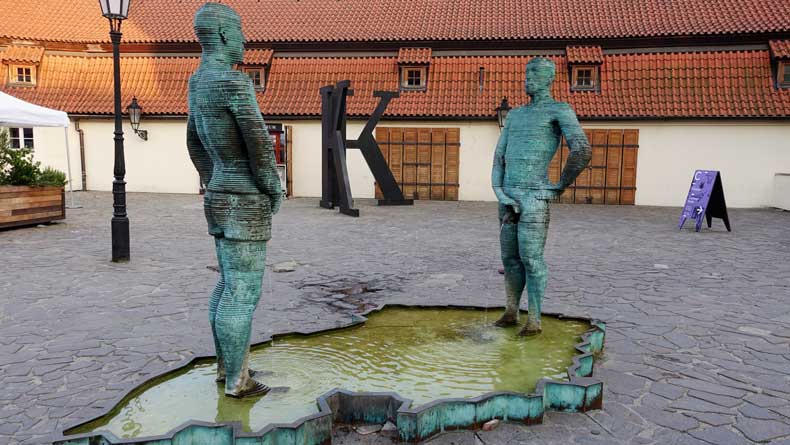 Prague is a mix of old meets new. It's a city where historic charm collides with modern chic in the most beautiful way.
Historical cathedrals and iconic elements like the astrological clock in historical Old Town and the famous Charles Bridge are surrounded by whimsical and modern structures like the dancing building and several bizarre, yet incredibly cool statues that kids will love.
Two notable statues that will have kids laughing are the faceless, crawling babies, which kids love to climb on, and the statue of two men peeing, which is suitably named Piss.
Everywhere you look you'll find beautiful architecture and stunning views in Prague, which even kids can appreciate.
The atmosphere in Prague is lively and fun for kids
Prague, Czech Republic is a bustling and vibrant city that is fun for families. Though large in size, it has a safe, small town charm.
It is filled with outdoor cafes, hip breweries, lively markets, and eye-catching street performers that will have kids stopping in their tracks to watch. During the month of December, it is also teeming with Christmas markets, making it one of the best Christmas destinations in Europe.
Prague has so much to offer regardless of your tastes or interests. You can easily find yourself getting caught up in the atmosphere of the city and never wanting to leave.
Prague is a city of love and empowerment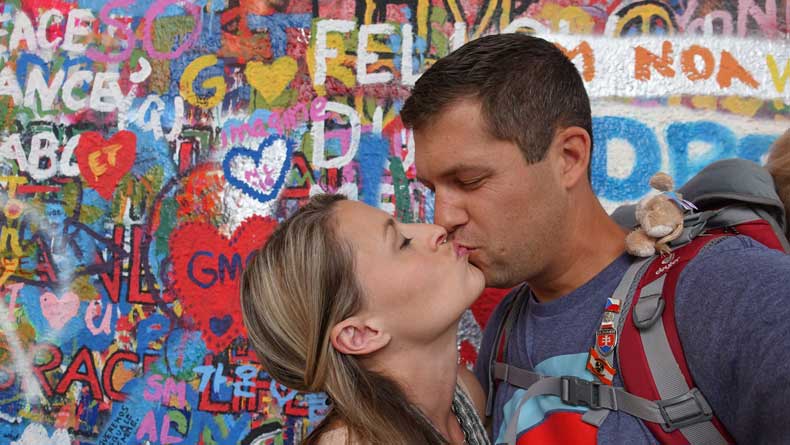 Although we visited Prague as a family, it is easy to see why it is the perfect city for lovers, as well. Lovers can be seen strolling hand-in-hand at night across the Charles Bridge or watching the sunset around Prague Castle.
Although Paris may claim to be "the city of love", I would argue Prague gives Paris a run for its money. But it isn't just romantic love that Prague is known for.
In the heart of the city, the famous John Lennon wall has become a famous landmark and a symbol of hope, love, and peace.
It stands as a memorial representing love for your fellow man. Your kids will enjoy reading all the positive and inspiring messages written on the wall and can even spray paint on the wall themselves.
Top 15 things to do in Prague with kids (all in 3 days!)
While there is so much to do in Prague with kids, most people only have a short time to explore the city.
For this reason, we've laid out the top 15 things to do in Prague with kids, all within the popular tourist areas.
Cross the Charles Bridge
The Charles Bridge is one of the most famous bridges in Europe and also one of the most beautiful. Lined with baroque statues, this bridge is usually crawling with people and activity.
Towers adorn each end of the pedestrian bridge, which crosses the Vltava River. If your kids are up for it, you can even climb the towers to get a stunning view of Prague and to see the bridge from above.
Visit Old Town Square
Old Town Square is the liveliest gathering place in Prague. The most peculiar street performers fill the square working for tips and entertaining the crowds.
Mimes, musicians, and people painted to look like statues are among the free entertainment.
It's a great place to grab some street food or a coffee and sit and people watch.
Watch the Astronomical Clock
The Astronomical Clock in Prague has got to be one of the world's most famous clocks. At the top of each hour, visitors surround the clock to watch it come to life.
If visiting Prague with kids, hoist them up on your shoulders and they will have the best seat for the show!
The clock not only tells time, it shows you where the sun, moon, and planets are at any given time of day. If you're kids need to burn off energy, you can even climb the clock tower inside Town Hall.
Explore the Jewish Quarter and Old Jewish Cemetery
The largest of it's kind in Europe, the Old Jewish Cemetery is an important historical monument in Prague.
While it may be more suited for older kids – it's a cemetery after all – the cemetery with its thousands of toppled over gravestones crammed into a small cemetery, it's a moving reminder of how Jewish people were treated.
They were once restricted to the Jewish Quarter and had limited space to bury the dead when they passed, so the graves were placed on top of each other.
Paddle boat in the river
There are several places along the Vltava River where you can rent paddle boats and see Prague from the water. The river is calm and makes for a perfect, relaxing family-friendly activity in Prague.
Wander the streets in the Mala Strana District
Mala Strana is one of the oldest, historic districts in Prague.
This beautiful neighborhood sits at the bottom of the hill from Prague Castle and is directly across the Charles Bridge from Old Town. This is a great, central area of the city in which to stay if visiting Prague with kids.
Tour Prague Castle
The Prague skyline wouldn't be the same without Prague Castle. Perched high on a hill that takes some effort to get up, this stunning structure is the largest ancient castle in the world. Visiting the castle's complex is one of the top things to do in Prague.
While at Prague Castle you can watch the changing of the guards, visit Saint Vitus Cathedral – one of the most famous churches in Europe, and take in some of the best views in Prague.
Leave a message on the John Lennon Wall
There aren't many places in the world where graffiti is legal. But at the John Lennon Wall, your kids can leave their mark on the world and spray paint an inspirational message.
This colorful symbol of world peace should inspire us all to stand against inequity and war. In fact, some of the messages written on the wall may spawn some really important conversations with your children.
Visit the narrowest street in Prague
This tiny stairway in Mala Strana is perhaps nothing more than a photo op, but it's fun regardless. At only 20 inches wide, you squeeze between two buildings down a flight of stairs and must press a button and wait for the signal allowing you to walk.
The stairway actually leads down to a restaurant, so if you want, you can enjoy a drink or a meal while you're there.
Because it is easy to miss, you'll want to know how to find the most narrow street in Prague, before adding it to your list of things to do in Prague.
Wander through Wenceslas Square
Although more of a business district, Wenceslas Square is still a great place to visit in Prague. It is a popular place for public gatherings, events, and local celebrations.
At the heart of the square is the National Museum, one of the best museums in Prague. Lots of shops and cafes line the square, making it a great place to stop for lunch and spend an afternoon.
Stop by the Dancing House
If you like architecture this is a fun stop on any walking tour of Prague. It is really just an interesting building with a unique design. Kids probably will not find it as cool as you do, but it's worth visiting if you are in the area.
The Dancing House gets its name because the curved pillars of the building appear to be dancing.
Find all the quirky statues in Prague
From the turning head statue to the aforementioned Piss sculpture, Prague is known for its strange statues. In fact, some of the most famous sculptures in Europe can be found in the public streets of Prague.
Families can have fun exploring the streets of this beautiful city and finding all the weird statues in Prague. Many of them are within walking distance of each other, making it easy to stop and visit them.
Ride the train or visit the playground at Slavonic Island
Located along the Vltava River, the small Slavonic Island is a great place to stop for a break during a busy day of sightseeing. You can rent rowboats or pedal boats here or let the kids play at one of the best playgrounds in Prague.
There is also a small train that kids to ride for a minimal fee.
Eat your weight in trdelník
If you can't tell by now, I loved the food in Prague, especially Trdelník!
Also known as chimney cake, this yummy dough concoction twisted onto a cone-shaped rolling pin, is covered in sugar, then cooked over a warm oven. It is sometimes dipped in chocolate or filled with ice cream, which adds an extra sweet touch to this heavenly pastry.
Although this dessert is primarily a tourist favorite rather than a local staple (and it's actually Hungarian), we still ate one every single day while we were in Prague.
Visit Kampa Island and let the kids crawl on the babies outside Kampa Museum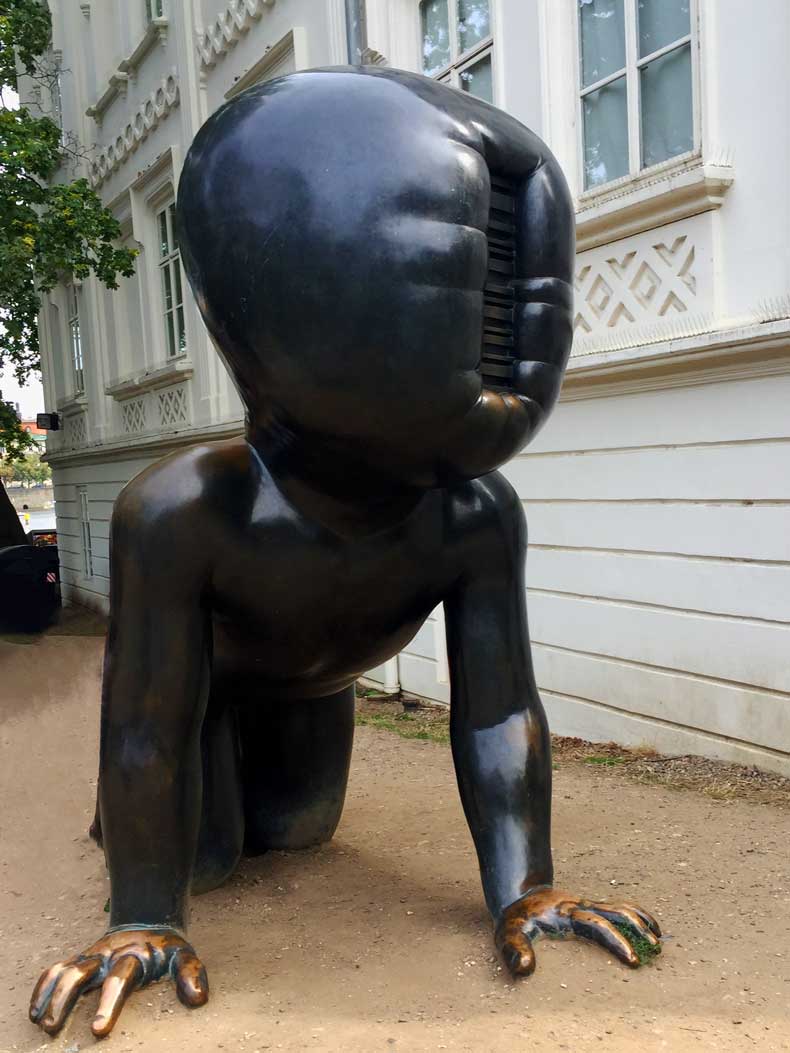 The crawling babies are among the strangest statues in Prague. Located in Kampa Park, a beautiful green space on the Kampa Island in central Prague, these statues are popular for kids – and some adults – to climb all over.
Although kids probably won't enjoy the modern art Kampa Museum, they will enjoy the statues outside.
Why you should visit Prague with kids
Besides these top five reasons to visit Prague with kids, there are plenty of other things that will entice you to want to explore the city. From scenic views, to the public art displays, the city has a lot of hidden gems just waiting to be discovered.
If it's history you love, you'll find museums, historical cemeteries, castles, and cathedrals that you could spend days touring.
With so much to love, it still baffles me that more westerners don't frequent Prague, Czech Republic. This delightful city should be on everyone's bucket list!
Have you visited Prague with kids? Leave us a comment with your thoughts on the city and your favorite reasons to visit Prague!
Like it? Pin this list of things to do in Prague with kids to save for later!
This post on things to do in Prague with kids was first published in 2017. It was updated in October 2021 for accuracy and current information.