Disney movies have a way of making us all long for a fictional, enchanted kingdom. The settings are always so magical and so beautiful, they look like something straight out of, well, a fairy tale. But many Disney movie locations are based on real places.
And once you see the movies, you'll want to plan a trip to see these Disney settings around the world in person.
These animated films make great travel movies for kids, and these places in Disney movies will inspire kids and adults alike to want to travel to a kingdom far, far away.
Places in Disney movies that are very real and very beautiful
From fairy-tale castles to rolling hills or beautiful fjords there are so many places in Disney movies that are stunning, both in animation and in real life. Here is a list of our top Disney movie settings that you can actually visit.
Disney movies set in Europe
It is no surprise that many of the most popular Disney movie locations are inspired by real places in Europe. After all, the continent of Europe has so many charming, small villages that would be the perfect setting for a fairy tale!
Frozen / Frozen 2
Where does Frozen take place? Norway
Frozen and Frozen 2 take place in the imaginary town of Arendelle. While Arendelle is a fictional kingdom, the movie 100% is inspired by Norway.
There are scenes in Frozen that resemble Bergen, Norway, but the fjords animated in the movie look more like Flam, Norway to me. Regardless of where you visit in Norway, the entire country looks like a fairy tale. Norway knows how to bring that Disney magic to life!
If you prefer an actual ice castle to the majestic fjords or you are on a quest for an Ahtohallan-like place as was illustrated in Frozen 2, you don't have to travel to Norway for that.
There are several ice castles in North America you can visit each winter that will make you feel like you are walking in a frozen, winter wonderland.
RENT OR BUY FROZEN 2 ON AMAZON
Brave
Where does Brave take place? Scotland
Although we haven't written about Scotland, it is actually one of our favorite countries we have visited. We visited Scotland pre-child and pre-blog (hence why we haven't written about it). It is no wonder the scenery of Scotland was the inspiration for a Disney movie.
Scotland has no shortage of old castles like Eilean Donan Castle, mystical forests, and beautiful lowlands that look like a movie set… a Disney movie set.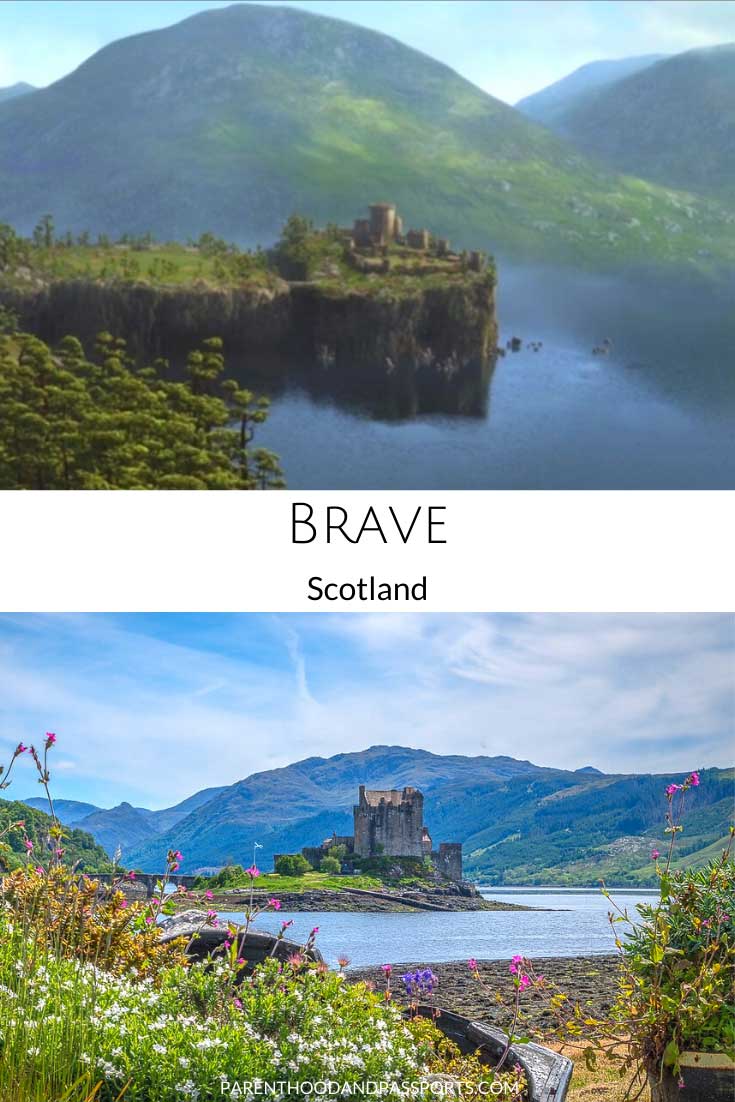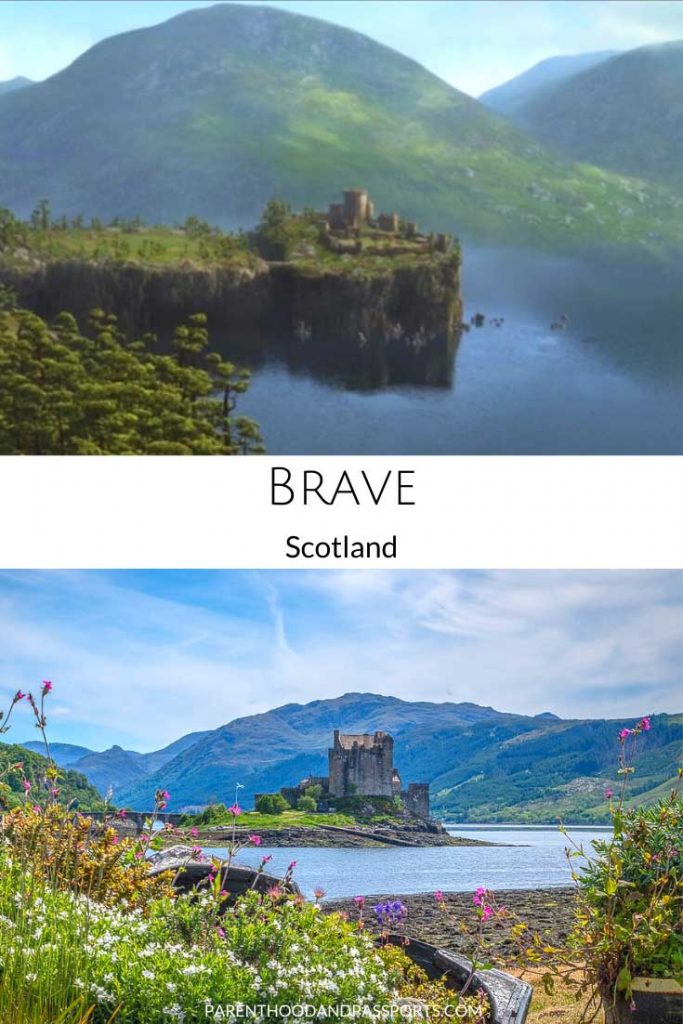 Beauty and the Beast
Where does Beauty and the Beast take place? France
Although Disney doesn't say exactly where in France Beauty and the Beast takes place, there are several small towns and villages that look like the village where the main character, Belle, lives with her father.
The Alsace region of France would be the likely setting for the movie. The small, charming towns of Riquewihr and Ribeauville look very similar to the village in the cartoon. But you don't necessarily have to visit France to see a fairy-tale village.
There are a lot of picturesque, fairy-tale towns throughout Europe, like Rothenburg ob der Tauber, Germany, which also reminded me of the village in Beauty and the Beast.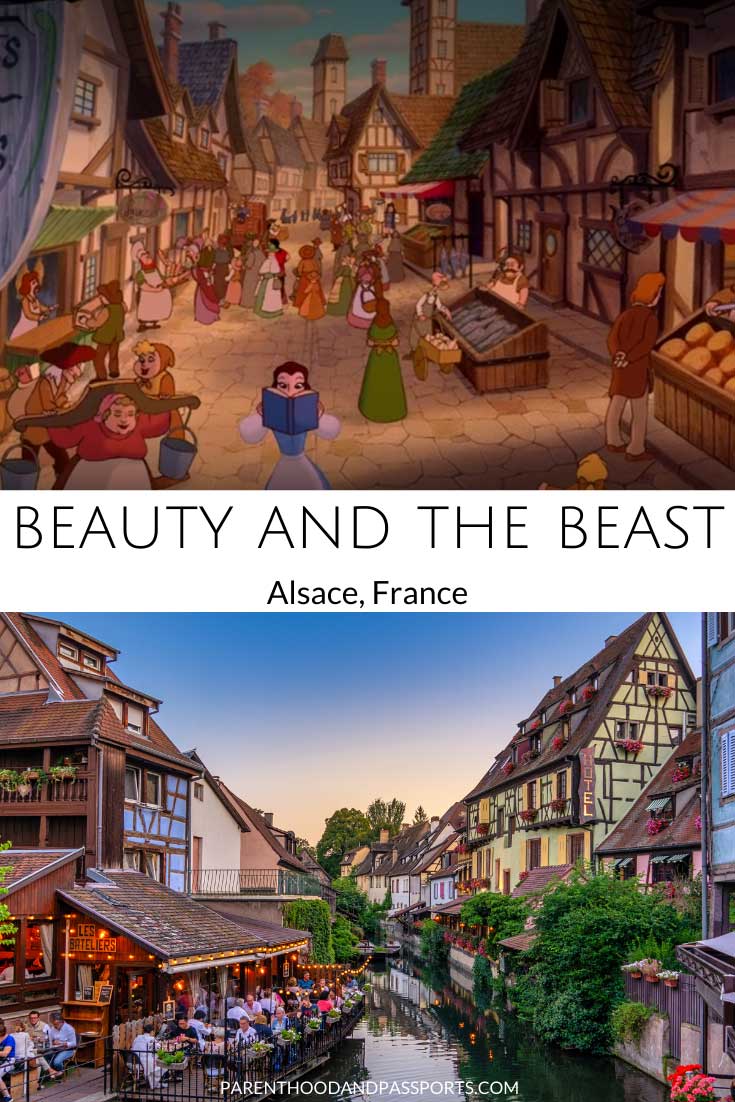 BUY BEAUTY AND THE BEAST ON AMAZON
Luca
Where does Luca take place? Portofino, Italy
One of the more unique Disney movies, Luca is one of the few Disney movies where the main character is a boy. Well, technically Luca is a merman who leaves the sea to become a boy.
The story line is also more about friendship than romantic love. Luca doesn't leave home to pursue a love interest. Instead he meets a friend who lives on land and shows him there is more to the world than the waters he has always known.

One of the best things about Luca is the incredible setting.
Based in the picturesque Amalfi Coast region of Italy, the animations of colorful buildings perched upon the cliffs overlooking the ocean are just as beautiful in animation as they are in real life.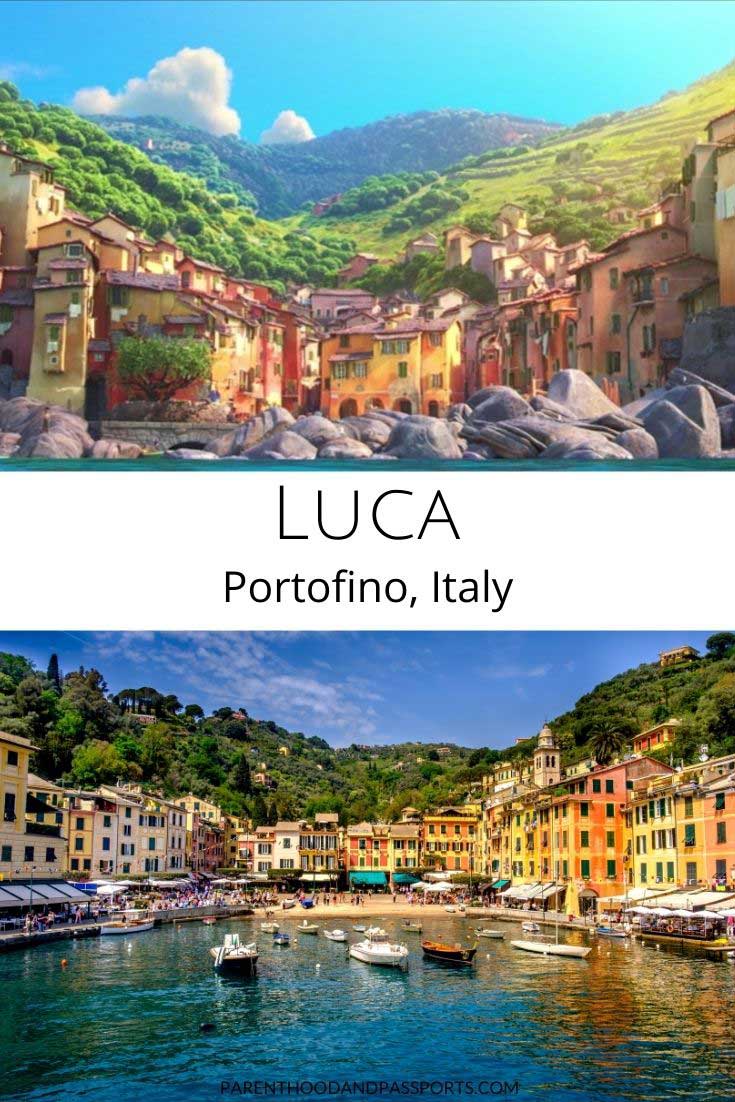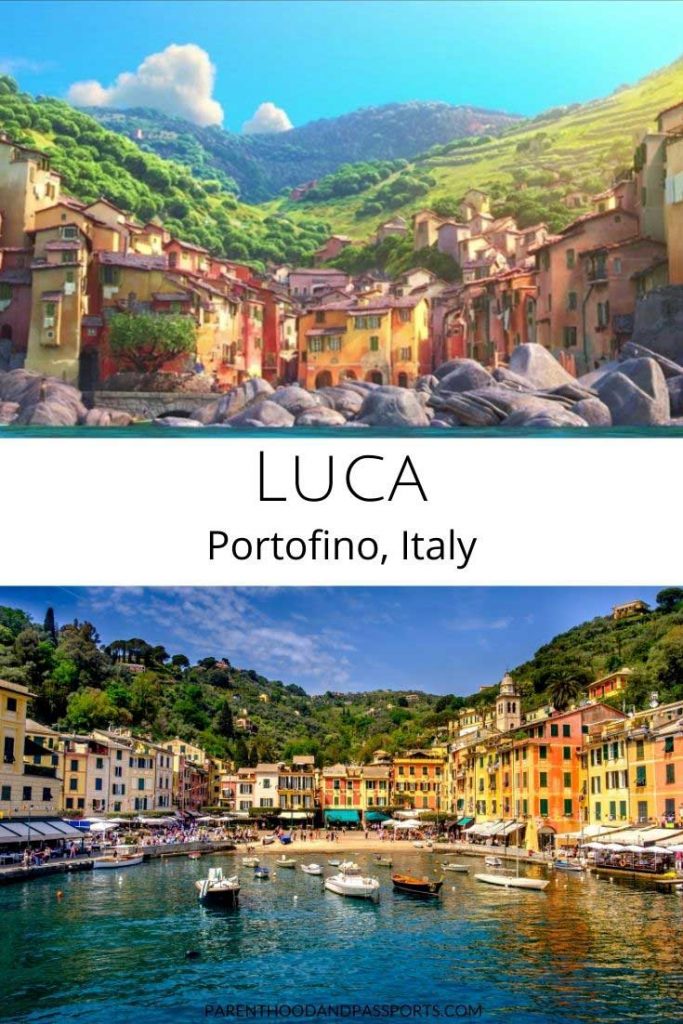 Sleeping Beauty
Where does Sleeping Beauty take place? Neuschwanstein Castle, Germany
The most visited castle in Germany, Neuschwanstein is a great day trip from Munich. Known as the Sleeping Beauty castle, Neuschwanstein is perhaps one of the most famous castles in the world, in part, thanks to Disney.
The castle was the inspiration for Sleeping Beauty's castle in the movie. And yes, you can actually tour both the inside and outside of this spectacular castle in the region of southern Germany known as Bavaria.
101 Dalmatians
Where does One Hundred and One Dalmatians take place? London, UK
London is one of the greatest cities in the world, so it should come as no surprise that there are a few Disney movies set in London. One hundred and One Dalmatians is one of our favorite Disney cartoons that inspires travel and adventure.
It not only shows several great places around London, like Regent's Park, but it also gives you an animated look at the beautiful English countryside.
The Disney cartoon is about a group of Dalmatian puppies who are dognapped and must escape and find their way home to London.
Mary Poppins / Mary Poppins Returns
Where does Mary Poppins take place? London, United Kingdom
Need even more inspiration to visit London? Mary Poppins is another great Disney movie set in the United Kingdom's capital.
Although the original Disney movie was actually shot in a studio in Burbank, California, the backdrops were painted to look like real places in London, including St. Paul's Cathedral, the Bank of England, and Regent's Park.
For a modern take on the movie, the sequel Mary Poppins Returns, also showcases places around England where the sequel was filmed. Other great Disney movies set in England include Robin Hood, The Sword in the Stone, and Peter Pan.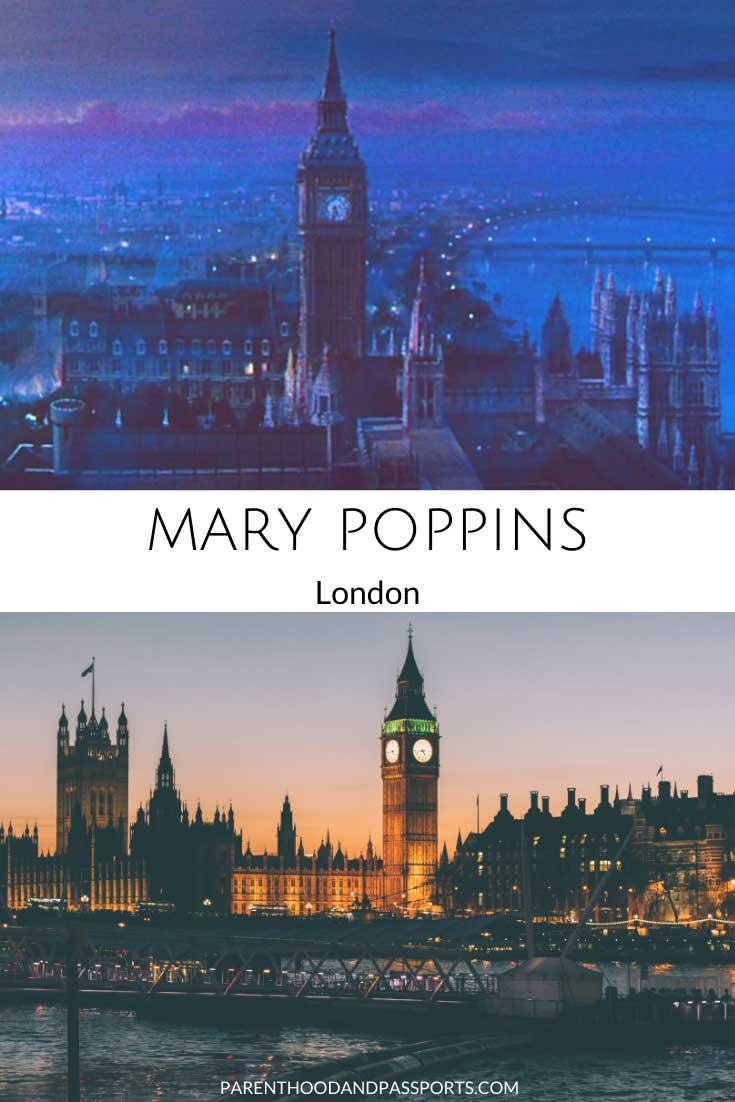 RENT OR BUY MARY POPPINS RETURNS ON AMAZON
Ratatouille
Where does Ratatouille take place? Paris, France
Paris is one of the most represented cities in travel movies for kids as well as travel movies for adults. Ratatouille is one of the cutest Disney movies set in France. It's a heartwarming story of a little mouse with a knack for cooking who dreams of becoming a chef.
The movie depicts some of the most iconic landmarks in Paris, including the Eiffel Tower, Seine River, and Moulin Rouge.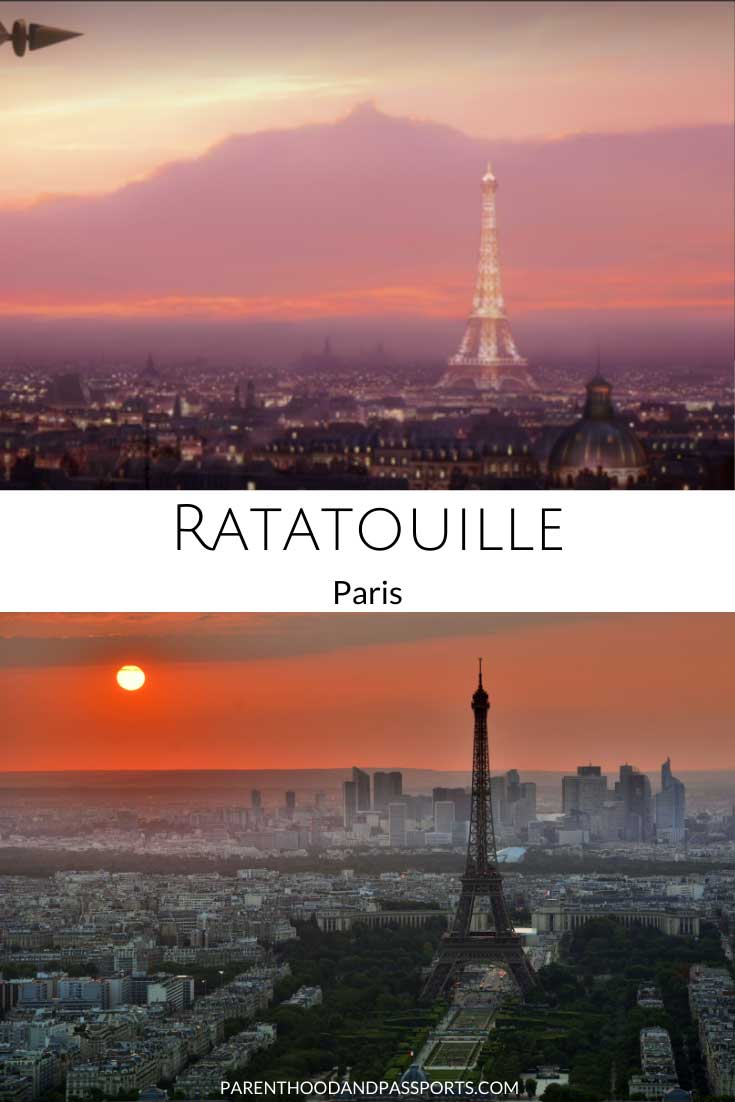 RENT OR BUY RATATOUILLE ON AMAZON
The Hunchback of Notre Dame
Where does The Hunchback of Notre Dame take place? Paris, France
Another great children's travel movie based in Paris, The Hunchback of Notre Dame will leave your kids wanting to visit one of the most famous cathedrals of all time, Notre Dame.
The story-line follows the life of a disfigured bell-ringer at the church. This sweet story not only teaches children inclusiveness and compassion for others, but seeing the cathedral animated in all of its glory, will have your kids wanting to visit the real-life Disney location ASAP.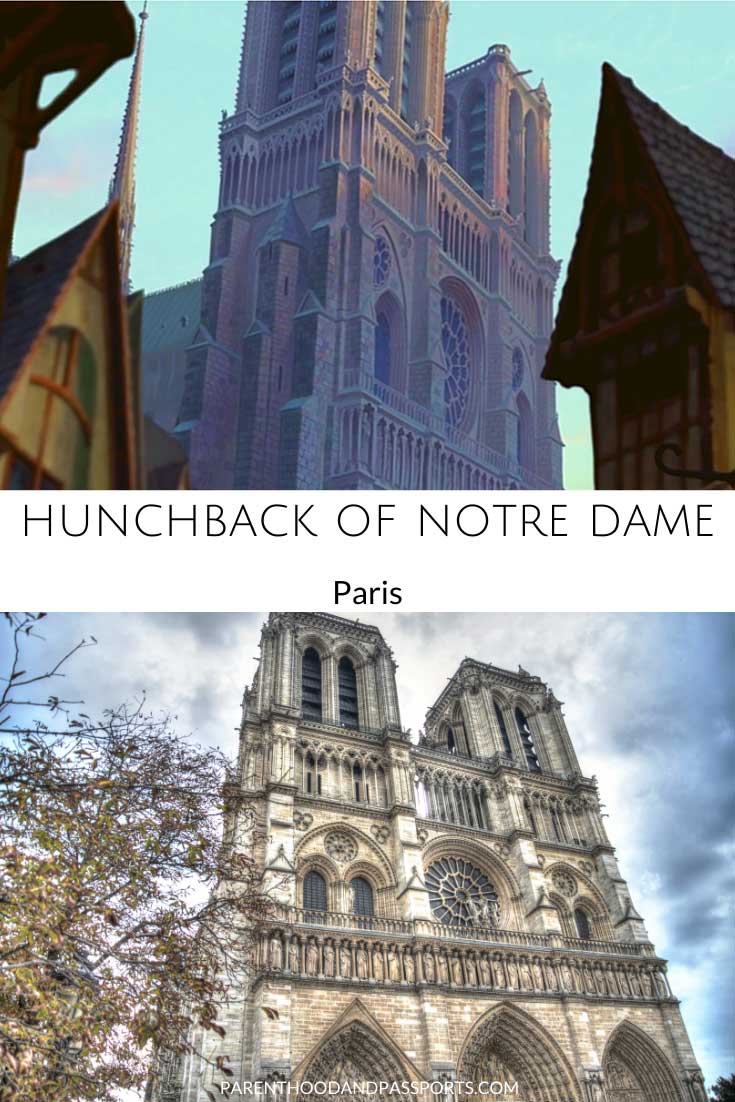 RENT OR BUY THE HUNCHBACK OF NOTRE DAME ON AMAZON
Hercules
Where does Hercules take place? Greece
Greece is a magical place where mythology is an important part of history and culture. While Disney's version of Hercules doesn't follow the mythological story of Hercules to a T, it does leave kids inspired to learn more about Greek mythology and about the country itself.
If you decide to plan a family trip to Greece, Athens would be a good place to start to see places like the Parthenon and other monuments dedicated to the Greek gods of mythology.
RENT OR BUY HERCULES ON AMAZON
Disney movies set in the Americas
Perhaps second only to Europe, the Americas are a popular region depicted in Disney movies. To be fair, we are combining two continents into one in this section.
Here are some popular Disney movies set in North and South America.
Coco
Where does Coco take place? Mexico
One of my favorite Disney movies, Coco takes place in the fictional Mexican town of Santa Cecilia. But there are plenty of small- and medium-sized towns in Mexico that are a good cultural representation of the movie.
The Disney movie, Coco, is about a young boy named Miguel who wants to be a musician, but his family hates music.
The movie is a great way to teach children about Dia de los Muertos, or the Day of the Dead, a beautiful holiday celebrated in Mexico that honors family members who have passed away.
There are scenes in the movie that reminded me very much of Mexico City as well as Guanajuato.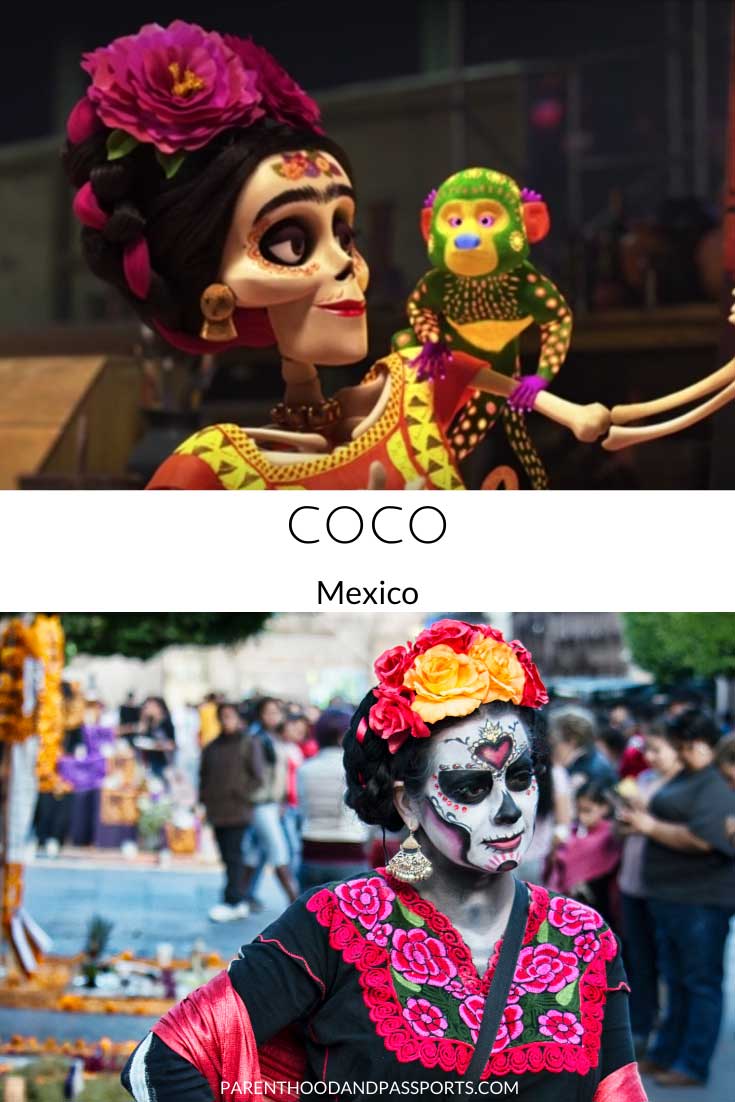 Princess and the Frog
Where does Princess and the Frog take place? Louisiana USA
You don't have to cross the globe to visit Disney settings around the world. Look no further than New Orleans, USA for the inspiration behind one of Disney's best animated films.
Princess and the Frog is about an ambitious young woman named Tiana, who dreams of opening her own restaurant someday. She makes a deal with a cursed frog prince who promises to help her get her restaurant if she kisses him so he can become a human again.
The movie takes you through the bayou of Louisiana, the streets of New Orleans and even depicts a lively Mardi Gras celebration in the city's French Quarter.
RENT OR BUY PRINCESS AND THE FROG ON AMAZON
Encanto
Where does Encanto take place? Colombia
Another personal favorite Disney movie in our household, Encanto is one of the most beautifully animated movies we've ever seen! The movie is based in a magical village in the jungles of Colombia.
With its flower-draped balconies and colonial Spanish architecture, the movie will have you longing for a family trip to Cartagena.
Aside from the buildings, you'll notice the traditional clothing and even the mix of African, Latin, Caribbean, and Indigenous cultures all represented beautifully in the movie.
Unlike many other Disney movies, the heroine in the movie does not have long, flowing, straight hair and flawless features. She has short, curly hair and glasses.
The movie's story line will likely resonate more with adults than it actually does with kids. And the soundtrack, written by Lin Manuel Miranda, will have you singing along and playing it on repeat for weeks.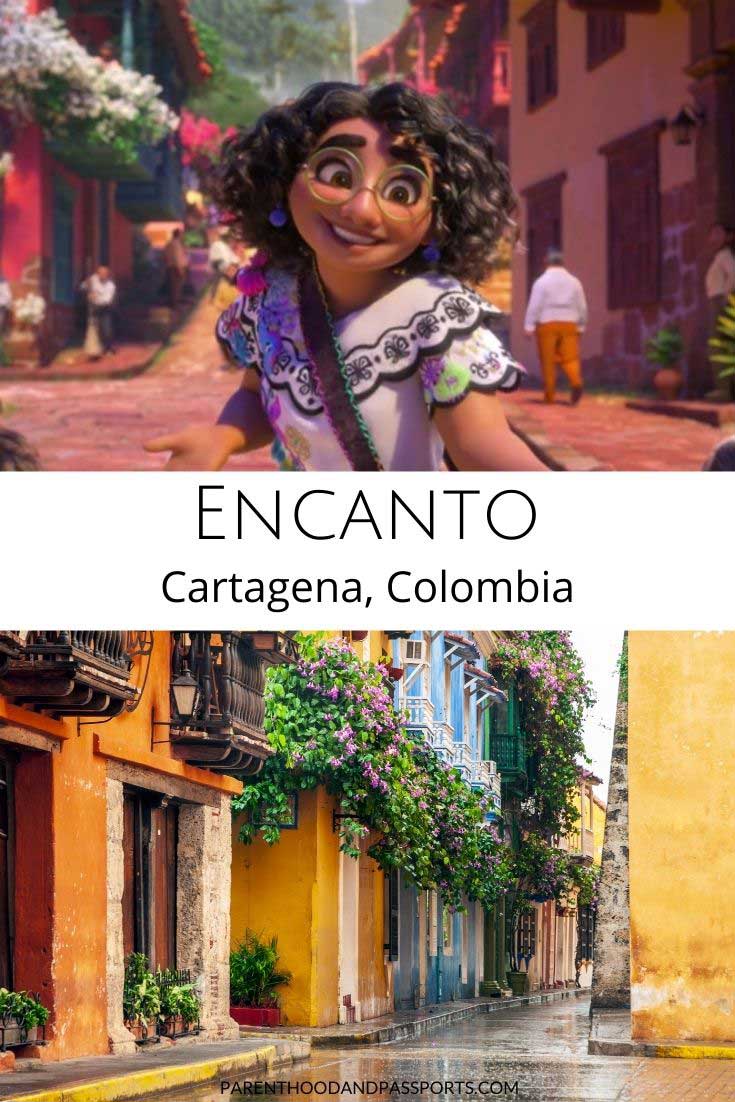 ALSO READ: CARTAGENA TRAVEL GUIDE
Oliver & Company
Where does Oliver & Company take place? New York City
There is perhaps no city in the world more widely portrayed in movies than New York City. And if you are looking for Disney movies set in New York, Oliver & Company is your best bet.
The movie is about a feisty kitten living in Manhattan. It showcases the sites and sounds of the Big Apple perfectly, both the positive and the negative.
From the traffic and the construction to the busy streets filled with pedestrians and even the alleyways filled with garbage, this Disney movie setting may not be resemble a magical fairy tale land, but it is nonetheless a great travel movie for kids to watch before a trip to Manhattan.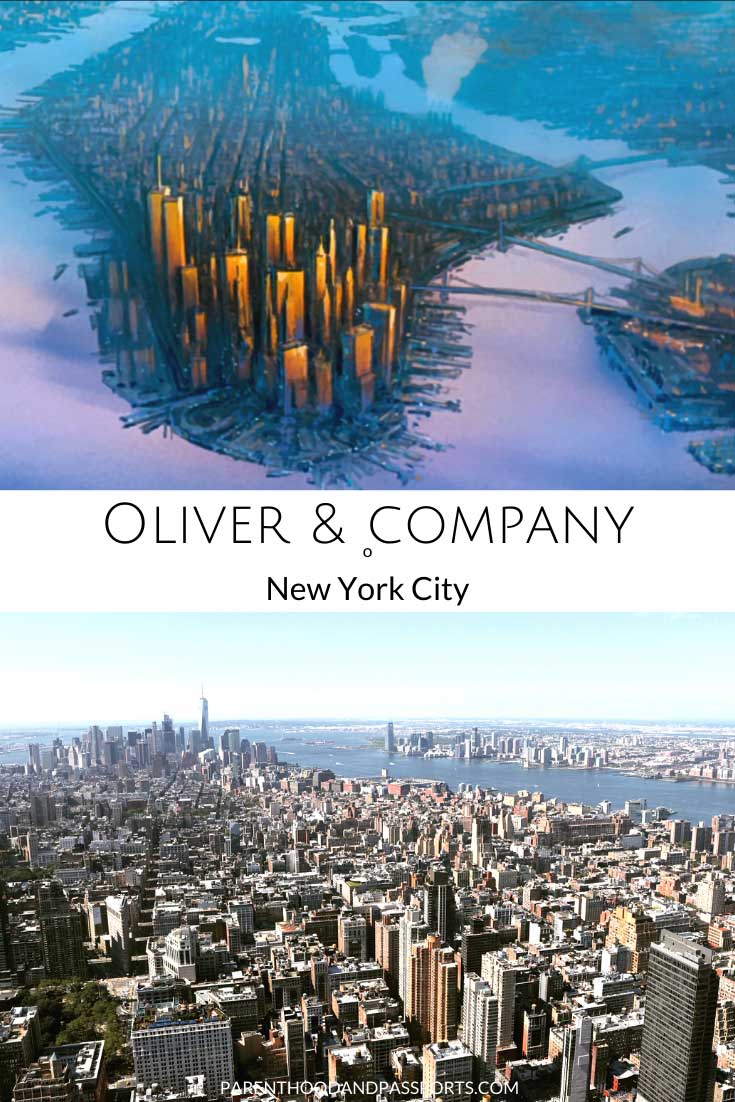 RENT OR BUY OLIVER & COMPANY ON AMAZON
Pocahontas
Where does Pocahontas take place? Jamestown, Virginia, United States
If you're looking for real, historic places in Disney movies, Pocahontas is a great animated movie for kids that helps to teach children about the European settlement of the Americas.
Although not necessarily historically accurate, the animated film is set in colonial USA, Jamestown, Virginia to be exact.
It is loosely based on the story of Pocahontas, a Native American woman who helped to foster peace between the English settlers and the Indians who were native to the area.
While the state of Virginia looks much different today than it did in colonial times, Jamestown is still very much a historic place to visit in the United States, as are the neighboring towns of Yorktown and Williamsburg, all of which are great to visit with kids!
In Jamestown, you can see a statue of Pocahontas, and a replica of a Powhatan Indian Village. In Williamsburg, you can see the original baptismal that Pocahontas was baptized in when she converted to Christianity.
RENT OR BUY POCAHONTAS ON AMAZON
Lilo and Stitch
Where does Lilo and Stitch take place? Hawaii
Lilo and Stitch is another Disney movie based on a real town and its surrounding area. Lilo and Stitch is set in Hanapepe, Hawaii on the island of Kauai. Even in animation the scenery of Hawaii is beautiful.
With mountains that plunge down into the ocean and sandy beaches shaded with tall palm trees, the setting of this Disney movie will have your kids wanting to island hop in Hawaii.
Whether you choose Oahu, Kauai, Maui or one of the other Hawaiian islands, this is a trip you and your kids will remember forever.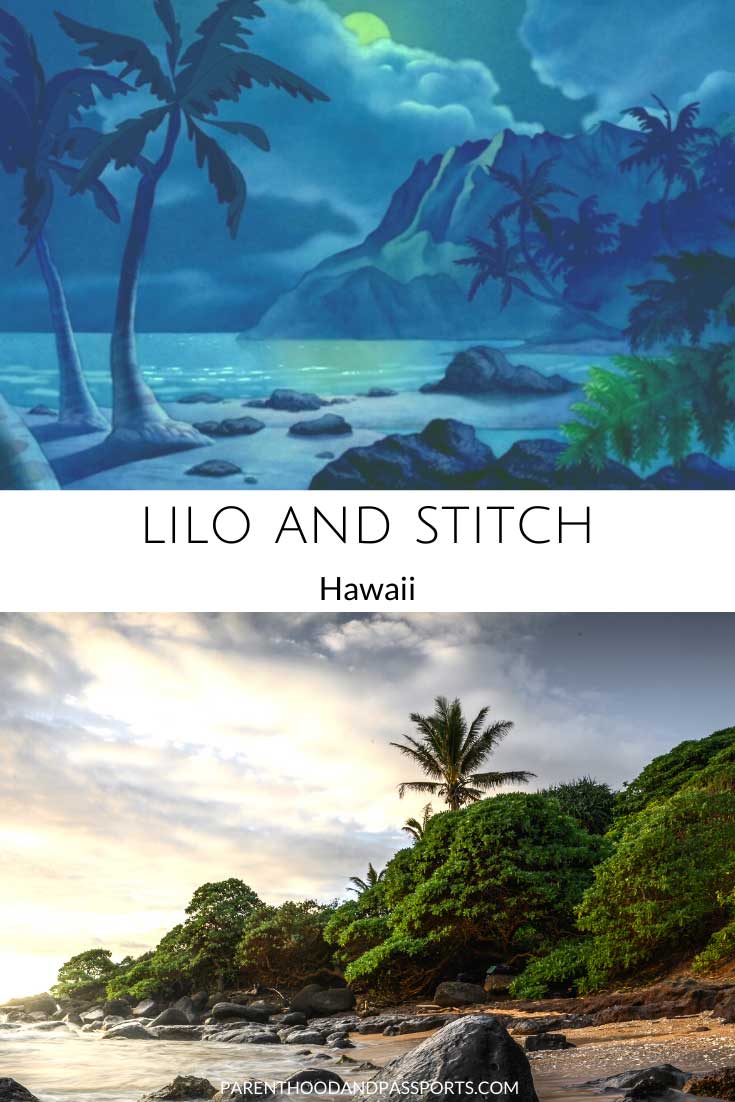 RENT OR BUY LILO AND STITCH ON AMAZON
Bolt
Where does Bolt take place? United States
Going on a cross-country USA road trip?
Disney's Bolt is one of the best road trip movies for families. The animated film follows the story of a famous dog named Bolt who plays a superhero in a TV show. He accidentally ends up getting taken across the country and must find his way back from New York to California.
Bolt meets friends along the way and learns some really sweet lessons in friendship on his quest to get home to his beloved human, Penny.
Plus, the movie depicts areas across the United States, from the east coast, to the central plains, to the west coast.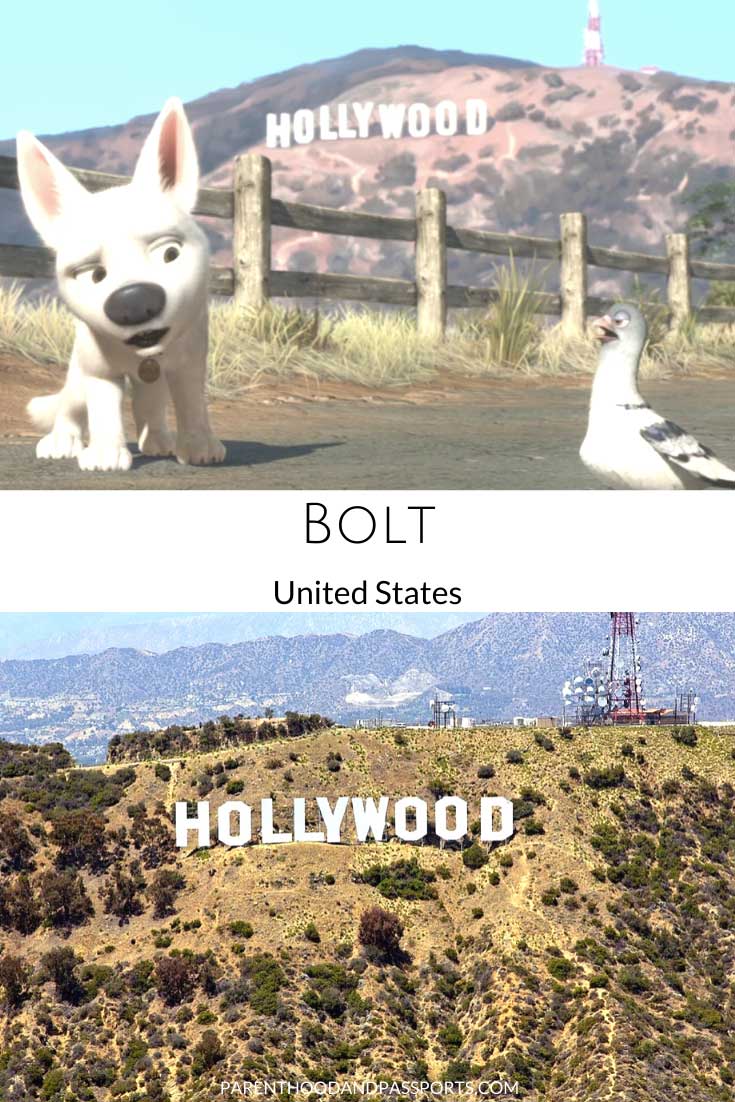 Up
Where does Up take place? Venezuela
Up is one of Disney's greatest tearjerkers, in my opinion. It's about an old widower who is being forced out of the house where he and his late wife built their life together.
So he makes a grand plan to fly his house to Paradise Falls, which was inspired by Angel Falls in Venezuela.
In his ambitious escape using helium balloons to carry his home away, he unknowingly brings a boy scout named Russell along for the adventure.
It's a touching story of friendship, and will also inspire young travelers to want to visit South America.
While Venezuela may not be the safest country to visit at the moment, the movie does showcase the beauty found in South America's rain forests.
The Emperor's New Groove
Where does The Emperor's New Groove take place? Peru
The setting of The Emperor's New Groove isn't as apparent as some of the other Disney movies on this list, but the movie is based on the Inca empire, which ultimately developed into modern-day Peru.
There are a few shots in the movie that resemble Manchu Picchu, as well, which would also hint that Peru is the setting for the Disney film.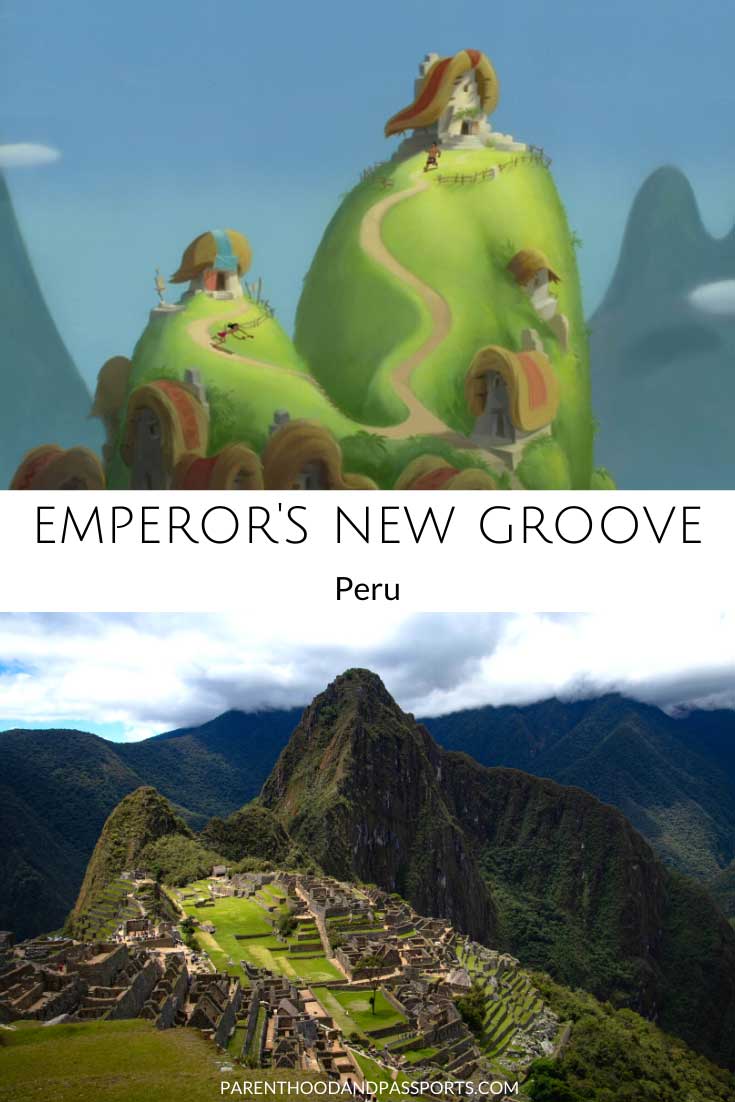 RENT OR BUY EMPEROR'S NEW GROOVE ON AMAZON
Disney movies set in Asia
There are several classic Disney movies set in Asia, as well as some newer animated films. Here are some of our favorite places in Disney movies that are inspired by real destinations.
Mulan
Where does Mulan take place? China
From the opening scene, Mulan will have you dreaming of a trip to the far east to see the Great Wall of China and to learn about the ancient history of China, which is beautifully portrayed in the movie. Mulan, like many current day Disney movies, is a great travel movie for girls. It portrays a strong female character not afraid to stand up for what she wants and believes.
To see buildings like those in animated in Mulan, look no further than the country's capital, Beijing, where tourist sites like the Forbidden City are sure to make you feel like you are in a real-life Disney location.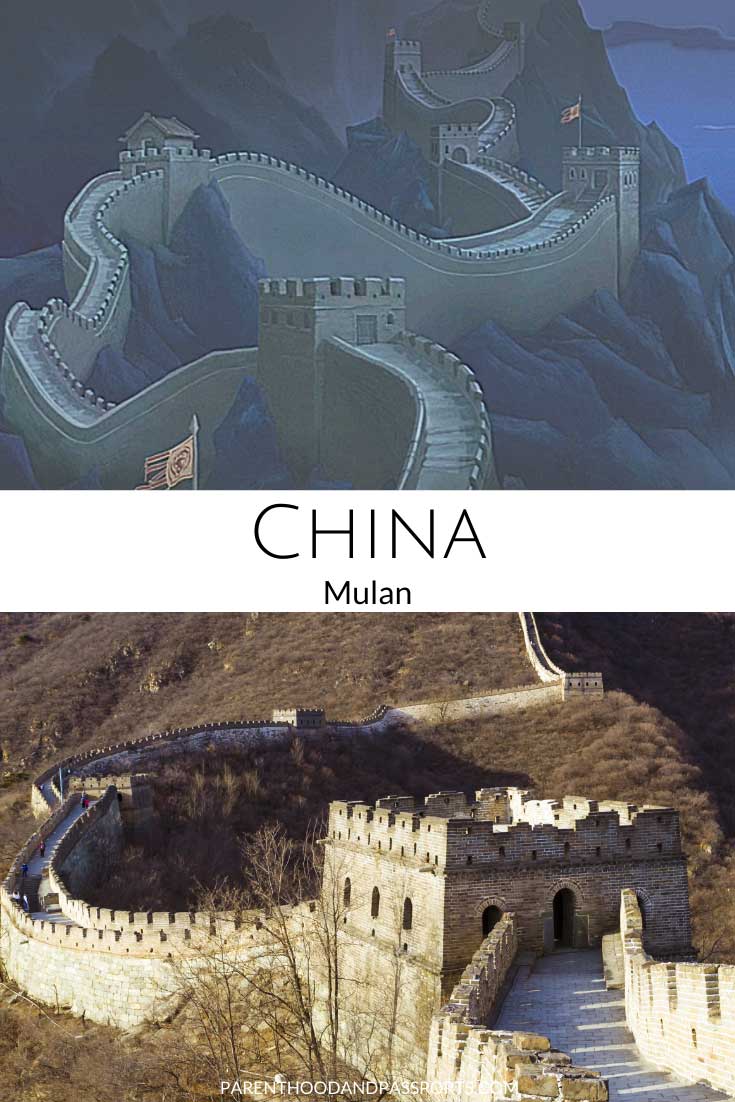 Aladdin
Where does Aladdin take place? India or Middle East
The setting of Aladdin is somewhat elusive. It has undertones that seem to allude that the fictional kingdom of Agrabah is in the Middle East while other elements of the movie suggest that the film is set in India.
While the story-line is probably one that you are already familiar with, a beggar decides to win over a princess with the help of a magic genie, the setting of Aladdin is a bit more unknown.
The scene where Aladdin and Princess Jasmine fly past pyramids and the Sphinx on a magic carpet suggests a setting of Egypt.
The architecture of the palace where Jasmine lives resembles the Taj Mahal, which suggests a setting in India. Regardless, the movie will have you dreaming of travel, and you can't go wrong with either location!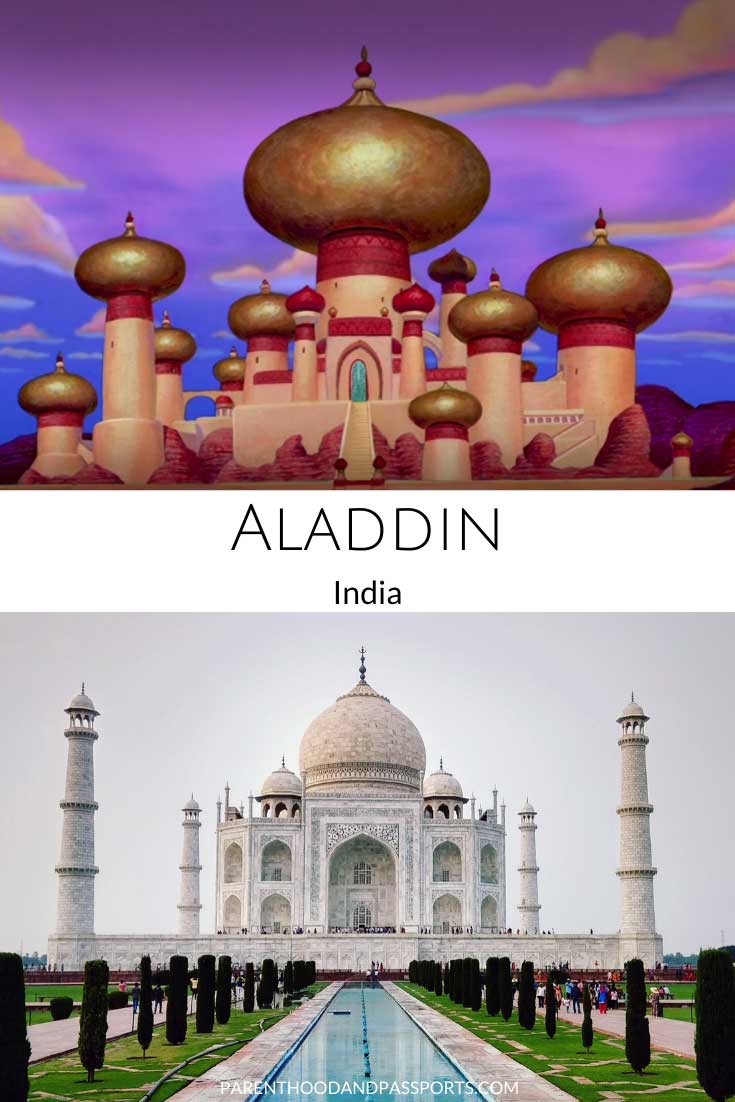 Raya and the Last Dragon
Where does Raya and the Last Dragon take place? Southeast Asia
Like many animated movies, the exact Disney movie setting of Raya and the Last Dragon isn't immediately evident. Although Kumandra is the fictional setting of Raya and the Last Dragon, the inspiration for the movie can be found in Southeast Asia.
There are several aspects of the movie that indicate the movie's heroine and main character, Raya, is growing up somewhere in Southeast Asia. Raya wears a conical hat, also called a rice hat. It is common to many regions of Southeast Asia, including the countries of Vietnam and Thailand.
The significance of the water dragon, the foods, the scenery, and even some of the markets they visit in the fictional movie, all pay homage to the beautiful region of Southeast Asia and the diverse cultures that hail from the area.
The Jungle Book
Where does The Jungle Book take place? India
If you need more inspiration to visit India, Disney's The Jungle Book is a good place to start.
The movie is a story about a little boy named Mowgli who is raised by wolves in the jungle. It ultimately becomes too dangerous for Mowgli to stay in the jungle, so his wolf family decides to send him to the village where he can live out his life as a human.
The jungle is set in central India near Seoni.
While Seoni was the village where the animals decided Mowgli should be taken to, Kanha Tiger Reserve, the forest that inspired the book-turned-Disney movie is several hours away from Seoni.
RENT OR BUY THE JUNGLE BOOK ON AMAZON
Disney movies set in Africa
Africa many not have inspired as many Disney movies as some of the other continents, but I have a feeling this will change in a few years as Disney has made a notable effort toward diversity and representation in their animated films in recent years.
I personally can't wait to see the beautiful cultures, landscapes, and people of Africa depicted in future films. But for now, here are a few Disney movies that take place in Africa.
Lion King
Where does Lion King take place? Kenya
Although there is no mention of the exact country where the Lion King is set, Kenya was likely the inspiration for the Disney movie's location. The landscapes in the film resemble Hell's Gate National Park in Kenya.
And a 2-week trip to Kenya or Tanzania is the perfect vacation for any Lion King fan wanting to see safari animals.
So, if you want to see the pridelands where Simba, the lion king, ruled over the animal kingdom, start planning a trip to Kenya!
Tarzan
Where does Tarzan take place? Uganda
The west African country of Cameroon is said to be the inspiration for the story of Tarzan, about a man who was raised from infancy by gorillas.
While Cameroon may be the inspiration for the Disney movie's setting, if you are wanting to see gorillas in their native habitat, Uganda is your better option for a jungle trekking vacation.
Not only is Cameroon considered somewhat unsafe for tourists, the jungles of Uganda and neighboring Rwanda are best known for gorilla trekking.
Disney movies set in Australia and Oceania
Notably, not as many Disney movies are set in Australia and Oceania, but while the list may be shorter, it contains one of our personal favorite Disney movies ever made!
Moana
Where does Moana take place? Polynesia
Let me preface by saying Moana is my favorite Disney movie of all time! It has a strong lead character who is a female of color; it showcases a beautiful culture, and it is entertaining from start to finish.
The movie is set in Polynesia, which includes islands from Hawaii across the ocean to Tahiti and Tonga.
The lead character, Moana, sets off on an ocean voyage with the demi-God, Maui, to save her island. For spectacular views like the ones animated in the movie, plan a trip to Hawaii, Moorea, or one of the other incredible islands in Polynesia.
Finding Nemo – Australia
Where does Finding Nemo take place? Sydney, Australia
The address 'P Sherman 42 Wallaby Way Sydney' will never leave your mind after watching Finding Nemo. While the address isn't actually a real address, Sydney is obviously a very real place.
As the largest city in Australia, Finding Nemo is a great travel movie for kids to inspire an interest in the land down under.
Among real-life places in the Disney movie, you'll see the iconic Sydney Opera House accurately illustrated.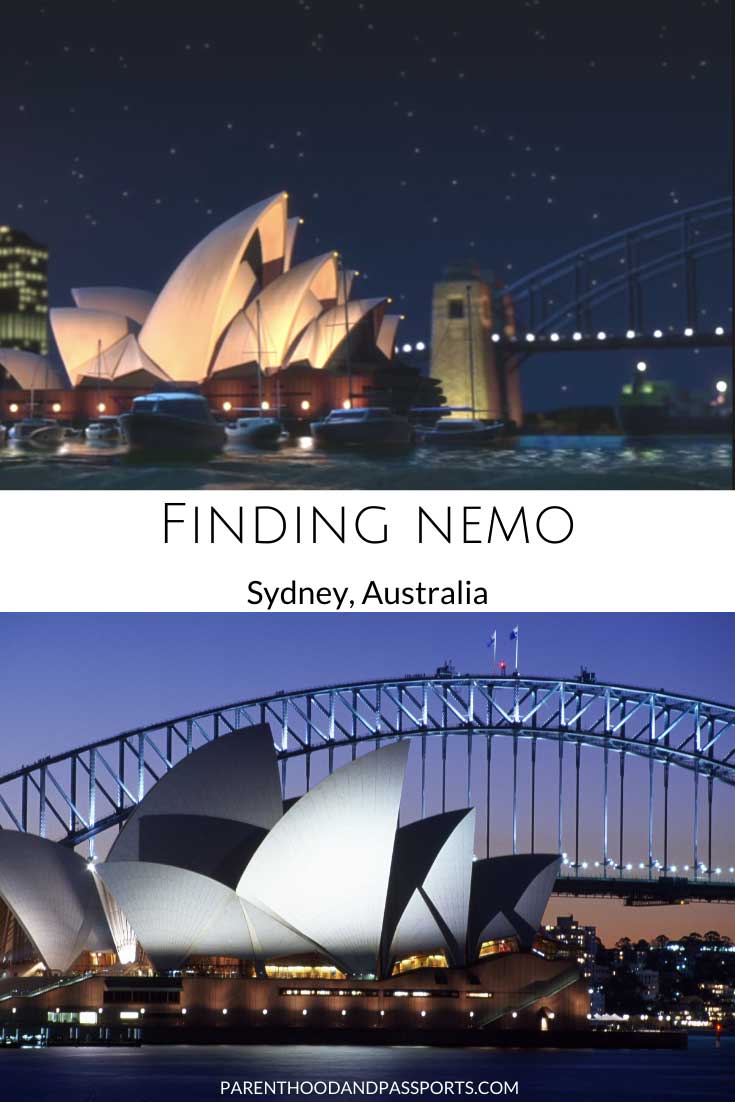 RENT OR BUY FINDING NEMO ON AMAZON
Rescuers Down Under
If you're wanting to see the more rugged side of Australia in animation, Disney's Rescuers Down Under beautifully captures Australia's landscapes in an adorable and impactful travel movie for kids.
You'll see animations of iconic places in Australia like Uluru and King's Canyon.
The movie also showcases some of the unique animal species native to Australia, like the kangaroo and the wombat.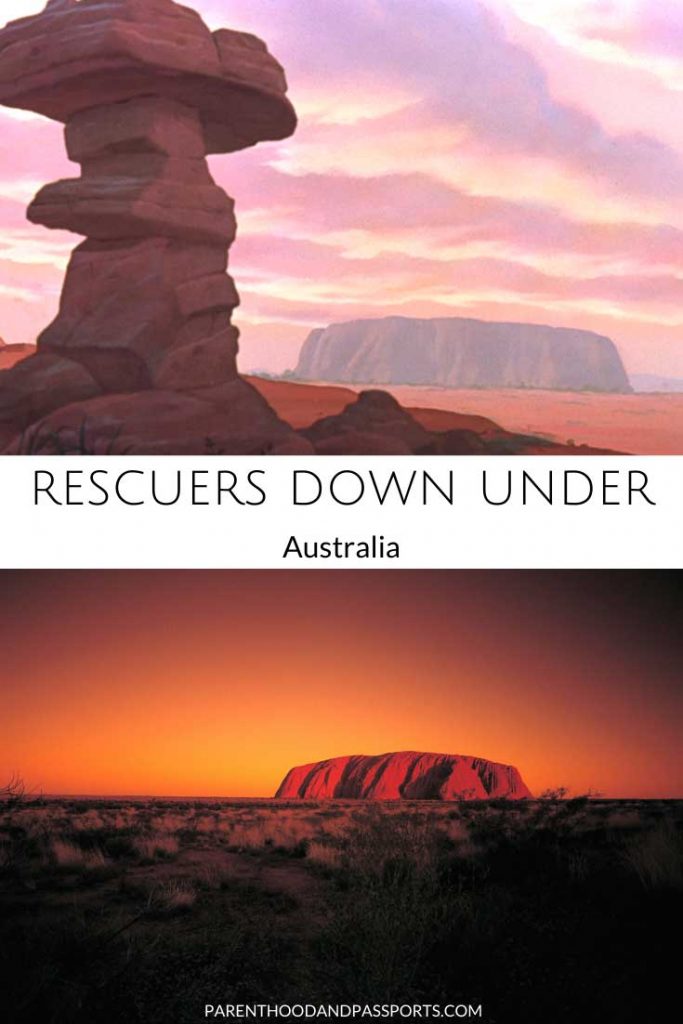 RENT OR BUY RESCUERS DOWN UNDER ON AMAZON
8 bonus travel movies for kids that aren't Disney (but are still great!)
While there are many real places in Disney movies that will instill a love for travel in children, Disney isn't the only player in the animation game.
Here are seven more noteworthy travel movies for kids that aren't Disney, but are still great!
Ferdinand
Where does Ferdinand take place? Spain
Ferdinand is an adorable children's movie set in Spain. It's based on the book Ferdinand the Bull, which is about a bull who would rather live out his life in the flower fields than become a prize-worthy fighting bull.
No surprise, it is set in Ronda, Spain, the home of bullfighting.
And at least once in the movie, you'll see Ronda's iconic and famous bridge, Puente Nuevo. And trust me because I've been, this white village in Spain is even more beautiful in real life. The movie also briefly features scenes from Madrid and Seville.
RENT OR BUY FERDINAND ON AMAZON
Rio
Where does Rio inspire you to visit? Brazil
Rio is a great movie to watch when planning a trip to Brazil or simply a great movie to watch just because. It's funny, it's vibrant, and it has several really great moral lessons for kids.
The movie is about a domesticated Macaw that travels from the US to Brazil with his human to meet a female macaw because the two birds are thought to be the last of their kind.
From the Amazon rainforest, to the beaches of Brazil, to the bustling city of Rio de Janeiro, Rio will leave you captivated by Brazil and wanting to plan a trip.
Secret Life of Pets
Where does Secret Life of Pets inspire you to visit? New York City
From Time Square to the Brooklyn Bridge, New York City has so many noteworthy landmarks. And many of them are perfectly portrayed in the movie Secret Life of Pets.
The movie follows a cute dog named Max and his friends who live in an apartment building in Manhattan. While their humans are away at work, they have an epic adventure which takes you through this busy and popular US city.
RENT OR BUY SECRET LIFE OF PETS ON AMAZON
Leap
Where does Leap inspire you to visit? Paris
Another cute travel movie for kids that will have you saying Paris is always a good idea, Leap is about a young orphan girl who escapes the orphanage and runs off to Paris to pursue her dream of becoming a ballerina.
Set in the late 1800s, the Eiffel Tower is still under construction in the animated film, but the magic of Paris is still beautifully portrayed.
You'll love the plot, the setting, and the soundtrack of this great animated movie.
Happy Feet
Where does Happy Feet inspire you to visit? Antarctica
Antarctica is a bucket list trip for us. And Happy Feet is one of the best movies to watch to inspire such a bucket list trip. The movie, about a young penguin who cannot sing like the other penguins but has a talent for tap dancing, has a fantastic soundtrack.
There are some great environmental lessons in the movie, although the larger lessons are about friendship, family and anti-bullying.
RENT OR BUY HAPPY FEET ON AMAZON
Harry Potter
Where does Harry Potter inspire you to visit? United Kingdom
No list of travel movies for kids would be complete without Harry Potter. Harry Potter is a great movie for older kids, as it isn't an animated film like most of the others on this list.
If you want to visit a place that looks like a real-life Hogwarts, plan a trip to Edinburgh, Scotland. It's where JK Rowling lived while writing the first Harry Potter book. There are several Harry Potter locations throughout the United Kingdom including some in London, Bath, Oxford, and the Cotswold villages.
RENT OR BUY HARRY POTTER ON AMAZON
Madagascar
Where does Madagascar inspire you to visit? Madagascar
You can probably guess what country the animated film, Madagascar, will inspire you to visit. Madagascar is an animated film about a lion at a New York zoo who escapes to see the world along with his friends. They end up in Madagascar and must learn to survive in the wild.
Wherever you stand on the debate over zoos, the movie is a great inspiration to visit the African island nation.
RENT OR BUY MADAGASCAR ON AMAZON
Pokemon
Where does Pokemon inspire you to visit? Japan
Of course, I can't write a post about animated travel movies for kids without mentioning Pokemon and the country that created anime, Japan. The Pokemon movies are a great place to start getting your kids interested in Japanese culture and cartoons before planning a trip to the island nation.
Anime is very popular and prevalent in Japan, particularly in Tokyo, where there is an entire district dedicated to anime and video games.
Why these travel movies for kids will inspire you to visit the real places
Since becoming parents, animated movies have become a normal part of our daily life. And Disney is our favorite creator of animation.
When it comes to creating a love for travel and even creating the feeling of travel at home, travel movies for kids can help do just that.
And after seeing some of the movies on this list, you're kids will definitely want to visit these real Disney movie locations to see and experience the magic in person.
Like it? Pin this list of places in Disney movies to save it for later!
Have a question of comment about the best travel movies or kids or any of the the places in the Disney movies? We love hearing from our readers. Let us know your thoughts in the comments below.