Germany had long been at the top of our list of countries we wanted visit. (Yes, we have an actual list of places where we plan to travel over the next ten years.) It was the number one country on my husband's list and probably in my top five, so it's no surprise that Germany was our daughter's first taste of Europe.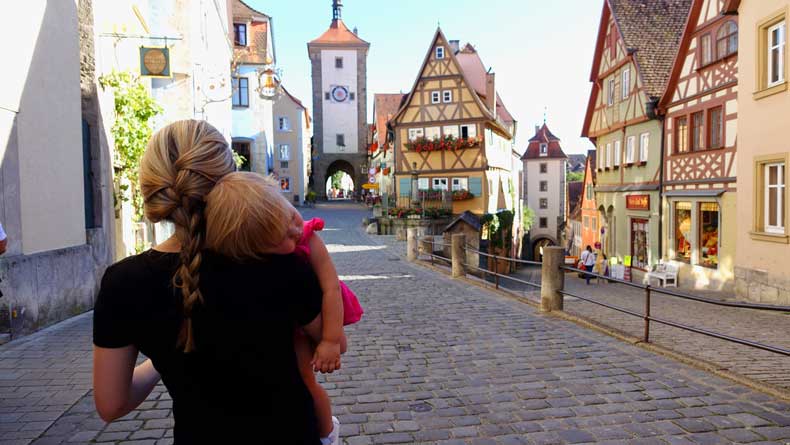 Determining where to go in Germany was really more about where we would go next. On our trip, we also had plans to see Austria and Czech Republic, so it made since to visit the southeast region of Bavaria.
Bavaria, Germany
Bavaria is an amazing place to visit for families. We flew into Frankfurt and made our way south into the enchanting state of Bavaria. This region lives up to it's reputation with medieval castles, storybook villages, walled cities, and stunning landscapes. Although we didn't get to explore as much of Bavaria as we would have liked, what we did see was a great experience. We would have loved to visit Neuschwanstein castle, which Sleeping Beauty's castle is modeled after at Disney World. But truthfully, it was a bit out of the way.
Also read: The Best Castles in Germany
We would have also loved to spend more time in Munich. There is so much to do there, and we really just spent one day and night in the popular tourist city as we were passing through.
If you're considering a family trip to Germany, here are a few ideas of towns to visit, things to do, places to stay, tips, tricks, and hopefully a little humor from our wonderful trip across the pond.
Rothenburg ob der Tauber
Hotel Eisenhunt – Rothenburg ob der Tauber
Munich
Sofitel Munich Bayerpost – Hotel Review
Driving in Europe: What you need to know
Best and worst travel moments with a toddler
What a long flight with a toddler is really like
Overcoming jetlag with a baby or toddler