The base area of any given mountain can make or break a resort, and Steamboat's base area definitely makes it!
Steamboat Base Area – What to Do
The base area at Steamboat provides entertainment after the mountain closes and during the day for those who don't ski or chose to take the day off. It truly adds to the atmosphere of the mountain by encourages people to gather, with outdoor seating and fire pits and some great restaurants and shops.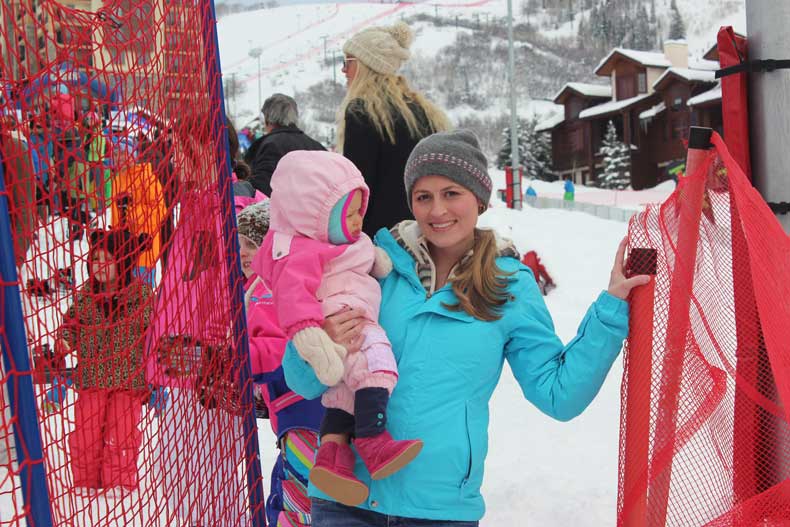 There is always something going on in Steamboat. The mountain resort is known for it's live music events. Right at the bottom of the mountain there is a larger stage. In early January they hold a large Music Fest there every year. Even when there isn't a concert going on, you'll often find ski races and family-friendly spectator events. Steamboat's base area is a great place to hang out for both families and those who aren't traveling with children. We've also visited Steamboat during the annual Cowboy Downhill, where cowboys in chaps and hats raced down the mountain on skis, and then partake in a roping and saddling competition. There is live music, sky divers, and plenty of family entertainment.
Navigate the Steamboat Base Area
The gondola will take you from the base up to the top of the mountain where you can have a meal, ski down, or take pictures. It will also take you to the parking lot, if you drove to Steamboat. Even though we stayed at the base, we took the gondola to the parking lot simply to take a picture of the iconic barn that is directly adjacent to it. It may be the most photographed landmark in Steamboat. There is also a free shuttle that will pick you up at the base and take you to the surrounding hotels. It comes in very handy when you are carrying all of your ski or boarding gear.
Want more information on the mountain, it's runs and terrain, ski school, child care, and lodging options in Steamboat? Click here for our full guide to visiting Steamboat in winter.
Have you been to Steamboat, Colorado? What are your thoughts on the base area? Leave us a comment and let us know.
Like it? Pin it!