Belize is an adventure destination filled with great diving spots, waterfalls, Mayan ruins, and caves just begging to be explored.
Unlike caves in other parts of the world, the cave system in Belize is a rich part of the country's history and Mayan heritage.
The Maya Indians were the original settlers of Belize and caves were an important part of their religion. They believed caves were the gates to the underworld, and often used caves for spiritual rituals, ceremonies, and burial grounds.
While many of Belize's caves require hiking, spelunking, or even swimming, Rio Frio Cave is one of a few beautiful, picturesque, kid-friendly caves in Belize. It is one of the most popular caves to visit on a Belize family vacation, particularly for those traveling with young kids.
This guide to Rio Frio Cave in Belize details the best ways to visit, what to expect, and tips for visiting the tallest cave in Belize.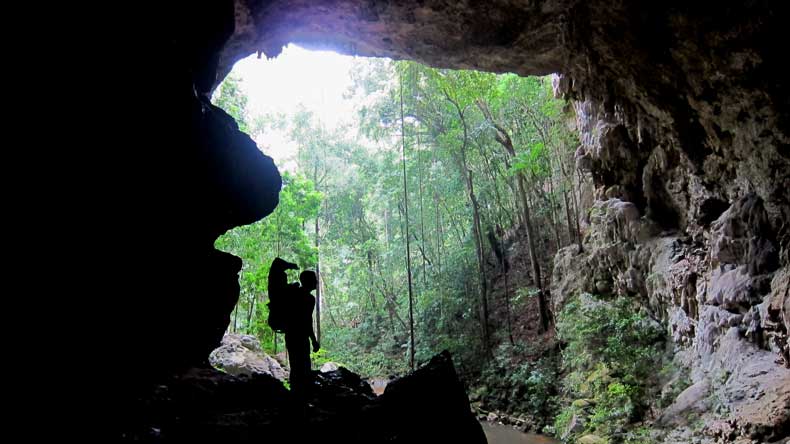 About Rio Frio Cave
Rio Frio Cave is located inside the Mountain Pine Ridge Forest Reserve in the Cayo District of western Belize, one of the best destinations in Central America.
From the town of San Ignacio it will likely take you about one hour to get there. The cave has the largest natural opening of any cave in Belize.
The mouth, or entrance, to Rio Frio Cave is 70 feet tall, making the approach to the cave a jaw-dropping experience.
Historians and archeologists believe Rio Frio Cave was used as an ancient burial site for the Maya people. But unlike some of the other archaeological caves where artifacts have been found, you can visit Rio Frio Cave without a guide and walk through at your own leisure.
How to Visit Rio Frio Cave Belize
There are two ways you can visit Rio Frio Cave in Belize. You can book a guided tour or do a self-guided drive into the Mountain Pine Ridge area.
Guided tour to Rio Frio Cave
One of the most popular guided tours from San Ignacio takes you to Caracol Mayan Ruins from San Ignacio. These tours leave from San Ignacio town center and take you through the Mountain Pine Ridge Forest Reserve to get to Caracol.
The tours stop at both Rio Frio Cave and Rio On Pools. This is the easiest way to visit Rio Frio Cave, as it leaves the precarious driving to the local guides.
Self-guided drive to Rio Frio Cave
If you plan to drive in Belize, especially through the Mountain Pine Ridge Forest Reserve, it's important to note that most of the road is unpaved and rather bumpy.
You will want to rent a 4-Wheel-Drive or high clearance vehicle if you plan to do a self-guided tour to Rio Frio Cave.
Doing so allows you to stop at other popular sites like Big Rock Falls, hike, or spend as long as you would like exploring the cave or relaxing in the shallow waterfalls at Rio On Pools. 
Getting to Rio Frio Cave on a Self-Guided Adventure
Mountain Pine Ridge Forest Reserve is free to enter, although they ask that you make a small donation upon entering or exiting.
We rented a car and drove ourselves into the park and got by without a 4-wheel drive vehicle. However, the road is not in the greatest shape.
A 4-wheel drive vehicle is strongly recommended if you do not want to chance getting stuck in an area with no cellphone reception and very limited traffic. 
About a mile or so before you get to Rio Frio Cave, you will come across an abandoned campsite or village. The homes are in serious disrepair, and when we visited there was not a soul in sight.
It kind of feels eerie, which only adds to the mystic, creepy experience of the cave itself.
Parking and Entrance to Rio Frio Cave
There is a small parking area once you arrive at Rio Frio Cave. Then it is just a short walk down a well-marked path. As you approach the cave, its enormous mouth greets you with a dark allure.
A makeshift rock staircase guides you into the cave, which is shaped like a horseshoe. As you walk deeper into the darkness of the cave you will soon see light peeking out from the other side.
There is also a small river that runs through the quarter-mile long cave, although this caving experience does not require you to get wet.
This river is fuller after a good rain, and obviously drier with small pools of water when it hasn't rained in a while. But it is this river that gives the cave its name Rio Frio, which is Spanish for Cold River.
Inside Rio Frio Cave
After entering the cave, you can marvel at the giant stalactites hanging from the ceiling. You may also notice bats sleeping above.
Stalagmites have also formed over time on the ground. You can make your path around the stalagmites through the cave.
The deeper you go in, the darker the cave gets. For this reason, it is recommended that you bring a headlamp or flashlight along to help guide your path.
The cave is only about a quarter mile long. If you follow the river or stream through the cave, you'll get to the other side, where you can relax in a sandy area that is the perfect place for a quick rest before making your way back through the cave to your car.
What to Know about Visiting Rio Frio Cave with Children
Rio Frio Cave is perfect for those visiting with young children who are not old enough for the more extreme caving adventures. We were able to walk through the cave while carrying our 16-month-old in a hiking backpack with relative ease.
The steps can be somewhat uneven in places, but if you're careful, it is definitely doable.
There are also sandy areas located on the floor of the cave that are great if you want to let little ones run around and stretch their legs after the long drive to get there, and a picnic bench located just outside the cave if you want to pack a lunch and stay awhile.
Exploring the cave does not require much physical endurance, so it is great fun regardless of your athletic ability or fitness level.
Where to Stay When Visiting Rio Frio Cave
The town of San Ignacio is the best place to stay if you plan to visit Rio Frio Cave or any of the other natural wonders in this part of Belize. In fact, many of the best things to do in San Ignacio, Belize lay outside the town in the jungles and forest reserve.
San Ignacio Resort Hotel is a popular lodging option in the town.
You'll also find a number of luxurious eco-lodges and jungle resorts, like Chaa Creek Lodge or Table Rock Jungle Lodge, located in the lush areas just outside San Ignacio.
Other caves in Belize you can explore with kids
Although most caves in Belize are not baby or toddler friendly, there are a few others you could visit with children who are slightly older.
St. Herman's Cave
This cave is located within Blue Hole National Park, so there is a small admission fee to visit. There are steps down into the cave, making it easy to walk through with small children on a self-guided tour.
To go further into the cave requires a guide. But, if your children are old enough, you can book a cave tubing adventure through St. Herman's Cave.
This is a great cave to visit on your way from San Ignacio to Belize City and the popular islands like Ambergris Caye or Caye Caulker.
Barton Creek Cave
This cave requires a canoe ride and a guide who will take you through the cave by boat.
The river through the cave is about one mile long. Barton Creek Cave is also a known archeological site believed to have been used for sacrificial purposes.
Remains from at least 28 people have been found in the cave, as well as pottery shards and other artifacts.
Actun Che Chem Ha
This cave is not far from San Ignacio. It is a dry cave and can easily be visited with kids. The outside is decorated with Mayan art, and inside you will find pottery and other artifacts.
Located on private land, accessing this cave requires a guide and requires hiking for about 45 minutes to get to the entrance.
Touring the cave is fairly easy, however there are portions that require climbing down a ladder to see the Mayan altar and a lot of the pottery left behind – some of which is remarkably still intact, thousands of years later.
Actun Tunichil Muknal (ATM)
Although Actun Tunichil Muknal, often referred to as ATM cave, is not suitable for young children, it is suitable for older children and teens. It is by far the most popular cave tour in Belize.
Visiting this cave requires a trek through the jungle to the entrance, swimming or wading through water, and some minor climbing. 
But visiting ATM Cave allows you to see a lot of fascinating artifacts including skulls and bones believed to be the remains from human sacrifices that took place in the cave many, many years ago.
Although this cave tour is widely popular, it is not for the faint of heart – and definitely not for young kids.
For more information on visiting Belize with kids and a look at our complete kid-friendly itinerary, click here.
Like it? Pin this guide to Rio Frio Cave and other caves in Belize to save it for later!
This guide to visiting Rio Frio Cave on a Belize vacation was first written in June 2016 and was updated in May 2022 for accuracy and current travel information.