Rio Frio Cave is located inside the Mountain Pine Ridge Reserve. From the town of San Ignacio it will likely take you about one hour to get there. If you plan to drive in Belize, especially through the Mountain Pine Ridge Reserve, it's important to note that most of the road is unpaved and rather bumpy.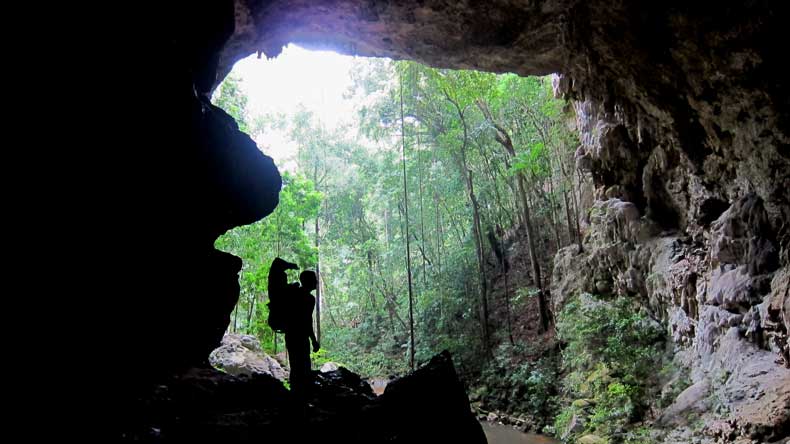 Cost to Enter Rio Frio Cave and Mountain Pine Ridge Reserve
Mountain Pine Ridge Forest Reserve is free to enter, although they ask that you make a small donation upon entering or exiting. We rented a car and drove ourselves into the park and got by without a 4-wheel drive vehicle. However, the road is not in the greatest shape.
About a mile or so before you get to Rio Frio Cave, you will come across an abandoned camp site or village. The homes are in serious disrepair, and when we visited there was not a soul in sight. It kind of feels eerie, which only adds to the mystic experience of the cave itself. Caves were very important to the Mayans who inhabited this area. They believed caves were gates to the underworld. For this reason, Rio Frio Cave and other caves throughout Belize were used as burial grounds for the dead. (A little creeped out yet?)
Entrance to Rio Frio Cave
There is a small parking area once you arrive at Rio Frio Cave. Then it is just a short walk down a well-marked path. As you approach the cave, its enormous mouth greets you with a dark allure.
A makeshift rock staircase guides you into the cave, which is shaped like a horseshoe. As you walk deeper into the darkness of the cave you will soon see light peaking out from the other side. There is also a small river that runs through the quarter-mile long cave, although this caving experience does not require you to get wet.
Visiting Rio Frio Cave with Children
Rio Frio Cave is perfect for those visiting with young children who are not old enough for the more extreme caving adventures. We were able to walk through the cave while carrying our 16-month-old in a hiking backpack with relative ease. The steps can be somewhat uneven in places, but if you're careful, it is definitely doable. There are also sandy areas located on the floor of the cave that are great if you want to let little ones run around and stretch their legs after the long drive to get there, and a picnic bench located just outside the cave if you want to pack a lunch and stay awhile.
Other caves in Belize you can explore with kids
Although most caves in Belize are not baby or toddler friendly, there are a few others you could visit, especially with older toddlers.
St. Herman's Cave
This cave is located within Blue Hole National Park, so there is a small admission fee to visit. There are steps down into the cave, making it easy to walk through with small children.
Barton Creek Cave
This cave requires your little one to be responsible enough to sit still in a canoe as a guide takes you through the cave by boat. The river through the cave is about one mile long.
Actun Che Chem Ha
This cave is not far from San Ignacio. It is a dry cave and can easily be visited with kids. The outside is decorated with Mayan art, and inside you will find pottery and other artifacts.
For more information on visiting Belize with kids and a look at our complete kid-friendly itinerary, click here.