The Central Plains of the United States aren't necessarily known for having a rich German culture. In fact, when you think of Oklahoma you likely think of cowboy and Native American culture instead. But a small, family-owned German restaurant in Oklahoma City is as about as authentic as anything you'll find in southern Germany.
Royal Bavaria is both a German restaurant and a laid back beer garden. 
A Beer Garden and German Restaurant in Oklahoma City
Royal Bavaria rivals any German restaurant you'll find in the United States. The owner is from Munich and has a degree in culinary art.
The menu includes a wide variety of schnitzel, sausage, steak and even vegetarian dishes. In fact, we've never had anything at Royal Bavaria that we didn't love. The food at this Oklahoma City German restaurant is absolutely fabulous!
Atmosphere at Royal Bavaria
One of my favorite things about Royal Bavaria (besides the food) is the atmosphere.
Walk inside and you will feel like you are having a cozy, home-cooked meal at your grandmother's house… that is, if your grandmother is German and can make a killer schnitzel mit kartiffelbrei.
The interior is cozy and family friendly with large glass windows looking back into the brewery. Royal Bavaria also makes it's own beer, which is served in liter boots, or half liter glasses.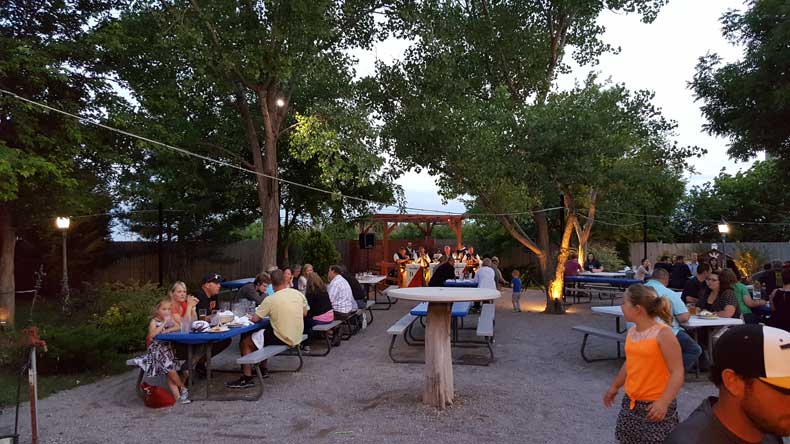 The summer months are the best time to visit Royal Bavaria because the beer garden is open. The beer garden is open from late May through the warm weather months.
The beer garden is just like the ones you would find in Germany. It has picnic tables, live music, and craft beer brewed right at the restaurant. Although the beer is flowing, the Royal Bavaria beer garden is a great place for families.
Kids are definitely welcome, and there is even a small play area where little ones can run about. It is actually one of our toddler's favorite restaurants. She has loved their sauerkraut since she was first starting to eat solid foods.
On Thursday and Friday nights, Royal Bavaria has a live band in the beer garden, which is usually a bunch of old guys playing some really awesome folk music. You can spend hours there eating, talking, and enjoying the atmosphere.
What food to order at Royal Bavaria

We typically get the sausage sampler for an appetizer. (Not the sausage pictured above. That's an actual dinner.) The sausage sampler is enough to share with three or four people and comes with a generous helping of sauerkraut.
My husband usually gets the Schnitzel "Berliner Art" mit kartoffelbrei, which is basically schnitzel topped with sautéed apples and onions served alongside a pile of mashed potatoes.
The schnitzel "Holsteiner Art" is also fantastic… It's topped with a fried egg and Swiss cheese and is also served alongside potatoes.
Vegetarians will love the vegetable strudel. It's actually one of my favorites, and I'm not even a vegetarian. After all that food and a beer or two, I still always try to order dessert. I am a huge dessert person and the topfenstrudl mit vanille-sauce is "lick your plate" good.
Where to find the best German restaurant in Oklahoma City
Royal Bavaria is located in south Oklahoma City on Sooner Road between SE149th and SE 34th. It's a little out of the way if you are staying in downtown OKC, but it is well worth it. Royal Bavaria is approximately a 30 minute drive south of downtown OKC and about a 10 minute drive north of Norman. Go! You won't regret it!
Like it? Pin it!
Have you visited this German restaurant in OKC? Let us know your thoughts in the comments below!