Salzburg, Austria may be a beautiful, historic city, but that doesn't mean it caters strictly to adult travelers. There are plenty of fun things to do in Salzburg for kids, as well. From museums all about toys to a world-class zoo and enchanting gardens that are sure to inspire imaginative play, Salzburg is a great place for a family vacation.
The city has done a wonderful job of combining the historical with the whimsical and making many of the famous attractions in Salzburg family-friendly. So, if visiting Salzburg with kids, you can find plenty of great activities that will keep both parents and children entertained for days! 
This Salzburg travel guide details the best things to do in Salzburg with kids, the best places to stay in Salzburg for families, and an easy itinerary to follow that will make your visit to the charming Austrian city a memorable one.
About Salzburg, Austria
With its cobblestone streets that weave through a picturesque Old Town opening up into lively city squares, Salzburg offers that same magnetizing character that most European towns typically hold.
With glorious views of the Austrian Alps and Untersberg Mountains in the distance, natural beauty and plenty of outdoor activities surround Salzburg City. The Salzach River divides the city into old and new. 
With just over 150,000 residents, the city is large enough for a city break or long weekend getaway. But it is small enough to not feel overwhelmed by traffic, congested metros, and overly crowded streets.
Salzburg is roughly three hours from the Austrian capital of Vienna or 1.5 hours from Munich, Germany. So, it is feasible to do a day trip to Salzburg from Vienna or a day trip from Munich, if you have limited time.
A fun Salzburg itinerary for families
While you could easily see Salzburg on a day trip, two or three days in Salzburg with kids is a more reasonable amount of time to see the highlights and to hit the main attractions in Salzburg for kids.
Here is a generalized itinerary for a family vacation to Salzburg.
Day 1
Explore Old Town Salzburg (Altstadt Salzburg)
Toy Museum
Salzburg Cathedral
Kapitelplatz
Hohensalzburg Fortress
Augustiner Beer Garden
Water Museum
Day 2
Mirabell Gardens
Haus der Natur
Visit the Salt Mines
Day 3
Salzburg Zoo
Schloss Hellbrunn
Relax at Mondsee Lake
See and book the best tours of Salzburg for families.
The top 10 things to do in Salzburg, Austria with kids
While it may not be a large city like Vienna, there are a lot of cool things to do in Salzburg with kids, or without. Here are some of the best family-friendly attractions to include on your trip.
Wander the streets of Old Town Salzburg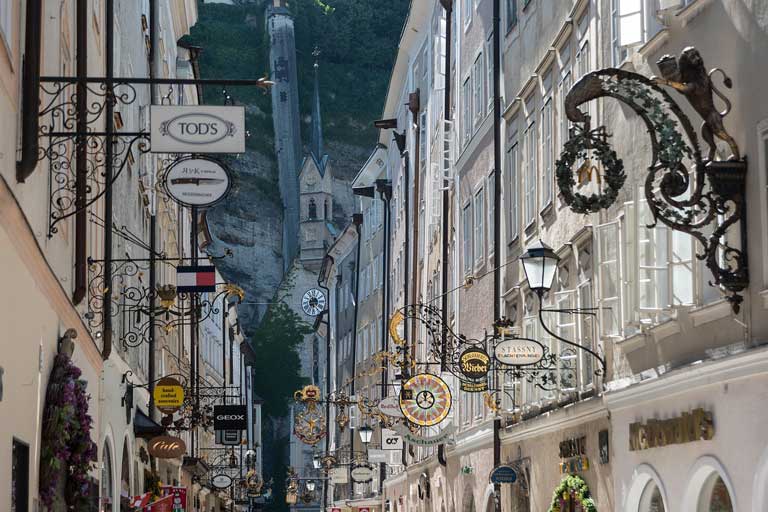 With its Baroque architecture and bustling squares, Old Town Salzburg, or Altstadt, is a great place to start any Salzburg itinerary.
Designated a UNESCO World Heritage site, this well-preserved area of town boasts quaint, narrow streets dotted with shops, restaurants, and hotels set in historic buildings.
Visiting the birthplace of the esteemed composer, Mozart is among the top things to see in Old Town Salzburg.
Spend some time wandering down Getreidegasse, the busiest shopping street in Salzburg. Getreidegasse is well-known for its lovely wrought iron trade signs. You'll find lots of pretty courtyards and small plazas tucked away down side streets just off the main thoroughfares.
St. Peter's Abbey and cemetery are also worth a visit while in Old Town. Founded in 696, the abbey is considered one of the oldest monasteries in Austria.
Play and Learn at the Toy Museum
When it comes to family-friendly activities and ways to entertain your kids, what's better than a toy museum? Salzburg's Toy Museum is wonderful for both kids and adults with an inner child. Its main guidelines are "play, experience, and amazement".
The museum is built as an interactive play space where kids can try out different experiences, check out every nook and cranny, and learn about historical toys.
From marble runs, a car racing track, balancing boards, a 19th century fire engine toy to a camouflage polka dot wall, dollhouses, teddy bears, and reading corners, there is bound to be something for everyone.
There is also a large playroom in the basement next to a small café. The kids can play and build wooden towers while you can relax with a cozy cup of coffee.
The museum offers special exhibitions on different topics throughout the year. Check their website before visiting to see what's going on. It is open Tuesday to Sunday between 9 am and 5 pm (as of June 2021).
For roughly the cost of 2 € ($2.50 USD) per child and 5 € ($6 USD) per adult you'll get several hours' worth of play.
All attractions are translated to English, and you'll also get comfortable slippers at the reception. The whole museum is suitable for crawling around so that even the youngest children can have fun and explore.
Recommended by Petra from Erratic Engineeress
Get festive at a Christmas Market
Straight out of a fairy tale, the Salzburg Christmas markets are sure to impress your entire family with a fun and festive experience. You'll know you're getting close when you start to sense an aroma of cinnamon-roasted nuts, pine, and mulled wine drifting from the market.
There are a few holiday markets to visit in Salzburg with a variety of food, shops, and attractions for both kids and adults of all ages.
The most popular, largest, and oldest Christmas market in the city is set-up right next to the Salzburg Cathedral in the Residenzplatz Square each year, called the Salzburg Christkindlmarkt.
You'll find an abundance of food, toys, holiday decorations, gifts, an ice rink, and more.
Many locals enjoy visiting some of the smaller markets, some of which are on the outskirts of the city center. It is a good way to avoid the crowds and to check out other local vendors.
A little more tucked away and much smaller than the Christkindlmarkt, another popular must-see is the Stern Advent and Winter Market.
On your visit, plan to dress warm, bring euros, and come hungry. You'll want to spend some time wandering the markets and grazing from vendor to vendor.
While the kids sip hot cocoa, be sure to warm-up with a cup of mulled wine. You can either keep your mug as a souvenir or exchange it for a few euros in return. 
Recommended by Kylie from Catch the Drift
Want to visit other Christmas markets in the area? This tour takes you to some of the most charming Christmas markets outside of Salzburg.
Marvel at the beauty of Salzburg Cathedral
You would be hard pressed to find an itinerary for any European city that does not include at least one cathedral or church. From Munich, Germany to Seville, Spain, most cities in Europe are home to spectacular cathedrals that date back thousands of years.
Salzburg is no different in that respect. Whether visiting Salzburg with kids or without, be sure to stop into Salzburg Cathedral. 
The Roman Catholic cathedral was founded in 774. However, it was completely rebuilt in 1181 after a fire destroyed the original building. Repairs, renovations and additional rebuilds have taken place over the centuries.
The church where Mozart was baptized was heavily damaged during World War II when a bomb crashed through the center dome. It took 15 years to restore the church after the war.
Play a giant game of chess in Kapitelplatz
One of the liveliest squares in Salzburg sits directly south of the Salzburg Cathedral and right beneath the Hohensalzburg Fortress.
Also known as Chapter Square, Kapitelplatz is a spacious plaza that is always filled with activity and a lot of people. In the center, you'll find a strange statue called the Sphaera Goldkugel.
The public art features a giant golden globe with a man standing on top with a neutral expression and nonchalant stance. The statues in Kapitelplatz reminded me of some of the eye-catching statues in Prague, Czech Republic.
Kids will particularly enjoy the giant chess board drawn on the pavement in the square. With oversized chess pieces, kids can have a blast moving the pieces around the game board or watching other people square off in a calculated game of chess.
Be sure to purchase a Mozart ball while you wander through the square. Bakers make these small, round sugar confections with pistachio, marzipan and nougat and cover them with dark chocolate. The treats were first created in Salzburg in 1890.
Mozart Balls, also called mozartkugel, make for popular gifts or souvenirs to take home when traveling through Austria.
Take the funicular to Hohensalzburg Fortress
The Hohensalzburg Fortress is one of the most famous landmarks in all of Austria. It is Europe's largest and best-preserved fortress with more than 7.000 m2 of constructed land.
The first building inside the fortress was built in the 11th century and was further extended in the following years.
You can either walk up to the fortress which will take about 20 minutes or take the funicular which takes only a few minutes. This is definitely the best option if you're traveling with kids. You can explore the outer parts as well as the different museums by yourself.
For the inner parts, like the watchtower with its panorama view and the salt warehouse, you can use an audio-guided tour.
Especially for kids, a visit to the Hohensalzburg Fortress can be an exciting adventure. Among other things, you can marvel at the original knight's armor as well as the old canons that used to secure the fortress.
You can choose between the basic ticket which includes a ride on the funicular, entry to all museums, the castle area, as well as the panorama tour. Then there is the all-inclusive ticket, which also includes the chambers rooms and a magic theater.
The price for the basic ticket is 12,80€ ($16 USD) for adults and 7,30€ ($9 USD) for children or 32,30€ ($39 USD) for a family of four.
The all-inclusive costs 15,90€ ($19.50 USD) for adults and 9,10€ ($11 USD) for children or 40,30€ ($49 USD) for a family of four.
If you book your ticket online you don't have to queue on arrival. That is a huge advantage if you have little ones with you.
Recommended by Victoria from Guide your Travel
Hike to Augustiner Beer Garden
People are often shocked when told they should take their kids to the beer gardens when visiting places like Germany and Austria. But the reality is that beer halls and gardens aren't like bars and pubs, and kids are almost always welcome!
If you are looking for a truly fantastic outing with your family in Salzburg, start at the Hohensalzburg Fortress (which you will, no doubt, be making a visit to while in town anyway).  
From the top, find signs that point you towards the Mönchsberg Route.  Follow the well-marked path for less than an hour of easy walking, which the kids can all easily do. 
A good portion of this walk is above the town of Salzburg. It offers fantastic views out over the roofs and river. It will lead you to the huge Augustiner Bray Kloster Muelnn, which is one of Salzburg's best beer halls.  
At the Augustiner, you can choose to sit inside one of the giant rooms inside the beer hall or out in the Bier Garten. You'll often find an Oompah Band playing inside, which younger kids love to watch and listen to.
But outside, kids can be a bit more "kid-like" meaning they can get up and run around (if not bothering others) and can be a bit louder (etiquette in Austria is often a quieter voice). 
While there is no actual playground inside this particular Bier Garten (yes, many will have a full play structure!) kids are still more than welcome to enjoy their time here.
The Augustiner can definitely get crowded in the evenings and on weekends. So, if you are visiting with kids, you are best trying to go within the week.
If all else fails, it's beer hall and garden etiquette to just ask someone at a table if you can sit with them. Just make sure you give them a "Prost!"
Recommended by LeAnna from Wander in Germany
Tour the Water Museum
Salzburg's WasserSpiegel (water museum) tells the story of the Austrian city's water supply. That may not seem like a riveting thing to do with kids, but the interactive exhibits, water experiments, testing stations, and fun displays make it a hit with visitors of all ages.
Salzburg water is said to be superior. Try it for yourself and see if you agree! The museum takes you on a journey of water through the ages, from the Roman cisterns, to the hand-drawn wells of the middle ages, to the modern water network of today.
Located on the Mönchsberg – the same hill where you'll find the iconic Salzburg Fortress – the water museum is housed in an abandoned water reservoir, adding to the authentic experience.
It's a great activity to do if visiting Salzburg in winter, although it's still rather chilly inside. The entire visit will only take around an hour, and audio guides are available in English.
It can be easily combined with a trip to the Fortress, a walk around the Mönchsberg Gardens, or a trip to the Modern Art Museum. Just be warned that it's not open every day.
In the winter months, it's only open on Sundays. And during May – October it's open Friday-Sunday.
Admission is €5 ($6 USD) per adult, €2.50 ($3 USD) per child, or €12.50 ($15.25 USD) for a family.
Recommended by Nadine from Le Long Weekend
Take a stroll through the majestic Mirabell Gardens
The Mirabell Palace Gardens are a great place to spend a leisurely morning or afternoon in Salzburg. If you're a movie fan, you may recognize several of the Mirabell Garden Sound of Music sites. The garden is one of the main locations featured in the classic film.
If visiting Salzburg with kids, you'll particularly love the Dwarf Garden. This area of Mirabell Gardens is home to 15 silly looking statues that line a tree-lined walking path.
Admission to Mirabell Gardens is free. While the gardens are open all year, the Dwarf Garden is closed during winter months.
Spend an hour roaming through the gardens which boast fountains, statues, colorful flowers, and meticulously manicured shrubs and hedges.
Many believe Mirabell to be one of the most beautiful Baroque gardens in all of Europe. As one of the most picturesque places in Austria, it's no wonder the gardens were so prominently featured in Sound of Music.
Visit Haus der Natur
One of the most family-friendly things to do in Salzburg is the museum "Haus der Natur". Visiting the so-called house of nature, visitors have the chance to discover the most fascinating aspects of Mother Nature.
The exhibitions are very interactive. There are so many fun science activities for adults and children.
This museum is huge and with more than 7,000 m² you should give yourself enough time for exploring. Kids really love to see the underwater worlds in the aquarium, the outer space hall, and the colossal dinosaurs.
Also very interesting is the exhibition about the human body. On a journey into the human body kids learn in an interactive way about how the lungs, liver, and kidneys work.
A real highlight for all families is the Science Center – this is the place many kids love the most. Illustrative experiments facilitate understanding of the physical and chemical laws.
Don't miss the "Feel Mozart" area. Journey inside a walk-in violin where the vibrations of music can not only be heard but also felt. 
Haus der Natur is great for both kids and adults, and is easily one of the best things to do in Salzburg.
Recommended age: 6+ | Entrance Fee for kids (4 to 15 years): € 6.00 ($7.32 USD)
Recommend by Jürgen & Martina from PlacesofJuma
Go on a Sound of Music Tour
Salzburg is a beautiful city in Austria filled with lots of history and beautiful landscapes. However, wandering through city after city and looking at lots of landscapes can be boring for children.
So, why not spend the day doing something the whole family will love. Pop on the Sound of the Music the night before and then in the morning embark on an amazing Sound of Music tour. Whether you are visiting Salzburg in summer or in winter, this is a fun family day out.
Leaving from the Mirabellplatz at 9:15 a.m. or 2:00 p.m. take the family out on a four-hour tour of the movie locations around Salzburg.
Then, head into the mountains to Mondsee to see the cathedral where Captain Von Trapp and Maria were married before trying the most delicious apple strudel.
The kids will love singing along to the famous songs on the bus as well as dancing around the fountain and up the stairs at Mirabell Gardens just like the Von Trapp children did, dressed in their curtain clothes.
The tour lasts four hours and includes a guided tour around Salzburg and out to Mondsee. The tickets do not include apple strudel in Mondsee. However, it is highly recommended that you head to the café suggested by the tour guide and order the apple strudel with vanilla sauce.
Recommended by Fiona from Travelling Thirties
Make a splash at Schloss Hellbrunn Palace
In the south of Salzburg City, Schloss Hellbrunn is a 17th century palace known for a particularly unique design element.
The palace grounds are famous for their trick fountains that surprise and spray visitors touring the residence's majestic property during summer months. Water sprays from fountains in the seats around a stone table and from mechanisms hidden in bushes and trees, catching many entirely off-guard.
Created by Archbishop Markus Sittikus von Hohenems in 1612, the trick fountains have been a guest favorite for more than 400 years. Children will giggle with delight as they unknowingly trigger the fountains which splash them with a cool spray of water.
The palace itself is also lovely, although not nearly as fun for kids. You can reach the palace by car, bus, or a boat ride down the Salzach River.
Meet the animals at Salzburg Zoo
Conveniently located next to Schloss Hellbrunn Palace, Salzburg Zoo is a great place for families to explore when visiting Salzburg with kids. The 14-acre zoo features more than 150 different species of animals.
While some may debate whether zoos are ethical, the habitats at Salzburg Zoo are near natural and seem to offer the animals a fair amount of space to roam about.  
The area where the zoo is located has been a wildlife park since the 15th century. As part of the Hellbrunn estate, it was completed in 1619. Today, it welcomes more than 300,000 people each year.
Favorite residents at the zoo include white rhinos, lions, red pandas, and sloths.
If you have the Salzburg Card, admission to the zoo and most other museums and attractions is free. Otherwise tickets are 12 euros ($15 USD) for adults and 5,50 euros ($6.70 USD) for children.
Travel through underground salt mines
Salzburg is one of the cities you shouldn't miss if you are in central Europe. Besides beautiful architecture from the Baroque era, you can also visit one of the places that funded the development of the city.
The reason for its wealth is hidden in the city's name as it translates – "Salt Castle". Salt was stored in mountains, and people dug it out for 2.5 millennia.
If you would like to see such a mine in Salzburg, head to Hallein Mine at Bad Dürrnberg. It is just 15 kilometers (10 miles) from the city. It is accessible from the city center by train or bus in under half an hour.
Similar to the Wieliczka Salt Mine tour in Poland, you will learn about different techniques used to mine salt over time; techniques traditional mining used in the beginning to more modern methods like pumping water into holes to extract the brine.
After extraction, miners boiled the brine until only salt was left. This technological advance resulted in a lot of money, and the city flourished.
A fun tour starts with a ride on a simple train through one of the tunnels. You arrive at the lower levels via giant wooden slides. Finally, you'll take a boat ride across an underground lake. Kids will have a blast on this adventure!
Recommended by Džangir from Dr. Jam Travels
Take a day-trip to Mondsee Lake
The small town of Mondsee, Austria, which is one of the stops on a Sound of Music Tour, is worth visiting, even if you aren't a fan of the film.
Basilica St. Michael is the lakeside town's primary claim to fame. Sitting prominently in the center of the town, the abbey is directly across from a row of colorful cafes and restaurants. The town is perfect for outdoor dining and people-watching.
The pale yellow basilica was used as the film location for the Von Trapp wedding in Sound of Music. But there are more things to do in Mondsee, Austria besides touring the church. 
The picture-perfect town sits directly on a lake, which is a popular spot for swimming, sailing, hiking, and basking in the sun.
Kids can splash in the calm waters of the lake or play in the nearby spray fountains by the shore, while adults enjoy a beer or coffee.
Where to stay in Salzburg with kids
If you plan to stay in Salzburg for a few days, there are a variety of hotels within walking distance to many of the main attractions and activities for families in Salzburg.
Old Town is one of the best places to stay in Salzburg, particularly if you have only a few sort days.
Depending on whether you prefer hotels or apartments, there are great options available in either category. We would recommend Radisson Blu Aldstadt or Hotel Sacher Salzburg across the river if you prefer hotels.
There are also some great apartments, including one next to Mozart's house, that you can book using our preferred lodging partner, Booking.com, where we traditionally reserve all our hotels and apartments.
If arriving in Salzburg by train, Old Town can be a bit of a walk with luggage and children. So, staying near the Central Train Station is also ideal.
We stayed at Cocoon Salzburg, which was a wonderful, boutique hotel located just a block away from the main exit of the train station. From there, it is another 10-15 minutes on foot to get to the Riverfront and Old Town.
Final thoughts on visiting Salzburg, Austria with kids
Spending a few days in Salzburg with kids is a great family vacation. Travel in this part of Europe is convenient and easy by train, bus or by renting a car and road tripping in Europe.
With so many great cities close together, you can spend a couple of days in each before moving on to another.
We spent about 2 weeks exploring Germany, Austria, Czech Republic and Poland. While the trip was fairly fast-paced, smaller cities like Salzburg were a perfect break from the larger more populated areas.
With so much charm and so many things to do in Salzburg for kids, you'll find yourself wanting to stay longer or return someday to explore more of this beautiful area of Austria.
Do you have a question or comment about things to do in Salzburg with kids? We'd love to hear from you! Leave your thoughts in the comments below.
Like it? Pin this guide to Salzburg with kids to save for later!