The Pacific Northwest is known for its magnificent hikes and jaw dropping scenery. The Skyline Trail in Mount Rainier National Park lives up to that PNW reputation.
This 5.5 mile loop located in Mount Rainier National Park boasts the best views of the famous volcano and offers other great discoveries, like waterfalls and wildlife along the way.
This hiking guide to Skyline Trail Mount Rainier provides a step-by-step look at the trail, its most scenic points, and provides details for hikers preparing for the day hike.
Quick Facts about Skyline Trail Mount Rainier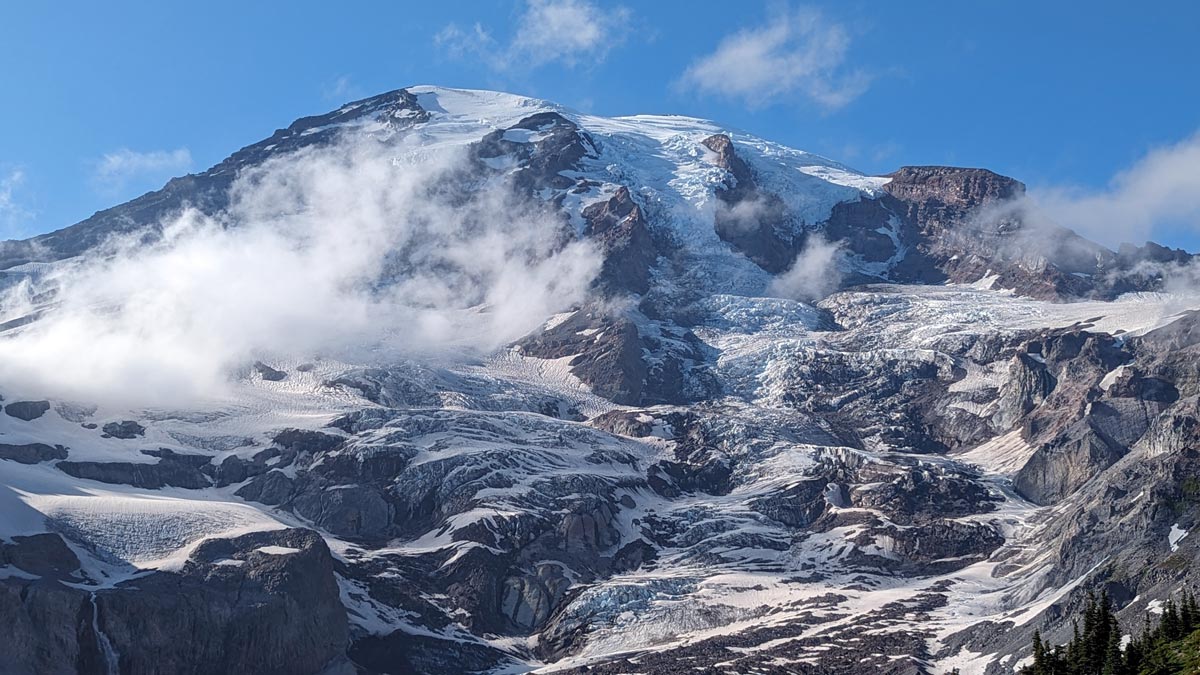 Length: 5.5-6 miles
Trailhead starting point: Paradise Inn and Henry M Jackson Visitor's Center
Location: Mount Rainier National Park, Washington
Time required for the hike: 3.5-5 hours depending on physical fitness, age, and other factors
Planning to visit more than one of the national parks in the Pacific Northwest during your trip? Get an America the Beautiful Parks Pass and save!
Where to Park when Hiking Skyline Trail Loop in Mount Rainier
There are two places to park if you want to hike SkylineTrail Mount Rainier.
The primary parking lot is located at the Henry M. Jackson Visitor Center adjacent to Paradise Inn. Although the parking lot is large, the trails that start here are all quite popular thanks to their picturesque views. So, the parking lot does fill up quickly.
If you aren't planning to arrive until mid-day or the afternoon, the parking lot at the Paradise Visitor Center (as it is often called) will likely be full. There is a secondary parking lot located just before you get to the visitors center.
From the secondary parking lot, you can take Alta Vista Trail to Avalanche Lily Trail which takes you to the Visitor Center. Alternatively, you can take Dead Horse Creek Trail from that parking lot directly to the Skyline Loop.
Dead Horse Creek Trail meets up with Skyline Loop near Glacier Vista shortly before you get to Panorama Point. If you hike this path, you will hike Skyline Loop Clockwise.
Where to Stay near Mount Rainier National Park
When visiting Mount Rainier National Park, there are several places where you can stay to make your visit both memorable and convenient.
Paradise Inn, which is located directly in front of the trailhead, is the easiest place to stay when hiking Skyline Trail Loop. The lodge is nice, cozy, and has an on-site restaurant. However, rooms book up quickly at Paradise Inn and other lodges in and around the park.
There are several great lodges located at the southwest entrance to the national park, the main entrance you'll arrive at if visiting from Seattle, including Stormking Hotel.
Another option is to book a lodge in the town of Ashford just a short 15 minute drive from the entrance of the park, where you'll find cozy lodges like Nisqually Lodge and Mountain Meadow Inn.
Map of Skyline Trail Mount Rainier
When planning a hike, I always like to have a map to refer to. That's why we have created this handy map for you detailing the different parts of the trail and things you will see along the way.
Step-by-Step Guide to Hiking Skyline Loop Trail
Hiking the Skyline Loop Trail is one of the best things to do in Mount Rainier National Park with kids. To help you prepare for your hike, we've laid out what to expect on each segment of this looped trail.
Trailhead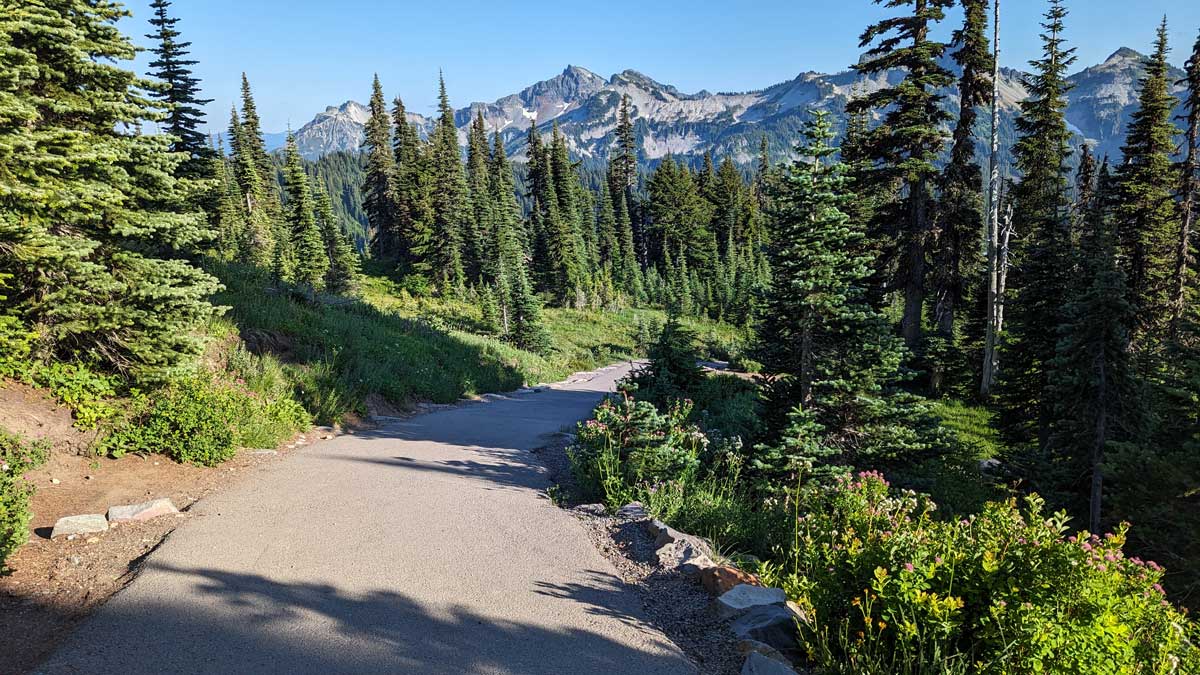 The trailhead to Skyline Trail Mount Rainier starts at Paradise Visitor Center. If hiking the trail counterclockwise, you'll find the trailhead by the Paradise Inn. It starts off with just a slight incline on a paved path.
Many people hike only the initial paved portion which takes you to Myrtle Falls.
Myrtle Falls
Approximately half a mile from the trailhead, you'll arrive at Myrtle Falls. This breathtaking wonder is one of the prettiest waterfalls in Mount Rainier National Park.
Cascading 72 feet gracefully down a moss-covered cliffside, the falls offer views of snow capped Mount Rainier in the distance with the waterfall in the foreground.
As the snow and ice melt from Mount Rainier's towering peak, it makes its way down into the valley, eventually tumbling over the rocks at Myrtle Falls.
During the summer months, the falls are surrounded by vibrant wildflowers that paint the landscape with a riot of colors, while in the winter, the falls take on a magical, icy charm.
From Skyline Trail in Mount Rainier, you can take a short staircase of about 30 steps down to a viewing platform of the waterfall, or continue on and look over the falls from a bridge along Skyline Trail.
Golden Gate Trail Cutoff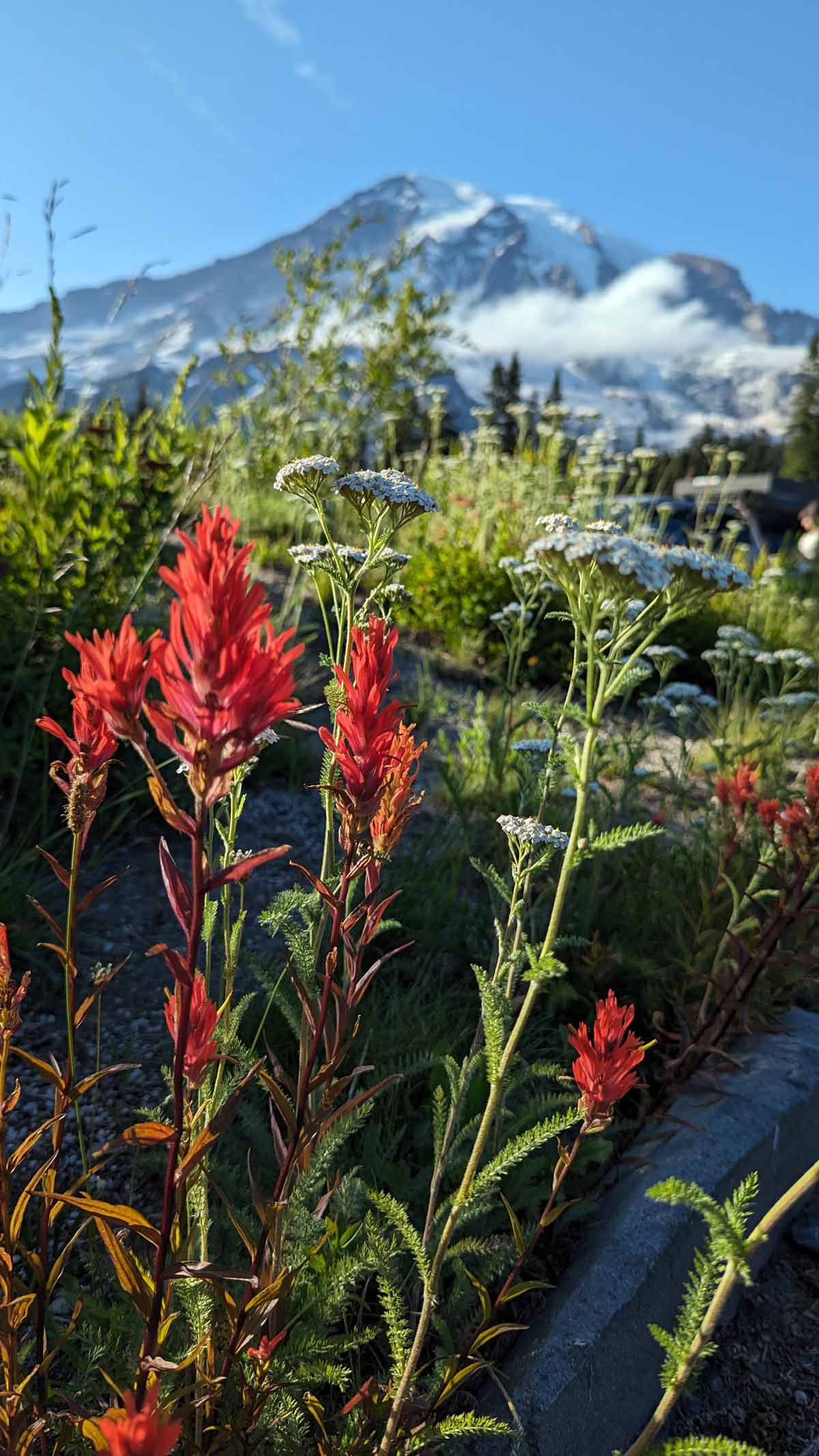 From Myrtle Falls, you can either take the Golden Gate cutoff or follow the rest of the Skyline loop, which is slightly longer. We took the Golden Gate Trail cutoff.
The cutoff takes you through a picturesque field where you'll find wildflowers blooming in late spring and summer.
As you approach the section where Golden Gate meets back up with Skyline Trail, you'll reach a steep section where you will take a series of switchbacks. Switchbacks are zigzag or hairpin turns that ascend steep terrain, making the quick elevation gain easier and safer.
There are several steep sections along the trail, including the stretch known as the "Golden Gate Trail," which can be physically demanding.
Glacier Fields
As you continue to climb in elevation along Skyline Trail Mount Rainier, you will get to a point where you are above the treeline, or the elevation at which trees can no longer grow.
If hiking in summer, this is where you will likely start to find snow and glacier fields. This is also where you will want to keep an eye out for marmots.
Along the trail, whether you take the Golden Gate cutoff or the full Skyline Trail, you'll reach Pebble Creek Trail, where you can hike along the glaciers and feel surrounded by snow – even in July or August.
If hiking in the early or late season, you may want to bring cramp-ons for this section of the hike.
Mount Rainier viewpoint
As you continue to climb in elevation, making your way across the rocky path, you'll get to the summit of Skyline Trail. This is where Mount Rainier shines in all its glory.
At the top of Skyline Trail, there is a flat section where you can stand and enjoy the view, or sit and enjoy a picnic lunch with one of the best views in the entire park.
Panorama Point
Many people think Panorama Point is the highest point along the Skyline Trail in Mount Rainier. However, if hiking counterclockwise, you will hit Panorama Point after you start to descend.
Panorama Point is a breathtaking vantage point that lives up to its name though. From this point along the trail you'll get a picturesque view of Mount Adams and Mount St. Helens in the far distance with the scenery of the national park surrounding you in every direction.
Return Trail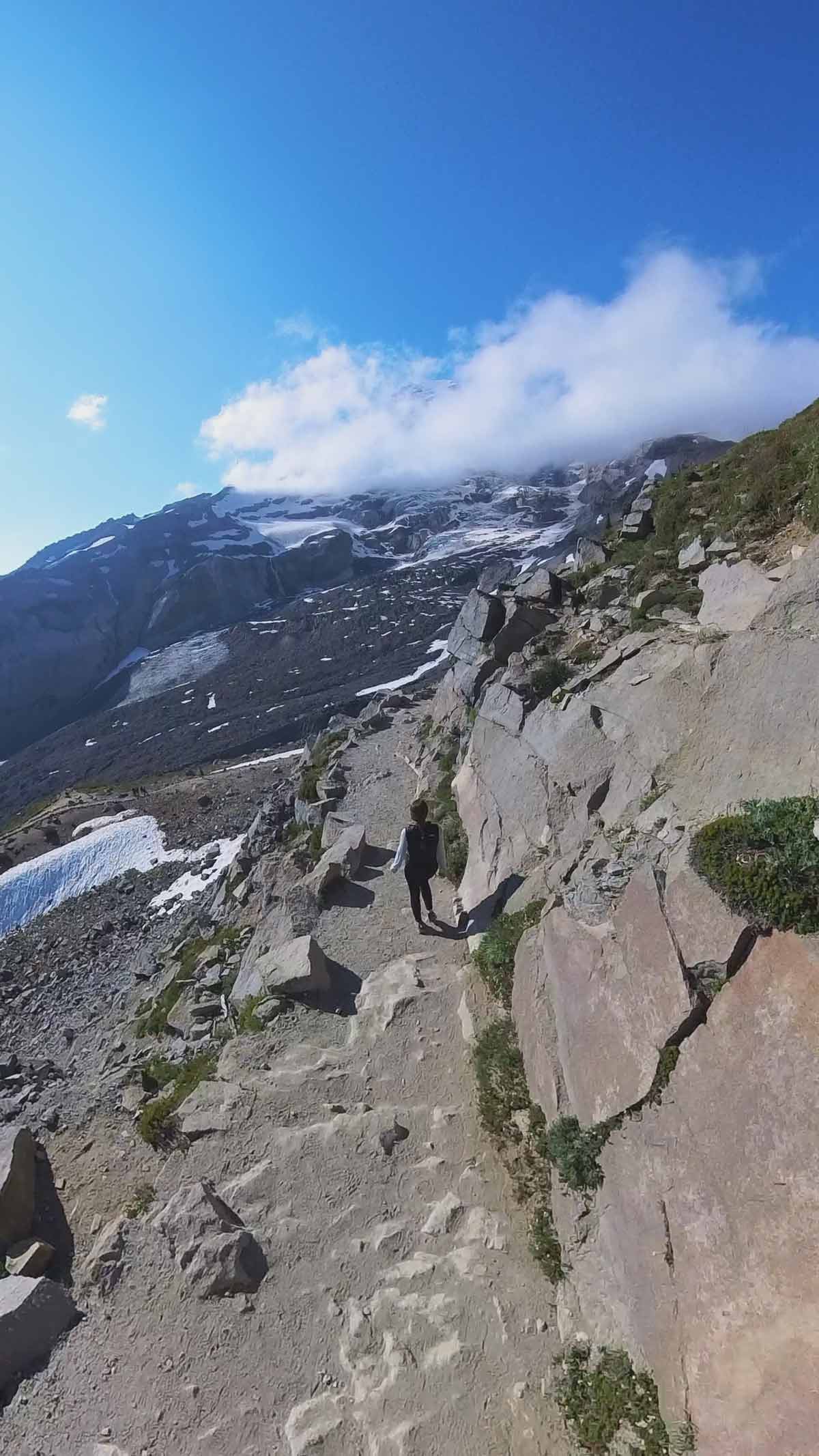 As you make your way back to the parking lot or beginning of the trailhead, you'll feel accomplished and relieved the hard part is over!
At times, along the return trail you will encounter steep sections again. While these sections are easier going down than they are going up, you'll want to use caution and take it slow to not twist an ankle or lose your footing.
What to Pack for your Hike
It's essential to check trail conditions, weather forecasts, and be prepared with essential hiking gear and supplies before attempting this hike. Additionally, consider your own fitness level and comfort with challenging terrain when deciding whether the Skyline Trail Loop is suitable for you.
With that said, you will want to dress in layers, wear a quality hiking boot, and carry a day pack with plenty of water and snacks. Sunscreen, chapstick, a camera, and sunglasses are also good to have as you hike Mount Rainier's Skyline Trail.
FAQs about Skyline Trail Mount Rainier National Park
When planning a multi-hour hike, it's always good to know what you are getting yourself into – especially if you are hiking with kids.
Here are a few of the most frequently asked questions about Mount Rainier Skyline Trail Loop.
How long does it take to hike Skyline Trail Mt. Rainier?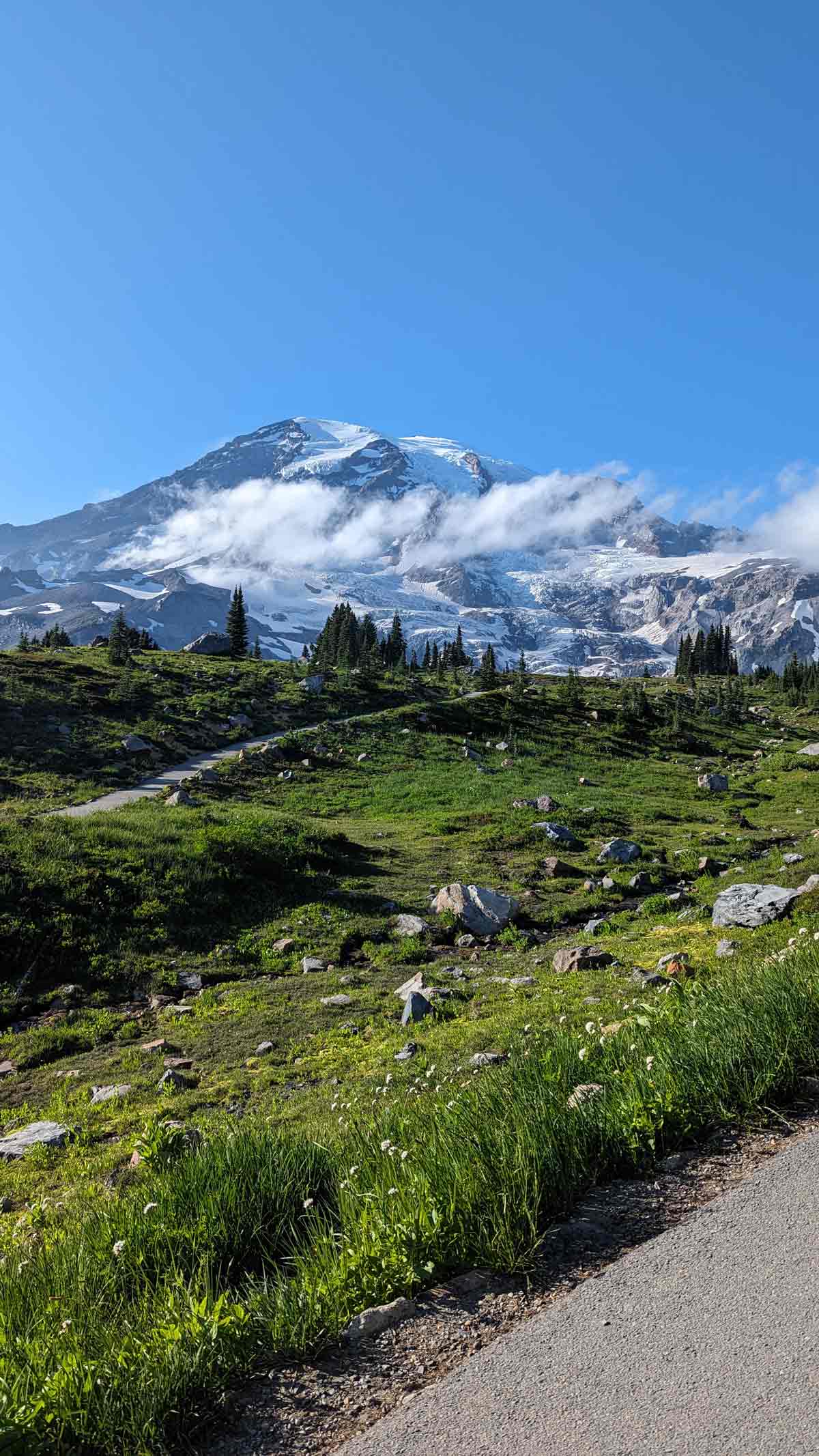 One of the most popular hikes in Mount Rainier National Park, Skyline Trail Loop is approximately 5.5 miles long. And while you can hike the entire trail in about 3 hours, give yourself some extra time. You will likely want to stop frequently to take photos, enjoy the views, or explore side trails.
Additionally, there are portions of the trail where you will gain in elevation using a series of switchbacks. This can be challenging for some hikers.
If hiking with kids, we generally recommend giving yourself at least double the amount of time in which it is said you can complete the hike. Although the full Skyline Loop takes most people around 3-3.5 hours, we finished it in about 5 hours since we were hiking with an 8-year-old.
Keep in mind that the Skyline Trail is typically open from late June to early October, depending on snow conditions, which can impact the amount of time it takes to complete the trail.
How hard is Skyline Trail Loop Mount Rainier?
The difficulty of the Skyline Trail Loop at Mount Rainier can vary depending on several factors, including your level of hiking experience, fitness, and the current trail conditions.
Generally, the Skyline Trail Loop is considered a moderate to strenuous hike. The 5.5 mile long trail can be a considerable distance for some hikers. The length alone can make it moderately challenging.
The trail involves a significant elevation gain of around 1,700 feet (518 meters). This means you'll be ascending quite a bit during the hike, which can be strenuous, especially if you're not acclimated to higher altitudes.
Additionally, trail conditions can vary throughout the year. Snow and ice persist well into the summer at higher elevations. Depending on the time of year, parts of the trail can be slippery and more difficult to navigate.
With that said, we hiked the entire Mount Rainier Skyline Trail Loop with an 8-year-old. We took it slow, and were able to do the full hike without any issues.
Can you hike Mount Rainier Skyline Trail Loop with kids?
Hiking the Mount Rainier Skyline Trail Loop with kids is possible, but it's important to consider all the factors before undertaking this hike with children.
The trail can be challenging due to its length, elevation gain, and variable weather conditions, so it's crucial to plan accordingly and prioritize safety. Here are some tips for hiking the Skyline Trail Loop with kids.
Age and Experience
Consider the age and hiking experience of your children. Older kids who are experienced hikers may handle the trail better than younger, less experienced ones.
Be realistic about your children's capabilities.
Our 8-year-old daughter handled the trail just fine, but she is a very active, athletic child who has done plenty of shorter hikes prior to hiking Skyline Trail Mount Rainier.
It's a good idea to take kids on shorter hikes in advance to assess their fitness.
Gear
Make sure your children have appropriate hiking gear, including comfortable and sturdy hiking boots, weather-appropriate clothing (layers are essential), sun protection (hats, sunglasses, sunscreen), and a backpack to carry essentials like water, snacks, and extra clothing.
If hiking with a baby or toddler, consider a travel baby carrier or a hard-bodied child carrier for hiking.
Water and Snacks
Bring enough water and snacks to keep everyone hydrated and energized throughout the hike. Dehydration can be a concern, especially at higher elevations.
We also like to pack a special treat that we have when we reach the top of the mountain. This encourages and rewards your child's effort.
Trail Conditions and Preparedness
Be aware of the trail conditions, especially if you're hiking early in the season when snow and ice can still be present. Traction devices like microspikes may be necessary.
You'll also want to check the weather forecast and be prepared for changing weather conditions. Dress your kids in layers so they can adjust to temperature changes.
Rest Breaks
When hiking with kids, take it slow. Plan to take frequent rest breaks, especially for younger kids. Enjoy the scenery and let them rest when needed to prevent fatigue.
Safety
Safety is always our top priority. There are a few areas of the trail where you will want to keep a close eye on your children and ensure they stay on the trail.
There aren't many steep drop offs along Skyline Trail in Mount Rainier National Park, but there are a couple of places where you will want to be a little extra cautious with kids.
Should you hike the Skyline Trail clockwise or counter clockwise?
Whether you hike the Skyline Trail Loop at Mount Rainier clockwise or counterclockwise, both directions offer unique views and experiences.
Counter Clockwise (Starting from Paradise Inn):
If you begin the hike counterclockwise, you'll start with a gradual uphill section and enjoy the stunning views of Mount Rainier from the Paradise area. This can be a gentler way to ease into the hike.
However, the clockwise direction takes you up the steep Golden Gate Trail, which can be challenging with multiple switchbacks navigating up the mountain.
Counterclockwise (Starting from the Skyline Trailhead by the visitor center):
Starting clockwise means you'll begin with more immediate gains in elevation, which can be more strenuous. However, some hikers prefer getting the uphill portion out of the way first.
You'll descend down the steep switchbacks that counterclockwise hikers had to navigate up.
Do you have a question or comment about the Mount Rainier Skyline Trail Loop? We'd love to hear from you! Leave your thoughts in the comments below.
Like it? Pin this guide to hiking Skyline Trail Mount Rainier to save it for later!
Did you know…
When you make a purchase or book hotels, tours, or other travel services, through our links, we receive a small commission, at no extra cost to you. We only EVER recommend service providers, websites, or products we personally use when booking our own travels. Your support enables us to keep producing helpful travel content. Thank you!