How you travel between cities in Thailand is one of the main decisions you'll make when planning your Thailand itinerary. Popular cities like Bangkok, Chiang Mai, Phuket, and Krabi aren't exactly close to each other, which leaves you with the choice of flying from city to city or taking trains between destinations.
Luckily, if you choose to take the trains in Thailand, some of the more popular routes offer overnight sleeper trains. And the Sleeper Train Bangkok to Chiang Mai route is one of the most popular ways to get between the two cities.
This travel guide includes everything you need to know about taking the overnight sleeper train from Bangkok to Chiang Mai.
We've laid out a step-by-step process for booking your tickets, preparing for your overnight journey, and information on ticket costs, how much time it takes and tips for making the most of your overnight train ride from Bangkok to Chiang Mai.
How to Get from Bangkok to Chiang Mai
Bangkok and Chiang Mai are two of the best family destinations in Asia. Traveling between the two offers a fascinating journey through the heart of Thailand.
There are several transportation options available, allowing travelers to choose the most suitable one for their preferences and budget.
Traveling by Air
Perhaps the easiest way to get from Bangkok to Chiang Mai with kids is by taking a domestic flight from Suvarnabhumi Airport or Don Mueang Airport in Bangkok to Chiang Mai International Airport. Flights are frequent and relatively affordable, providing a quick and convenient way to reach Chiang Mai in about 1.5 hours.
Traveling by Train
Alternatively, for those who prefer a more immersive experience, an overnight train ride can be an excellent choice. The train journey takes around 11 to 14 hours, depending on the type of train and class selected.
Travelers can enjoy picturesque views of the Thai countryside and interact with fellow passengers along the way.
Traveling by Bus
Additionally, buses also operate between Bangkok and Chiang Mai, offering various options for travel times and comfort levels. The bus journey typically takes around 9 to 10 hours, making it a budget-friendly option for those willing to trade time for cost savings.
However, the buses do not have berths for you to lay down. Instead, you'll spend your entire journey in a reclining chair.
The biggest benefits of taking the sleeper train from Bangkok to Chiang Mai are that it is cheaper than flying, saves you money on a hotel for a night, and does not require you to go through security or arrive hours early at the airport.
Bangkok to Chiang Mai Sleeper Train Quick Facts
Bangkok to Chiang Mai distance: 700-kilometer (435 miles)
How many Bangkok to Chiang Mai trains depart each day: 5 (2 overnight)
Length of the overnight train ride from Bangkok to Chiang Mai: 11 to 14 hours
Book train from Bangkok to Chiang Mai HERE
Our personal experience traveling on the sleeper train – Bangkok to Chiang Mai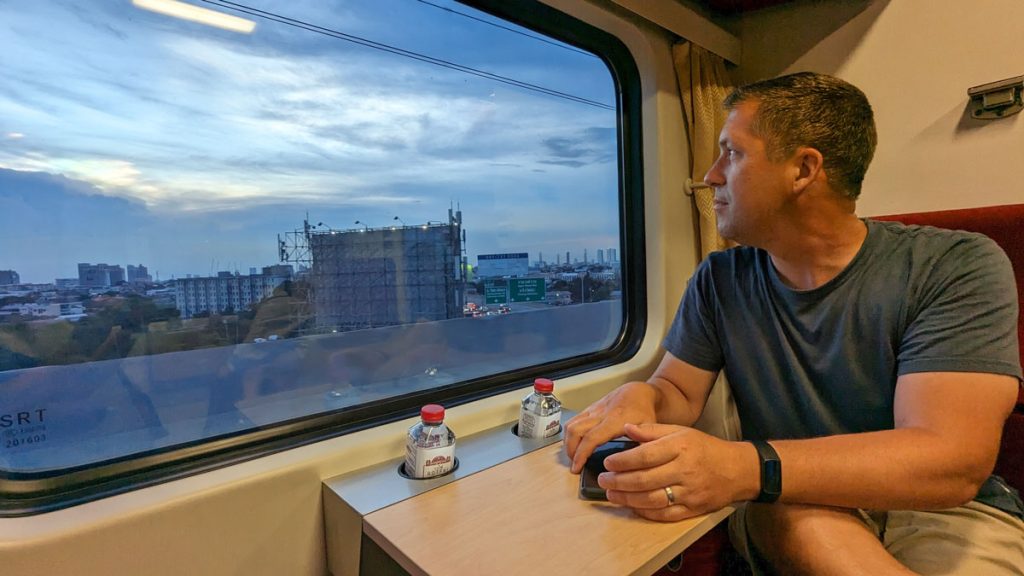 We traveled on the air-conditioned, second class overnight sleeper train (train number 9) during a family trip to Thailand with our 8 year old daughter. Not only did it save us money, but we wanted the experience of using the overnight train to Chiang Mai.
This is not one of those 60-year-old trains that run through the train market near Bangkok. The sleeper trains are newer, nice, and much more comfortable.
So, after 4 days in Bangkok, we collected our tickets and boarded the sleeper train bound for Chiang Mai. The booking process was easy through 12Go Asia, which we detail in a step-by-step guide below. 
On board the train, we ordered dinner, which was honestly just ok. In retrospect, we probably should have eaten dinner at the train station, or brought food with us on board.
The train attendants are very efficient in transforming the seats into beds, and reversing the process the next morning. The berths themselves felt spacious in width. However, top bunks will feel more closed in with less room to sit up and no window to look out.
Additionally, the berth and padding isn't the most comfortable. It is very firm, however, it is sufficient for one night.
None of us slept well on the train, but that wasn't necessarily because of the comfort of the cushions. Our struggle sleeping was primarily because the lights in the train are never dimmed or turned off. If you have a top bunk, a fluorescent light shines brightly through the crack at the top of the curtain all night long. A sleep mask is a must!
Also, unlike trains in Europe which feel very smooth, the trains in Thailand have a constant rhythmic sway. For some, this may feel like you are being rocked to sleep, but for others this can make it very hard to sleep due to the constant movement.
With all that said, the sleeper train from Bangkok to Chiang Mai is a unique way to travel and worth taking at least once. If we return to Thailand, we would definitely take the train again, however, we would opt for all lower berths and bring a sleep mask for the journey.
Heading to Chiang Mai? Read our post on the best things to do in Chiang Mai with kids.
How to Book the Bangkok to Chiang Mai Sleeper Train
If you plan to take the overnight train, you want to book your Bangkok to Chiang Mai sleeper train journey in advance. This is one of the most popular train routes in Thailand. So, if you want to book a first class car, book a bottom berth, or book multiple berths together, you will want to book in advance.
Other popular routes include Bangkok to Surat Thani, home to the majestic Khao Sok National Park.
Don't worry – we're about to walk you through the entire process of booking your sleeper train.
Step 1: Where to book Thailand train tickets
The easiest way to book train tickets online is to use the booking service 12Go Asia.
12.Go Asia is a secure online booking service that lets you search and book train travel throughout Asia. We personally used them when we booked the overnight sleeper train Bangkok to Chiang Mai route.
So, first step – Go to this link and search for your travel dates and number of passengers.
We have set the link to open in a new window, so you can go back and forth from this page to the booking page for step-by-step instructions.
Step 2: Find and select your train
You'll be shown a screen with the best options and other options. Click on
"Trains" to see all the available train routes from Bangkok to Chiang Mai during your travel dates.
There are two NEWER trains that run this route with sleeper berths: Train 9 and train 13. Book one of these trains for the best experience.
You'll also want to select a train car with air conditioning. Thailand is hot, but the air conditioning works very well on these trains!
Step 3: Check out
Fill out the passenger information – including your passport number – for everyone in your party, and select your seat preference. Tip: The bottom berth is roomier.
During this step you will also select where you are going to pick up your tickets. We chose to pick them up at the Chatuchak Park MRT Station (more on that below) but you can also have them delivered to your hotel in Bangkok.
Finally, you can choose to add insurance coverage to your ticket during this step. We opted not to add insurance, but this is a personal choice.
Step 4: Wait
After you purchase your tickets, you'll wait a couple of days. During this time, Go12 Asia will secure your tickets from the State Railway of Thailand (SRT) which operates the trains in Thailand.
In a couple of days, you will then receive an email with your assigned seats and berths, and instructions on how and where to pick up your physical train tickets.
Step 5: Pick up your tickets and head to the train station
If you chose the option to pick up your tickets in person rather than having them mailed to your hotel, you will want to pick them up anywhere between 3 days before departure to 3 hours before departure. 12Go Asia will send you instructions via email on how to get to the pick-up point.
We arranged for private transport from our hotel to Krung Thep Aphiwat Central Railway Station, where we were departing from Bangkok to Chiang Mai. However, we paid the drive extra to stop at Chatuchak Metro Station – across the highway – so we could pick up our tickets. This stop took about 5 minutes.
It is important to note: Chatuchak looks close to Krung Thep Aphiwat on a map, but you cannot easily walk between the two. (This is relevant information for all of you "we can just walk" type of people.)
You can take the metro from Chatuchak to Krung Thep Aphiwat but it will take about 20 minutes. So, make sure to give yourself enough time to get your tickets and get to the train station so you don't miss your overnight train.
Overnight Train Bangkok to Chiang Mai Cost
The most up-to-date costs for your travel dates and preferred class will be found on booking websites, like Go12 Asia.
In general though, when we traveled from Bangkok to Chiang Mai via the overnight sleeper train, the cost was approximately $35 per person, with each person designated their own sleeper berth in second class.
First class train cars were more expensive, and sold out quickly. We booked our train tickets approximately 20 days out from our travels and there were no first class cars available.
1st Class vs 2nd Class on the Overnight Train from Bangkok to Chiang Mai
It's advisable to book tickets in advance, especially during peak travel seasons, to secure your preferred class and travel date. This is most important if you want the privacy of a first class sleeper car. Here is a look at both the first and second class options to help you make an informed decision.
1st Class Sleeper Train Bangkok Chiang Mai
The Bangkok to Chiang Mai train first class cars promise to be a more luxurious and comfortable experience.
Passengers opting for this premium class have a private cabin with a door that closes. The small, air conditioned cabins are each complete with spacious seating that converts into two beds or berths.
Attendants make the beds down a few hours after the train departs from Bangkok, and you can unwind while you watch the countryside pass by through large, panoramic windows.
There are only 12 1st Class Sleeper cabins available so they sell out quickly. We booked 20 days in advance during a non-peak season, and the 1st class cabins were already sold out.
Additionally, if visiting Thailand with kids, there are no cabins with more than 2 beds, but you can book connecting cabins for your family.
2nd Class Sleeper Train Bangkok to Chiang Mai
The 2nd Class Sleeper Train is the most popular option for travelers going from Bangkok to Chiang Mai. It is an affordable and adventurous way to traverse the Thai countryside and get between the two cities.
Passengers in this class can pre-book either a fan-cooled or air-conditioned sleeping berth for the overnight journey.
The berths are basically twin-sized bunk beds each with a blanket and a pillow provided. There are approximately 24 berths per 2nd class train car. Each berth has a privacy curtain that you can close while you sleep or simply so you can relax alone.
As with first class, a train attendant will come by a couple hours after the train departs for Chiang Mai and turn your train seats into beds.
Facilities Onboard the Bangkok to Chiang Mai Night Train
Whether you are traveling in the first class train car or the second class train cars there are several things you can expect on the Special Express overnight train from Bangkok to Chiang Mai.
Bathrooms
At the end of each train car there are shared bathrooms for the passengers in that car. The second class train car we were in had western toilets and toilet paper, although some of the older trains may have eastern squat potties.
There are sinks where you can brush your teeth and freshen up, but there are no showers on the train.
Dining
Upon departure, a train attendant will come by with a menu so you can order dinner and/or breakfast the next morning. Meals are not included with the cost of the ticket, but were reasonably priced and equivalent to airplane food.
There is also a dining car where you can go for a more social option.
What You'll Need on the Sleeper Train from Bangkok to Chiang Mai
When planning for an overnight train journey, it is important to pack wisely. And there were certainly a few things I wish we would have packed that would have made the train route way more enjoyable.
Here are a few essential packing list items for your Bangkok to Chiang Mai sleeper train journey.
Eye mask / Ear plugs
This is a MUST. For safety reasons, the lights in the train remain on all night long in case someone needs to get up and use the facilities. So, you will need an eye mask to block the light. This is especially important for those on the top bunk.
Ear plugs will also come in handy as the train makes several stops, and you will hear passengers getting on and off.
Comfortable clothes
A blanket and a pillow are provided but you'll want to dress in comfortable clothes that you don't mind sleeping in. Each berth has a privacy curtain, so you could change clothes behind the curtain. However, we wore comfortable, loose fitting clothing, slept in them, and then changed into fresh clothes in the morning.
It can also get rather cold in the air conditioned cars, so a sweatshirt might come in handy.
Snacks
You can buy dinner and breakfast on the train, and there is a dining car, as well. But, you might want to pick up snacks at the train station before you board.
Sim Card
The overnight train does not have Wi-Fi. If you do not have an international data plan on your cell phone, you may want to buy a SIM card to have internet access on the train.
Entertainment
Along with a sim card, you will want to be sure to bring entertainment for the journey. This might be downloaded movies and headphones or a book to read before you go to bed.
Entertainment will make the train ride much more enjoyable.
Toiletries
Finally, keep your toiletries, such as toothbrush, toothpaste, wet wipes, and a hair brush accessible in your luggage so you can freshen up before the train arrives in Chiang Mai.
FAQs about the Sleeper Train Bangkok to Chiang Mai Route
When determining whether or not to take the overnight sleeper train from Bangkok to Chiang Mai there are a few questions that often come up. Here are some of the most frequently asked questions about overnight train travel in Thailand.
Is there a sleeper train from Bangkok to Chiang Mai?
As extensively detailed in this post, yes, there is a sleeper train that operates from Bangkok to Chiang Mai, providing travelers with a comfortable and convenient overnight journey. The sleeper train service offers different classes to suit various budgets and preferences.
The most common option is the 2nd Class Sleeper train, which consists of both fan-cooled and air-conditioned sleeping compartments. These sleeper cars have bunk beds with bedding provided, allowing passengers to rest during the approximately 11 to 14-hour journey.
For a more luxurious experience, there are also 1st Class Sleeper train cars available, which offer private cabins with more space and added amenities.
Traveling by sleeper train from Bangkok to Chiang Mai is a popular choice among tourists and locals alike, as it allows them to save on accommodation costs and enjoy a unique train ride through the Thai countryside.
How long is the overnight train from Bangkok to Chiang Mai?
Brace yourself, this isn't one of those high speed trains you can take in Japan or Europe. The sleeper train Bangkok to Chiang Mai route takes approximately 11 to 14 hours. But with the full berth to sleep in, 8-10 of those hours will be while you are sleeping, so the train ride goes by faster than you might expect.
How much is the sleeper train from Bangkok to Chiang Mai?
Prices for the sleeper trains from Bangkok to Chiang Mai or the night train from Chiang Mai to Bangkok vary based on the class of sleeper and car you choose.
The price can also change from year-to-year or by seasonal demand.
In general, however, the 2nd Class Sleeper cabins (both fan-cooled and air-conditioned) are more budget-friendly and can cost around 1,200 Thai Baht ($35 USD) per person, depending on the train type and amenities provided.
On the other hand, the 1st Class Sleeper cabins, which offer more space and privacy, are relatively more expensive and can range from 1,500 to 2,500 THB ($45-72 USD) per person.
Should you fly or take the train from Bangkok to Chiang Mai?
This was one of the main questions we had when determining how to get from Bangkok to Chiang Mai during our trip to Thailand. Here are a few pros and cons to consider:
Time: Flying is faster, taking approximately 1.5 hours vs. 11-14 hours when traveling by train from Bangkok to Chiang Mai. But many of the hours spent on the train are overnight, while you will be asleep.
Cost: A plane ticket costs approximately $20-30 USD more than a train ticket. However, the train also saves you money on a night of lodging, as you go to sleep in one city and wake up in the next.
Comfort: Let's be honest, neither flying or taking the sleeper train are extremely comfortable. The seats on the train are larger and fold down into a lay flat berth, making it more comfortable than an airplane seat. But, you will spend much longer in the train, so the level of comfort seems to decrease with each passing hour.
Experience: The overnight train is a unique experience that makes you feel more immersed in Thai culture as you gaze out the window at picturesque landscapes and meet other travelers.
Is the sleeper train between Bangkok and Chiang Mai safe?
The sleeper train between Bangkok and Chiang Mai is generally considered safe for travelers.
Be sure to store your belongings under your seat, and keep your purse, handbag, or electronics on the inside of your berth (between you and the wall of the train). You always want to exercise general caution and don't leave your valuables or passport unattended.
With that said, thousands of travelers take the sleeper train from Bangkok to Chiang Mai each year without any issues.
We traveled on the second class sleeper train from Bangkok to Chiang Mai while visiting Thailand with kids, and felt completely safe. It was no different than staying in a hostel with kids.
Use common sense, and you should be fine.
Other Thailand Resources
Like it? Pin this guide to booking the Bangkok to Chiang Mai sleeper train to save it for later!
Do you have a question or comment about the sleeper train Bangkok to Chiang Mai route? We'd love to hear from you. Leave your thoughts in the comments below.
Did you know…
When you make a purchase or book hotels, tours, or other travel services, through our links, we receive a small commission, at no extra cost to you. We only EVER recommend service providers, websites, or products we personally use when booking our own travels. Your support enables us to keep producing helpful travel content. Thank you!